The advancement in internet technology has led to more and more people shopping online. However, as an eCommerce entrepreneur, you still have to invest your time, blood, sweat, and other resources in marketing. This is because of the stiff competition in the online arena, especially for startups. Whatever product you carry, it's certain there are several other suppliers eyeing the same customers as you.
The good news is you can boost your brand awareness through budget-friendly means like influencer promotional campaigns. This article discusses some effective ways of integrating influencers into your marketing efforts. But before diving into these strategies, you first need to know what an influencer is.
What Is An Influencer?
An influencer is a person who has a significant following on social media platforms, and can affect how people behave. In this sense, influencer marketing is the practice of promoting products, services, or a business at large through endorsements from persuasive bloggers, vloggers, and content creators. In other words, the famous and popular individuals suggest to their followers that your products are excellent, and they should give it a try. In return, you pay them an affiliate commission.
Influencer marketing is one of the most effective product outreach strategies because of the high amount of trust that exists between the influencers and their followers. So, if they endorse or recommend your business to their audience, you're likely to generate more leads.
Why Does Your Brand Need Influencers?
The aim of marketing is to reach as wide an audience as possible. But you understand that people generally don't buy products from just any business. Consumers tend to favor that business they have an emotional connection with.
As an entrepreneur, the public may not know of your existence. To reach out to them, you need an influential person who can act as a bridge between you and them, just like Nike uses Michael Jordan. And since the followers trust the influencer, your brand will greatly benefit if the influencer presents your products to their audience.
How Can I Find An Ideal Influencer?
When looking for an influencer for your brand, you first have to define your typical buyer persona. List details like:
Their average age
Income range
Online behavior, say, the kind of platforms they use most
Hopes and dreams
Worries and fears
Brands they currently use—these are your competitors
Once you understand your target audience, you want to choose an influencer whose followers have characteristics that match those of your ideal buyer persona. For instance, if you offer B2B (business-to-business) services like website design and development, you better look for a person followed by numerous entrepreneurs. This way, you'll have a higher likelihood of turning the followers into customers.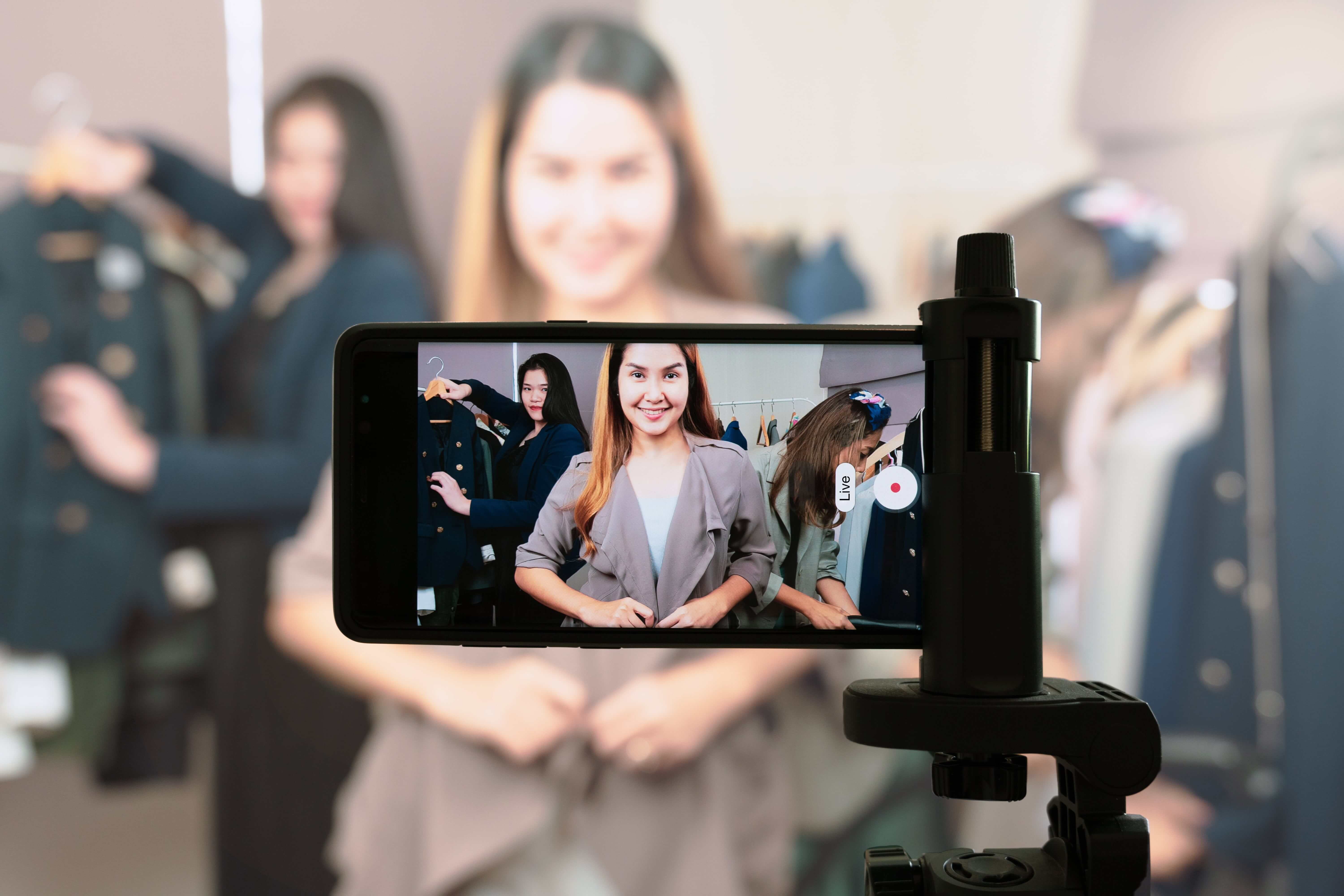 Influencer Ecommerce Strategy Basics
Like every other strategy, influencer marketing calls for the right strategy if you're to realize significant conversions. Here are some of the things you must take into account when promoting your products through influencers:
1. Define Your Goals
For any marketing strategy, you need to define what you want to achieve with your campaigns. Note that different marketing efforts can help you achieve different results. There are various objectives you can reach with your marketing campaigns. Some of the goals include boosting brand awareness, generating more leads, increasing sales, and much more.
So, when it comes to influencer marketing, you need to have a clear definition of your goals and communicate them to your selected influencer. This will help your influencer employ the best strategies to help achieve the desired results, now and in the future.
2. Hire An Influencer Who's Suitable For Your Business
Though there are several known successful influencers out there, not all can fit into your eCommerce business. This is because different influencers specialize in different industries and niches. So, it'd be helpful to work with an influencer who understands your sector and can make a lasting impact on the followers when promoting your products.
Working with an influencer who specializes in your niche allows you to reach the right customers. Knowing your target audience is one of the best ways to boost your sales, leading to a big growth of your eCommerce shop.
Besides selecting an influencer who specializes in your niche, also ensure they've got a highly engaging audience. If their followers aren't engaging with their posts, then you might not generate the desired sales.
3. Utilize Micro Influencers
A micro influencer is a social media figure with a small local audience, usually between 10,000 and 100,000 followers. Unlike mega influencers, micro influencers are able to engage with their followers more effectively.
Micro influencers are the best options for brands looking to sell their products to potential customers rather than creating visibility. This means working with them has a higher conversion rate than most other marketing strategies. Also, micro influencers are much affordable, which means any business size can utilize this strategy.
If you don't know where to start, you can hire a consultant or micro influencer marketing agency to help you connect with micro influencers in your industry.
4. Build Effective Relationships With Your Influencers
Now that you've selected the best influencer, you need to develop a strong working relationship with them. Make sure you understand each other well. This will go a long way in helping you generate the desired results.
The first step to build an effective relationship is to introduce your eCommerce business hub to your influencer. Explain to them all the aspects of your business, including its values and its main competitors. After you've explained all important aspects of your business to your influencer, make sure they understand what you want to achieve with your marketing efforts.
In addition, inform them how you want to do your marketing. For instance, if you want to use a video or a photo, let them know, and have a discussion with them about how to make your promotional campaign more attractive. This will allow them to understand your expectation and plan their content accordingly. In addition, having a dialogue with them is one of the best ways to ensure you build a long-lasting relationship.
5. Choose The Right Channel
While there are several social media networks, not all of them can suit your eCommerce business. Even if those channels have a large audience, they might not be the best for you.
What's important here is to attract an audience that adds value to your eCommerce business. So, whatever platform you select, Instagram, Reddit, YouTube, TikTok, Pinterest, LinkedIn, Facebook, Twitter, and the like, be sure its followers can engage with your business.
6. Request Influencers To Review Your Products
In the modern online business world, the best way customers can get to trust your eCommerce business is by reading other people's reviews and feedback about your business. If you've got more positive reviews, you're likely to generate more leads and vice-versa. One of the best ways to increase your positive reviews is by requesting influencers to review your business.
Influencers are trusted people, and when they give opinions about your products, most customers are likely to believe and follow their advice. In other words, getting them to review your business promotes your credibility, allowing clients to develop confidence in your products. This can go a long way in helping you to generate more revenue.
7. Use Product Collaborations To Your Advantage
One of the easiest ways to integrate influencers into your marketing efforts is to have them post images that feature your products. Provide them with samples of your products, which will allow them to create effective and authentic posts.
Also, influencers can use your product as a way of convincing customers to buy from you. For instance, if your business sells certain types of t-shirts, influencers can post their photos or videos while wearing them. This allows your audience to develop confidence in your business, thus encouraging them to buy from you.
8. Co-Create Engaging Content
While an influencer might not be a top celebrity, they know what kind of content their audience wants to see. For that reason, it'd be beneficial to collaborate with them to create the best content for your audience. Show them excellent examples and trends from similar influencer campaigns. Content is one of the best ways to win online users' attention.
Remember that most people spend a better part of their time on social media. However, to reach them, you must create engaging content. Great content can help you stand out among a sea of competitors. So, working with an influencer to develop interesting content can allow you to attract more customers, which enables you to increase your revenues.
9. Host Contests And Giveaways Through Influencers
The journey to boosting your eCommerce sales starts by promoting your business engagement. Though there are many ways to increase your engagement, the most effective way is to host contests, and giveaway shows through influencers.
When influencers promote your contest, it helps build your eCommerce brand awareness, thus, allowing more people to know about your business. When more people engage with your brand, it enables you to generate more leads, which can translate to increased sales.
10. Make Influencers Your Brand Ambassador
Having reputable influencers as the face of your eCommerce business is another effective strategy for promoting your business. Influencers are people who have a great connection with consumers, and when you associate them with your eCommerce shop, more people are likely to engage with you since they get the impression that your products are in fashion. However, it'd be beneficial to work with someone who has a large following.
The benefit of having an influencer as your brand ambassador is they won't promote any other companies during your contract period. This helps reduce the competition.

How To Calculate The Effectiveness Of Cooperation?
To measure the return on investment (ROI) for your influencer campaigns, it's best to install a robust influencer marketing tracking software. When shopping for one in the online market, look for features like:
Influencer recruitment
Ability to manage multiple influencer campaigns simultaneously
Tracking the reach of individual posts by the influencer
Analyzing the interaction of followers with your advertised products. For instance, what percentage of the followers click on the provided links to get to your landing page?
Easy-to-grasp user interface
Downloadable templates for pricing models, the selection process of candidates looking for such jobs, and others
Compatibility with all the social media channels and email services you use for the influencer campaigns
Automatic generation of statistics and reports related to your key performance indicators (KPIs)
Equally effective mobile app to complement the PC (personal computer) version
Tracking payments to influencers
With such sophisticated tools, tracking the performance of your campaigns becomes much easier.
Takeaway
In the modern digital world, influencer marketing is one of the most effective marketing strategies you can employ for your brand. It involves using highly influential social media figures to promote your business. While other marketing strategies can be expensive, influencer marketing is a cost-effective way of helping generate the desired results, especially when you focus on micro influencers.
There are many ways of integrating influencers into your marketing efforts. Some of these strategies include hiring the right influencer, requesting them to review your products, making them your brand ambassadors, and much more. All these strategies help create awareness of your business, thus allowing you to stay ahead of the competition.