The study has shown that retaining an existing customer is x7 less costly than gaining a new one. One of the best ways to convert one-time shoppers into loyal customers is through loyalty cards that offer discounts, bonus points, and personalized promotions. It's a great way to break through a crowd of competitors, build loyalty among your customers, grow your target audience, and improve your bottom line. This article brings out smart practices and techniques for devising a killer loyalty program for your customers.
Loyalty card vs Discount card
Discounts are, hands down, the most common tool that competing businesses use to attract new customers and get them to come back. The bigger the discount, the more likely a customer will choose your product or service over other offers. But what if your competitors offer an even lower price? How do you persuade the customer to stick around? One way to go is to develop a solid loyalty program that would encourage customers with rewards, such as bonus points, bonuses, exclusive offers, gifts, free shipping, and more.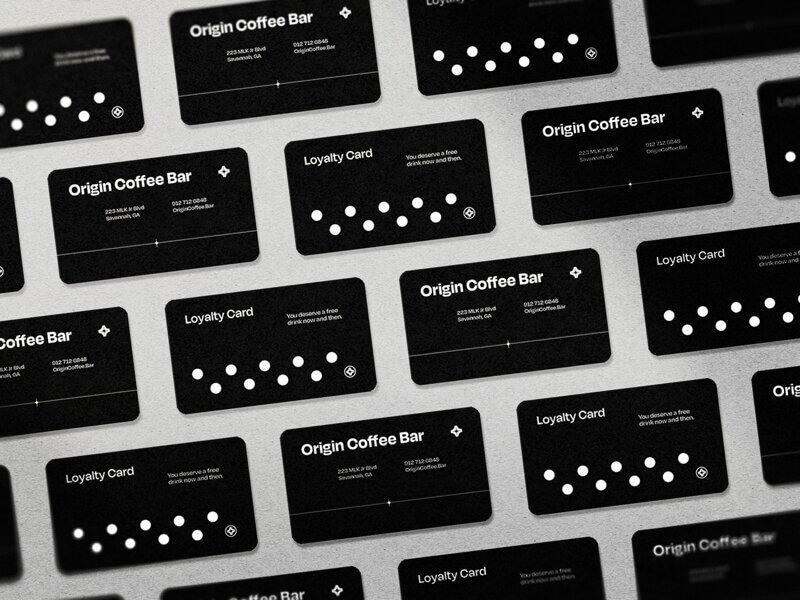 Employing a marketing strategy that involves a loyalty program can help you strengthen an emotional bond between your audience and your brand, turn occasional customers into devout brand advocates, and boost your profits. The fact that repeat customers are profitable for your business is backed up by these impressive findings:
acquiring a new customer is x7 more costly than retaining an existing one;
a returning customer spends x3 than a first-time buyer, while a loyal customer spends x5 more;
a 5% increase in customer retention can lead to a 25-95% increase in profits.
A loyalty program can be beneficial to any business that deals mostly with returning customers, such as coffee shops, restaurants, cleaning services, deliveries, laundries, etc.
The only drawback to this marketing strategy is that it only works in the long term. While a discount card can have an almost immediate effect on your retention rate and bottom line, your loyalty program efforts may take more time to pay off. On the brighter side, offering a loyalty card gives you a bunch of benefits:
competitive advantage. Instead of being involved in the never-ending discount war with your competitors, you can use a wide spectrum of more effective tools for acquiring new customers.
flexibility. You're free to choose what types of rewards to offer, depending on your niche, financial strategy, your audience's interests and needs, and other factors.
long-time benefits. By getting customers to come back for repeat purchases, you're nurturing their relationship with your brand. In the long term, this can lead to a bunch of benefits, including increased sales, word-of-mouth marketing, and loyal community around your brand.
Secrets to designing a smart loyalty program
Knowing your target audience is paramount to the success of your loyalty program. Here are a few tips on how to learn more about our customers:
Understand your customer behavior. Look at what products/services your customers are buying and how often. Track their behavioral patterns when they're shopping both offline and online.
Gather feedback. Invite your customers to leave testimonials about your business or a certain product, ask them for suggestions, run surveys on social media, etc.
Determine what type of loyalty program fits your business best:
Reward points. On each purchase, customers receive bonus points which they can use to pay for their shopping.
Tiered loyalty program. By advancing through the tiers (levels, ranks), customers get access to increasingly valuable benefits. This loyalty scheme is a common choice among airline companies.
Paid loyalty program. A company encourages their top-tier customers to join a paid loyalty program to get access to exclusive offers and benefits. Customers must pay a one-time or recurring membership fee.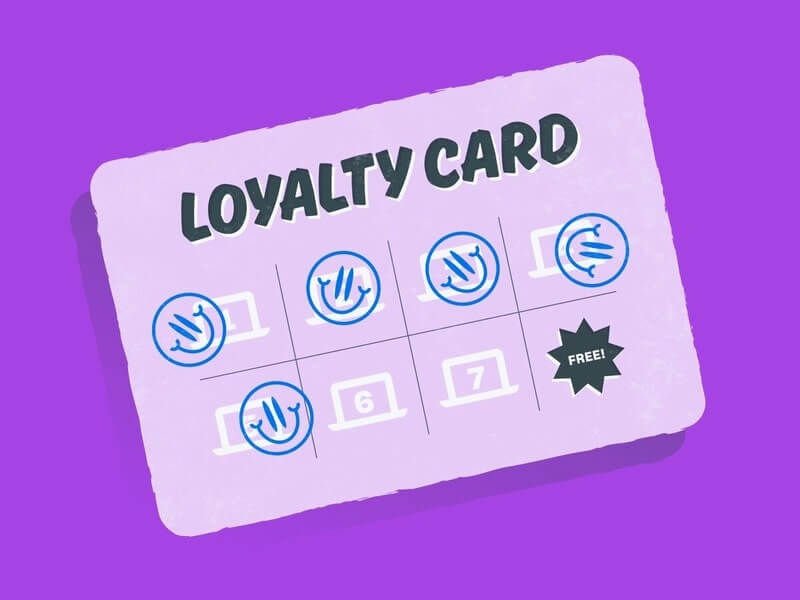 Now you need to decide what actions of your customers will trigger a reward. You can encourage your customers for:
purchasing any of your products/services;
purchasing a specific product or making an order that exceeds the specified value limit;
attracting a new customer via a referral link;
engaging with your brand on social media (repost, mention in an Instagram Story, taking part in a survey);
writing a positive review about your company.
To make the right choice, think about what actions of your customers drive most benefits for your business.
How to create a spectacular loyalty card
You can craft a visually compelling loyalty card in a graphic design program of your choice, whether it's Photoshop, Illustrator or InDesign. Another way to go is to use online services with turnkey templates. Let's look at some of the most popular platforms which can give you a hand in creating a stunning loyalty card.
Adobe Spark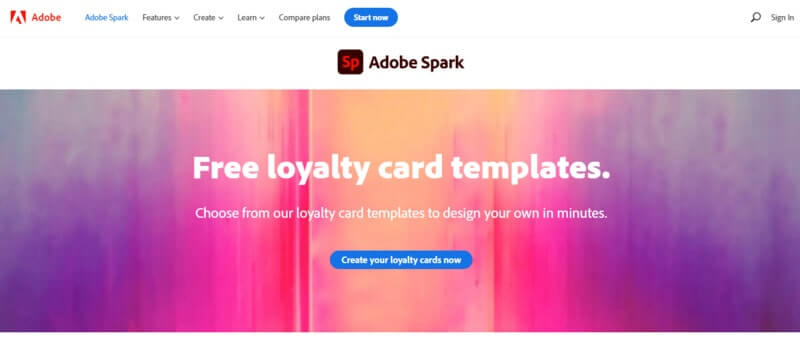 The service offers loads of professionally designed templates which you can sort by theme, color, mood, and other parameters. To customize your selected template, upload your own image or pick any graphic from the vast Adobe Spark library. The service allows you to tweak text, fonts, and graphics. Once you're happy with the result, you can download your loyalty card to your device or print it on the spot.
MyCreativeShop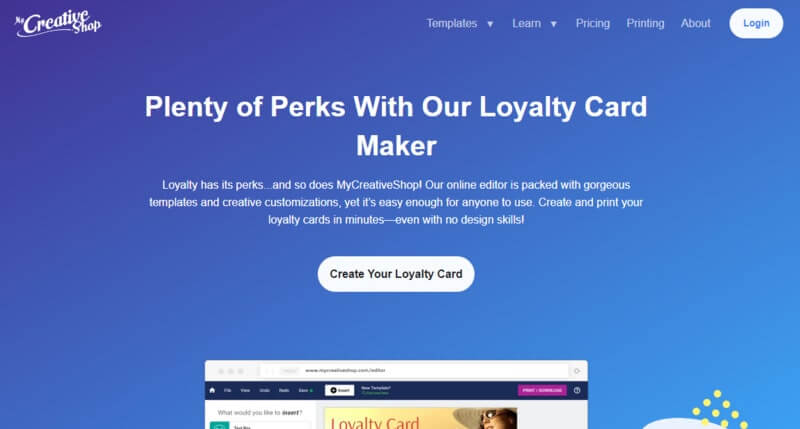 MyCreativeShop is a fast and hassle-free way to create brochures, business cards, loyalty cards, and other branded designs. Pick the template that fits your vision and use smart editing tools to make your design unique and memorable. Change colors and typefaces, add special effects, tweak brightness and saturation, upload your own photos and illustrations, and more. If you don't have an image of your own, go ahead and pick one from the stock photo library available on the website.
Design Wizard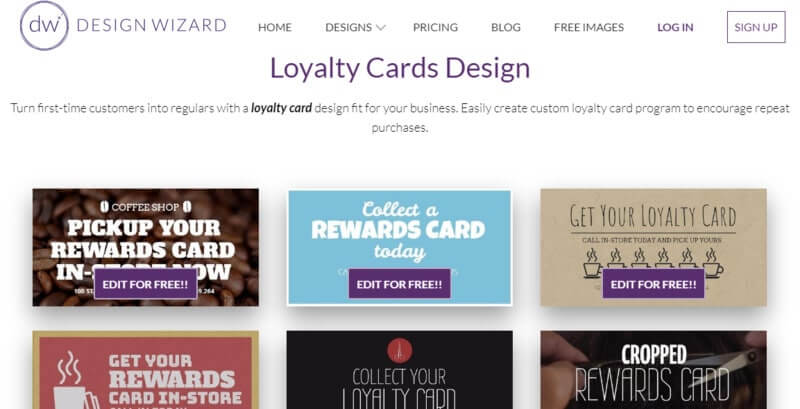 Design Wizard is home to 15,000 well-designed templates, 1+ mln compelling images, and 100+ awesome fonts. With such resources at your fingertips, putting together a nice loyalty card is a breeze! Customization options offered by Design Wizard are plentiful. Add your company logo, experiment with color schemes, upload your own photos, and do whatever to make your design stand out!
Here are the things you're going to need for your loyalty card:
Brand identity. A custom logo, color palettes, and fonts serve to boost your brand recognition and elevate your business above the crowd. With the ZenBusiness online constructor, creating a clever brand identity only takes minutes!
Text. The text on your loyalty card must be short, on-point, and easy to understand. It must sum up the key bullet points of your loyalty program. As for the more detailed terms, you can include them into a newsletter or publish them on your website.
Contacts. Considering adding your physical address, phone number, email, and socials onto your loyalty card. Your customers must know how to get in touch with your business.
Wrapping up
An effective loyalty program is a great way to forge a solid bond with your target audience and build a strong brand following. At the same time, this strategy won't provide you with an instant return on your investment. Your success depends on how well you know your audience's needs and behavioral patterns. Let's recap the main ideas covered in the article:
when deciding on the types of loyalty rewards, think about the value not only for your customers, but also for your business;
come up with a visually attractive design for your loyalty card;
urge new customers to join your loyalty program;
as for your existing clients, keep reminding them of the benefits of your loyalty program through emails, text messages, and social media;
engage with your audience by getting their feedback, running surveys, and reacting to their questions and comments;
create a mobile app for your loyalty program to be able to observe each customer's behavior and target them with personalized rewards.