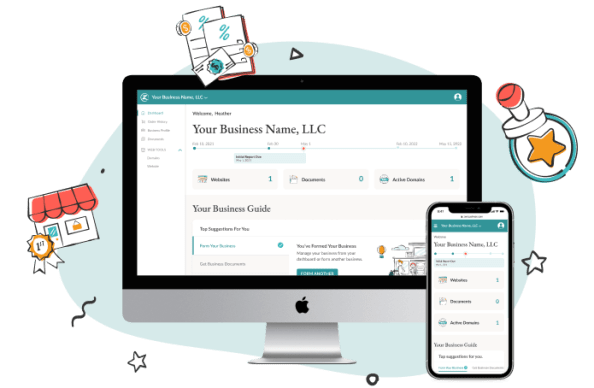 4 Benefits Available to Minority-Owned Businesses
Use our free business guides, resources and tools. No credit card needed, no obligation.
Form your business in just a few minutes
Plan your business using expert guides and templates
Get expert consultation for unlimited advice and support
Sign-up with just an email and password
Minority-owned businesses are one of the backbones of the nation's economy. Over the last 10 years, these businesses created 4.7 million jobs. Currently, there are more than 4 million minority-owned businesses in the United States, with sales that total nearly $700 million.
Despite their growing importance, minority businesses face many obstacles, particularly when it comes to business financing. Minority businesses are much less likely to get loans than non-minority business owners, especially for ventures with less than $500,000 in gross receipts. And the ones that minority small businesses get from lenders tend to be smaller on average: $149,000 versus $310,000.
A variety of resources provide minority-owned business benefits to help level the playing field, ranging from access to contracts from government agencies to training opportunities and business loans.
Read on to learn whether your new business qualifies for help from minority business development agencies and how to take advantage of the best resources and funding sources available at the federal and state levels.
What qualifies as a minority-owned business?
There are seven minority groupings in the United States: Hispanic or Latino Americans, Black or African Americans, Asian Americans, Arab and other Middle Eastern Americans, Native Americans and Alaska Natives, and Native Hawaiians and other Pacific Islanders.
Federal agencies and many corporations think it's good practice to do business with minority-owned companies, which is why they often set aside a certain percentage of their budgets to work with certified minority business enterprises (MBEs).
To become certified, visit the National Minority Supplier Development Council (NMSDC) site. The criteria for MBE certification include:
U.S. citizenship
At least 51% of the business is owned and operated by a minority. In the case of a publicly traded company, at least 51% of the stock is owned by one or more minority group members.
The business must be a profit enterprise physically located in the U.S. or trust territories.
Management and daily operations must be exercised by the minority ownership member(s).
If you meet these criteria, collect the necessary documents required (found here) and apply online through the website of the council affiliate closest to your company headquarters.
Another certification offered to minority small business owners is through the United States Small Business Administration (SBA) 8(a) Business Development Program. The federal government's goal is to limit at least 5% of all federal contracts to businesses owned by socially and economically disadvantaged groups.
To qualify for this program, your small business must:
Be at least 51% owned and controlled by U.S. citizens who are economically and socially disadvantaged (including various minorities)
Be owned by someone whose personal net worth is $750,000 or less
Be owned by someone whose average adjusted gross income for three years is $350,000 or less
Be owned by someone with $6 million or less in assets
Have the owner manage day-to-day operations and also make long-term decisions
Have all its principals demonstrate good character
Show potential for success and be able to perform successfully on federal contracts
You can also fill out a quick quiz to see whether your business qualifies. For those who meet the right criteria, you can begin the certification process by creating a profile on the System for Award Management site (SAM.gov) and using this profile for your free certification online on the SBA site.
Note that it's also possible in some areas to get your minority-owned business certified at the state or local level. For example, Ohio boasts an MBE certification process. Certified minority-owned businesses can win contracts from state agencies, boards, and commissions. The state aims to award 15% of government contracts to MBEs.
As an example of a city offering certification, Chicago has a Minority and Women-Owned Business (M/WBE) Certification Program, allowing businesses, which are certified for five years, to bid on large government contracts.
Benefits of Being a Certified Small Business
Numerous benefits come with being certified as a minority-owned business, from access to special business training to a preference for contracts with government entities.
1. Access to Government Grants and Contracts
Chief among the minority-owned business benefits is the preferred access to government grants and contracts. With the SBA 8(a) designation, your business can compete for what federal agencies call set-aside and sole-source contracts.
Under competitive set-aside contracts, when two or more small businesses can perform the work or provide the products being purchased, the government will "set aside" the contract for small businesses alone. Almost all government contracts under $150,000 automatically go this route.
While some set-aside contracts are open to any small business, others are available only to small businesses taking part in SBA contracting-assistance programs.
Most contracts require competitive bids, but some are sole-source contracts that can be awarded without a bidding process. This usually happens only when a particular business can fulfill the contract requirements.
The Minority Development Business Agency (MDBA) also offers grants and loans for MBEs. Its Grants.gov is a central hub with information on more than 1,000 grant programs, providing access to approximately $500 billion in annual awards.
The five-step grant application process involves:
Registering your business to apply for an MDBA grant: This involves obtaining a unique DUNS identifier number and registering with SAM.gov, for which you need an employee identification number (EIN).
Understanding the grant announcement: Visit the specific grant page on the MDBA site to find out what you need to know about it and download the grant package from Grants.gov.
Attending a pre-application teleconference: This provides more information about the grant and its requirements.
Understanding the evaluation process: Thoroughly review the key sections of the grant announcement, including eligibility requirements, deadline requirements, and the selection process. All requirements must be included in your grant application.
Preparing and submitting an application: The fully completed application must be submitted through Grants.gov by or before the deadline.
2. Increased Business Partnership Opportunities
Many large corporations make it a policy to do a certain amount of work with disadvantaged business enterprises (DBE). For example, AT&T and its suppliers have spent over $173 billion with minority, women, service-disabled veterans, and LGBTQ+ businesses in the past 50 years through the Supplier Diversity Program. By the end of 2020, AT&T is committed to spending $3 billion with black suppliers.
UPS is another great example of a large corporation investing in smaller businesses. The company started its supplier diversity program in 1992, and the shipping company now spends $2.6 billion annually doing business with about 6,000 small and diverse suppliers.
3. Training Workshops, Management, and Technical Guidance
Certification also provides minority-owned businesses access to training workshops and mentorship possibilities that can accelerate their learning and development.
For example, the 8(a) Mentor-Protege program aims to get mentor businesses to provide development assistance to minority-business proteges. The help can include guidance so that they are better able to compete for government contracts.
Other forms of assistance include:
Technical and/or management assistance
Financing guidance (equity investments or loans)
Trade education
For its part, the NMSDC offers certified MBEs various programs and services that help with professional development. These can include:
Regional training seminars
Business opportunity fairs with access to hundreds of prospective buyers
Advanced management education programs
Access to specialized financing and working capital loans
Networking opportunities organized by purchasing categories
4. Networking Opportunities
There is strength in numbers and a lot that disadvantaged business enterprises can learn from one another. A great feature of bodies such as the SBA and NMSDC is that they provide various networking opportunities for certified businesses to share best practices and support, making them stronger in the face of shared challenges.
For example, the SBA offers its Emerging Leaders Initiative. Operating in various locations across the country, the program is "intended to accelerate the growth of high-potential small businesses in America's underserved cities." It provides access to peers for networking and marketing opportunities, mentors for guided growth, specialized workshops, and access to peers, civic leaders, and the financial community. The initiative is open to small businesses and entrepreneurs with annual revenues of at least $250,000, have been in operation for at least three years, and have at least one employee (other than themselves).
The NMSDC offers various business fairs and networking events and the chance to apply for exclusive scholarships and grants. For example, the 2020 NMSDC Conference was billed as a "business opportunity exchange."
Because of the COVID-19 pandemic, it had to pivot from being a live event to a virtual one. Even so, it allowed attendees and exhibitors to connect using interactive features, such as live chat and one-on-one meetings. Workshops also provided "thought leaders, chief procurement officers, and seasoned minority business executives" the chance to interact, inspire, and share ideas and best practices.
More Resources for Minority Business Owners
To help ease any challenges they might face, minority business owners should take full advantage of the opportunities offered to them through the right certification. There are various benefits, including easier access to federal contracts, mentoring opportunities, and special grants and loans for funding.
At ZenBusiness, we're here to help you every step of the way as you start your new business. From establishing a digital footprint to taking charge of your accounting, we can help level the playing field and provide you a chance to survive and thrive in today's competitive business climate.