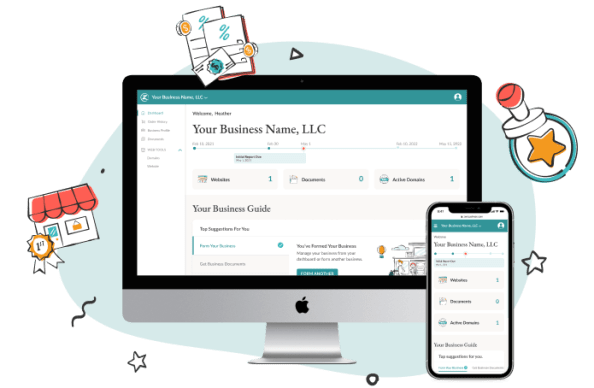 6 Business Grants for Immigrants
Use our free business guides, resources and tools. No credit card needed, no obligation.
Sign-up with just an email and password
Did you know that there are more than 3.2 million immigrant entrepreneurs in the United States? Even more impressive is that immigrants boast $1.2 trillion in spending power and employ nearly 8 million people. With immigrants launching twice as many businesses per capita as native-born Americans, it's clear they are a driving force within the small business sector.
Unfortunately, for immigrant entrepreneurs, it can be difficult to get their businesses off the ground. Whether it's from cultural barriers or a lack of credit history, it can be harder for immigrants to open business bank accounts, secure credit cards, or find other funding sources.
Luckily, there are business grants and loans to help immigrant-owned small businesses prosper. Keep reading to learn more about the funding sources available as you take the plunge into entrepreneurship.
What are small business grants for minorities?
In the United States, there are seven key minority groupings: Hispanic or Latino Americans, Black or African Americans, Asian Americans, Arab and other Middle Eastern Americans, Native Americans and Alaska Natives, and Native Hawaiians and other Pacific Islanders.
To qualify as a minority-owned business or minority business enterprise (MBE):
At least 51% of your company needs to be owned by one or more minority individuals (if you're a publicly traded company, at least 51% of stocks need to be owned by one or more minority individuals).
Management and daily operations need to be controlled by the respective minority business members.
You must have a for-profit business located in the United States.
Minorities can face various hurdles when starting a new business, which is why the U.S. has small business grants and loans aimed at bridging the financial gap for aspiring minority business owners. Small business grants for immigrants are offered through government agencies and are given after the business owner writes a grant proposal or business plan.
6 Business Grants and Loans for Immigrants
We'll take a closer look at six grants and loans for qualifying immigrants and minority individuals in the United States. Additionally, we'll cover how you can apply for each opportunity.
SBA Loans
U.S. Small Business Administration (SBA) loans assist businesses that are at least 51% owned and operated by non-U.S. citizens. To qualify for this type of small business loan, you need to have an appropriate work visa, a green card, and/or a lawful permanent resident in the U.S. Note that the SBA application process can be quite extensive and has several eligibility requirements for immigrant business owners that you should review before applying.
The SBA also has a loan program designed for economically and socially disadvantaged business owners to work with the federal government called the 8(a) Business Development program. To qualify for this program, you must:
Own and operate a small business
Be at least 51% owned and controlled by U.S. citizens who are economically and socially disadvantaged
Be owned by someone whose personal net worth is $750,000 or less
Be owned by someone whose average adjusted gross income for three years is $350,000 or less
Be owned by someone with $6 million or less in assets
Have the owner manage day-to-day operations and also make long-term decisions
Have all principals demonstrate good character
Show potential for success and be able to perform successfully on contracts
If you meet these qualifications and want to be certified as an 8(a) small business, visit Certify.SBA.gov and make sure that you regularly update your business profile at SAM.gov.
If you're still unsure about the process, you can meet with a counselor to discuss the financial needs of your small business and look over the various funding programs and assist you in finding a program that fits your needs.
Additionally, the SBA has an online tool to help you find approved community development financial institutions (CDFIs) and small lenders. Describe your needs as a borrower, get matched with a lender within two days, discuss your needs with the lender, and apply for a loan.
Wilson-Fish Program
The Wilson-Fish (WF) program provides assistance and social services to refugees. This program takes a different approach to traditional refugee resettlement programs. WF focuses on early employment and economic self-sufficiency by combining case management, financial assistance, and employment services.
The WF program has three major goals:
Expand the prospects of early employment and self-sufficiency for refugees
Advance the coordination between resettlement agencies and service providers
Make sure that refugee assistance programs exist in every state that refugees resettle
To see if you qualify for the Wilson-Fish program, visit this page. Here, you'll find information regarding eligibility, factors that can disqualify you, and the necessary information to complete the application.
Note that WF programs are currently limited to 12 states and one city in the United States, specifically Alabama, Alaska, Colorado, Idaho, Kentucky, Louisiana, Massachusetts, Nevada, North Dakota, South Dakota, Tennessee, Vermont, and San Diego County, California.
Microenterprise Development Program
The Microenterprise Development program helps refugees create, maintain, and expand their businesses. This program assists refugees to become financially independent and provides training to be successful entrepreneurs. In this program, refugees learn how to develop a business plan, manage their business, bookkeeping, and marketing to promote their business.
The Macroeconomic Development program has short-term training or business technical assistance and up to $15,000 of micro-loan credit. Furthermore, this program provides cultural- and language-appropriate training. Discover if you are eligible for the Microenterprise Development program by reading the eligibility requirements here.
PRIME
The Program for Investment in Micro-Entrepreneurs (PRIME) is a program through the SBA and offers four federal grants. This program helps a number of organizations in assisting low-income entrepreneurs. Specifically, PRIME aims to help low-income individuals who don't have sufficient training or education to expand their small businesses financially.

Eligibility for this grant varies and can include private and nonprofit organizations. For a full list of the criteria for eligibility, reference this page. Additionally, you'll learn how to apply to this program, funding limits, and more.
Minority Business Development Agency
The Minority Business Development Agency (MBDA) is a federal agency committed to the "growth and global competitiveness of minority-owned businesses." The MBDA connects MBEs to banks, investors, and mutual funds so that they have access to capital. Additionally, they help produce and share information about MBEs, which helps attract contracts for these businesses. In the 2019 fiscal year, the MBDA helped secure $3.1 billion in contracts for MBEs. The MBDA helps these businesses reach high growth markets.
To learn more about the MBDA's programs and specific centers in your area, visit this page.
State Minority Business Grants
In addition to a federally run program to help minority businesses, there are also a number of state-run programs. The U.S. Economic Development Administration (EDA) creates a list of EDA grants every year. This year's list of grants can be found here and shows the newest grants and a breakdown of the funding.
To find more minority business grants run by your state government, you can visit Grants.gov. This website provides a large list of grants in the U.S. You can customize the search criteria to match your business needs. For example, if you are a minority-run business in Florida, you can type in "minority" and "Florida" into the "Keyword(s)" section and select the "Funding Instrument Type" and "Eligibility."
---
Find more support for your small business
Creating the business of your dreams can be difficult for anyone, especially minorities. As a small business owner, it's important to consider all of your resources. Depending on your specific situation, there are various options for business funding, including government grants for your new business.
At ZenBusiness, we're dedicated to helping small business owners create, maintain, and grow their businesses. We have a number of resources to help business owners understand the nitty-gritty details that go with running a business. We're your go-to guide for running a successful small business.
Immigrant and Minority Business Loan FAQs
Do immigrants get money to start a business?

Immigrant business owners don't automatically get money to start a business. Instead, they must ensure eligibility and apply for programs to have funding for their small business.

How do I get free money to start a business?

Looking for a small business grant is a great step to discovering "free money" to start your business. Whether you are an immigrant or part of a minority group, there are federal and state funding options for you.

What kinds of grants can I get to start a business?

Depending on your minority or immigration status, there are many kinds of grants for which you might qualify. Additionally, the type of business you run can impact which grants you qualify for to start your business. MBDA grants are specifically helpful for minority-run startups because they help individuals access the right funding to start their businesses.

How do I qualify for a minority business grant?

It's important to ensure that you apply for the correct business grant depending on your minority status. For example, there are business grants for specific ethnic groups, like Native Hawaiian. If you are Hispanic, this business grant would not be for you. Since there are so many minority business grants out there, it's important to carefully review the eligibility requirements.