How to Open an Etsy Shop and Attract Customers
If your business has to do with handmade or vintage items, you should consider putting them on display on Etsy, one of the biggest marketplaces on the web. The platform has no lack of advantages. It brings together more than 80 million active sellers and buyers. Plus, it has a narrow niche specialization and is easy to use. In this guide, we'll look at how to start an Etsy shop and stand out among competitors.
Unleashing your creative spirit on Etsy can be a dream come true for artisans, but turning that dream into a lucrative reality is an art in itself. Starting an Etsy shop might require an investment ranging from as little as $20 to potentially a few thousand, depending on your products' nature and scale. Thriving in this bustling marketplace demands more than just craftsmanship — it calls for a keen understanding of eCommerce, a flair for digital presentation, and a deft touch in customer interactions.
While profit margins can soar to an impressive 60% for some successful sellers, navigating the initial phases and reaching that break-even point requires patience, strategy, and adaptability. Ready to transform your craft into cash? Read this guide to understand the intricacies of establishing a standout Etsy business.
Considerations Before Starting an Etsy Shop Business
| | |
| --- | --- |
| Initial Investment | Costs can be minimal, often starting at $20 to $100 for listing fees and basic materials. Depending on the product, costs can go up to $5,000 or more (for bulk materials, specialized equipment, branding, etc.). |
| Skills Required | Craftsmanship or product-making skills, understanding of eCommerce, digital photography, pricing strategy, and customer service abilities. |
| Demand | Etsy is popular for unique, handmade, vintage, and craft supply items. Identifying niche markets can boost sales. |
| Location | Operate from anywhere with a stable internet connection. A dedicated workspace is beneficial for production and inventory management. |
| Hours | Flexible, but consistent attention is needed for customer queries, order processing, and inventory management. |
| Permits and Licenses | Depending on your jurisdiction and product type, business licenses, sales tax collection permits, or other certifications might be required. |
| Profit Margin | Highly variable based on product type, pricing, and volume. Successful shops can achieve margins between 30% and 60%, after Etsy fees. |
| Challenges | Standing out in a crowded marketplace, managing shipping and returns, adapting to platform changes, and keeping up with market trends. Building and retaining customer trust is essential. |
What is Etsy?
Etsy is a US-based online marketplace which sells custom, handmade pieces and vintage goods. The platform is operating based on the C2C (customer to customer) and P2P (peer to peer) business models. Etsy offers a mind-blowing selection of original products, from postcards, to vintage brooches, to clothing, to paintings. Here are the main benefits of using Etsy to grow your business:
Large audience. As of 2020, the platform boasted 4.3 mln active sellers and 81.9 mln active buyers.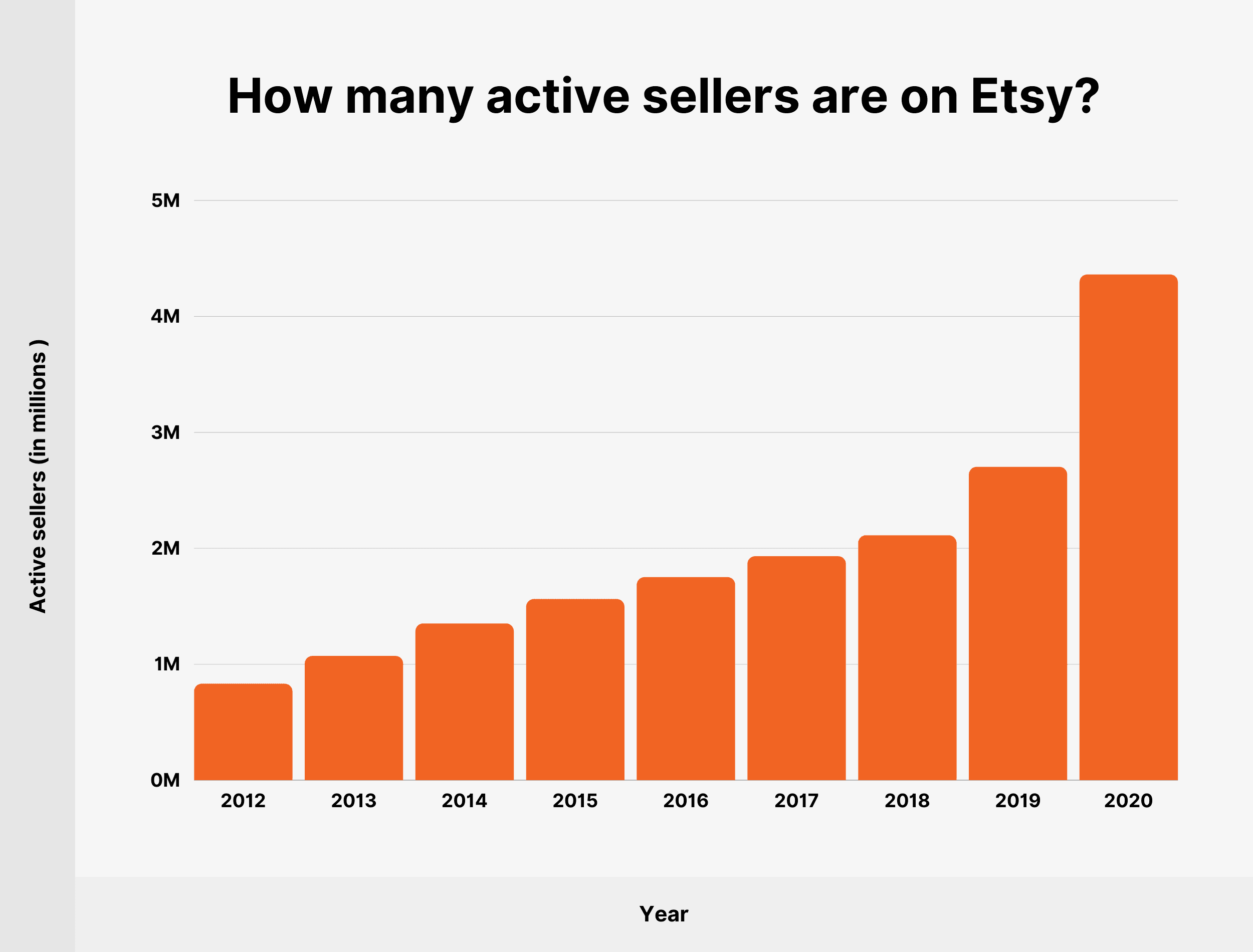 Global reach. In 2020, 36% of all purchases on Etsy were made by shoppers outside the US.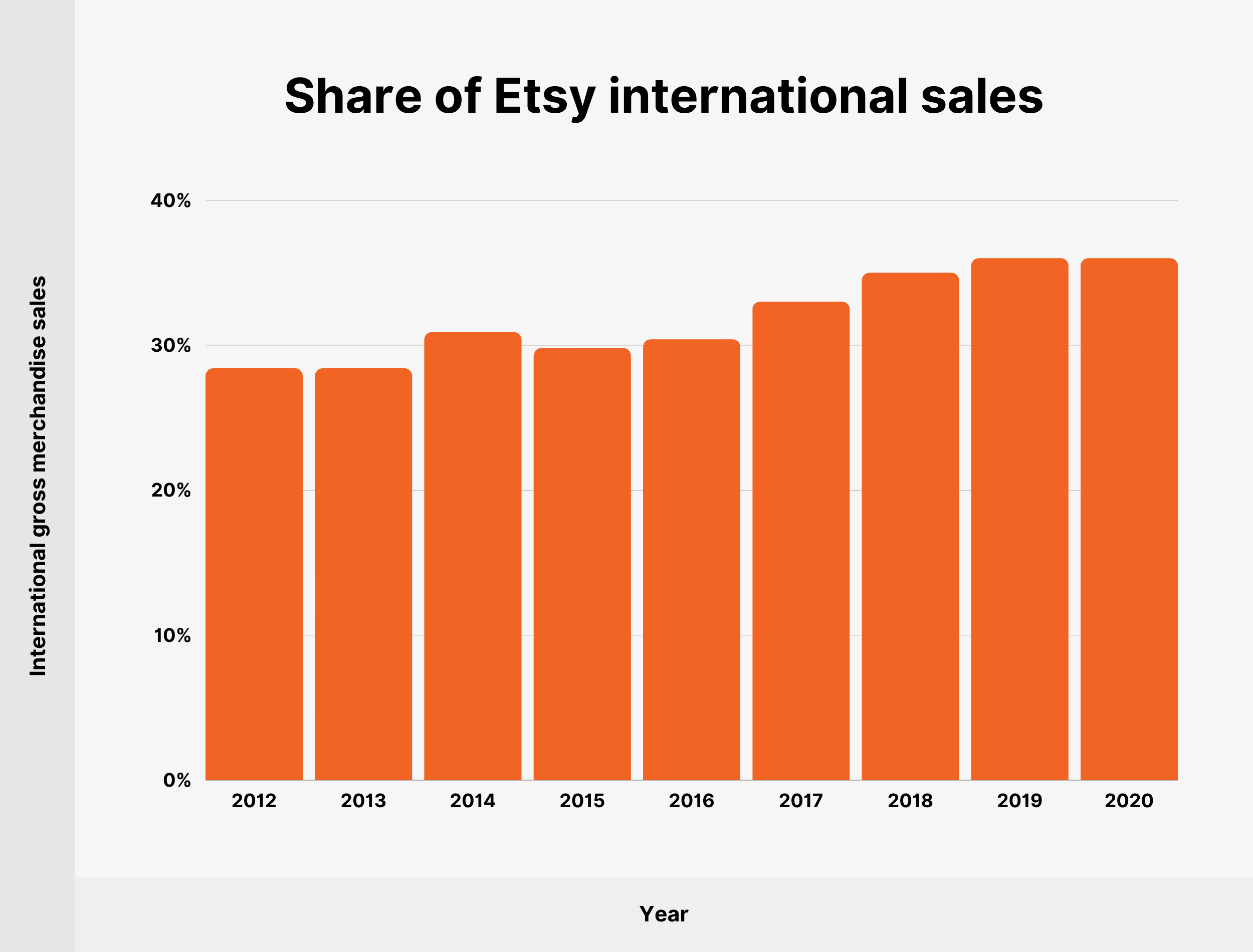 Seller protection policy.
Social media benefits. Etsy users can set up profiles, exchange private messages, add friends, etc.
The marketplace offers high-quality products in about 50 categories. Here are the top popular product categories on Etsy:
home decor;
jewelry and accessories;
craft supplies and tools;
clothing;
paper products and party accessories;
makeup and cosmetics.
If you're producing or collecting these items, you can't miss the chance to start making money on Etsy!
How to open a shop on Etsy
Creating a seller account with Etsy is free and easy. Go to etsy.com and click Sell on Etsy in the top right corner.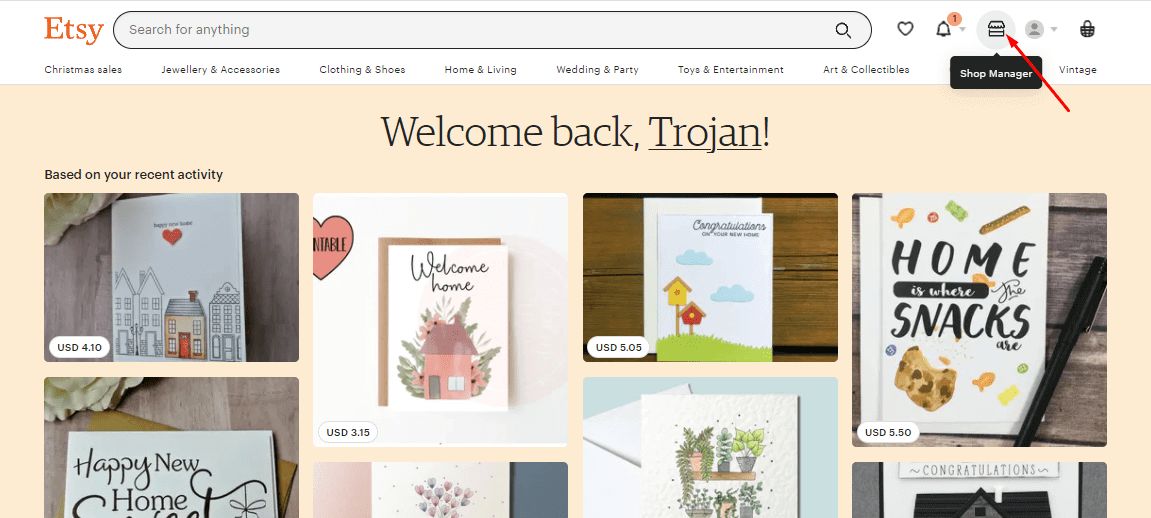 Provide basic information
When setting up your Etsy shop, you need to select a:
language;
country;
currency (keep in mind that Etsy charges a currency exchange fee).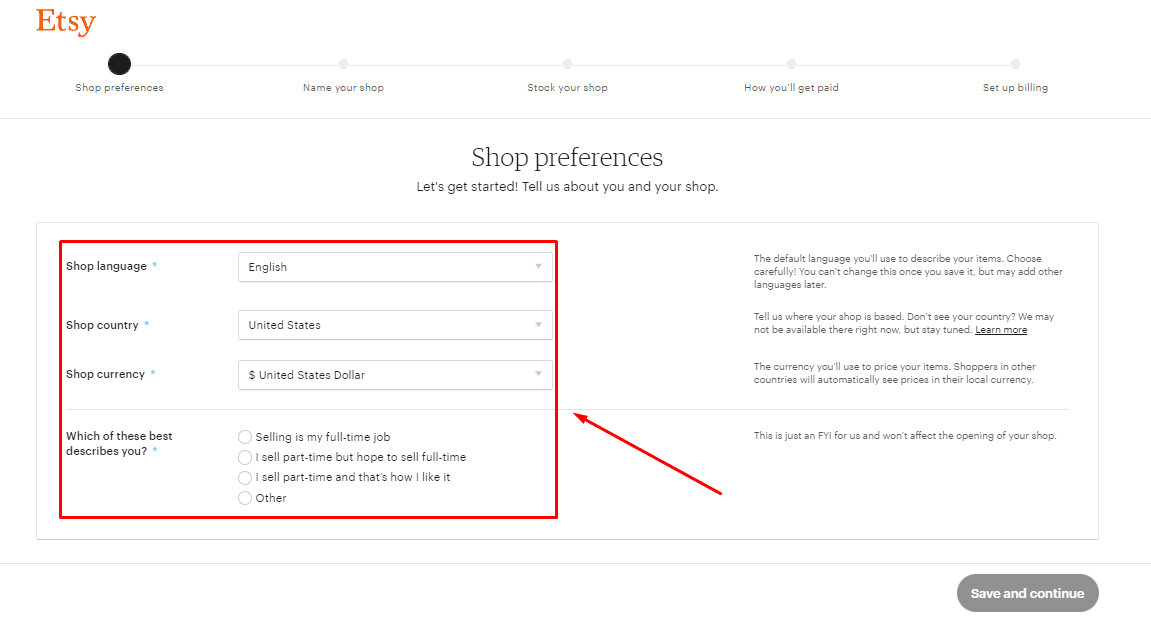 As the next step, enter your shop name. Take enough time to think this one over because Etsy allows users to change the shop name only once.
Add your items
Add 5-10 photos of each item on your catalog. Here are some basic tips for creating successful photos.
Use a professional camera to photograph your items. Set up good lightning. Your pictures must have the minimum resolution of 2,000 pixels.
Use a minimalist, light-colored background.
Try different approaches. Make a series of close-ups and long shots for each item. Also, it's a good idea to show what your items look like in a home interior.
Make sure the first photo you upload is the best one. It will display as a preview on a search results page.
Keep your item in the center of a photograph unless you want it to be cropped by the platform's algorithms.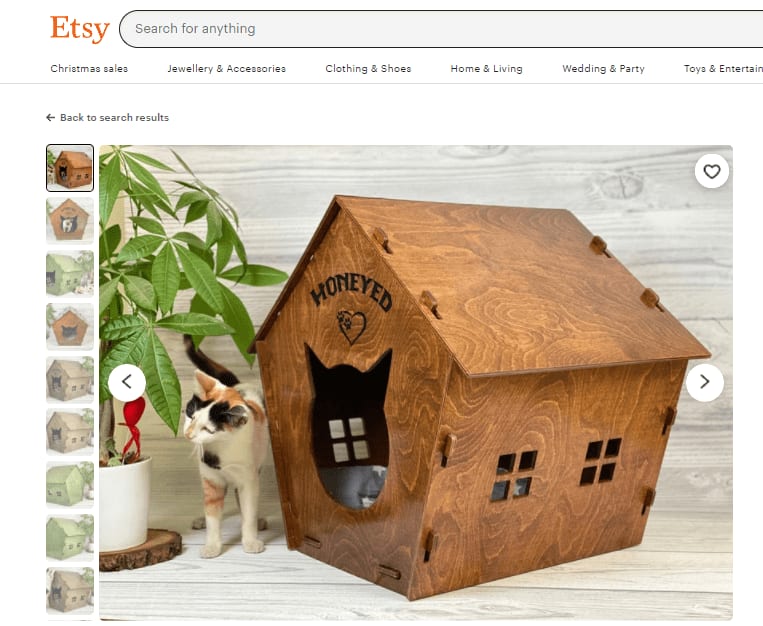 Provide a detailed description of each item.
What is the purpose of a product? What problem(s) does it solve?
What are the advantages of a product?
What are the technical characteristics (material, dimensions, weight, etc.) of a product?
How much does a product cost?
Provide shipping information
Provide shoppers with exhaustive information about shipping, including:
shipping cost;
shipping services that you're using;
shipping times;
exchange and return policy.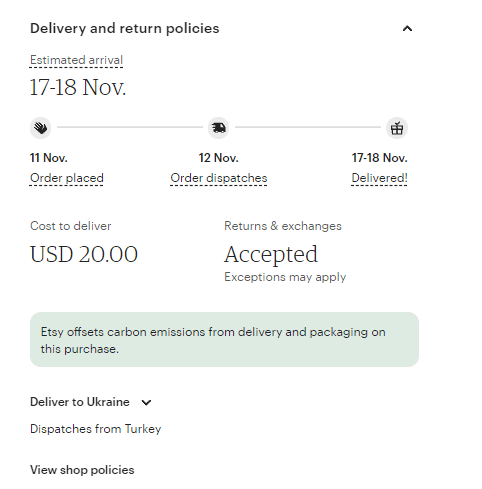 Complete the About page and your Public Profile
The About page is a simple and straightforward way to present your business to the audience. When writing about your business, avoid using dry facts and generic phrases. Use this opportunity to showcase your brand's personality and uniqueness. Be sincere and honest with your audience.
Tell the story of your business.
Take your audience behind-the-scenes of your creation process.
Share your values and beliefs.
Introduce your team (if you're not running your business on your own).
Upload the photos and videos showing your workplace.
Add links to your business profiles on social media.
Setting up your Public Profile on Etsy gives you an opportunity to personalize your business and forge an emotional bond with your audience. Tell your customers about yourself: Where do you live? What made you start your own business? What inspires you? Also, add a photo of yours.
Add payment information
Enter your credit card information and billing address. We'll talk more about payment at the end of this guide.
How to grow your customer base
When selling on Etsy, prepare to compete with thousands of other sellers that offer products similar to yours. Let's look at the effective strategies that will help your business gain momentum and draw in customers.
Branding
What impression do you want to make on your audience? What sets your business apart from competition? To find the answers to these and other vital questions, you need to build a brand identity. A strong brand identity has the power to highlight your company's personality and catch the attention of shoppers. To craft a strong brand identity, you need to have a good understanding of your business and target audience. To help you with this task, we've prepared some questions that you need to ask yourself.
What is the character of your shop? If your shop were a person, how would you describe them? What makes your shop different from other similar businesses?
Who are your target audience? Make the profile of your target customer (age, gender, social status, hobbies, etc.).
The best way to visually express your brand identity is through your shop logo, color scheme, fonts, tone of voice, photography style, etc. All elements on your Etsy page must share the same visual style, creating a coherent image in the minds of customers.
Profile picture. A profile picture is the key element of your brand identity. Customers will see your profile picture when searching for your shop, visiting your page, placing an order, etc. Your photo must tell shoppers who you are and what products you're selling. This is where a logo comes in! If you're looking to create a neat logo for your Etsy shop, you can't do better than ZenBusiness!
Cover image. Use your cover image as an ad banner. It's a great place for promoting your flagman products, special offers, calls to action, and unique selling proposition.
Product photos. In addition to being high-quality, your product photos must share the same visual style and set the same mood.
Text. Your text content — including your brand name, product descriptions, and customer communication — must reflect your brand personality. It can be open and friendly or, on the contrary, reserved and conservative.
Packaging. Packaging plays a vital part in your success as a seller. Use the colors, fonts, and materials that will give your customers the feel of your brand and help them remember your business. There is a bunch of ways to stand out: you can print your brand logo on your packaging, add a handwritten card, craft an engaging product booklet, etc.
SEO
If you want Etsy to rank your store higher in search results, you need to learn what keywords shoppers are using to search your business. Here are some of the ways to do that.
Go to Etsy and start entering your business-related keyword into the search box. A drop-down list of related searches will pop up. Feel free to borrow some keywords ideas from the list.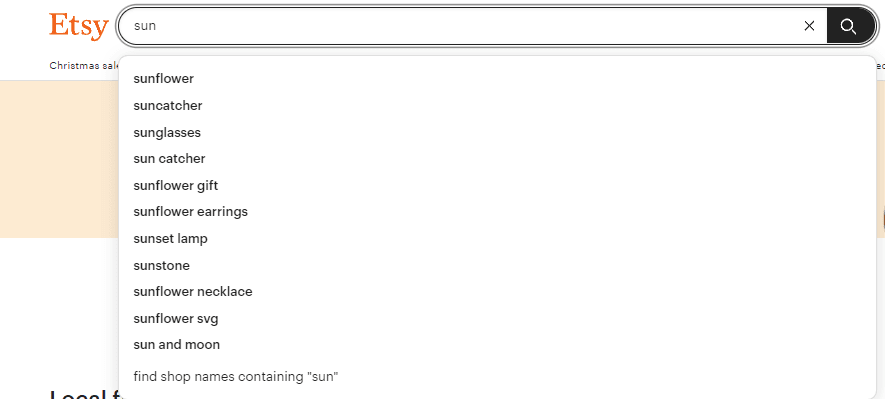 Use Etsy Keyword Tool Dominator.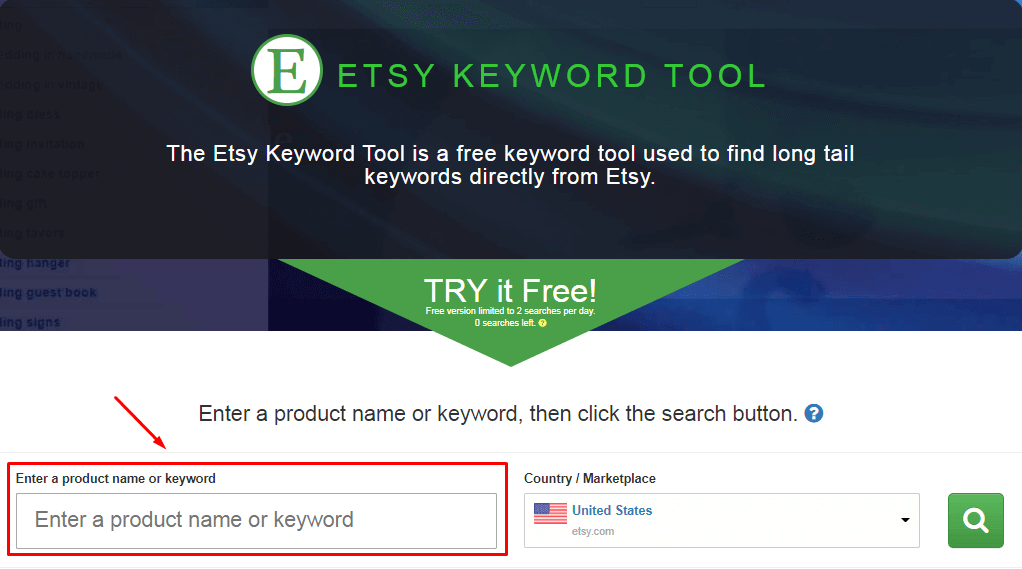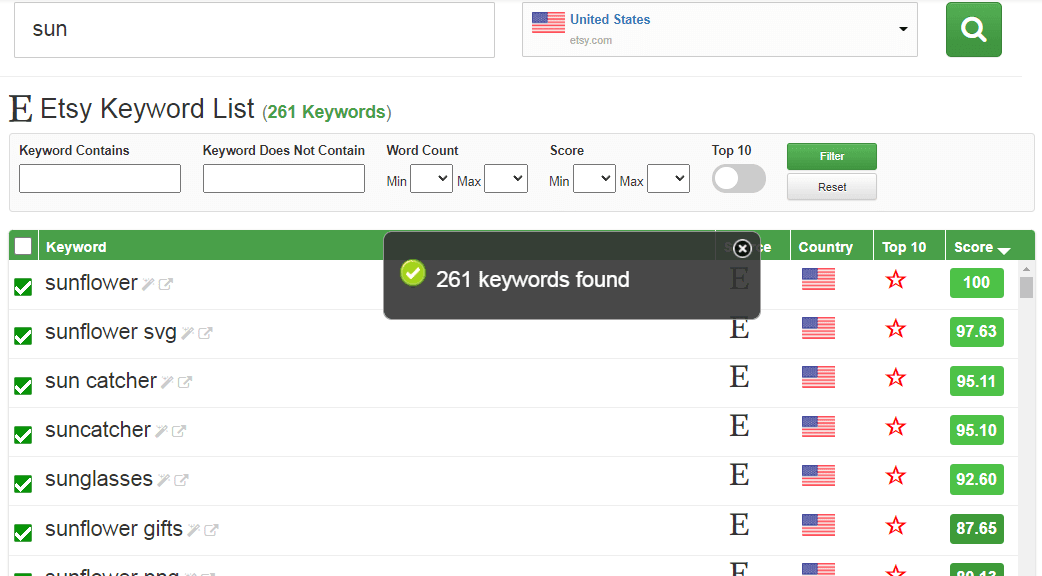 Use Google Keyword Planner.
Use the keywords in:
titles (try to incorporate a keyword into the beginning of a title);
product categories;
product descriptions;
meta tags.
Advertising
Paid advertising is a surefire way to promote your shop on both Etsy and other online marketplaces. You can launch paid ad campaigns on:
Etsy;
Google;
social media platforms.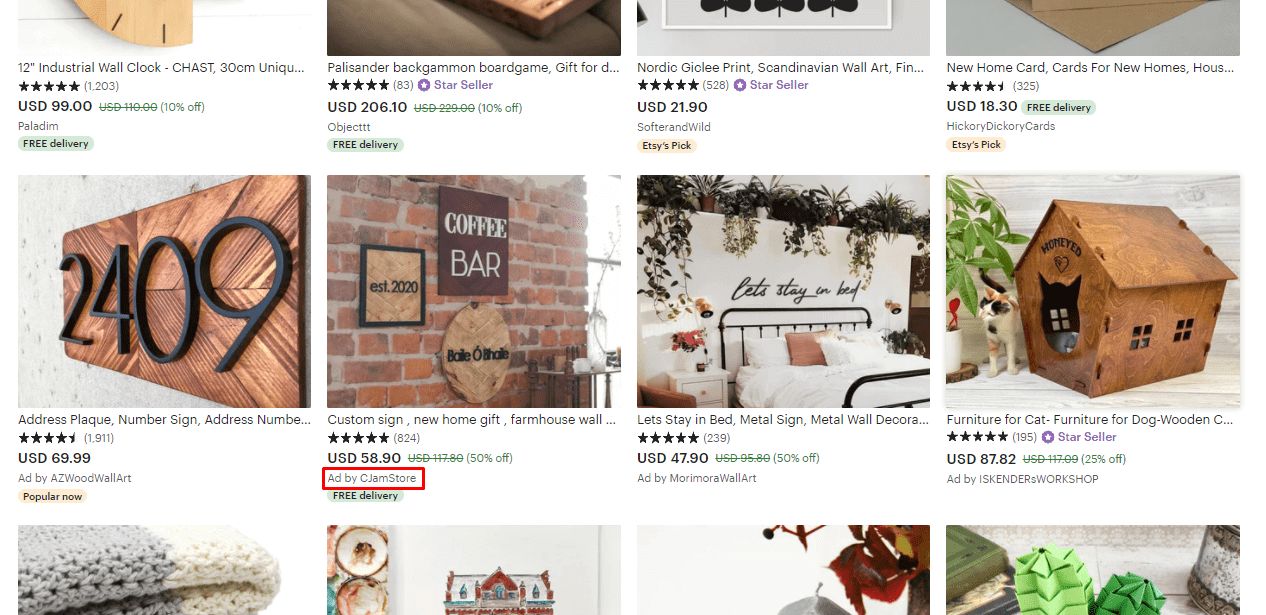 More life hacks for Etsy sellers
Let's see what else you can do to promote your store on Etsy.
Etsy allows its users to add an unlimited number of listings. Create several versions of each listing with different keywords and tags. This way, one and the same product will display on a search results page more than once.
Since Etsy prioritizes new listings, we advise you against adding all items at once. It's way better to add several products every day.
Cross-promote your items by adding a link to Product A to the description of Product B.
Organize shipping and payment
Etsy uses Paypal for all payments which is a fantastic choice for Etsy store owners since it gives customers the ability to pay by credit card, bank account and even leveraging their cryptocurrency market holdings through the new Paypal Bitcoin payment options. It should be noted that Etsy's Payment Policy varies across countries. The marketplace changes the following types of fees:
listing fee (USD $0.20 for each item, the listings are active for 4 months);
5% commission fee;
PayPal transaction fee.
Think about how you're going to ship your products. Choose a local or global shipping service that has a good reputation among sellers. Shipping costs can be paid either by the seller or by the buyer.
Also, don't forget to set up how you want to receive your payment deposits. You can choose to get paid daily, weekly, biweekly, or monthly.
Final words
Starting to sell on Etsy is not tricky at all. Create a nice brand identity for your shop. Prepare beautiful photos and attractive product descriptions. Outline your shipping terms. Once your business is up and running, you need to update your product catalog on a regular basis, drive traffic to your shop, communicate with customers, and handle shipment and payment. We wish you loyal customers and tremendous success!