According to statistics, 97% of marketing companies fail due to the lack of high-quality analytics. Launching a series of ads is not enough. You also need to track the performance of your ad campaign by calculating the conversion rate and identifying where your traffic is coming from. Read on to find out how to do this.
What is conversion and how to find it
Conversion is a ratio of the total number of visitors of an online platform (website, social media page, email, etc.) to the number of users who performed a target action. A target action can refer to purchasing a product, subscribing to a newsletter, registering on the website, downloading a free sample, contacting the customer support, etc.
Knowing your conversion rates will help you choose the right advertising strategy and adjust it when needed. Conversion rate depends on the performance of different elements, such as:
specific ad;
advertising campaign;
specific keywords in your content strategy;
specific website pages;
landing page.
High conversion rates are the result of a bunch of factors. If something is going awry, you need to analyze every aspect of your ad campaign. Here are some of the most important things that you should focus on:
visually engaging ads that make users want to do a click (text, imagery, communication style with your audience);
well-designed landing page;
effective CTA (call to action) buttons (color, shape, text);
regular, engaging, and useful newsletters that urge users to perform an action;
professional customer support (responding to calls and emails from potential clients);
search engine optimization (SEO).
To find a conversion rate, you need to divide the number of target actions by the number of users that interacted with your ad, and then multiply the result by 100%. The good news is that you don't need to do the calculations yourself. Online calculators will handle this task for you!
Ncalculators
Ncalculators is an ideal solution for finding your sales performance. Enter your average order amount, number of unique users, and number of users over a specific period. The service will calculate a conversion rate (in %), total sales, and average sales per user.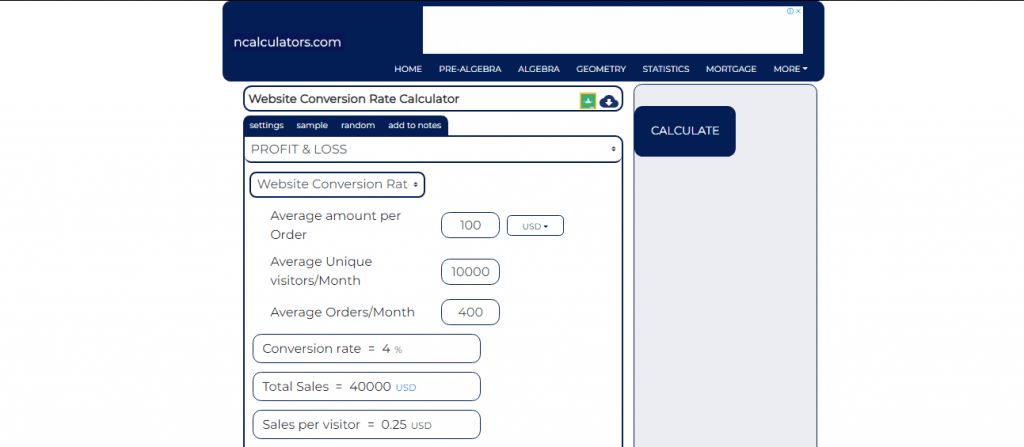 Webfx
Webfx is an easy-to-use calculator that can find conversion rates for a variety of objects, including ads, emails, landing pages, etc. You only need to submit two metrics, number of target actions and number of impressions.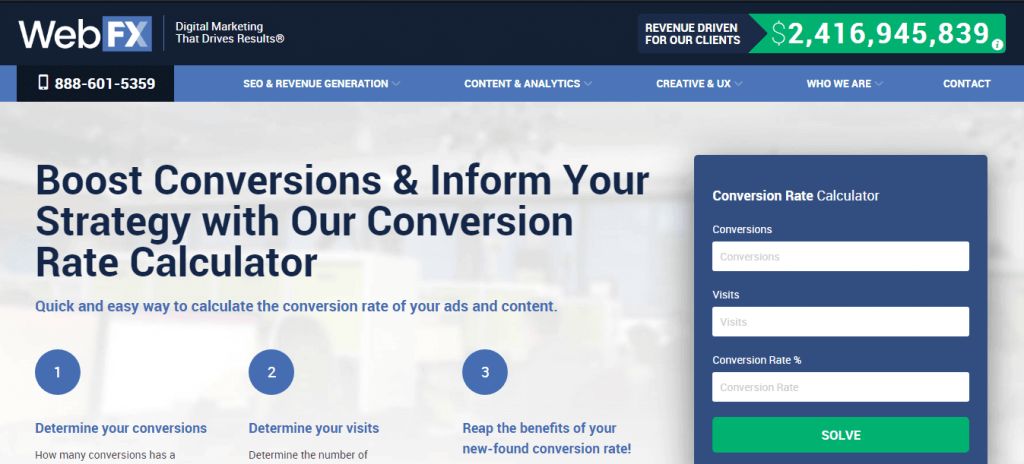 Conversion Rate Calculator
This one-stop platform will measure the performance of your website in seconds. Enter the number of visitors and total number of orders – and voila!

Theonlineadvertisingguide
This tool stands out from the rest through its extra functionality. In addition to conversion rates, it can also find the number of clicks needed to achieve the desired result.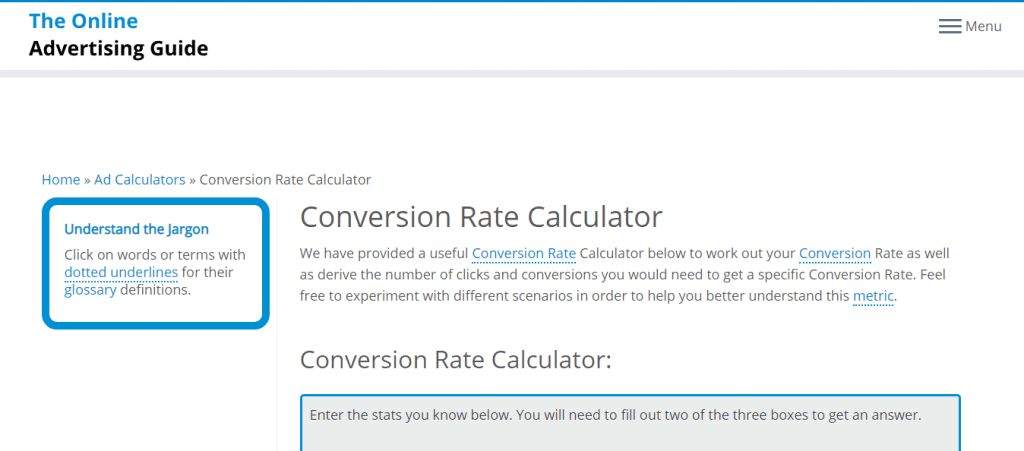 What is CPM and how to find it
The acronym "CPM" stands for "cost per mille" (M is the Roman number that means 1000). In marketing, CPM is an advertising model that enables you to find how much 1,000 ad impressions will cost your business.
CPM shows the effectiveness of various platforms and depends on the size of your audience and ad placement cost. Knowing this metric will help you choose the right platform for publishing your ads.
With smart online tools, finding CPM is a walk in the park. Most services have three empty fields: total cost of your marketing campaign, CPM, and total number of impressions. Fill out any two out of the three fields, and the tool will calculate the remaining metric. Check out these calculators:
Clickz

Calculatestuff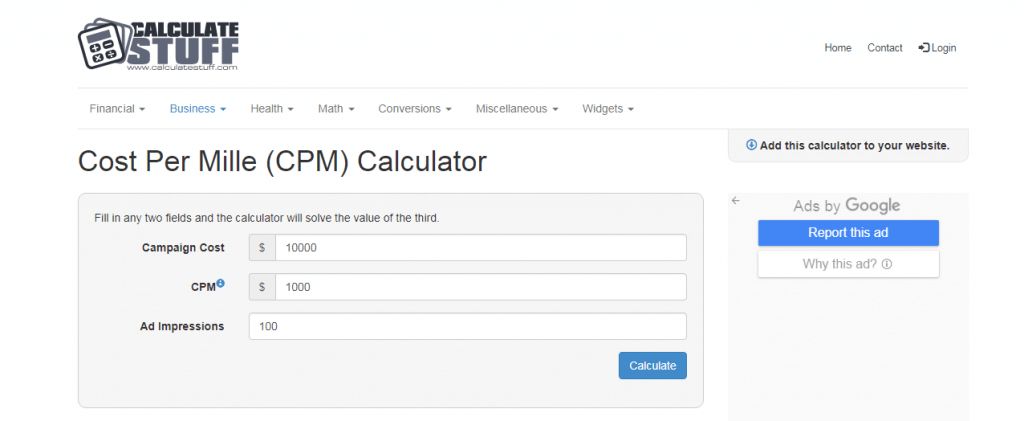 Marketingdive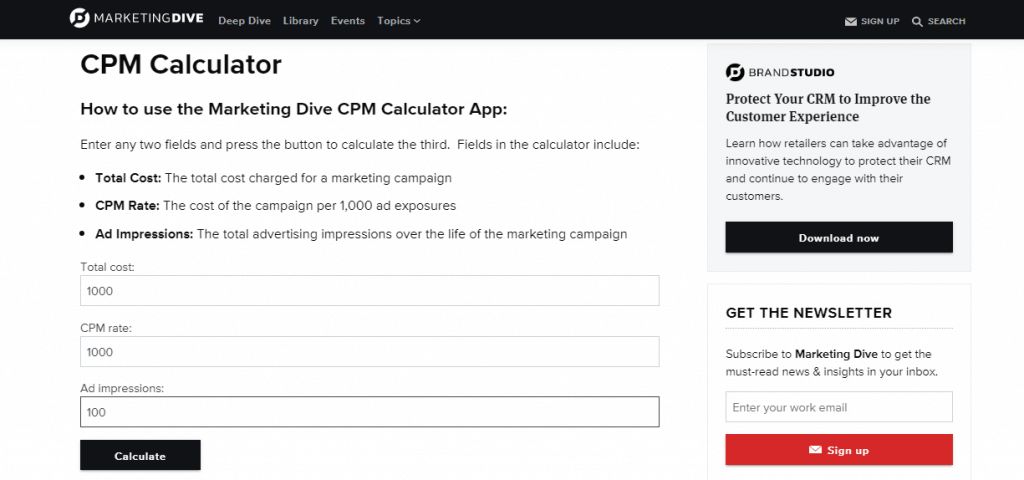 Omnicalculator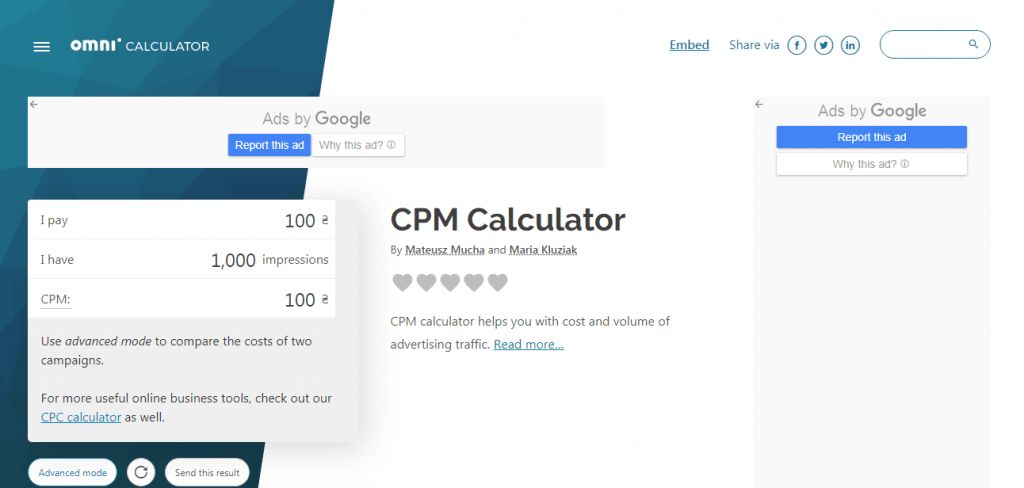 How to create a tracking URL
There is an easy way to find out which channel drives most traffic to your website or mobile app. Add a UTM (Urchin Tracking Module) to your web page address (URL) and track your visitors!
Imagine a situation where you're promoting a new service of yours. You sent emails to your subscribers, published ads on Twitter, and wrote a post on Facebook. To determine which link gets more clicks, you need to add different UTMs to each link and track your users via Google Analytics.
While you can create UTMs manually, we recommend using URL generators that were designed specifically for that purpose. You'll be asked to submit a few parameters, such as "source" (your advertising platform, e.g. Google, Facebook, etc.), "medium" (type of advertising, e.g. targeted or email), and "campaign" (short description of your campaign that will enable you to identify it in Google Analytics, e.g. "online course launch").
Here are three major tools for creating UTM tags:
URL constructor for Google Analytics campaigns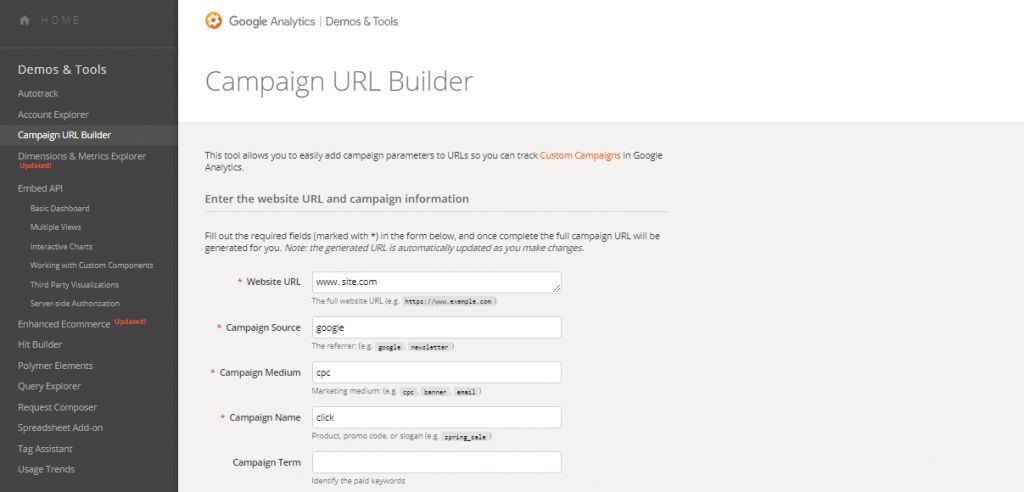 URL constructor for Google Play apps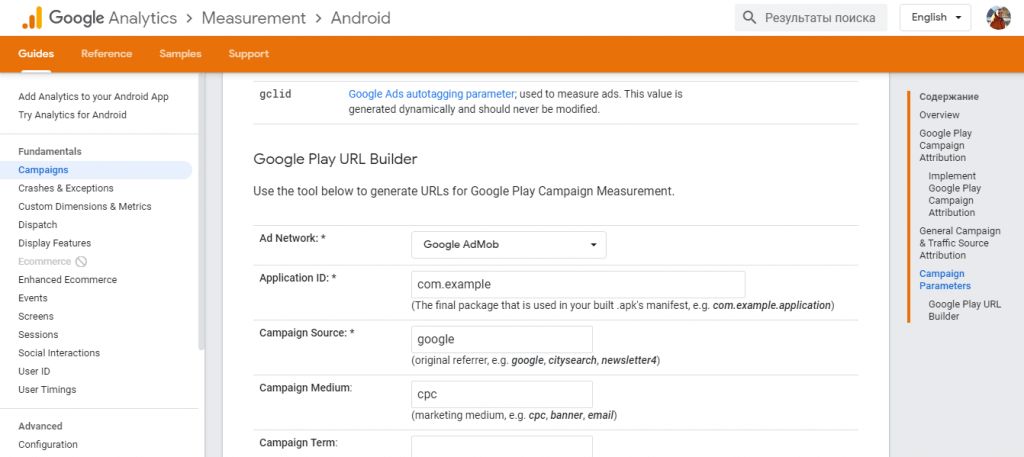 URL constructor for iOS apps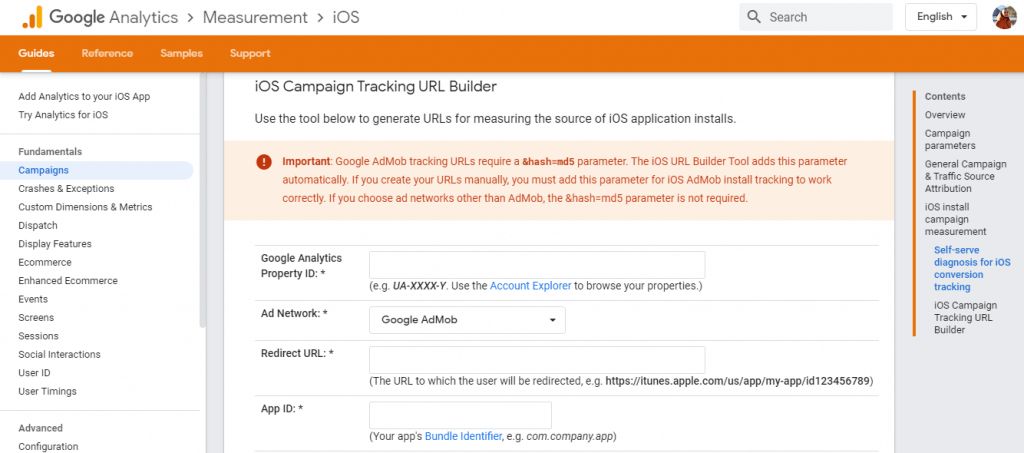 Upon entering the required data, you'll get a new URL. If your URL is too long and confusing, you can shorten it using special tools, such as bit.ly. The URL will become more concise while keeping all tags incorporated into it.