Who is the most influential entrepreneur working in the world today? And why is that important? In an age of social media, online partnerships, and even the emergence of celebrity Creative Directors, influence is a much-misunderstood element in any successful entrepreneur's profile.
Influence is important. It's a measure of an individual's power to mold the world that's around them. Influence allows a person to shine a light on what they feel is important and, equally, leave things they'd rather go unseen in the shadows. Influence can sway public opinion, alter press narratives, and lend authority to beliefs.
This is precisely why we wanted to examine some of the world's best-known entrepreneurs leading business today, to see who is the most influential.
The Most Influential Entrepreneurs In The World
To find the most influential entrepreneur working today, we examined 10 ranking factors, all of which are indicative of global influence across a range of measurable platforms.
The ranking factors are: how many times each person appears as themselves in a film or TV show, total followers across leading social media platforms, how many Forbes articles mention them, their average engagement rate on social media, and their volume of social media posts.
Further factors are; how frequently people search their name on Google in a month, how frequently people search for their name on YouTube, how often something with positive sentiment is posted about them on social media, how much traffic their Wikipedia page gets, and how many views their TED talks have received.
The most influential entrepreneur working today is Bill Gates. The Microsoft co-founder is an internationally renowned business owner, author, and well-known philanthropist, as well as regularly featuring in the top five of just about any World's Richest person list you care to read.

Global Entrepreneur Influencer Index
A Seattle native, Bill Gates scored the highest on the overall influence score but only came top of one of the measuring criteria we used; TED Talk views. However, consistency may be essential to Gates' success, and he was in the top 20 across all ranking factors and within the top five in five of the categories.
Elon Musk, Rihanna, Jeff Bezos, and Richard Branson complete the top five most influential entrepreneurs, respectively, showing that global influence is not born in the United States.
Barbados-born singer Rihanna is not only the highest-scoring female on our index, but she is also the highest-ranked entrepreneur who's arguably known best for work outside of the business world.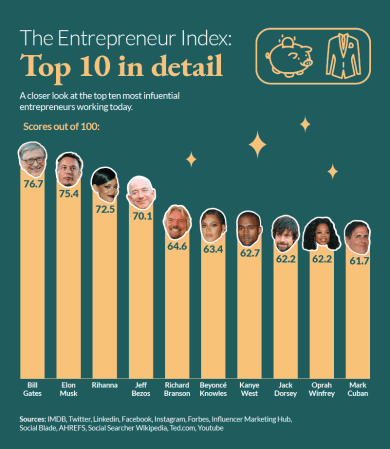 Global Entrepreneur Influencer Index Top Ten
Rihanna has been in the music industry, making records since she was a teenager, but it's her business interest that sees her make the list. Success with her makeup and skincare company Fenty, and lingerie line Savage X Fenty, make the singer a bonafide entrepreneur and a profoundly influential one.
Not the only performer-turned business mogul on the just, Rihanna is joined in the top 10 more influential entrepreneurs by artists Beyonce Knowles and Kanye West, TV personality and author Oprah Winfrey, all of who have converted success in the entertainment sector into success in the boardroom.
The Influential Entrepreneurs That Are Worth The Most
Does having more money make you more influential? One of the complexities of influence is that, in its purest form, it cannot be bought, only earned. However, money and wealth can certainly put people in a position where their message can be heard more clearly.
Our Entrepreneur Influencer Index also looks at the Net Worth of the individuals that appear on it, so it presents a unique opportunity to examine whether money really can buy influence.
The most prosperous entrepreneur on the list is a French businessman and chairman of luxury goods folio LVMH, Bernard Arnault, reportedly worth over $198billion US. Despite this vast wealth, Arnault is only the 38th most influential entrepreneur on our list.
However, the following three wealthiest entrepreneurs are all within the top 4 most influential. With a reported net worth of $195billion US, Amazon founder Jeff Bezos is fourth when it comes to influencing. Business magnate and SpaceX Chief Engineer Elon Musk is the third wealthiest person on the list with over $182billion US and the second most influential.
Bill Gates is the fourth wealthiest person on our list, but as we've already seen, he comes out on top when it comes to influencing. But if we continue to follow the money, the influence score rapidly drops.
Facebook founder Mark Zuckerberg has reported a wealth of over $130billion US but is only the 21st most influential. Larry Page ($116billion US), Warren Buffet ($103billion US), and Sergey Brin ($112billion US) all have a fortune of over $100billion US but find themselves outside of the ten most influential entrepreneurs.
What City Are America's Most Influential Entrepreneurs From?
Many of the names on the Entrepreneur Influencer index are known around the globe, and the people on this list themselves were born in twelve different countries. However, almost three-quarters (74%) of them are from here in the United States. Furthermore, if the net worth of the entrepreneurs on the index were combined, it would come to over $643billion US.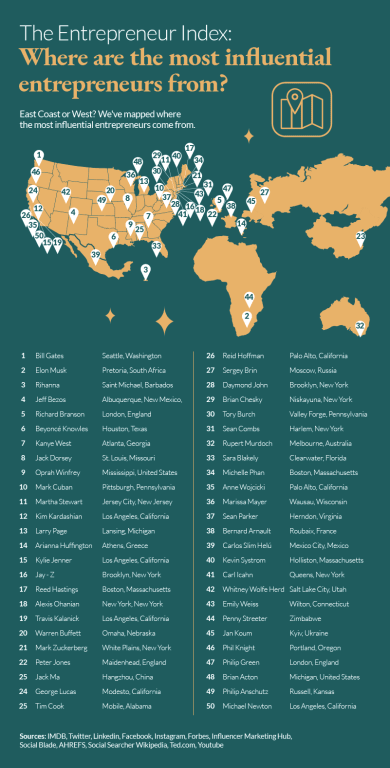 Global Entrepreneurs Mapped
New York is the city where the most amount of our influential entrepreneurs hail from, with Jay-Z, Maymon John, Sean Combes, Alexis Ohanian, Brian Chesky, Carl Icahn, and Mark Zuckerberg all coming from in and around the Big Apple. That's almost one in six (14%) of our entire list of 50 people.
The exact number of influential entrepreneurs come from California (14%), while one in twelve (8%) were born in and around Los Angeles.
Influential Gender Split
The gender split in the Entrepreneur Influencer Index is broadly representative of the workplace it represents, with recent statistics showing that, in North America, women in business make up 29% of the workforce in senior management positions. One in six (30%) of the entrepreneurs on our index are female.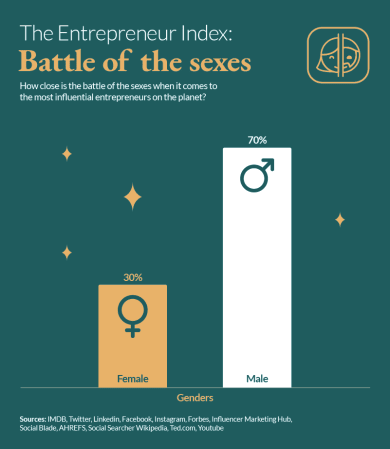 Entrepreneur Battle Of The Sexes
Rihanna, Beyonce Knowles, Oprah Winfrey, Martha Stewart, and Kim Kardashian are the top five most influential females. All five are successful entrepreneurs but are best known from the entertainment industry.
Conversely, only one of the top five influential males, Kanye West, is entertainment. The other four, Bill Gates, Elon Musk, Jeff Bezos, and Richard Branson, who rank first to fourth respectively, are best known for their business exploits (although, arguably, three of the four now want to be best known as astronauts).
The Most Influential Power Couples
In recent years, the world of leading entrepreneurs has seen some high-profile divorces, with Jeff Bezos separating from MacKenzie Scott in 2019 and Bill and Melinda Gates finalizing their divorce in May 2021. However, there are still many power couples who, together, wield significant influence.

Entrepreneur Battle Of The Sexes
Looking at the same ten ranking factors as the Entrepreneur Influencer Index, we measured the influence of some of the most well-known couples who lead in business.
The leading power couple is Alexis Ohanian and Serena Williams. While Ohanian is best known for co-founding Reddit and was once called "the mayor of the internet" by Forbes, Williams is the most universally recognizable of the couple. The tennis star has reportedly earned $94million US in prize money, twice as much as any other female athlete, but her business acumen also serves aces. She sits on the board of folio company Momentive and has invested in over 66 start-ups through her company Serena Ventures.
The top five most influential couples see more famous faces, who mix the limelight with the boardroom. Jay-Z and Beyonce were second, Oprah Winfrey and partner Stedman Graham were third, with Kylie Jenner and Travis Scott, then George Lucas and Mellody Hobson completing the top five.
Methodology
Using a range of sources, including Forbes.com, we took 50 of the world's top entrepreneurs and ranked them against ten factors for a total score, out of 100, to determine the most influential entrepreneur in the world.
We created a score out of 100 for each individual, which was their Total Influence Score. To do this, we analyzed ten unique factors:
1. IMDB Self Credits
Using IMDB, we found out which entrepreneur has the most amount of film and TV credits as themselves.
Source: IMDB
2. Total Social Followers
Taking the social media following across all four platforms, Twitter, Linkedin, Facebook, and Instagram, we discovered each entrepreneur's combined social following.
Sources: Twitter | Linkedin | Facebook | Instagram
3. Forbes Presence
By searching for each entrepreneur on Forbes, we found out the number of articles and lists the business publication mentioned each entrepreneur in.
Source: Forbes
4. Average Social Engagement
Taking statistics from Twitter and Instagram, we calculated the average engagement rate for each of the entrepreneurs.
Sources: Influencer Marketing Hub | Social Blade
5. Average Content Production Across Social Platforms
Taking the number of posts across Twitter and Instagram, we found which entrepreneur created the most content.
Sources: Twitter | Instagram
6. Google Searches
We discovered the number of times each entrepreneur has been searched for by name on Google per month.
Source: AHREFS
7. YouTube Searches
This represents the number of global searches on the video platform YouTube per month for each entrepreneur.
Source: AHREFS
8. Positive Social Sentiment
Taking the percentage of positive sentiment for each of the entrepreneurs on social media.
Source: Social Searcher
9. Wikipedia Page Traffic
By analyzing the Wikipedia page of each entrepreneur using AHREFS, we have found the most visited pages.
Sources: Wikipedia | AHREFS
10. TED Talk Views
Scouring both the native Ted Talk website and YouTube, we found each Entrepreneur's highest viewed Ted Talk.
Sources: Ted.com | Youtube

We ranked the figures for each factor on a scale with a minimum placing of 1 and a maximum of 50; we then scored each placing out of 10 using normalization. This normalized score was then added together across all ten factors to produce a score out of 100.