Isn't it amazing how even a nice word like "free" can get a bad rap? Years of exposure to obnoxious telemarketers, car dealers, and shady, lurking characters with lollipops have caused us to automatically put up our dukes when we hear the word. After all, we know that giving away things out of the goodness of one's heart is not the most effective business model, so it makes sense to ask, "What's your angle?"
Fortunately, our free offer isn't hard to understand. When we say we want to help you establish your business for free, we mean it! We use technology, innovation and expert support to offer a free filing service to all of our customers. Our goal is to help start over 1 million new businesses by the year 2023.
Starting the business is only the beginning — we also want to help them run and grow through our other offerings like registered agent, ongoing compliance with state regulations, banking, accounting, and monthly plans.
3 Great Things You Get From Us
Free Formation – We provide a free business name search, an accurate and verified filing of your articles of incorporation with the State, and digitally delivered copies of those documents in your personalized dashboard.
Fast and Simple Formation – One of the things that allows us to keep the above services free is our focus on technology and automation. ZenBusiness was founded by people who know how to use automated services to keep costs low, service speedy, and errors less frequent, then we pass those savings on to you.
Services to Help You Grow – We aren't just about helping you get started—it's about helping your business grow. Once we've helped you officially launch your business, we provide additional services and packages for purchase to help your business succeed. The sale of those services is what keeps us in business.
Price Comparison  
In case you're thinking that we're offsetting the free business formation by charging more for our other services, think again! Here's how we compare against other industry leaders and the prices we charge to file your new business with the State based on how quickly you need everything completed (prices accurate to October 15th 2018):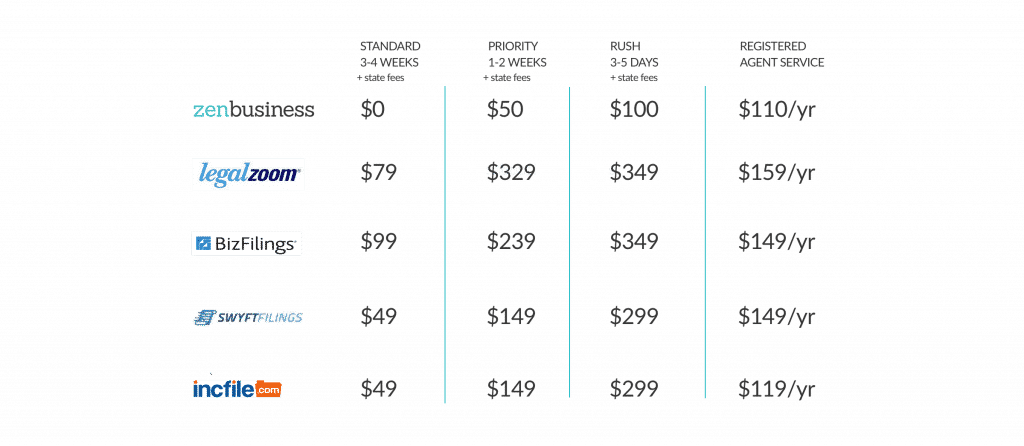 Free Formation Services
If you're like us, any time you're offered something free, you want as much explanation as possible before accepting. First, exactly what are you getting for free?
Name availability search – We will run a name check to make sure your chosen business name is available.
Articles of incorporation – We will file the articles of incorporation for you—the very thing that will officially form your business—and digitally deliver the documents to you.
State filing and verification – We will double-check with the State to ensure everything is filed correctly.
Real-time support – You will get chat support from a team of business experts with years of experience.
Personalized dashboard – Through your own personalized ZenBusiness dashboard, you can store documents and get alerts.
Again, all of the preceding services are free; you pay only the state filing fee (all of that goes to the State, not us). Once we've helped launch your business and you're ready to grow, we hope you'll come back to us.
Technology and Speed are Your Friends
One of the things that allows us to keep the above services free is our focus on technology. ZenBusiness was founded by people who know how to use automated services to keep costs low and errors less frequent, and we pass those savings on to you.
Technology is also key in offering business services to you that are fast and affordable. We integrate with our trusted partners to save you time and energy when adding on such services.
More Services to Help You Grow
While starting your business with us is free, you can also purchase additional services from us to help the process along. For additional fees, we can get your business established with the State in days instead of weeks. Once your business is established, we have services that can help you run it smoothly and confidently.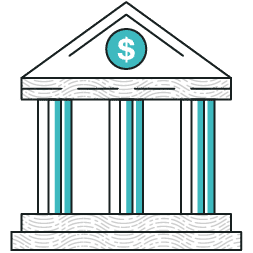 Employer ID Number
You can purchase our Employer Identification Number (EIN) service, which helps you obtain the unique code you'll need to open a business bank account and hire employees.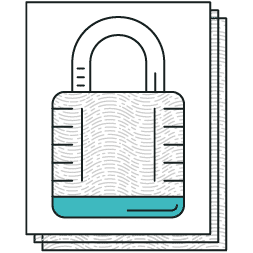 Registered Agent
We can act as your Registered Agent, meaning that you can keep your home address private by having us serve as your business's official address for all official and unofficial correspondence.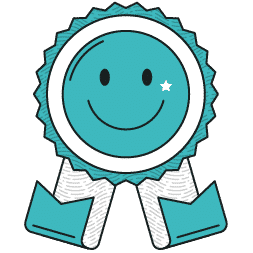 Worry-Free Guarantee
If you opt for our "Worry-Free Guarantee" service, we will alert you to filing and reporting deadlines and process your annual filing with the State.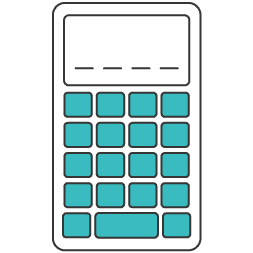 Accounting and Bookkeeping
Maybe you can't yet afford your own personal accountant or bookkeeper, but we can offer a Xero software license and monthly chat support from a dedicated team of CPAs.
We'll also be there with services to help you grow. Rather than a one-size-fits-all approach, we strive to offer only the specific services that fit your business. Our service packages range from those intended to cover just the basics to those geared toward to growing a business quickly. You can review the full list of our products and plans for more details.
Our Commitment to You
We are committed to helping you start, run, and grow your business. Not only can we file the paperwork needed to start your business, but our services come at the lowest rates you'll find. Our technology and automation make things go quickly and limits the potential for errors. Along the way you'll get great customer support via chat and email from a team with over 30 years of experience. We think you'll find that our service is simple, straightforward, and easy to use.
We're proud of the work we're doing here and the prices we are able to offer. Please take a look below at what some of our customers are saying and contact us at any time to talk about your business needs!
Get the services and expert support you need to form, run, and grow a successful business!