Voice search is nothing new at this point. Back in 2018, almost one third of the world's population was already using voice search, according to multiple sources including Google, and back in 2016 ⅕ of all searches were voice activated.
In 2019, that number grew, according to Emarketer, especially in the United States, where 40% of the population admitted to using voice search.
These days it is hard to find anyone who hasn't spoken a search query to their mobile phone, a virtual assistant or even a smart watch from time to time.
Voice search has become a new normal.
What Does That Mean for SEO?
Fundamentally, for SEO nothing has changed: You want your site on top of Google search result page. But there are certain things to keep in mind
As voice search is rising and new queries are surfacing, SEO is becoming a bit more difficult to plan and predict.
Let's look at the specifics:
All Voice-Activated Devices Behave Differently
One of the biggest challenges voice-powered discovery is bringing about is its inconsistency. For example, local discovery is powered by different algorithms: Google Assistant will use Google Maps while Siri will rely on Apple Maps, so the result may differ.
When it comes to non-local queries, there's no consistency as well. While most voice-activated devices will refer to Google to answer your questions, the results will be treated differently.
As such, Google-owned devices tend to read the featured snippet while Siri will largely ignore everything but organic results. This is fine when your site is both featured and ranks #1 organically but that's not always the case: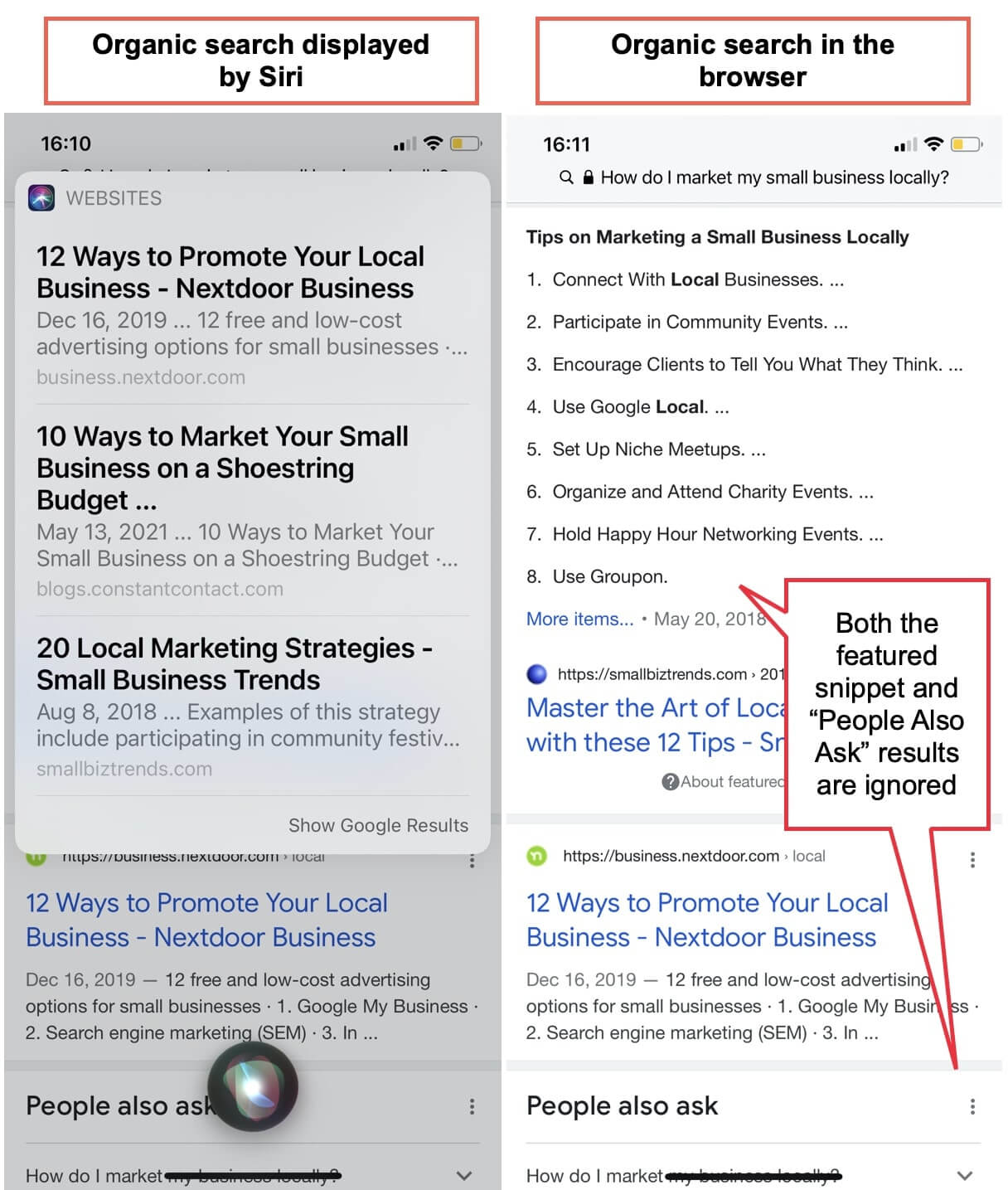 And those types of voice-activated devices are numerous. So there's no single solution to a problem, and those solutions may even contradict each other.
It is not easy to please every smart device out there but you can prioritize based on which devices your audience is using.
In most cases, users will still be able to interact with the voice-generated results using clicks. Smart assistants will often invite you to send the results to your phone for you to view and click, and Siri will make everything clickable right away from your screen:
That being said, old-fashioned traffic will still exist – which means it can be analyzed.
Finteza is a great way to analyze your audience's devices and prioritize your optimization tactics. Not only does it provide a detailed report on what kinds of devices your current audience is using to access your site, it also helps you narrow that data down to evaluate your conversion funnel performance: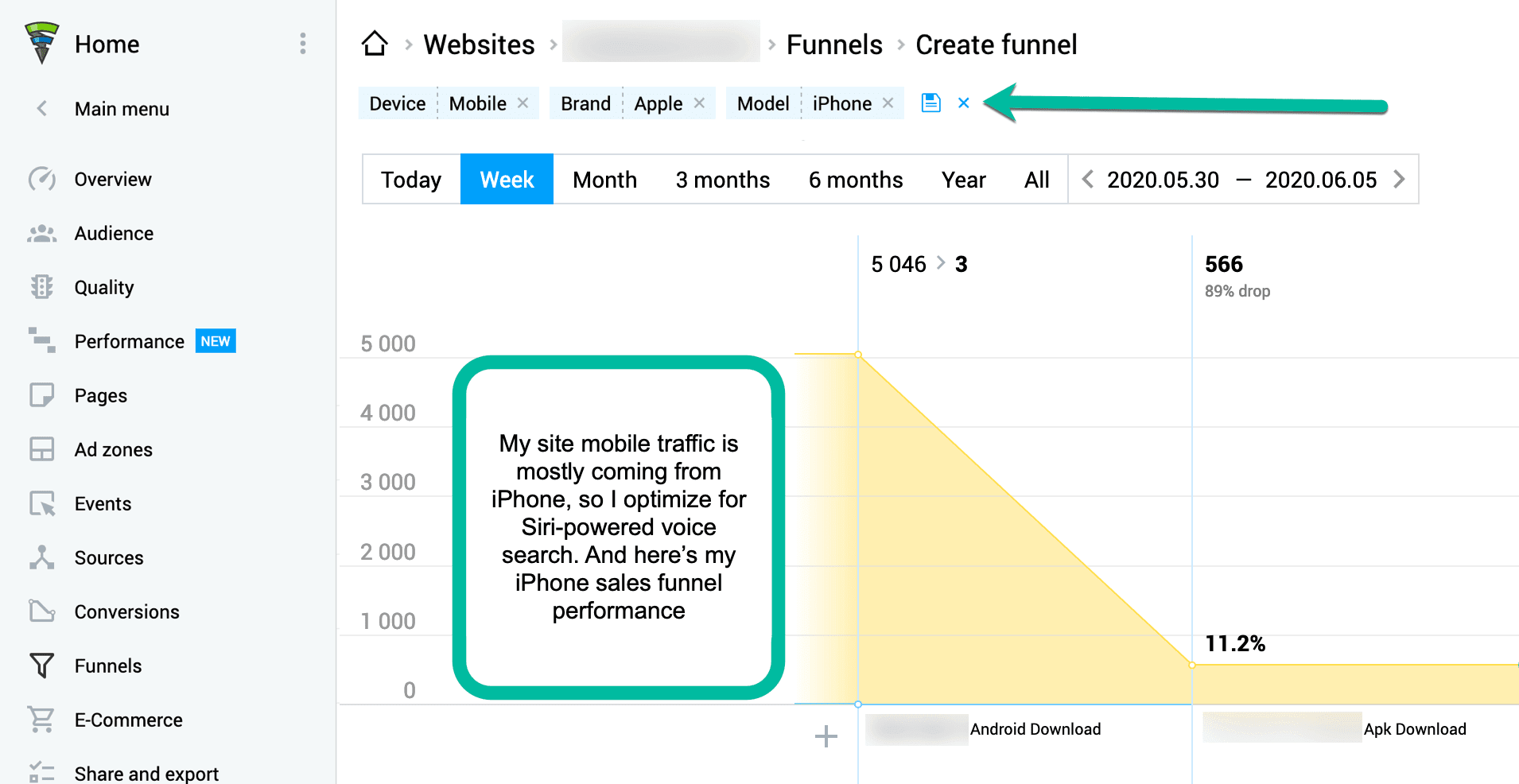 Keywords Are Being Replaced with Conversations
Google has summed up some of the ways voice search is influencing our lives:
Search becomes part of daily routine
It makes life easier as people can search in the middle of any task
It develops more human relationships with the technology
Most of the above takeaways actually mean one important thing: Search queries are becoming more unpredictable as now they are just part of natural conversation.

No wonder, yet another Google's report shows that about 70% of requests to the Google Assistant are expressed in natural language, not the typical keywords people type in a web search.
Instead of dealing with typed search keywords, SEOs will now have to deal with spontaneous voice search queries and conversational interactions:
| | | | |
| --- | --- | --- | --- |
| | What is it? | How are results displayed / interacted with | How to optimize |
| Voice search queries | Searching for products, local businesses, etc. | Consumers are being served a list of options for them to act upon immediately (buy, go to, etc.) | Ensure your site can be used by voice, ensure your local business presence across all local platforms (Google My Business, Yelp, etc.) |
| Conversational interactions | Searching for answers to questions | Consumers are being served a list of results to click, or the answer is being read aloud | Research and answer niche questions whenever possible |
At least one tactic remains constant here: Voice search or not, you need your site on top of Google, preferably in top 3 positions. And you want your local business registered and verified everywhere.
A newer tactic brought about by the voice search revolution is the necessity to optimize your site for questions because voice search users tend to speak full sentences when asking their assistance for help. This is where Text Optimizer be of great help as it provides a very solid view of questions your audience may be asking centered around your target search query: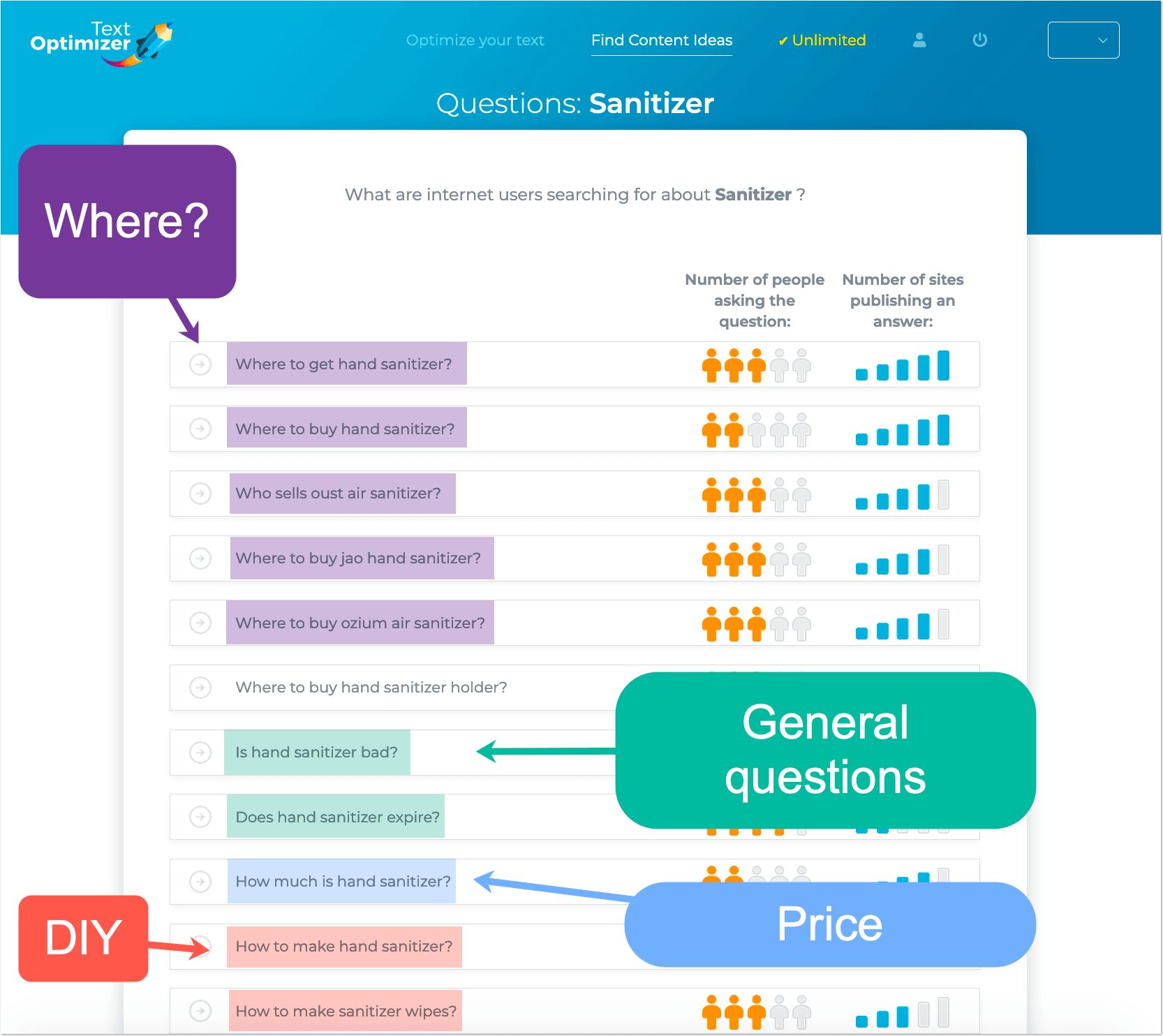 Google's "People Also Ask" section is another good source of niche questions to optimize for.
Answer related questions on every page of your site, be it a product page (think Amazon-style product Q&A) or articles (create mini FAQ sections on every content-based page and set up a standalone knowledge base section).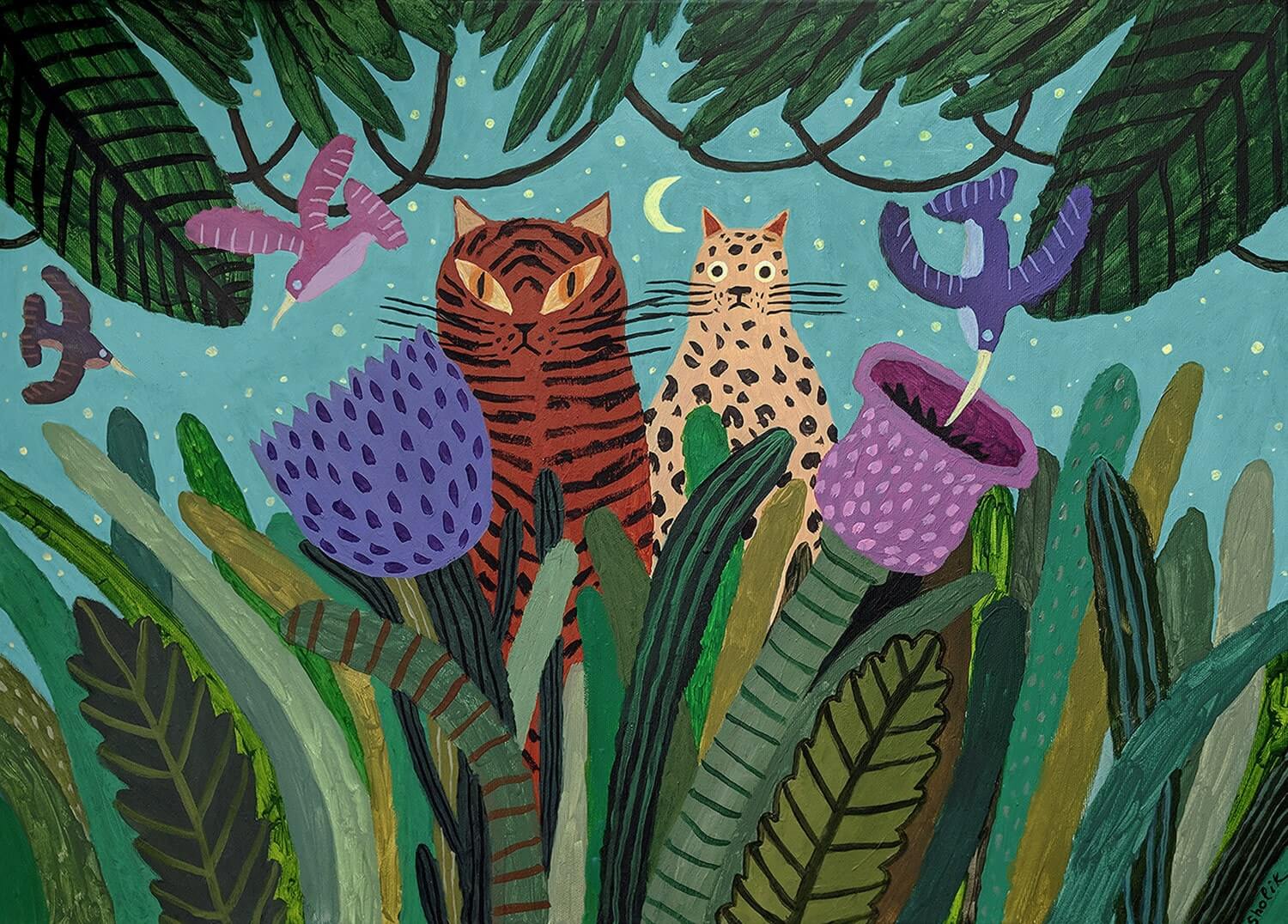 Use Site Checker to analyze how your competitors are creating question optimization strategy: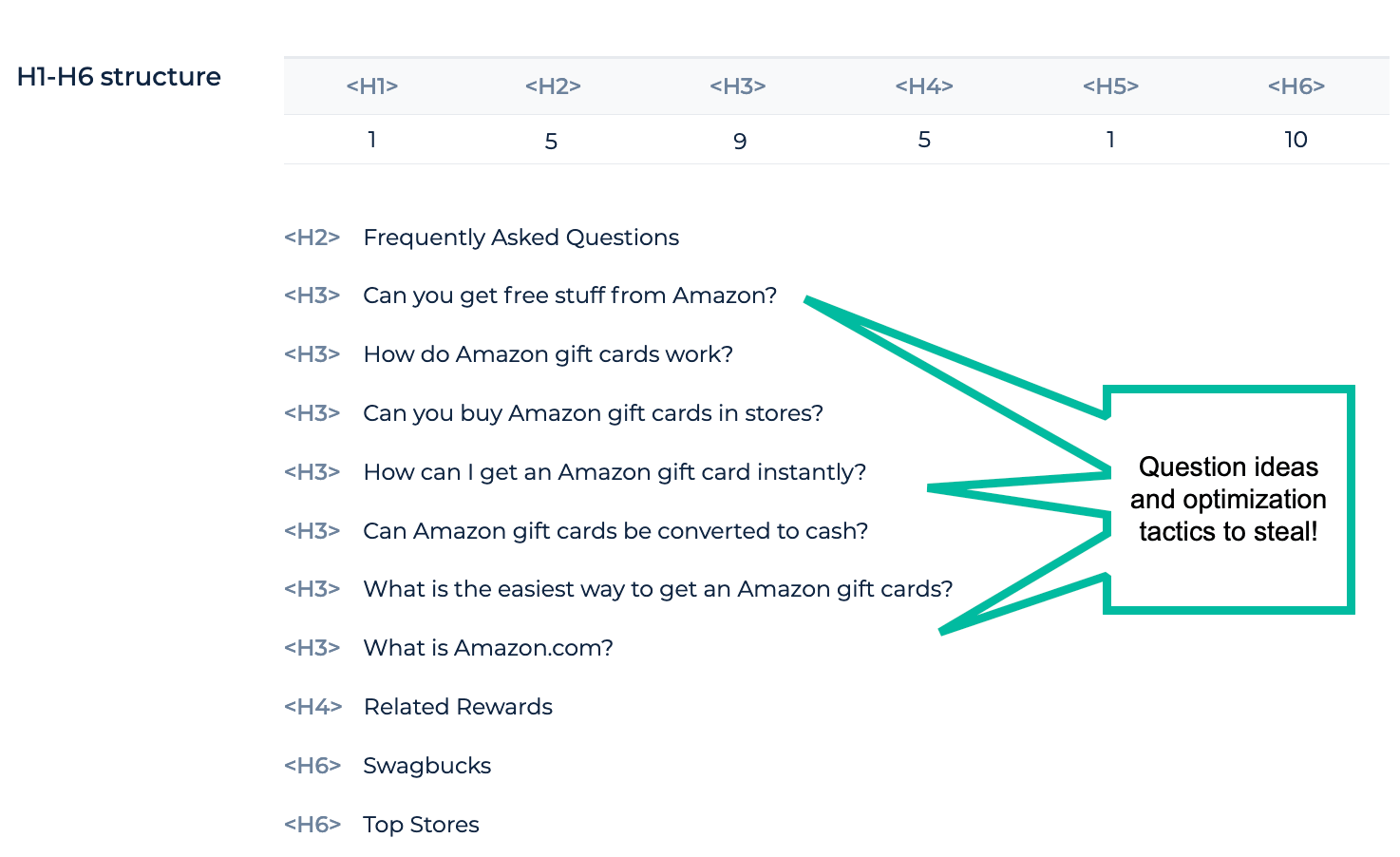 Keyword clustering is another useful tactic that will help you identify searching trends behind the growing search queries. The tactic applies semantic analysis to your keyword lists to identify keyword groups and allow you to optimize content for a larger number of diverse and often spontaneous searching habits.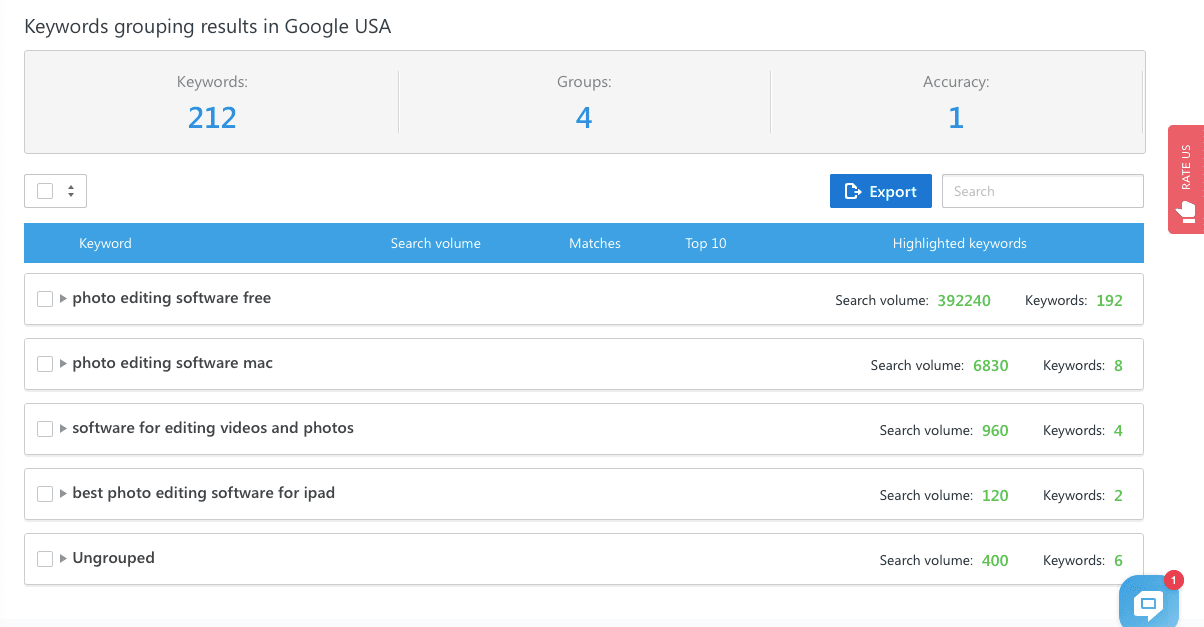 Videos Are Becoming Even More Important
Videos make great screenless content. When people are voice-searching for something, they are likely to appreciate a chance to listen to an explanation or even watch a movie being played while they are multi-tasking.
Google recognizes an importance of video content for voice-activated search, hence their recent support of voice commands within Youtube.
And since video content has become even more popular during the pandemic, adding video to your SEO strategy is not simply smart, it is a must: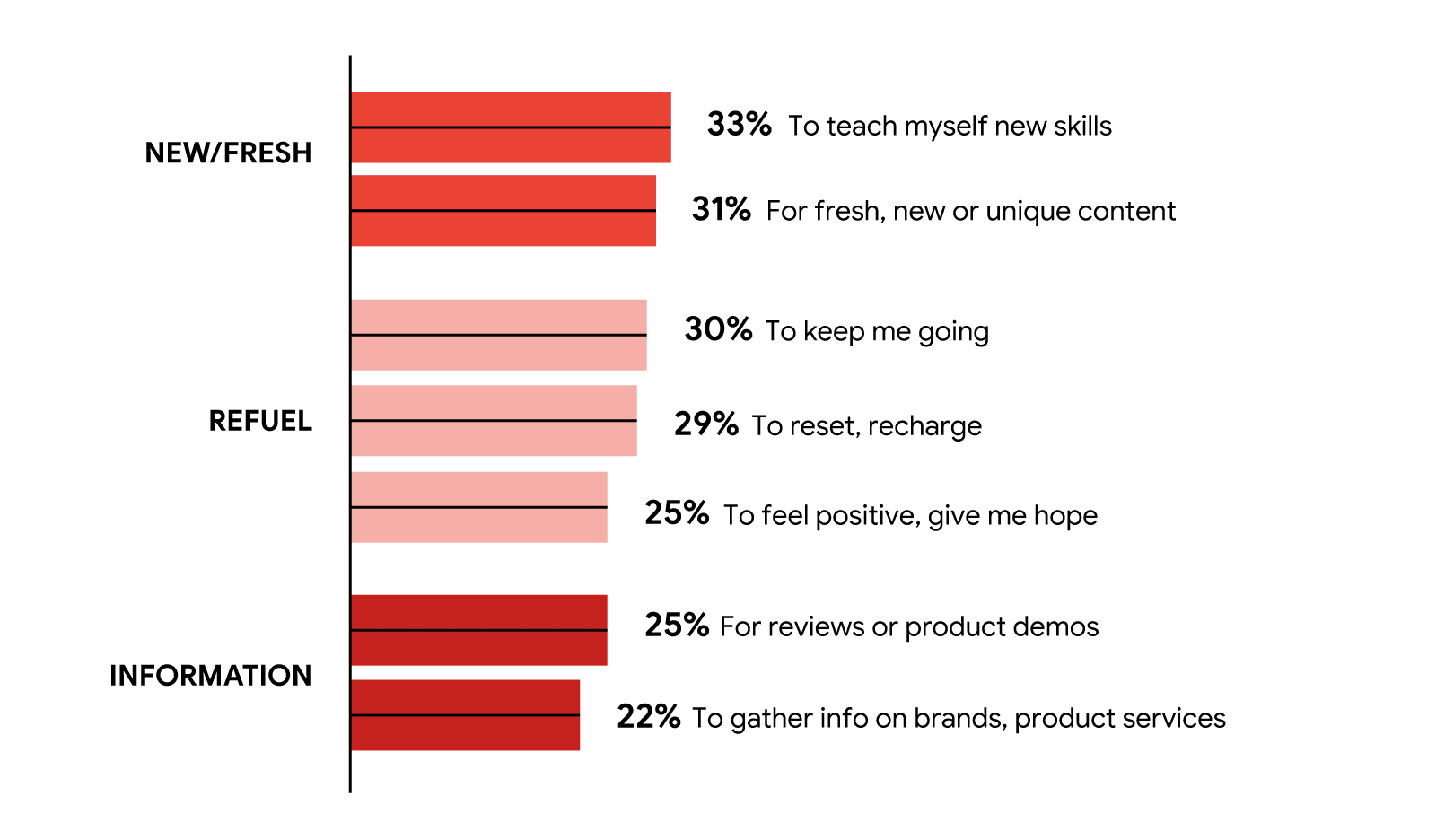 And Siri search is powered by Youtube, so you just cannot go wrong here: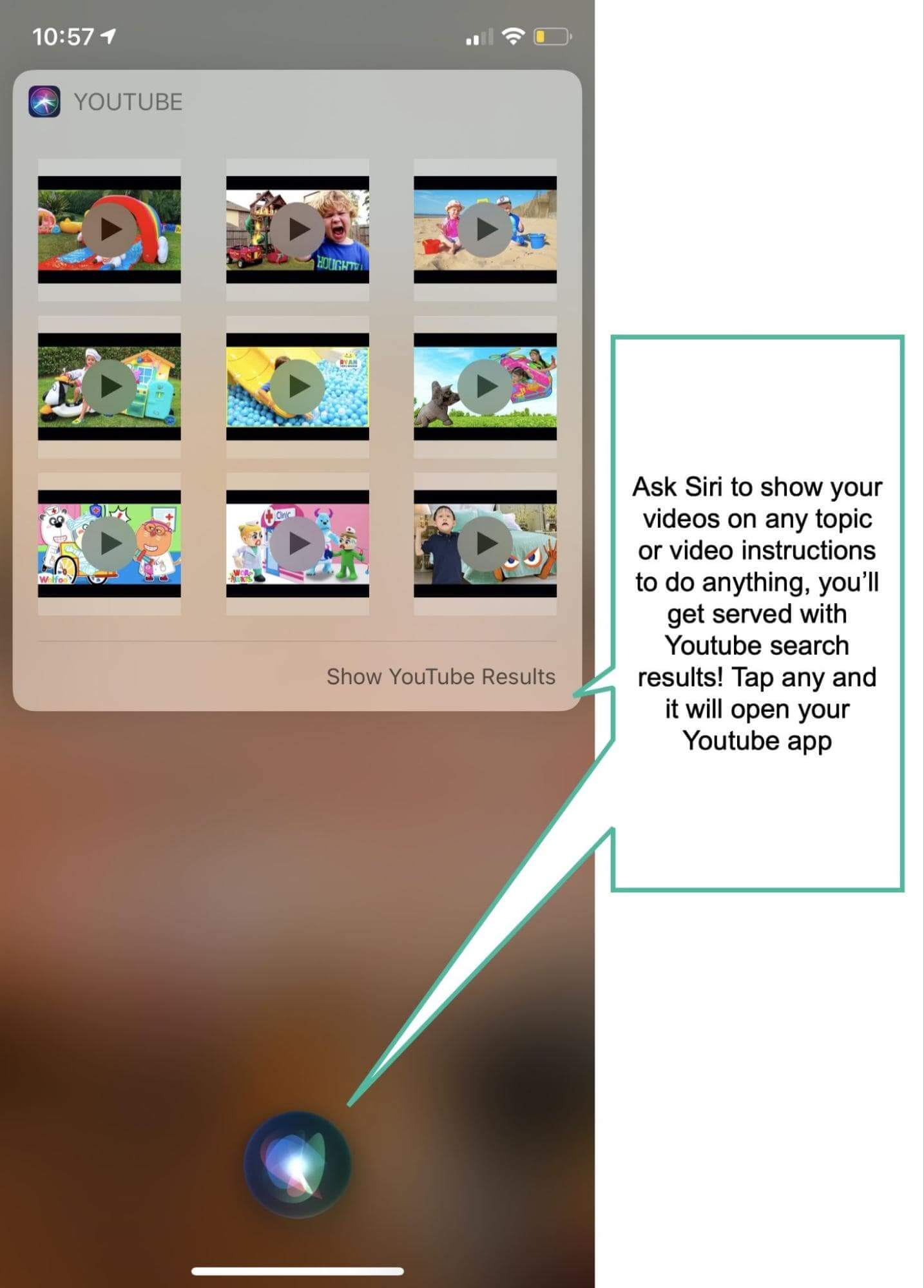 With that said, get into a habit of creating a video version of any content asset you are working on. It sounds intimidating but it is quite doable with tools like InVideo which will allow you to put together videos in minutes and sync them with a voice-over as well: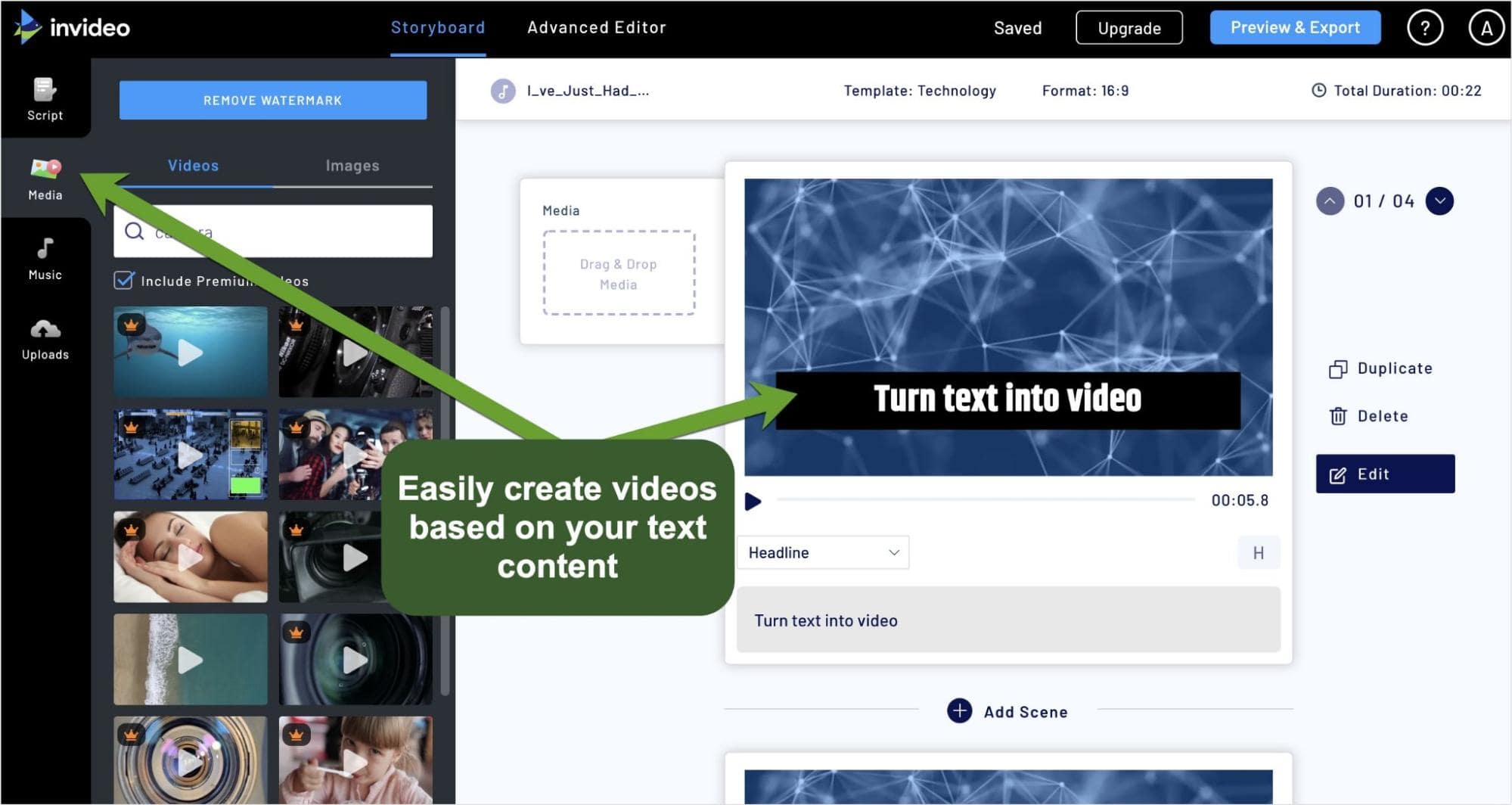 The Power of a Brand is Growing
This is yet another fundamental SEO principle that voice search is not going to change, but will only magnify: Creating a recognizable and memorable brand is the only way to go.
A recognizable brand helps click-through, on-page engagement and subsequently rankings.
There's no easy way to build a well-trusted and recognized brand. Start with the basics like coming up with an easy-to-brand name. Namify is a cool free tool that will help you with that: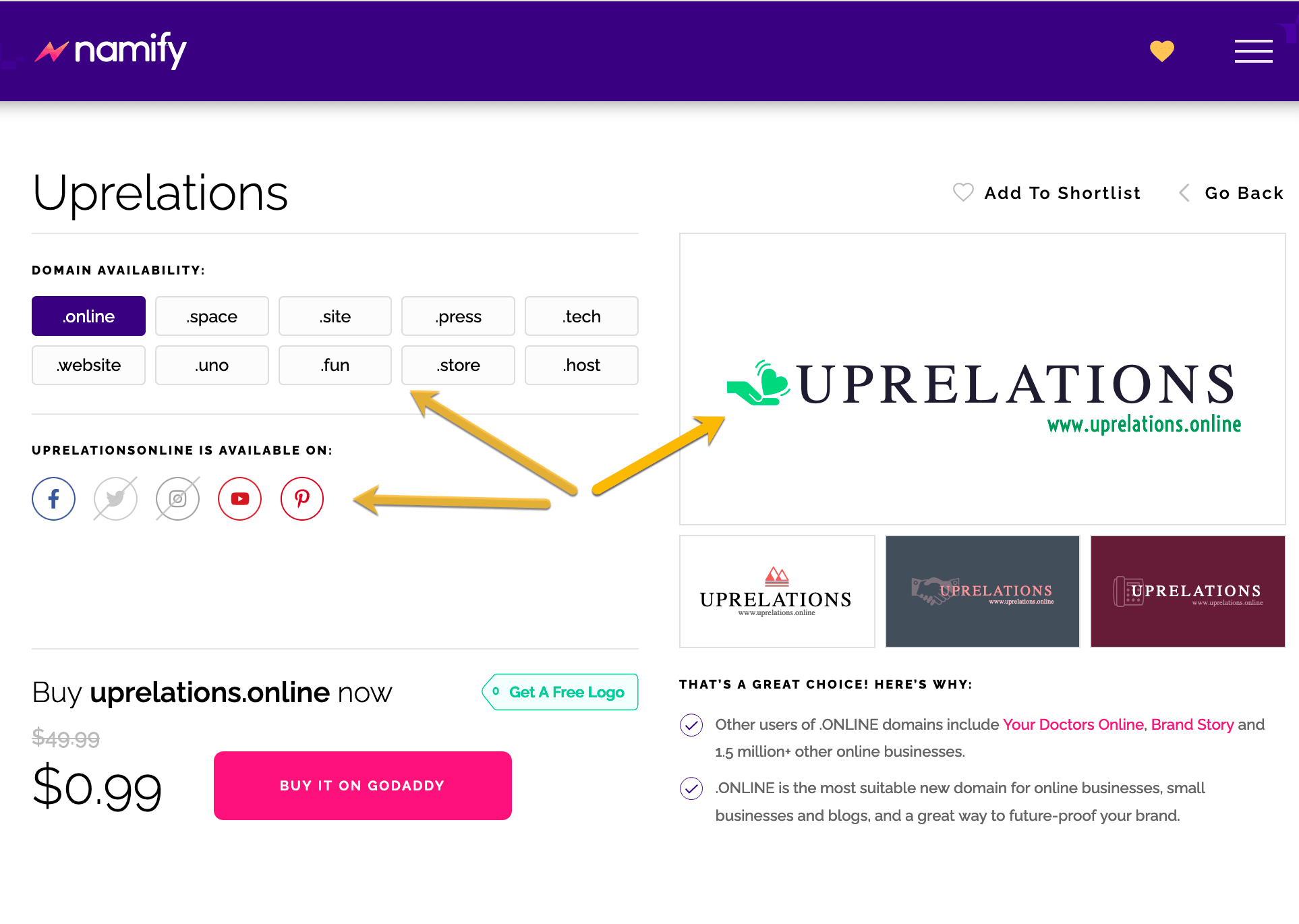 From there, proceed to creating your logo and corporate identity. Once that is done, you can invest in branded ads, create a well-branded social media and content strategy.
Coming up with a diverse on-site engagement strategy is another area to explore. You want your site traffic to help you build your community, and engaging your site visitors is an effective way to tie those people closer to your brand. Some newer engagement methods include conversational forms, web push notifications and personalized CTAs.
Conclusion
The voice-activated devices are definitely changing all areas of our lives, including how people search and interact with web pages. The bad news is that you can do nothing to change that. The good news is that evolution is moving forward quite slowly.
Voice search has been around for quite some time and so far it hasn't considerably changed SEO. We still need usable websites and great content – and both of these fundamentals will get you through just about any change, be it voice search or AI-powered search algorithm.