The technology boom of the late 20th century gave way to innovation, one that would irreversibly change the workplace as we know it: the emergence of the modern computer. Although characterized by room-sized servers, the early days of computers streamlined our processes and connected the globe in a way that had never been done.
In 2019, the size of computers has shrunk, but their capabilities have exponentially grown. Despite advancements in this technology, though, accessibility continues to be a growing issue as the "tech gap" widens. As a result of this gap and other issues, many American offices are stuck with outdated technologies, low stocks of supplies, and a lack of integrated communication among teams.
To learn about the various difficulties that employees face when they are forced to work with outdated technology or a lack of office supplies, we conducted a survey of 917 employed people working in environments where there were regular shortages in these two areas. Explore our in-depth findings below.
Computers, Software Need Dramatic Updates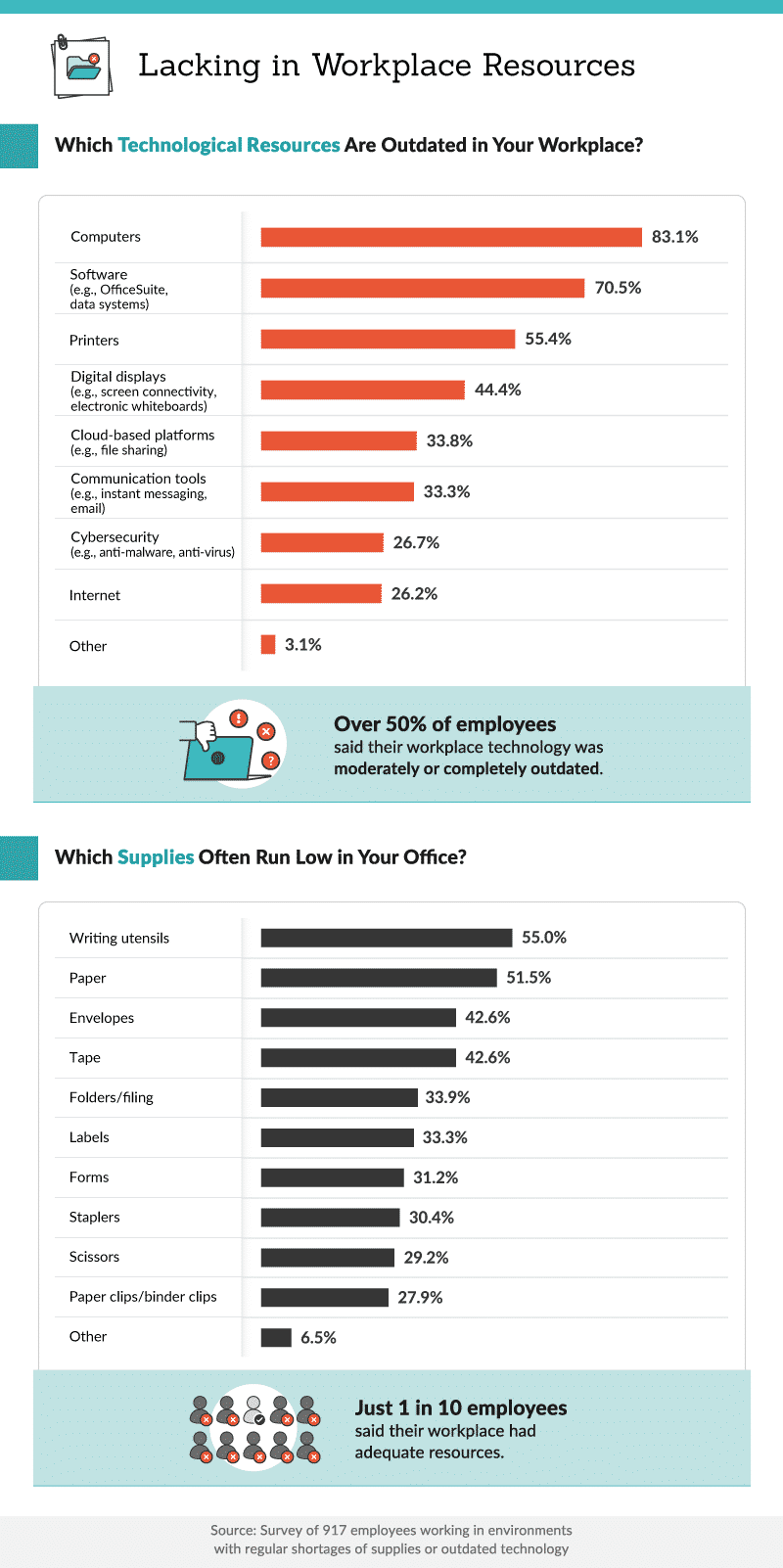 Over 50% of employees reported that their workplace technology was moderately or completely outdated, a fairly low standard for workers. Specifically, computers (83.1%) and software (70.5%) were the most commonly outdated technology at work. As computers get older, they might not be able to support the newest iterations of a device's operating system, while outdated software inhibits an office from taking advantage of the latest developments in business technology.
Another area in the workplace that suffered due to obsolete technology was communication and collaboration. The emergence of user-friendly messaging apps such as Slack can help businesses overcome their communication issues and bring team collaboration into the digital age.
Just 1 in 10 employees said their workplace had adequate resources such as writing utensils (55.0%) and paper (51.5%). This likely stems from offices moving to a paperless standard, eliminating the need for these items. In other cases, owners cut corners to save every penny. Some offices even report the presence of office supply theft in their workplaces.
Productivity Reduced by Outdated Technology
Outdated technology had the biggest effect on productivity, with about 2 in 3 employees indicating it had a major or moderate impact on their ability to do their jobs effectively. For example, poor-quality computers can burden IT with help requests and result in a loss of productivity when employees can't work due to repairs or maintenance.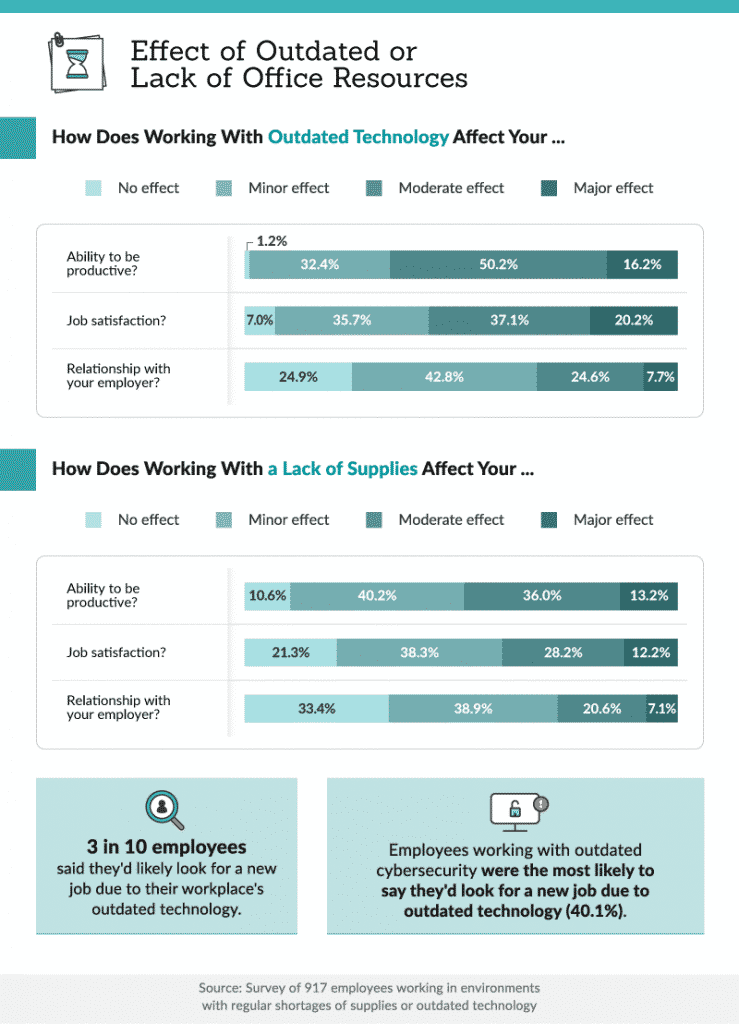 More importantly, outdated technology can be detrimental to an office's security and sensitive data. Old computers aren't compatible with new software systems or hardware, making them vulnerable to attacks and potential data breaches. Workers who reported being subjected to an environment with outdated cybersecurity were the most likely to say they would look for a new job to eliminate this security risk (40.1%).
Hunting for a new job seemed to be a common sentiment among respondents. In fact, 3 in 10 employees were likely to consider changing jobs due to failing office technology. The experience of working with old computers or antique software can be infuriating, and you can't do a job without the proper tools.
At the end of the day, most workers understand that financial constraints can be the cause of an office that is falling behind. An employee's relationship with their employer is largely unaffected by these technology issues, but it may be damaged when their boss is the root of the problem.
Budgets, Mismanaged Employer Concerns Halt Efficiency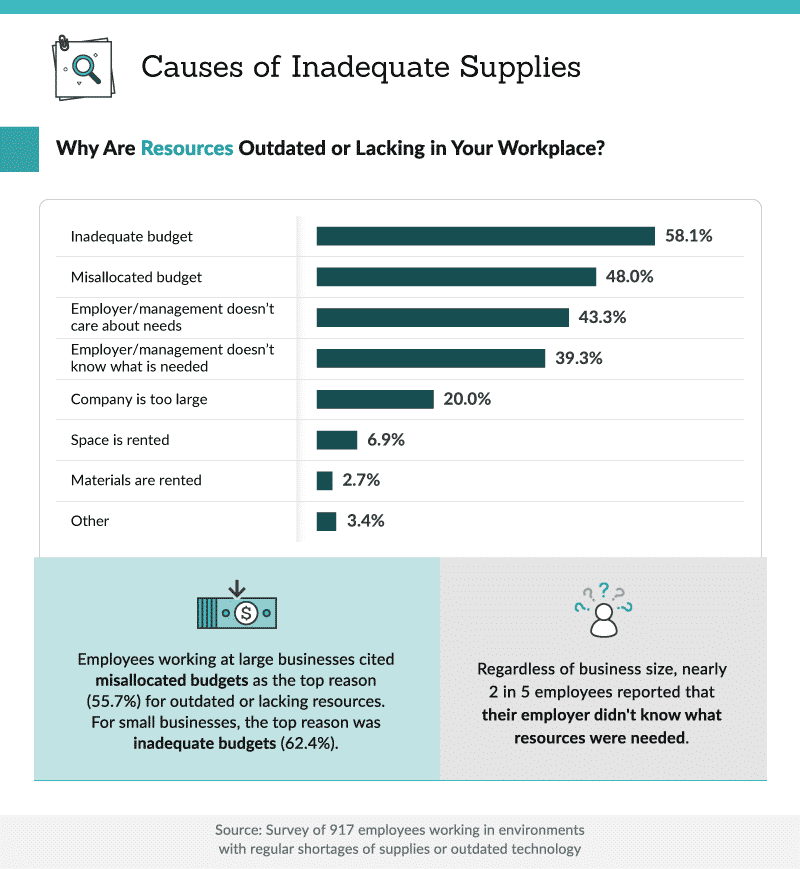 Overall, inadequate (58.1%) or mismanaged budgets (48%) were the culprits behind the frustrations of many workers who endured old technology. Unfortunately, money-related woes are a major concern for business owners who are responsible for overseeing that costs are kept low and returns are high.
The relative size of a company may also have a lot to do with an office having outdated materials. Employees working at large businesses cited misallocated budgets as the top reason (55.7%) for outdated or lacking office resources. For small businesses that might be strapped for cash, the top reason was an inadequate budget (62.4%). Regardless of business size, though, nearly 2 in 5 employees reported that their employer did not know what resources were needed.
Shockingly, 43% of survey participants said the reason for outdated technology or lack of resources at their office was simply because their employer didn't care. However, there's no excuse: If supervisors are concerned with costs, there are plenty of free business programs and tools so that employees can remain productive.
The Real Cost of Underfunded Workplaces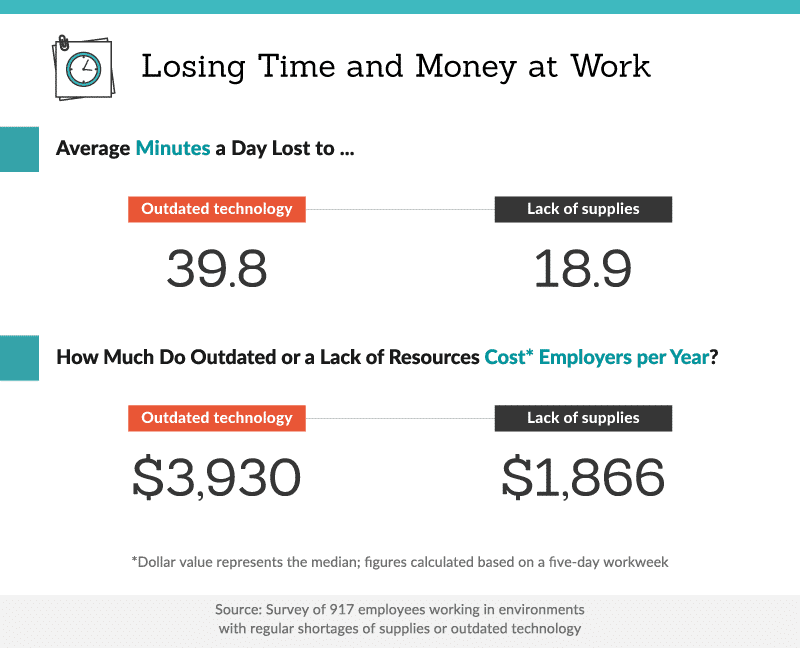 On iOS, it's called the "spinning beach ball," more affectionately coined the "spinning rainbow ball of death." For PC users, it's an hourglass. It turns out that we stare at loading screens and deal with other technological interruptions for longer than we realize: On average, employees lost about 40 minutes of their workday to outdated technology. For those working with a lack of office supplies, they lost roughly 19 minutes of their day.
Inadequate resources are also costly for employers. Outdated technology cost employers just over $3,900 per year in time lost, while employers lost a little over $1,800 due to a lack of supplies.
Generosity and Self-Sufficient Workers Make a Difference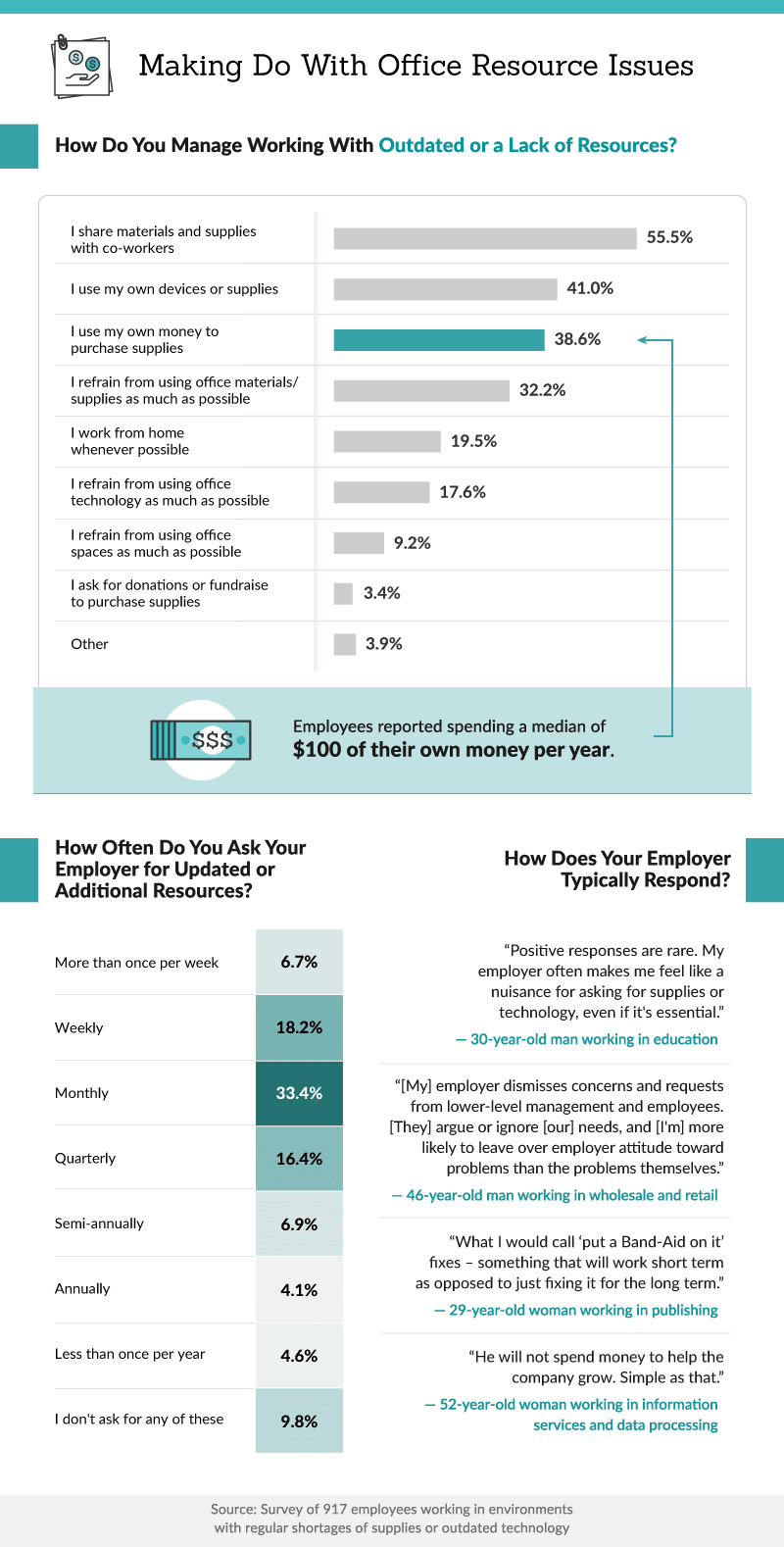 Most workers had to rely on themselves and their peers to solve issues with antiquated technology and nonexistent office supplies. Sharing materials with other co-workers was the top response (55.5%), while 41% of respondents used their own devices and supplies.
However, this comradery is born out of necessity, as offices seem to be chronically undersupported, and workers must band together to get their jobs done. These concerns lead to frequent complaints or requests for updated resources, but many of these issues aren't addressed: Most employees asked for additional or updated resources from their employers at least once every four months, with over 16% bringing up the issue quarterly, 33% monthly, and 18% on a weekly basis.
Unfortunately, if many professionals don't put money into their work, they won't be able to execute their responsibilities in the best way possible: In fact, nearly 4 in 10 employees reported purchasing their own supplies with a median cost of $100 per year. As a result, almost 1 in 5 respondents tried to avoid the office altogether.
Tired of the Office Woes? Consider Your Options
It's clear that the average office is in need of some serious updates. Understandably, it can be tricky and disheartening to continue working in a job with outdated computers and supplies. It might even be too tough, as many employees were inspired to take up the job search due to their workplace refusing to help with materials.
Do you think you could do it better? Want to be your own boss who keeps your company innovative and tech-friendly? Starting a company used to be difficult, but thanks to ever-changing technology, that doesn't have to be the case. ZenBusiness takes you step by step through launching a company with a personalized and streamlined process. Walk through our interactive portal, and select from dozens of company options and additional services that are right for your vision. Get started for free, and file your business license today!
Methodology and Limitations
The data used in this project were compiled via a survey using the Amazon Mechanical Turk platform. To qualify, participants had to be employed (either full time or part time) and work in an environment where they experienced outdated technology or a lack of office supplies. There were a total of 917 participants. 38.3% worked for a small business, 26.3% for a midsize business, and 35.4% for a large business.
For the graphic titled, "Losing Time and Money," participants were asked how many minutes they lost in productivity per workday to outdated technology and/or lack of office supplies, as well as how many hours they worked. The cost to employers in lost productivity was done by using the median salary per week cited by the BLS and the amount of time (in minutes) lost a day in productivity. Calculations were based on a typical five-day workweek.
For the graphic titled, "Making Do With Office Resource Issues," if a participant selected the option "I use my own money to purchase supplies," they were then asked to enter how much they spent per year on these supplies.
The data were not statistically tested. Also, the data are self-reported, which can introduce issues such as exaggeration and selective memory, among other limitations.
Fair Use Statement
Bring up this data at the next office gathering to start the conversation about efficiency. It's likely that if you have concerns with your office's tech-savviness, your peers do as well. Mention us by name when talking about our findings, and be sure to solely share this research for noncommercial purposes.