Privacy Policy and Terms & Conditions are two major documents that you website must absolutely have. In these documents, you need to explain to your visitors what types of their personal data you're collecting, how you're going to use these data, how you're protecting their data from unauthorized access, etc. Read on to find out how to write a smart privacy policy and terms & conditions for your online platform.
What is a privacy policy and terms & conditions?
Privacy policy is a legal document which explains to visitors how you're going to use their personal data. You need this document to:
Comply with the applicable legislation. Nowadays, all websites are obliged to provide the terms of use for different types of data (addresses, phones, credit card numbers, etc.). This applies not only to e-shops that accept payments, but to all online platforms. User data can be collected via cookie files, GPS, subscription forms, registration forms, etc.
Evoke trust. Users are unlikely to submit their personal data unless they know how you're going to use them. Without a detailed privacy policy on your website, you risk losing potential clients.
Terms & Conditions is a document that explains the rules of using an online platform. You need this document to:
Protect your content. Your website content (logo, photos, text, etc.) can be copied and used against your will. With Terms and Conditions, you'll be able to defend your interests in court and win the case.
Outline the rules. Outline what users can and cannot do on your website. Also, set forth your responsibility for the risks or losses related to the website use.
Privacy Policy and Terms & Conditions set forth the rights and obligations of both parties, i.e. the website owner (s) and users. Since legislations differ across countries, you need to study the laws and standards which are applied in the country where you're going to do business. Upon reading your documents, a user can either accept or deny the terms.
What information to include into your Privacy Policy and Terms & Conditions
The structure of these documents depends on your type of business. Let's outline the main information that you must include no matter what industry you're working in.
Privacy Policy:
How you collect and use client data (physical and email addresses, credit card numbers, PayPal account numbers, locations, etc.).
How you store and protect your client data and when you're allowed to disclose it.
If you're sharing your client data with a third party (email providers, analytics services, payment services, etc.), be sure to inform your clients and explain to them why you're doing that.
Date of the last update. Also, tell your users whether you're going to update your document in the future.
How you're using cookie files. Cookies are small pieces of data that automatically collect information on users. For example, it's thanks to cookies that you don't need to enter your username and password every time you're visiting a website. On some platforms, information on cookies is displayed in a pop-up window.
Clear instructions on how to unsubscribe from a newsletter and have your data removed from the website.
Terms & Conditions:
How users should behave while using you website (no insults, no swearing, no religious or political content, etc.);
What happens if a user breaks the rules (their account may be suspended, etc.)
How you're protecting your content, e.g. on what conditions a user is allowed to copy and use the content from your website.
Terms of payment, delivery, and refund (if you're selling products or services on Shopify or other similar platforms).
Useful tips:
Place your blocks of information in the website footer so that users can easily access them on any page.
When writing your documents, think about the type of your business. Terms & Conditions for a travel agent, photo studio, and online store must be different.
Browse through your competitors' websites to fish for useful ideas.
Use simple language without complicated professional terms.
Online generators for creating a privacy policy and terms & conditions
Use clever online generators that can create privacy policy and terms & conditions based on ready-to-use templates.
TermsFeed
TermsFeed is a versatile and intuitive tool for creating a privacy policy for a website, mobile app or Facebook page. Creating a document will take a few simple steps. While the service is free, some of the options pay extra. For example, compliance with the GDPR (European Union) or CalOPPA (USA) standards costs from $14.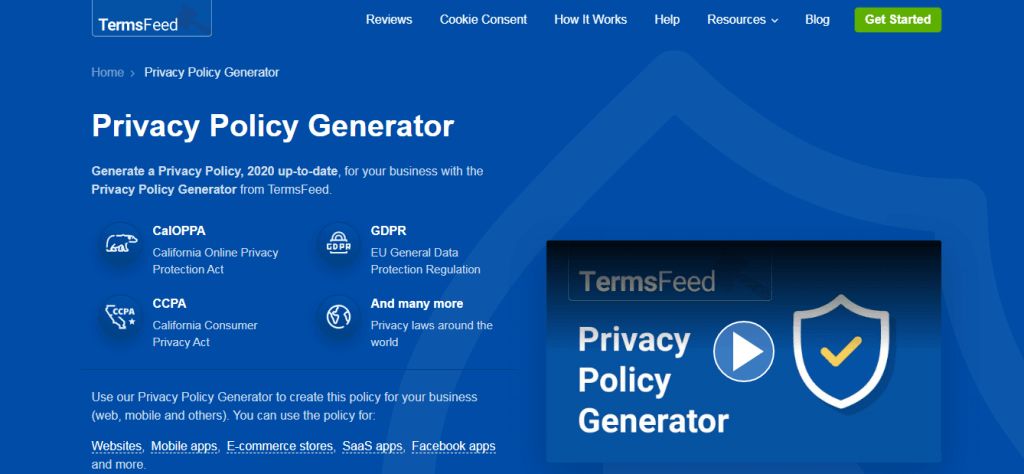 TermsAndConditionsTemplate
This free service is a great choice for complete amateurs. Creating a ready-to-use privacy policy will take just a few minutes. Make sure for yourself! Enter your company data, type of your web platform, and information that you want your document to contain.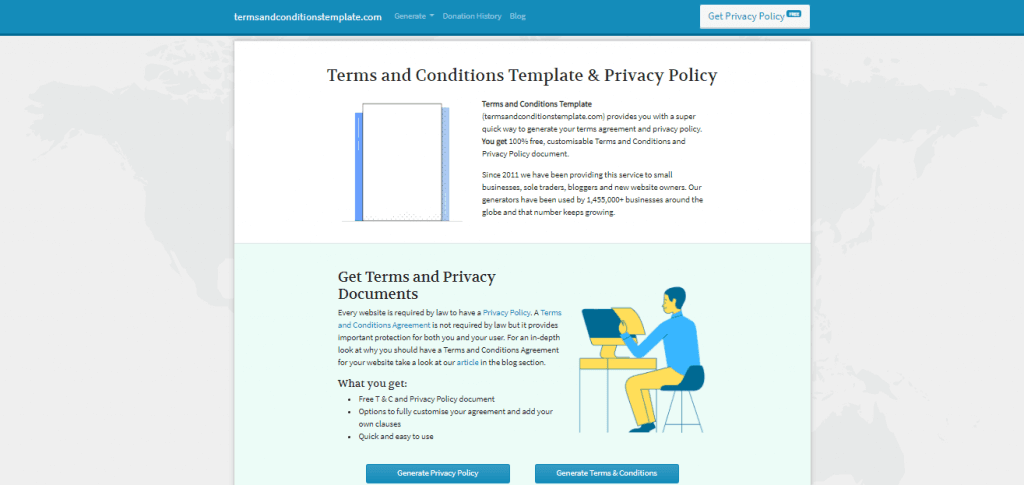 GetTerms
If you need a privacy policy for a blog, website, mobile app or e-commerce store, you can trust GetTerms with this task. The whole process won't take more than a few minutes. Keep in mind that the free version of the program has a limited functionality, e.g. it lacks the compliance with the CalOPPA standards. Premium version starts from $15.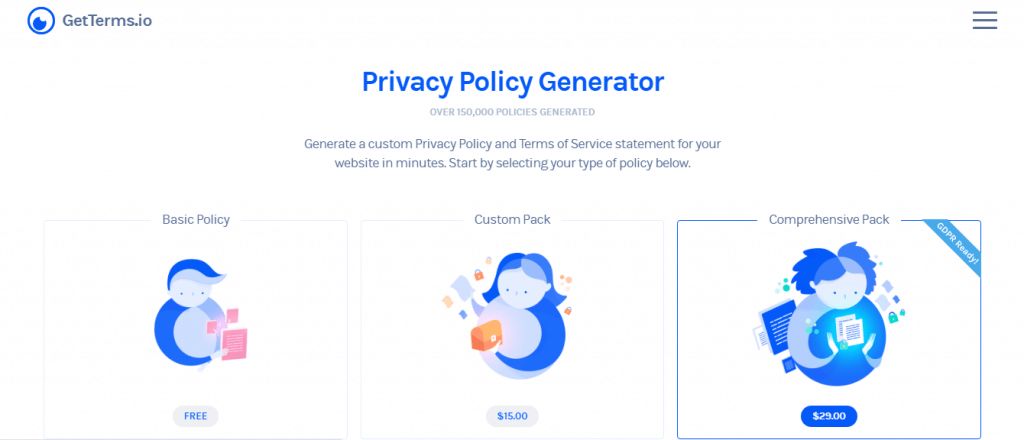 FreePrivacyPolicy
Need a professional-looking privacy policy? No problem! This service will create a detailed document with all the required information on payments, copyright infringement, intellectual property rights, and more. The best thing about this tool is that it's free.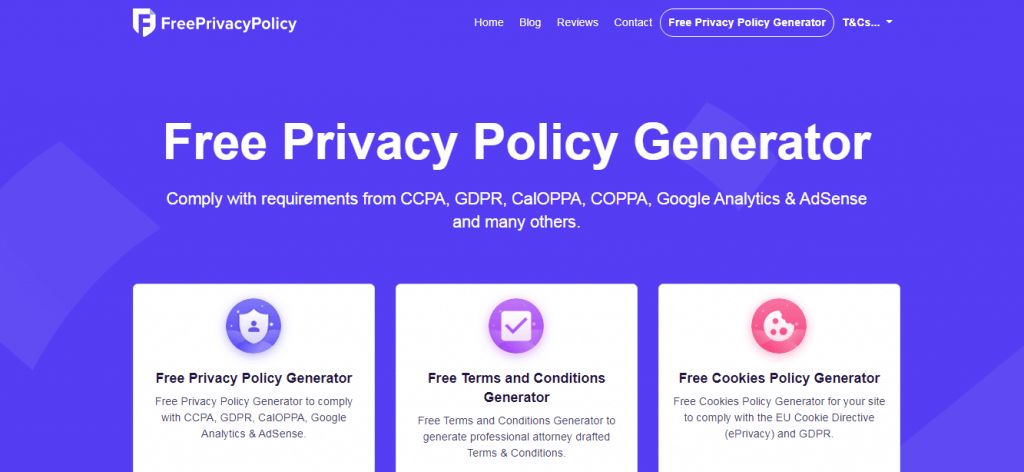 PrivacyPolicies
This online generator has the toolset to create a privacy policy and Terms & Conditions (including the use of cookie files and return policy) for any project. Plus, the service will automatically adjust the policy to fit your local region.
PrivacyPolicies templates are free but you have to pay for extra options. For example, putting together each block of information costs $9. Branding your document starts from $14.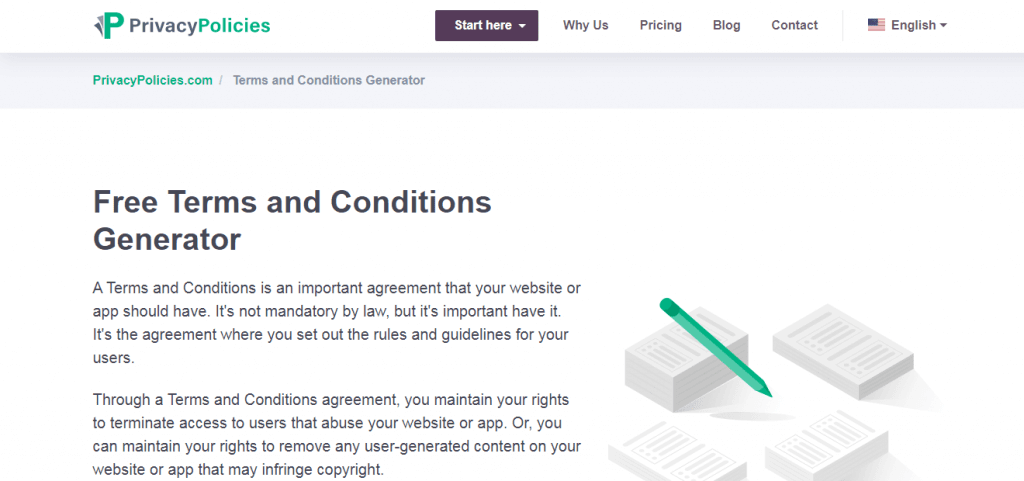 Final words
Writing a privacy policy and Terms & Conditions is a very challenging and responsible task. Be sure to provide your users with exhaustive information to avoid any misunderstanding and confusion. When creating your documents, rely on the legislation of the country where you're doing business. The main thing is to be honest and transparent with your clients. A respectable approach like that is surely to pay off in the future!