Searching for a high-quality and guilt-free caffeine fix? Look no further…
Picking up a steaming hot cup of takeaway coffee each morning has become a staple fixture in the routine of millions. 64% of American adults currently consume coffee every day; around 400 million cups are being poured daily.
Understandably, many will base the location of where they purchase coffees on a cafe's proximity to their homes or offices. That being said, there is an increasing amount of Americans looking to spend their money in establishments that offer responsibly sourced ingredients, care about sustainability, and treat their employees with the utmost respect and fairness.
With this in mind, we have analyzed the 20 U.S. coffee chains with the most significant number of locations across the country to determine which can be deemed the most responsible. As well as revealing the chains that have been certified by such bodies as the Rain Forest Alliance and Fairtrade, organic offerings, employee reviews, and search volumes have also been taken into account.

Peet's Coffee
Number of US locations: 200+
Glassdoor rating: 3.8/5
US search volume: 83,000
Fairtrade Certified, organic, and hand-roasted in the nation's first LEED Gold Certified roasting facility, Peet's Coffee is a great way to start your day. In 1966, Alfred Peet opened the doors of his first coffee store in Berkeley, California, and quickly built a reputation for serving customers quality coffee.
The $29 million, 138,000 square-foot artisan coffee roasting facility opened in May 2007. Peet's Coffee food plant uses heat exchange technology to recover roasting heat, which reduces natural gas use by 40%. Throughout the plant, natural light and high-efficiency lighting technology minimize energy consumption by 40%.
The roasting facility uses energy-efficient Regenerative Thermal Oxidizer technology, which increases the natural gas efficiency by 30%. Environmentally friendly, high-efficiency heating, ventilation, and air conditioning systems are also used to reduce greenhouse emissions.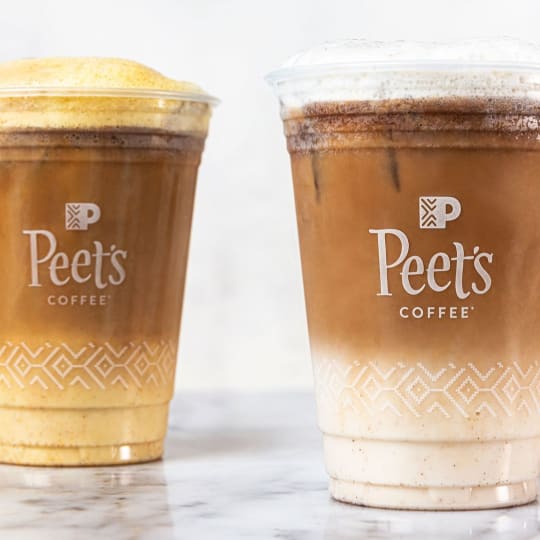 Image credit: @peetscoffee
Starbucks
Number of US locations: 28,218
Glassdoor rating: 3.9/5
US search volume: 34,000,000
Initially founded in Seattle, Starbucks takes sustainability and ethics seriously. By 2030, Starbucks has implemented a plan to reduce carbon emissions by 50% and cut waste sent to landfills from its stores and manufacturing processes by 50%. The brand also plans to conserve and recycle 50% of the water used during coffee production.
The organization is also shifting from single-use materials to reusable packaging while investing in agricultural, water conservation, and reforestation practices. Starbucks has spent the last two decades partnering with Conservation International to attain 99% of coffee sourced ethically through Coffee and Farmer Equity Practices. According to research by the company, sourcing through C.A.F.E has reduced Starbucks' carbon footprint by more than half.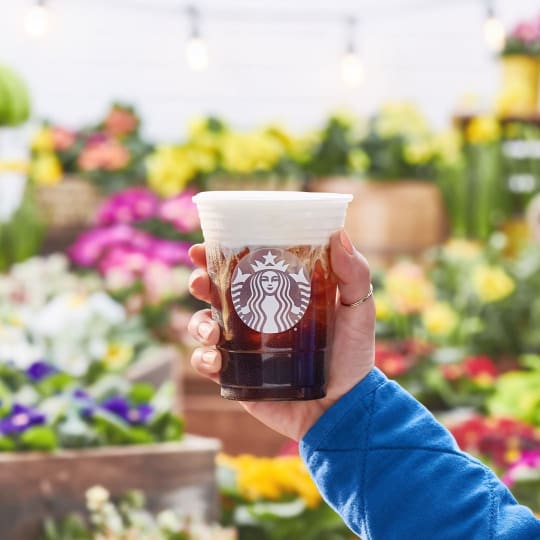 Colectivo Coffee Roasters
Number of US locations: 20
Glassdoor rating: 3.4/5
US search volume: 80
Colectivo Coffee Roasters has committed to sustainability throughout its supply chain, regarding the economic, social, and environmental impact. The company has committed to ensuring environmentally friendly practices are implemented from the beginning of the production process. This includes efficient water management through native plant rain gardens and parking lot runoff filtration systems.
The organization has used recycled and repurposed materials throughout all of its operations. It is one of the first establishments in the area utilizing Urban Wood, which is the diversion of trees damaged by the emerald ash borer.
When visiting a Colectivo Coffee Roasters cafe, customers can save $0.25 on all coffee when they provide their reusable cups. The coffee shop is also supplied with plastic cups made from plant-based renewable sources.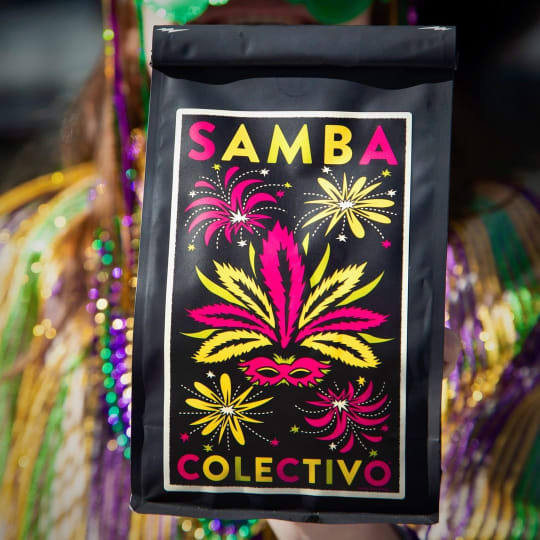 Coffee Beanery
Number of US locations: 100+
Glassdoor rating: 3.3/5
US search volume: 3,000
In 1976, Coffee Beanery opened its first stores throughout the United States. The establishment, which now boasts more than 100 locations throughout the US, is recognized as a coffee leader, offering a unique family business approach, corporate culture, and commitment to quality.
Coffee Beanery is built on a long-term relationship between the family-run business and its growers. The company is registered under the USDA organic database as well as being a Fairtrade Coffee brand. Safe to say, these guys take their mission seriously. And they take their coffee seriously, too, offering specialty, flavored, and decaf coffee that caters to all appetites.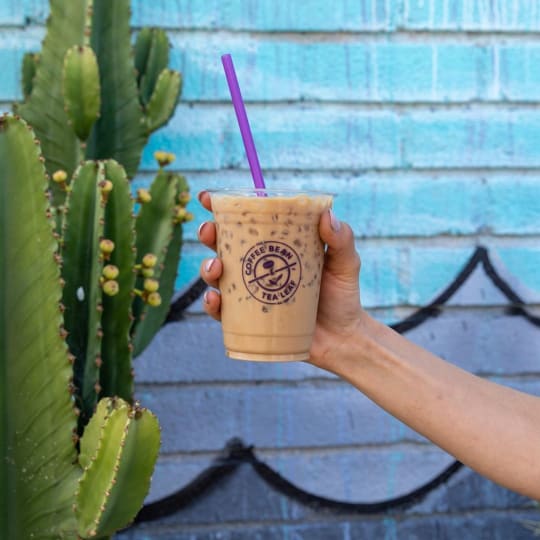 Image credit: @coffeebeanery1976
Port City Java
Number of US locations: 25+
Glassdoor rating: 3.3/5
US search volume: 3,600
What began in 1995 as a small coffeehouse in Wilmington, North Carolina, has now grown into a coffee drinkers favorite across the United States of America. Port City Java ensures the best coffee while also positively impacting the environment through organic coffee beans.
In addition, to ensure the best for their production, Port City Java is officially Fair Trade USA certified, which means they responsibly produce and source their products. Fair Trade certification ensures that they are protecting the well-being of farmers and the environment.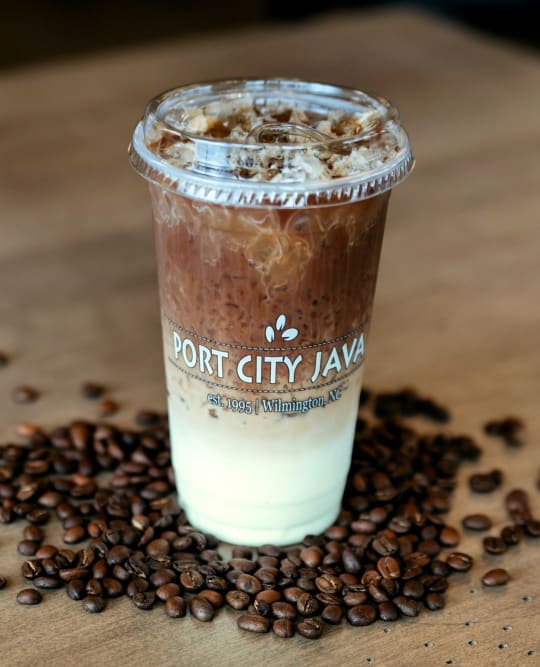 Dunn Brothers Coffee
Number of US locations: 79
Glassdoor rating: 4.1/5
US search volume: 2,300
Not only is the Dunn Brothers Coffee brand reputable for its high employee standards, but it's also fair trade certified, providing customers with superior tasting coffee that helps to support farmerswho have lovingly grown, picked, and tended to the beans.
Dunn Brothers Coffee is committed to ethical trading standards. The organization partners with World Coffee Research and Alight to support the growth, protection, and enhancement of supplies for the individuals who produce quality coffee for customers.
Blue Bottle Coffee
Number of US locations: 86
Glassdoor rating: 3.9/5
US search volume: 32,000
For a coffee company that genuinely values sustainability across the product chain, it's hard to beat Blue Bottle Coffee. This certified organic coffee has made the conscious decision to switch to paper straws and sugarcane-paper cups throughout all of its cafes.
According to Zero Waste International Alliance, the organization has also committed that by the end of 2020, all of the cafes in the US will be zero waste, which means that 90% of waste will be diverted from landfills. Blue Bottle has recently introduced its first coffee grown in its home state of California.
Some farmers use chemical-based pesticides and fertilizers to grow their coffee crops. Fortunately, Blue Bottle Coffee is natural and produced on Good Land Organics and doesn't use pesticides or herbicides to expand its crop, making the finished product more organic.
The company also ensures that they operate a Farmer First model, paying ethical wages to workers and providing resources like water and land. Working with local farmers' markets is an integral part of the production of Blue Bottle Coffee, to keep strong communication with local communities and source local products.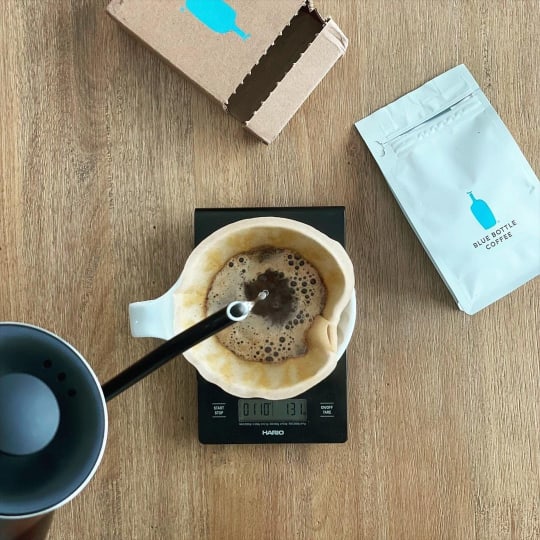 Caribou Coffee
Number of US locations: 725
Glassdoor rating: 3.3/5
US search volume: 55,000
This US-based company is socially responsible, but they also work hard to reduce the carbon footprint of their facilities. In 2019, Caribou Coffee signed a community solar subscription agreement with solar energy developer Renewable Properties in Minnesota.
The establishment became the first central farmer's US coffeehouse to source all coffee products from Rainforest Alliance Certified farms in a conscious effort to operate more sustainably and protect the environment. Certification guarantees that the workers are provided with good wages, decent living and working conditions, education, and health care.
Caribou Coffee partnered with Paydirt, an organization focusing on developing sustainability plans; this helps to ensure that all of its coffee shops participate in some form of recycling. The method can increase the store participation in recycling, diversion of waste from landfills and has helped recognize waste management opportunities.
Caribou Coffee encourages customers to reduce their single-use plastic within their stores by offering a 10% discount when using a reusable mug.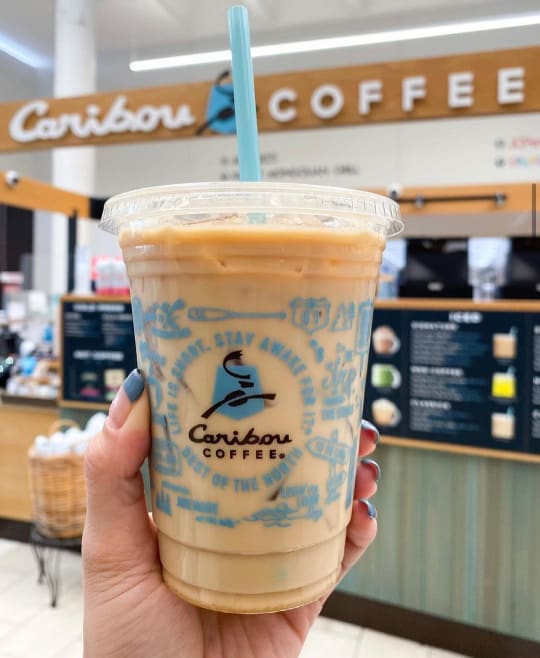 Krispy Kreme
Number of US locations: 1,005
Glassdoor rating: 3.7/5
US search volume: 795,000
Another US company, Krispy Kreme, has truly made a name for itself amongst coffee roasters. The brand goes above and beyond to help improve the environmental impact that production has by ensuring their coffee is ethically sourced and Rainforest Alliance Certified.
Krispy Kreme only purchases high-quality coffee beans and pays a fair price for them, at a rate higher than Fair Trade's base price. A large proportion of the coffee is purchased directly from the farm cooperatives to improve the sustainability and livelihood of farmers everywhere.
The Coffee Bean & Tea Leaf
Number of US locations: 1000+
Glassdoor rating: 3.6/5
US search volume: 3,000
Last but not least, The Coffee Bean & Tea Leaf. The American coffee chain was founded in 1863 and believes that sourcing products from small independent farms lead to the highest quality coffee. Coffee beans are sourced from private estates and farms in East Africa, Latin America, and the Pacific to produce the finest product.
The Coffee Bean & Tea Leaf has implemented certain practices that ensure legal, ethical, and fair business practices. Those working within the establishment are trained to recognize and report potential violations of slavery and human trafficking throughout the process. When buying products from suppliers, The Coffee Bean & Tea Leaf requires them to comply with applicable laws within the country of business.