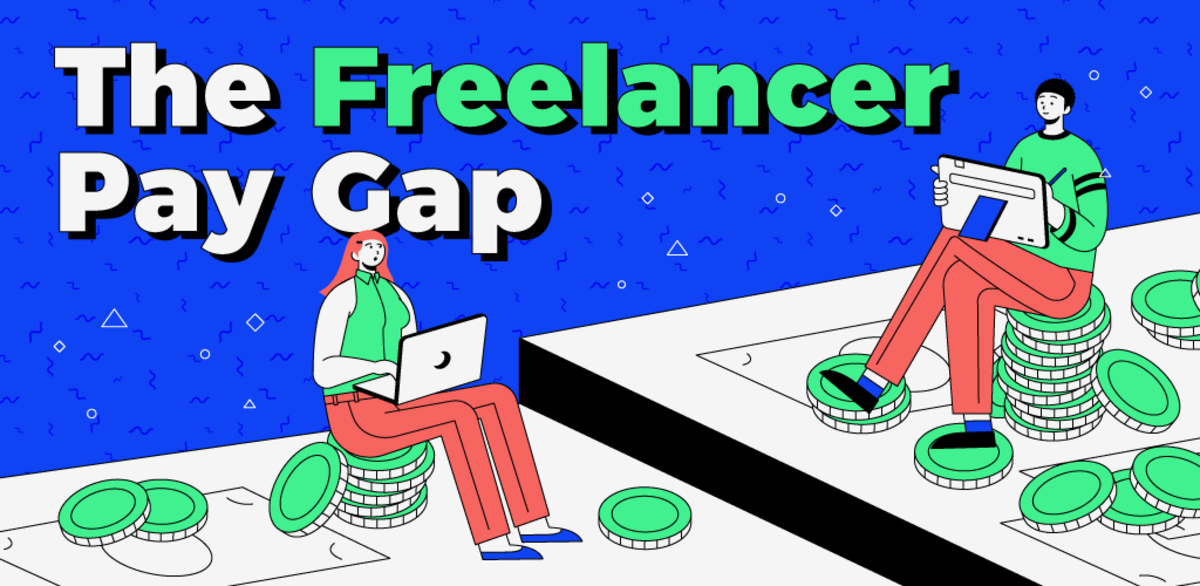 The Freelancer Pay Gap
Who Charges the Most as a Freelancer?
The United States has come a long way in terms of gender equality in the last 50 years. However, statistics highlight that women in the workplace continue to take less away in their monthly pay packet than men in the same job.
Data from the United States Census Bureau shows that women earn 17% less than men across the country – with the widest pay discrepancies in Utah and Wyoming. This is supported by findings from Payscale, which shows the gap has shrunk by just $0.02 since 2015.
However, the discrimination isn't just limited to full-time workers. A survey of 2,700 people by FreshBooks suggests that men out-earn women by 28%, despite nearly three-quarters (70%) of freelancers who are women choosing to work independently to avoid the 'glass ceiling.'
With self-employed work booming as a result of the pandemic, are women working independently charging less for their work than men with the same experience levels? To find out, ZenBusiness reviewed more than 6,000 roles using freelancing platform Upwork.
What We Did
We scraped freelancers' names, categories, specialties, and hourly rates for almost 6,000 US-based freelancers that have billed at least 100 hours of work in the last 6 months on Upwork. We then used
Gender API to ascertain the gender of freelancers, applying it to every individual freelancer, and calculated the average rate among men, women and overall.
Key Findings
Freelancers who are men charge 48% more than women for the equivalent role overall. The average hourly rate for men is $68.58, higher than the $46.30 hourly charge for women.
The largest gender pay discrepancy was for DevOps Engineers. Though a vital part of the software development process, men in the space charge $100.90 per hour on average – more than three times as much as women ($30 per hour).
Women copywriters charge slightly more ($6.29 per hour) than men, but rates for business writers are $20.59 higher if the writer was a man.
Freelance GenderPay Gap Almost Three Times Higher Than for Full-Time Workers
Across the 6,000+ freelance roles we studied, we found that men charge $22.28 more on average for their hourly rate compared to women.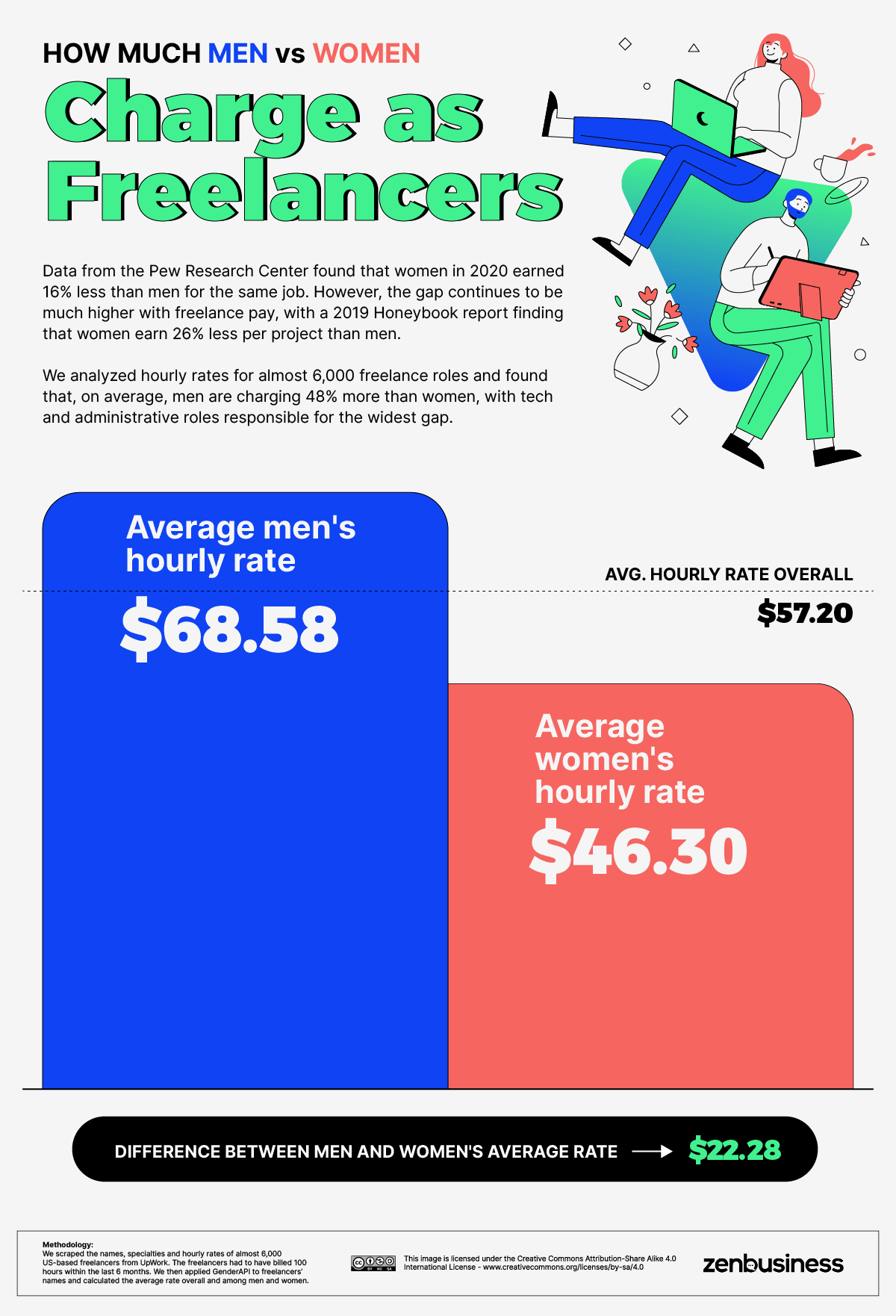 Click here to see the image in full size
Freelance jobs performed by men had an average hourly rate of $68.58, meaning they charge 48% higher than women ($46.30 per hour) in an equivalent role. With census data showing a smaller 19% pay discrepancy between men and women in full-time employment, we can see that freelancers who are men contribute to a wider gap when left with the freedom to set their own rates.
In the next sections, we break down the freelancer pay gap by core industry categories, from design and creative to sales and marketing.
Accountants and Consultants Have the Largest Freelance Gender Pay Gap
When it comes to crunching numbers and analyzing business trends, the difference between men's and women's rates is at its widest, with men charging 33% more per hour in this sector.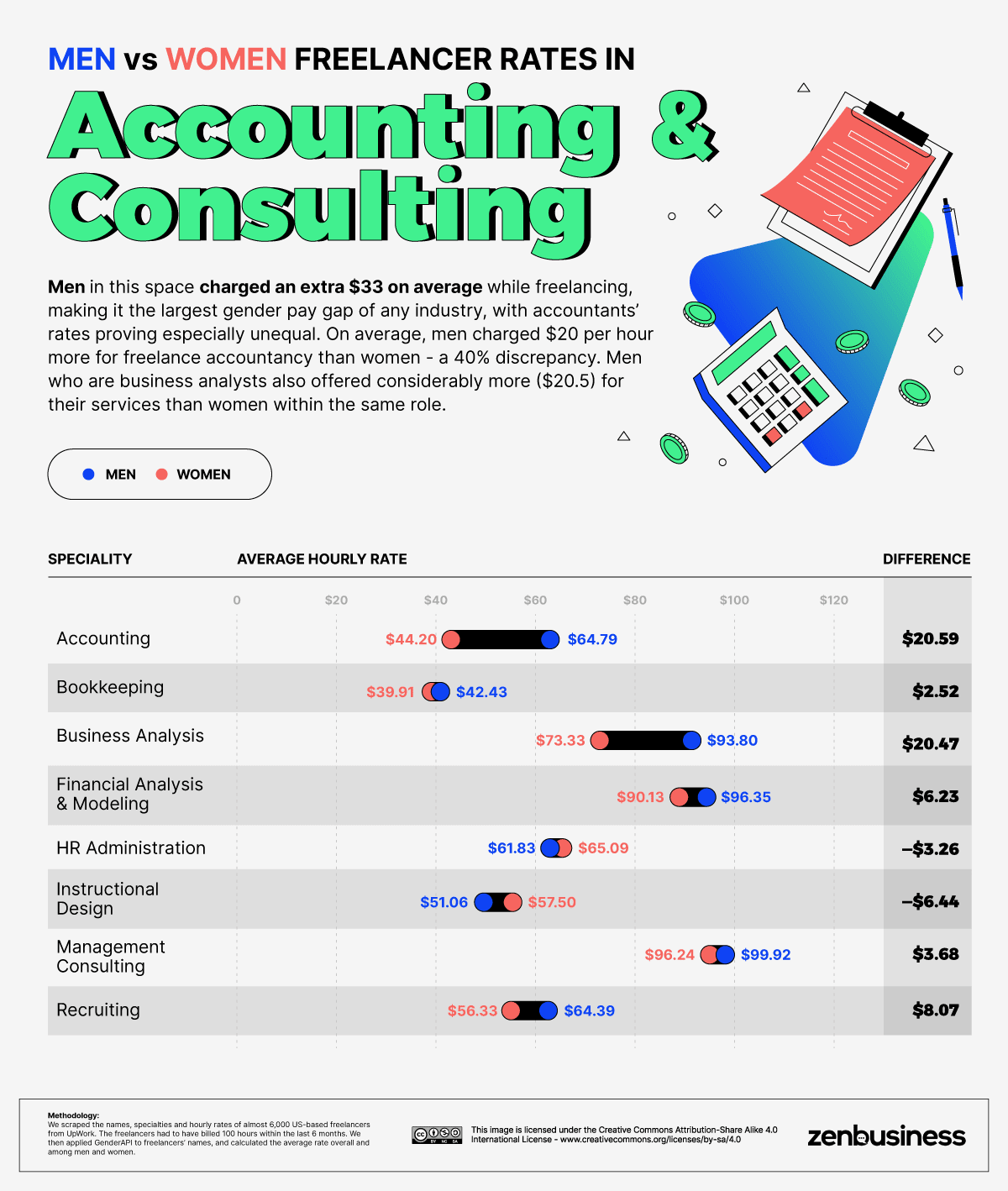 Click here to see the image in full size
Accountants and business analysts who are men charge more than $20 more per hour on average than women. A 2021 report by the American Association of University Women found that women in accounting and auditing earned just 78% of a man's full-time salary.
However, there are some outliers. Women HR administrators and instructional designers charge slightly more than men for an hour of their time, costing $3.26 and $6.44 more, respectively.
Men DevOps Engineers Charge $70 per Hour More than Women
Our data shows that DevOps Engineers have the widest gender pay discrepancy of any role in our study, with men $70.90 more per hour than women. DevOps Engineers bring together a range of skills within IT and computer science, and according to LinkedIn, they are the most recruited people on the platform.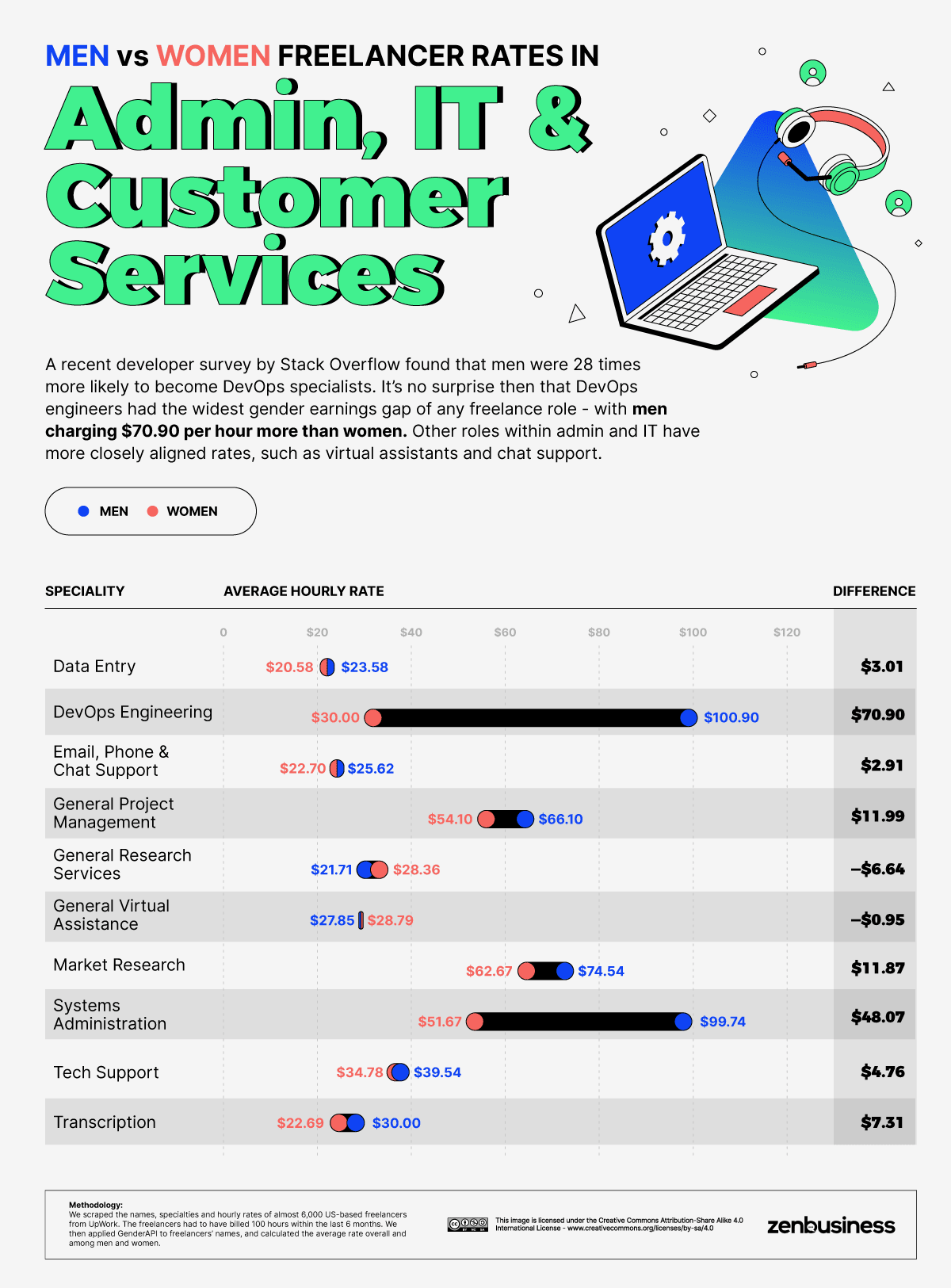 Click here to see the image in full size
With a brighter spotlight shining on those with an unequal gender pay record, it is increasingly important for businesses to proactively work towards equal pay and be seen to take action – especially with customer-facing roles.
Where businesses hire freelancers to support this, one would expect men and women to be paid equally. However, our data reveals a few key outliers where men in the space charge considerably more.
Creative Industry Paints a More Equal Picture for Men and Women Freelancers
With three specific roles – graphic design, image editing and motion graphics – women's rates are slightly higher. However, men charge $10.61 per hour for interior graphic design and $10.44 per hour for presentation design.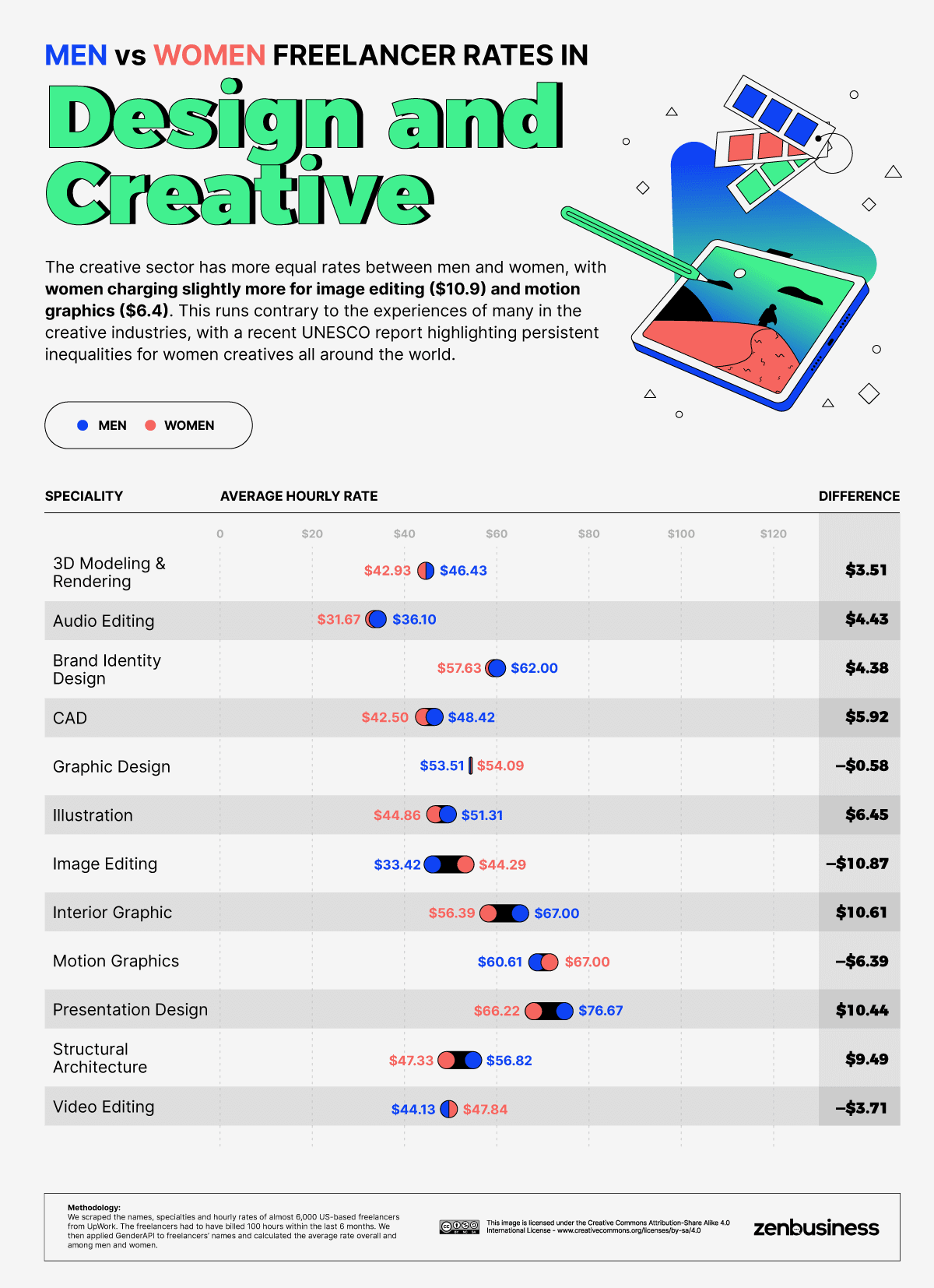 Click here to see the image in full size
Across the creator sector, there are many roles which hold a more balanced gender split. Of the 118,000 graphic designers employed in the U.S, 50.2% are women, with a 5% pay gap. However, just 35% of all creative directors are women, and the pay gap rises to 10%, according to research from Zippia.
Despite this, our research shows that when it comes to freelance work, hourly rates are mostly similar, with just a $2.81 average difference between men and women.
Data and Development Roles Have Higher Rates for Men – but UI/UX Design Is a Notable Exception
While the tech industry's reputation for gender equality is slowly improving, there is still work to be done. For example, 79% of all computer programmers are men, according to the Bureau of Labor Statistics, and the role has one of the 15 highest gender pay gaps in the U.S.
When it comes to freelance rates, many data and development roles have significant price spikes for men. You can expect to pay $29.20 more per hour for an e-commerce website developer who is a man and $25.20 extra for an automation tester.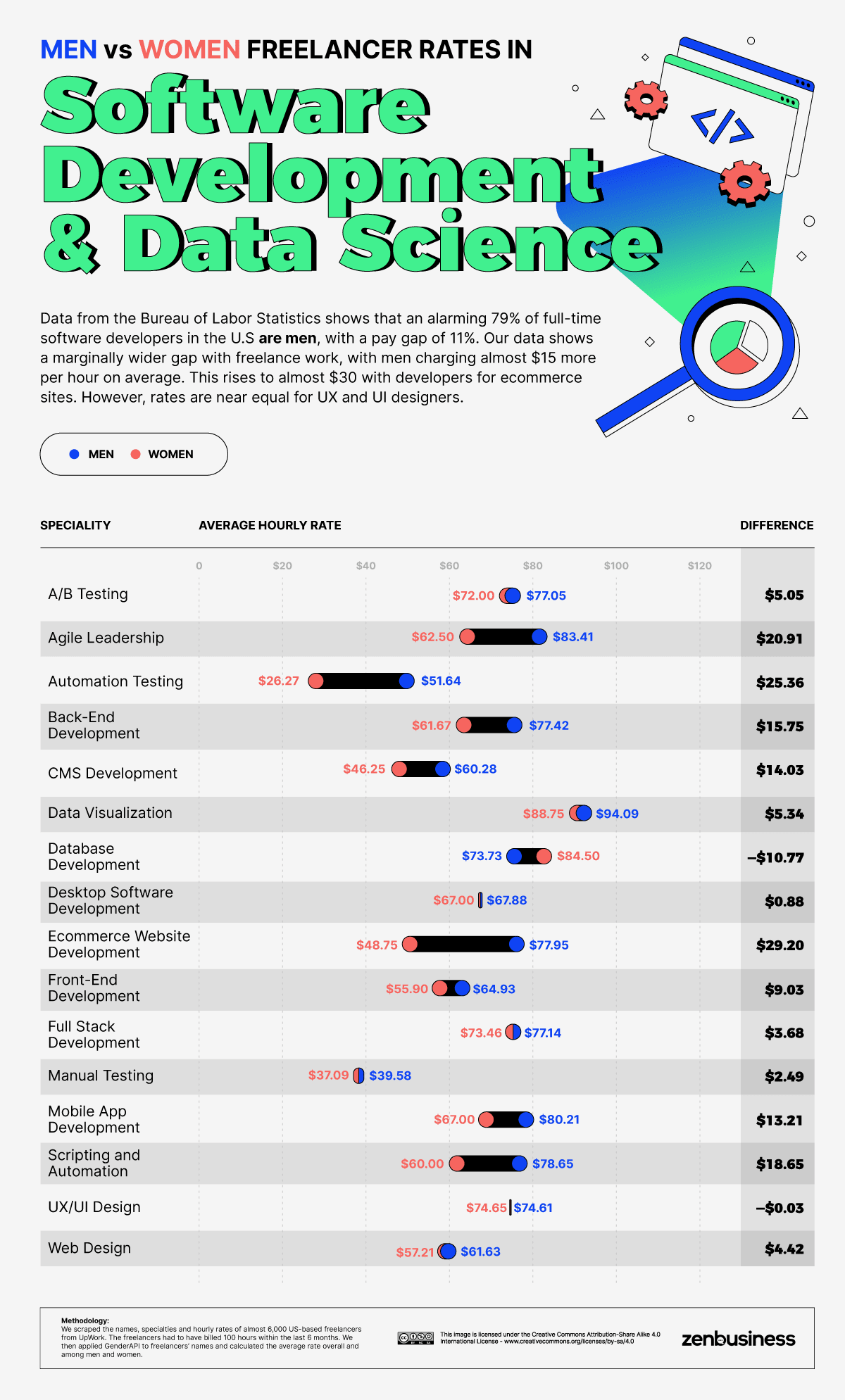 Click here to see the image in full size
However, UX design is a better-represented area of the tech industry, with a 50/50 gender split at the UX Design Institute. This is also reflected in our data, which shows a $0.03 pay gap in favor of women.
Men Freelancing in Sales and Marketing Charge $15 More per Hour on Average
Marketing is one area that has made significant strides in gender representation. Research from LinkedIn shows that 60% of all roles in the sector are now filled by women. However, pay for women still lags behind by 23% for full-time roles.
Our research reveals that men freelancers are setting higher rates for their time in sales and marketing than women, particularly in email marketing, where the pay gap increases to $33.24 per hour.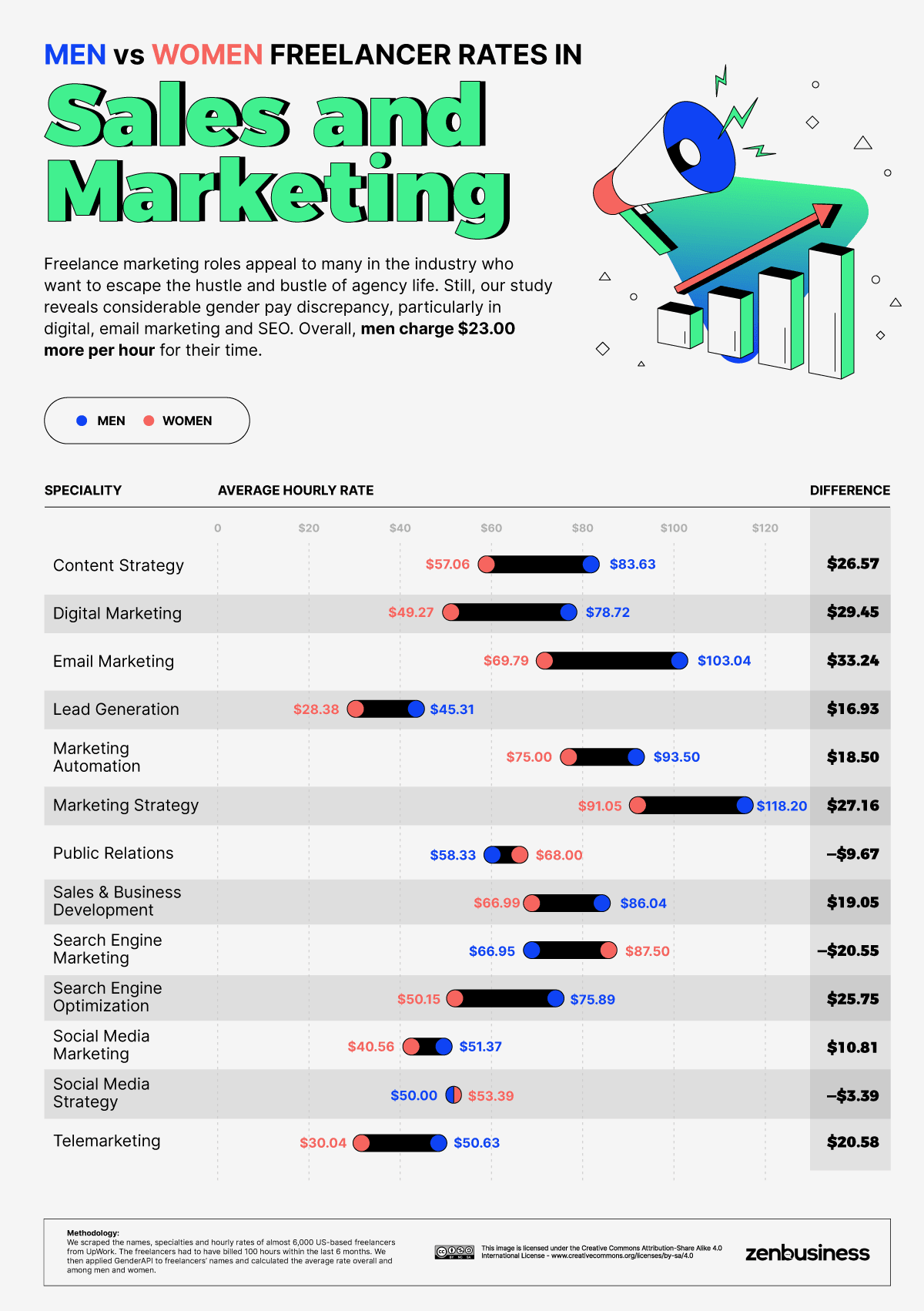 Click here to see the image in full size
Despite this, women freelancers charge $3.39 per hour more for social media strategy and $9.67 per hour more for public relations. SEO strategy is another noticeable outlier, as women in the space set hourly rates $20.55 higher than men.
Freelance Writer Roles Have Smallest Gender Pay Gap – Except for Business Authors
When looking at freelancer rates in this sector, we found that many roles had near equal pay between men and women. For creative, technical and general content writers, the difference was less than $1. Women copywriters ($6.29 per hour) and ghostwriters ($3.29 per hour) charged slightly more.
Click here to see the image in full size
However, there was a noticeable difference in rates for business writers, where men charged $23.62 per hour more than women for their content services.
There are 143,200 writers and authors in America, according to the Bureau of Labor Statistics. Many of them choose to go freelance as they prefer the freedom of choice for projects, creating for themselves a steady workflow from trusted clients.
The Freelancer Pay Gap is Real: Here's How You Can Earn the Rates You Deserve
With 59 million Americans now performing freelance roles in a variety of industries across the country, working for yourself has never been more popular. While self-employed work may be appealing for a variety of reasons, starting out can be a challenge. It can be difficult to know how to appropriately structure your work and bill clients for your time, and many freelancers find themselves charging too much or too little for their services.
Our research highlights a distinct gender pay gap between men and women for their hourly rates – a gap nearly three times wider than the data currently available for full-time salaried roles.
While 70% of women said they chose to work independently to overcome the glass ceiling in their industry, we can see a pay disparity in most key sectors – with some exceptions. It is too simplistic to argue that women should charge more for their services, as their rates are influenced by clients and pay rates in their industry.
Though industry leaders must continue to work towards gender pay equality in their sectors from top to bottom, it is important that freelancers set their rates appropriately and work to an established contract. In addition, freelancers should thoroughly research standard rates for work in their industry, using institutions like the Freelancers Union for support.
While it's important to understand competitor rates, freelancers should avoid making unhelpful comparisons to the work of others, and carefully manage their workload to avoid feeling overwhelmed and burnt out.
Thinking of taking on your own personal projects? Why not follow these 7 tips for how to treat your freelance business as established, full-time employment. This guide will help you set rates that you won't regret later, ensuring your work gets what it deserves.

Click here to see the image in full size
Methodology & Sources
To calculate the freelancer gender pay gap, we scraped freelancers' names, categories, specialties, and hourly rates for almost 6,000 US-based freelancers that have billed at least 100 hours of work in the last 6 months on Upwork.
We used Gender API to ascertain the gender of freelancers, applying it to every individual freelancer. We considered the names with accuracy value according to Gender API fewer than 50 as undefined. The rates for these freelancers were not taken into consideration for the overall data set.
We calculated the average among men, women and overall. We also found the same averages for every role with at least 20 freelancers.
The data was collected in March 2022.
SOURCES