Freelancers amount to around 40% of the world's workforce and earn more than office workers. Want to build a remote career? In this article, we're going to tell you how to start and where to find your orders.
What is a Remote Job
Remote work refers to any professional services that are provided outside the office, via the Internet. It can be programming, online marketing, consulting, copywriting, graphic design, accounting, and much more. What you need for such work is just a laptop, high-speed Internet, and a comfortable place (home, a cafe, or a co-working space).
There are two types of remote work: full-time and freelance. In the first case, you are hired by a particular company but do not go to the office. In the second one, you offer services to various customers, i.e. you actually do business on your own. It is this type of employment that is getting more and more popular year after year. Forecasts show that by 2030 freelancers may reach 80% of the world's workforce. There are several reasons for this and they are as follows:
Income. 73% of freelancers make more money than they do when hired. There's no fixed salary: you determine the number of working hours and manage your income.
Flexibility. You are not tied to the place and can find clients anywhere in the world. For example, you don't have to move to San Francisco to work for Silicon Valley companies.
Opportunities. Freelance can be either an independent activity or just an extra job. Aren't you sure you can do this? Start with simple orders, practice, and gain experience.
Efficiency. According to the CoSo Cloud Remote Worker Survey, 77% of people working remotely enhance their performance, 53% get less stressed, 45% sleep more, and 42% eat better.
A Freelance Career: Getting Started
The advantage of a remote job is that you can start working regardless of your experience. Just choose a sphere and start looking for clients. Follow these 3 simple steps to do this:
Identify the niche. You can either proceed with what you were doing in the office or learn a new profession. Think about which areas you are interested in and what level of income you expect to earn on average.
Create your portfolio. List your skills in it and show some samples of work. If you have no experience yet, complete some free orders: e.g. create a website or draw a logo for your friends' business.
Start looking for orders. Internet platforms are the main source for finding remote work orders. Read more about them below.
Order Search Services
We advise you to sign up at several services: the field-specific platforms (according to your area of expertise) and the multi-purpose ones with various spheres represented.
Fiverr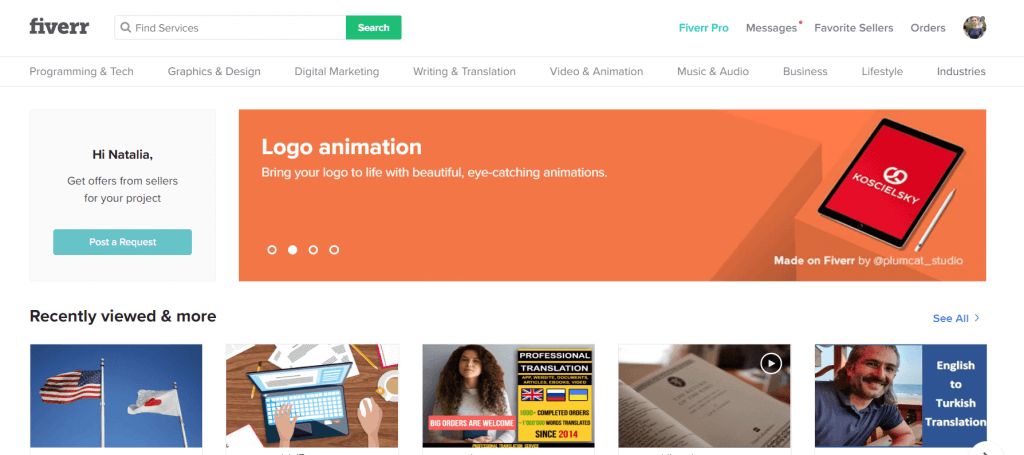 The site brings together over 800,000 freelancers and about 5 million customers. Fiverr is a perfect choice for those who are just getting started and want to quickly build a portfolio. Small inexpensive orders such as text writing, graphic design, video and animation, website design with WordPress are popular here. Besides, the service offers free online courses where you can improve your skills.
Upwork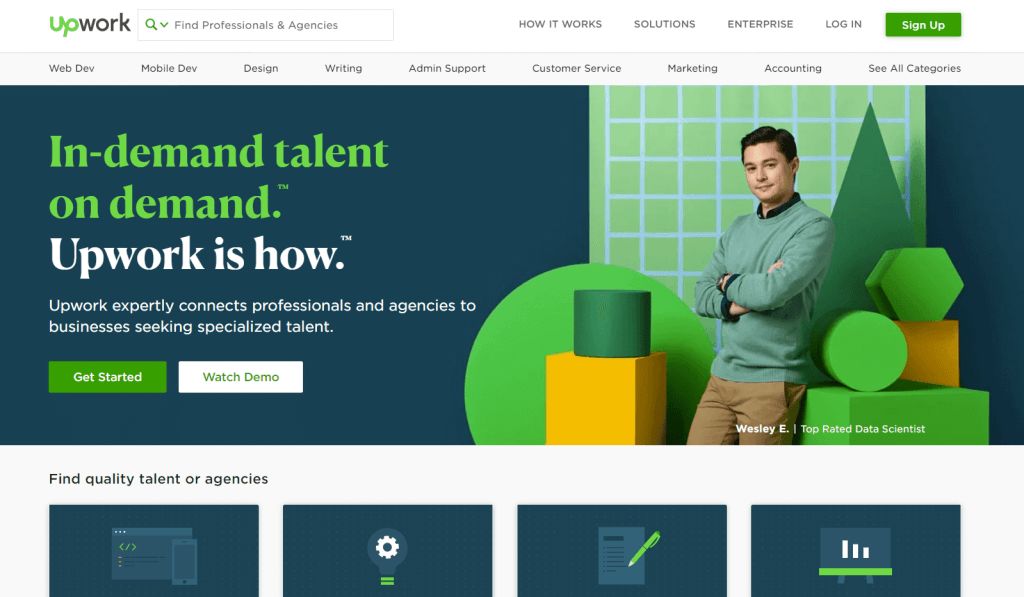 One of the largest and most popular sites for remote job search: about 3 million jobs are posted here annually. Here you can find both simple one-time orders for beginners, and solid projects from large corporations for professionals. For example, Frank Otava, a former Google employee made more than $900,000 on Upwork by launching Google Ads advertising campaigns.
Simply Hired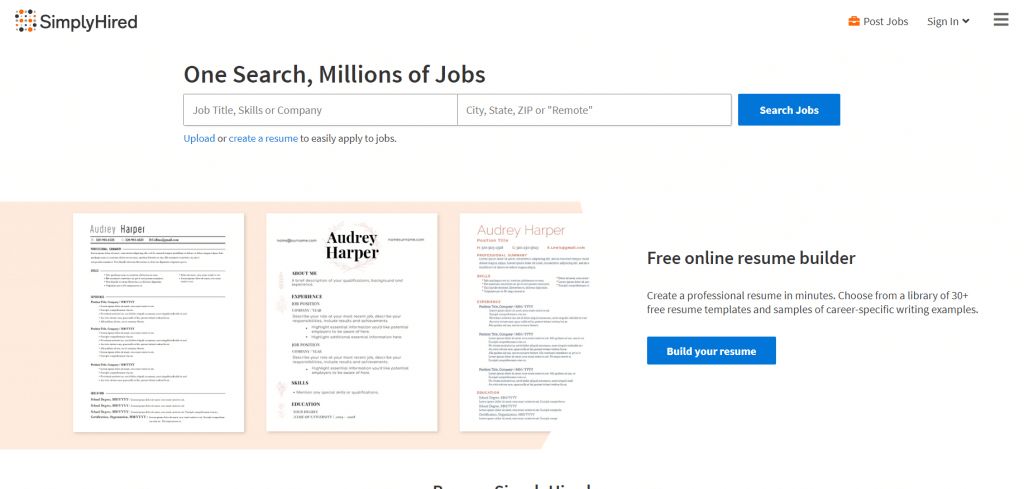 This platform is mainly dominated by large corporate orders for long-term cooperation. The useful options offered at the platform are the tool for assessing your rates and the ability to filter vacancies by location if you want to work for a particular market.
Freelancer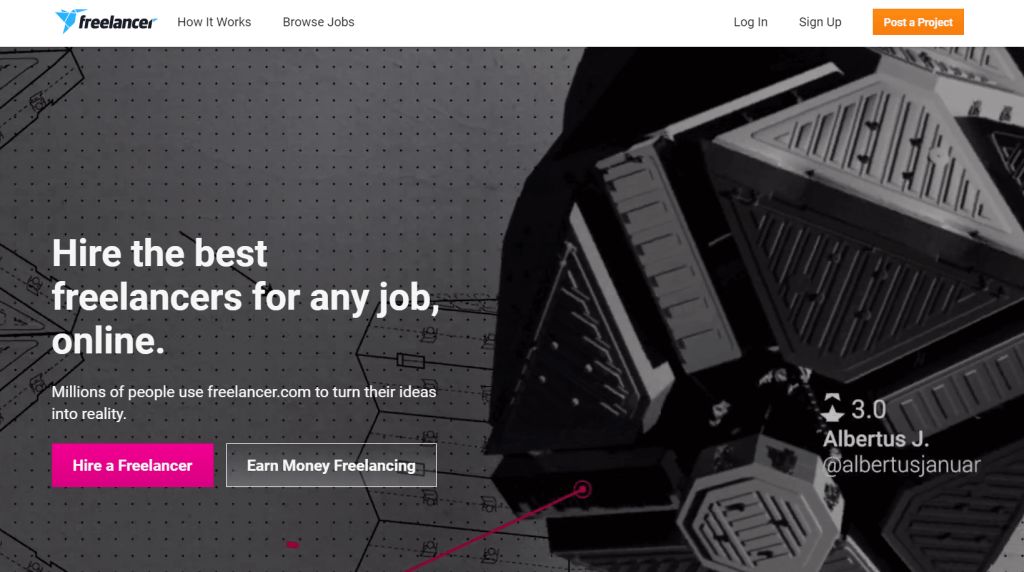 Another large resource with more than 30 million employers and freelancers looking for each other globally. Hundreds of orders are posted here every day, ranging from simple tasks to large-scale projects.
TaskRabbit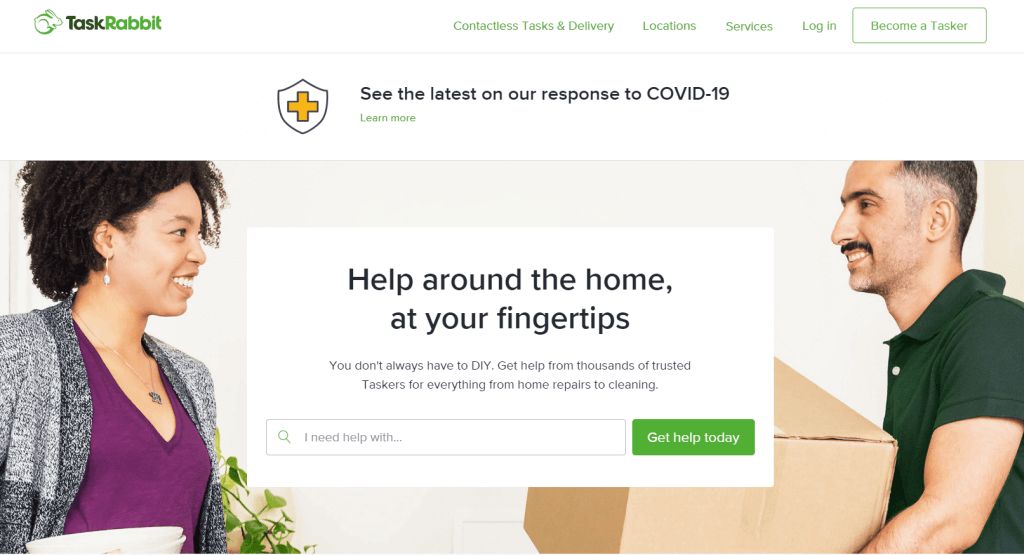 This service is dedicated to finding individuals to do household chores. TaskRabbit can help you earn extra money by providing small household services such as assembling furniture, repairing bathroom appliances, or cleaning apartments.
Guru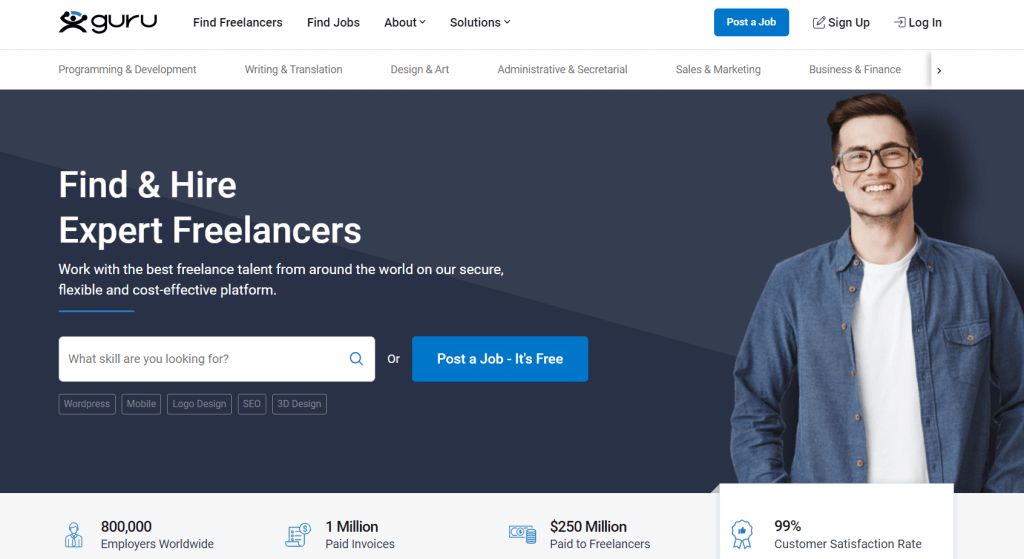 The site mainly publishes job offers for experienced freelancers, including programmers, translators, copywriters, graphic designers. Choose a job by location, category, and payment terms (hourly/fixed rate).
Dribbble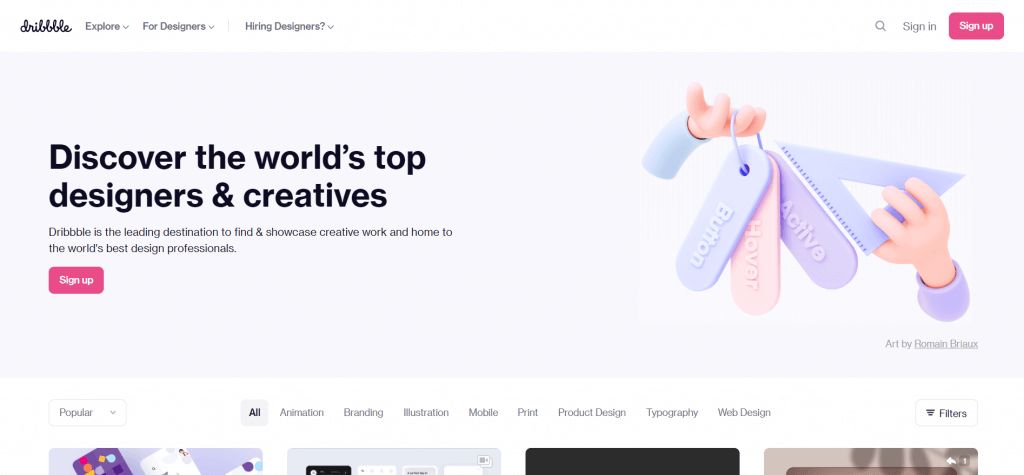 One of the largest resources for creative businessmen: graphic designers, entertainers, videographers, branding specialists, and many others. Dribbble is similar to social media: it's a perfect place to put your best works for customers to find you.
Toptal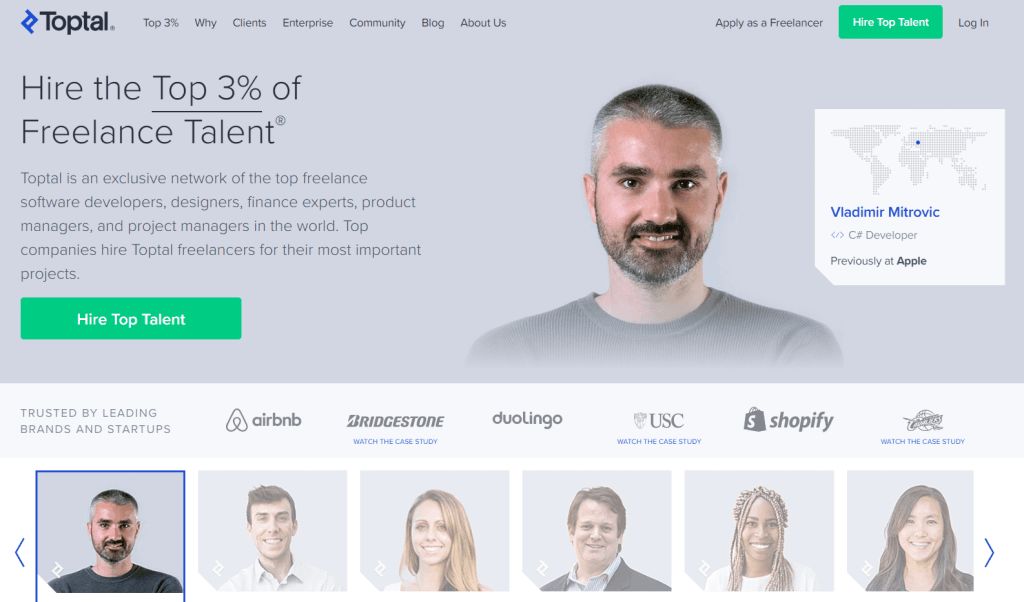 The service is known for its strict selection system: it accepts only the best candidates who have successfully passed testing and interviews. As a result, professionals get access to well-paid projects from large companies. The salary here ranges from $50 to $250 per hour.
The Creative Group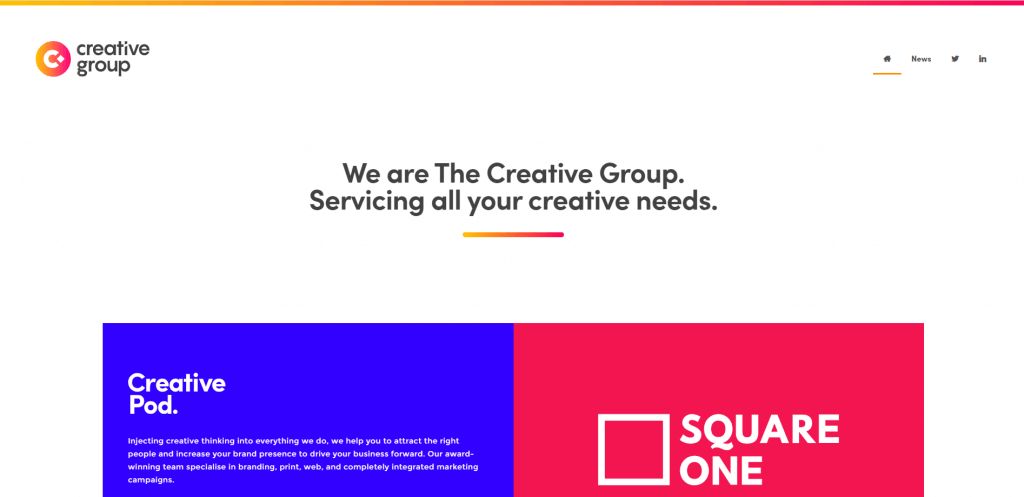 The platform helps to find orders for creative professionals such as photographers, designers, text authors. At The Creative Group, you can find single orders or get a full-time remote job.
Aquent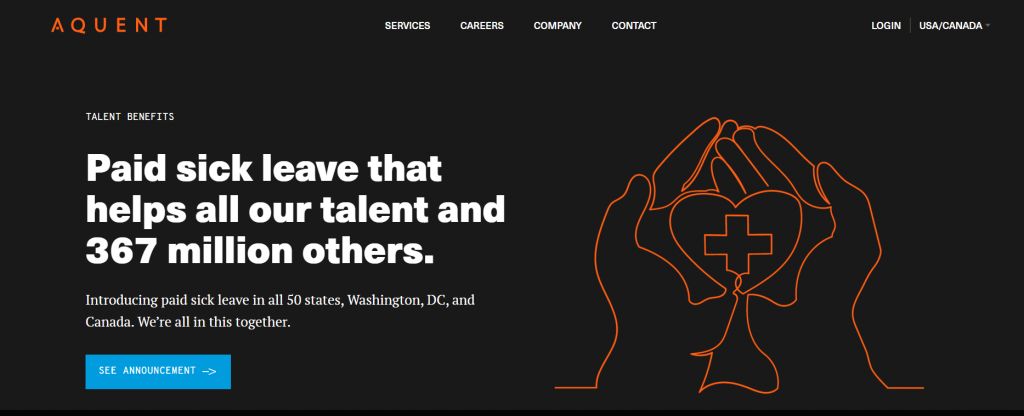 Although the resource is aimed at experienced freelancers, it also offers opportunities for beginners, e.g. free online training courses. Most Aquent job offers are related to online marketing and creative professions.
PeoplePerHour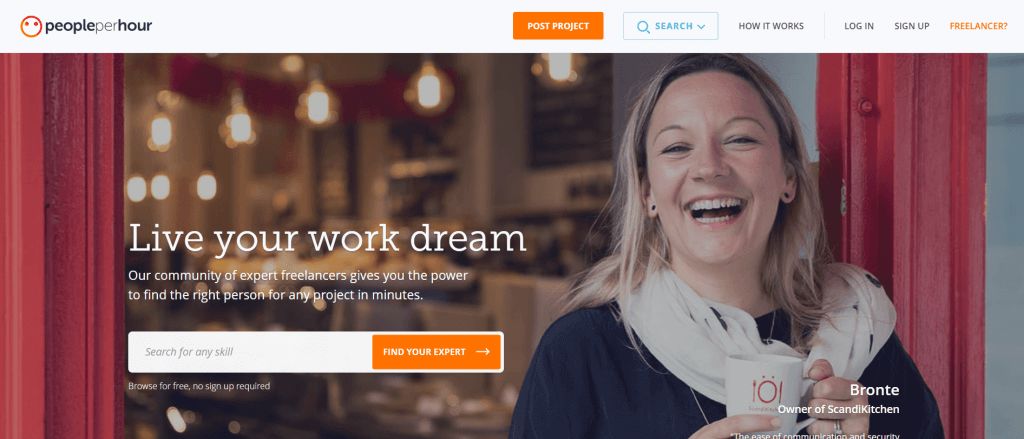 The name of the platform speaks for itself: it publishes simple orders with hourly payment in almost any sphere – from business card design to landing development. PeoplePerHour is perfect for beginners since it's the place to gain experience doing simple things and sharpen your skills.
Crowded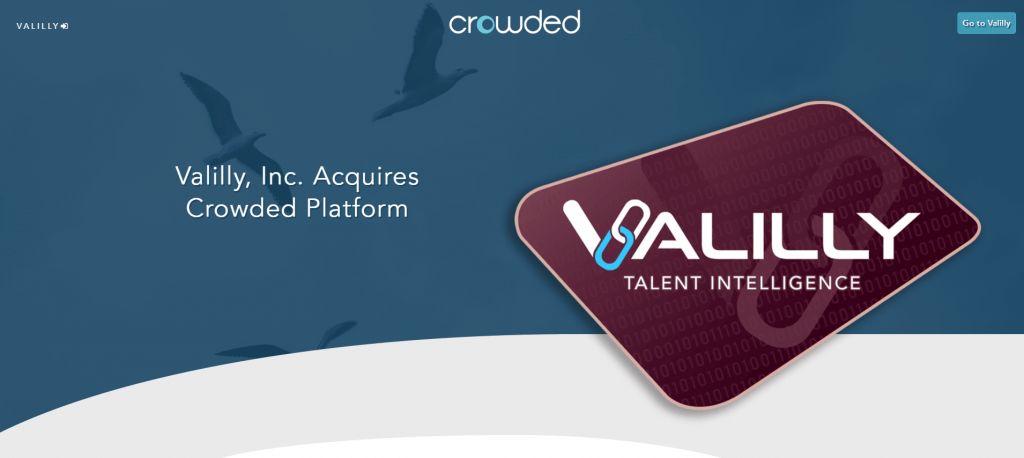 The resource selects candidates using artificial intelligence. First, the algorithm evaluates your knowledge, skills, and rates, and then automatically applies for jobs that match them.
Nexxt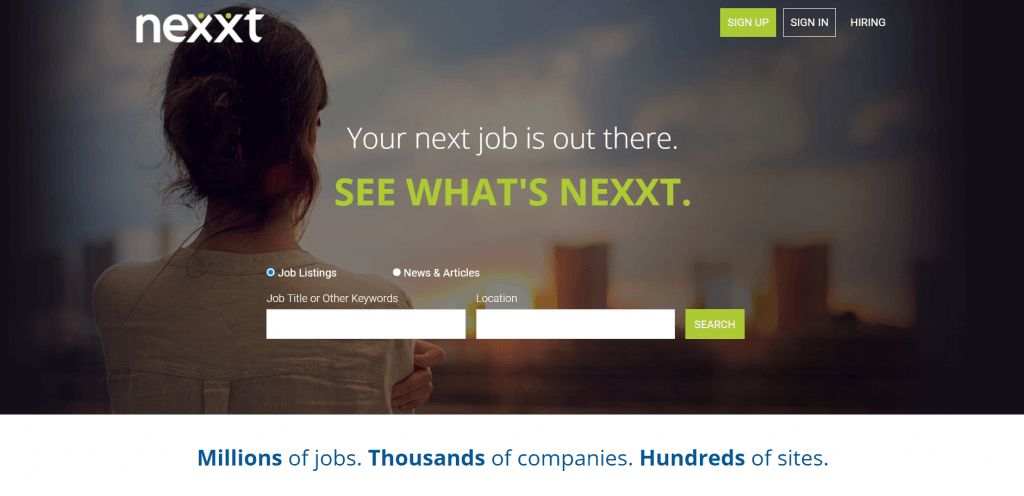 Millions of jobs from hundreds of thousands of companies… Nexxt offers a great choice for professionals in different areas of expertise. To get started, just enter the keywords and the region where you want to find customers.
Skyword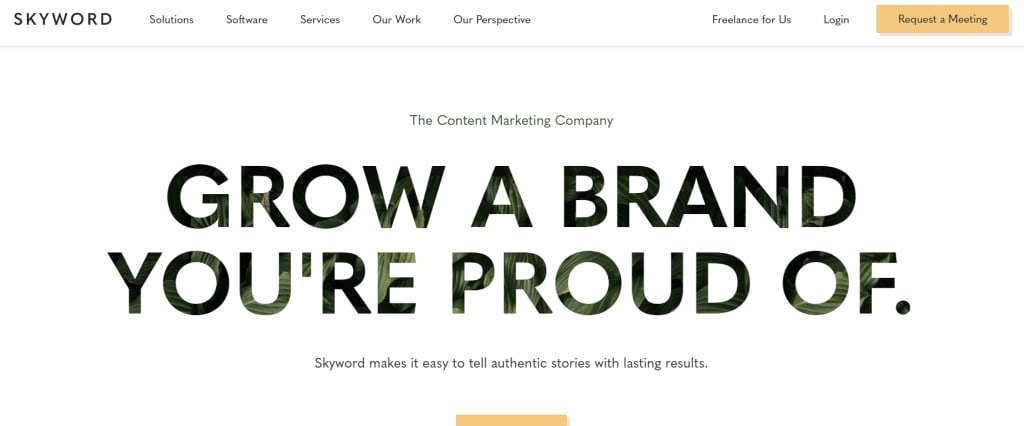 The platform specializes in finding professionals working with content: copywriters, editors, content strategy managers. Even famous companies such as Purina, IBM, Lowe's, and others place orders here.
Summary
Freelance is your own business where you make your own decisions, negotiate with clients, and calculate your earnings. To build a successful career, you need not only knowledge and experience but also competent promotion. We'll share 3 useful tips with you:
Create your own brand. Do you want your clients to find you? Demonstrate your professionalism by writing expert posts on social media, posting articles in blogs, and participating in conferences. Don't forget about the visual aspect of branding, your corporate identity. Start with a logo that you can create quickly with ZenBusiness online service.
Do networking. Sign up for profile groups on social media, manage your LinkedIn account, and use buzz marketing to increase the number of orders.
Keep learning. In digital professions, new directions and trends appear every day and market demands change. To remain in high demand, just go on developing yourself: keep up with the latest news in your sphere, upgrade your skills, and explore promising niches.