Americans failed to understand how the $2 trillion Coronavirus Aid, Relief, and Economy Security (CARES) Act would be dispersed.
On average, Americans estimated that big corporations ($492.1 billion) would receive more money than individuals ($469 billion) under the COVID-19 relief package.
Gen Xers were more likely than baby boomers and millennials to accurately estimate the allocation of money cited in the CARES Act.
One in 5 Americans didn't believe direct cash payments were an effective measure to avoid economic consequences.
For Americans living through the COVID-19 pandemic, the immediate impacts of the new coronavirus are palpable. Social distancing recommendations from the government and the CDC have established a "new normal" where Americans are encouraged (and in some cases, required) to limit their travel to essential trips, only leaving the house to get food or travel to and from work.
And while much of the future is still uncertain, a majority of Americans expect the COVID-19 crisis to have a lasting impact on the U.S. economy. And while many Americans are familiar with the stimulus checks being issued as part of the CARES Act, there's more to this $2 trillion relief package than individual payments.
So, how much do Americans really know about the CARES Act? To find out, we surveyed over 1,000 people to see where they believe that $2 trillion is going. Here's what they had to say.
Effective Funding
At the time of this writing, nearly 17 million Americans had filed for unemployment as a result of the COVID-19 outbreak. When asked what they believed would be the most effective at creating economic relief, Americans' top responses included paid sick leave (almost 88%), free testing for COVID-19 (86%), and suspension of evictions or foreclosures (83%), all of which are included in the CARES Act.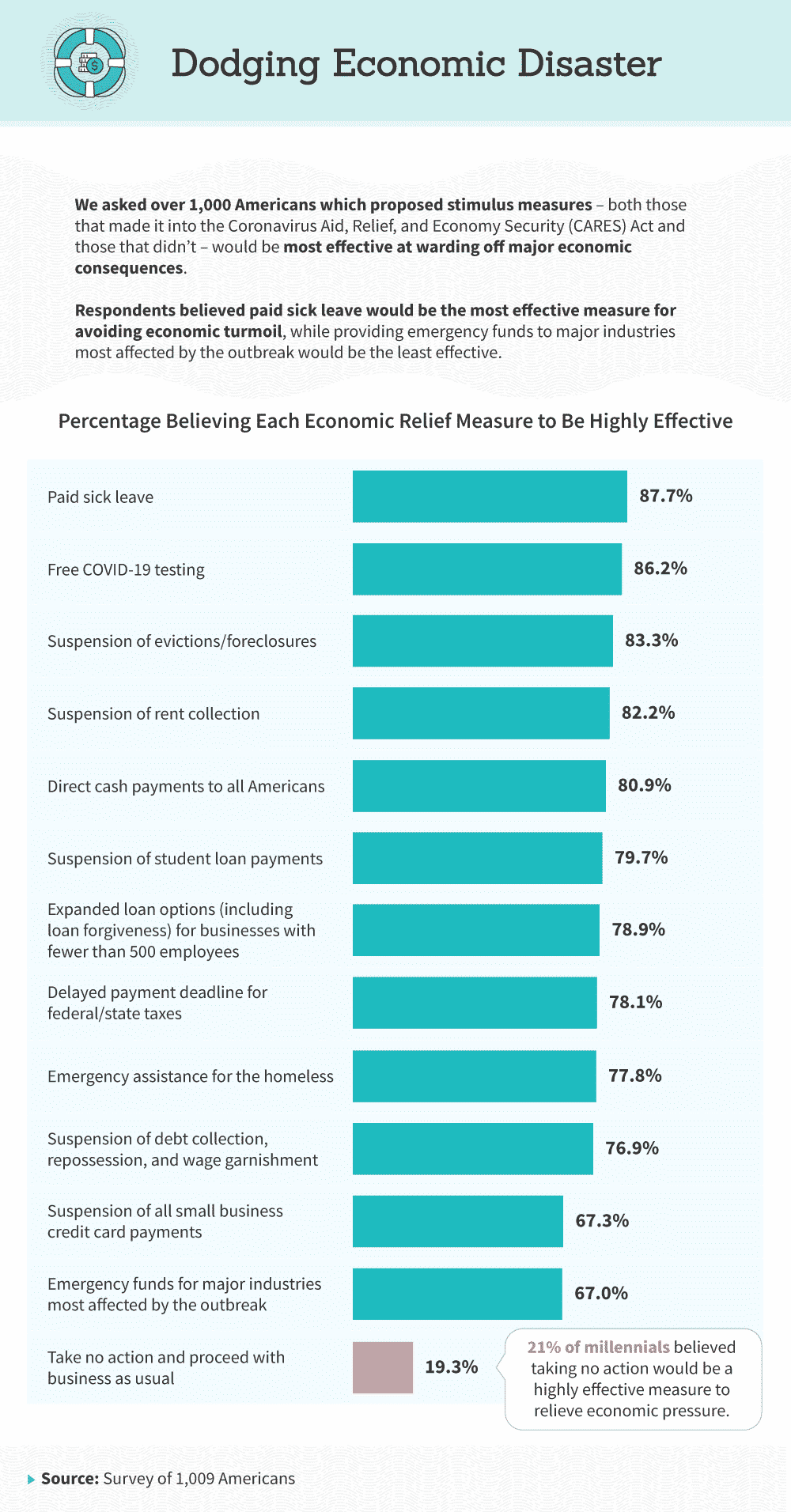 However, more than 4 in 5 Americans also believed suspending rent collection would be highly effective as an economic relief measure, followed by delaying the payment deadline for federal or state taxes (78%), emergency assistance for the homeless (about 78%), and suspension of debt collection (77%).

While just 67% of Americans believed emergency funds for major industries (including airlines and restaurants) would be effective at curbing the economic impact of COVID-19, nearly 1 in 5 Americans suggested the government should proceed with business as usual. Twenty-one percent of millennials surveyed indicated the government should take no action to provide economic relief during the COVID-19 crisis.
Disbursement of Aid
Americans' ideas about how to effectively stimulate and support the U.S. economy during the COVID-19 outbreak were typically focused on individuals rather than businesses or large corporations. In reality, $560 billion of the $2 trillion CARES Act is directed toward individuals, with more being allocated to businesses (big and small), state and local governments, and public health.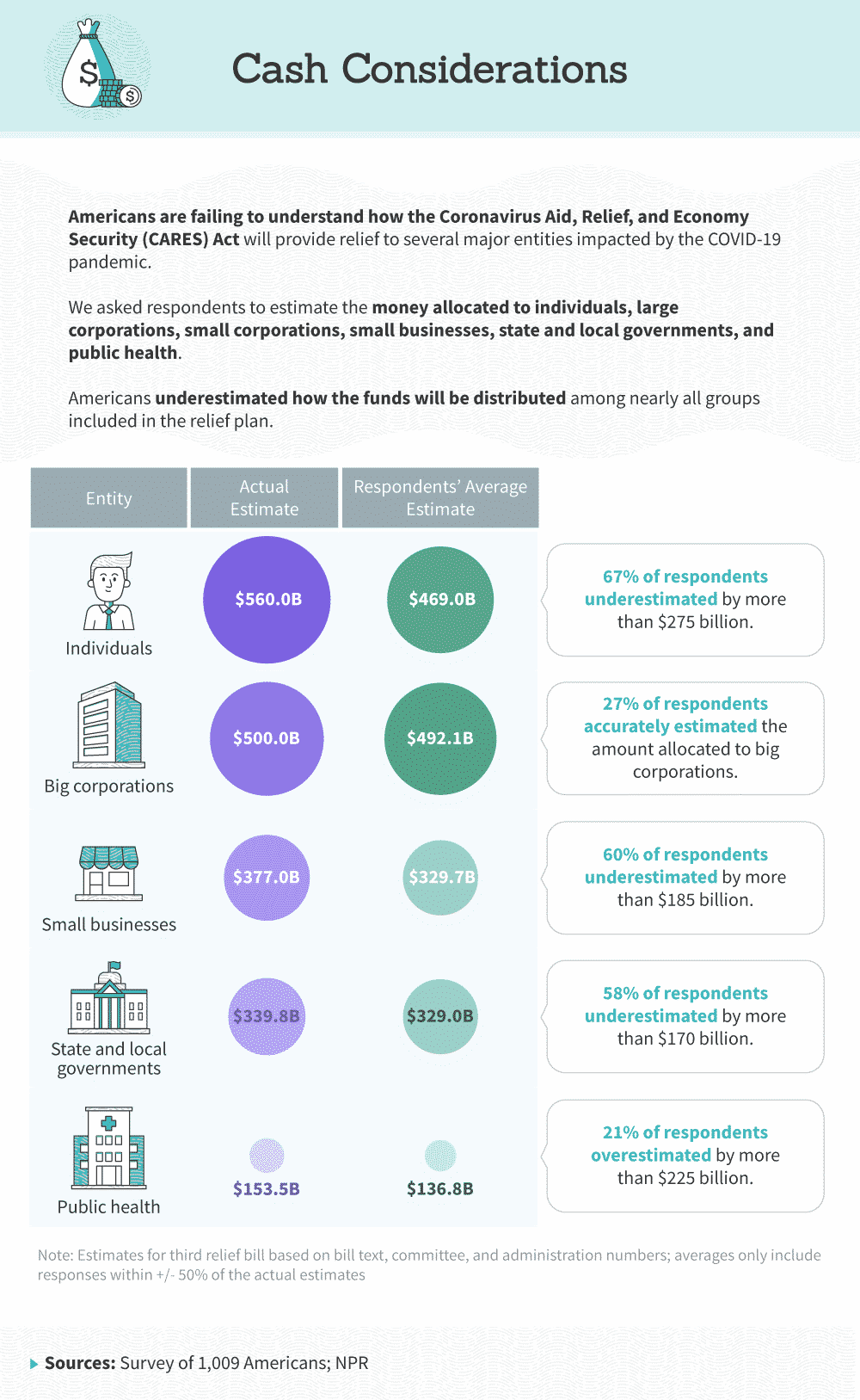 On average, Americans estimated that $469 billion of the CARES Act would be directed toward individuals, with 67% underestimating by more than $275 billion. And while 27% correctly reported $500 billion would be distributed to big corporations, the average estimate was slightly lower at $492 billion. Another 60% of Americans underestimated the amount of money given to small businesses by over $185 billion, and more than half underestimated the amount given to state and local governments by more than $170 billion.

A Community in Need
There's no denying the economic impact of COVID-19, even if we don't completely know how deep or far the effects will run. The CARES Act includes $2 trillion in aid for individuals, industries, and local and state governments, but Americans may not fully understand how that aid is being distributed.
Major corporations were allocated nearly as much money in the CARES Act as individual Americans were, but many people believe it is individual support that will have the greatest impact on restoring the economy.
At ZenBusiness, our mission is to help you meet your business goals and adapt to the changing needs of your consumers. We're committed to helping small businesses #GrowTogether in these uncertain times with grants for new and existing customers.

Learn more about adapting your business to an online platform, how to plan financially, and what the CARES Act means for you and your small business at ZenBusiness.com today.
Methodology and Limitations
For this study, we surveyed 1,009 people and asked them questions pertaining to the recently passed CARES Act. The survey was conducted on March 30, 2020. Of the 1,009 respondents polled, 44% identified as female, 56% identified as male, and less than 1% identified as a gender not listed on our survey.
Thirty-nine percent of respondents indicated their jobs were considered essential services; 55% said their jobs were not considered essential services; and 7% said they were unsure.
Respondents ranged in age from 19 to 76 with a mean of 38 and a standard deviation of 12.1.

Actual estimates of the CARES Act were sourced from an NPR article posted on March 26, 2020. The estimates for the third relief bill are based on bill text, committee, and administration numbers. Outliers were removed where money estimations were questioned. The main limitation of this study is the reliance on self-reported answers. Self-reporting is faced with issues that may include, but aren't limited to, attribution, exaggeration, telescoping, and recency bias.
Fair Use Statement
Help your readers understand the CARES Act better by sharing the findings from this report for any noncommercial use. We ask that you include a link back to this page so that they can see the full scope of our survey and results.