In this article, we'll look at how to create and use a professional brand book for your company. For starters, let's find out what a brand book is and why you absolutely need one.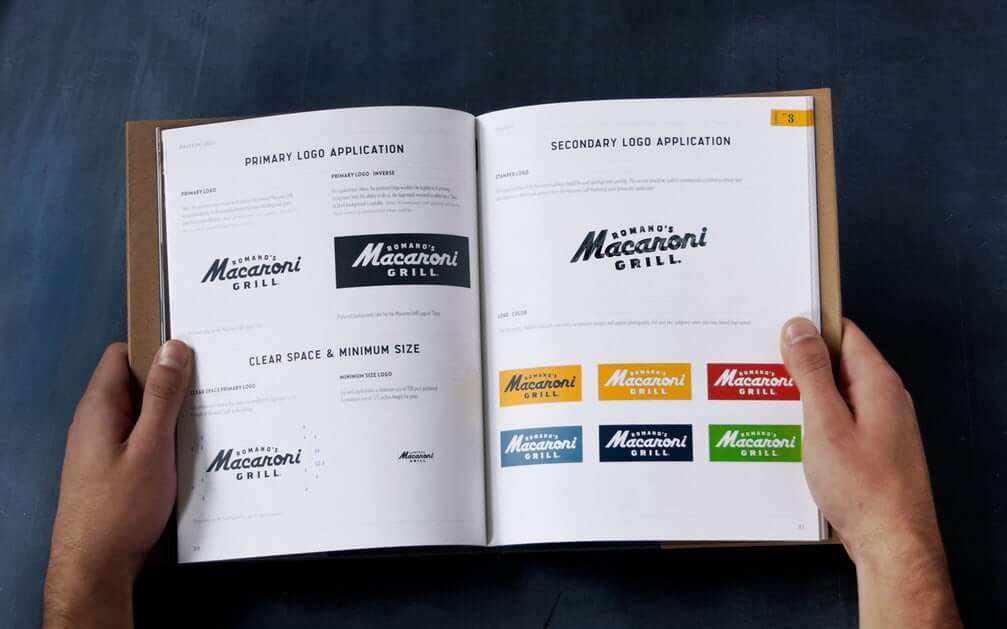 What is a brand book?
Brand book is a critical document that outlines the standards of your company's visual style. Each company has a unique brand book. While some businesses focus on graphic design, others mostly pay attention to guidelines for communicating with clients and partners.
You need to decide whether or not a brand book is relevant for your project. (Most likely, it is.). Also, you need to outline the issues that your brand book will address.
Why do you need a brand book?
Not having a set of design guidelines can undermine your company success. Why? Because every designer and marketer hired from outside will bring their own creative vision to the table. As a result, instead of a coherent corporate style, you'll end up having a complete mess. While diversity is not a bad thing per se, it can be submersive when comes to crafting a corporate identity. By using varying design techniques and communication styles, you're unlikely to build a strong brand and convince your clients that you're the best choice in the market.
On top of that, a brand book will become an irreplaceable helper for your new employees. By reading the guidelines contained in a brand book, they'll be able to easier understand the values and goals of your brand. It's way better than learning by making stupid mistakes, right? You won't have to waste your time explaining to a new employee what rules they've broken without even knowing that. This way, a smart brand book can save you lots of time and help you and your staff avoid awkward situations.
Take a look at a quick video on why a professional brand book can make a huge difference for your business:
Things you need to know before creating a brand book
Rule No.1 is to keep the balance. Don't get carried away. Make sure your guidelines are not too rigorous. Otherwise, they'll be limiting your employees' creativing, forcing them to stick with established, time-tested solutions. At the same time, your guidelines must be clear and straightforward and rule out any ambiguous interpretations.
There is a common misconception that developing a brand book is the prerogative of a company owner. Allow us to debunk that myth. A brand book is a joint effort of company management, designers, copywriters, and other specialists. If you have a dedicated branding department within your company, writing a brand book is their direct responsibility.
The process of writing a brand book must be supervised by a seasoned specialist who took part in developing your company's brand identity and has enough authority and expertise to make crucial decisions. Also, make sure your staff know about the existence of a brand book and follow it. You don't want all your hard work to go down the drain, right? When hiring a new employee, ask them to read your brand book and consult it when it doubt. (We'll get back to this later in this article.)
What's inside a brand book?
There is no such thing as two identical brand books. Each company has a one-of-a kind guide with its own mission, values, business models, and other characteristics. Nonetheless, one can outline 3 standard sections that each and every brand book must have:
Brand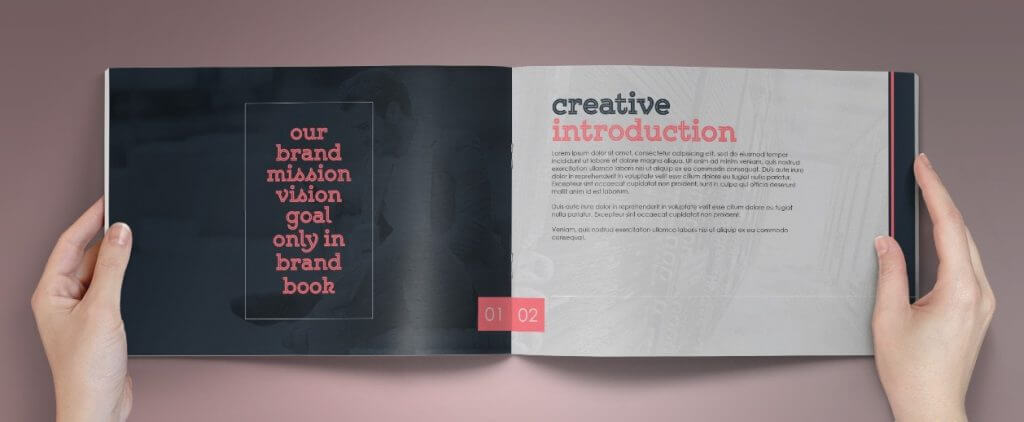 This section looks at your company's mission, values, and target audience.
The size of this section depends on how detailed and elaborate your document is. Many companies skip this section altogether because they see no point in copying text from one document (e.g., business plan) to another.
Brand identity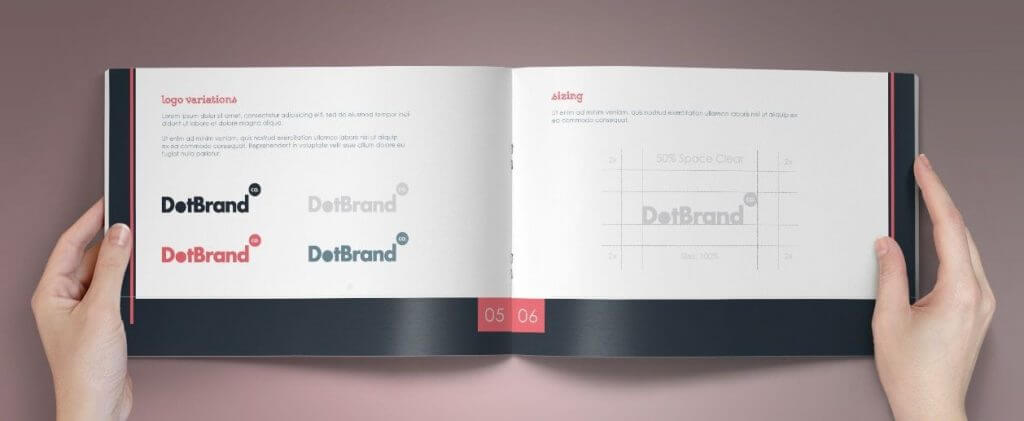 Logo: colors, layouts, arrangement, size and proportions, examples of how you should and should not use your logo.
Trademark: possible uses, colors.
Slogan: where to put your slogan. Read here how to create a slogan.
Colors: what colors (combinations of colors) to use in your marketing strategy.
Fonts: what typefaces to use in your texts (headlines, regular text, lists, etc.). Click here to find the best fonts for your logo.
Photos: tips for doing photo shoots, image standards
Other graphics: icons, patterns, textures.
Communication style
Language: in what languages are you talking to your target audience?
Grammar and formatting: abbreviations, capital letters, numbers, acronyms, dates, names, etc.
Legibility: plain language, no complicated terms, short sentences.
Style: technical, formal, slang, etc.
Communication style: (formal/ friendly/ reserved/funny/ etc).
Emails: standard structure, emails signature.
Blog: topics, structure, formatting.
Social platforms: goals, posting times, and types of posts for each social network.
Brand book design
Find a professional to design your brand book. Take the time to sit with your selected designer and talk about the project. Make sure you two share the same creative vision regarding the brand book. Ask the designer to show you their favorite brand books and tell you what they like most about each brochure. Alternatively, you can show them the brandbooks below and ask them to shortlist their favorites. This is a sure way to understand what artistic direction your contractor is going to explore. For example, are they planning on using a large font and short paragraphs? Or do they prefer a more succinct structure?
Here is another important issue which is often overlooked. Your document must meet the guidelines contained in it. In other words, it must be both visually appealing and easy to perceive. Once you have the first draft of your future brand book, be sure to show it to your teammates to get feedback. Another crucial thing to remember is that a brandbook must reflect your brand identity rather than your personality and individual preferences.
When it comes to creating such a fundamental document as a brand book, being hasty can ruin everything. Take all the time you need to make the necessary adjustments and add finishing touches. It's a gradual process. Sometimes, the best ideas come into your head unexpectedly, when you least await it.
Great examples of brand books
Check out a few amazing examples of brand books used by major companies. We hope you'll find so-much-needed inspiration for your own design!
Apple brand book (PDF)

Nike brand book (PDF)

Google brand book (PDF)

Microsoft brand book (PDF)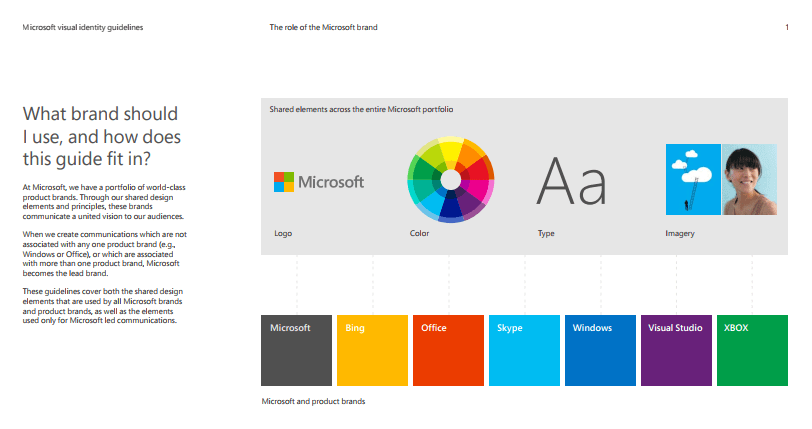 Coca Cola brand book (PDF)

Who uses brand books
Among big-name companies, it's a common practice to contractually oblige their distributors and other partners in different countries to follow the standards outlined in their brand books. This is how they ensure that their brand is coherently perceived worldwide. However, most of the time, brand books are used exclusively inside a company.
How to use your brand book
So you've developed a set of guidelines for using your corporate style. Congratulations! You're only halfway there, though. Now you need to make sure your employees follow the established standards. What's the point in creating a document that does nothing but collect dust?
Send your brand book via corporate email and ask your employees (all employees, and not only designers and copywriters) to carefully read the rules and guidelines contained in it. Let's take developers, for example. While they're not directly involved in branding, they still can spot and correct mistakes made by other specialists.
The next step is to choose a person who will make sure the guidelines are followed across all company departments. Ideally, it should be the same employee who supervised the process of creating the brand book.
One month after the brand book release, run a meeting to see how the new corporate standards are being met. Also, ask your coworkers about the challenges they faced when following the guidelines.
Wrapping it up, we'd like to emphasize that brands are constantly changing. (They are just like people in that regard.) Make the habit of revisiting and updating your brand book at least once a year. Also, keep in mind that your branding guidelines must be in sync with your company's current values and goals.