If you consider email marketing long dead, think again. According to marketers, emails remain a powerful tool for promoting a business. A smart email marketing campaign is a major stepping stone on your way to building a strong brand. In this post, we'll educate you on how to design emails that your recipients will open and read to the end. Plus, we'll share with you some inspiring email designs.
Why you need an email campaign
Email marketing is a great way to promote your brand, enhance your customer loyalty, and build an effective sales funnel. As far as business goes, emails are surprisingly consistent at delivering great results. While different social platforms may come and go, people keep using emails just like before. Here are the goals you can achieve through a smart email campaign:
Forge a bond with your subscribers. If a user left you their email address, it means they trust you and look forward to hearing from you. Surveys are saying that 72% of people prefer to receive promotional materials via email instead of socials. To businesses, email services allow to segment and personalize messages based on the recipient's interests and previous experience with your brand.
Expand your target audience. Emails are 40 times more effective at acquiring new clients than such giants as Facebook and Twitter. Don't be shy to ask your potential customers for their email address. Add a subscription form to your website and socials. To encourage your audience to share their personal information, give them something of value in return. It can be literally anything, from a free tutorial to promo code. Your audience should always be clear about what you're trying to bring them. Let potential customers know that they can get obvious benefits from giving you their personal information, and don't forget to make your texts more personal, claims Kate Roth, a marketing specialist from dissertation writing services.
Promote your brand. If you post an update on your Facebook page, only 2% of your followers will see your information. At the same time, the number of emails that get delivered to their recipients stands at an impressive 90%. On top of that, you can easily track and measure the performance of your email campaign and user engagement.
Encourage a purchase. When making a purchase decision, 59% of users find themselves affected by promotional emails. However, it doesn't mean that your every email must be of selling nature. Otherwise, your subscribers will turn away from you. Make sure your content is diversified and pursues various purposes.
How to structure your email correctly
It would be a mistake to think that users read every email from beginning to end. An average recipient only spends a few seconds scanning a brand email. This is why it's crucial to capture their interest by structuring your email in a strategic way.
Header
A header contains technical information on the sender and recipient, date, server name, etc. To see these metadata, a user must click a drop-down menu.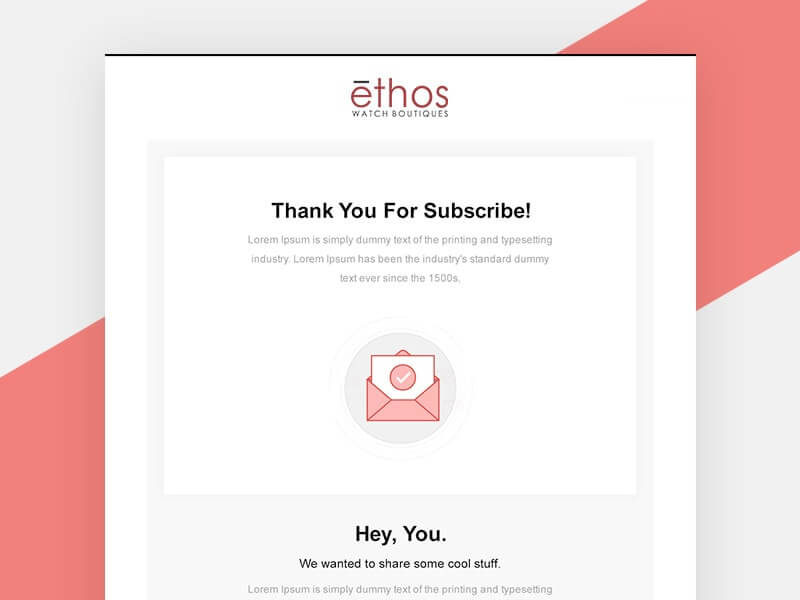 Main block
A standard email includes a headline, images, graphics, text, and, СТА (call to action) buttons. Depending on how these elements are arranged, the main block can take the following forms:
Column. It's a standard structure where all elements are arranged one below the other. This type of emails works great on both desktop and mobile. The only downside is that a column looks too generic and unimaginative.
Inverted triangle. All large and wide elements (headline, images) are concentrated in the header. Then the mockup narrows down and ends with a CTA button.
Zigzag. This is a great example of a creative mockup where an email looks like it's split by imaginary diagonal lines. The prevalent elements in this email are imagery and colors, while text plays a secondary role.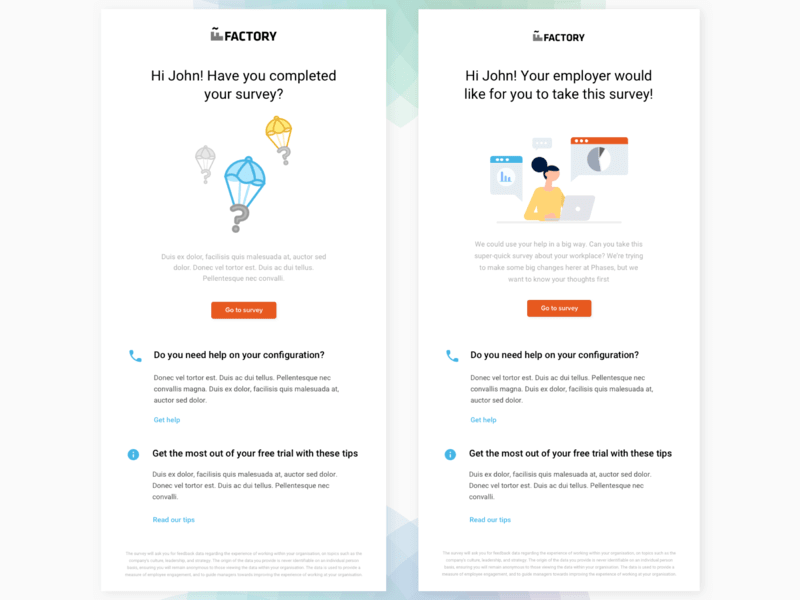 Footer
A footer can include a company name, sender's name and position, logo, contact info (physical address, phones, website, socials), images, etc. To create a catchy footer, go to ZenBusiness. First, you'll have to design a logo. ZenBusiness will use your emblem to craft a beautiful customizable email signature.
Smart tip. Dreading the thought of making your own email template? Using a professional custom template will take that task off your hands. Check out Beefree, Campaign Monitor, Stripo or Mailchimp for both free and premium templates. Pick the design that looks best to you and adjust it to fit your corporate visual style.
6 building blocks of an effective email
If you want your email to really work, text alone is not enough. You also have to think about colors, typography, emojis, illustrations, etc. Read on to find out what makes for a solid promotional email.
1. Text
The two main things to pay attention to are the subject line and text itself.
Intrigue your audience. The subject line determines whether a recipient will open your email or discard it as spam. Be sure to make your subject line succinct and engaging. Stick to the upper limit of 65 characters.
Personalize. Emails with personalized subject lines have a 26% higher open rate than those with generic lines. In addition to a recipient's name, use the information on their last purchase.
Concentrate. Stick to the "one email – one topic" rule. If you want to introduce a new product, go straight for it. Don't veer off into your company history or other irrelevant stories. If you have more than one important issue to address, send several individual emails.
Pick your subject carefully. People don't want to hear about you. They are interested in what you can do for them. Instead of listing your company accomplishments, hook your audience with useful tips, ideas, and infographics.
Make it shorter. Most users spend less than 15 seconds reading an email. Put the essential information to the very beginning of your letter. To those who want to know more, offer a link to your website, podcast, research paper etc.
Stick to a coherent structure. To make your email more visually friendly, use sub-headers, lists with bullet points, etc.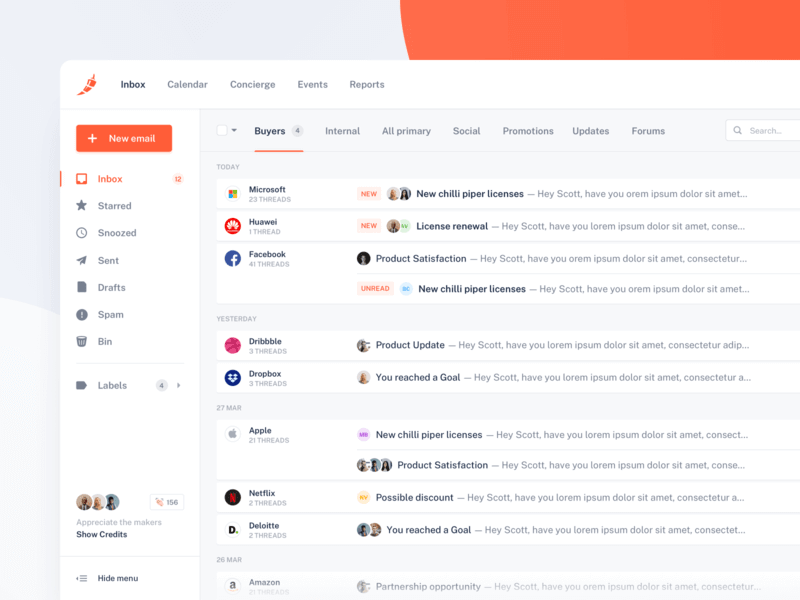 2. Fonts
If your text is hard to read, all your efforts will go down the drain. Typography is extremely important because it conveys your brand personality and shapes the way your audience perceives your company.
Different typography styles evoke different emotions and associations. For example, serifs create a solid and trustworthy image. Handwritten fonts communicate creativity and elegance.
Avoid using more than two typefaces in one email unless you want to look unprofessional.
Pick a legible font size. Use bold or italic to highlight important information.
3. Images
You only have a few seconds to show to a recipient that your email is worthy of their time. A photo or other image is a quick way to introduce the topic you're going to address and set the right mood.
Avoid generic images from stock photography websites. They will have zero effect on your audience. Take the time to look for custom imagery to fit your text or create your own visual content.
Quality matters. A blurry, low-resolution picture or image with watermarks can ruin the good impression you're trying to make.
If you want your images to display correctly, make sure they have the right dimensions. The desktop version of your email must be 600-640 px wide. However, to make your images look good across high-resolution displays, you should better go for 1,200 px.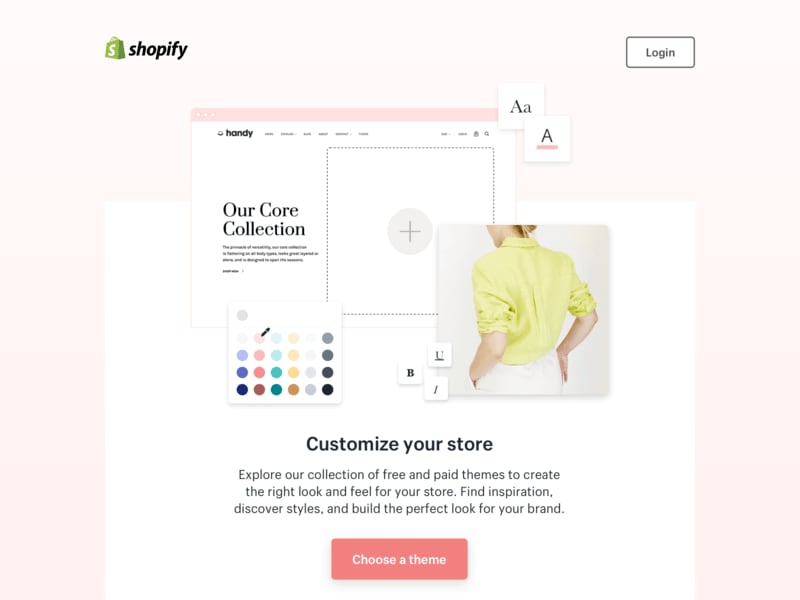 4. CTA
Each email has a purpose that must be reflected in its CTA button.
Don't use more than one CTA button unless you want to confuse your recipients. The only exception is when your email displays several products, with the "Buy" button each.
Highlight your CTA button. To get attention, use saturated hues and leave enough blank space around the button. Be sure to match your CTA design with the overall design of your email.
Make your CTA text succinct and proactive. Use the verbs that will urge your subscribers to act, such as "Book", "Buy now", "Get Discount", etc.
Your CTA button must be large enough to work on smartphone screens. The optimal size ranges between 45px x 45px to 57px x 57px.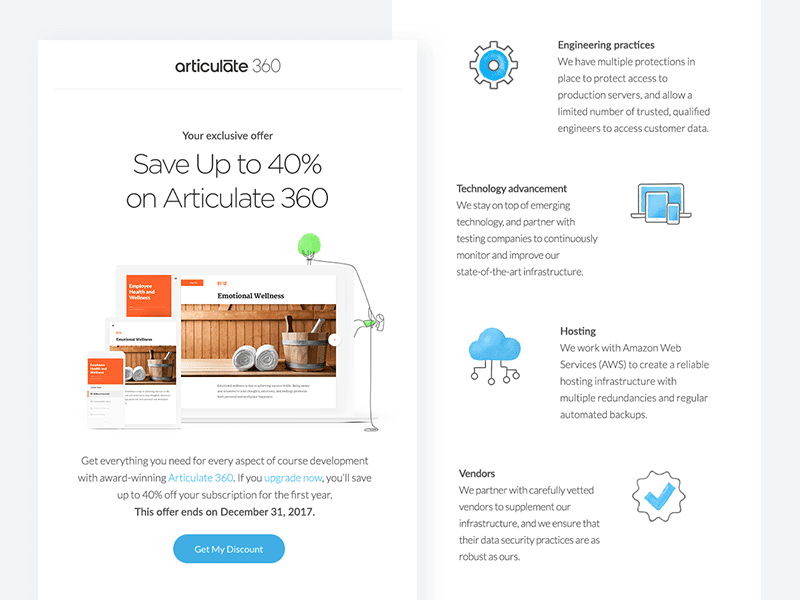 5. Color
A color scheme is a powerful tool that can have a big effect on customer behavior.
Compose a balanced palette. The fewer shades you're using, the cleaner your design will look. Colors must complement and enhance your message rather than overpower it. Opt for 1-2 hues that match your corporate identity.
Remember about color psychology. For example, red associates with love and joy, while blue communicates trust and serenity.
Add color your header and footer to visually separate them from the main block.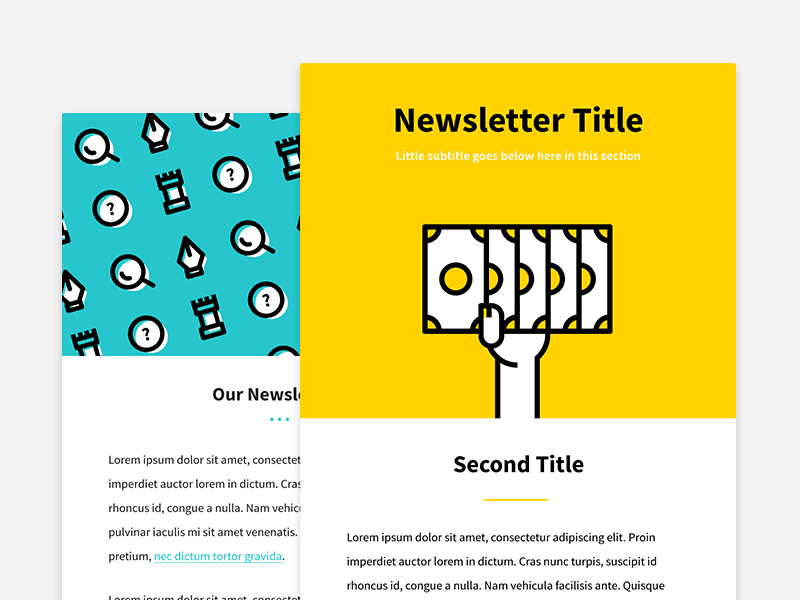 6. Icons
Icons are visual tools that help you improve communication with your audience and guide them through your email.
The icons you're using must go in line with your visual brand identity. For example, if you have an auditing company, it's not a good idea to use heart-shaped icons.
Use icons to highlight important parts of your email and make its structure more user-friendly.
56% of emails that use emojis in their subject lines get a higher open rate. Think about a smart way of working an icon into your subject line.
3 more tips
Leave enough white space. Make sure there is enough blank space around your text, photos, and CTA buttons. If your email is too cramped, your audience will have a hard time reading it.
Optimize. Over 53% of emails are opened on mobile devices, and this number is growing by year. Use mobile-friendly templates and avoid stuffing your emails with too much content. Also, always check whether your emails display correctly across different devices.
Analyze your email performance. Monitor open and click rates. What links get most clicks? What percentage of your subscribers end up actually making a purchase? Fine-tune your email marketing strategy based on your research and customer feedback.
Best email designs for your inspiration
The truth is that you can't craft an effective email campaign alone. We strongly recommend that you draw from the expertise of more successful brands. Take a look at the inspiring email newsletter designs we've picked for you to admire!