Nowadays, any business needs a good website to be successful. Whether you decide to go with a fully coded, custom website or choose a website builder, you have to make sure that the user interface (UI) is amazing. And the best way to do that is by using a website template.

A website template is a predesigned set of coded web pages and components that make creating a website a lot faster and easier. The components of a website template are created to fit together perfectly as part of a consistent design, so there won't be any inconsistencies in your UI.

To make your task easier, we put together a list of free and premium fast-loading and fully responsive website templates that are great for online businesses and online stores. Most of the website templates from this list come with HTML, CSS, and Javascript files, created for developers who can code and build a custom website. However, there are a few templates that are compatible with content management systems like WordPress and Joomla.
Free website templates
Free website templates are open-source templates that come with a decent number of components and some pre-built web pages (less than a premium website template). They not only save you time when building a website, but they save you money as well. Read on to discover our picks:
Material Kit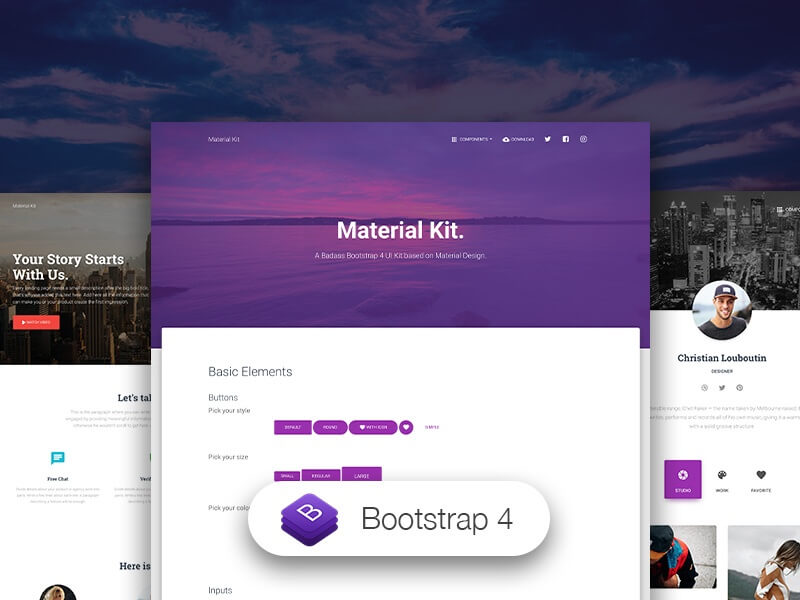 Material Kit is a Free Bootstrap 4 UI Kit designed and coded by Creative Tim. It is inspired by Google's Material Design, and it features a beautiful set of components designed to fit together perfectly. The kit comes with three pre-built pages (Login Page, Profile Page, and Landing Page) that will make creating any business website much easier. When downloading it, you get coded HTML/CSS files and Sketch files for professional designers.

Features:
60 Handcrafted Elements
2 Customized Plugins
3 Example Pages
Impact Design System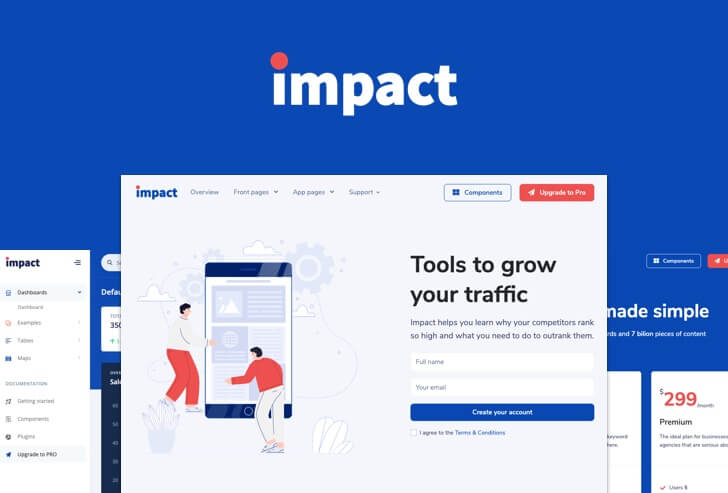 Impact Design System is a free Front and Dashboard Bootstrap Design System created by Themesberg and Creative Tim. It is the perfect design system for a startup business because it provides both a website template and dashboard template so you can also visualize data about your business. Impact Design System comes with HTML/CSS files and SASS files for experienced front-end developers.

Features:
100+ Components
5 Front Pages
4 Dashboard Pages
Laravel Vue Argon Design System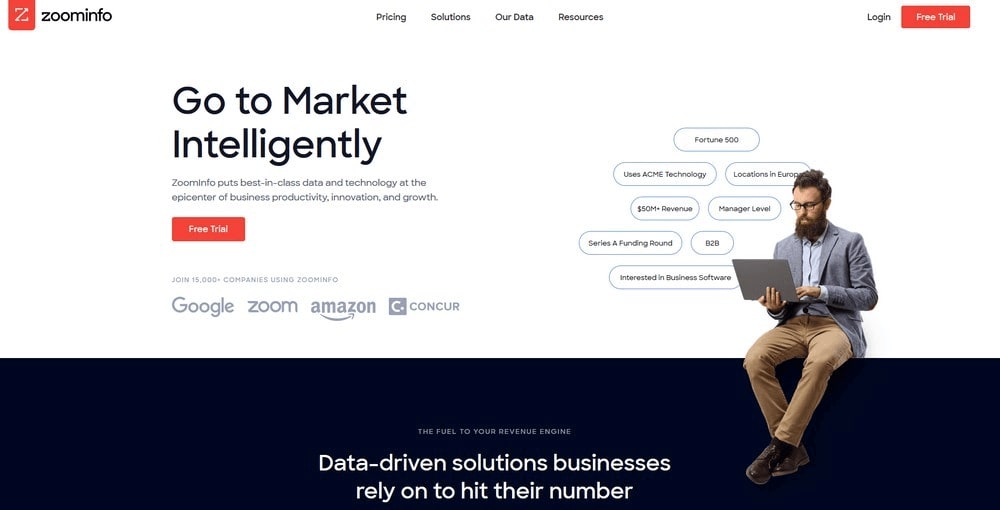 Laravel Vue Argon Design System is a free Design System for Bootstrap 4 and Vue.js created by Creative Tim, with a Laravel backend developed by AppSeed. It comes with four ready-to-use pages (Login Page, Profile Page, Register Page, and Landing Page) that will help you get your online business up and running. The backend server consists of simple Laravel with JWT authentication, MySql database, Native ORM, unit tests, and basic tooling.

Features:
26 Handcrafted Elements
3 Customized Plugins
4 Example Pages
Laravel Backend Server
Morph Joomla template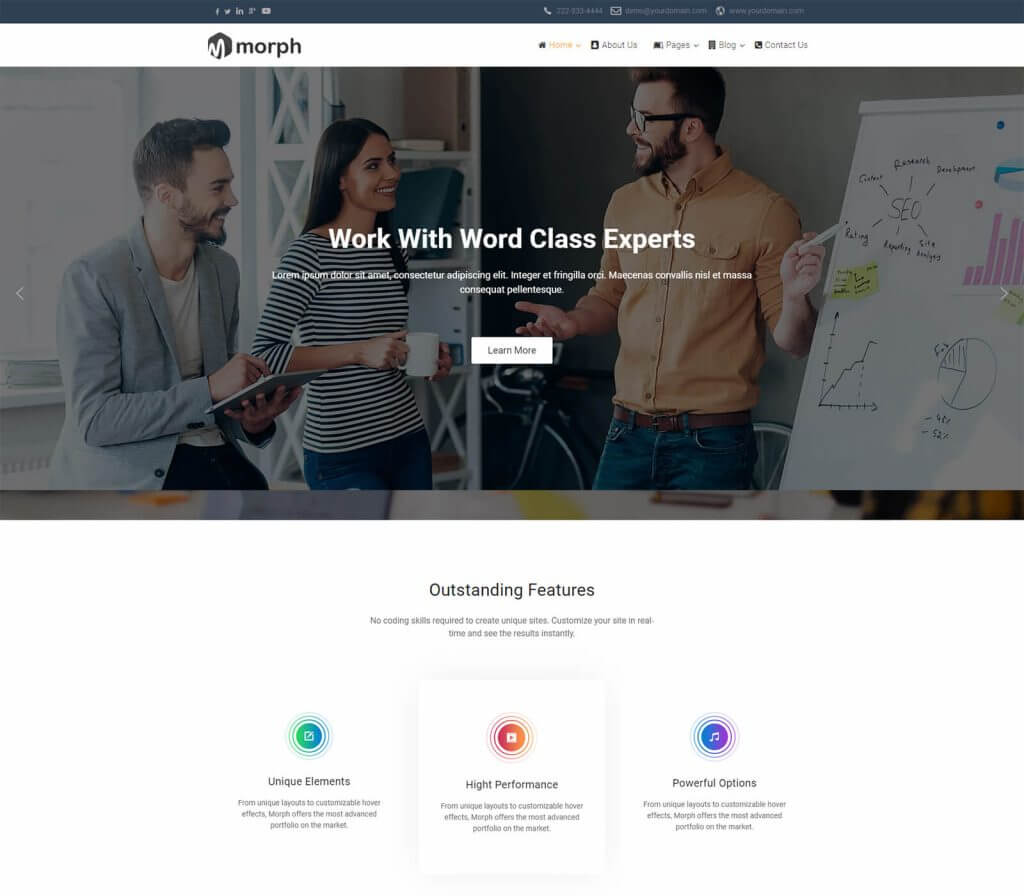 Morph is a free Joomla website template created by ThemeXpert. It comes with six niche designed homepages and many other website pages (like Login, Service, Registration, Error 404, and others). Morph has a clean design, and it is SEO-friendly and responsive. It is easy to set up and customize, and it works with any Joomla page builder, so you can use it to quickly create your business website on the Joomla platform.

Features:
15+ Premade Layouts
6 Homepages
Universal Business & E-commerce template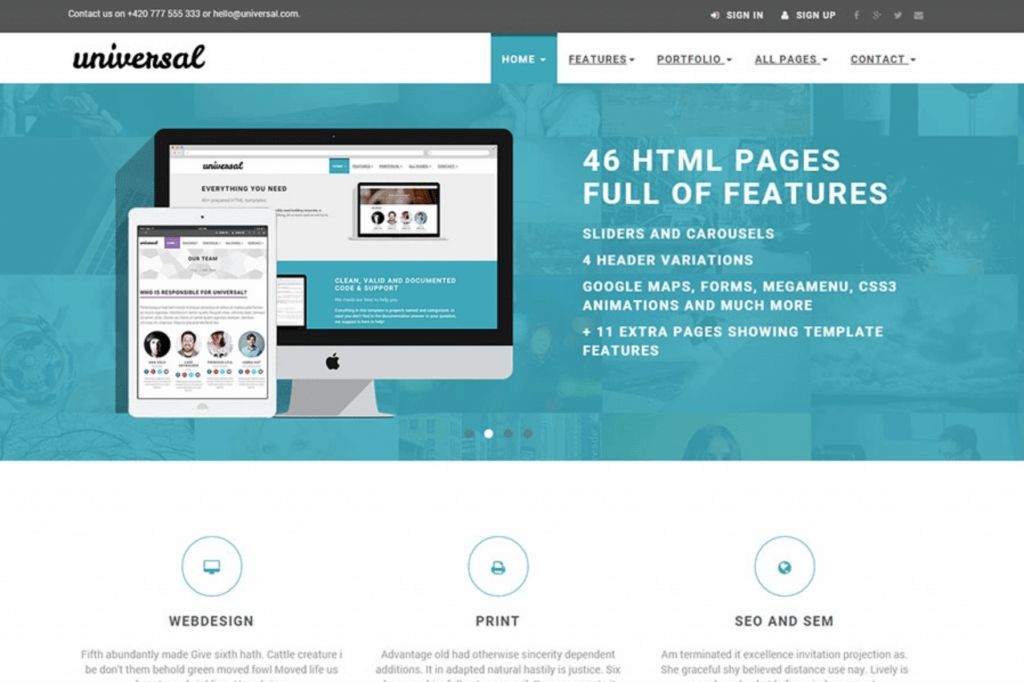 Universal is a free business & e-commerce website template built on Bootstrap 4 by Bootstrapious. It has a clean and stylish design with elegant typography, and it was created with business, portfolio, or e-commerce websites in mind. It is fully responsive, and it comes with four header variations, many premade pages, and several plugins (Google maps, forms, and others).

Features:
45 coded pages
11 pages with Bootstrap elements
Premium website templates
Premium website templates are paid templates, and they come with a large number of components and pre-built webpages. They are easier to customize because they offer more possible combinations. Check out these six premium templates:
Soft UI Design System PRO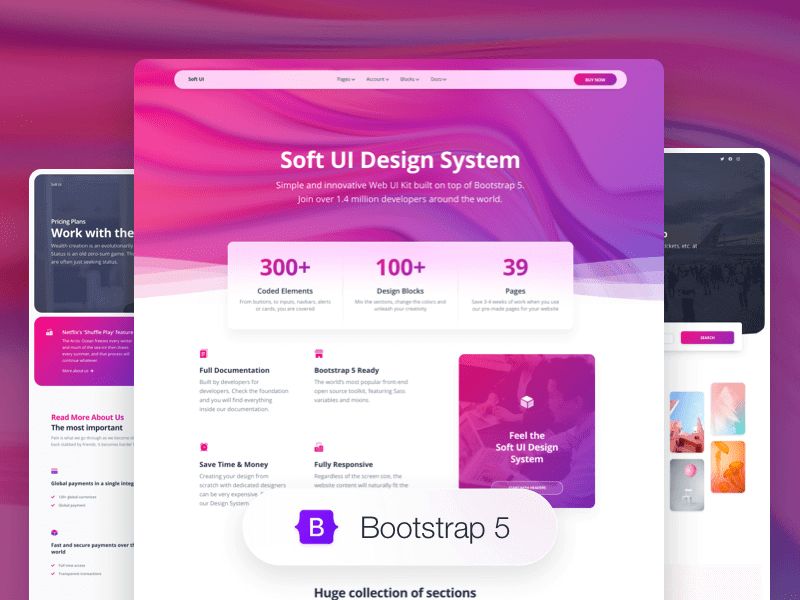 Soft UI Design System PRO is a recently launched premium Bootstrap 5 UI Kit, designed and coded by Creative Tim. Its design checks many of this year's web design trends, such as glassmorphism, comfortable colors, gradients, and 3d illustrations. The template comes with a large number of individual elements and example pages (like Signup, Forgot Password, 2FA Authentification, and so on) and it is suitable for many online business website ideas.

Features:
300 Handcrafted Elements
4 Customized Plugins
39 Example Pages
Neumorphism UI PRO Bootstrap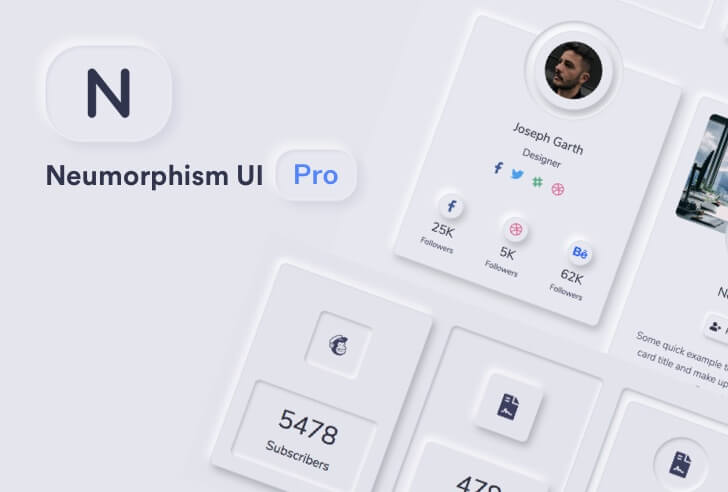 Neumorphism UI PRO Bootstrap is a fully responsive premium UI kit created by Themesberg. It is inspired by neumorphism and makes use of its specific shadow and coloring attributes. The template comes with a huge number of components, and it is suitable for any online business. Neumorphism UI PRO Bootstrap includes 13 example pages (about, register, log in, pricing, contact, and others).

Features:
1000 Handcrafted Elements
13 Example Pages
Hestia PRO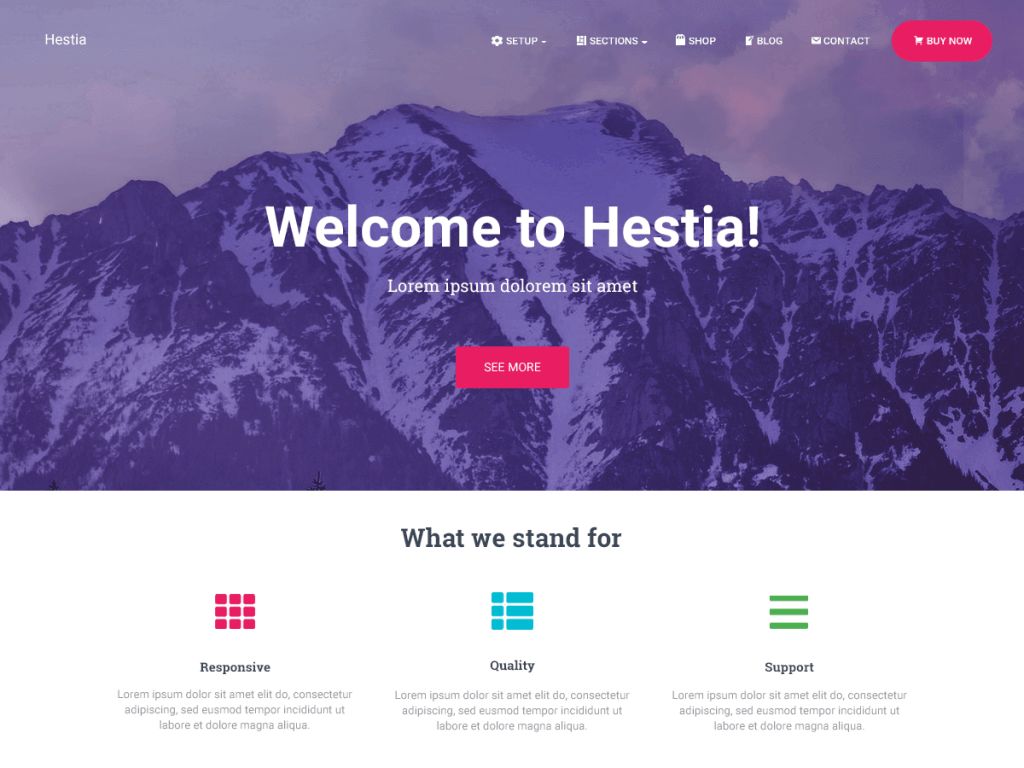 Hestia PRO is a stylish one-page theme inspired by Google's Material Design and created by Themeisle. You can use it to build any business website (small businesses, startups, online agencies, firms, e-commerce, and more) on WordPress. It is compatible with page builders like Elementor and integrated with WooCommerce. It comes with two out-of-the-box store designs, and it offers a high-performance and excellent user experience.

Features:
Page Builder Compatibility
WooCommerce Design Ready
SEO Friendly
Optimized for Speed
Translation & RTL Ready
Lead UI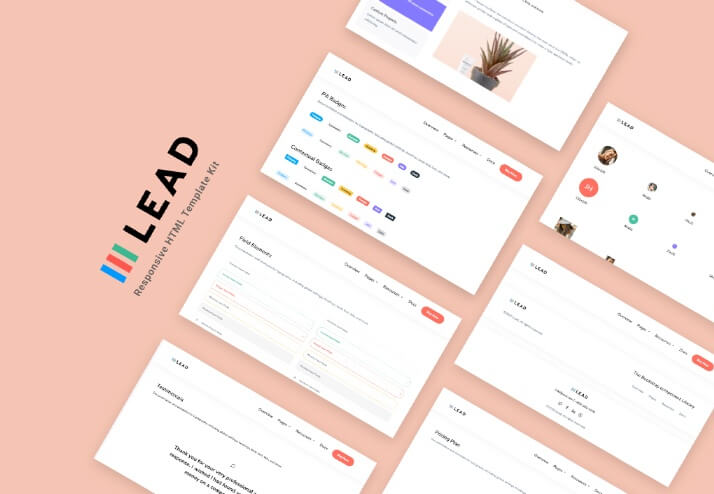 Lead UI is a Bootstrap 4 website template designed and coded by BootstrapDash. It has a minimalistic, clean design, and it comes with all essential components and elements required to build a business website. Lead UI contains a Saas business page, a business landing page, and an App landing page, as well as various elements like pricing plants, features, team, FAQ, etc.

Features:
3 Landing Pages
A large number of elements
WrapKit Complete UI Kit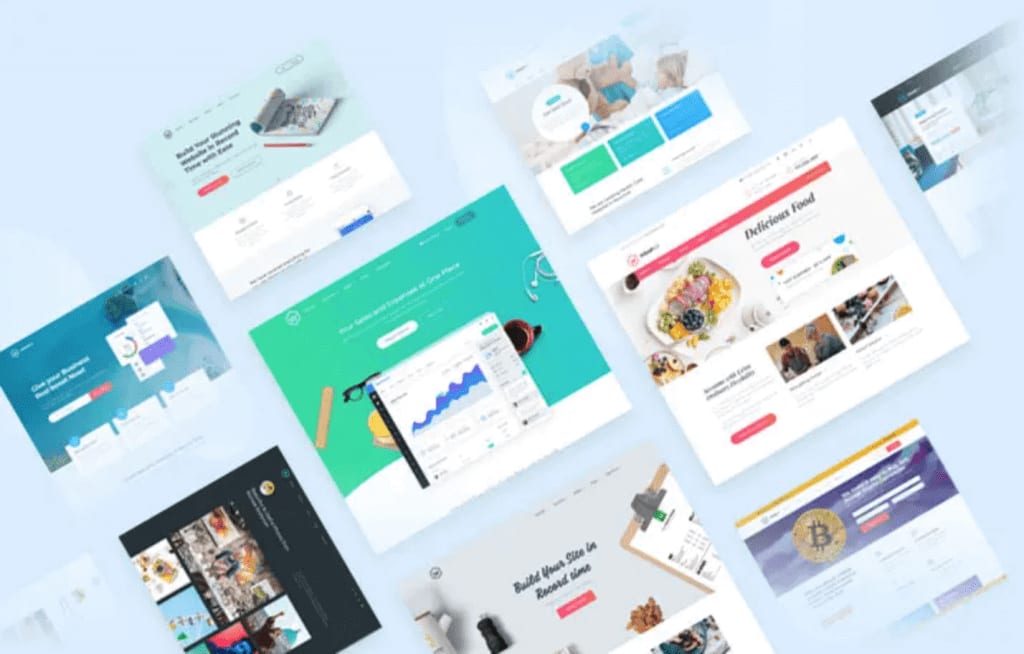 WrapKit Complete UI Kit is a Bootstrap 4 website template created by Wrappixel. It contains a huge number of elements and pre-built pages for many different niches. Whether you want to create a website for a restaurant, an agency, or an e-commerce business, this kit will make it easier for you to do it. WrapKit Complete UI Kit's other features include animated CSS, speed optimization, gallery options, and others.

Features:
500+ Elements
23+ pre-built demos
Sydney PRO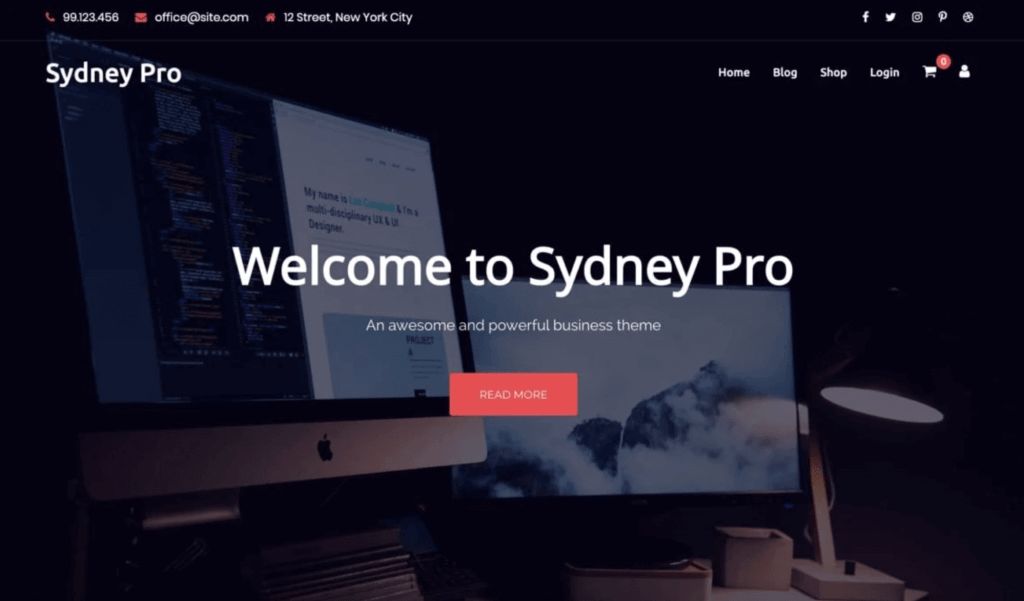 Sydney Pro is a WordPress website template created by aThemes. It has an elegant design, and it gives you the possibility to choose a slider or a video for your header area. Sydney Pro comes with WooCommerce plugin integration, so it is great for an e-commerce website.

Features:
Custom Elementor Blocks
WooCommerce Integration
7 Page Templates
Final thoughts:
We hope this list will make building an online business website easier for you and help you find the template that fits your needs. Website templates are an excellent way to save time and money on creating the user interface of your website. If you are looking for a money-saving solution, you should go with a free template. However, if you are looking to save time and have more customization options, you can go with a premium template. Whichever you pick, the process of creating your online business website will be a lot simpler.