Nowadays, you can see barcodes and QR codes literally anywhere: on product packaging, plane tickets, discount coupons, movie posters, etc. Read on to find out the difference between a barcode and QR code, as well how to create and use them for your brand promotion.
Barcode vs QR code
Barcode is a combination of graphic symbols that contains encrypted data. When scanning a barcode, you see information on a product, service, event, etc on your screen. You can scan a barcode with a mobile app or special online program.
There are two main types of barcodes: one-dimensional (1D) and two-dimensional (2D). They differ by design, features, and ways of use.
One-dimensional barcode is a combination of vertical black-and-white stripes of different width, plus a series of digits beneath it. This type of code contains information on a product or service (item number, name, price, etc.). 1D code is what a cashier scans when you're buying a product at the supermarket.
One-dimensional barcodes are split into dozens of categories (UPC, Code-39, Code-128, and others). Businesses use 1D codes to effectively manage their internal processes, e.g. monitor warehouse stocks, arrange documents, optimize logistics, etc.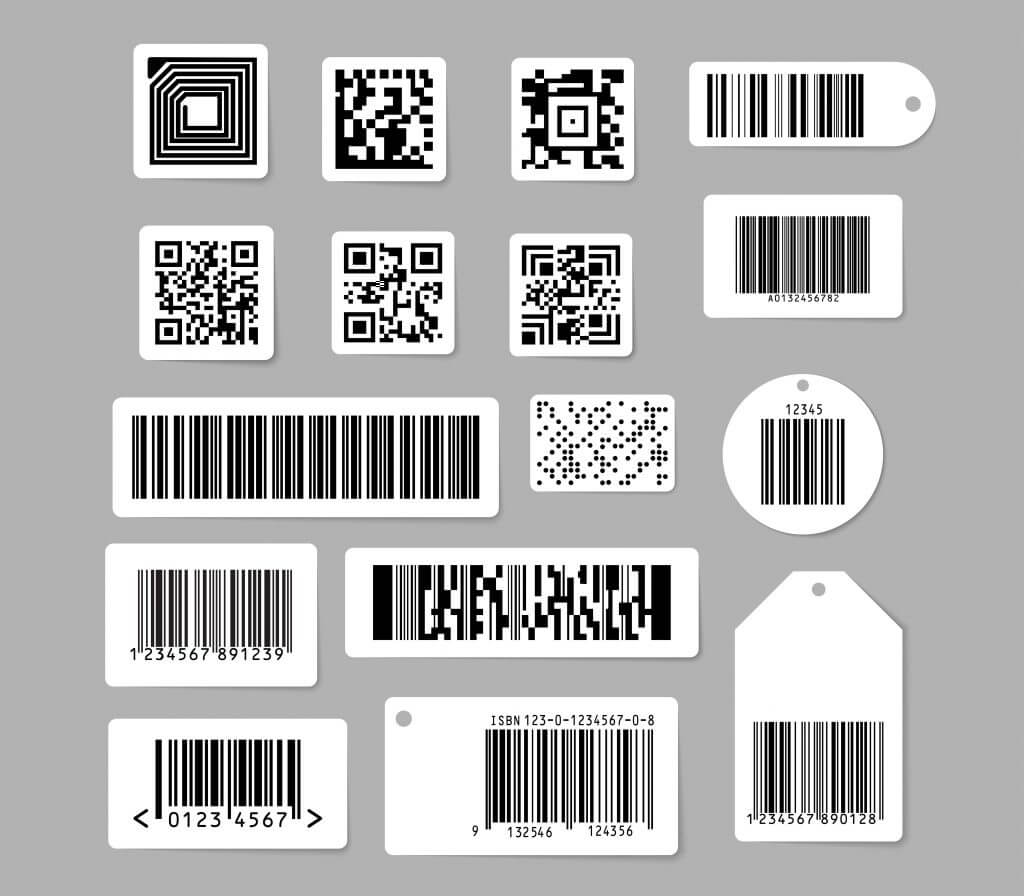 Two-dimensional codes (QR codes) have a broader application and are mostly used in marketing. Most of the time, a QR code looks like a grid consisting of small geometric shapes. QR code can contain any type of information, such as text, website link, illustration, audio and video files, etc. When scanning a QR code, you're redirected to a website, landing page, Facebook page, TikTok account, or any platform where you can find out more about a product, service, special offer or event.
While a standard QR code is made from black and white squares, many companies are customizing their QR codes by designing them in different colors and shapes (read more below). QR codes have a variety of uses. You can see these signs on business cards, bus tickets, postal packages, ad posters, discount coupons, and other media.
How to create a barcode
What you need to know about barcodes
A barcode uses a special typography that transforms data into black and white stripes and then enables a special program to read them. You can download barcode fonts on a number of websites, e.g. 1001fonts.
Online tools
With smart online tools, creating a neat barcode is fast and easy. All you need to do is to enter a text you want to encrypt in your barcode!
Barcode
This online barcode generator can create multiple types of barcodes, including EAN, UPC, GS1 DataBar, Code-128, PDF417, ISBN, and QR. You can set the desired format, definition, width, and arrangement.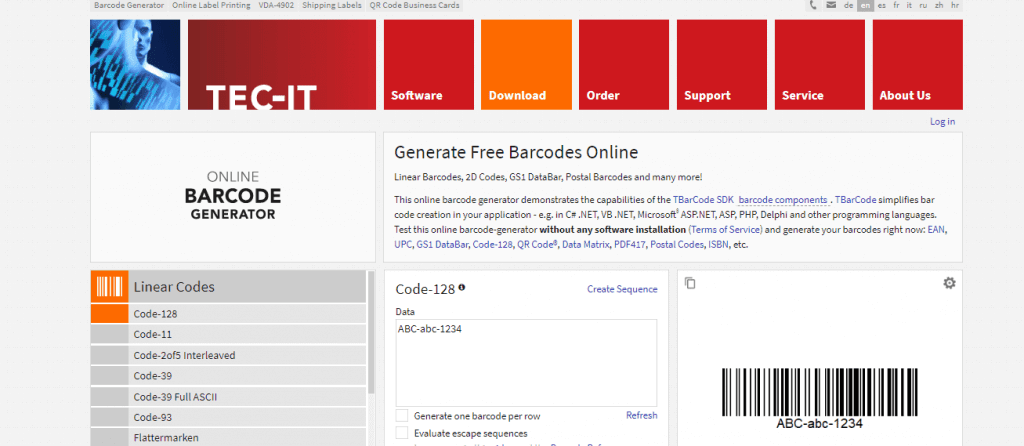 Barcodesinc
This platform generates 5 types of barcodes, including Interleaved, Code-39, Code 128-A, B and C. A user can customize the size, colors (black, white), font, and format of their design. Plus, Barcodesinc can print your barcode on labels and etiquettes.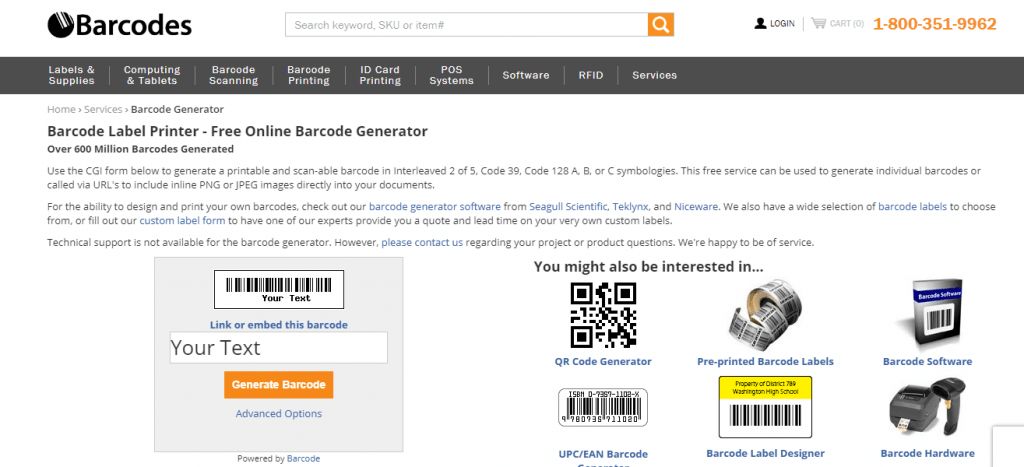 Barcode-generator
This service boasts a simple and intuitive interface that makes creating a barcode a walk in the park. Four types of barcodes are available (UPC-A, Code-128, 39, and QR). Also, you can choose between three sizes and three formats.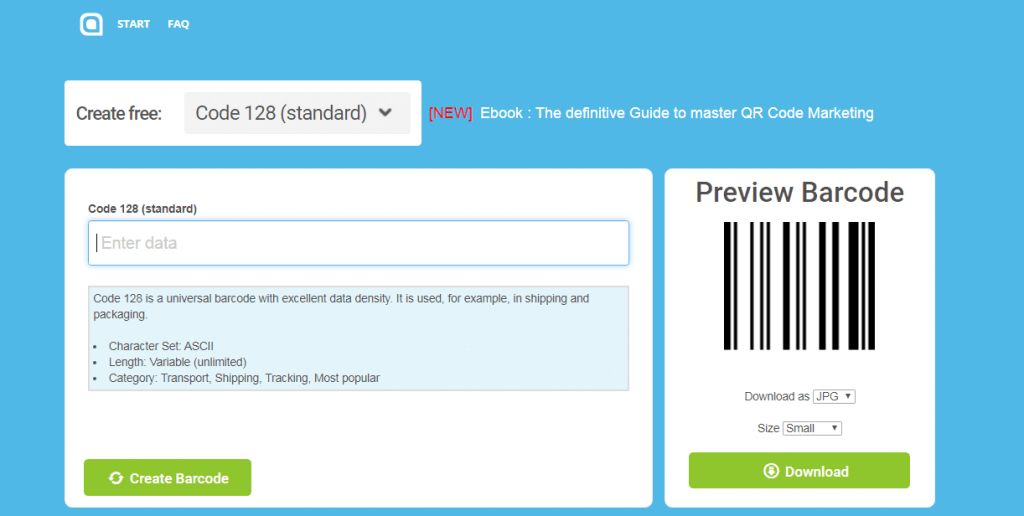 Terryburton
Terryburton calls itself the most powerful barcode generator in the world. Indeed, the platform can create multiple types of barcodes. Also, barcodes are split into categories, e.g. "post", "medicine", etc. On top of that, the service offers good editing possibilities, e.g. you can rotate and scale your design.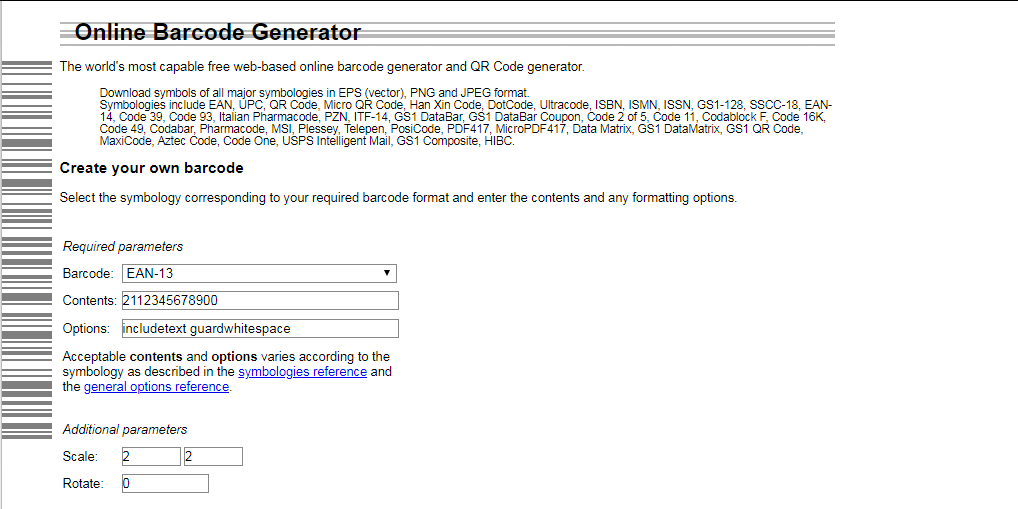 How to create a barcode in Microsoft Word
Alternatively, you can easily create a barcode in a text editor. You won't need any special knowledge or skills! The only thing you need to do is to find and install the barcode font you're going to use. Create a new document and type the information you want to encrypt. Highlight your text and pick your font from the list. Your text symbols will be transformed into black and white stripes (just like magic!).
Where to print a barcode
Depending on how you're going to use your barcode, you can print your design on a regular paper, adhesive etiquettes (you can make those at home), product packaging or product itself (T-shirts, cups, bags, etc.).
To print your barcode on paper, you'll need a laser printer that ensures a high printing quality. (Otherwise, your code will end up unreadable.) If you want to add your barcode onto etiquettes, you'll need a special thermal printer that uses adhesive paper rolls.
For more sophisticated types of printing, explore the possibilities of online or offline print shops. Before placing or order, be sure to read technical requirements.
How to scan a barcode
To decipher the code, you'll need to provide its file or URL address. Below we've listed a few scanning tools that are both free and easy to use. Before using any of these services, make sure it supports the format your barcode is saved in.
Onlinebarcodereader
This service scans a big variety of barcodes, including UPC-A, UPC-E, EAN-8, Code-39, 93, 128, and many others. You can either upload a barcode file, or enter its URL address.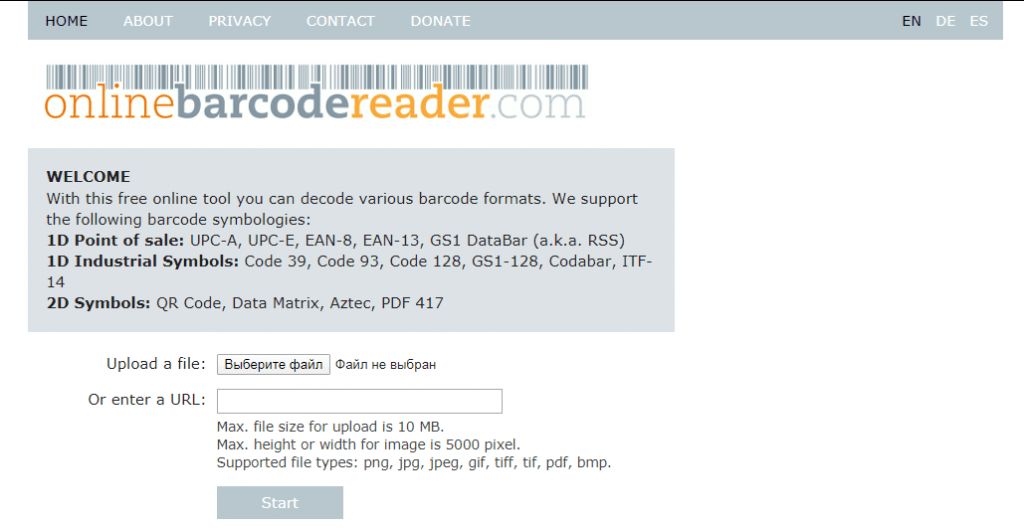 Online-barcode-reader
Start with selecting one of the six available types of barcodes. Don't know which type your barcode is? No worries! Look at the examples of each type and find yours. Then upload your barcode (the services supports 8 formats) and get your information in front of your eyes!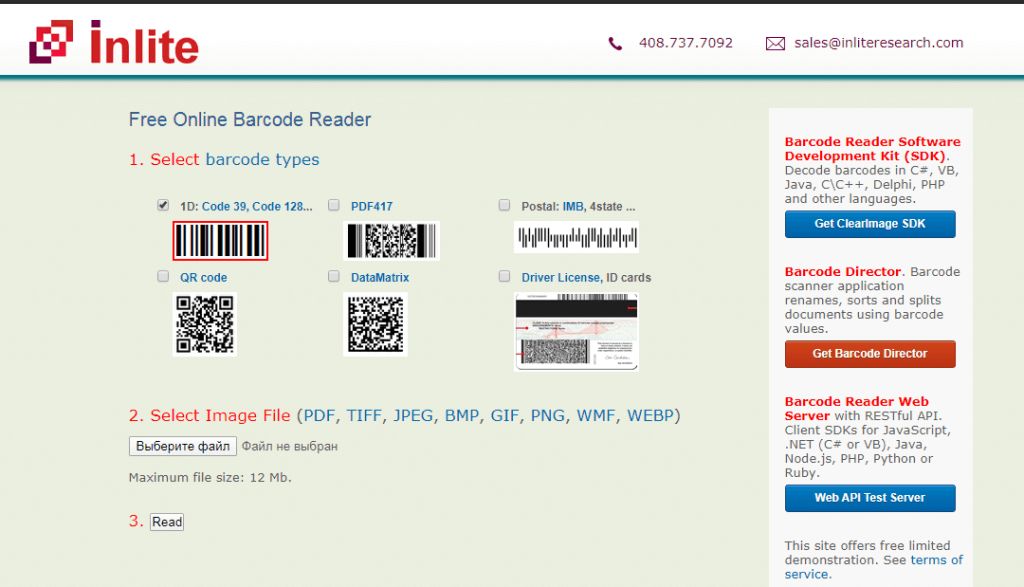 Bytescout
Bytescout can decipher your piece by reading its file or scanning it via web camera. The platform works with more than 10 types of barcodes.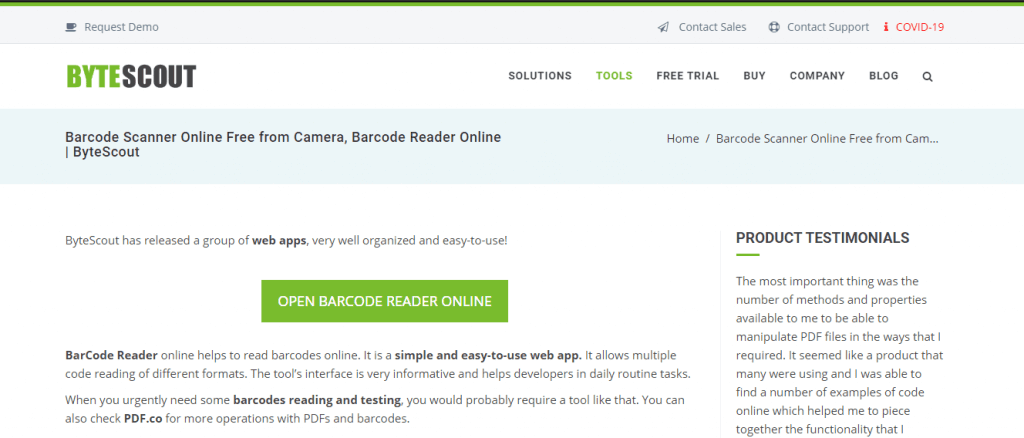 How to create a QR code
5 FAQs on 2D codes
How much information can I fit into a barcode? This depends on the online generator you're using to create your piece. On some platforms, you're only allowed to add your website URL and contacts. Mode advanced tools enable you to incorporate a series of links into your code.
Can I edit my information? Yes. To be able to update your information at any time, you need to create a dynamic QR code, instead of a static one.
Is creating a code free? Not always. Most of the time, you can get a static code for free. To obtain a dynamic version, you need to pay. Read the terms of using your selected online generator.
Can my QR code expire? Static QR code have no expiry dates. As for dynamic images, they may stop working if your online generator goes down.
How can I customize my code? Customizing your code is a great way to catch your customers' attention and impress them. Brand your piece by enhancing it with your logo, corporate colors, shapes, patterns, etc. If you don't have a professional brand identity yet, design one with the ZenBusiness logo maker. It's fast and free!
QR code generators
Take a look at six QR code generators with different tool sets and terms of use. Pick the solution that fits your needs and goals!
Create a custom QR code online in seconds, just fill in the info and download the code to share.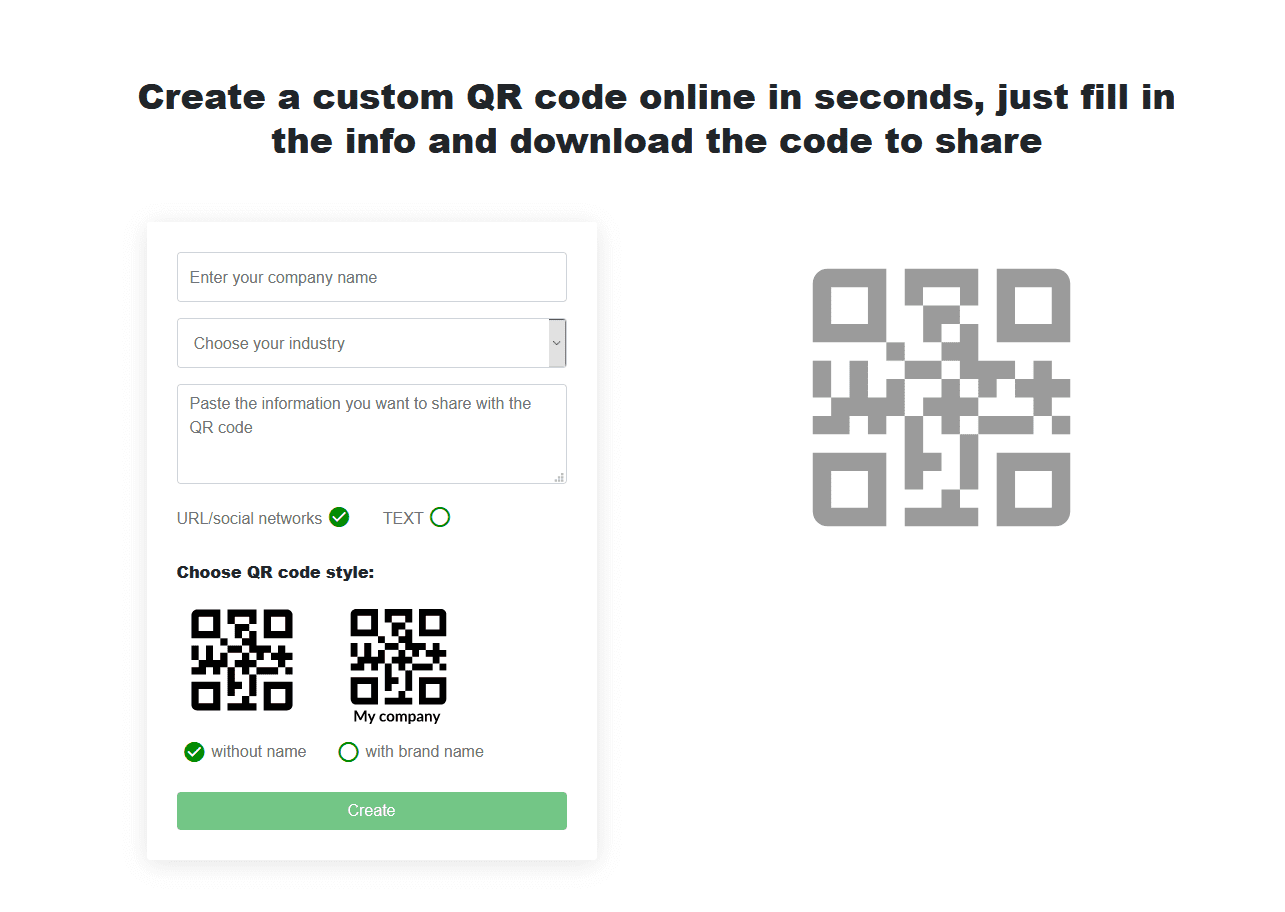 The-qrcode-generator
With this service, you can create a code with text, URL, and contacts. Plus, it can convert a static code into a dynamic one and track analytics.

Qrcode-monkey
This platform stands out through its intuitive interface and impressive customization possibilities. The bad news is that it can only encrypt a URL address and logo.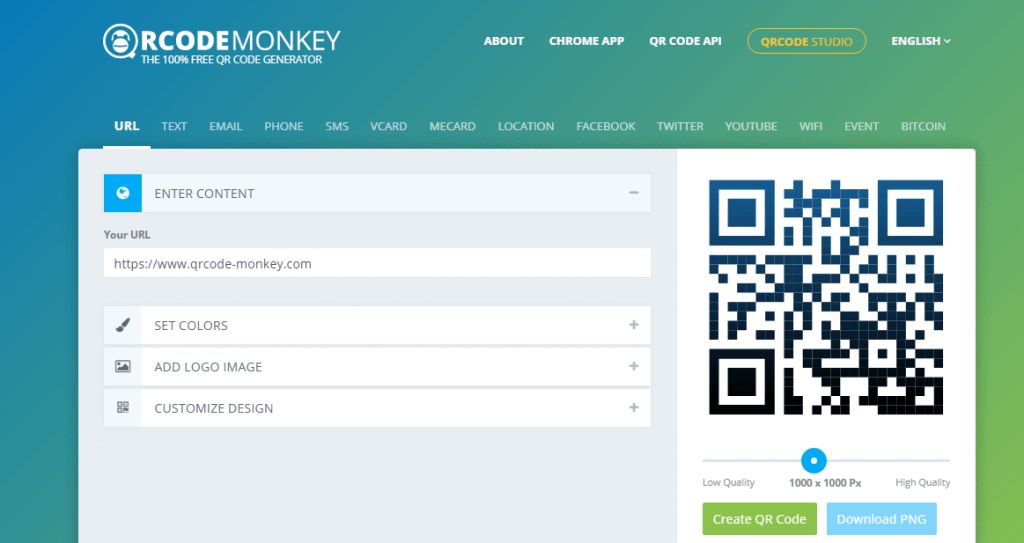 Goqr
Add your text, geolocation, logo, website URL or electronic business card. More importantly, the services allows you to brand your QR code by changing your main and additional colors, playing around with graphics, etc. Also, you can get a dynamic QR code hassle-free.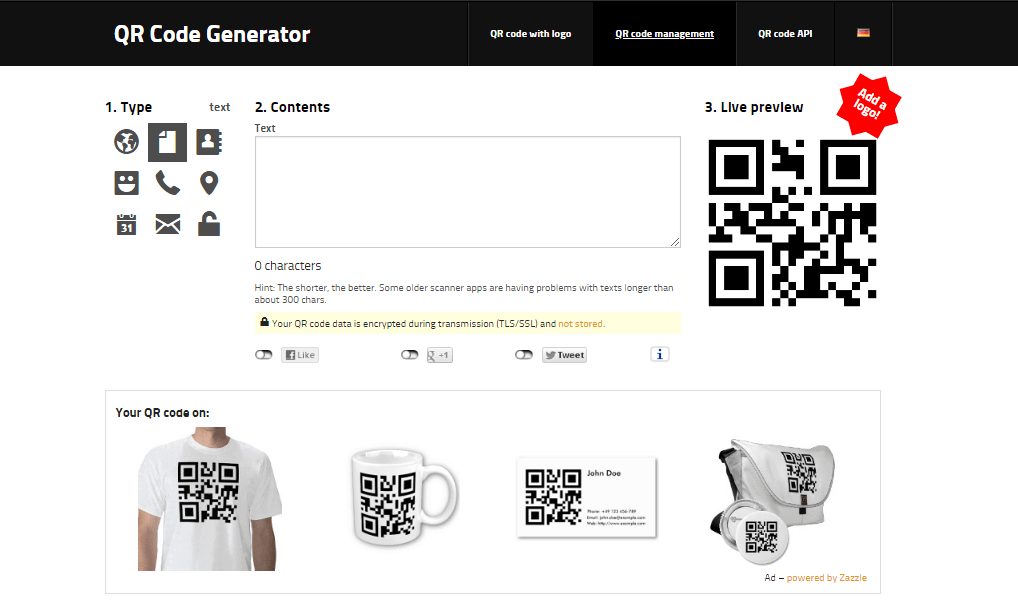 Qrstuff
On Qrstuff, you can encrypt more than 20 types of information, including YouTube, Twitter, Instagram, LinkedIn, iTunes, and Foursquare links, mobile apps, invitations, etc. Then edit your image by selecting the right color scheme and shape. Download your file to your PC, send it by email, or print it. Keep in mind that some options (creating a dynamic code, adding a logo) are only available on a premium plan.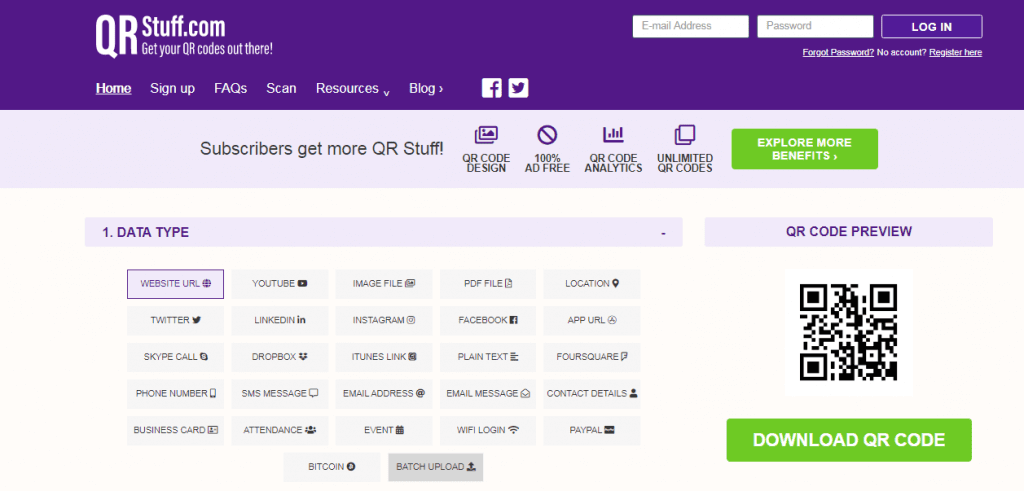 Unitag
The information that you can encrypt with Unitag is limited. The services makes up for this drawback by offering vast customization features. You can choose from dozens of shapes, colors, and other options. Buy a premium account and create professional dynamic codes hassle-free.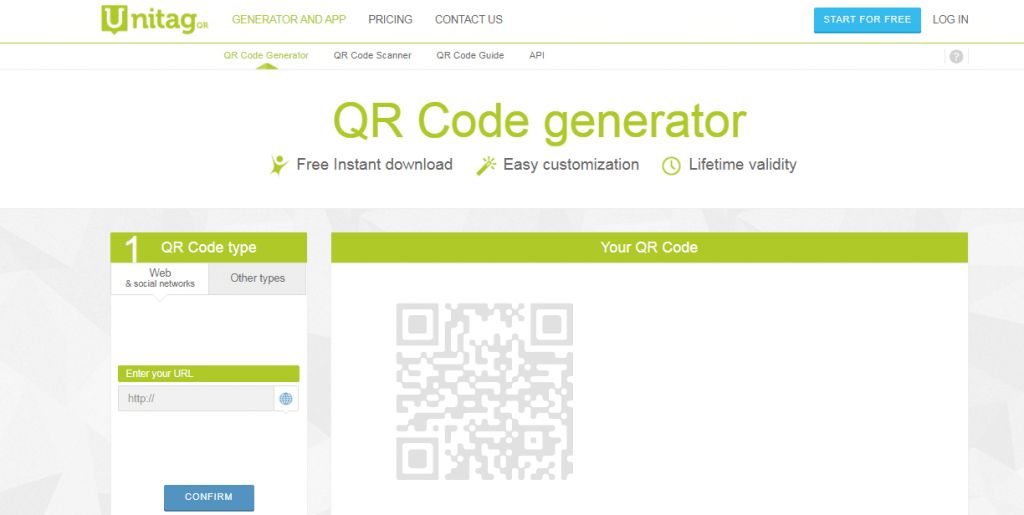 QR code scanners
The best way to scan a QR code is with a smartphone that has a special program installed on it. Alternatively, you can read a code on your PC. Check out the three tools that allow you to do that.
Webqr
To scan your code with Webqr, you can upload it to the website, drag it to a special window or point a camera at it.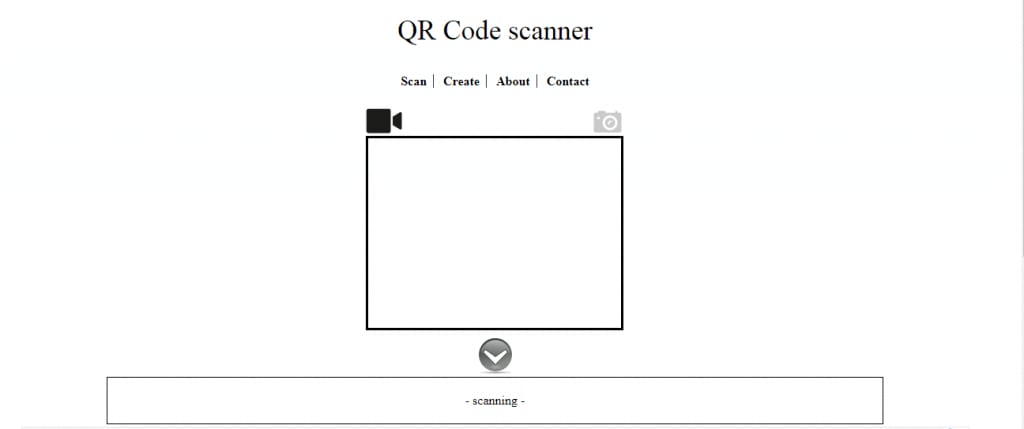 QR Code Reader
Users love this Google Play app for its speed. Point your smartphone camera at the image, and the information will be displayed on your screen. If there is not enough lighting, the tool will switch on a flashlight.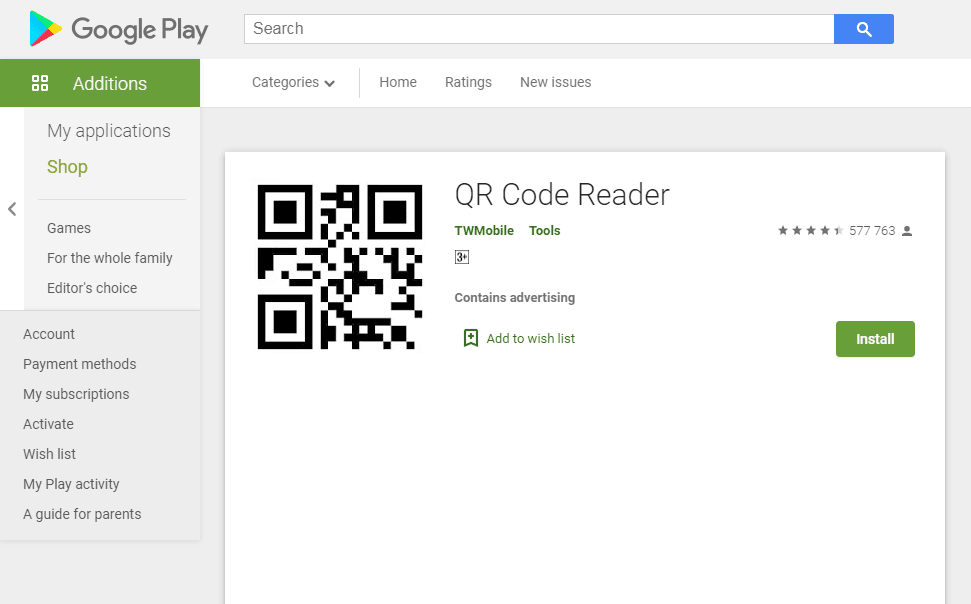 Qrstuff
You can use this service both on your PC and smartphone. The app is available for Android and iOS. Easy scanning in one touch!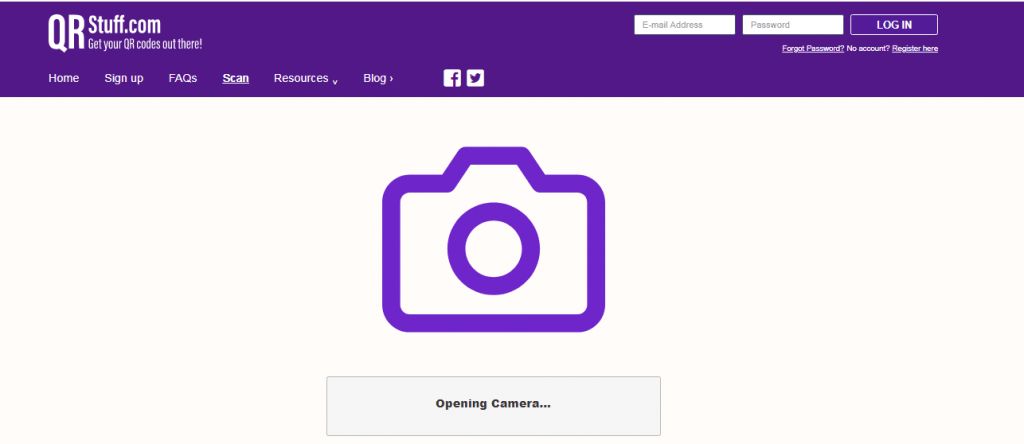 Examples for your inspiration
Need a creative, impactful QR code to spread word about your product or event? Check out our collection of the best designs!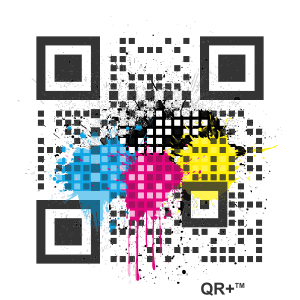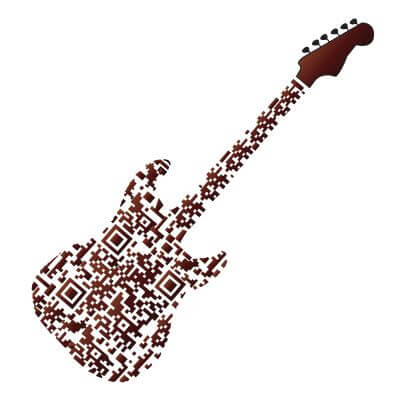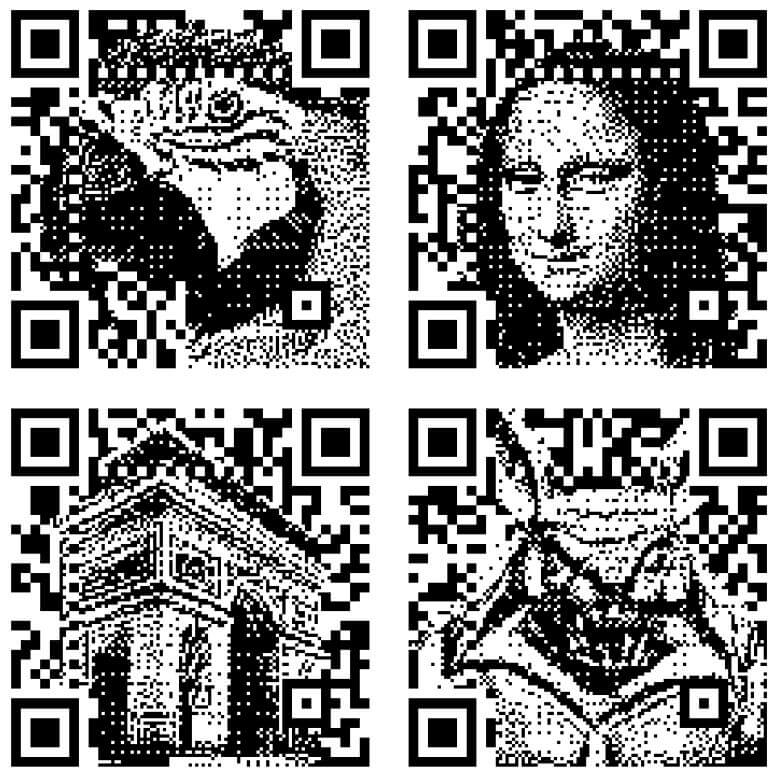 Final words
Barcodes and QR codes are a smart way to bring your physical products to the digital world. Come up with an original design and unconventional uses for your code, and you're sure to impress your customers!