Such giants as Nike, Porsche, IKEA, and L'Oreal are actively using QR codes in their marketing campaigns. By not leveraging the advantages of the QR technology, you're missing on amazing promotion opportunities. You can incorporate literally anything into your QR code, including your contact information, link to your landing page, promo coupons, and many more. Add the QR code to your business card and watch your conversion rate skyrocket! Read on to find out how to do that step by step.
Why you need a QR code
QR (Quick Response) code is a combination of encrypted characters. Most of the time, it looks like a square-shaped geometric pattern. QR code can store all kinds of information, such as social media links, photos and videos, discount coupons, event tickets, etc. To get access to the information contained in the code, you need to scan the pattern with your smartphone.
Look around — and you're sure to see QR codes on a pack of cookies, page of a magazine, and other surfaces. Check out the main reasons why marketers are leveraging the power of QR codes and you should, too.
1. Growth of technology. With the diffusion of smartphones and high-speed Internet, the QR technology has become more accessible. The research says that 9.8 mln users obtained information via QR codes in 2018. In 2020, this number is predicted to grow to 11 mln.

2. Ease of use. An addition to static QR codes, business owners can now create dynamic codes. Dynamic QR codes allow you to update your information without changing the pattern itself. Also, the QR technology has become more user-friendly. Back in the day, you had to download a special app for reading QR codes. Today, modern smartphones can scan QR codes without external help.
3. Creative design. The times of black and white QR codes are long gone. Nowadays, you can brand your code as you like, e.g. add a logo, use your corporate colors, pick a unique shape, etc.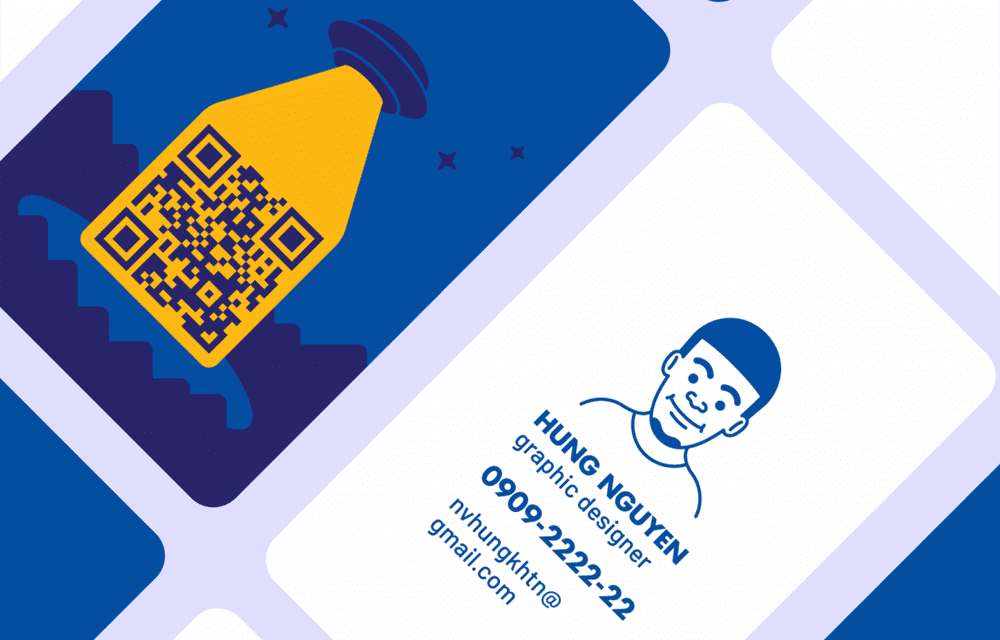 4. Enhanced customer engagement. In 2019, Puma presented its new running shoes that were fully covered with QR codes. By scanning the codes, customers were getting access to an exciting and rewarding online game. Amazon Go uses QR codes to promote cashier-free shopping. It's not uncommon that brands incorporate loyalty cards and promo emails into their QR codes. Set your priorities and decide which type of content you'd like to share via your code.
How to create a QR code
You can find a mind-blowing selection of QR code generators on the web. How do you make the right choice? We recommend focusing on services with advanced functionalities, such as in-built analytical and customization tools. Before using your code, scan it to make sure your information is displayed correctly.
Visualead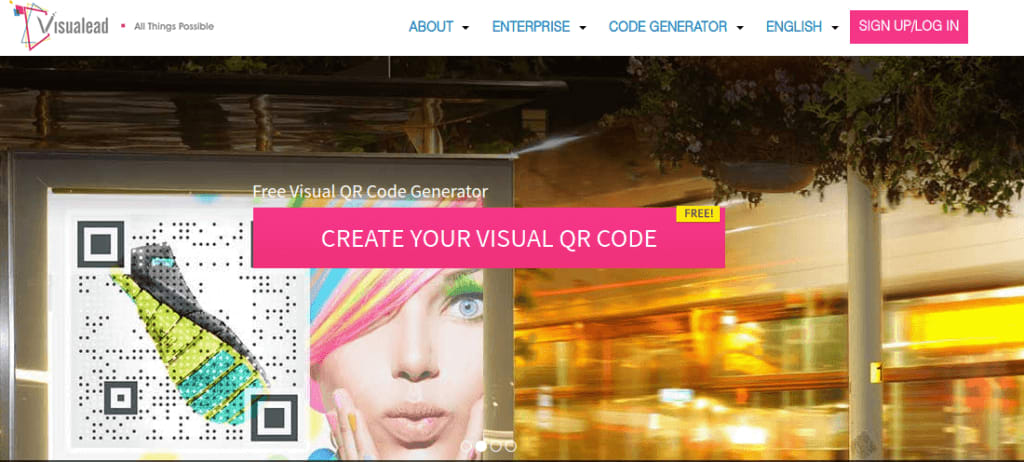 Visualead-generated QR codes can store all types of information, from mobile app links to discount coupons. Smart customization tools allow you to match your code with your visual brand identity.
QR Code Generator

If you want to stylize your QR as your corporate logo, this service is just what you need and more! Plus, it's packed with some great analytical tools. Your QR code can hold a big variety of content, including MP3 files!
GOQR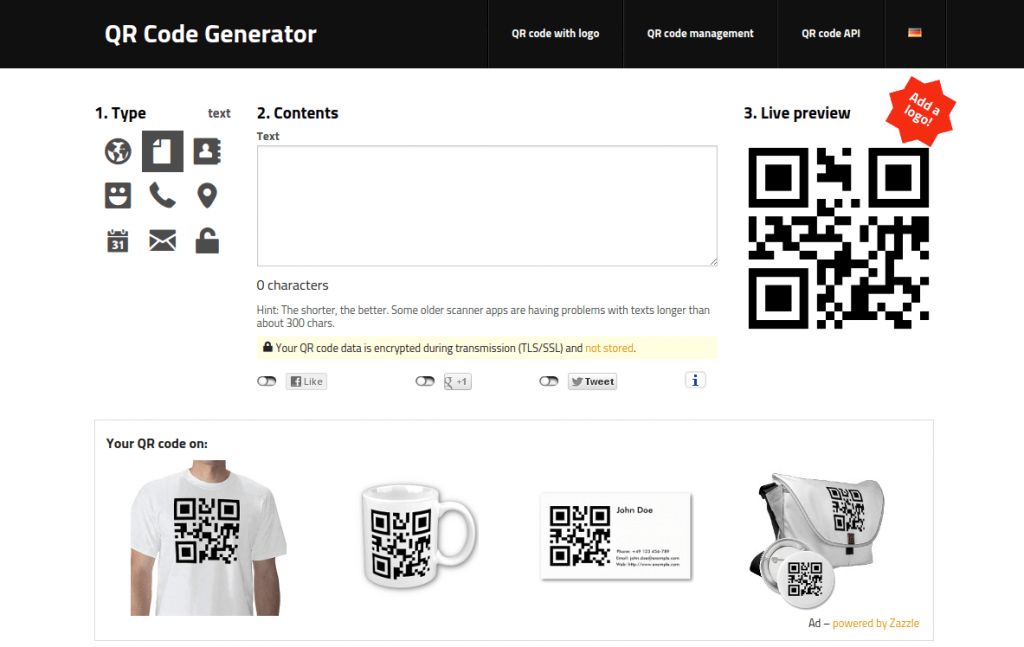 Enter your text, submit your website URL or upload your vCard (digital business card) — and GOQR will generate a ready-to-use QR code for you! You can download your design in both vector (EPS, SVG) and raster (PNG, GIF, JPEG) formats.
Kaywa
With Kaywa, creating a QR code in 2 minutes is a reality! Designs can be saved in PDF, PNG or EPS. Clever analytical tools will keep you updated on how many times your QR code has been scanned.
How to add a QR code to your business card
To put your QR code on your business card, you can use literally any graphic or text editor. In our guide, we've covered Adobe Photoshop, Microsoft Word, and GIMP. Pick the program that fits your skills!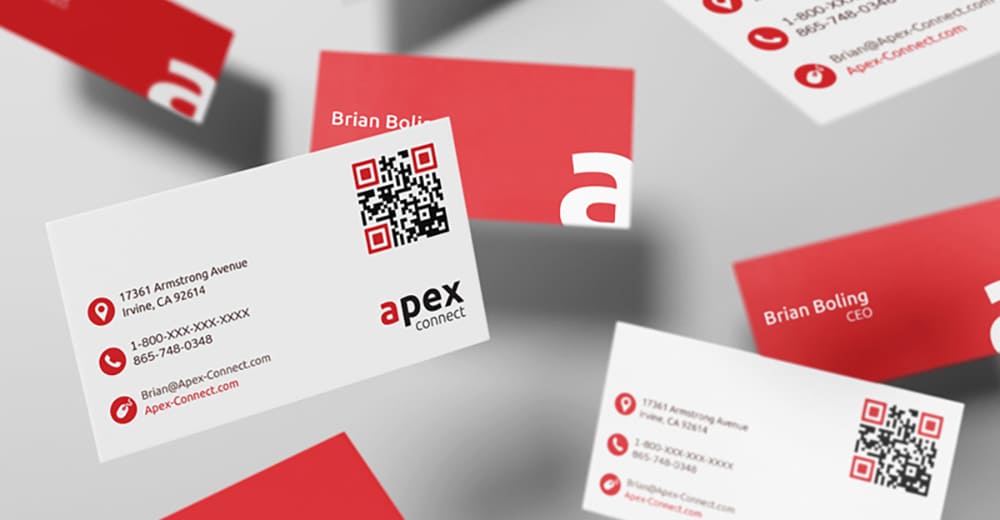 In Adobe Photoshop
Create a neat business card with the ZenBusiness logo maker and enhance it with a QR code using Adobe Photoshop. If you have basic skills working in graphic editors, you won't have any trouble handling this time-tested program.
In Microsoft Word
If you're intimidated by smart editing features, pick Microsoft Word. It's a simple text editor that allows you to perform basic design tasks. Click "Insert" — "Image" and then select a file with your QR code from your computer. Use the mouse to resize your pattern and adjust its position. For more detailed instructions, check this video lesson:
In GIMP
Gimp is a free, open-source graphic program. Since any user can make changes to its code, using GIMP can be a challenge. We hope this video will help you come to terms with the complexities of GIMP:
Final thoughts
To make the most out of a QR code on your business card, follow these simple rules:
Add CTA. Motivate your recipients with an alluring CTA message. Offer your potential customers something of value in exchange for scanning the code, e.g. "Scan the QR code and get a promo coupon."
Optimize your code. Users scan QR codes with their smartphones and tablets. Be sure to optimize your landing page for mobile devices; otherwise, users will leave without performing the target action.
Track conversion. Tracking your QR code analytics is of paramount importance. How much traffic is your code driving? Which links get the most clicks? How many customers have made a purchase? You must know all these data to be able to improve your marketing strategy.