To craft a unique business card all by yourself, use Adobe Photoshop. This time-tested graphic editor is packed with smart tools for designing an original and stylish piece. Despite the seeming complexity, getting the hang of Adobe Photoshop won't take much time. ZenBusiness will guide you through the entire process. Bear with us!
How to create a business card in Adobe Photoshop from scratch
Preparation
To create a layout fast and easy, prepare the elements you're going to place on your business card. Do the checklist below to make sure you've got everything ready.

Text. Your business card must contain this basic information: your name, your company name, and contacts (phone, physical and/or email address). The optional pieces of information include social media links, slogan, and any other data you deem important. Avoid cluttering your card with too much text, though.
Graphics. If your profession has a creative feel to it, you can enhance your business card with photos, illustrations, drawings, and other graphics of your choice. It's a smart move for photographers, designers, stylists, chefs, etc.
QR code. To free up space on your card, use the potential of QR codes. QR code is an innovative way of sharing different types of content, including videos, images, and links. To get access to information, you simply need to scan the QR code with your smartphone.
Template. When arranging different pieces of information on your card, you can either implement your own vision, or benefit from ready-to-use templates designed by professionals.
Printing requirements. Make sure your design meets the requirements of your selected print shop or web-to-print service. Usually, such requirements regard the file format, dimensions, color model, resolution, and things like that.
Templates
If you're clueless about how to arrange information on your card in a smart way, no worries! Luckily for design dummies, special websites offer hundreds of business card templates which are both good-looking and logically structured. A template comes with a well-designed layout. All you need to do is to fill it with your personal data. Check out the best sites for high-quality business card mockups:

ZenBusiness. Download a turnkey template or generate one from scratch based on your logo. You can save and download your file in PNG, JPEG, PDF, and SVG. The available sizes include 95 х 55 mm (with bleeds) and 90 х 50 mm (without bleeds). You can also add a text and ZenBusiness-generated logo.
Psprint. The service boasts several hundreds of professional templates. Search the right template by theme, color, and industry.
Freepik. This is, hands down, one of the largest databases of free graphic resources. Choose from horizontal, vertical, square, and other amazing designs. Search by color and style is also available.
How to design a business card in Adobe Photoshop
Keep in mind that file requirements can vary across printing companies. For the purposes of this tutorial, we've been following standard requirements.

1. Open Photoshop. Select "File" — "New" to create a new document.

2. In a new window, set up the following parameters:

For a business card with bleeds, set "Width" at 95 mm and "Height" at 55 mm. If you're creating a vertical design, swap the values.
Resolution: 300 dpi.
Color mode: CMYK Color, 8 bit.
Background color: White.
Click ОК.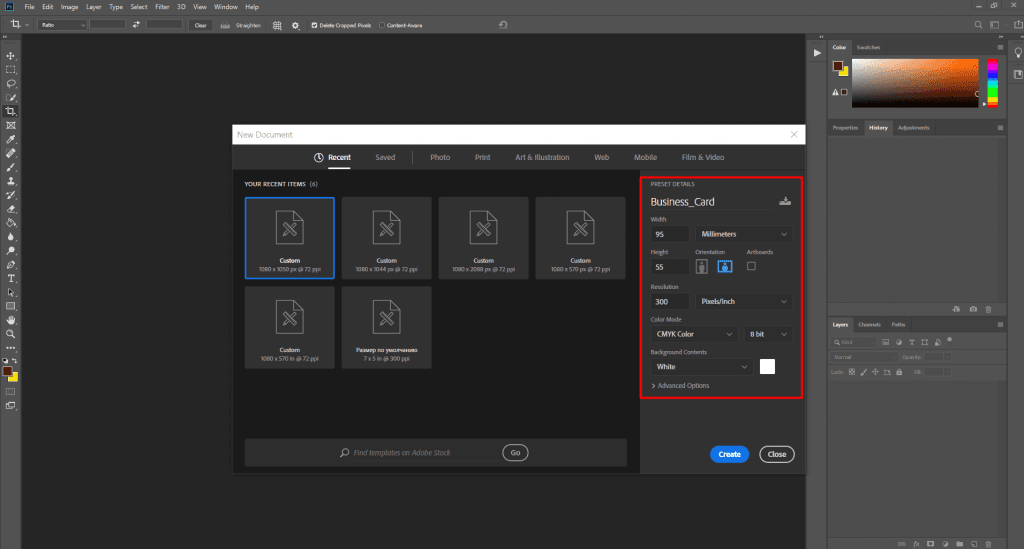 3. To adjust the bleed area, select "View" — "Rulers". On the screen, you'll see a ruler and guides. Drag the guides to position them at 5 mm from the edge.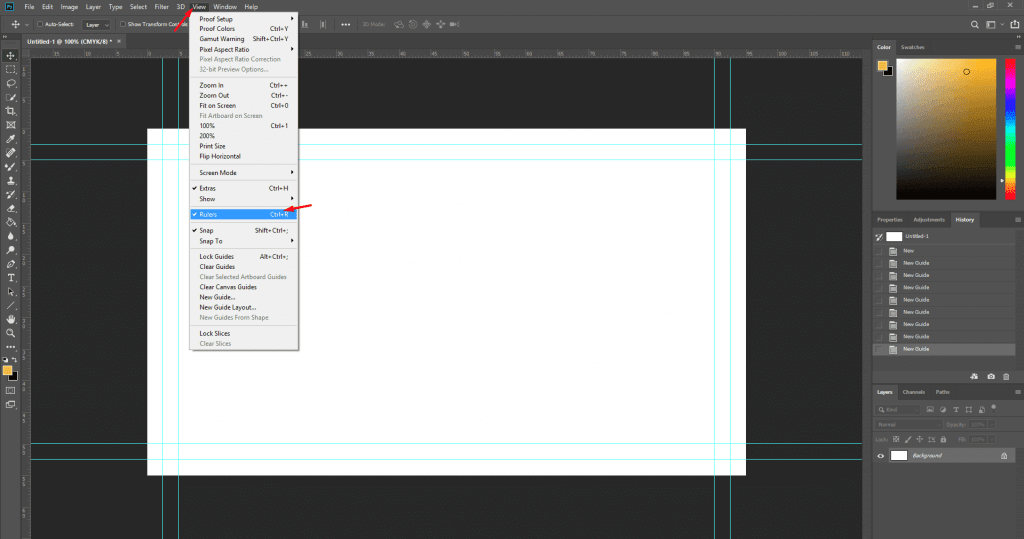 4. Add content:

Now you need to upload your template or background image. (If your background is white or you're not using any template, skip this step.) Click "File" — "Open" and select the file on your computer. You can use an image in any vector or raster format.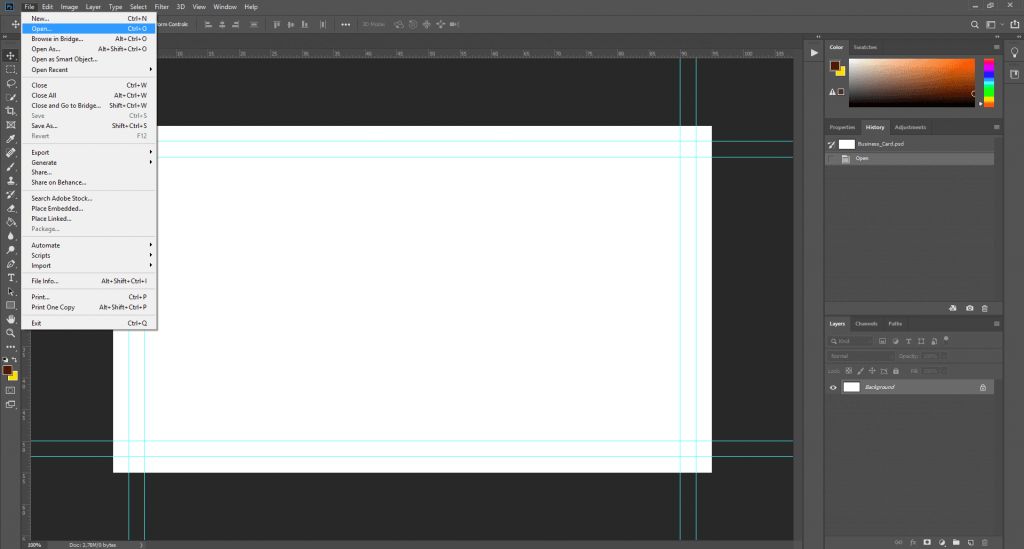 In the same way, add other content you want to put on your piece (logo, graphics, text, QR code, etc.).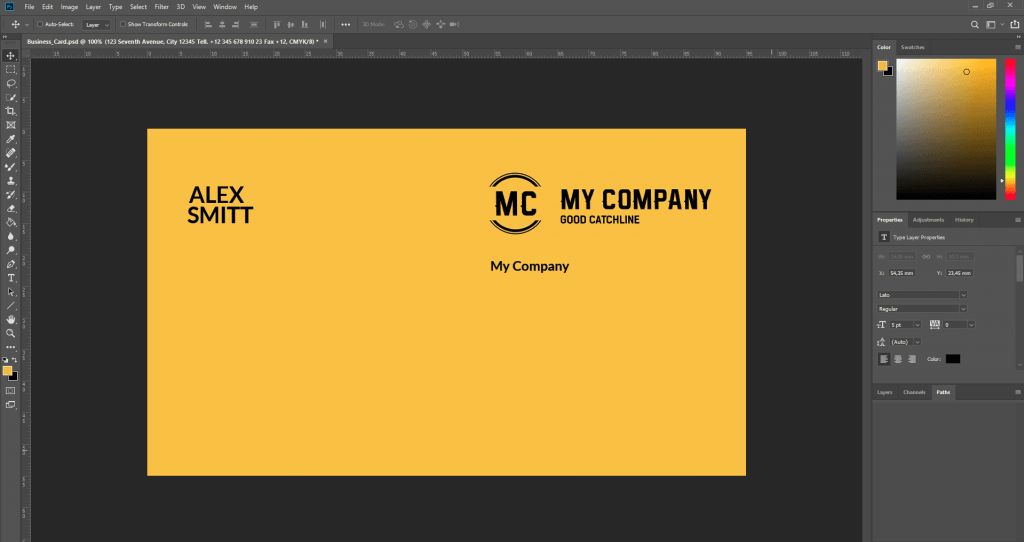 5. Edit your design:

Use the tools panel to change the name and size of your font and align the text (to the left, to the right, or in center).
Use your mouse to drag around the elements and adjust their size until you're happy with what you see.
6. To be able to alter your design at any moment, save your file in PSD. Select "File" — "Save As" and type the name of your file. Come up with a descriptive name that will allow you to instantly find your piece among other files, e.g. "Business card front side". Click OK.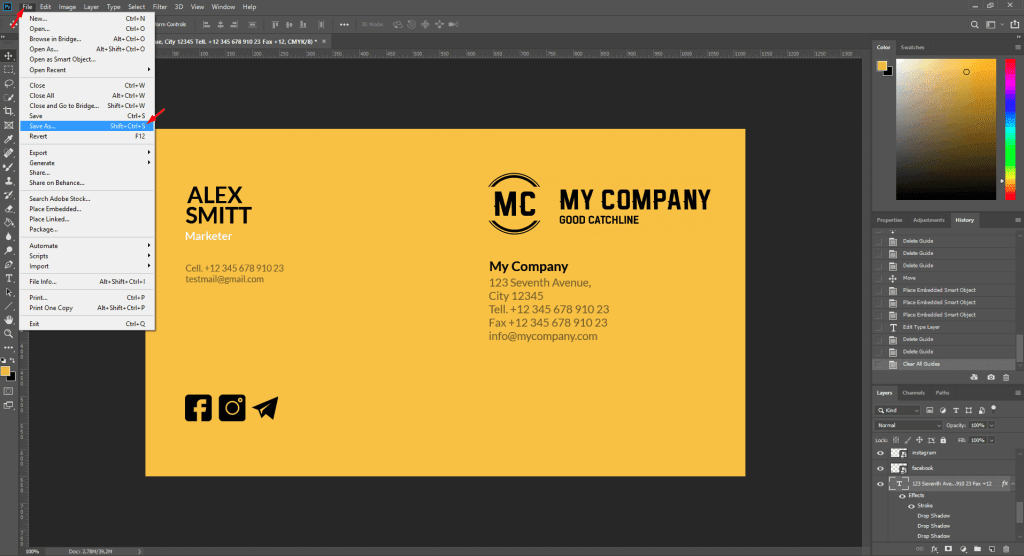 7. Save your file in a print-friendly format. It's highly recommended to use PDF.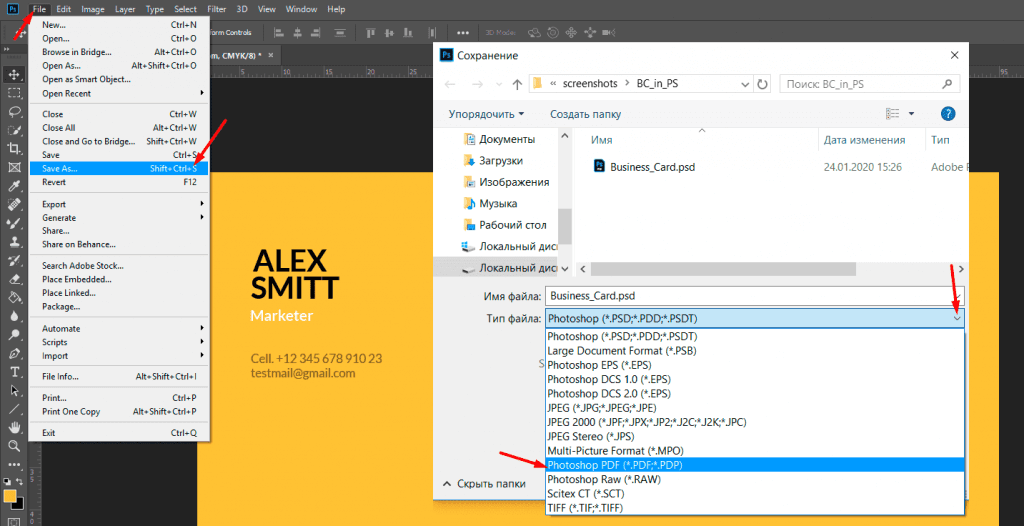 8. If you're making a double-sided card, create a new document and repeat the same steps to craft the other side of your design.

Watch this detailed video lesson on how to design a business card in Adobe Photoshop:
How to edit your business card yourself
One of the best things about creating a business card yourself is that you can edit your piece at any moment. To enable further modifications, you must save your file in PSD. In this format, your image will be stored as individual layers (background, texts, graphics, etc.).

1. Open Photoshop. Click "File" — "Open". In a new window, select the right file.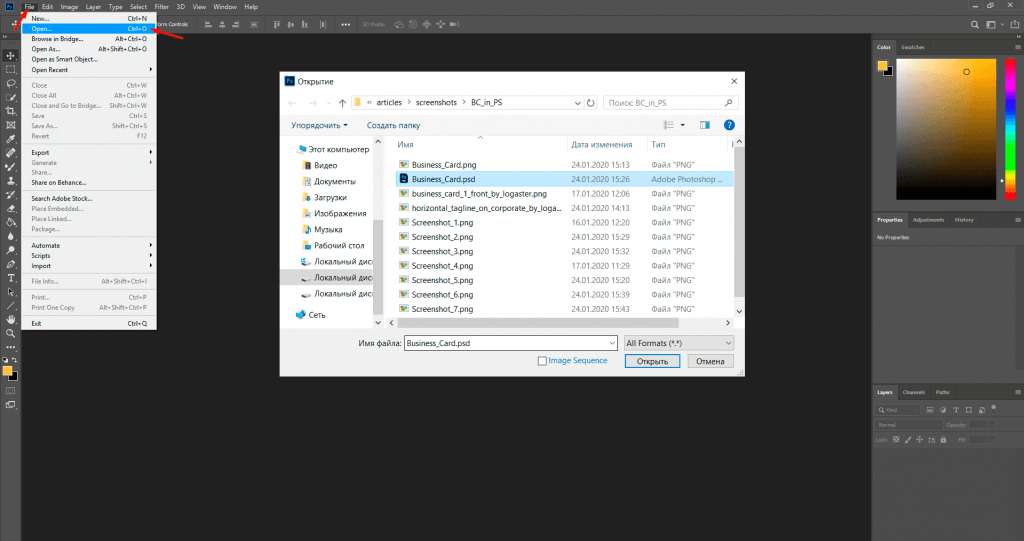 2. Select the "Layers" tab on the tools panel. Click the layer you want to edit and make the appropriate changes.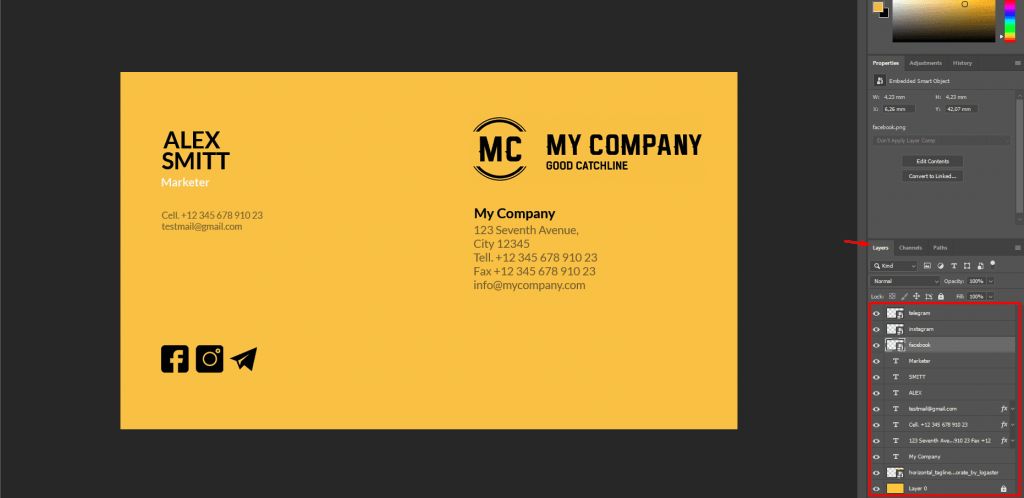 3. Save the file in both PSD and print-friendly format of your choice.

Watch the guide on how to edit images in Photoshop:
Bottom line
With some focus and concentration, creating a neat business card in Photoshop is not as daunting as it might seem. Here are a few more tips to help you along the way:

Keep in mind that a printed business card will differ from its on-screen version in terms of color. The reason has to do with different color modes. While digital images use the RGB model, offset printing relies on the CMYK palette. Be sure to remember that when choosing the hues for your text and illustrations.
Before printing your file, take the time to scrutinize your card for misspellings and other mistakes. Ask your teammates and friends to do the same.