How to Make a Business Card online?
Contents:
1.Why do I need a business card?
2.Functions of business cards
3.Types of business cards
4.Guidelines for creating a business card
5.Ways to make a business card
6.How to make a business card with ZenBusiness
Why do I need a business card?
Business cards summarize your contact information for clients, colleagues and partners. In the modern era, it is a cornerstone of your corporate identity.
Apart from being an appealing piece of artistic work, a business card is an integral aspect of business etiquette. Nowadays, with an abundance of smart online tools (e.g., ZenBusiness), creating a digital business card has never been easier.
The best thing is that you can share your contact data in a fast and easy way. This is not the only advantage, though. A business card is also a powerful promotional tool; it affects its recipient in a certain way, so when it comes to creating one, every detail can have a dramatic impact on your success.
Last but not least, it is part of your brand identity.
Functions of business cards
With a smart business card in your pocket, you have more power than you might realize. There are three major functions that can affect your brand on many levels.
Provide information. It gives its recipient concise information about you and your business, such as name, position, and contact data so that the recipient can get in touch with you personally or with your office.
Build your image. Whether funny or elegant, bulky or minimalist, a business card can speak volumes about you, in terms of both your personality and your business. In the minds of customers and partners it can create a positive image of you and your company.
Promote your business. There is a good chance that happy clients will share your business card with their friends and colleagues. Plus, it's a great way to promote your logo and slogan, making them more recognizable and identifiable.
Types of business cards
There are three major types:
– Visiting or calling cards are used outside the business world, at informal meetings and get-togethers with friends. Personal cards are designed in a free style and contain your full name, cell phone number, and/or email address. Company name and position are not among the details commonly seen on these cards. You can add your industry, if you like.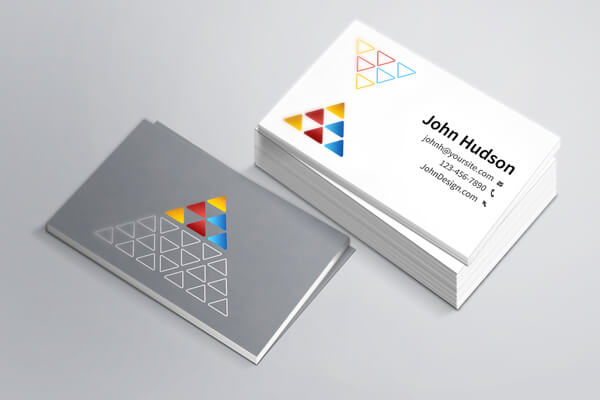 – Business cards are essential to anyone involved in the business world. It contains basic information about its owner and is given to potential partners. It must include your full name, company name, and contact data. In addition, it makes sense to include the company logo and the services you provide. Keep in mind that business card must be visually compatible with the other elements of your brand identity.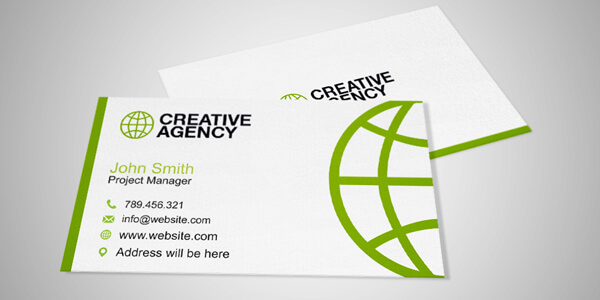 – Corporate cards represent the company as a whole rather than its individual employees. These types of cards usually contain the company name, the industry, a list of services, contact data, the website URL, and even a roadmap.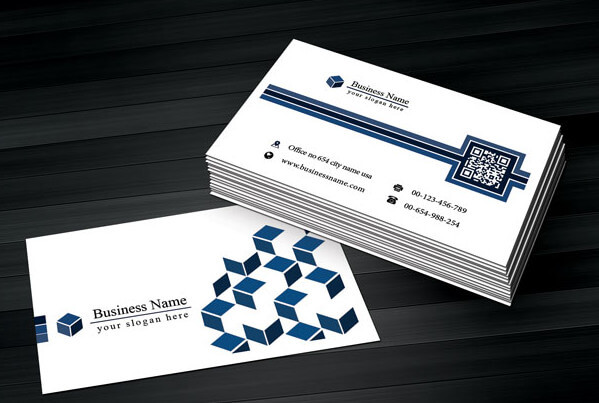 Guidelines for creating a business card
The following information must be provided:
company name and logo (for corporate cards);
full name and position;
postal address and cell phone number (you can provide more than one);
email address;
website address (URL).
Also, make sure to tailor your design to the following requirements:
1. A business card cluttered with information may make a negative impression on its recipient. Vast blank spaces make your design look neat and clean.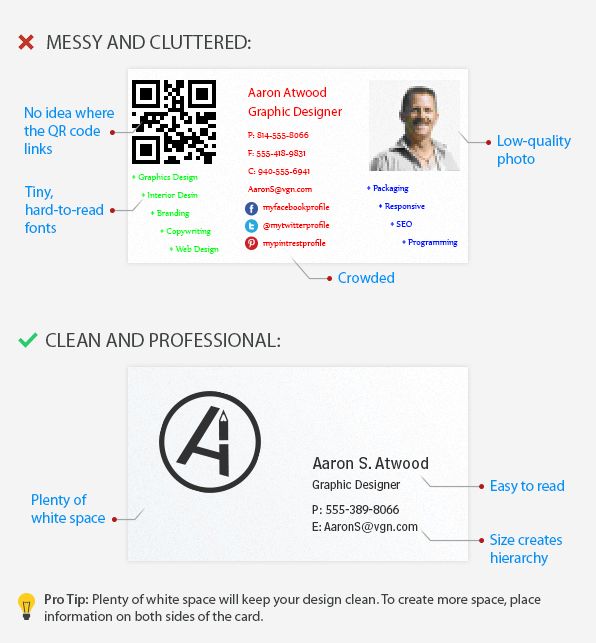 2. Double-check the text for mistakes. Handmade corrections are unacceptable.
3. Find out which color code – RGB or CMYK – is used. Keep in mind that colors don't always look the same on paper and on screen. RGB colors are used in displaying web pages. For your mockup, go for CMYK colors that are used in printing.
4. Make sure that design has a definition of at least 300 dpi.
5. The standard size of a business card is 90х50 mm. Less common options include 90х55 mm or 85х55 mm. Note that the standard dimensions may vary from one country to another.
6. Set margins to avoid problems when trimming your design.
7. If you're creating other corporate designs as well, make sure they match your business card in terms of color.
8. As your company expands, it might be a good idea to have a business card in the language of the region where you're spreading your products and services. Plus, if you haven't already done so, it makes sense to translate it into English, which is the language of international communication.
Ways to make a business card
You have several ways to go about it. Unless you're pressed for time or money, you can commission a professional designer or a printing company.
The good news is that you don't need professionals to create an effective design. You have two options at your disposal.
Use an image editing program (e.g., Photoshop, Inkscape) to draw it yourself.
Choose from a variety of customizable templates offered by any smart business card creator.
Once your design is finished, print it at local print shop.
Alternatively, you can lean back and let modern all-in-one design programs handle this task for you. In just a few clicks, you can have designs printed and delivered to your door.
How to make a business card with ZenBusiness
What makes ZenBusiness a great tool is that it can help you create any type of business card in just a few minutes. However, first you might want to design a neat logo to enhance brand recognition.
We've come up with a step-by-step tutorial.
1. Create a logo first. Click "Create Logo." Enter company name or keywords associated with your field. You can also add a slogan that resonates with potential customers. Then select the industry. Click "Next" to proceed.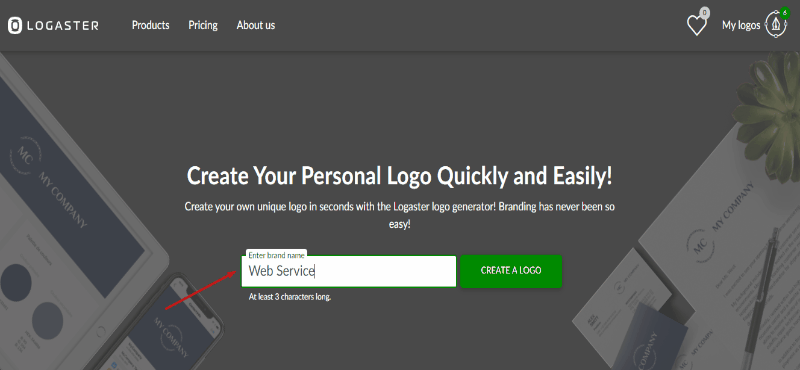 2. Choose the icon you like best. For the most part, your industry will determine your choice.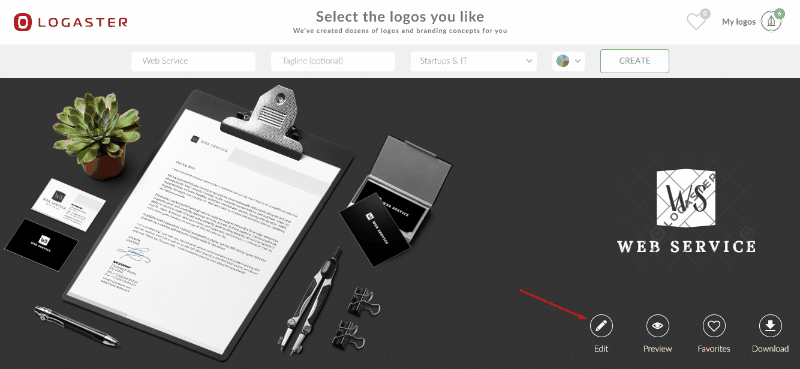 3. Customize your template to your liking. To cancel the last change, simply hit the "Undo" button below it. Once you've finished the editing process, click "Next."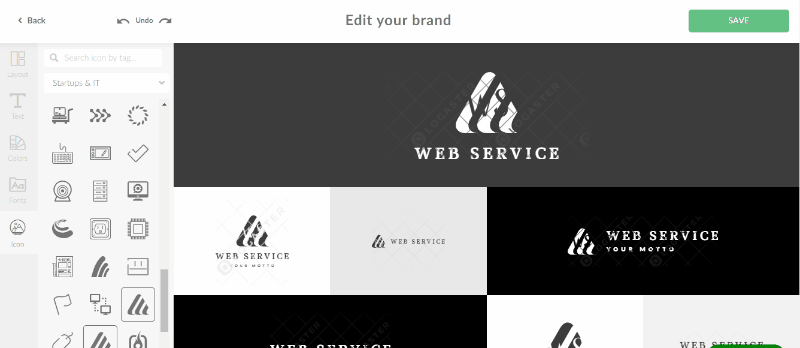 4. If you're happy with your design, click "Save."
5. Now ZenBusiness can generate a variety of business card templates to match your logo. Choose the best design and save it.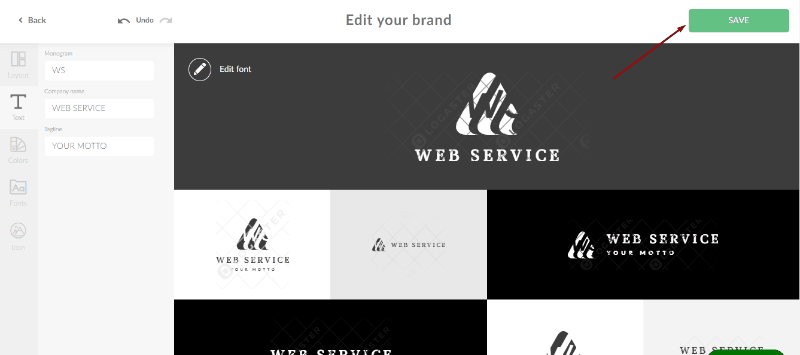 6. Use editing tools to add your or your employee's personal datа.

That's it!
More examples of business cards by ZenBusiness: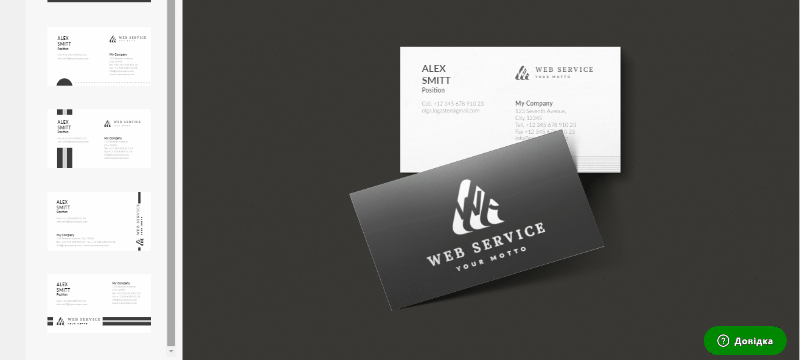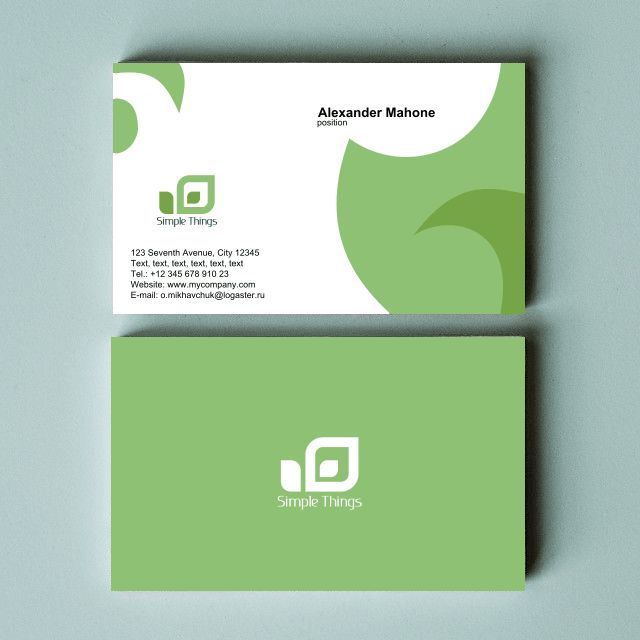 Of course, you can look for original ideas to give your persona or company a unique feel. However, generic designs serve their purpose equally well. Plus, if you're an up-and-coming company, you have more important things to do.
With ZenBusiness, you won't have to draw a single line. This amazing business card maker generates ready-to-use templates designed according to core standards. You get a print-ready mockup in PDF and PNG.
In addition to business card templates, ZenBusiness offers customizable letterheads, envelopes, and favicons. There's no better place to start building your corporate identity!
Also read: How to create a favicon from scratch?
Give it a try and craft your own logo and business card! Click here to find out how to purchase your design.