Reddit users hate direct marketing, experts say. But this does not mean that the popular platform can not be used to promote business. If you use Reddit wisely, you can improve the brand image and establish an emotional connection with the audience. Read the article to learn how to do this.
What Is Reddit and Who Is It For
Reddit is an online platform that resembles a giant forum with 430 million users. In May 2020, it was visited by 1.5 billion people which made Reddit one of the most popular sites on the Internet. The largest share of traffic accounts for the U.S. followed by the UK and Canada.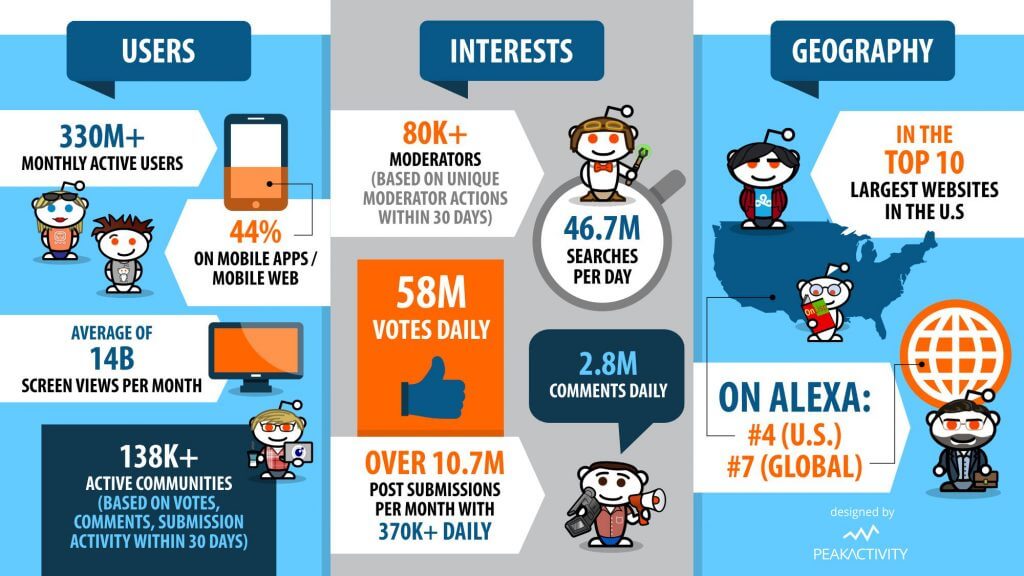 At Reddit, they discuss news, memes, and other relevant content. The platform consists of subreddits – subdivisions on any topic, from fitness and needlework to marketing and startups. The pages of these communities resemble news feeds with individual publications. The more involvement the post gets, the higher it rises in the newsgroup. The most popular posts with viral content appear on Reddit's home page.
Each user earns the so-called karma, i.e. the rating consisting of two indicators: the karma of publications and the karma of comments. Voices "for" add pluses to karma, votes "against" take away points.
Reddit is suitable for business with almost any target audience: both teenagers and experienced entrepreneurs "hang out" here. The most important thing for successful promotion is to consider the nuances of behavior on the platform. That is what we'll talk about further.
How to Create an Account and Use Reddit for Business
It's easy to create an account: go to the website and select the "Register" option. Enter your email address, company name, and password. Reddit will immediately offer communities that may be of interest to you and advise you to join at least five of them. Later you can change your preferences and add new ones.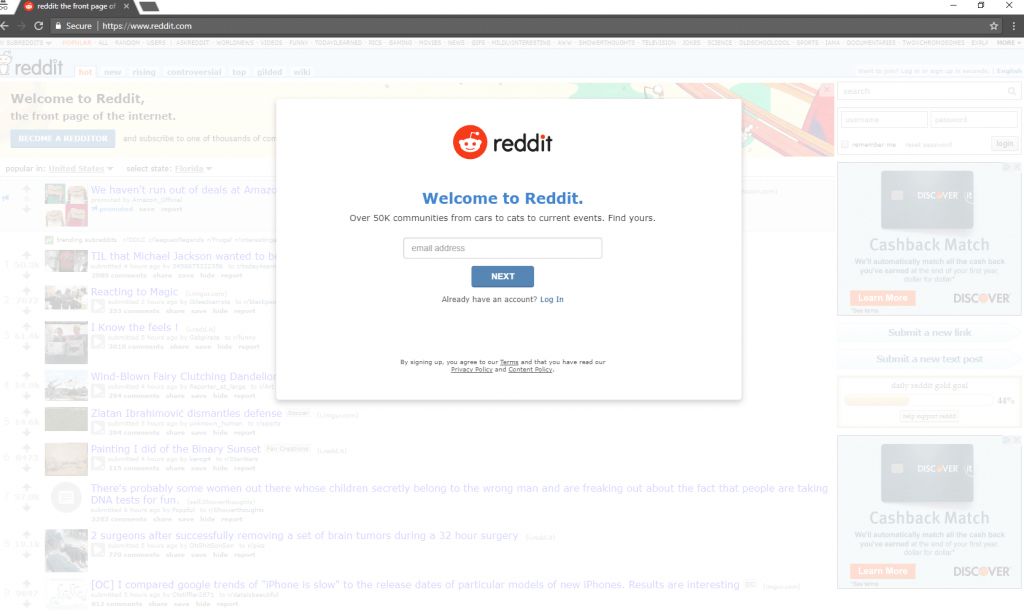 Once you've entered the account settings, add a short description (up to 200 characters), as well as a profile and a cover photo. We recommend using a logo as a profile photo to draw attention to the brand. If you have no logo yet, ZenBusiness's online generator will help you create it.
Your account is ready. Now it's time to move on to promotion. The first thing to remember is that direct sales are unacceptable at Reddit, so the marketing strategy should not be aggressive. Let's share a few secrets on how to achieve this.
1. Earn Reputation
For promotion to be successful at Reddit, you must become part of the community and gain the audience's credibility. Do not try to promote a brand with an empty account and zero karma.
We advise you to start with expert comments to other people's publications that can add points to karma. Remember that Reddit does not accept blank phrases like: "Very interesting" or "What a cute kitty". Reply only if you can share something valuable or witty. You can do this in:
subreddits where your target audience "lives";
subreddits on topics you have a good understanding of and can provide expert opinion on;
popular communities devoted to questions and answers on different topics, e.g., "r/askreddit".
Please note that each subreddit has its own rules. Ignoring them can lead to deleting a publication or denying access to the community. Before developing activity, learn the rules, popular topics, and user communication style.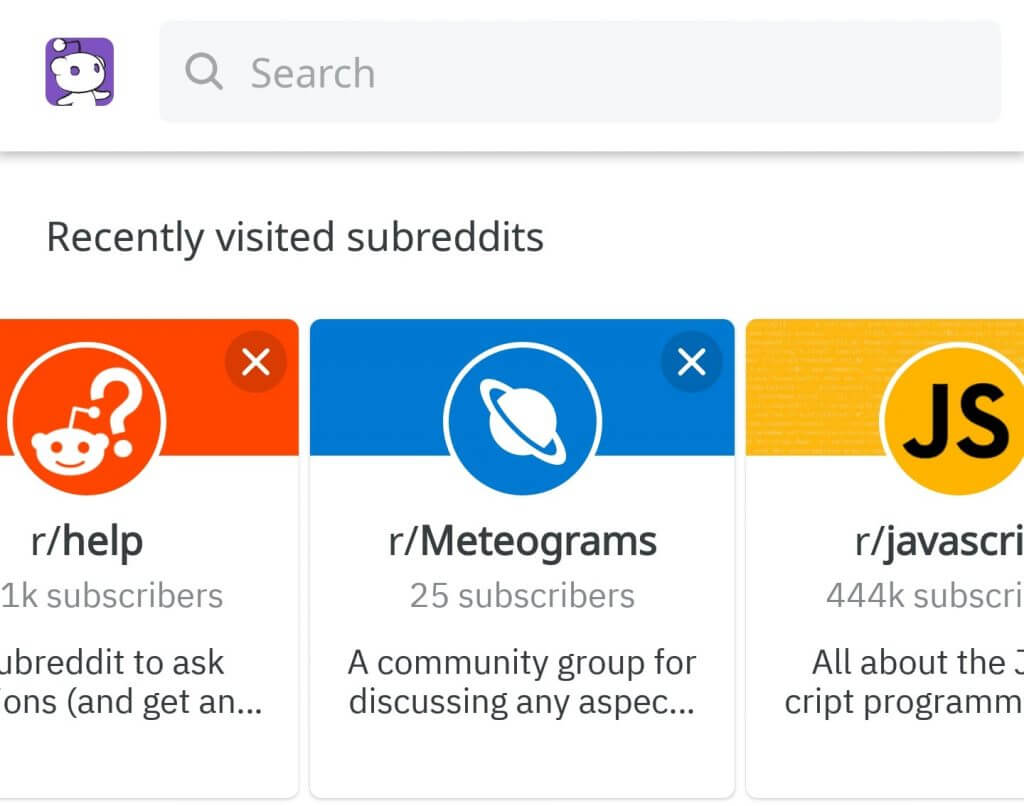 2. Select the Content Carefully
Having grown karma, start promoting your business. However, you should remember: people do not come to Reddit to buy, but primarily to communicate, have fun, and learn the news:
Ask for user feedback: to leave feedback about your business idea, landing, or tell how they solve a particular problem. The publication should be transparent: do not try to disguise marketing research as a usual idle talk. Sincerity is valued on Reddit. Write down what and why you need to know. In this way, you will simultaneously tell about the brand, increase its recognition, and get valuable information directly from the target audience.
Tell a story. Foundation, a content marketing agency, has analyzed business content that is popular on Reddit and revealed that these are posts longer than 1400 words in the storytelling genre. It could be a story about overcoming difficulties ("My startup failed and I lost everything (that's what I've learned)"), success stories ("I've made $1 million selling a book that teaches how to become a millionaire"), and other business cases with real figures and facts.
Be careful with the links. If you want to promote the product and invite users to the site, please refer to the story again. Make it fun or informative to capture the audience's attention, and seamlessly weave a link into the text, e.g.: "This blog post will help you better understand the subject".
3. Communicate Actively
Reddit is not a platform to speak from the podium but to share opinions. Do people open discussions under your publications? Take part in the discussion. See the jokes in your comments? Be witty. Conduct a survey? Show that you value every opinion.
4. Offer Discounts
At Reddit, there are communities dedicated to advantageous offers such as "r/deal". There you can talk about a sale or share your promo code. Choosing the right subreddit and a profitable offer will increase brand awareness and help to win user loyalty.
5. Use AMA
One of the most popular subreddits is AMA ("Ask me anything") where question and answer sessions with experts are held. The topic starter introduces himself and tells you what he is competent in, and users ask him topic-related questions.
Such sessions help to strengthen the personal brand and image of the company. They are conducted by many people – from confectioners to IT-specialists. Famous scientists, actors, and politicians take part in AMA. The most successful among star guests was Bill Gates who beat the AMA records twice: in 2018 his post collected more than 124 thousand votes, and in 2019 – more than 110 thousand.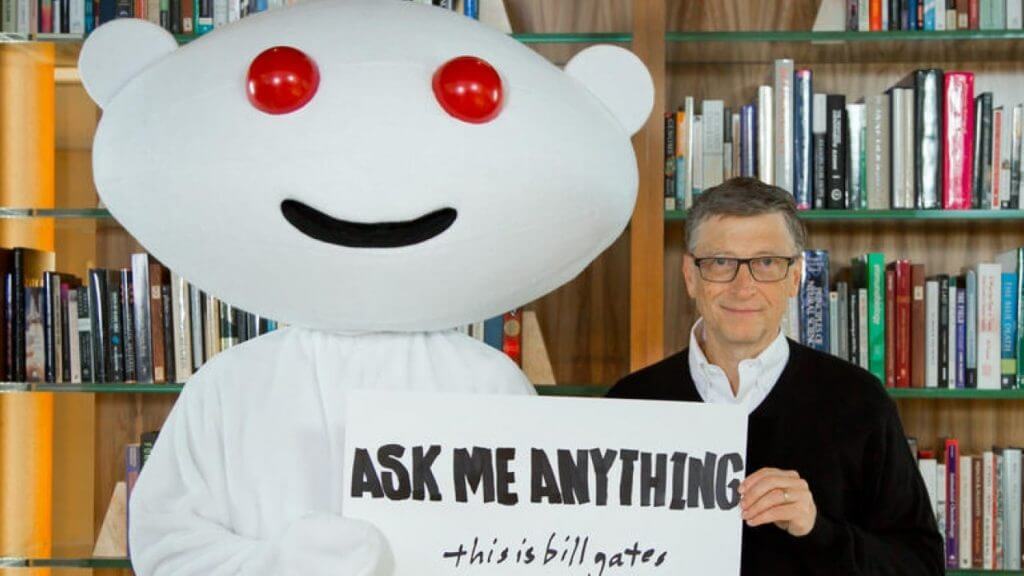 How to Set Up Advertising on Reddit
You can launch and promote advertising publications on the platform. To do this, register an ads manager and set up targeting – by location, interests, or certain subreddits. You can also combine these types to accurately reach your target audience.
Reddit Ads allows you to create two types of ads: Link Post to redirect the user to the site when clicked, and Text Post to a more advanced version of the publication on Reddit. To make your ads effective, follow the same rules as when you create ordinary content:
Try not to force the product: make the publication useful, creative, or fun. Users should feel that you care about them, not just want their money.
Keep track of trends in the region or community you create advertising for. Use current or "hype" topics.
Summary
Reddit is first of all a community, not a platform for direct sales. Contribute to the community: entertain, share your lifehacks or experience, ask questions, and take part in discussions. Only by establishing a relationship of trust and understanding with the Reddit audience will you be able to use the full potential of the platform to promote your business.