If you've ever stopped to think about the circumstances that brought you, your co-workers, and the rest of the American workforce together, you might be surprised. It isn't always a gut instinct that leads people to their professions.

We surveyed 1,005 currently employed people about where their career choices stemmed from. Could it have been due to TV? Books? Movies? Or even video games? And when respondents chose a career based on media (which they often did), did it live up to the hype? For instance, was a career inspired by "CSI" as exciting and fast-paced as the show's narrative?

Continue reading to see how entertainment currently directs the flow of the American workforce.

Inspired by Media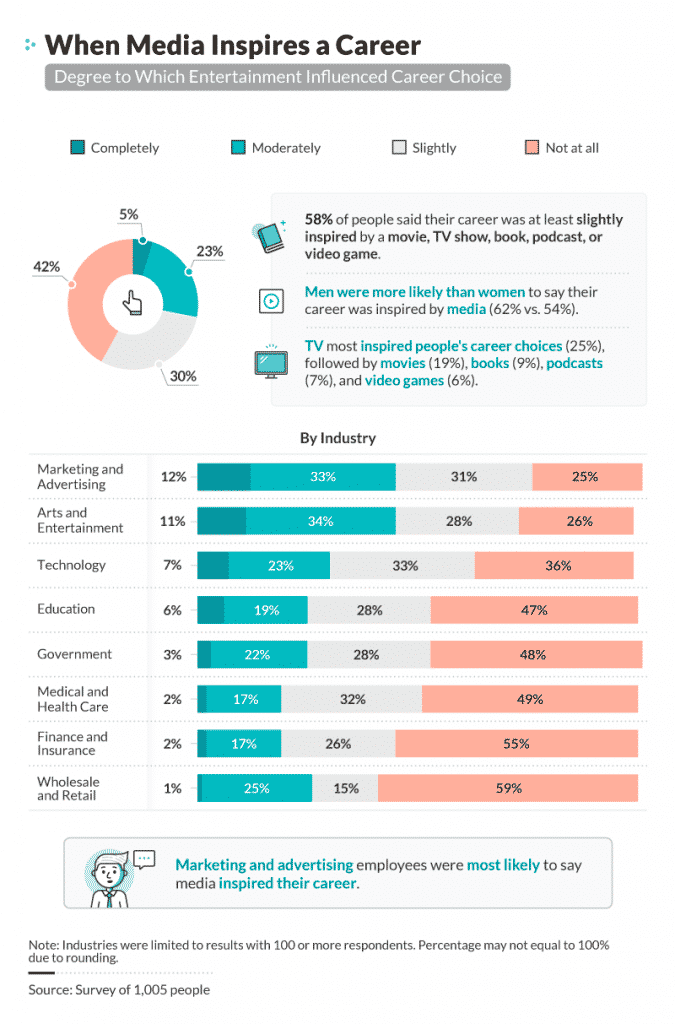 More often than not, entertainment had a hand in American careers. When asked, 58% of respondents said their career had been at least slightly inspired by a book, TV show, movie, podcast, or video game. And men were more likely than women to say entertainment played a role in their career (62% vs. 54%, respectively). In fact, TV was the most influential media category in terms of professional decisions.

Additionally, those in the marketing and advertising industry were most likely to be swayed by the media's influence. Marketers have always relied on celebrities and pop culture icons to represent and endorse their products, from TV shows and commercials to billboards and movies. Think Heineken collaborating with the James Bond franchise or the "Stranger Things" multi-episode collaboration with Eggo waffles.

Arts and entertainment workers were also heavily influenced by entertainment, with 73% of employees saying media influenced their career choice in some way. Media is a form of arts and entertainment, and a lucrative one at that, so it makes sense that a creative or artistic mindset might be influenced by the craft. Moreover, the media has a variety of awards for celebrated creatives, from the Grammy Awards and Emmys to the Tony Awards and Oscars, all of which can certainly inspire people to pursue professional and artistic greatness.

Is It Just Like the Movies?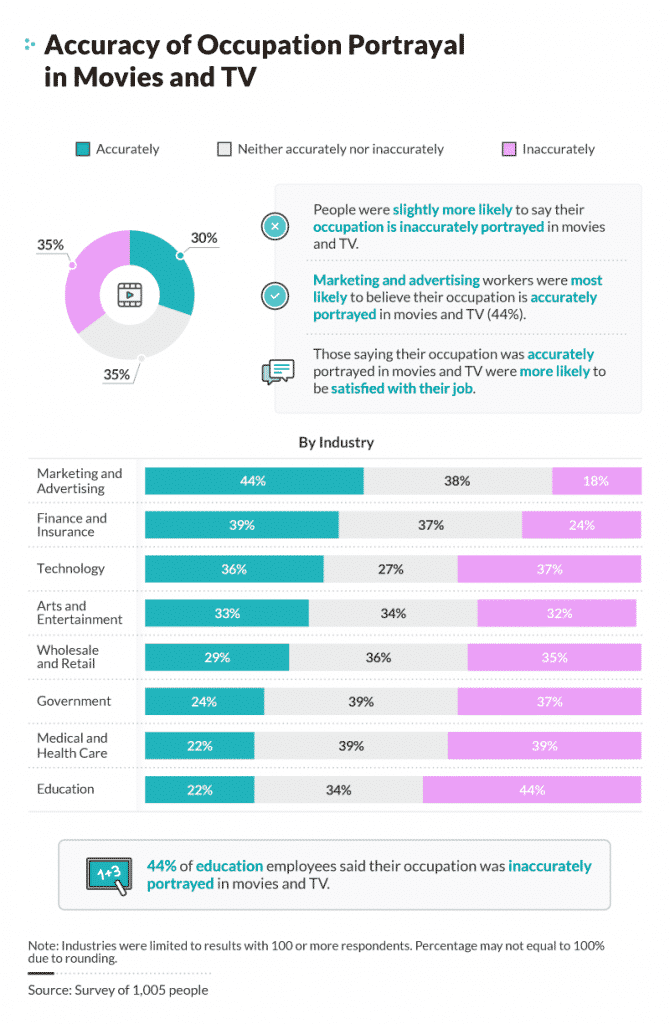 Respondents were pretty split when asked how accurately the media portrayed their jobs. Thirty-five percent felt movies and TV portray their occupation inaccurately, 35% were neutral, and 30% said entertainment does accurately show what their jobs are really like.

Marketing and advertising workers were the most likely to believe their occupation was accurately portrayed by the media. This is good news for marketers, as most media portrayals make the ad world seem pretty great. Advertising affords "Mad Men" character Don Draper an enviable '60s lifestyle. Samantha from "Sex and the City" lives luxuriously in Manhattan because of her public relations job. Charlie Harper from "Two and a Half Men" is able to afford his Malibu beach house because of his ability to sell ad jingles. And Matthew McConaughey does pretty well for himself after coining the slogan, "Frost yourself," in "How to Lose a Guy in 10 Days." Need we say more?

Then there's the education industry. This group felt the media most poorly portray their profession. There are countless media portrayals of life in school, from TV shows like "Gilmore Girls" and "Saved by the Bell" to movies like "Good Will Hunting," "Clueless," and Harry Potter. Throw in "Gossip Girl," "The O.C.," and "Dead Poets Society," and no wonder education workers feel a distance between reality and entertainment.

My Real Job is More …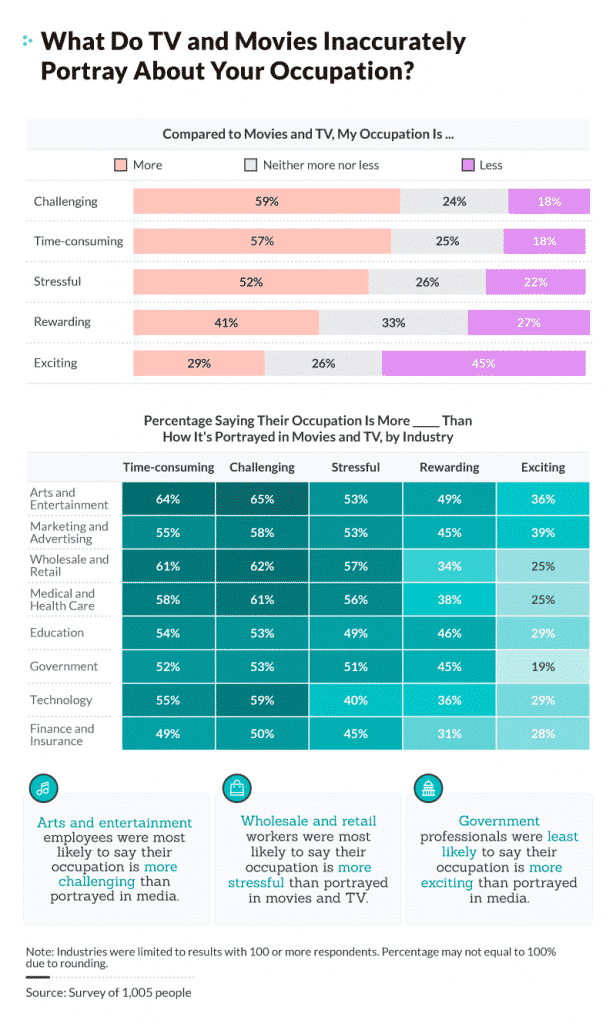 Work life isn't as fun as TV and movies portray it, people said. Most respondents felt their real jobs are more challenging (59%), time-consuming (57%), and stressful (52%) than the media makes them out to be. Although challenge can be a wonderful thing in a career, its association with stress and time crunches makes it sometimes more frustrating than rewarding. Only 29% thought their jobs are more exciting than media portrayals.

Arts and entertainment employees felt most snubbed by what the media shows of their careers, as they were the most likely to think their jobs are more time-consuming and challenging compared to other industry employees. Tech workers also said the media inaccurately portrays how challenging their jobs are, while government workers were least likely to say their jobs are more exciting than the media versions. Government shows are particularly suspenseful and exhilarating – think "Scandal," "House of Cards," and "Homeland."It's unlikely these situations frequently present themselves to the average government employee.

Working for the Weekend Entertainment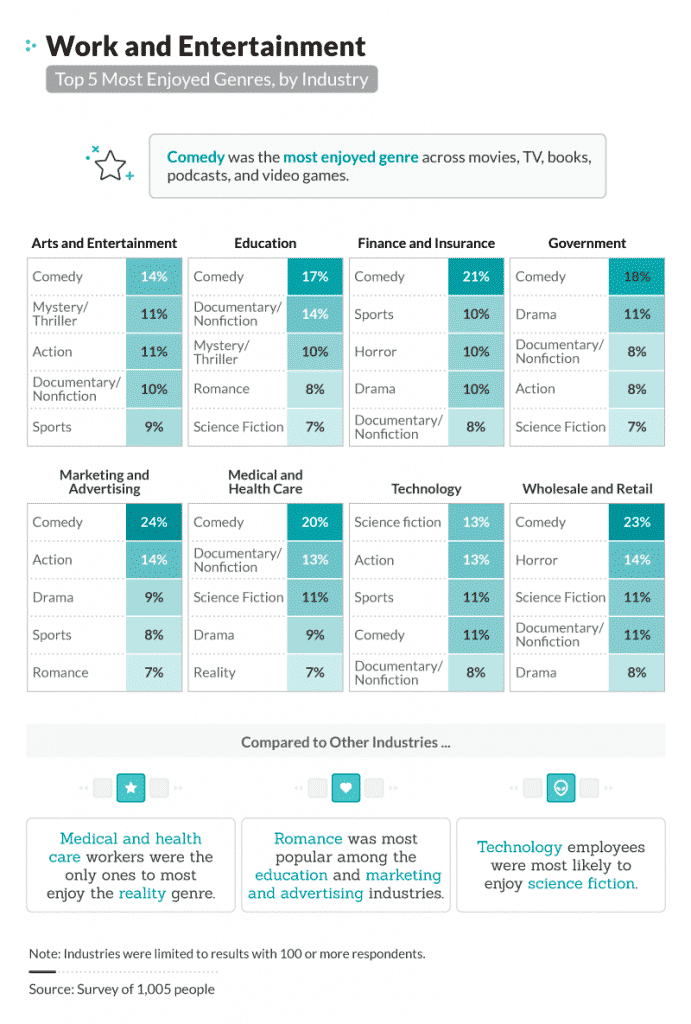 We asked employees which entertainment genres they enjoyed most, whether movies, TV shows, books, podcasts, or video games. Nearly every industry enjoyed comedy more than any other genre, especially marketers and those working in wholesale and retail. Some of TV's most popular shows feature characters and settings in these industries – "Friends" character Rachel Greenworked in retail, while "The Office"is set exclusively inside a wholesale paper supply company. But marketers might be inclined to think in a comedic way in general, as much of the advertising world leans on comedy to sell its products.

The only industry that didn't prefer comedy was the tech industry. Tech workers preferred to watch, read, listen, or enjoy science fiction. "Star Wars" has enjoyed tremendous box office success, perhaps in part due to its tech fans. More recent shows like "Black Mirror" and "Westworld" have also earned their fair share of success, alongside countless other sci-fi books and video games, appealing to 11% of the wholesale and medical industry employees as well.

Teachers and those involved in education were the most likely to enjoy documentaries, suggesting a genuine love of learning both in and outside the classroom. Most streaming and cable services offer documentaries on everything from nature to health and housing. Even if you're not a teacher, there's plenty of educational entertainment ready for your enjoyment.

A Genre's True Value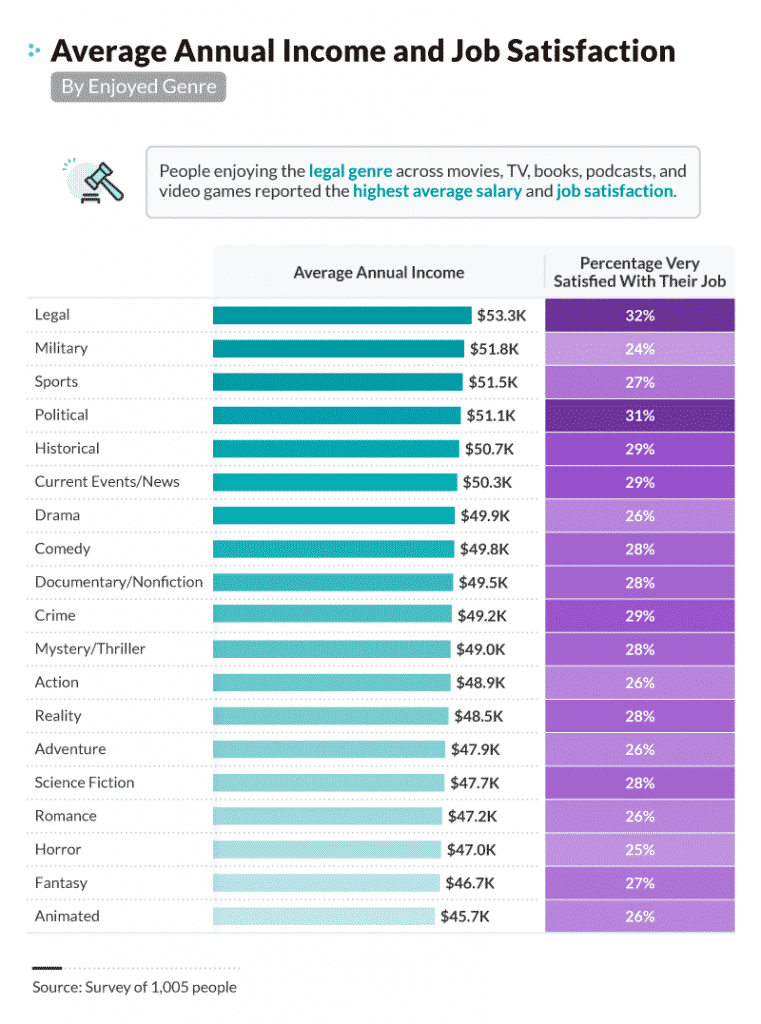 Enjoyment of legal and military genres correlated with the highest average annual income. On average, those who enjoyed law- or military-related shows, movies, and media earned more each year than those who watched any other genre.Moreover, these "Law & Order" types were most likely to be satisfied with their jobs.

Politics in the media also correlated with high job satisfaction. "House of Cards," "The West Wing," and a host of talk shows like "The Daily Show" are more high-brow than others, often incorporating both news and history. There's a chance these shows are enjoyed by an equally high-brow audience. If audiences of these shows are more educated, it could help explain the higher job satisfaction these political media junkies reported.

The lowest-earning respondents most enjoyed animated media, like "The Simpsons" or "South Park." Perhaps those watching cartoons are younger and therefore have had less time to grow their salaries. Or maybe the audience of cartoons tends to be less hard working on average. Whatever the reason may be, those who enjoyed the animated genre not only earned less but also experienced decreased job satisfaction.

Top TV Show Inspirations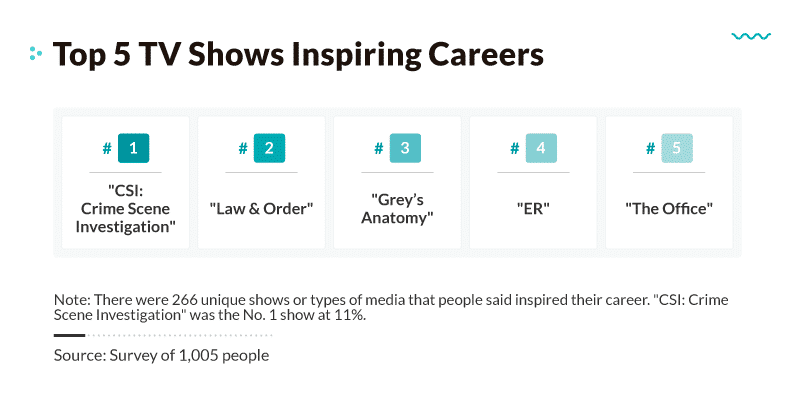 "CSI" and "Law & Order,"which follow very similar story arcs, most inspired people's career paths, followed by two medical shows: "Grey's Anatomy" and "ER."

Making the Most of the Media
There's nothing wrong with taking inspiration from a variety of sources and being open to new ideas, whether it's about your career or how you view another person's profession. But wouldn't it be even more wonderful if the inspiration kick-started a venture of your own?

If you happen to be considering an entrepreneurial path, you'll want more than media portrayals on which to base your business plan. At ZenBusiness, you can stay calm about all the little (and legal) things that have a big impact on your dream business. With our many intuitive tools, we can help get your business up and running – all in a calm state of Zen.

Methodology
We surveyed 1,005 Americans who were currently employed. Respondents were then asked to answer questions about their favorite genres and how they believe their occupation is portrayed in the media.

Fifty-three percent of our respondents identified as male, 47% identified as female, and less than 1% identified as a gender not listed on our survey. Respondents ranged in age from 18 to 80, with a mean of 37 and a standard deviation of 10.6.

Limitations
Occupations were limited to results with 100 or more respondents. It is possible that with more respondents from each industry, we may have been able to gain better insight into this demographic. The findings on this page rely on self-reporting; as such, they are susceptible to exaggeration or selective memory.

No statistical testing was performed. The claims listed above are based on means alone and are presented for informational purposes.

Fair Use Statement
Think the media could use a little more accuracy sprinkled into it? You're welcome to share the data behind this article with another employee or media junkie, but please be sure it's for noncommercial purposes, and you link back to this page.