Jewelry is among the top trending products to sell online. In this guide, we'll get into the nitty-gritty details of how to tap into the peaking jewelry market. Read on to find out how to niche your product, choose the right selling platform, and reach out to a wide audience using a smart marketing strategy.
Define your niche
When starting an online business, it's important to have a crystal clear understanding of what you're selling and to whom you're selling it. Defining your jewelry niche is the first step towards choosing the best selling platform, determining your target audience, and finding smart ways to lure in customers.
Identify your interests. We recommend building your business around something you're passionate about. Think about what type of jewelry you'd like to work with. Do you have a weak spot for rare vintage collectibles? Do you consider yourself an expert in diamonds? Or maybe you're into unique piercing accessories?
Get to know your customers. At the same time, your passion alone is not enough to monetize your business idea. You also need to make sure your product answers your audience's needs. Find out what challenges and pain points your potential customers have. One way to do that is to browse through jewelry-related forums and groups on social media. Also, it might be even better to run your own survey and hear from your prospects first-hand. Knowing your audience's needs will be of great help in crafting a viable selling proposition (read more below).
Keep an eye on your competitors. Before starting your own business, you want to do some research on other jewelry sellers by going through their websites, blogs, online stores, and social media pages. Use Excel or any other spreadsheet program to create a table with all the pertaining information on each seller, including their niche, target audience, product range, pricing, customer testimonials, strengths and weaknesses.
Create a unique selling proposition. A selling proposition must answer why your prospects should choose your brand over similar offerings. Think about what value you can offer to your audience. Product value can be material (low prices, free shipping, individual consultations, etc.) or emotional (high status, aesthetic enjoyment, sense of uniqueness, etc.).
Choose a selling platform
Now that you know what and to whom you're going to sell, you need to decide where you're going to do business. The most popular online platforms to sell jewelry include social media, online store, ecommerce marketplaces, and services for selling fine, high-end jewelry. For the largest outreach, be sure to tap into as many channels as possible. Let's go into the pros and cons of each platform.
Social media
Rings, bracelets, necklaces, and other jewelry have a strong visual appeal to them. The best way to do justice to the beauty and craftsmanship of your products is to market them on social platforms based on visual content, such as Instagram and Pinterest. However, this doesn't mean you should ignore the possibilities of Facebook, TikTok, Snapchat, and other powerful socials. Find out what social platforms your prospects are using most and focus on those.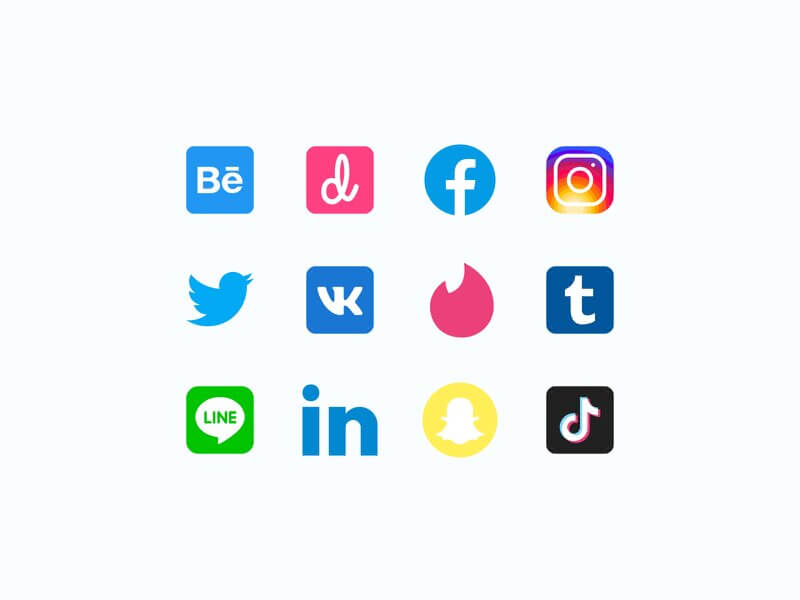 Pros:
Social media give you access to large audiences.
Simplicity. Create an account in a few clicks and get started.
Big choice of promotion tools (posts, videos, stories, live streams, etc.).
Fast feedback from your audience (comments, direct messages).
Cons:
You have no full control over your social media account.
You can't fully brand your page. e.g. use your corporate colors, fonts, patterns, etc.
Summing up: Social media are a fast and relatively easy way to draw in people interested in your brand and build a solid customer base. Our advice is to pair social platforms with a more powerful selling channel.
Online store
Nowadays, creating a good-looking online store from scratch is no longer a problem. With smart website constructors like Shopify, WooCommerce, and BigCommerce, you can build and launch a compelling website in under an hour.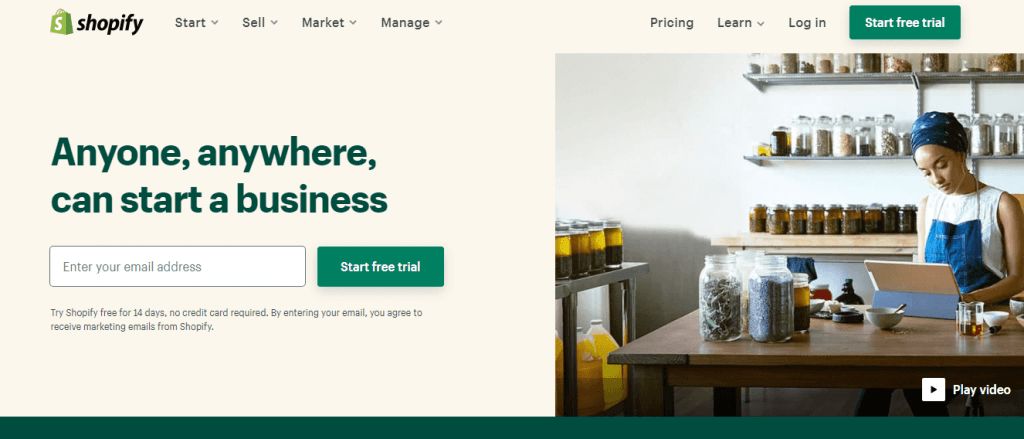 Pros:
You have full control over your website design and functionality.
All information on your brand and products is gathered in one place.
Cons:
Setting up and maintaining an online shop can be an arduous task. For example, you need to make your site look professional, add slick product photographs and well-written descriptions, add payment methods, keep prices up-to-date, etc.
Large expenses. You need to pay for hosting, as well as professional services (web designer, photographer, copywriter, etc.).
Prepare to go an extra mile to get your website out there. For example, you need to start a SEO campaign, publish ads, promote your site on your social media, etc.
Summing up: A website is a powerful selling platform that adds authority and weight to your brand. At the same time, driving shoppers to your site can be a tough challenge.
Ecommerce marketplaces
Another commonly used channel for selling jewelry online is major ecommerce platforms, such as Amazon, eBay, Etsy, and the like. Each marketplace has its specifics and unique features. For example, Etsy specializes in handmade, customized items, while Amazon targets mass producers. eBay works like an auction where sellers set a starting price and buyers place bids.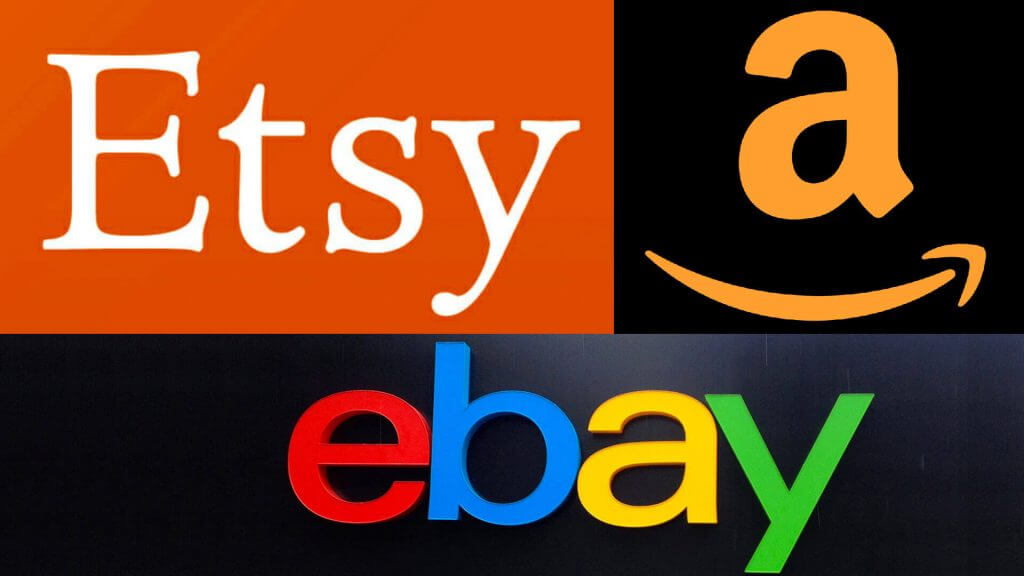 Pros:
Ecommerce marketplaces offer a huge base of potential buyers.
Buyers can benefit from an easy, one-click payment procedure.
Cons:
Prepare to face a tough competition. Big online marketplaces bring together millions of sellers from all over the globe.
You can't properly brand your profile page to make your brand more recognizable for your audience.
You need to follow the rules and guidelines set in place by the platform.
Ecommerce platforms charge a fee on each sale you make.
Summing up: Ecommerce marketplaces are a great choice for businesses that welcome competition and aim to reach out to a big audience.
Services for selling premium-class jewelry
If you're selling diamonds, high-end jewelry, luxury watches, or antiques, consider using dedicated services that operate in this market niche.
Worthy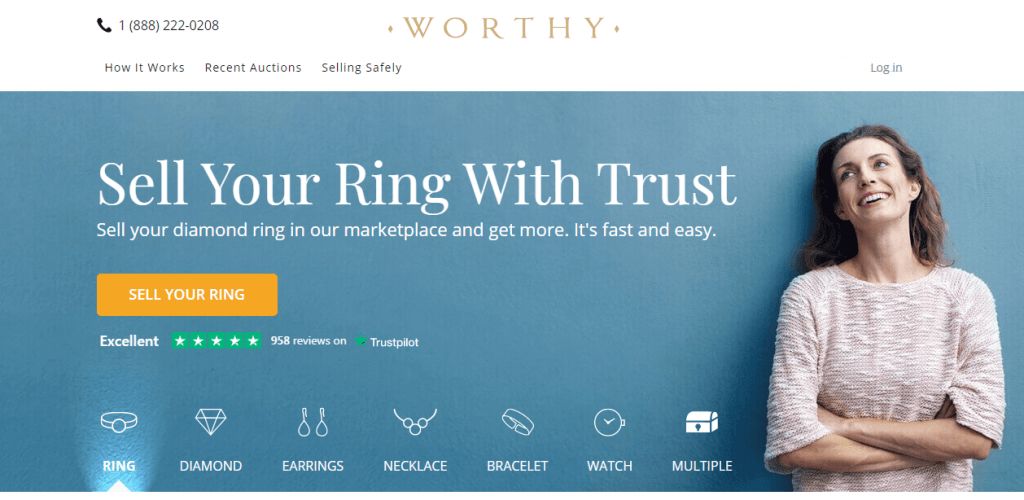 Worthy.com is an auction for pre-owned luxury items. The marketplace buys jewelry from individuals and then puts them on auction. As a reward for its services, the platform charges 5-15% of the selling price. Worthy has reviewed and estimated more than 1 bln jewelry items so far.
Wpdiamonds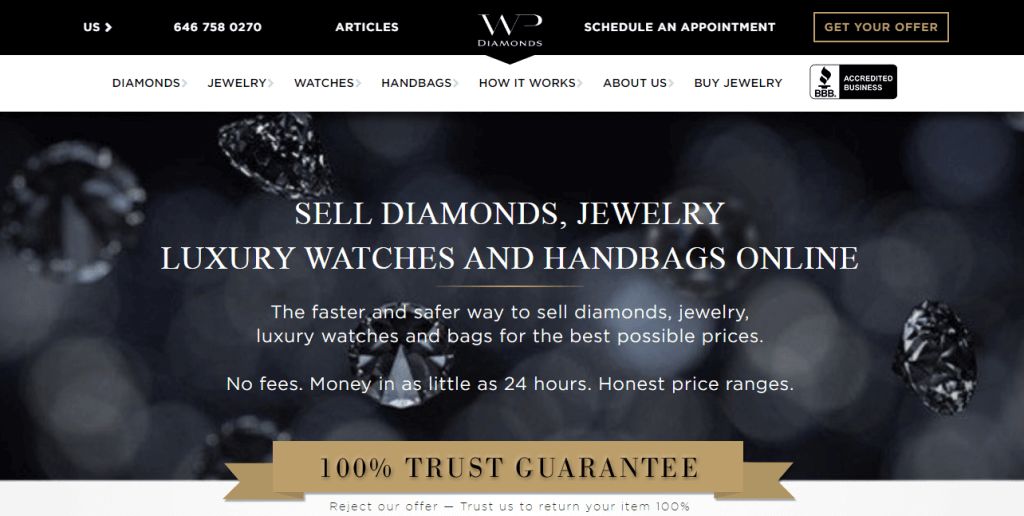 Wpdiamonds offers a fast and safe way to sell diamonds, jewelry, watches, and expensive handbags at the best prices, with no fee. If the seller accepts Wpdiamonds's price offer, they get paid within 24 hours.
Diamondbuyersintl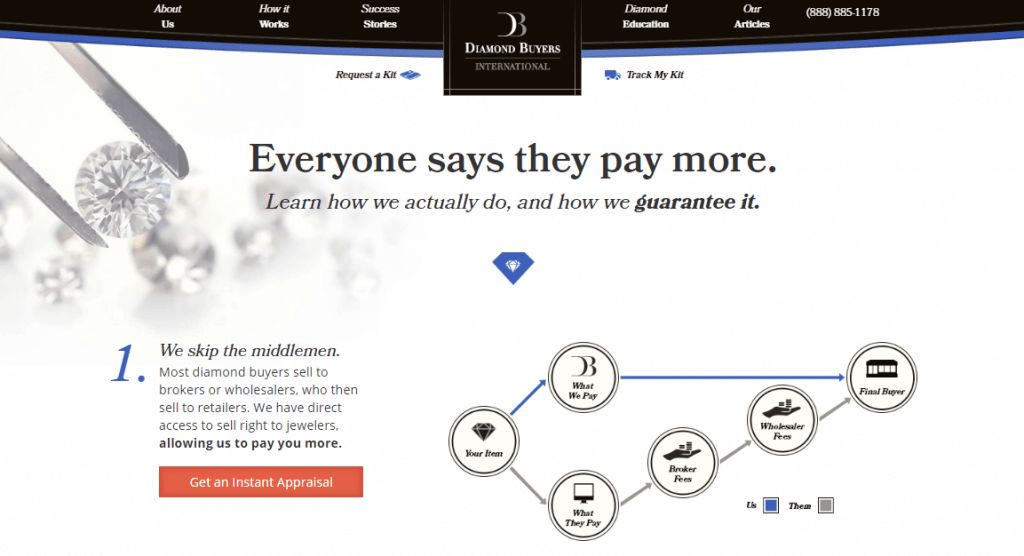 Diamond Buyers International specializes in buying diamonds and diamond jewelry at peak-season prices. A team of professional gemologists will appraise your diamond and offer you the best possible price.
Thediamondvalet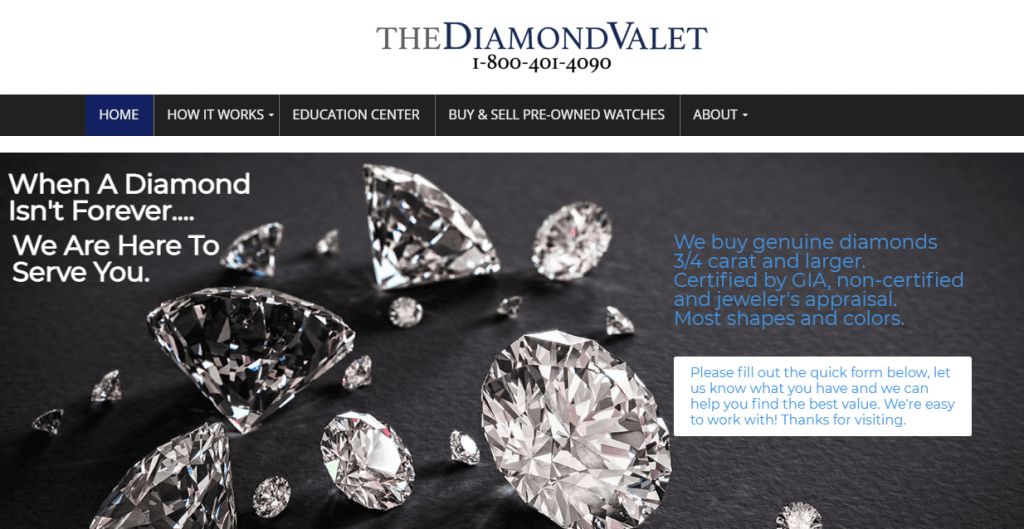 The Diamond Valet is another reliable platform for selling diamonds. The company purchases genuine diamonds ¾ carat and larger. Complete a quick form (name, email, carat weight, etc.) and get an instant appraisal of your item. It's a great way to get an unwanted diamond off your hands in exchange for a fat check!
Rubylane

Rubylane is the world's No.1 marketplace for jewelry, antiques, silverware, vintage collectibles, and more. Sign up with Rubylane, add photos and descriptions of your items, and keep your fingers crossed for eager customers! To be able to sell on Rubylane, you need to pay a monthly service fee. For a shop with under 50 items, the minimum fee is 54 USD.
Integrate payments and organize shipping
Customers like to have a big selection of payment options to choose from, so be sure to offer them a variety of payment methods, such as credit card, Apple Pay, PayPal, etc.
Major ecommerce platforms (Amazon, Etsy, eBay) come with an in-built POS (point-of-sale) system. You simply need to connect your bank account to be able to receive payments.
If you're selling jewelry on your own website, accepting payments must not be a problem either. Advanced website builders let businesses connect a variety of payment options, including PayPal, Apple Pay, and many more.
When using social platforms, you can either drive shoppers to your website for payment, or discuss payment individually with each customer.
Now let's say a few words about shipping. Shipping costs can vary depending on several factors:
Geography. Think about whether you're going to ship locally or internationally.
Shipping method. You can ship your products by standard post or shipping carriers (FedEx, UPS, etc.)
Order amount. You can set a fixed shipping rate for a specific type of orders, offer free shipping for orders over a specific amount, calculate a shipping fee based on the weight of ordered items, etc.
Develop a marketing strategy
Launching an online business is just the beginning of the journey. You also need to build a strong brand around your business, pique the interest of your target audience, and convince them to buy from you. Your promotion strategy is determined by what type of jewelry you're selling and what online channels you're using to market your merchandise. Let's cover the key building blocks of a marketing strategy.
Brand identity
Your corporate logo, colors, and fonts are responsible for your brand's visual image. A smart brand identity has the power to leave a lasting impression on your audience and broadcast the right message to your customers.
Identify your company's personality. For example, do you position your brand as inclusive and accessible, or upmarket and high-brow? Outline the characteristics that align with your values, mission, and product line.
Put together your brand's visual image by creating a custom logo, color palette, and typefaces. With ZenBusiness, it's cheap and easy! All you need to do is to enter your company name and select your sector. The logo maker will generate dozens of custom logos for your jewelry business. Choose the one that you like best and use it!
Photos and videos
Diamonds, rings, bracelets, watches, and other jewelry pieces have a strong visual appeal to them. Capitalize on this characteristic to show off your items in the best light possible.
Jewelry is all about a strong visual presentation, so be sure to invest in quality photography. If photography is not your forte, find a skilled photographer who's guaranteed to do a great job.
Set a professional lighting. Use a plain white background without distractions.
Use minimal props. You don't want them to draw the attention away from your products.
Bond with your prospects
One way to kickstart your sales is to gain your audience's trust and loyalty. Think through a comprehensive communication strategy which covers all your customer touchpoints, including your blog, website, newsletter, social media posts, promotion materials, etc. Here is a bunch of useful guidelines to stick to:
Define your brand's tone of voice. Put simply, it's the words and emotional connotations you're using when communicating with your audience. Your tone of voice must be consistent across all communication channels and express your brand's personality.
Find out what types of content work best for your potential customers. It can be trend overviews, captivating stories about antiques, jewelry maintenance tips, contests and giveaways, behind-the-scenes of jewelry production, and more.
Encourage user engagement. Urge your customers to leave testimonials, post selfies in your jewelry, share know-hows, etc. The best place to ask for customer feedback is on social media.
Promotion channels
For maximum exposure, it's best to combine several promotion channels to market your products. One way to do that is to drive abundant traffic from your social media pages and e-commerce platforms to your website.
Start tracking performance metrics for each of your promotion channels. Focus your efforts on the top-performing channels that generate most sales.
Wrapping up
To make your online jewelry brand a success, you should stick with a customer-centric approach. Find out what type of jewelry your prospects are interested in and choose the selling platform accordingly. However, luring in an audience is not nearly enough. As the next step, you need to continuously nurture the relationship with your customer base by engaging them and asking for their feedback. Find a smart way to showcase your products' value and convince your audience that they won't find a better quality-price ratio anywhere else.