Public relations is all about sending the right messages to the right people through the right channels to create a stronger brand reputation.
When done right, it can help you build trust and credibility, which will eventually lead to increased sales and profits. That's why the global PR industry is expected to surpass a value of $93 billion by the end of 2022.
Do you want to get a greater return on investment from your PR campaigns?
You should then leverage the most effective PR strategies to reach and engage your target consumers and drive more conversions for your small business. I'm going to tell you how to do that.
Keep reading till the end to discover useful PR tips for small businesses that can help you boost the profitability of your business in the long run.
Why is PR Important for Small Businesses?
Before we discuss the PR strategies you should use in 2022, let's take a look at why small businesses need to focus on public relations (PR).
It helps you bridge the trust gap between your business and target audience by increasing your overall credibility and reputation.
PR helps you attract potential customers to increase leads, sales, and revenue.
It enhances your online visibility.
Check out my PR case study to learn how PR helped me gain popularity and high-quality backlinks.
Top Public Relations Tips for Small Business Owners
As a PR consultant, I understand the challenges associated with building a positive brand image and how to overcome them.
Let's take a look at some of the most effective public relations tips that can help you boost your brand recognition and sales.
1. Focus on Brand Identity Design First
The first step to building a robust online presence for your small business is to focus on your brand identity design. It includes:
Brand culture and values: You should define what your brand is all about, what it offers, and who it serves.
Position in the market: You should define who your target market is and what makes your brand different from your competitors.
Visual brand components: You should decide on your brand's logo, color palette, fonts, product design, letterhead, and other brand visuals.
While brand culture, values, and messaging are equally important, brand visuals are the most easily recognizable feature of your brand identity design.
You can expect to spend $1,000-$15,000 for custom logo design and other brand collateral design if you hire a professional senior designer. Or, you can also choose to do it yourself using a design tool like ZenBusiness.
Make sure that your brand visuals represent its core values, purpose, and personality correctly.
Here are a few tips that can help you design a solid brand identity:
Avoid using too many colors.
Choose minimalism to make a greater impact on your target audience.
Write a simple yet compelling slogan or tagline. For example: Nike's "Just Do It."
Remember, consistency is the key. For example: McDonald's Golden Arches distinguishes it from other fast-food chains.
Once your brand logo and collateral are ready, you should plan your public relations strategy to help people recognize your small business.
2. Practice Personalized Pitching
When it comes to PR, the first thought that comes to your mind may be to publish press releases to promote your brand and products.
For this, you need to find journalists, reporters, and influential bloggers and send them your press release pitch.
46.48% of reporters receive a minimum of 11 pitches a day and a generic pitch template is probably the last thing they want to see in their inboxes.
To get their attention, you should research media outlets and the topics they cover. This way, you'll be able to come up with a story idea they will be interested in.
You should try to build relationships with journalists by personalizing your pitches for them and working on their requests on priority. You should not clog their inboxes with frequent follow-ups.
Here are a few more tips for creating the perfect pitch:
Keep it short. A majority of journalists prefer to receive pitches that are between 100-200 words.
Limit your follow-up emails to one or two (maximum). Send them after at least 3 days of your initial email.
Once you've worked with a PR firm or professional, keep in touch with them via email.
3. Collaborate with Influencers
Social media has become one of the most effective marketing channels today. You should leverage it actively to share your brand's key messages and boost your PR efforts.
And the best way to do that is to collaborate with industry influencers.
Good PR is all about good communication, quality engagement, and establishing a community of people who trust you.
But these days, people trust messages from influencers more than words from a brand. To top that off, influencers are great storytellers too. They can help you get wider media coverage and promote positive messages about your brand.
You should harness the trust that people have in their favorite influencers to supercharge your PR campaign. Here's how:
Find relevant micro- and nano-influencers with high engagement rates as they are more cost-effective than celebrities and mega-influencers.
Collaborate with them for a series of posts, Instagram Stories, video marketing, Q/A sessions with your community, and more.
Build relationships that last longer than just a one-time campaign. Let your high-value influencer become your brand ambassador (the face of your small business).
Leverage social media takeovers.
Use affiliate promo codes to encourage influencers to go the extra mile to boost your brand awareness, engagement, and sales.
Macy's Style Crew program is a good example of using influencers for a PR campaign. The brand focuses on building a community of influencers, employees, and consumers who can help them improve their own PR.
Here's the latest promotional content from Macy's Style Crew, which probably brings more traction than press releases would have.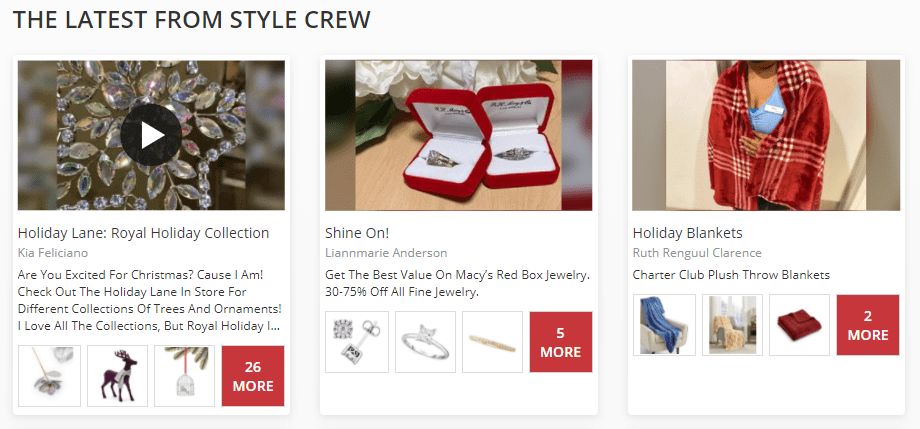 In addition to partnering with social media influencers, you can also set up and run a referral program to turn your consumers into brand ambassadors.
4. Use HARO Services
HARO or Help a Reporter is a free service that can help you connect with journalists and influential bloggers in your niche.
All you need to do is to sign up as a source. HARO will send you questions from reporters for the stories they're creating. You can respond to those questions if they are relevant to your niche and expertise.
If your answers provide value to their audience, the journalist may even interview you for the story they are working on. You can also earn backlinks by being featured in thought leadership pieces.
If your budget allows, you should also consider signing up for PR distribution services like PRWeb and Newswire, which will help you pitch your press release to thousands of news reporters and publishers.
FAQs
1. How do small businesses get their PR?
Small businesses can build their public relations using various strategies including:
Create a solid brand identity.
Build relationships with the media.
Send personalized pitches to reporters for media coverage.
Tap into your social media network.
Collaborate with influencers for meaningful partnerships.
Use HARO and press release distribution services.
Become a thought leader in your niche.
Support a social cause.
Host and participate in community events.
2. Why do small businesses need PR?
Small businesses need PR because:
It's an easy way to build trust and credibility for your brand without spending too much money.
A PR mention comes with a third-party validation, which holds more value than a paid ad.
PR campaigns can support your marketing and sales efforts.
It boosts the visibility of your brand.
It gives you an opportunity to build strong relationships.
3. How much does PR cost for a small business?
PR firms and agencies may charge somewhere between $2,000-$50,000 a month depending on the amount of work and the value provided.
You can do your own PR organically by using social media, HARO service, and direct pitching. These PR tactics don't involve much spending.
If you use a paid press release distribution service or partner with popular influencers, it will involve some cost. Whether you get one influencer post published a month or more is totally up to you.
Ready to Build a Solid Brand Reputation?
As a small business, you don't need to invest a lot of money in PR campaigns. Start small by creating thought leadership pieces, posting regularly on social media, participating in industry events, and partnering with influencers.
Use a press release distribution service to tell your brand's story. Be sure to track messages about your brand through Google Alerts and other online PR tools. This will help identify what people are saying about your small business.
You should also track conversations about your competitors to find opportunities to boost your own PR campaign results.
You can also hire a digital marketing agency like mine to do the work for you. Contact me for online PR services today.