The effects of the ongoing COVID-19 pandemic have drastically altered how millions of American companies approach the subjects of remote and flexible working, as well as the question of how to keep employees motivated and inspired moving forwards.
Many employers realize that shared office spaces offer a much-needed environment for creativity and focus on making the most of their hired talent, but which US-based companies are currently leading the way when it comes to pivoting the traditional office layout?
We have analyzed 20 of the most significant shared office space providers currently operating in the US to help companies looking to find the perfect fit for their employees and business offerings. The team has delved into the most commonly searched brands specializing in co-working spaces, taking into account search volumes, social followings, number of US locations, and positive sentiment mentions. Outlined below are the seven brands leading the way in such a fast-growing market.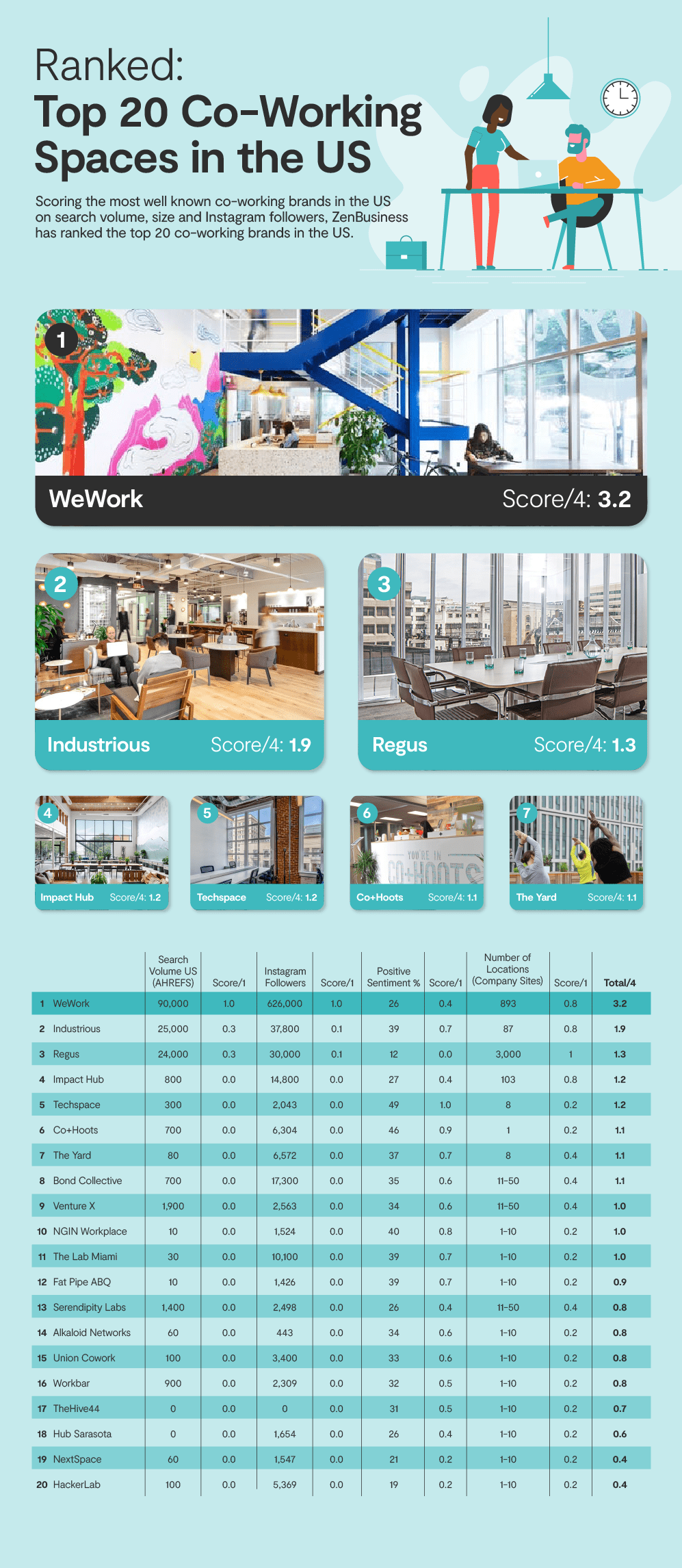 1. WeWork
Number of Global Locations: 893
Search Volume: 90,000
Instagram Followers: 626,000
Positive Sentiment: 26%
Overall score (out of 4): 3.2
Founded in 2010, WeWork aims to help create environments where people and companies can come together to create their best work. Since opening their first location in New York City- now home to a staggering 77 WeWork locations- the brand has grown into a global workspace provider delivering flexible solutions, inspiring safety-focused spaces, and unmatched community experiences. A simple office leasing company offering several perks such as high-speed internet, bright spaces, large common areas, business-class printing and scanning, conference rooms, and private phone booths, WeWork reportedly earned $1.8B in 2018, a figure that looks set to grow post-pandemic.
Employees working in the Austin area have said, "Having a local coworking space has provided a much-needed home base for entrepreneurs who aren't quite ready to lease an entire office but can't take another day inside their homes. Even larger companies moving to Austin, from Facebook to Google, find value in the coworking spaces to offer a more flexible work environment."
Offering shared working solutions to businesses of all sizes, from freelancers and solo entrepreneurs to run tech firms and even Fortune 500 companies remotely, WeWork appeals to all. The team is confident regarding the future of their business model and believes coworking is the way forward in helping companies recover from the impacts of the COVID-19 pandemic.
With a vast social media following and an impressive number of growing locations, it's not hard to see why WeWork takes the top spot for co-working spaces in the United States.
2. Industrious
Number of Global Locations: 87
Search Volume: 25,000
Instagram Followers: 37,800
Positive Sentiment: 39%
Overall score (out of 4): 1.9
Industrious is trusted by some of the world's most successful companies, including Twitter, Spotify, and Pinterest. It also boasts some of the shared space industry's highest satisfaction scores on Google and Yelp, with an average rating of 4.9 out of 5. In 2012, two friends, Jamie Hodari and Justin Stewart took a chance on a 20,000 sq. ft. property in Chicago. After raising $1 million among 80 investors to cover their first year's expenses, they mapped out a business plan in Puerto Rico, and before long began receiving hundreds of inquiries from companies looking to benefit from their space, enabling them to open the location with 100% occupancy in 2013. Now connecting over 50 markets and teams, Industrious allows its members access to all 100+ locations across the US, aiming to put employees' needs at its center and empower them to choose where and how they work.
3. Regus
Number of Global Locations: 3,000+
Search Volume: 24,000
Instagram Followers: 30,000
Positive Sentiment: 12%
Overall score (out of 4): 1.3
Part of a collective of global and regional workspace brands that form the IWG network, Regus has enabled businesses to choose the right workspace to meet their unique needs for the past 30 years. With more and more companies starting to embrace flexible working, Regus has decades of experience in providing coworking environments, business lounges, and global meeting rooms that come with everything is taken care of. Their virtual office packages, available worldwide, allow business owners to maximize opportunities and form a base for any mail forwarding and call answering services. Regus meeting rooms are trendy, helping businesses impress clients, hold memorable workshops, or deliver winning pitches flexibly across every major city.
An Austin Entrepreneur states, "The ability to assemble in one area with many other startups are more likely to attract the attention of angel investors and VCs looking for new opportunities. As a bonus, you can attend networking events after shutting down for the day."
4. Impact Hub
Number of Global Locations: 103
Search Volume: 800
Instagram Followers: 14,800
Positive Sentiment: 27%
Overall score (out of 4): 1.2
Impact Hub has one of the world's largest communities, boasting 16,000+ members in over 100 locations across 50 countries and five continents. The company thrives on local startup communities that help to fuel and mobilize amplified innovation. While building ecosystems to drive collaboration and entrepreneurial transformation through their locally rooted 'Impact Hubs,' they also offer plenty of opportunities to drive solutions to the world's most pressing issues. For example, the company is focused on tackling common language issues with 'Impact Hub Escola,' which, since 2010, has been regarded as Brazil's most significant innovation and workshops festival. Impact Hub also supports members with their 'Startup Support' program, helping entrepreneurs throughout the challenging journey of launching and growing a business.
5. Techspace
Number of Global Locations: 8
Search Volume: 300
Instagram Followers: 2,043
Positive Sentiment: 49%
Overall score (out of 4): 1.2
Devoted to technology-led businesses, Techspace is a global workspace provider that has spent the past 22 years building several networks that span the world's leading tech hubs, helping to connect members. Offering fully flexible hires for conferences, workshops, and networking events, Techspace is supported by several leading technology businesses, including Bumble, CognitionX, and IBM. Their packages vary from six-person to 100 person workspaces, offering a fully flexible environment for working remotely in various cities.
6. Co+Hoots
Number of Global Locations: 1
Search Volume: 700
Instagram Followers: 6,304
Positive Sentiment: 46%
Overall score (out of 4): 1.1
Minority-owned and female-founded, Co+Hoots was first established in 2010 in downtown Phoenix by Jenny Poon and Odeen Domingo. The initial idea for the company came in response to the economic recession and a subsequent need for a central innovation hub used by emerging entrepreneurs. Co-founders Jenny and Odeen both come from immigrant backgrounds and therefore made it their priority to remove barriers that communities of color often face. They categorize their rooms using different themes, offering the Tank room, the Classroom, the green room, the blue room, and the podcast studio – all of which are designed for a specific client or business need. Co+Hoots is now a globally recognized coworking space and home to more than 280 entrepreneurs, startups, and small businesses. As the first coworking space in Phoenix, it has invested more than a decade into supporting local entrepreneurs and has featured on Forbes, USA Today, Inc, and The Atlantic.
7. The Yard
Number of Global Locations: 8
Search Volume: 80
Instagram Followers: 6,572
Positive Sentiment: 37%
Overall score (out of 4): 1.1
The Yard is a revolutionary co-working office space with more than 2,000 companies and thousands of members across 13 New York City, Philadelphia, Boston, and Washington locations. Founded in 2011 by two Brooklyn natives Morris Levy and Richard Beyda – each with backgrounds in entrepreneurship and real estate – The Yard was envisioned as a destination of balance between work and play. The Yard aims to offer flexible workers or companies who need extra space but can't commit to an expensive, long-term lease. Some of its original members include Uber, Namely, Blue Apron, Wanderfly, and the writing team behind Academy Award-winning film, Birdman. Offering a unique culture, with each location designed in a living space with rotating art exhibits, founders of The Yard feel it is important to mix work with pleasure. The company also offers members amenities such as a 'Wellness Program,' which includes on-demand meditation sessions, helping members refocus and find moments of balance during their day.