How to Create a Clothing Logo: Guidelines and Tips
Contents
1. What does a good clothing logo look like?
2. Creating a logo: methods and tools
3. Start with an icon
4. Pick a color
5. Choose a font
6. Play around with a lock-up
7. Wrap it up
You must have heard the saying "Fine dress helps to impress." If you're planning to open an online clothing store, you need to do more than just provide a wide and attractive selection of shoes, apparel, and accessories. You need to craft a unique visual identity for your brand.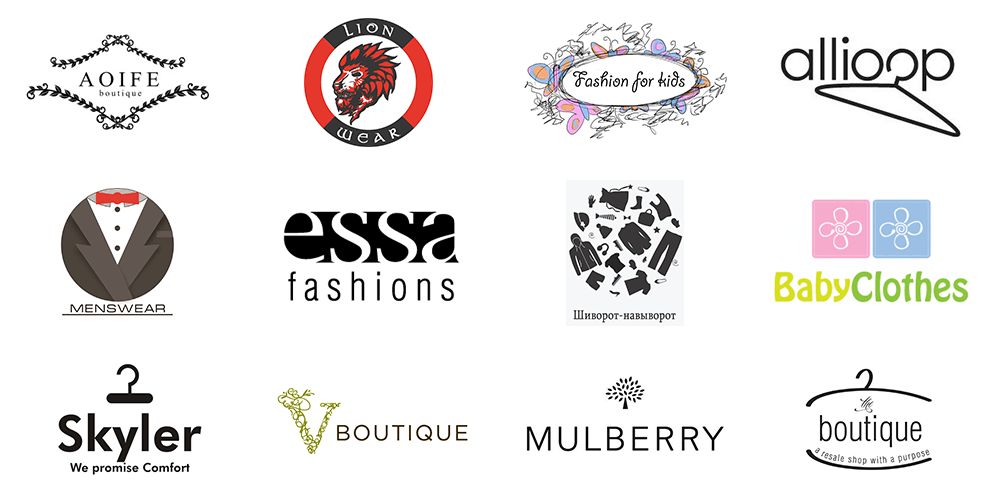 A logo is an important part of your brand style. It's the first thing a customer sees, so you need to use this opportunity to make the right impression and separate your brand from the rest.

With the ZenBusiness service, you can create your clothing logo in a matter of minutes. With the tips below, making a logo has never been easier.
1. What does a good clothing logo look like?
Each store uses its logo to make the right impression on its target audience. You can communicate any message to your clients, such as "elite clothing" or "reasonable prices." Moreover, a logo can channel such attributes as quality, style, durability, comfort, and many more.
Make sure to consider the interests and expectations of your target audience. For example, a merry and bright logo is a great idea for a children's clothing store. At the same time, it is hardly appropriate for an online store selling men's wear and accessories. When designing your future concept, think about the feelings and associations your products evoke.
2. Creating a logo: methods and tools
Everything depends on your possibilities. You can design a logo all by yourself, commission a designer or design studio, hold a tender, or use a specialized online service.
Each of the above options has its pros and cons. If you are bad at drawing or pressed for time, prepare to pay big to a designer or design studio. If time is not an issue, holding a tender might be a good idea. With online services, you can save both time and money. Let's break down how to use ZenBusiness to create an ideal logo for your online clothing store.
3. Start with an icon

Your icon can be related to the fashion industry and feature men's or women's silhouettes. Animal images may be a great choice for children's wear, as well as for adult apparel and accessories. Moreover, your logo can incorporate accessories you're selling (gloves, hats, belts, glasses) or other wardrobe items. Many online clothing stores prefer text logos with beautiful hand-written fonts.
The problem is that the above images will make your logo look like any other visual symbol in the clothing industry. While following popular trends is a good thing, be sure to use fresh ideas to set your logo apart from the others.

Now let's get down to business. Start by selecting your clothing store category in ZenBusiness.
If you're selling office clothing, you should try the "Business" category. For children's wear, select "Home, family, children." For trendy wear, shoes, and accessories, pick "Fashion, art."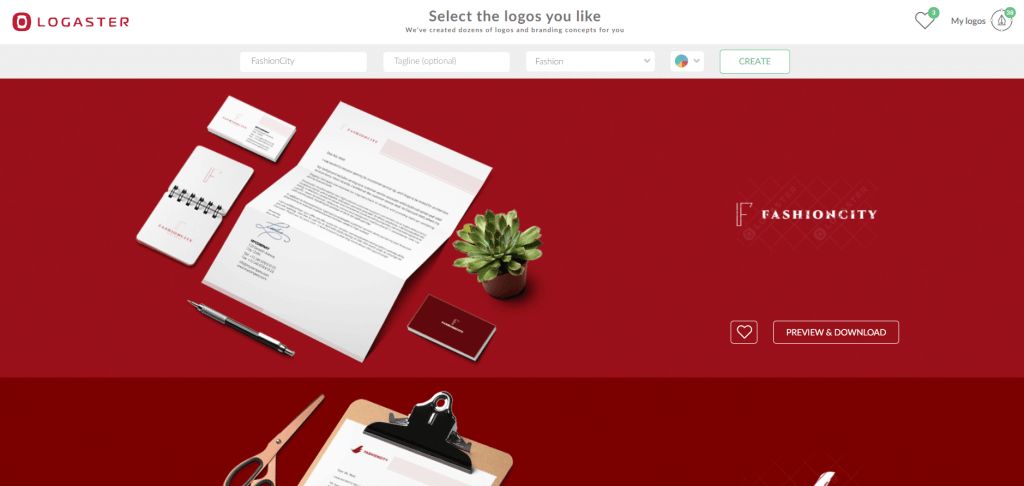 ZenBusiness will offer you hundreds of high-quality images from which to choose. If you haven't found the right icon or if you have special requirements, you should use keywords to specify your search request.
Feel free to enter keywords in either Russian or English. Some examples of keywords include "clothes," "man," "woman," "shop," names of any wardrobe items, and the like. This will make it easier for you to find exactly what you're looking for.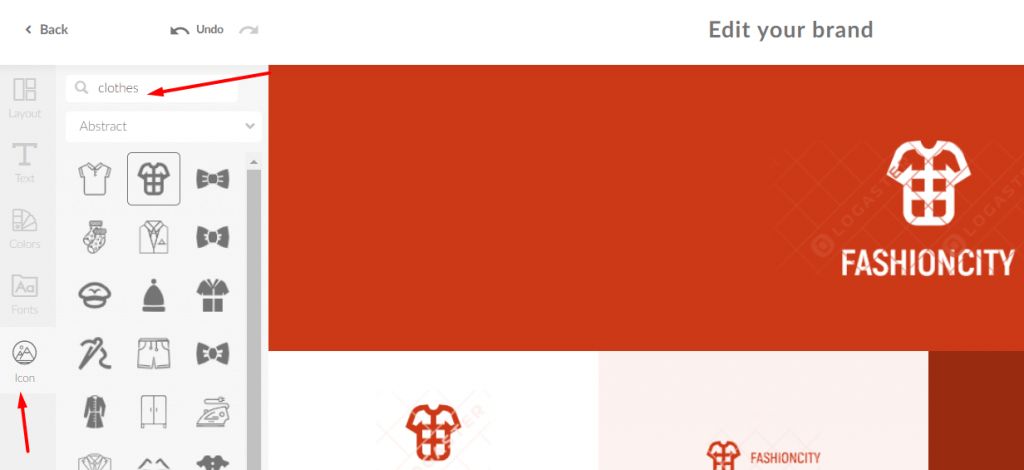 Keywords to pick an icon: clothes, man, child, woman, shop, wardrobe, pants, shirt, trousers, shoes, belt.4. Pick a color
A neat color scheme can increase your logo's effectiveness, just like an inappropriate color scheme can drive away potential clients. Color has the power to set a certain mood and evoke certain associations. For example, red symbolizes passion, activity, power, energy, and love. It's highly important to find the best color to reflect your brand identity.
But what colors are good for the shopping industry? And a clothing shop in particular? First, consider bright colors that draw customers' attention. Second, figure out what attributes characterize your business (see paragraph 1). Here are the connotations behind some of the brightest colors:
red (bright, energetic, catchy);
pink (great choice for children's wear);
yellow (sunny color associated with joy, positive vibes, and energy);
black (refined style and elegance).
Take a look at your rivals' logos to explore successful color solutions for your niche.
Read our article to learn more about the messages behind different colors. Try to avoid multi-colored logos. If needed, use no more than two matching colors, plus their shades.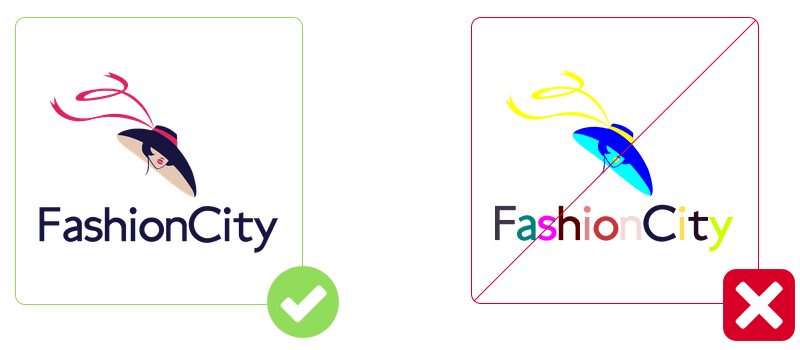 Consider using kuler.adobe.com to create smart color schemes.
In ZenBusiness, set your preferred color by pasting its HEX code into the relevant field during editing.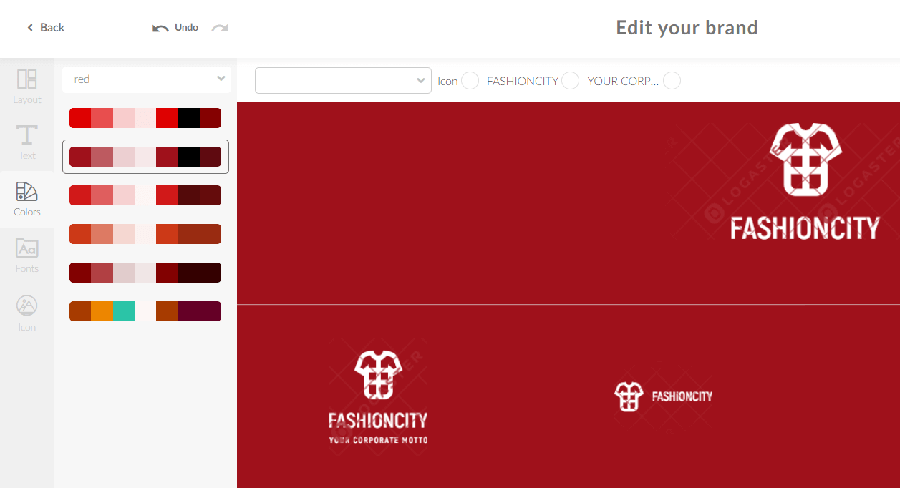 Or you can use your selected color filter in Step 2 of your logo design process (click on "Change parameters").
The best colors for your clothing shop: red, pink, yellow, black.
5. Choose a font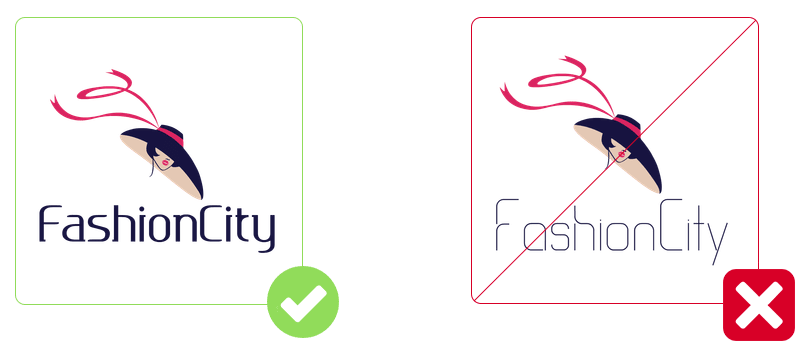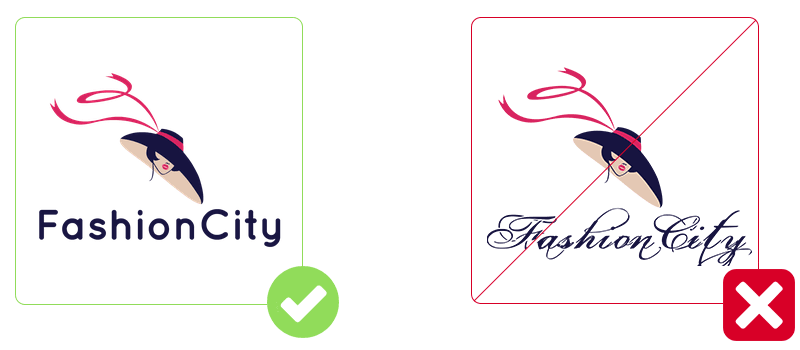 Font is just as important to your logo as color. Logo-color combination impacts the visual perception of your logo. Furthermore, it determines how legible and memorable your text message will be.
For more information, check out our article "How to Choose a Font for Your Logo". Below we'll focus on the key criteria you should keep in mind when picking a font for your clothing store.
Legibility. Along with being visually attractive, a font must be easy to read across different backgrounds (website header, social media page, business card, badge, T-shirt, etc.).
Balance. Pick a thick font (Garamond, Europe, etc.) to match a large icon. If your logo features a small icon or none at all, feel free to play around with more refined fonts.

Be careful with minor elements. In the search for a perfect option, avoid hard-to-read fancy fonts with multiple scrolls and serifs. Souvenir, Micra, and similar fonts will do just fine.

ZenBusiness allows you to experiment with various fonts and font sizes during editing.
ZenBusiness fonts for your clothing shop: Airplanes in the Night Sky, Caviar Dreams, Ageone Serif, Bosanava, Aderson the Secret Service, Fondamento, Decordi.
6. Play around with a lock-up

Element arrangement affects the way customers perceive your logo. Make sure to leave enough space between the icon and the text, but don't overdo it unless you want your elements to look isolated. Feel free to play around with the lock-up by focusing on either the icon or text.
In ZenBusiness, you can change the distance between elements, as well as adjust their size and arrangement.

7. Wrap it up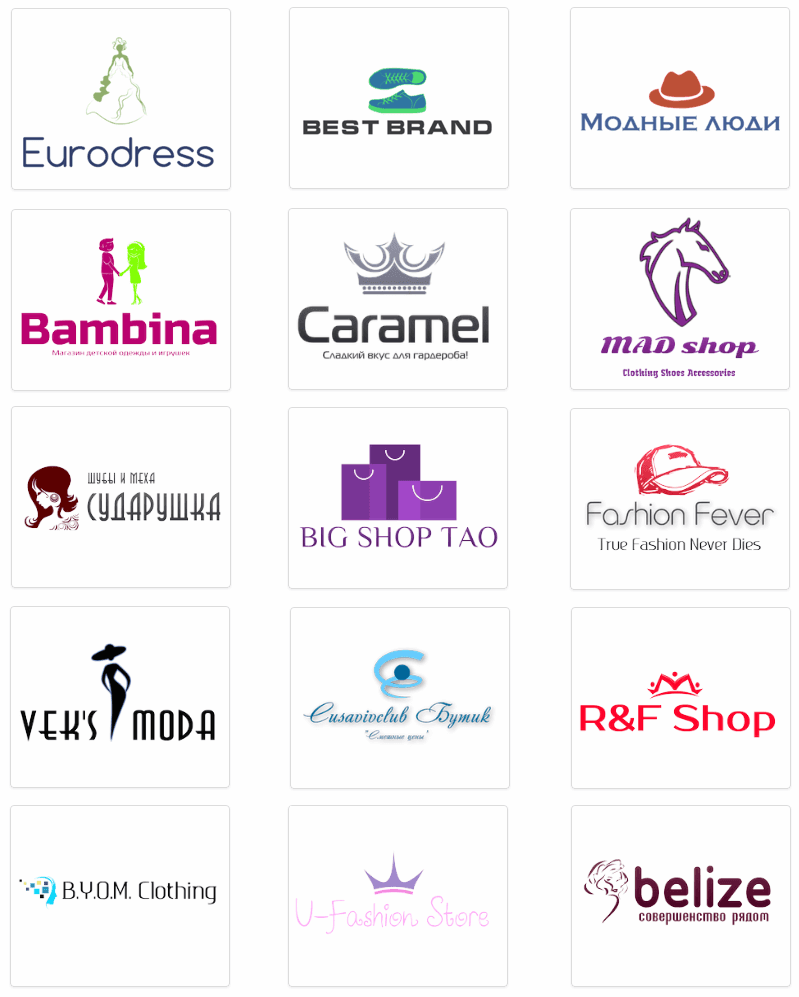 As you can see, you don't need any special skills to create a smart and catchy logo for your online clothing store. All you need is a bit of imagination and ZenBusiness.
The next step after you create your logo is to create a website and get your business live.
Visit our gallery to take a look at some of the clothing shop icons generated by ZenBusiness.

We hope that you found our tips useful. Try to create your own logo right now. Just enter your shop name – and enjoy dozens of amazing options!