If you search "create logo online", you'll be surprised at the variety of logo makers available on the web. How do you choose the one that perfectly fits your needs? We've put together a list of 14 online tools for crafting a neat logo. Let's get started!

Contents:
What Does the Logo Design Process Entail?
Do Some Homework on Your Competitors
To begin with, it is vital to do some homework on your competitors. You must learn what is available prior to using a logo maker. You can find out a lot from your competitors. Learn what is working and what isn't, but know that what worked for them might not for you. Research is an important step to ensure that you're not lumping yourself in with others in your field.
Be Inspired
There are plenty of inspirational ideas online. We suggest looking up successful companies for logo inspiration. Try to find out what is working for them, and what needs improvement. Don't restrict yourself – check out large corporations to see what type of logos are trending. Check out multiple emblem templates for inspiration. Use a free logo maker to get some design concepts.
Put Together Your Message
When thinking about the type of logo you desire, consider the important elements of your company. How do you want such factors articulated in your logo? How can you display your tone, voice, vision, and mission transparently in your design?
Idea Brainstorming
Try to draw some variations of your logo. Tweak various picture arrangements, fonts, and maybe even color tones.
Ask for Input
You won't have to put too much time into asking for input. Be mindful of the way others see your logo. Ensure you get input from reliable sources who you believe will provide you with honest and constructive thoughts.
Develop Your Final Design
As you can ascertain, developing a logo warrants some consideration. These logo making tools you can find online can aid in conceptualizing your vision without any design experience on your end. Check out these instructions to get a gorgeous and professional looking symbol.

14 Online Logo Making Tools
ZenBusiness
ZenBusiness is a simple and fast constructor for creating logos and other brand identity designs. Luckily for rookies, using ZenBusiness is a walk in the park. Enter your company name, select your niche, and choose the colors you want to see in your logo. The service will offer you dozens of unique logos drawn by professional designers. Feel free to edit any emblem by changing its fonts, colors, icons, etc.
On top of that, you can see how your logo will look across different carriers, from mugs to billboards. Once you're happy with the final result, you can save your design to your PC or smartphone and use it to create business cards, letterheads, envelopes, emails signatures, and more!
How much? ZenBusiness offers a free plan with limited functionalities. Paid plans start from $8.99.
Canva

This well-known platform offers two ways to create a clever design. You can either upload your own images and fonts, or choose from multiple turnkey templates. Canva comes with practically limitless editing capabilities. You can change the background color, edit text, add colors, resize geometric shapes, and more. Also, you can add comments to be able to discuss your design with your teammates.
How much? Canva offers a free plan with limited functionalities. Paid plans start from $12.95/month. Along with logos, Canva is a pro in creating greeting cards, presentations, social media images, and other branded materials. Pro top: Pick the monthly subscription option only if you're going to use the service on a regular basis.
Wix

Wix is another amazing logo builder for those who want to create a neat design hassle-free. Start with entering your business name, industry, and keywords. As the next step, choose the appropriate visual style. The constructor will generate professionally looking logos that meet your requirements. Use a flexible editor to customize your image. You can change the background image, fonts, and colors for each element in your design. Aside from that, Wix has a jaw-dropping collection of art pieces for your inspiration!
How much? Wix offers a free plan with limited functionalities. If you're looking for a paid plan, prepare to pay $4.5/month and more. Wix is a multi-purpose platform which is also a website constructor. So if you need both a site and logo for your business, you can't do better than Wix!
Shopify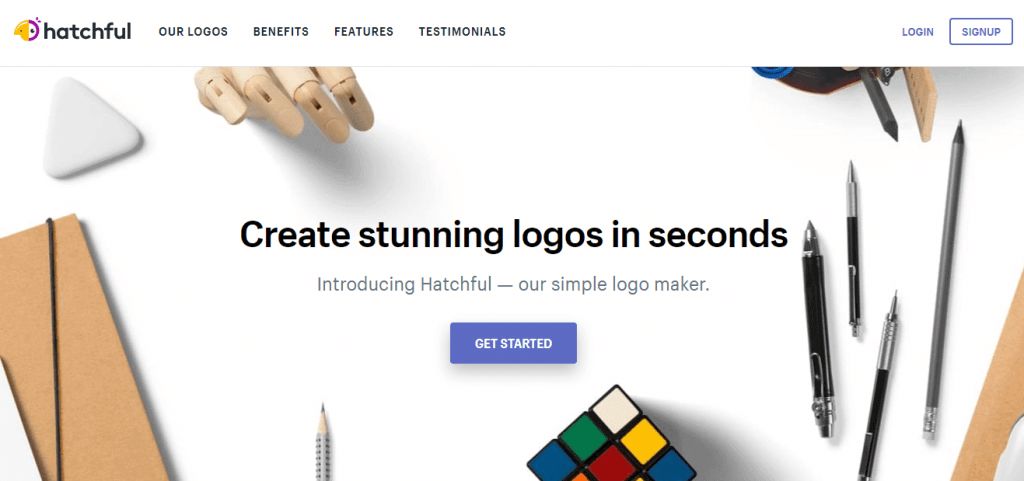 Shopify is a one-stop platform for professional templates, icons, typefaces, and colors for crafting a unique emblem. The logo making process is easy and intuitive. Step 1: Select your niche and design style. Step 2: Enter your company name and slogan (if you have one). Step 3: Select logo use cases. The constructor will generate dozens of neat logos that fit your brand personality and marketing strategy. Choose the design that caught your eye. If you know to make your design even better, go ahead and edit it!
How much? If you're willing to settle for basic functionalities, you can use a free plan. For extended functionalities, go for paid plans which start from $29/month. Important: Shopify is a professional online store builder. You can get yourself a nice store and a logo to enhance it in one place!
Squarespace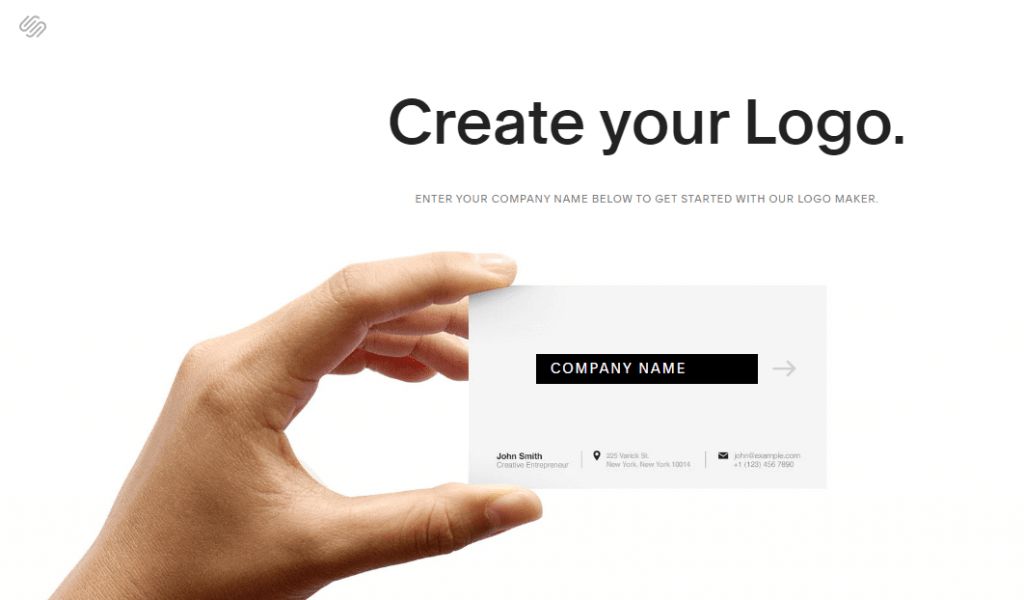 Squarespace is another top service for creating smart designs for your brand identity. The only flaw is that it has rather limited possibilities, allowing you to only add your brand name, slogan and one graphic art.
How much? Plans start from $12/month.
Namecheap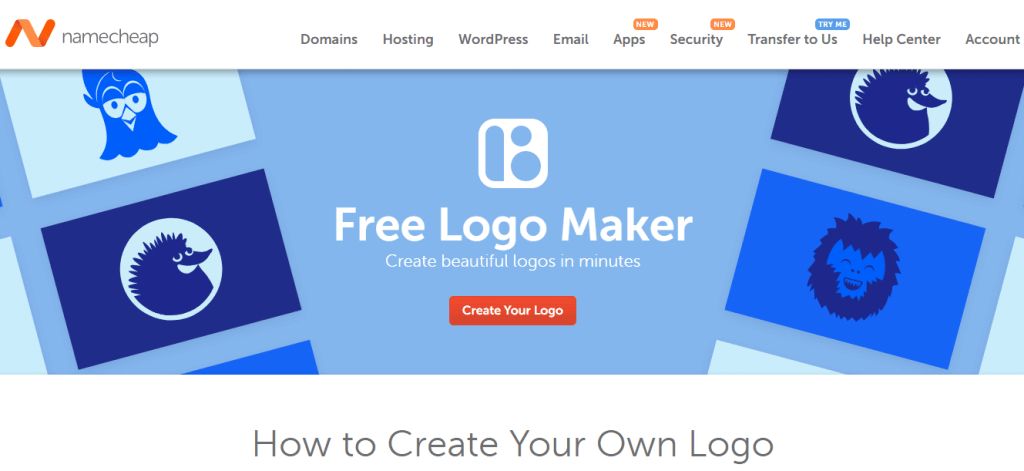 Namecheap boasts an impressive collection of icons, fonts, and color schemes. Here you'll find everything you need to craft a unique visual style for your company. Like on any other similar platform, you only need to enter your brand name and niche.
Namecheap asks users to specify what colors, typography and icons they want to incorporate into their brand identity. Based on this information, AI algorithms will generate dozens of personalized images. Feel free to take any image and edit it. Also, the service allows you to preview your logo across a variety of surfaces, including business cards, T-shirts, websites, mobile apps, etc.
How much? Free.
99designs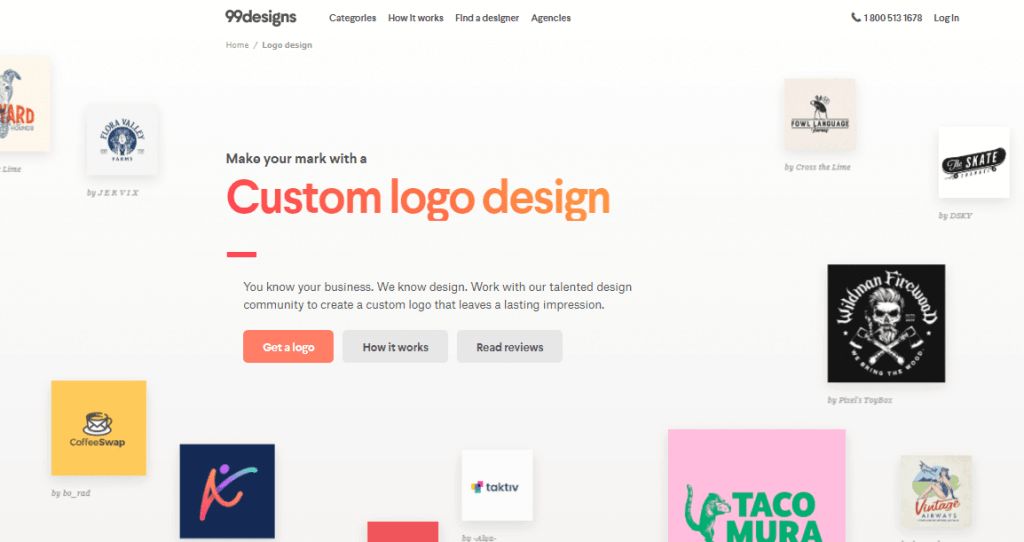 99designs is a community that brings together designers from all over the world. The biggest strength of this platform is that your logo is created not by an algorithm but by a qualified designer. You need to submit a request describing the logo you want to get and specifying your budget.
You'll receive design concepts from designers who are willing to be commissioned by you. Carefully consider each proposition, pick the best concept, and make a payment. You get a copyright-protected emblem for your company!
How much? The basic plan is priced at $299 and includes 30 designs.
Placeit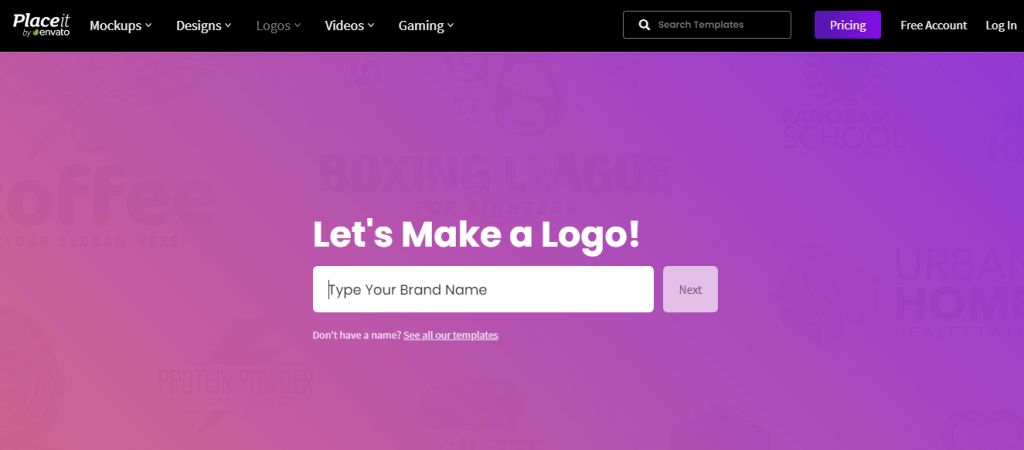 Thanks to an intuitive interface and vast functionalities, Placeit allows users to create logos in a couple of clicks. The platform boasts more than 8,000 logo templates for a variety of sectors, from cleaning businesses to Italian cuisine restaurants. Pick any image and customize it till you get a personalized emblem for your company or project. On top of that, you can even generate an animated logo for your website or Twitch streams. It's a great choice for sports- and gaming-themed emblems.
How much? Paid plans start from $14.95/ month. A logo is priced at $39.95.
Logomaker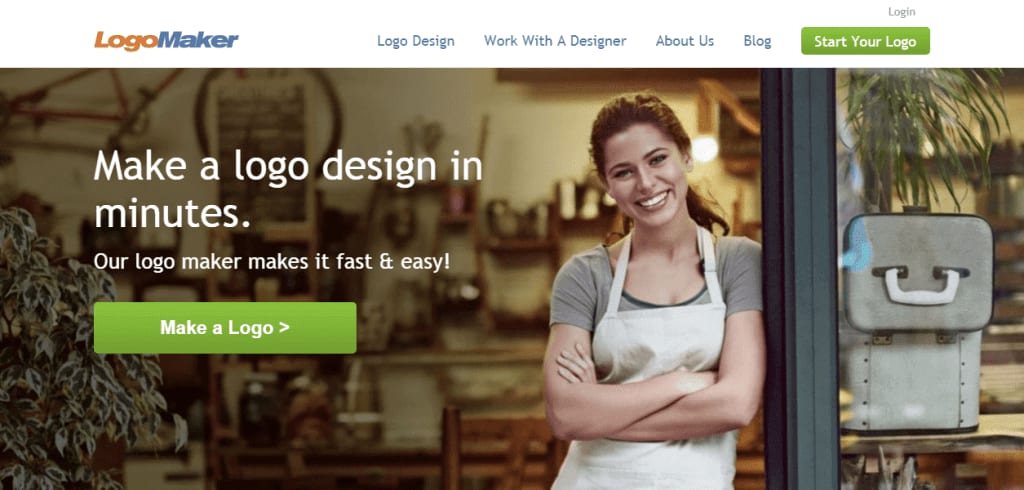 Logomaker makes graphic design amazingly easy even for novices. You enter your company name and niche, pick your preferred type of logo (logotype, logomark, combination mark) and choose the best typeface (with or without serifs, handwritten, display, etc.). The service will offer you beautiful customizable designs without watermarks.
How much? A logo is priced at $39.95.
Looka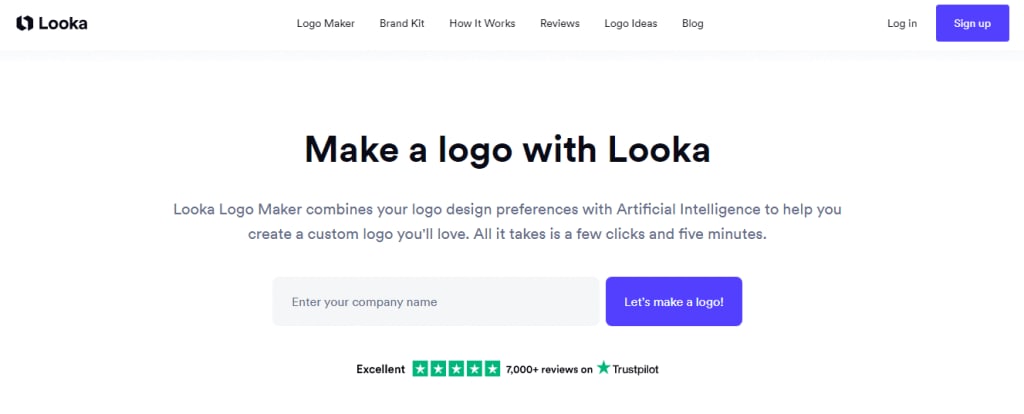 Looka is a simple yet powerful tool that lets you create fascinating design solutions. Choose your favorite styles, colors, and symbols to put together a neat art piece! The best thing is that you can edit any part of your logo in a highly functional editor, making your image unique and memorable.
Another way to go is to purchase an entire brand kit which includes social media images, envelopes, presentations, invoices, letterheads, etc. with your logo on them.
How much? You can purchase one logo starting from $20. A brand kit which allows you to create marketing designs at any time starts from $4.99/month.
Logomakr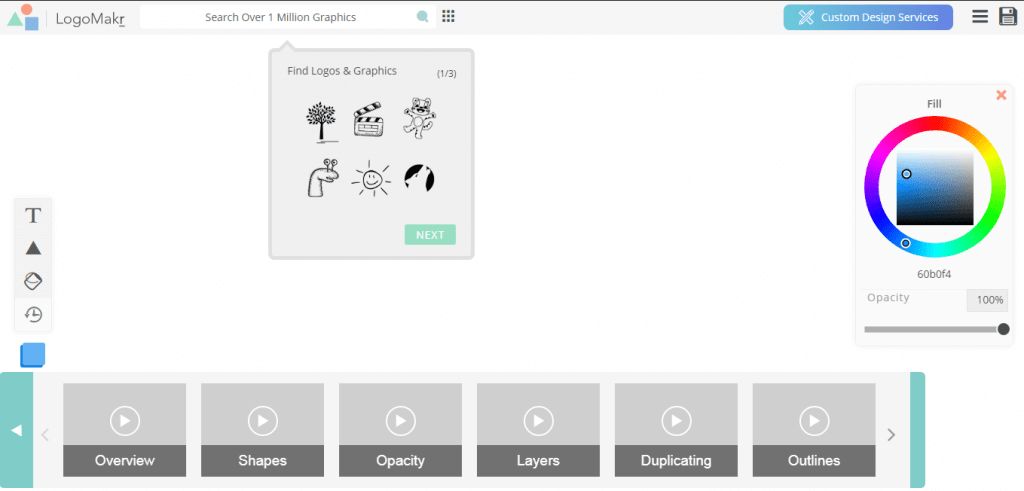 Logomakr is a perfect choice for those who know exactly what logo they want to get. You won't find the usual templates here. The platform's flexible settings allow users to craft one-of-a-kind art pieces. Choose from more than 1,000,000 neat icons. Once you've found the icon that fits your business, you can edit it as you like.
How much? Logomakr offers a basic plan for free. To download a full kit of HD logos in different formats, you'll have to pay $19.
Tailorbrands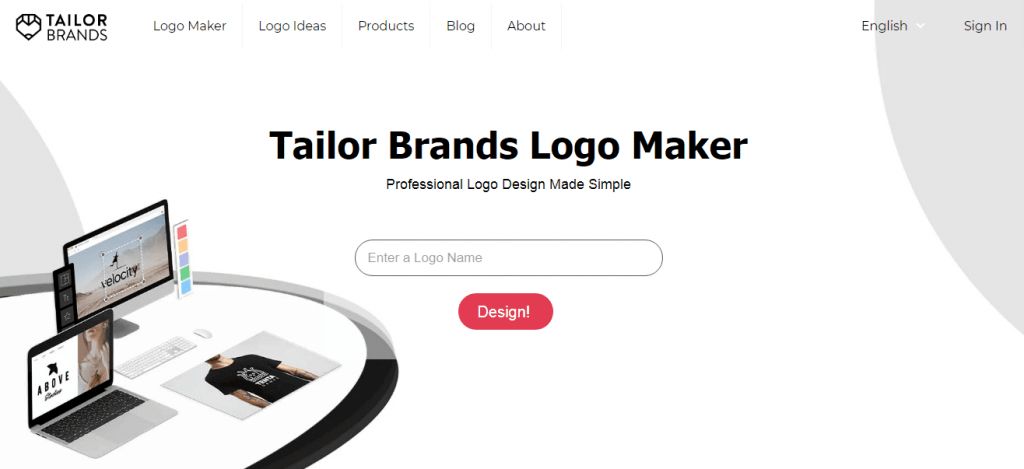 Tailorbrands is another platforms that doesn't use templates. However, this doesn't mean it ignores your personal requirements! You'll be asked to enter your business name and select the type of your logo (text-based, graphic-based or combined type) and typography.
The AI algorithms will generate fitting logos for your business. Pick the best image that reflects the essence of your brand in the most precise way. Also, you can use your emblem to brand your business cards, letterheads, merchandise, and more.
How much? Along with a free plan, Tailorbrands offers a free plan. Logo packages start from $19.98.
Freelogodesign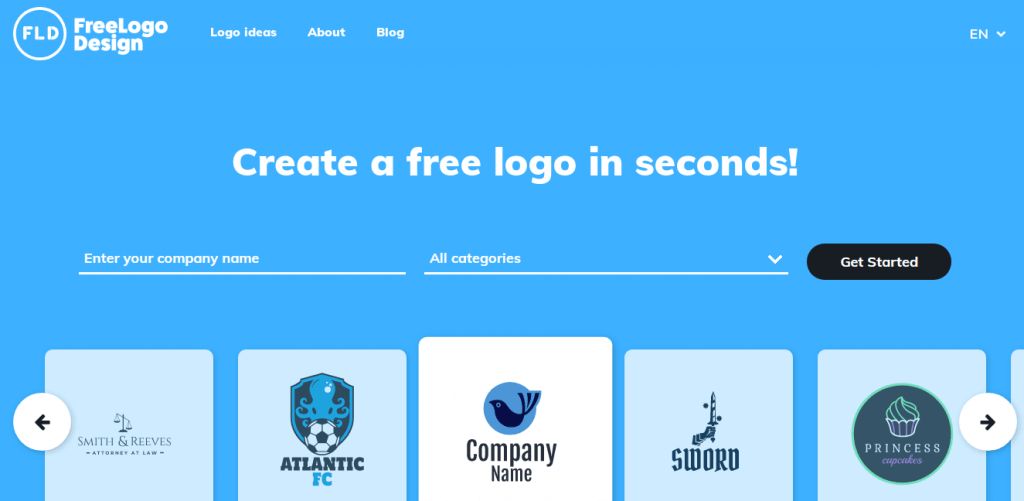 Type in your company name and select your niche, and this intuitive constructor will provide you with a huge choice of logo templates. Users can edit the colors, geometry, typefaces, and other design elements of each image.
Also, Freelogodesign offers the tools for crafting images for major social media platforms, including Facebook, Instagram, LinkedIn, Twitter, YouTube, etc.
How much? If a free plan is not enough for your design needs, you can buy a professional HD logo for $59.
Designhill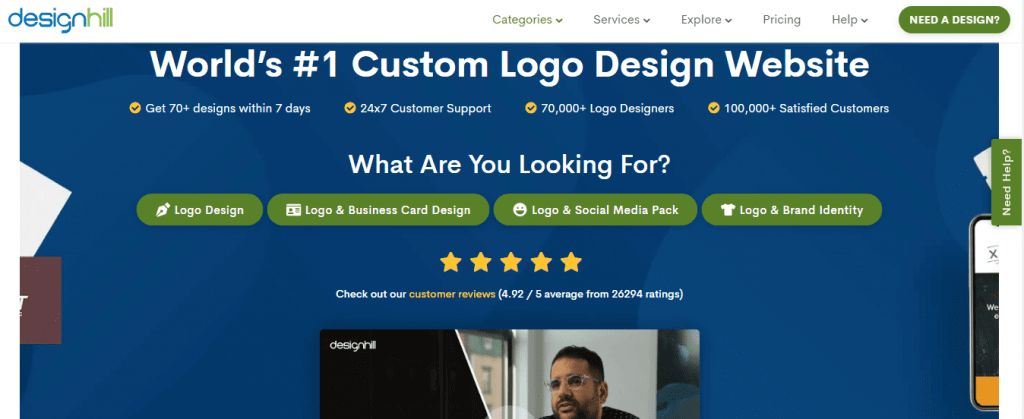 By choosing Designhill, you choose the expertise of professional designers. Not sure what art piece will fit your business? No worries! The platform contains inspirational examples of successful logos, useful tips, and hot design trends. Once you have a clearer idea of what you want, list your requirements and specify the budget.
Available designers will offer you their ideas for your future emblem. Pick the image you like best and – voila! – you're the copyright owner of a stunning logo!
How much? Basic plan (ca. 20 designs) starts from $249.
What comes after you've made a logo?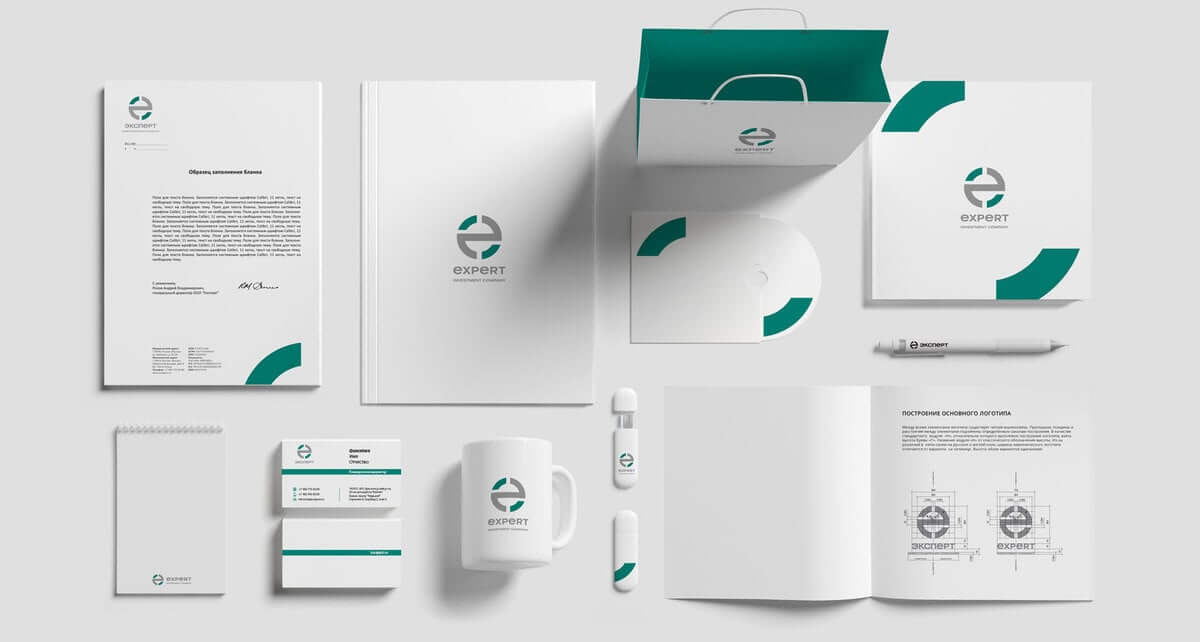 Check out this brief list of design concepts to help you establish both your company and brand:
Attire. Dress employees in jackets, shirts and other apparel that represents your brand logo and colors. This solidifies your branding and makes it simple for customers to find staff. It's also prudent to wear logo attire to trade shows and events to spread brand awareness.
Business Cards. Business cards are still exchanged these days, so ensure you have some that feature your logo, contact info, and tagline. It's prudent to have a business card on you at all times in the event you have a spontaneous networking opportunity.
Business Forms. Your logo should appear on receipts, invoices, packing slips, and the like.
Water Bottles and Mugs. Most people drink tea or coffee on a daily basis. Get some more promotional pizzazz with water bottles and mugs that have your logo on them. Use them as giveaways or gifts at your expo or trade-show booth.
Banners & Signage. Your banners and signs are likely the most obvious areas to place your logo. Ensure the picture is substantially large when seen from far away, and that your colors and fonts are simple to read when people walk by. Hang banner and signs in eye-catching areas.
Stationery. Envelops, letterheads, and mailing labels are quite simple to articulate your brand.
Office Decor. If you have a company that is frequented by the public, it's worthwhile to put some thought into the brand colors within it. When customers enter the work area and are surrounded by brand colors, they feel like things are harmonic as far as your business is concerned.
Social Network Profiles. Remember to brand your digital profiles. Your logo should be used as a background profile picture or social network avatar, so each customer sees it when visiting a particular digital platform. Use the headers on Twitter, Google+, YouTube, and Facebook, all of which permit the sharing of pictures.
Final thoughts
To pick an online logo maker that meets your needs, be sure to consider the following factors:
Speed. Fully automated platforms create logos faster than designers.
Budget. If you're stringed for money, take the time to compare the prices and choose the best price-quality ratio.
Complexity. Need a unique emblem that will make your business stand out? Choose a platform that allows users to upload their own icons, colors, and fonts.
Your design skills. If you're a complete rookie in graphic design, go for platforms that use turnkey logo templates created by professional designers. It's a surefire way to get a neat and edgy emblem.
Your vision. If you have a clear idea of what you want your logo to look like, choose AI-based logo makers over designers. The thing is that most online services allow you to download a free small-sized logo to see whether it fits your needs.