Finding the perfect location for your new business can make or break your company. Key factors such as startup costs, yearly fees, and the economic growth rate vary from place to place and can be the difference in a business that succeeds and a business that fails. For green entrepreneurs, additional factors, such as a city-wide commitment to sustainability, make some cities a better choice than others.
Green entrepreneurs are business owners who prioritize fighting environmental issues using their small business. Starting a green business is beneficial for the environment and according to a recent study from Accenture, it can also be good for your bottom line. The study revealed that when asked what attracted buyers to certain brands besides price and quality, 62% of respondents chose companies that were committed to improving the environment.
What Makes a City Ideal for Green Entrepreneurs?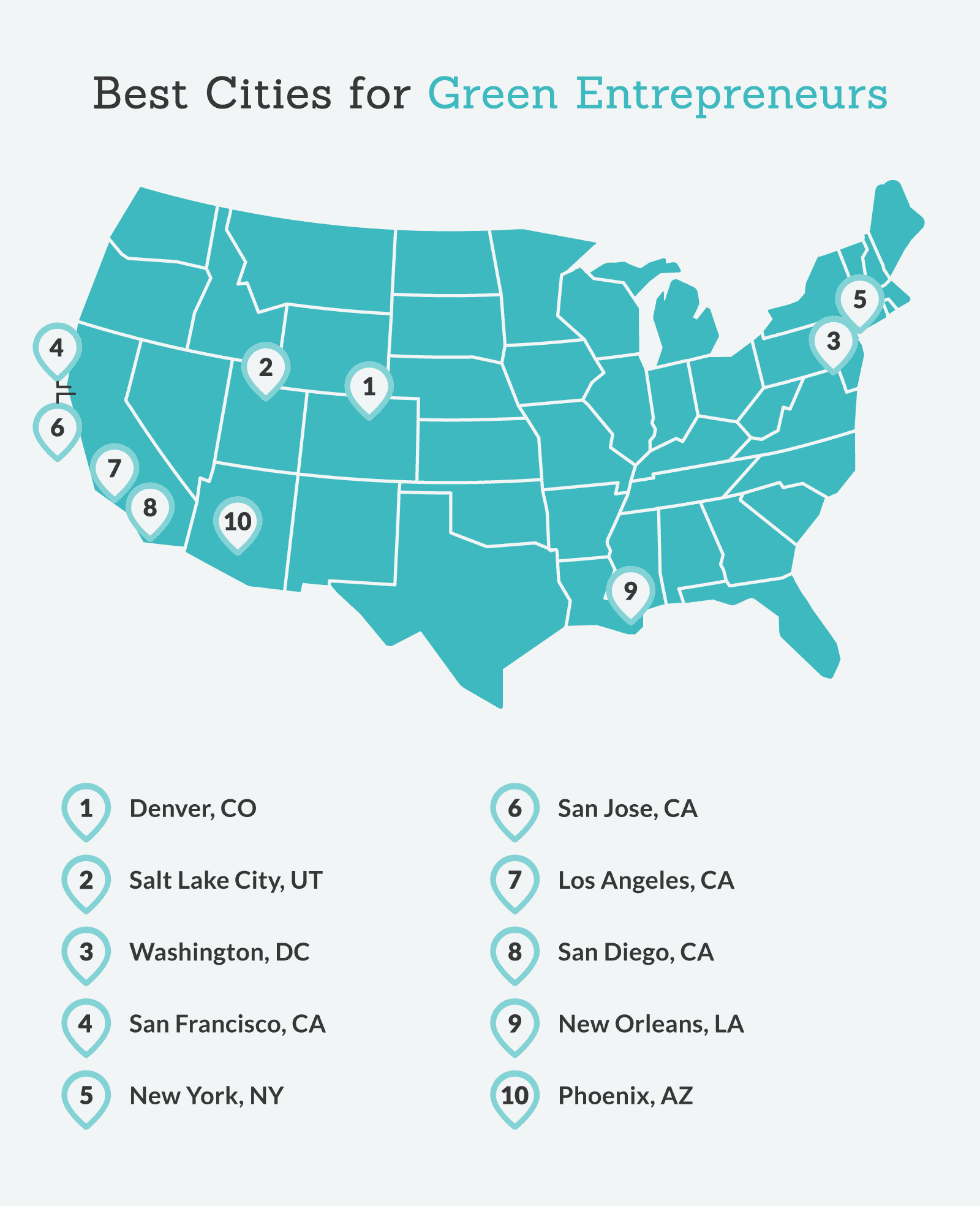 When looking for the best city for green entrepreneurs, we analyzed the best cities for entrepreneurs and the best cities for eco-conscious individuals, and used key data points from both areas to determine which cities merge the two in the most ideal way. Some key elements that we considered include:
A healthy economic growth rate
Fair startup costs
Low-cost yearly fees for maintaining your business
Commitment to sustainability
Implementation of sustainable practices
Accessibility for walkers and bikers
If you are searching for the perfect place to plant your new business, take a look at the best cities for green entrepreneurs according to our recent study. Visit our methodology section below for details of how we ranked these cities.
10. Phoenix, AZ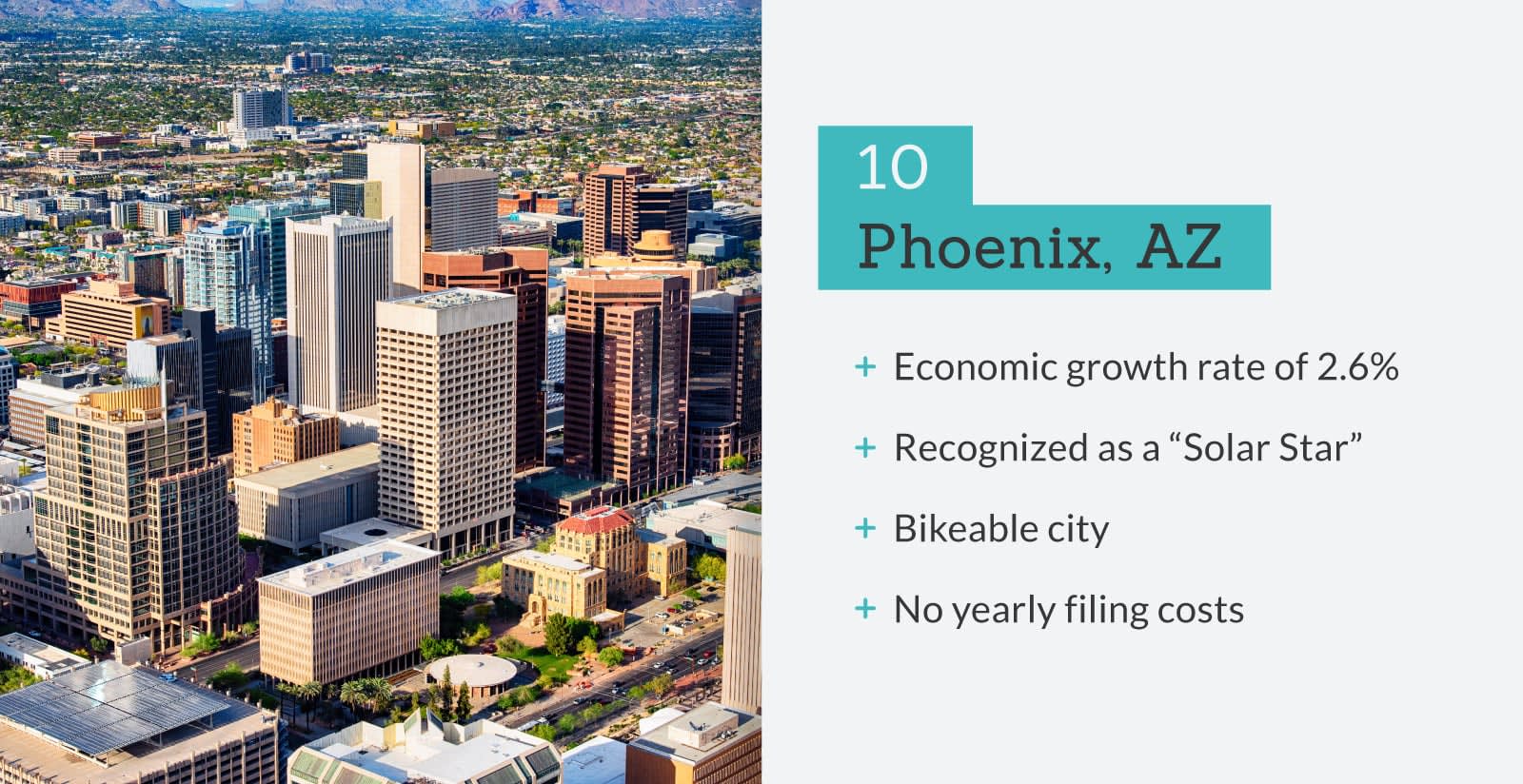 In tenth place, we have Phoenix, the capital of Arizona. This impressive metropolitan area is also called the Valley of the Sun because of the year-round sunny and warm weather. From the creative culture to the beautiful landscape, Phoenix has much to offer. For entrepreneurs who prioritize green business, Phoenix is one of the leading cities in solar energy, with roughly 145 Watts of solar power installed per capita. On top of that, the low startup costs and booming economy make this city a great choice for any entrepreneur.
9. New Orleans, LA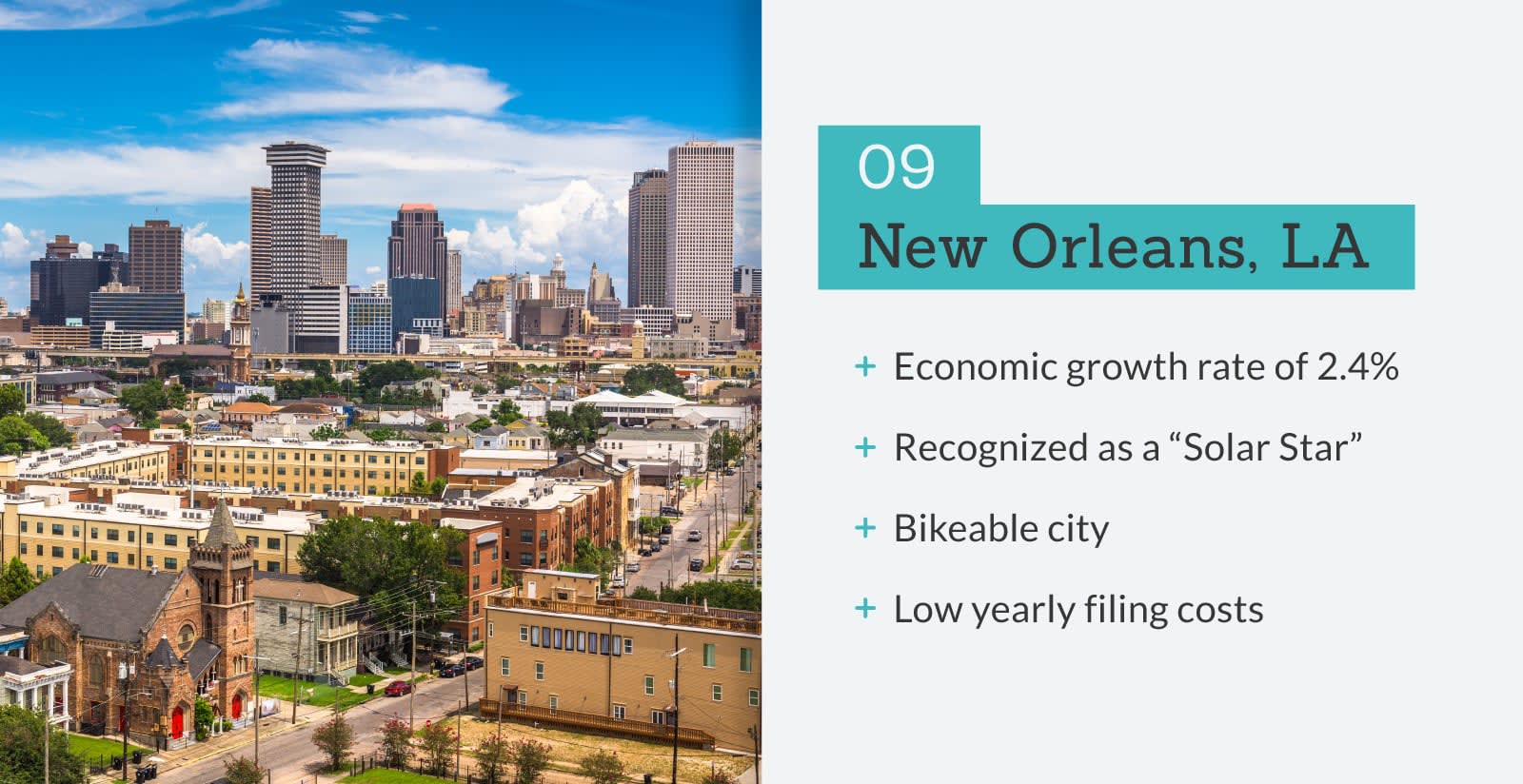 New Orleans is best known for its one-of-a-kind nightlife, rich culture, and booming music scene. However, the city's commitment to economic growth and sustainability is something that is even more admirable. The Big Easy comes in at number nine on our list for its excellent startup costs and walk score. For green entrepreneurs who want to plant their business in an area with culture and charisma, New Orleans is the place to be.
8. San Diego, CA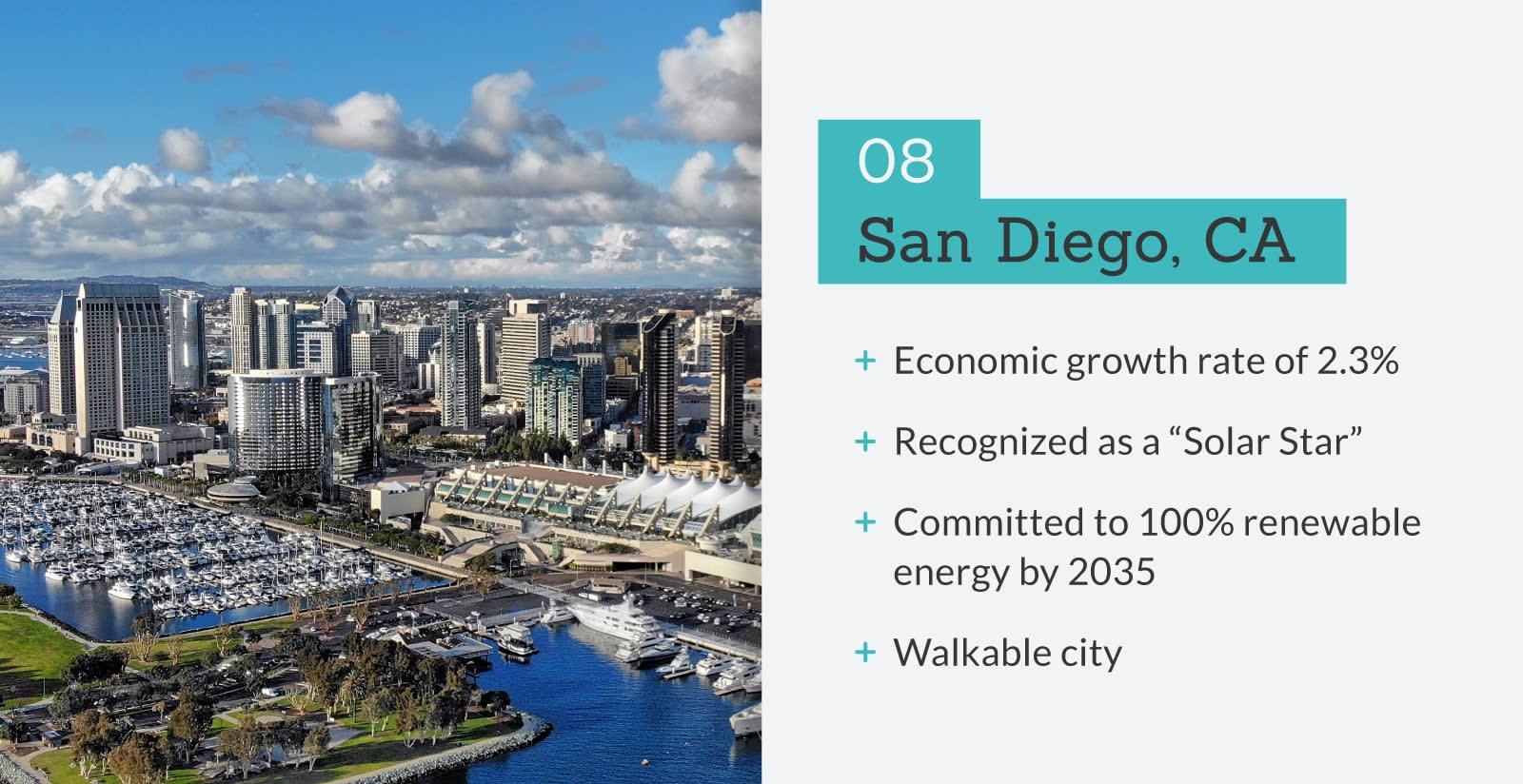 Number eight on our list draws tourists from all over the world for its picturesque coastline and easygoing culture. Aside from tourism, the most successful industries in San Diego are biotechnology, aerospace technology, and most notably, cleantech, or technology that attempts to reduce our negative impact on the environment.
7. Los Angeles, CA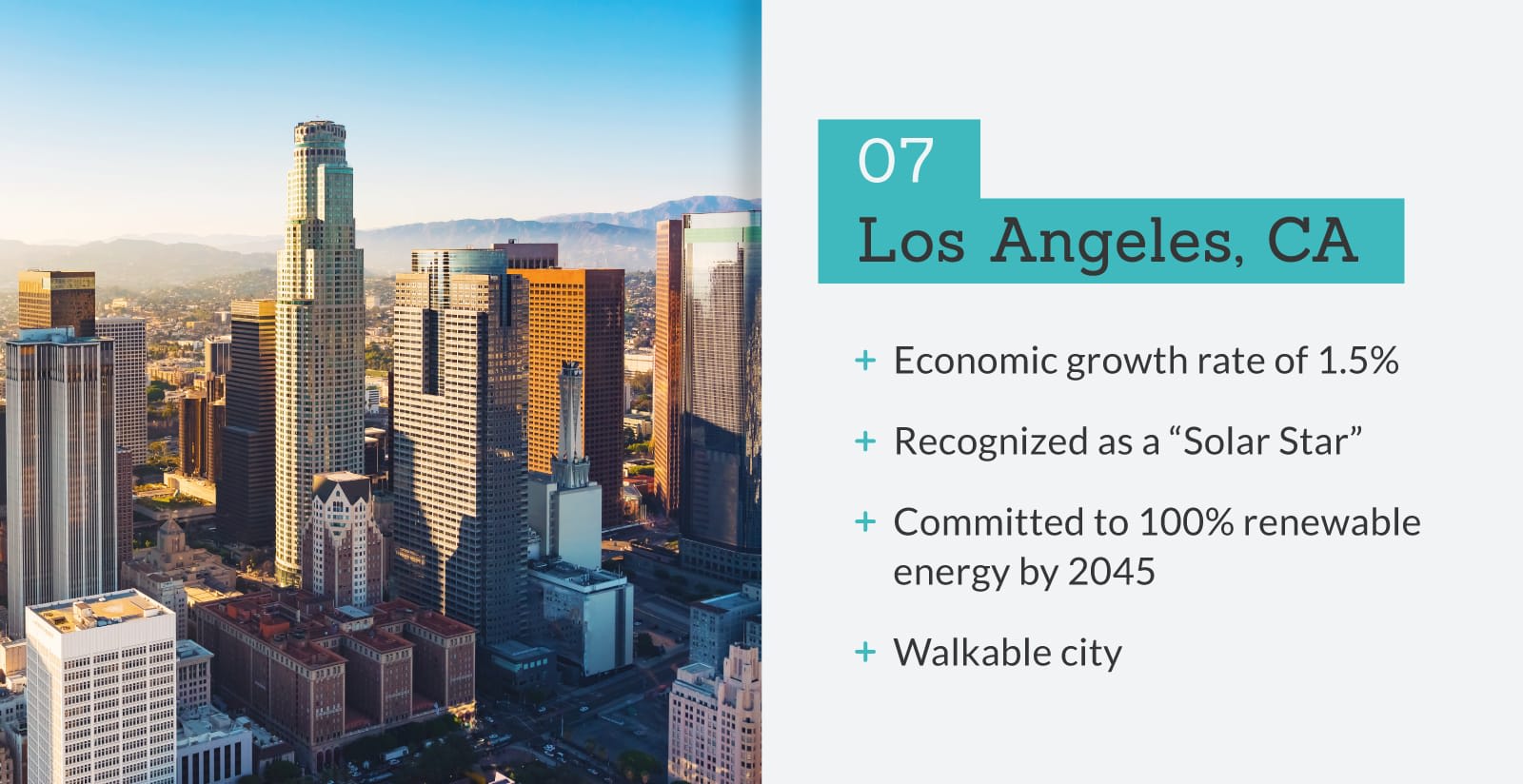 Los Angeles is the second-most populous city in the United States and comes in at number seven on our list. This massive metropolitan area is a global hub for the TV and film industry and brings in roughly 48 million tourists per year. The City of Angels also boasts nearly flawless weather year-round and is surrounded by the ocean and mountains. Though the yearly LLC fees for LA top the charts at 0, the city's commitment to sustainability is like no other of its size. Not only do they have the largest share of solar panels installed, but LA has also made a city-wide commitment to 100% renewable energy by 2045.
6. San Jose, CA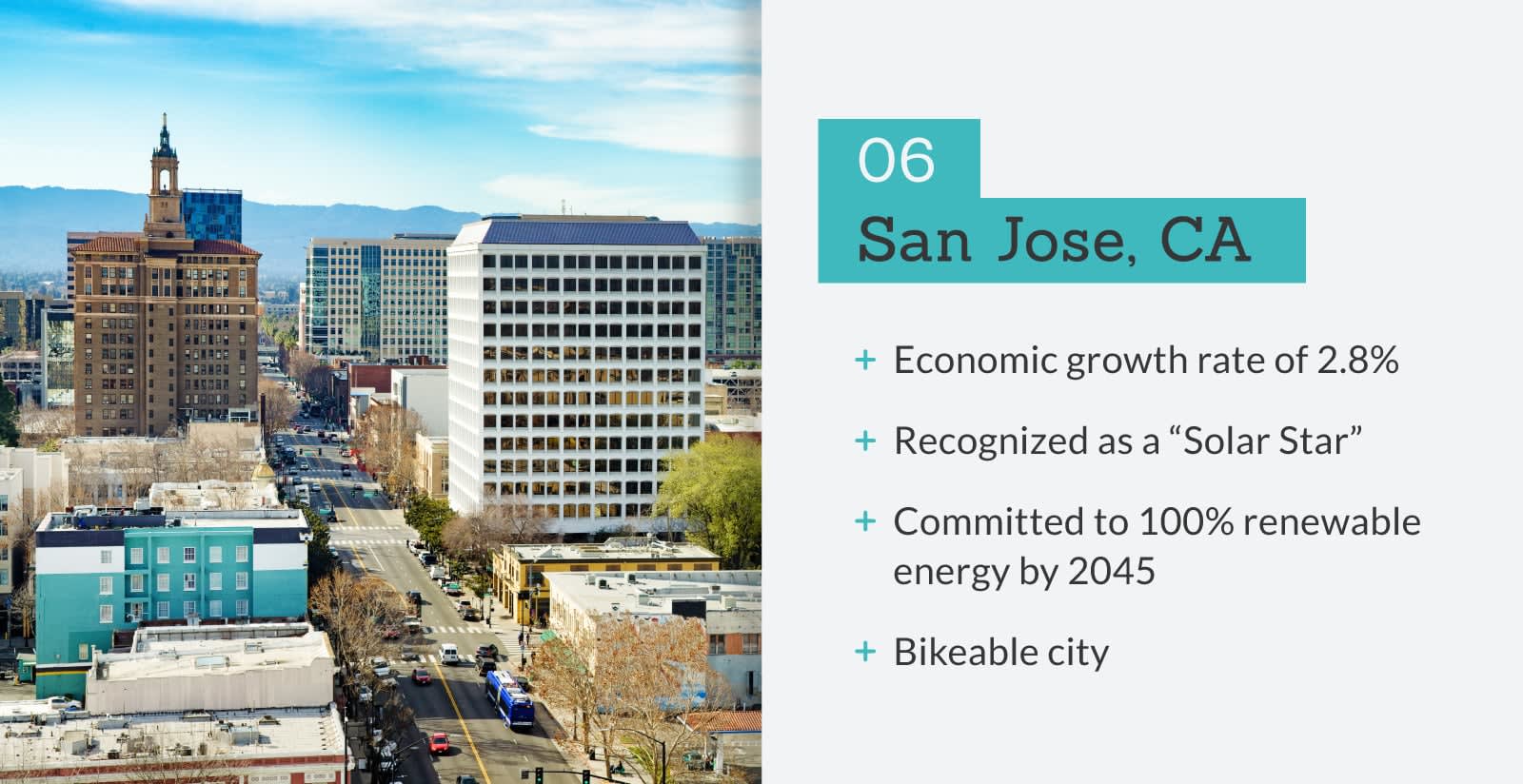 Number six on our list goes to San Jose, California. This buzzing city is at the center of technology hub, Silicon Valley, making it one of the best places to start a business. There, entrepreneurs can find motivation, inspiration, and like-minded people to collaborate with around every corner. In addition to this unique environment, San Jose commits to sustainability. Mayor, Sam Liccardo, has pledged to achieve 100% renewable energy by 2045.
5. New York, NY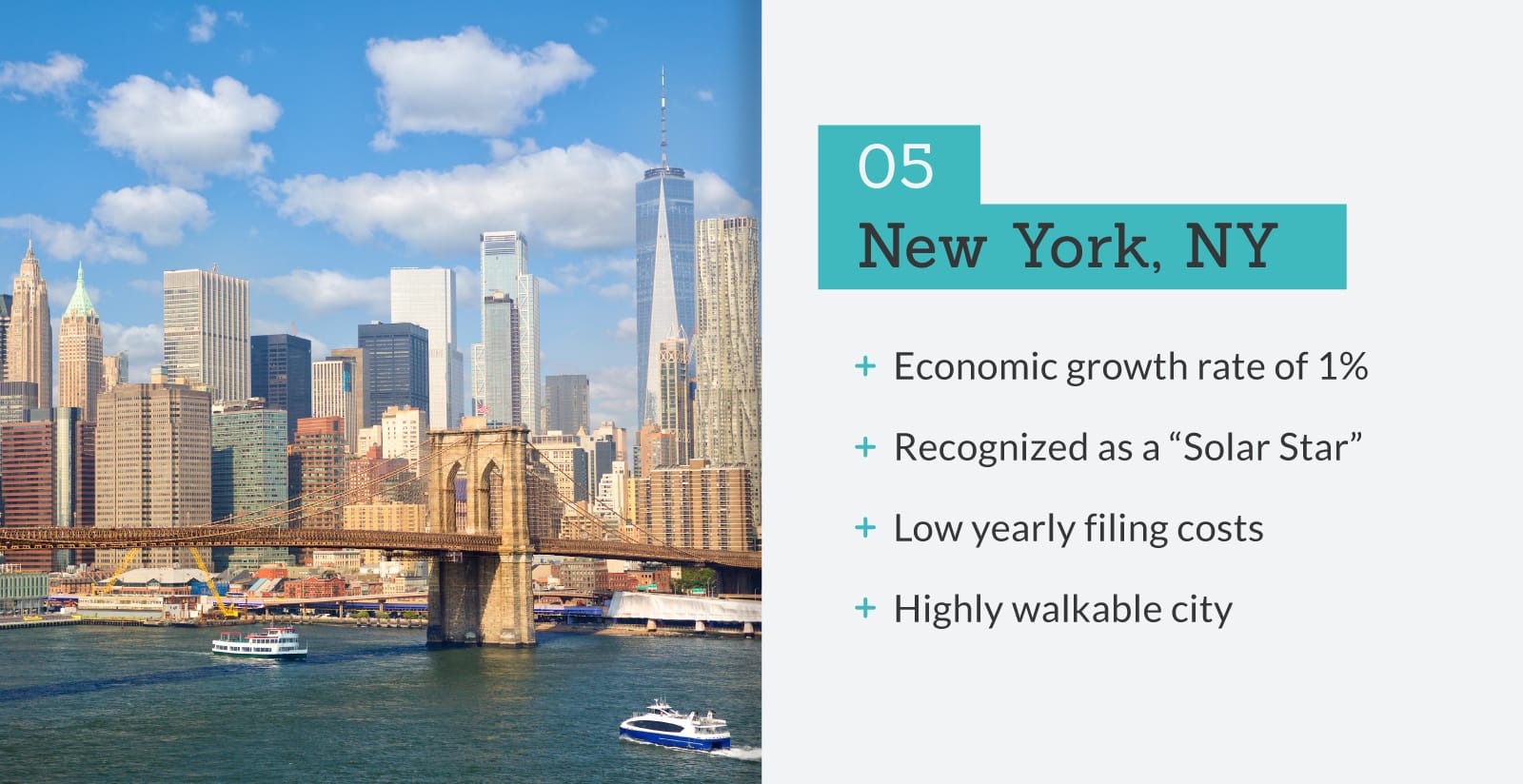 New York City is the most populous and most expensive city in the United States. If the size and the living costs don't scare you away, The Big Apple is the perfect place for green entrepreneurs who want to reduce their carbon footprint. The average vehicle produces 6–9 tons of CO2 per year. With a walk score of 89, a bike score of 70, and a transit score of 84, you can kiss your car goodbye in NYC.
4. San Francisco, CA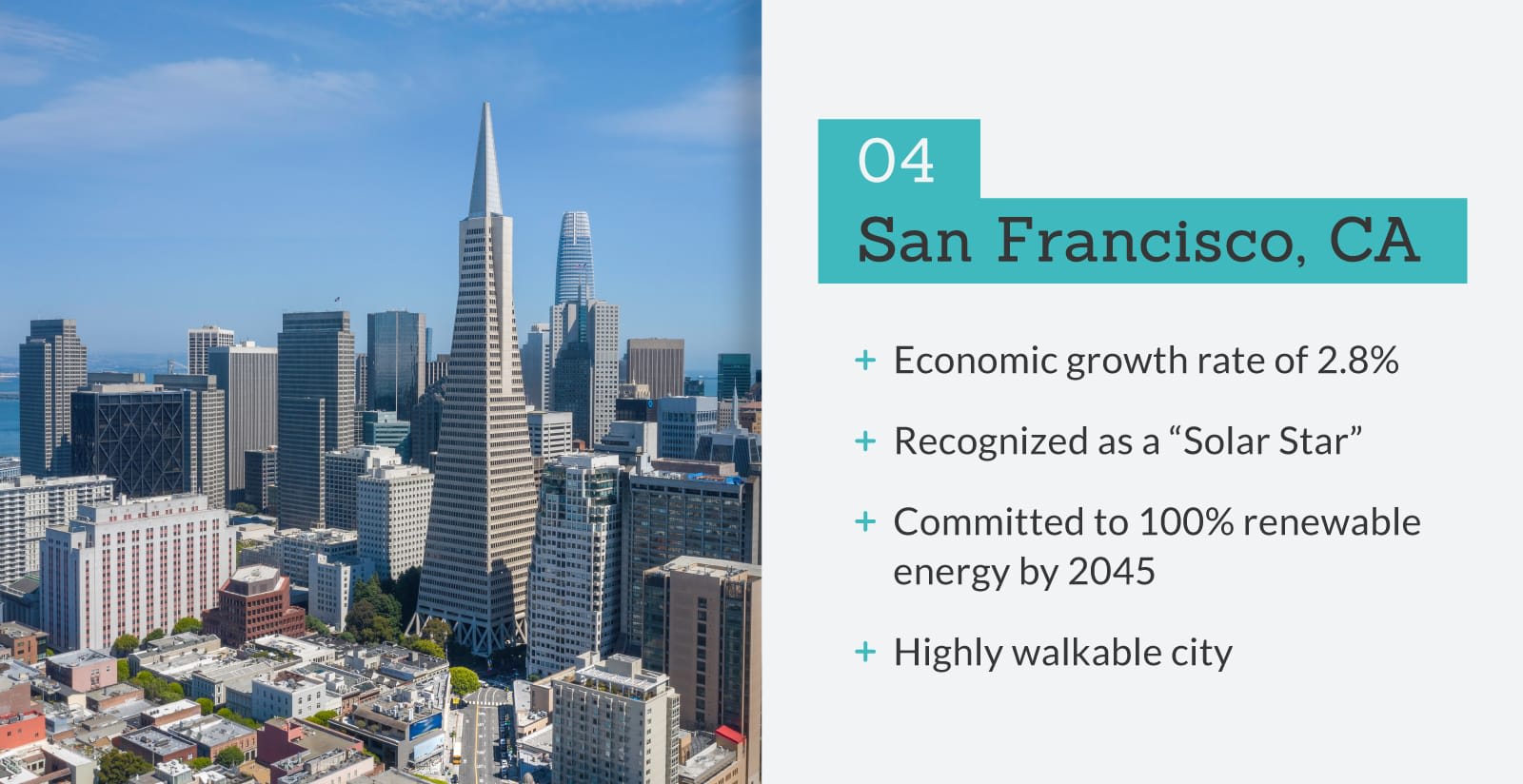 San Francisco not only comes in at number four on our list, but it tops the list of greenest cities in the U.S. according to Siemens' Green City Index. The commitment to renewable energy and zero waste is unparalleled across the country. SF also boasts excellent walk, bike, and transit scores so city dwellers can avoid taking their cars from place to place. For entrepreneurs who prioritize a green lifestyle and green business practices, San Francisco is a great place to start a California LLC.
3. Washington, DC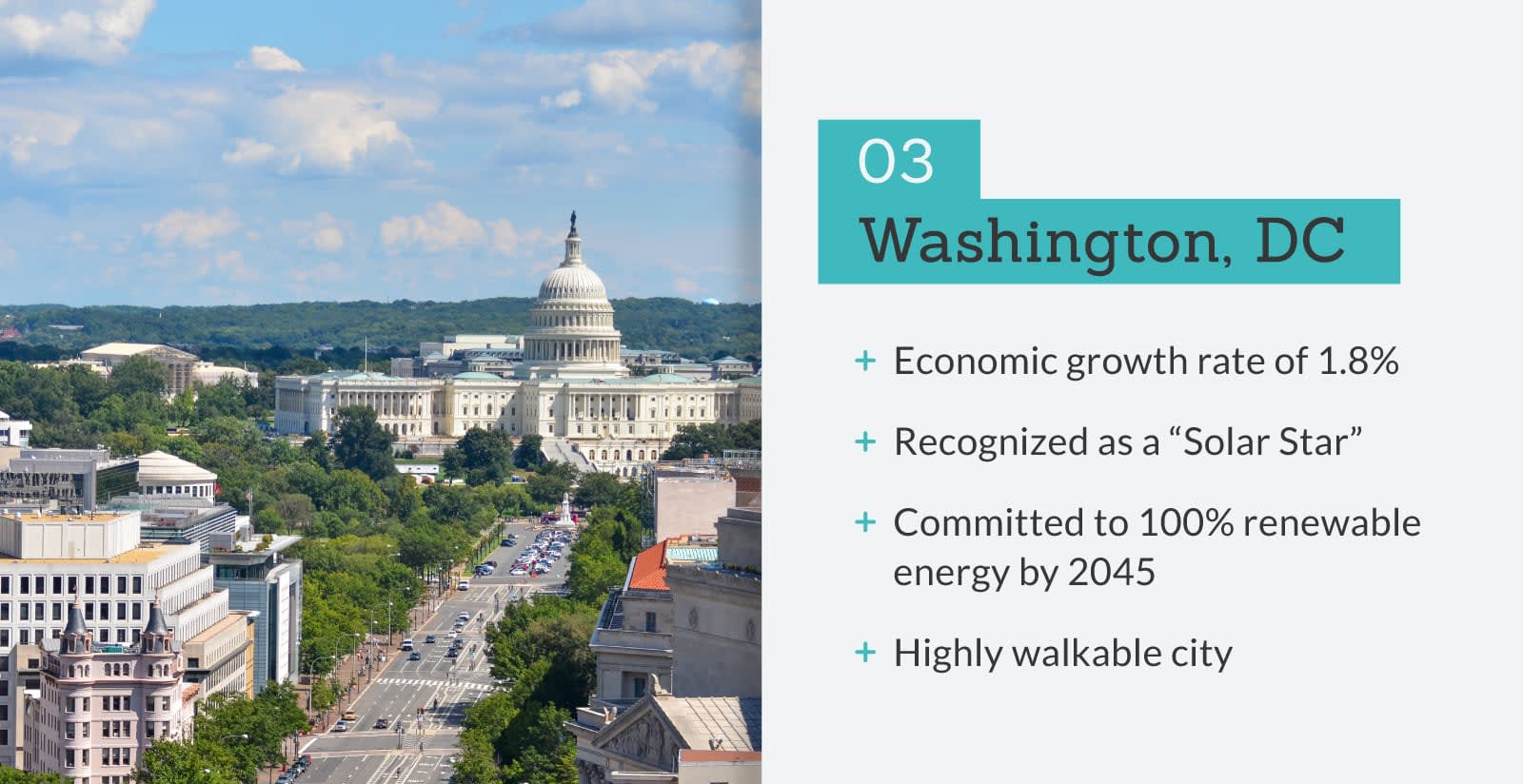 The capital of the United States is best known for its historic landmarks and museums, but the city's commitment to sustainable business is what truly sets it apart for green entrepreneurs. The top industries in DC are technology, public relations, fundraising, and law, so if you are a software developer, PR professional, or lawyer, this is a great place to build your business and pursue a green lifestyle.
2. Salt Lake City, UT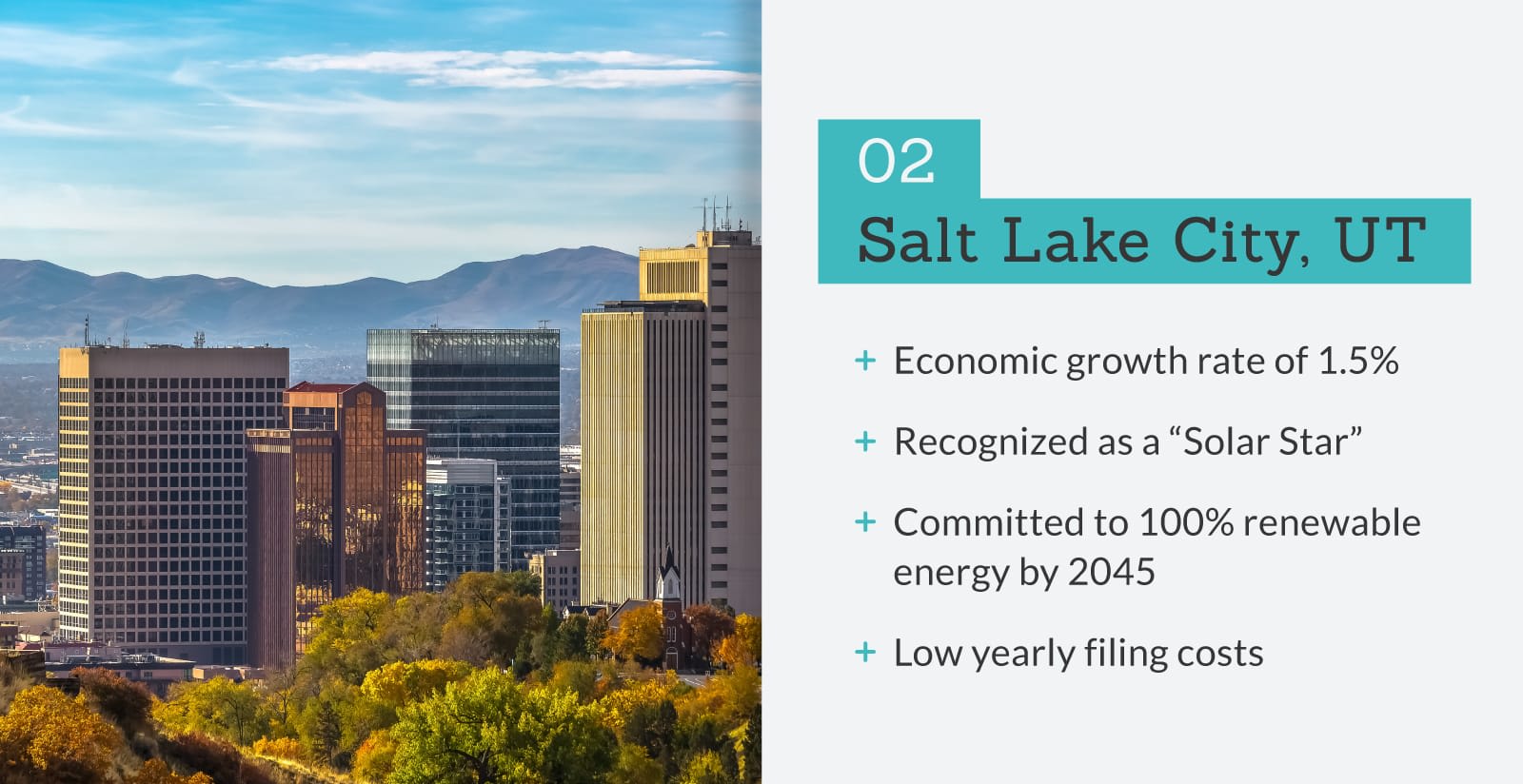 Landing in the second spot on our list is Salt Lake City, UT. Best known for the headquarters of the Church of Latter-day Saints and the stunning mountain views, Salt Lake is one of the friendliest and most beautiful cities on our list. The city's excellent economic position and commitment to sustainability make it a well-rounded choice for any new business owner.
1. Denver, CO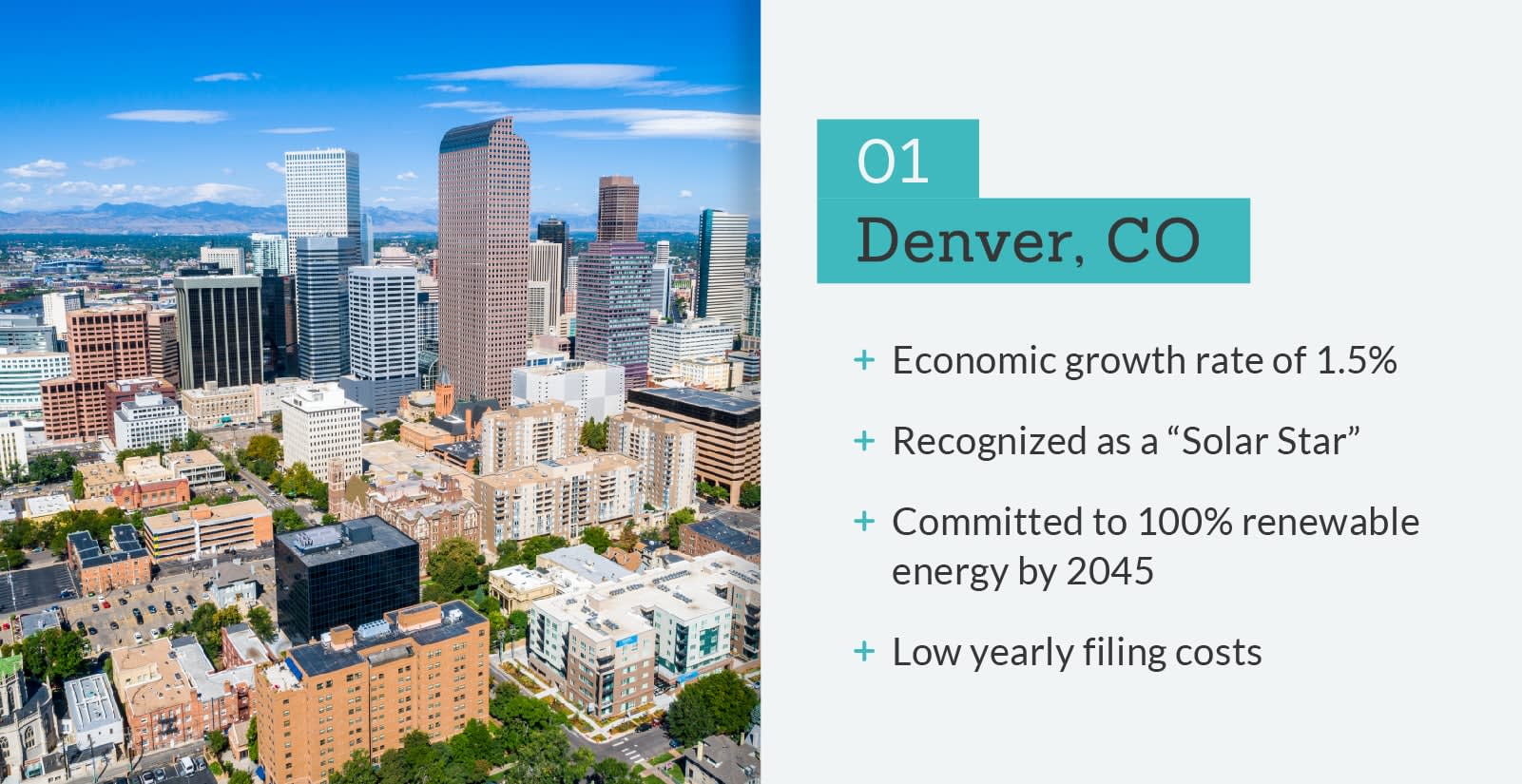 Finally, in first place, we have Denver, Colorado. This city is surrounded by some of the most beautiful terrain in North America and has the economic growth and commitment to sustainability to boot. The combination of the city's booming economy, low startup and yearly fees, and excellent walk and bike scores makes the Mile High City the best city for green entrepreneurs.
Methodology:
To select the cities that made this list, we started with the 100 most-populated Metropolitan Statistical Areas according to the most recent census. We then eliminated all places with a job growth rate that is less than 1%, which gave us 70 cities to collect data from. We assigned value to each data point as following:
Economy (25%)
Economic growth rate = 15%
Startup filing cost = 3%
Annual LLC fees = 7%
Sustainability (75%)
Recognized as a "Solar Star" in the 2019 Shining Cities Report = 15%
Committed to 100% renewable energy no later than 2050 = 20%
Walk score = 25%
Bike score: 15%
More Cities for Your Green Business
Did we miss your favorite city? Check out the next 10 places on our list for additional cities to start your green business. Make sure to take note of the yearly fees you will have to pay and the city's long term commitment to sustainability.
| Rank | City | Growth Rate | LLC Filing Fee | Annual LLC Fees | Committed to renewable energy | Solar Star | Walk Score | Bike Score |
| --- | --- | --- | --- | --- | --- | --- | --- | --- |
| 11 | Ogden, UT | 4.2% | $70 | $15 | Yes | No | 46 | 45 |
| 12 | San Antonio, TX | 3.2% | $300 | $0 | No | Yes | 38 | 45 |
| 13 | Austin, TX | 2.7% | $300 | $0 | No | Yes | 40 | 54 |
| 14 | Jacksonville, FL | 3.4% | $125 | $138.75 | No | Yes | 27 | 43 |
| 15 | Portland, OR | 1.7% | $100 | $100 | Yes | No | 65 | 82 |
| 16 | Boise City, ID | 2.8% | $100 | $0 | Yes | No | 40 | 62 |
| 17 | Boston, MA | 1.4% | $500 | $500 | No | Yes | 81 | 70 |
| 18 | Sarasota, FL | 2.6% | $125 | $138.75 | Yes | No | 52 | 59 |
| 19 | Orlando, FL | 2.8% | $125 | $138.75 | Yes | No | 42 | 60 |
| 20 | Miami, FL | 1.5% | $125 | $138.75 | Yes | No | 79 | 65 |
How to Start a Green Business
Once you find the perfect place to plant your new business, incorporate green practices into your business plan. Choosing to be environmentally conscious is good for our planet and increasingly important to consumers, so make sure you build a good foundation with these tips for establishing a green business.Download Infographic
Whether you decide to move to one of these great cities or stay where you are, start your business by practicing sustainability in everything you do. It is the best decision for you, the earth, and even your bottom line.
Sources: Waste Management | Virtual Vocations | Forbes | Census | Sierra Club | Environment America | Walk Score | BLS