In the modern labor market, job changes are exceedingly common. Professionals regularly jump between employers, prioritizing new opportunities over company loyalty. But what if your next career move takes you back to familiar territory: a place where you worked previously?
According to experts, many businesses are willing – or even eager – to rehire employees. These so-called "boomerang employees" often require less training, and with unemployment levels at rock bottom, employers can't be too picky about qualified candidates.

On the other hand, returning workers and their managers could both have some misgivings. Will boomerang employees feel their careers are moving backward? Will employers question their loyalty because they've left before?
We decided to study both sides of this employment equation, surveying 700 full-time professionals and 300 hiring managers. We asked about boomerang employee arrangements and whether they'd made such a move themselves. Are returning employees more appealing hires, and how do they really feel about coming back? Keep reading to find out.
Returning Reactions
Generally, employees and managers took a positive or neutral view of rehiring workers. Among employees, just 23% had a negative view of this practice, while only 27% of managers saw rehiring employees in negative terms. In fact, most respondents said if they were in a position to choose, they'd rehire an employee over a new applicant.
Respondents in their 20s were particularly inclined to see boomerang employees in positive terms. This finding could reflect millennials' approach to career advancement: Young people are more likely to hop between jobs in search of a better fit. In this spirit of employment experimentation, why not return to an old employer if things go south elsewhere?

Interestingly, however, respondents aged 50 and older were also likely to see boomerang hiring in a positive light. This result may relate to a recent trend: Many baby boomers are coming out of retirement, working for previous employers on a part- or full-time basis. Indeed, faced with a shortage of qualified talent, many companies are eager to lure retired employees back into the fold.
Leaving (and Returning) on Good Terms
Nearly all hiring managers said they were at least somewhat likely to hire a past employee who had left voluntarily. In fact, more than a third said they were "very or extremely" likely to do so, suggesting a desire for boomerang employees leaving of their own volition. Moreover, most hiring managers said they'd consider rehiring someone no matter how long ago they last worked for the company.

When it came to employees who were terminated, however, there was significantly less enthusiasm – even if the candidate had been let go for reasons unrelated to their performance. Indeed, 28% said they wouldn't rehire someone who had been let go for reasons other than performance (perhaps because of the anger that such layoffs can inspire). Additionally, 68% said they were not at all likely to hire someone who had been terminated for performance reasons.
Among employees, 9 in 10 said they would at least consider returning to an employer. Additionally, people at all levels of seniority seemed relatively open to considering such a return, from entry-level employees to senior managers. Perhaps executives imagine a triumphant return to their previous employer, lording their success and newfound power over the people with whom they used to work.
Boomerang Benefits and Barriers
When we asked hiring managers why they'd be inclined to rehire an employee, many cited the possibility of expedited training. Seventy-one percent said familiarity with company processes was a major reason to bring former employees back on board. Indeed, experts say boomerang employees can dramatically reduce training costs and boost initial productivity.
Additionally, 9% of hiring managers said they valued former employees' familiarity with the company culture. When hiring new candidates, this element can be challenging: An applicant with immaculate credentials can flounder in the wrong environment.
On the other hand, most hiring managers felt that if an employee had left the company on negative terms, that was a reason not to rehire them. In addition to concerns about lingering ill will, doing so might raise objections among the candidate's former colleagues. Additionally, 22% cited another reason not to rehire: If an employee cut ties once, they may do so again. Of course, one could also make the opposite case, assuming that boomerang employees have learned their lesson about leaving.
Rehired Reality: New Gig or Old Role?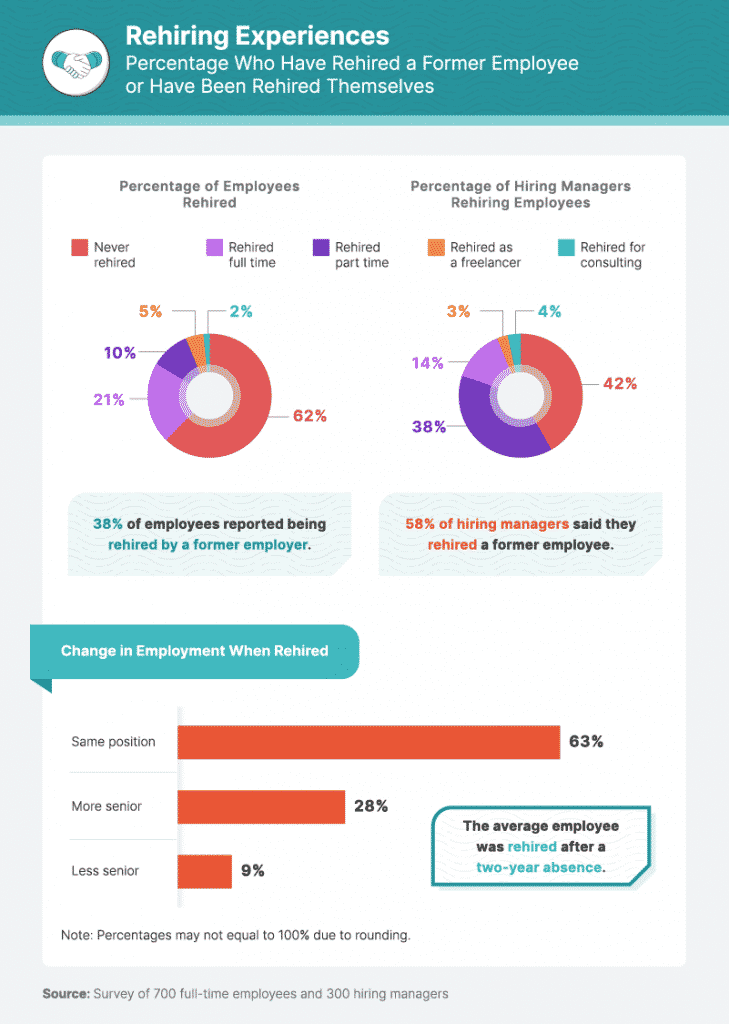 How many professionals actually boomerang to an old employer? Among employees, more than a third said they had left a company and were later rehired, and 21% came back in a full-time role. On average, they spent two years away before returning, suggesting that most professionals gain significant experience elsewhere before returning. After all, if you leave a job and ask to come back just a few months later, you had better prepare for some tough questions.

A majority of hiring managers had rehired an employee on at least one occasion. However, a significant portion of these hires was part-time workers, consultants, or contractors – a potentially controversial practice. Some of America's most powerful companies have been criticized for their reliance on freelance workers, as opposed to full-time employees entitled to benefits. How would you feel if you were offered a freelance role after leaving a full-time position performing similar duties?
For most employees, however, the return to their former company did not entail a change in status. Just 28% said they came back in a more senior role than the one they'd held previously, and 9% even lost standing in the corporate ranks. These findings suggest that leaving and returning is not a fast track to promotion: You're much more likely to return at the same level you left.
Same Company, New Perspectives
For employees and hiring managers alike, boomerang workers usually seemed to succeed.Roughly three-quarters of hiring managers who had rehired an employee were satisfied with the outcome, and rehired employees were similarly likely to say things worked out well.
From the employee perspective, a majority said they appreciated their jobs more the second time around. Of course, a bump in title may certainly help in this regard. People who were rehired in a more senior role were especially likely to find their return to the company more satisfying than their initial period of employment.

On average, boomerang employees earned 20% more upon their return than when they had left their companies. To be sure, some of these increases are attributable to inflation, but many returning employees earned substantially more the second time around. Employees who came back after a period of 10 years or more, for example, earned 30% more than they had when they left.
Coming Back, Moving Forward
As our results indicate clearly, the prospect of workers returning to employers prompts mixed reactions among hiring managers and other professionals. But our data also demonstrates that people leave and return to jobs quite often, and that boomerang employees typically work out well for all involved. Accordingly, it's prudent to maintain collegial relationships with your former co-workers and managers. You never know when your old company will present a new opportunity – or if a colleague who leaves will be back shortly.
Moreover, perhaps we should adjust our notions of company loyalty to reflect new workplace norms. When people leave your team for different positions, don't begrudge them for their new endeavors. Keep those lines of communication open, and you may work together again in another chapter of your career.
And if you're ready to launch a new enterprise of your own, let ZenBusiness help you get your new business up and running. With intuitive tools, affordable pricing, and personalized options, we empower you to start and grow your own business. With our services and your own entrepreneurial spirit, you'll never need to work for someone else again – unless, of course, you want to.
Methodology
We surveyed 1,000 total Americans who were employed full time. Of those, 300 employees were hiring managers, indicating their job responsibilities included making hiring decisions with their current employer. Respondents were then asked questions about their general perceptions of rehiring employees and their experiences with being rehired.
Fifty-six percent of our respondents identified as female, 43% identified as male, and less than 1% identified as a gender not listed in our survey. Respondents ranged in age from 18 to 74 with a mean of 36 and a standard deviation of 10.7.
Instances in which employees and hiring managers reflected on their actual experiences with rehiring were asked to answer questions about their most recent rehiring experience in the event they'd rehired or been rehired multiple times.
Limitations
It is possible that with more respondents from each demographic, we may have been able to gain a better insight. The findings on this page rely on self-reporting and, as such, are susceptible to issues such as exaggeration or selective memory.
No statistical testing was performed. The claims listed above are based on means alone and are presented for informational purposes.
Fair Use Statement
Know someone considering a return to an employer? Feel free to share our findings with them or anyone else who might find this data interesting. However, please use this content exclusively for noncommercial purposes. We also ask that you include a link back to this page whenever you share our work so that others can explore our full project.