Launching a business takes time and money, and if you are starting solo, you may come up short in both areas. In fact, cash flow problems are one of the primary reasons small businesses fail. If you are starting to feel overwhelmed or drained, finding a business partner could be the key to success.
Partners can ease the weight of responsibilities, provide new and fresh ideas, and even contribute financially. Once you decide to find a partner, make sure to look in the right places, lay out responsibilities, and consider their personality to ensure a mutually beneficial partnership. Not sure what a partnership is in business? Learn the definition of a business partnership.
Here are several ways to find the perfect business partner for your venture.
1. Look For Partners in Your Network
One of the best ways to choose a business partner is to find someone in your network. Whether they are a current coworker, a past employee, or even a former classmate, these connections are particularly helpful because you are familiar with their background and their work ethic. Try looking for people in your network by:
Checking in with past coworkers
Connecting with peers online on websites such as LinkedIn
2. Ask Peers About Connections
If there are no connections that come to mind in your network, start asking peers if they know anyone that would be a good fit. Explain a summary of company goals and what you are looking for in a partner. While this option is not as ideal as option one, it is still better than choosing at random.
3. Partner Up With Friends or Family
Though many sources suggest avoiding partnerships with friends or family members because of the complex relationship that it can create, sometimes it's the best option. To avoid conflict, set boundaries from the beginning of the partnership and uphold them throughout the entirety of the engagement. Here are a few areas in which you may want to set boundaries:
Maintaining locations where business talk is off-limits
Respecting mandatory days off
Establish a work-life balance
Defining roles in the company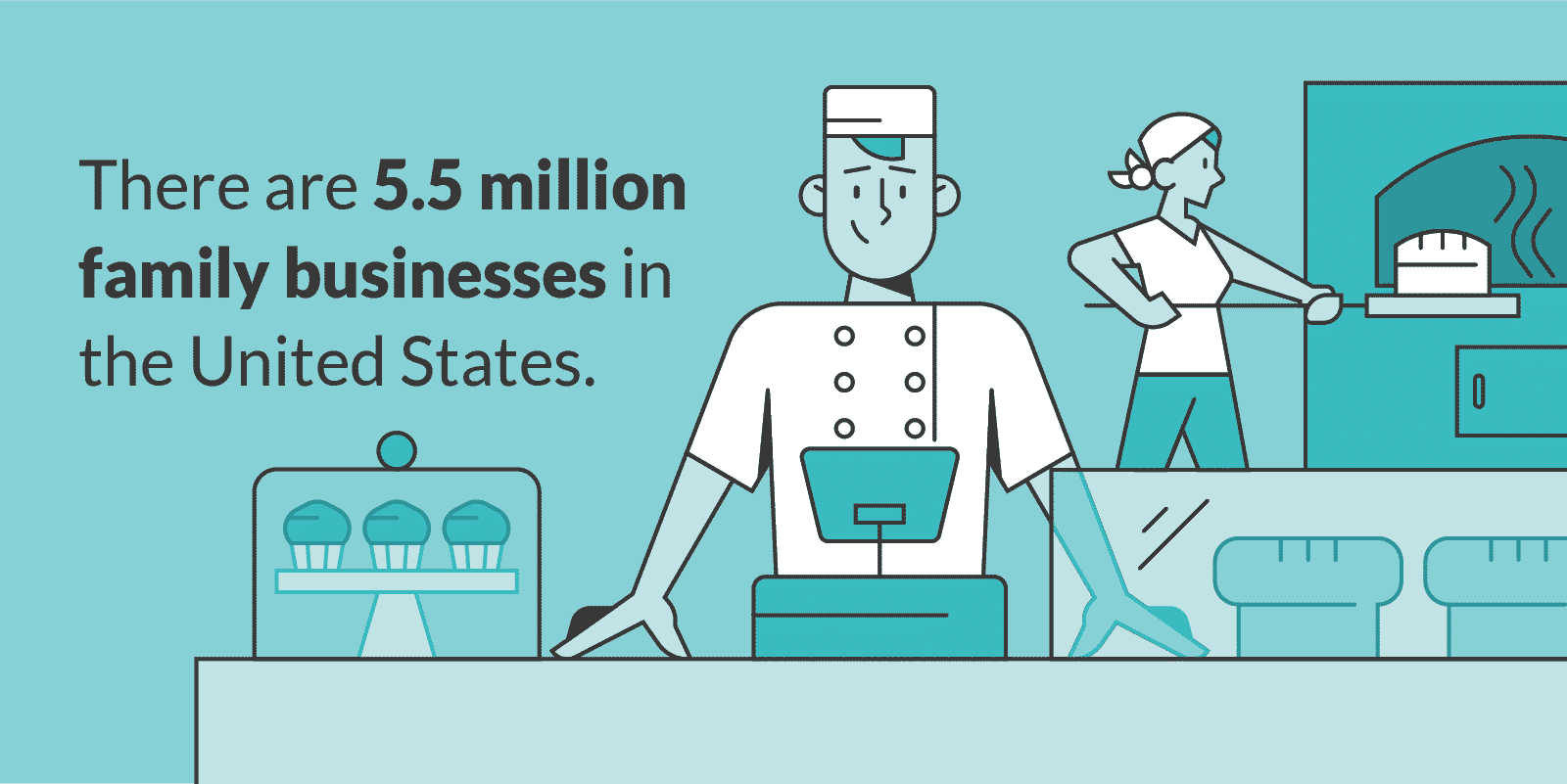 4. Seek Out Experts at Conferences
Industry-specific conferences provide entrepreneurs the perfect opportunity to hunt for business partners. Visit panels, go to networking events, and talk to as many people as possible. If you find someone who might be a good fit, invite them to lunch, lay out the business plan, and define what you need in a partner.
5. Look For Someone With Skills You Don't Have
Once you find options for a business partner, take some time to make sure they are a good match. In a partnership, it is helpful if you choose someone who has skills and capabilities that bring something unique to the team. If you share the same strengths, there is likely to be competition for responsibility.
6. Make Sure They Have a Similar Vision
Another way to vet a potential partner is to discuss vision. If your goals are wildly different than the goals of your prospective partner, it could lead to conflict, decreased efficiency, and even business failure. Use this conversation to lay out:
Core values
Business plan
Short-term goals
Long-term goals
7. Start on the Same Page
At the beginning of the partnership, sit down and detail commitments and other responsibilities. Make clear distinctions about expectations so that neither party is disappointed when collaboration begins. Lay out specific responsibilities and set deadlines for each one. For example, one partner will handle client communication and will respond to all emails within 24 hours, while the other partner will keep the books up-to-date every day.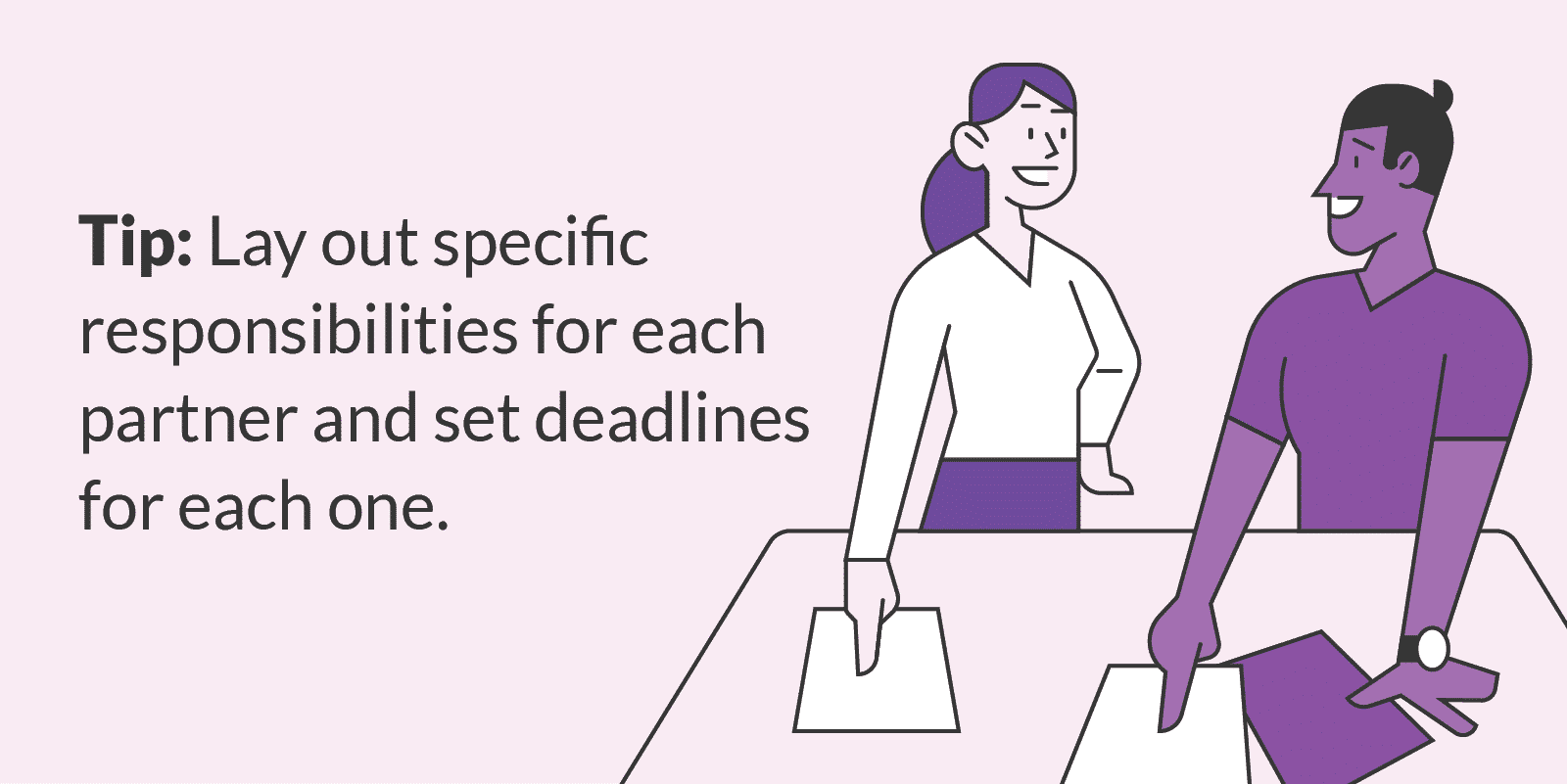 8. Decide Who is the Boss
One of the toughest parts of engaging in a partnership is deciding who is the boss. Though typically the business owner will stay in the head position, this isn't always best. Every person is equipped with different skills and certain people are better at leading than others. Partners should be honest with each other and with themselves and make a decision that is best for the company.
9. Choose a Partner Who Complements Your Personality
While you are vetting a potential business owner, observe how they act around friends and family, notice their work ethic, and pay attention to how they communicate. Everyone conducts their business and their lives differently and it is helpful to find someone you are compatible with. For example, if you require creative freedom and hate structured schedules, but are partnered with someone who demands rigid schedules, the partnership may sour.
There are many ways to evaluate personalities but one of the most popular is the Myers-Briggs personality test. A quick 10-minute questionnaire can help individuals pin down their strengths and weaknesses, best career paths, and common relationship dynamics by sorting them into 16 different categories. Though humans are complex and will never completely fit into any category, these classifications are a great jumping-off point for evaluating the compatibility between two people.
If you don't know your Myers-Briggs type, head over to 16 Personalities and take the test. Use these results to start a conversation with your partner and discover whether or not you will make a good match for running a business together.

If you are launching a business and are feeling overwhelmed, finding a business partner could be a smart move for your venture. Partners take half of the finances and responsibilities off your shoulders, they act as a sounding board for new ideas, and they bring fresh ideas to the table. Finding a business partner can be a tricky process, but taking the time to make sure you found the right fit can be the difference in a failed relationship and a long-lasting, fruitful engagement.