Business Process Management (BPM) and Project Management (PM)—these two terms are ridiculously popular these days.

Business competition has gotten fiercer in the past few years, forcing organizations and individuals to become more efficient, effective, and adaptable to the changing business environments.

To achieve that—many businesses are using (or planning to use) a dedicated business process management tool or project management software.

Wondering what they are? Well, they're basically advanced solutions that are used to optimize everyday processes. These advanced solutions are used to plan, collaborate, model, analyze, measure, improve, optimize, automate… and everything else that contributes to improving a company's overall performance.

Below are some examples of the potential benefits of using PM/BPM software:

Great regulatory compliance
Increased accountability
Improved engagement
Reduced inefficiencies
Improved business agility
Higher data security and visibility
However, project and business process management services are a dime a dozen. There are hundreds of solutions in the market today and reviewing each of their strengths and weaknesses is like a forever task. It is still important though, to explore all the available options—or at least the best ones.

Considering that, here's a list of projects and business process management softwares that you may find fit for your business.

1. ProofHub
What is ProofHub?
ProofHub is a cloud-based software solution for project management and team collaboration. The software is designed to help managers and teams overcome their everyday challenges and get more work done faster, together.

Best features/tools:
Chat and discussions
@mention
Gantt chart tool
Workflows and Kanban boards
Custom reports
Custom roles
Task management
Recurring tasks
File management
Proofing and markup tools
Time tracking
Multiple timers
Notebooks and notes
Customization
Multiple languages
Advanced search
Announcements
Request forms
Calendar
Third-party integration
API
Mobile and tablet compatibility
Available integrations: Freshbooks, Google Calendar, iCal, Box, Dropbox, Google Drive, and OneDrive.

Pricing information: Starting at $45 per month for unlimited users (special discounts available for nonprofits).

Pros
ProofHub is an all-in-one solution for growing teams. It eliminated the need for investing in too many tools to run a business.
Cons
ProofHub has some amazing integrations, but they're limited.
2. Aha!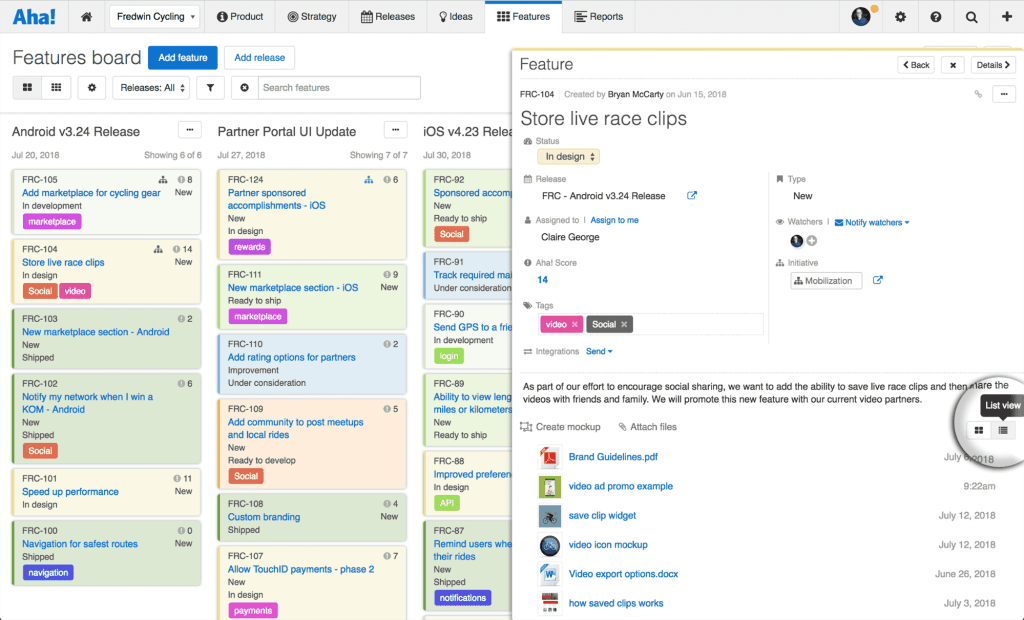 What is Aha!?
Aha! is a comprehensive business process management software and road mapping platform. With Aha!, you can bring new levels of collaboration, engagement, and transparency in your organization.

Best features/tools:
Business model generator
360 tracker
Visual reports
Detailed charts
Notebook
Product notes
Track changes
Visualize dependencies
Share files and folders
Build progress reports
Project planning tools
Project workflow management
Third-party integration
Prioritization
Crowdsourcing ideas
Build visual roadmaps
Content import / export
Drag & drop interface
Product road mapping
Collaboration tools
Available integrations: Zapier, G Suite, Dropbox, Zendesk, Google Analytics, OneDrive, Onelogin, Box, Slack, Hangouts Chat, Outlook, Flowdock, Google Calendar, Asana, Trello, GitHub, and more.

Pricing information: Starting at $74 per user per month.

Pros
Aha! is so far the best tool for product road-mapping.
Cons
Aha! has a smooth UX, but the design is rather bland.
3. Nintex
What is Nintex?
Nintex is a business process management solution designed to help individuals and organizations automate their business processes quickly and easily.


Best features/tools:
Automation
Customizable dashboard
Business process automation
Workflow analytics
Workflow reminders
Configurable workflow
Resource management
Workflow tracking
Data-driven analytics
Approval process control
Statistical summaries
Document management
Project management
Behavior tracking
Graphical workflow editor
Available integrations: Dropbox, Google Drive, MailChimp, Office 365, and Slack.

Pricing information: Starting under $950 per month for 100 processes.

Pros
Nintex provides fancy features that make complex workflows easy.
Cons
Too expensive for small companies.
4. Wrike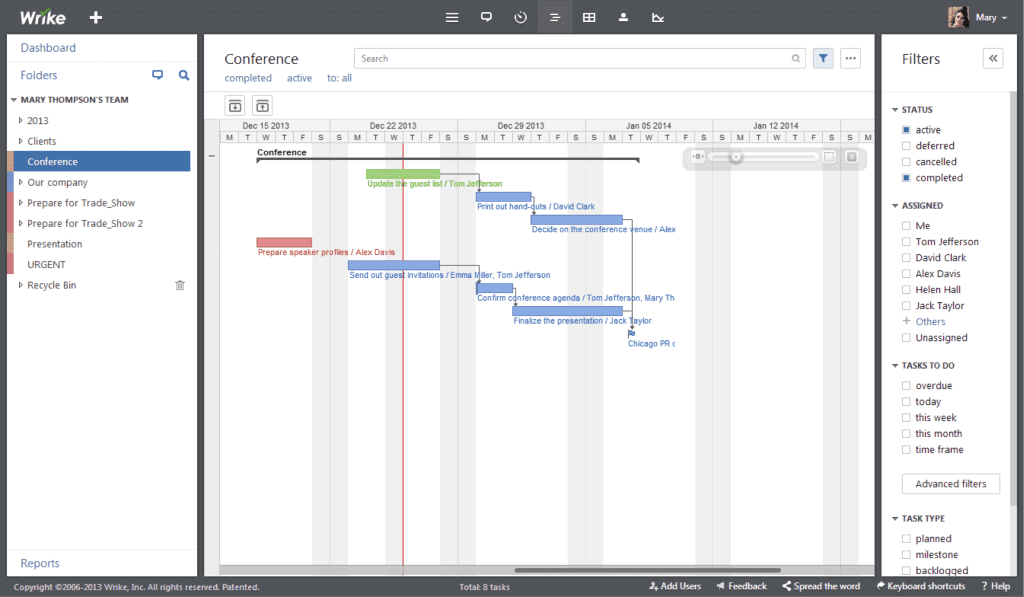 What is Wrike?
Wrike is one of the best project management software solutions in the market. The software stands out because of its 3-pane layout, user-friendly navigation, easy reporting, and powerful integrations.

Best features/tools:
Task management
Interactive timeline (Gantt chart)
Real-time newsfeed
Recurrent tasks
Workload management
Time-tracking
Document collaboration
Discussions in tasks
iPhone and Android apps
Task prioritization
Customized reports
Google Docs, Dropbox, Box integrations
Email integration
Available integrations: Salesforce, Tableau, MediaValet, Microsoft Teams, Hangouts chat, Google Drive, Microsoft OneDrive, Github, JIRA, MS Project, Slack, Dropbox, and more.

Pricing information: Starting at $24.80 per user per month (5-200 users).

Pros
Wrike has an intuitive layout and a great mobile solution.
Cons
Too many tools within one suite—which makes Wrike often overwhelming to work with.
5. Process Street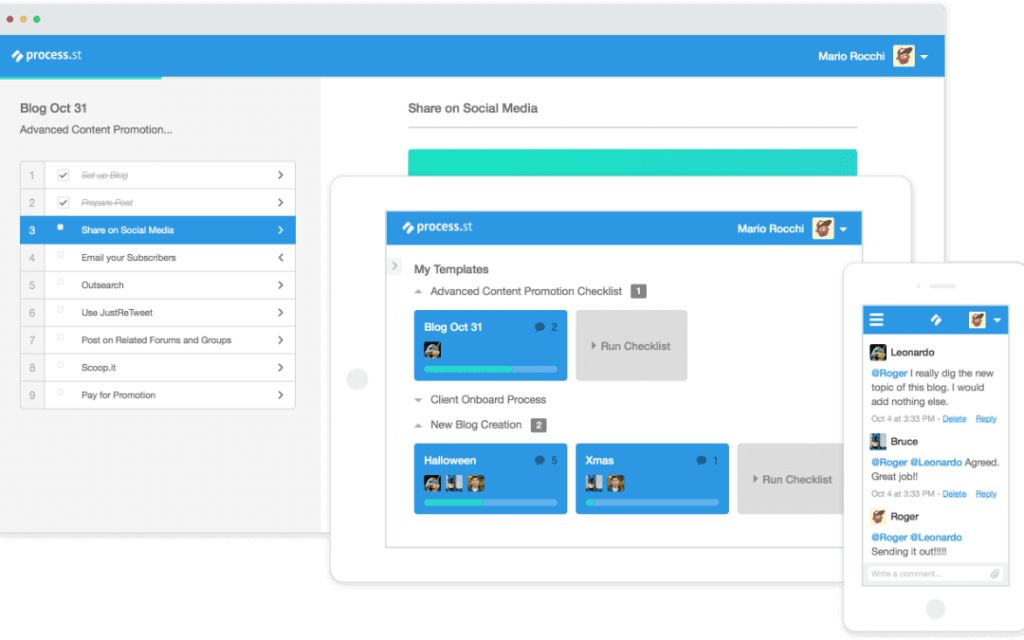 What is Process Street?
Process Street is a workflow and project management software built especially for businesses to be able to manage repeating business procedures and checklists.

Best features/tools:

Approval process control
Process analysis
Process control
Process management
Workflow management
Available integrations: Zapier, Close.io, G Suite, Yammer, Salesforce, Zendesk, Typeform, Slack, Pipedrive, Asana, Wufoo, Trello, Google Calendar, Google Drive, and more.

Pricing information: Starting at $12.50 per user per month.

Pros
Process Street is super organized and easy-to-use. It makes it easier to communicate with teams and helps to keep everything on track.
Cons
Process Street doesn't have a mobile app yet.
6. Bitrix24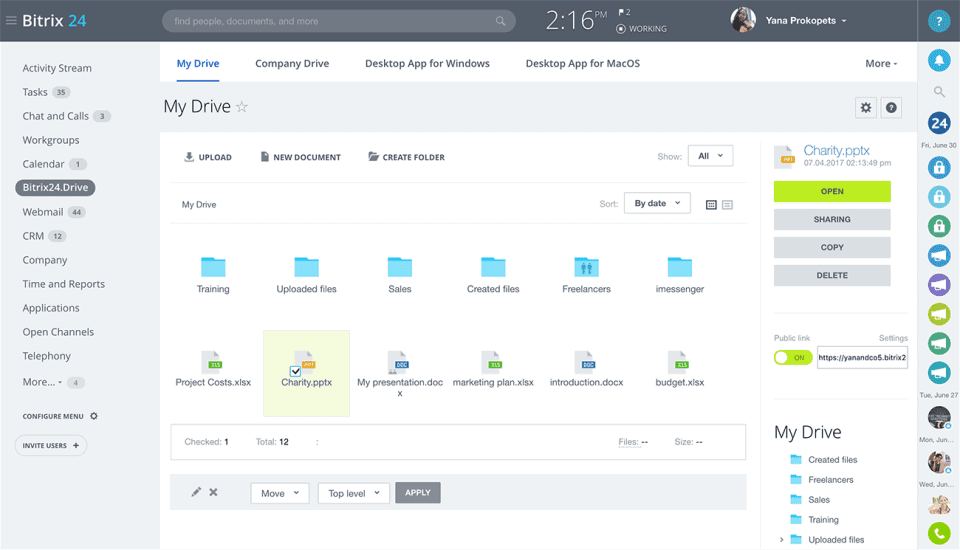 What is Bitrix24?
Bitrix24 is a software solution for management, collaboration, and communication. The software is designed for small and medium-sized businesses and works best in terms of task management, sales forecasting, marketing automation, and social media integration.

Best features/tools:

Customizable templates
File sharing and versioning
Document sharing
Gantt charts
Instant messenger
Invoice management
Meeting management
Offline access
Time tracking
Recurring tasks
Social network integrations
Kanban boards
Website live chat
Customizable fields
Activity management
Calendar sync with Google, iCal and MS Outlook
Call recording
Voice/video calls and conferencing
Synchronous document editing
Available integrations: Gmail, MS Office, OpenOffice, LibreOffice, Dropbox, Box, Xero, MailChimp, and Mailigen.

Pricing information: Starting at $46.92 per month.

Pros
Bitrix24 is highly customizable. Plus, it's great for project and task management.
Cons
Bitrix24 lacks third-party add ons.
7. Tonkean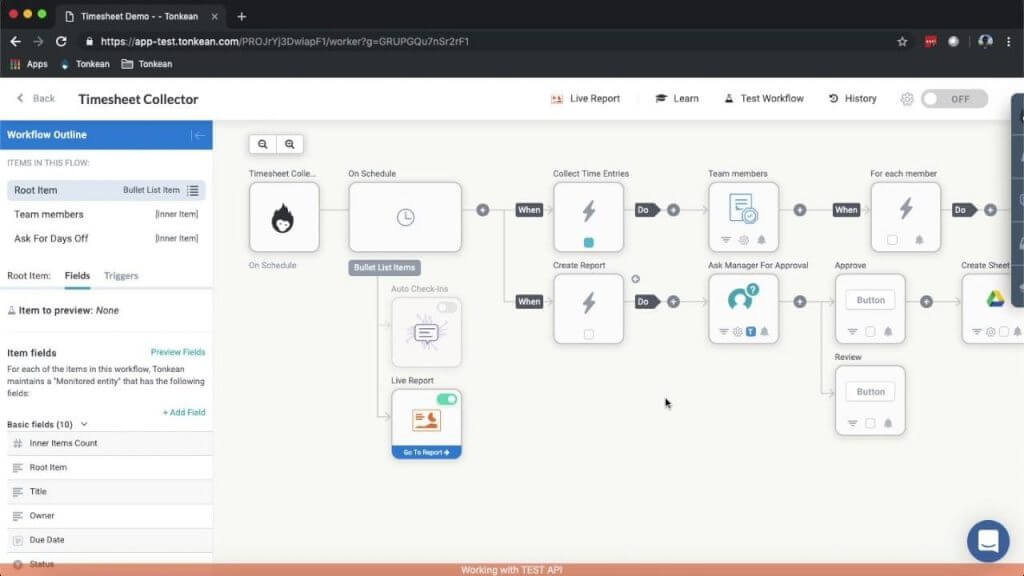 What is Tonkean?
Tonkean is a Process Automation platform designed for modern enterprises. It helps operation teams in modern enterprises to automate work, coordinate seamlessly, and focus on work that matters.

Best features/tools:

Business process automation
Collaboration
Customizable dashboard
Process change tracking
Process mapping
Process modeling and designing
Reporting/analytics
Templates
Integrations
Visual workflow management
Access controls
Available integrations: Agile CRM, Basecamp 3, Bitbucket, Facebook, Freshdesk, GitHub, GitLab, Gmail, Google Calendar, Google Drive, Google Sheets, Harvest, HubSpot, Intercom, JIRA, Microsoft Dynamics CRM, Microsoft Teams, Monday.com, MySQL, Nutshell, Oracle Database, PostgreSQL, ProsperWorks, RSS, and more.

Pricing information: Starting at $999.00 per month.

Pros
From to-dos, to follow-up, to KPIs—Tonkean helps you manage all aspects of your work.
Cons
Frequent updates can quickly clutter up your email inbox.
8. Zoho Creator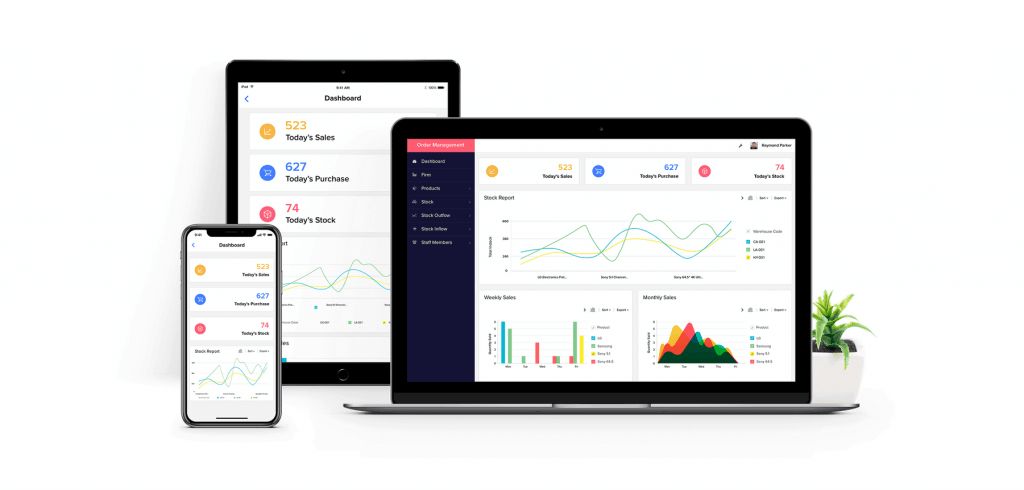 What is Zoho Creator?
Zoho Creator is an online management software that comes with an intuitive interface and an array of tools for customization. It keeps all your data organized safely so that you can focus on making the right decisions for your business.

Best features/tools:
Workflow builder
Tasks, reminders, and notifications
Custom reports
Interactive dashboards
Access controls
Multi-language support
Integration and API
Collaboration tools
Smart reports
Customer portal
Available integrations: Zoho CRM​, Zoho Invoice, Zoho Calendar, Zoho Reports, Zoho Recruit, Zoho Desk, Zoho Books, and other Zoho products.

Pricing information: Starting at $15 per user per month.

Pros
Zoho Creator is very intuitive and requires very little set-up.
Cons
The user interface is too basic. Plus, it is slow at times.
9. Trello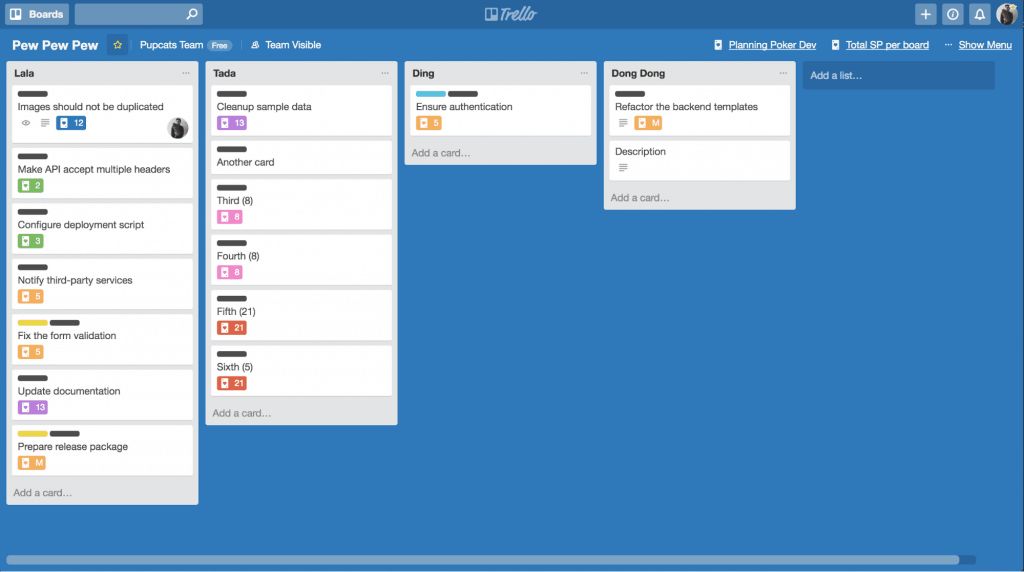 What is Trello?
Trello is a software tool for collaboration and project management. The tool is based on the concept of boards and cards which corresponds to projects and tasks. The goal of this tool is to keep tasks, files, and information organized while teams collaborate and get work done.

Best features/tools:

Tags, labels, and categories
in-line editing
Checklists and progress meter
easy uploading of files and attachments
data filtering
archiving of card records
deadline reminders
activity log
information retrieval and back-up
API
Available integrations: Slack, Adobe XD, Jira, BugPlug, Google Drive, Aha!, Google Hangouts, Teamweek, JotForm, Placker, Roblox, and more.

Pricing information: Starting at $9.99 per user per month (billed annually).

Pros
The flexibility and familiarity of Trello are beyond any other tools in the market.
Cons
Not the best project management tool for large-scale projects.
10. Workzone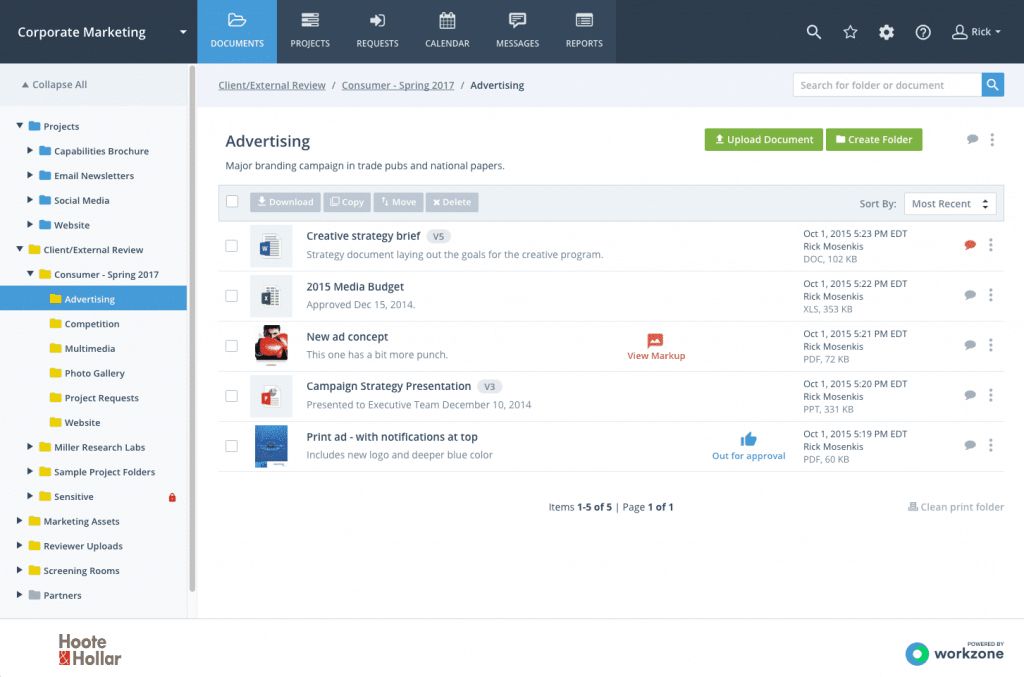 What is Workzone?
Workzone is an online project management and document collaboration app. Workzone can be used to effectively manage your projects, organize projects by tasks, assign responsibilities, and get notified when tasks are late.

Best features/tools:
Approvals workflow
Automated reports
Custom branding
Email alerts
Expense tracking
File versioning
Flexible permissions
Gantt chart
Group calendar
Image markup
Individual to-do lists
Project request forms
Project templates
Projects overview dashboard
Secure file sharing
Task dependencies
Time tracking
Available integrations: Slack, Evernote, Salesforce, G Suite, Jira, Trello, Gmail, Chanty, Zendesk, Airtable, Zoho Analytics, and more.

Pricing information: Starting at $20.00 per month per user.

Pros
Keeps projects organized and provide absolute clarity about who is responsible for what.
Cons
Workzone gets the job done, but its overall design isn't that striking.
What's your pick? Tell us in the comments!