Does your business need more clients and sales? Create generous gift certificates that will promote your brand and improve your image! Read this article to find out how to do that.
Why you need a gift certificate
Gift certificate is an elegant and original alternative to money. Speaking in plain language, it gives you the right to get a product or service that costs a certain amount. Gift certificate have a bunch of advantages:
Build loyalty. By distributing gift certificates among your customers, you make them trust your brand more.
Boost sales. Statistics say that 72% of customers end up spending more than their certificate is worth.
Promote your brand. Certificates help spread word about your business. The more learn about your brand, the better!
Advertise your product. Your certificate can feature a specific product or service that you're currently advertising, e.g. a massage session or cooking master class.
Gift certificate vs gift card
While both gift certificates and gift cards have a money equivalent, they have some differences as well:
certificates are printed on durable paper, while cards printed on plastic;
you can use a card multiple times by simply changing its money worth;
card usually goes with a paper document that contains the terms of its use.
If your certificate or card is expirable, you can give it a number to track how a customer is using (or not using) it and identify fakes.
How to create a certificate: Step-by-step instruction
Make sure your gift certificate looks stylish and beautiful. Plus, it must be nice to touch. Think about the design and materials you're going to use. For more information, check out our ultimate guide on creating a professional gift certificate.
1. Choose the right size
There is no one-fits-all size for gift certificates. The size depends on several factors:
Ease of use. Choose a card size over А4 format. This way, your certificate will easily fit into a bag.
Printing standards. Check the technical specifications of your printer at home or print ship where you're going to print your designs.
Information. When it comes to the amount of information on your certificate, follow the "less is more" rule.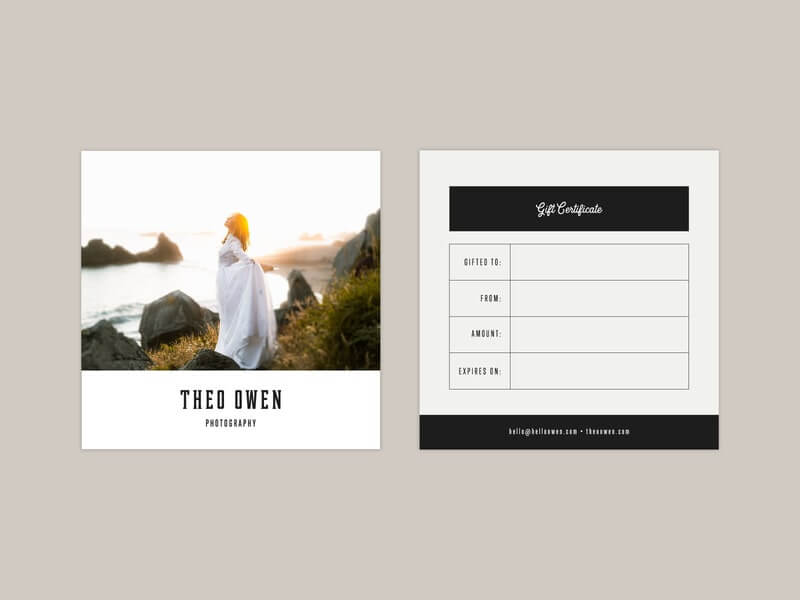 2. Choose the right paper
Opt for high-quality paper with density of 150 g/m2 and more. Choose between matt and luster, colored and white, with and without embossment. Remember that your gift certificate must be visually appealing.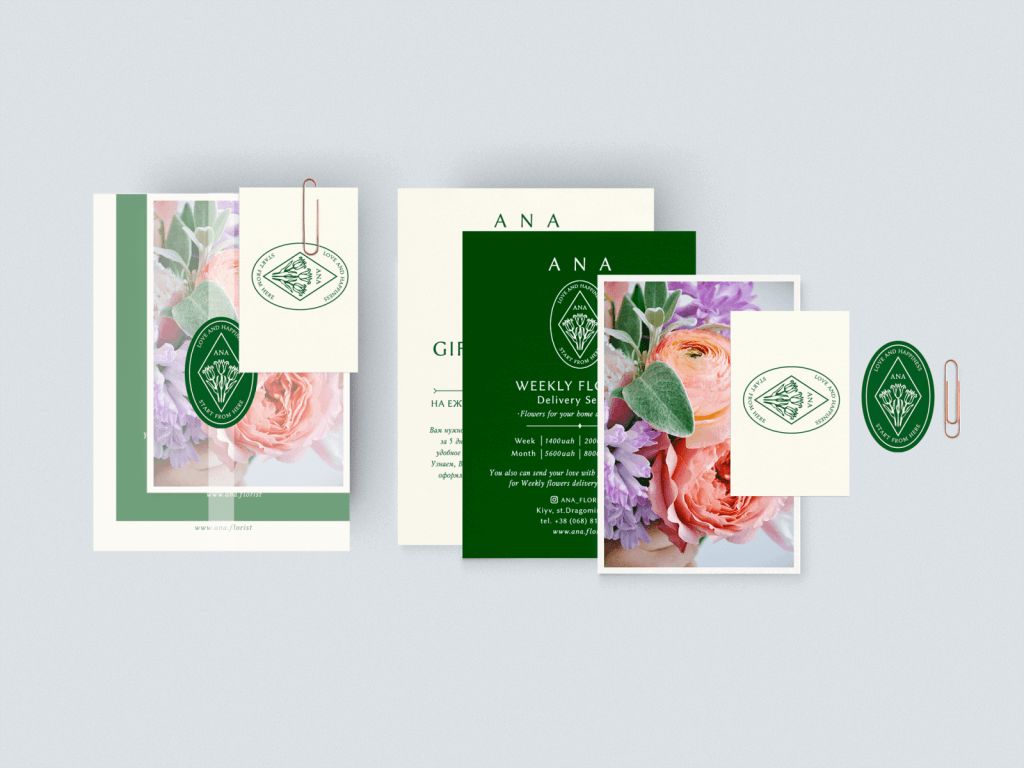 3. Add information
To create an edgy design, follow the principle of minimalism. Here are the main pieces of information that your gift certificate must contain:
brand name;
worth;
contact information, such as address, phone, email, and socials;
terms of use (expiry date, terms of use, refund and exchange policy) are usually found on the reverse side or in an additional brochure.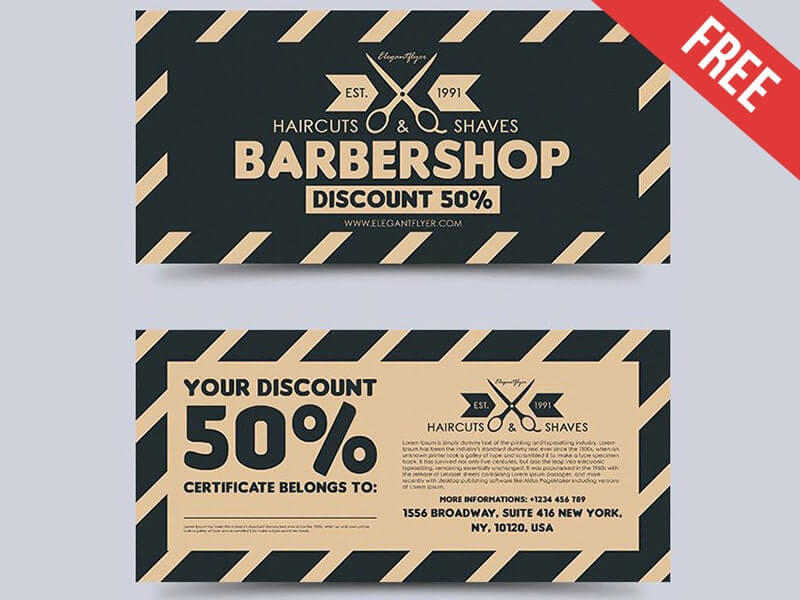 4. Think about design
Gift certificate is an important part of your corporate branding. When crafting your design, be sure to enhance it with your:
logo;
corporate colors;
fonts and graphics.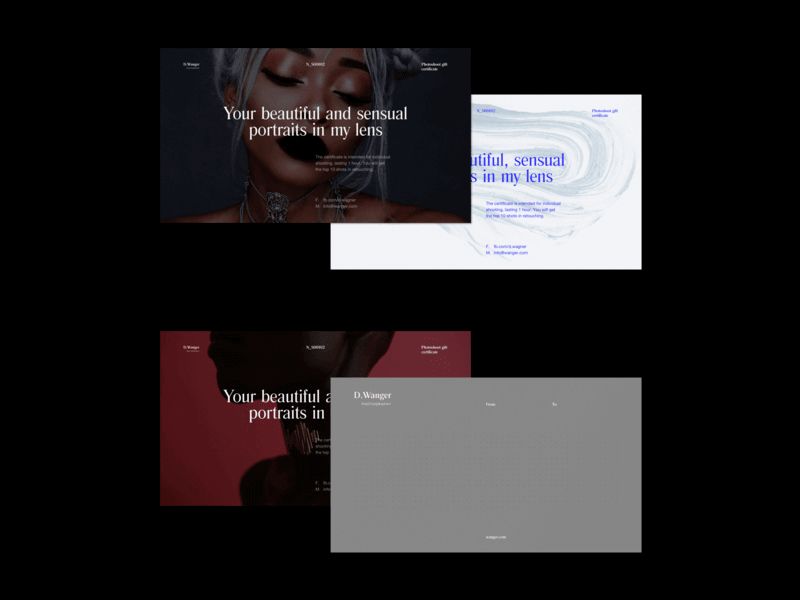 Need design tips? Here are the answers to common questions.
I don't have a brand identity yet. What do I do? Use a smart online logo maker (e.g., ZenBusiness) to create a professional brand identity in minutes. Enter your company name and industry. The service will generate dozens of logo options that you can edit and save to your computer.
Why does a certificate need a packaging? Like any gift, your certificate needs a striking packaging, such as a box, envelope, or ribbons. Think about what design goes in line with your brand personality and customer preferences.
Where do I find inspiration? See what other businesses in your niche are offering. Plus, fishing for exciting ideas on Pinterest and Behance can never hurt.
How can I make my gift certificate stand out? Your customers will like it if you give them a possibility to choose between a box and envelope, red and blue ribbon, matt and luster paper, etc.
5. Design your piece
With clever text editing software and online services at hand, you can create an original gift certificate even with zero design skills.
Microsoft Word
Microsoft Word is an all-familiar, versatile text editor that offers dozens of ready-to-use templates. Open Microsoft Word and click on File — Create. Enter "gift certificates" into a search box and pick one of the options. Edit if needed and save the result.
Online services
Canva
Canva is a hugely popular graphic editor that boasts dozens of free and premium templates. Edit your design by adding various graphics, illustrations, and text. Once you're happy with the result, save a printable version of your certificate to your device.

123certificates
This amazing service offers both generic and theme-specific (Halloween, Christmas, birthday, etc.) templates. Pick a design you like and customize it by editing its fonts and graphics.

Adobe Spark
Adobe Spark has an advanced toolset for creating a stylish gift certificate from scratch. Pick the best template and set its size. Then add imagery and text and adjust your design. Done! Now you can download your file to your computer or print it right away.

Microsoft Office
While having only one free template, Microsoft Office boasts vast customization tools. You can add the recipient's name, gift description, as well as change typography, shape, and colors.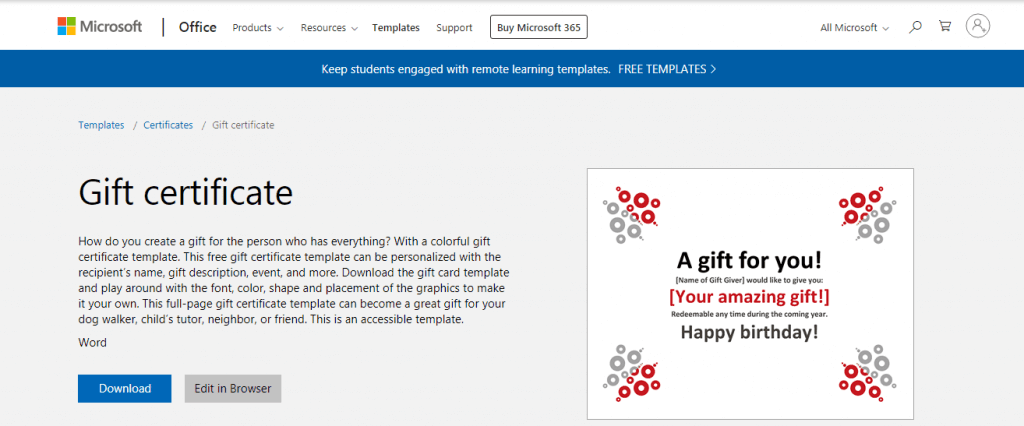 Shopify
If you have an e-commerce store on Shopify, you can generate a free voucher for online shopping. The bad news is that this service offers very limited customization options. You can only add your logo and nothing more.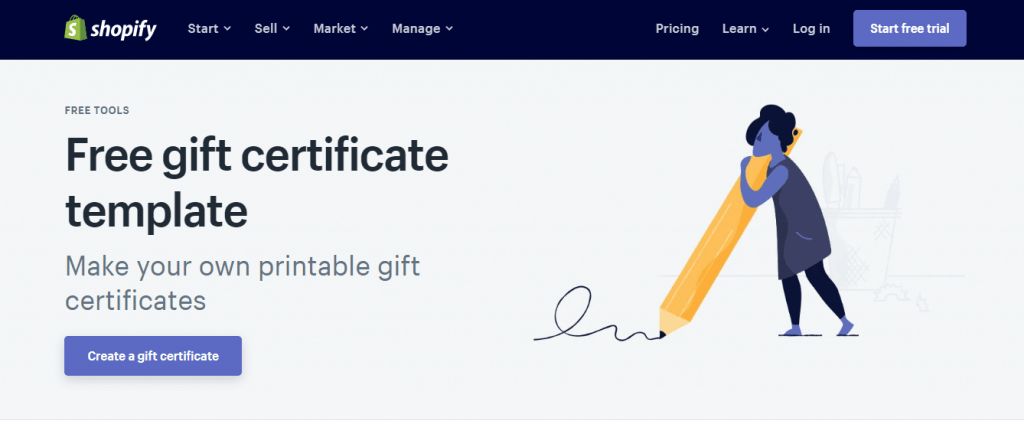 Crello
Crello is an intuitive online editor that has professional templates and a variety of extra features. You can change the colors and fonts, add new imagery, rearrange the elements, and many more. Unleash your creative skills and craft a unique design with Crello!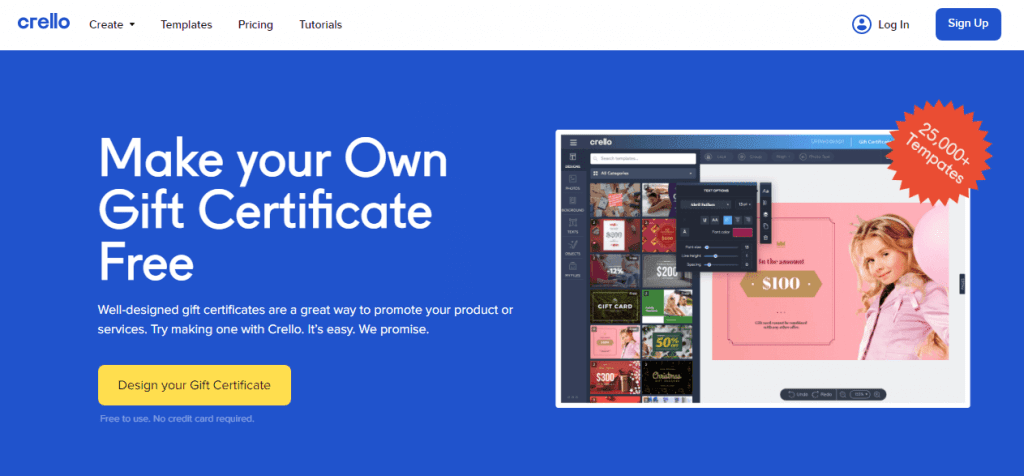 Where to print your gift certificate
Vistaprint
Vistaprint is a popular web-to-print service that enjoys the trust of many users. Upload your own design or create it right on the platform. Vistaprint has a bunch of turnkey templates, materials, and orientations to choose from. On top of that, you can order a custom envelope to go with your gift certificate.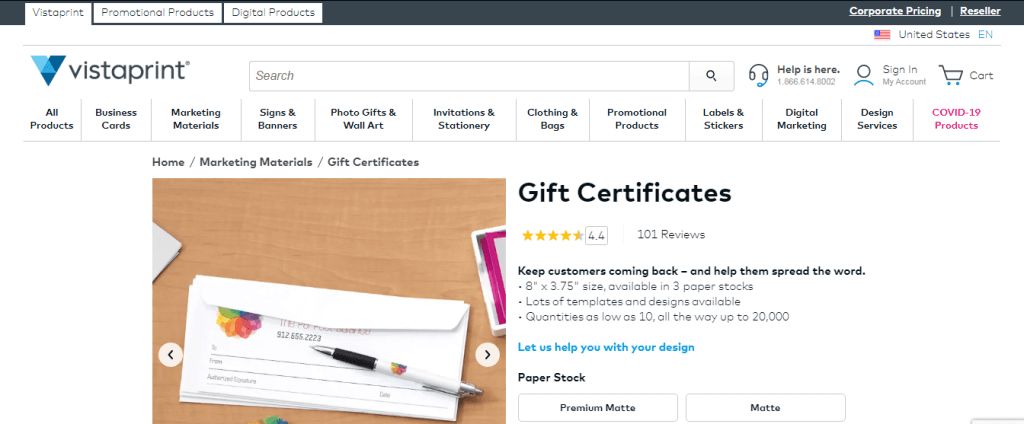 Offline print shop
Use Google maps to find a print shop which is located close to your home or office. Enter "print ship" into the search box and select the company with the biggest number of good reviews. Go to the company website to find out what requirements your files must meet in terms of size, format, etc.
Final words
A gift certificate requires promotion just like any product or service:
promote your gift certificates across various channels, e.g. on your website, socials, via emails, during live communication with your clients, etc.
create special certificates for holidays to cheer up your target audience.