You never have a second chance to make a first impression. The impression will be carried on for a long time. It has to be done right!
If you have a website or if you are planning to design a website, you are at the right place. In this article, I will give you tips on 7 critical elements every website homepage must have!
Quick story and the homepage panorama
Over the years, I have built quite a few websites for all sorts of projects.
This picked up after SITE123 was launched because making websites became much easier. I have built sites for construction companies to children clubs, from restaurants to music festivals. It has been fun and I have accumulated experience with every single project. There is one thing I can certainly say from it all: people will visit your homepage!
Maybe you haven't thought of the power of homepages up until now. There is a lot to think about when you are running your company, trying to get everything done while at the same time taking care of your digital presence, including the website, social media, etc.
However, it is very important to consider the impact of homepages. They are generally responsible for drawing in a majority of your website's traffic. Almost any visitor entering your website will visit the homepage at least once. That said, it means that there is a good chance that the first impression you get to make on your visitors will be through your homepage.
Let's go one step further just to complete the thought on the importance of the homepage. A recent study by the Missouri University of Science and Technology stated that it takes only two-tenths of a second for users to form a first impression about your website. Fast enough? I bet.
Does your homepage have to be awesome and be able to create a great first impression? Of course! So let's see what it takes…
1. Website name and logo: your customers will recognize your brand by its logo. If you already have a logo, that's great. But if you don't, you can create an amazing one in just 3 clicks. It's easy! And you know why you should do it? Because a good logo needs to include the name of your business and an impressive icon that reflects your business type. Also you can check some free photo sharing websites for getting images for your website.
How to do it?
Click on HOMEPAGE, then go to the WEBSITE NAME AND LOGO tab… Insert the name of your business or project. To quickly compose a logo, click on the ICONS button and choose an icon that represents your business accordingly.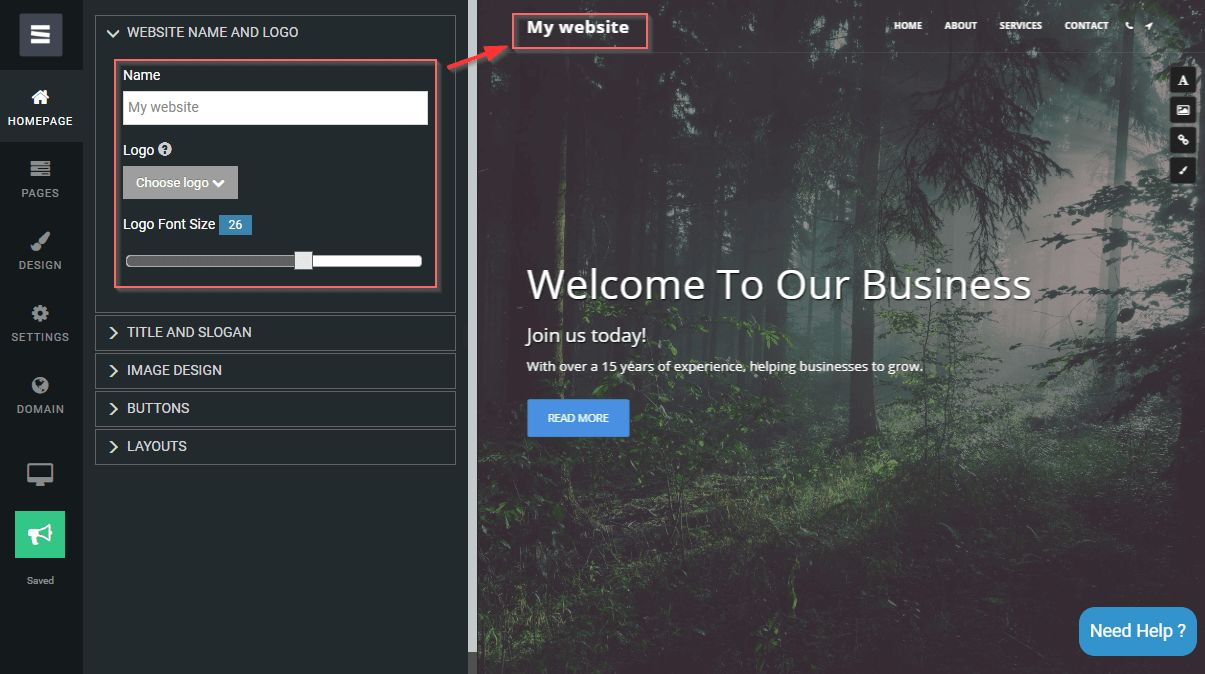 2. Title and slogan: Within 3 seconds, your homepage has to explain what your offer. Keep it simple. Don't forget to add a sub headline to introduce what your website is all about. Provide a clear value proposition right up front.
How to do it?
Click on HOMEPAGE, then go to the TITLE AND SLOGAN tab. Insert the title, subtitle, and a slogan. Then choose where to position this information on your homepage's mainframe. You can choose to put it on the top left, top right, bottom left, bottom right, top center, bottom center, etc. Next, choose the size of the title and subtitle. There's a total of 99 possible combinations! Stick with the one that looks and feels the best for you.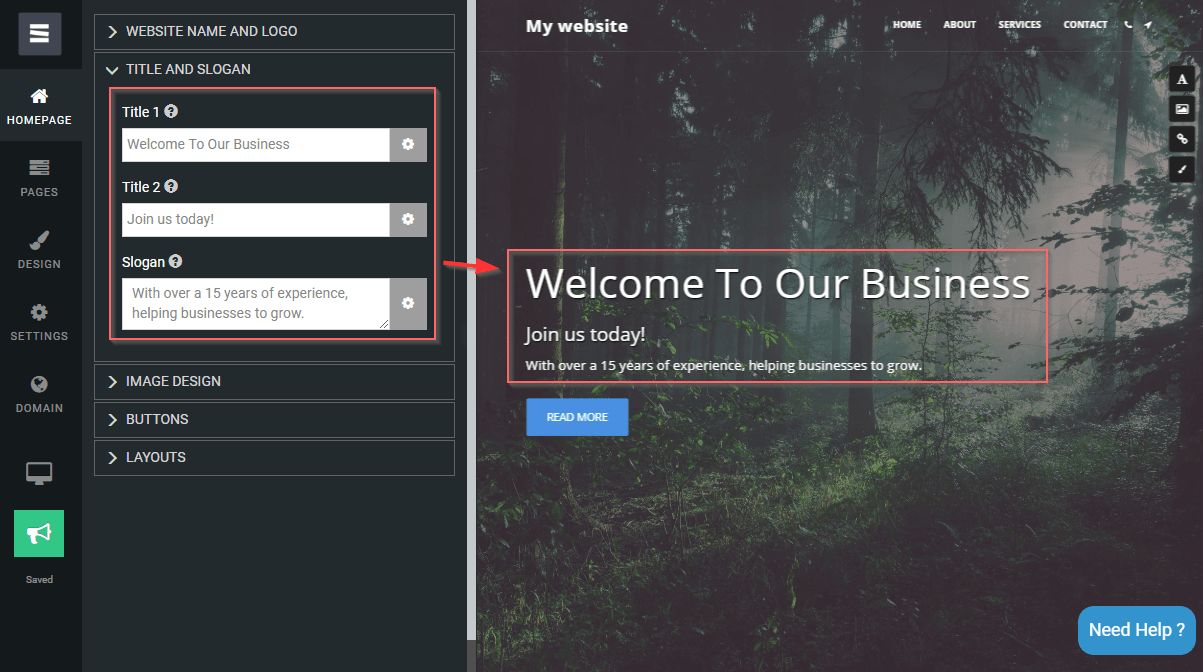 3. Background Design: Most of us love to see images… The image or video that you choose for your homepage should support your product or service. You can use SITE123's free royalty image galleries for this… There are hundreds of images to choose from. When you are done choosing, you can adjust the image so that the text is clearer by using a suitable filter.
How to do it?
Click on HOMEPAGE, then go to the BACKGROUND DESIGN tab. Now you either upload the images or click on LIBRARY to browse SITE123's royalty free image galleries.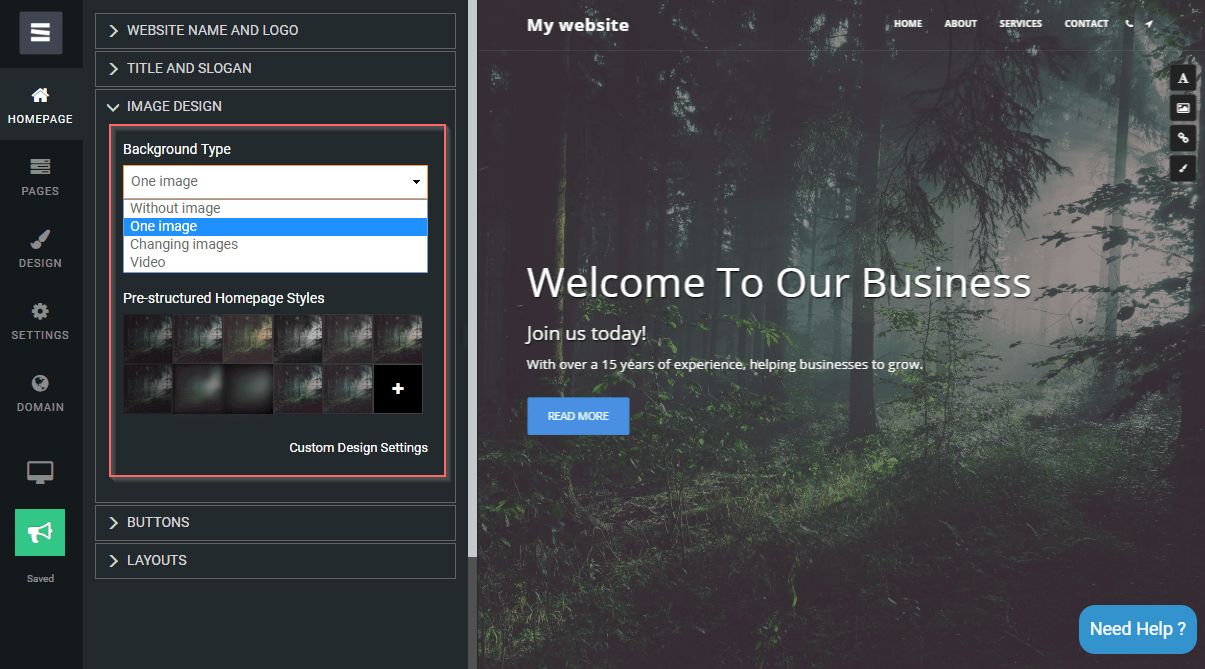 4. Buttons – Call to action. The goal of your homepage is to make people want to dig into your website and read more about your product or service. At the end, we want them to buy from you… To achieve that goal, you need to add 1 or 2 CTA (Call to action buttons). They act like a reminder for your visitors. Something like: "hey, did you like our website, our products? So click here and buy something before you leave". Of course, with nice wording and a special offer that may be hard to resist.
How to do it?
Click on HOMEPAGE, then on the BUTTONS tab, and you will see the options available. You can add up to two buttons to give. You can also edit the style of the buttons as needed.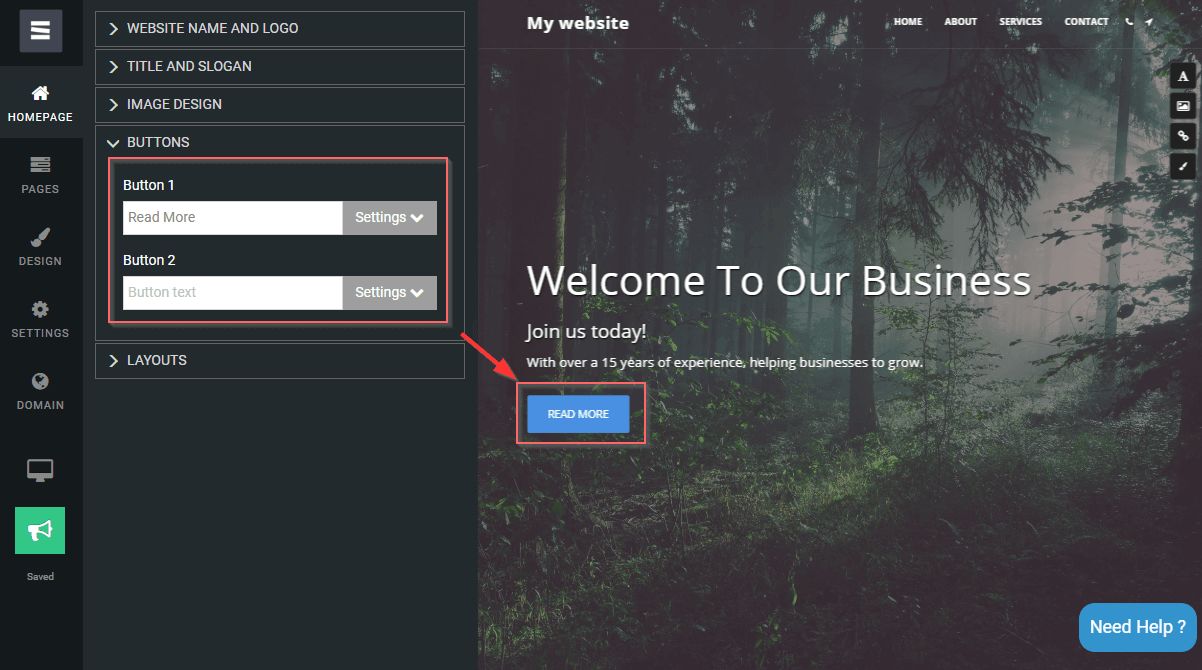 5. Layouts – the overall shape of your website, the shape everything else will fall into. With SITE123, you can change the layout of your homepage as many times as you want – without losing the professional look and feel of your website. And you have so many options… There are layouts that are text-based, others that are text + video… And much more: text + buttons, text + more text, text + images, text + forms… It's up to you to choose what will be the best option for you while taking into consideration your main goals for the website.
How to do it?
Click on HOMEPAGE and then on the LAYOUTS tab. Browse through the options and choose the one that suits your needs.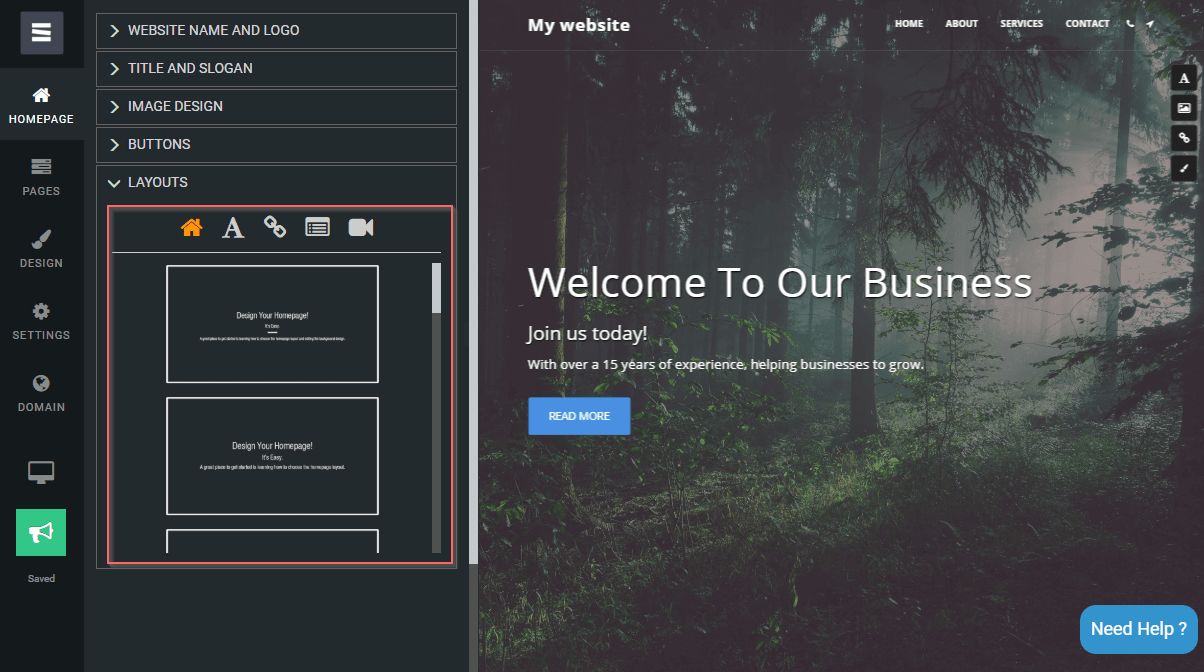 6. Menu – With SITE123 your navigation menu will always be understood and clear to your clients. All you need to do is to choose the one that is right for you.
How to do it?
Click on DESIGN and go to the LAYOUTS tab. There are many options to choose from. You can organize your menu inside one button or have it laid out open like the traditional way. You can also choose to put it on the left, right, make it transparent, colored, etc.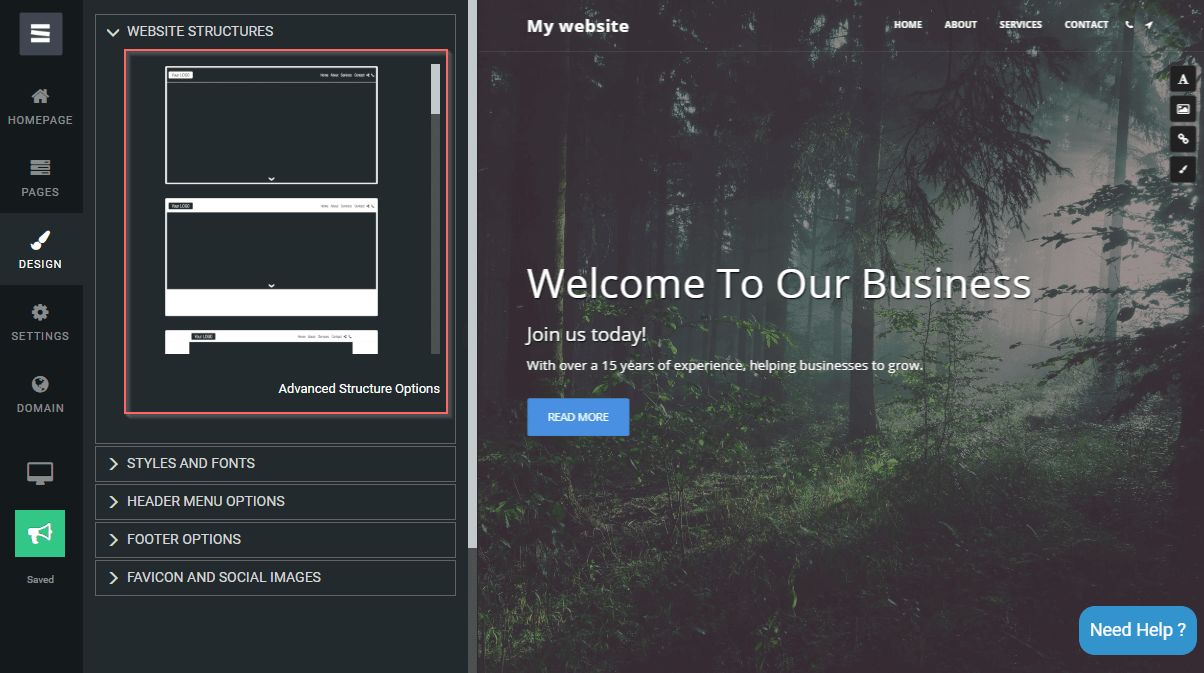 7. Social Networks, Phone number, Address and more… Don't forget your contact information and links to important social networks.
How to do it?
Click on DESIGN, then go to the MENU OPTIONS tab. Activate each piece as needed and insert the information in the respective field.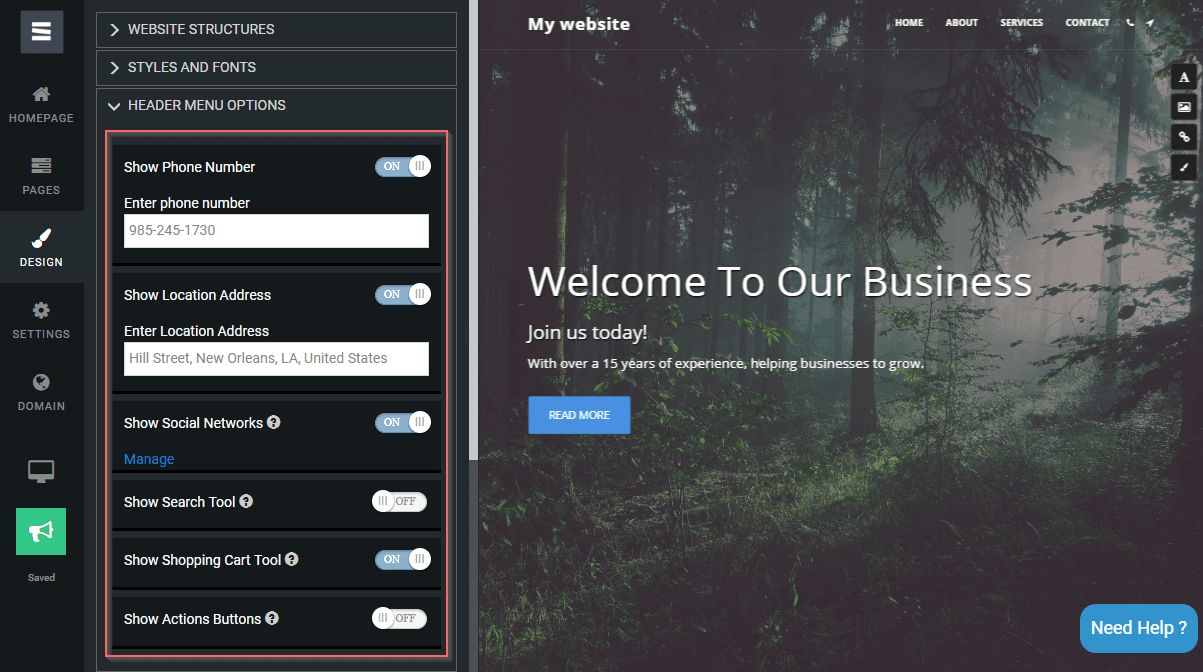 8. And don't Forget to Optimize For Mobile – In fact, you do not have to do anything or remember anything with SITE123… your homepage is automatically mobile-friendly! That includes everything! Headlines, sub-headlines, text, calls-to-action, images, and more.
How to see the preview of your website for different devices? You can quickly see how your website will be seen in all sorts of devices. Click on PREVIEW and then choose the option you want to see.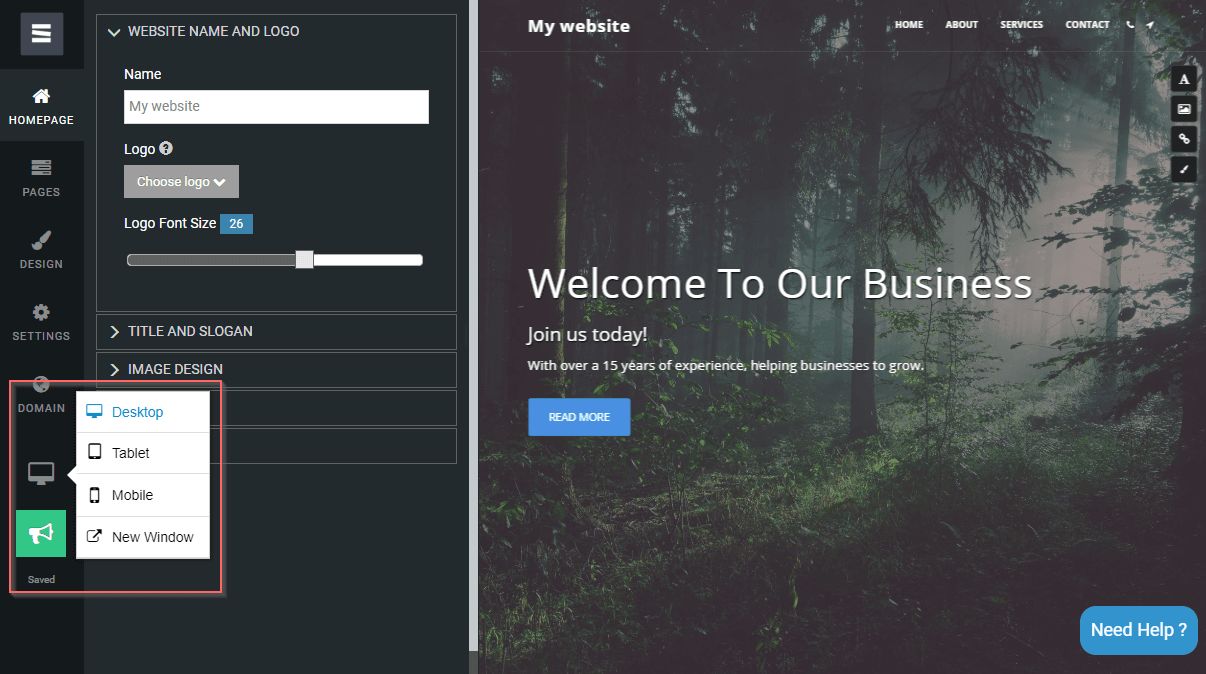 Conclusion
Your homepage can include everything you want BUT it is more important to include what your client needs, what will really help them specifically.
There are so many options for doing this… Logos, slogans, layouts, buttons, and much more. It's up to you to choose what will be the best strategy while taking into consideration your main goals for the website. Then it is all about editing each little part accordingly.
With SITE123, you can change the design, content and tools of your homepage as many times as you want – without losing the professional look and winning spirit of your website. It is this flexibility, in addition to the effectiveness of our tools, that set your website up for great results! So what are you waiting for? Click here to improve your homepage!