If you stated your exact job title, how accurately would it really encapsulate everything you do at work? Can your responsibilities fit within a well-worded box, or do you feel that some of your daily doings operate beyond title lines? And whether you answer yes or no, are you OK with doing (or not doing) more than your job description implies?
Wearing different hats at work is quite common, but how much is known about how this trend impacts employees? We surveyed over 1,000 current employees about the various functions they serve at work, what they think is fair, and how workloads have changed due to the COVID-19 pandemic. If you're interested in what employees really think about their roles beyond literal job descriptions, you'll want to keep scrolling.
Exceeding Expectations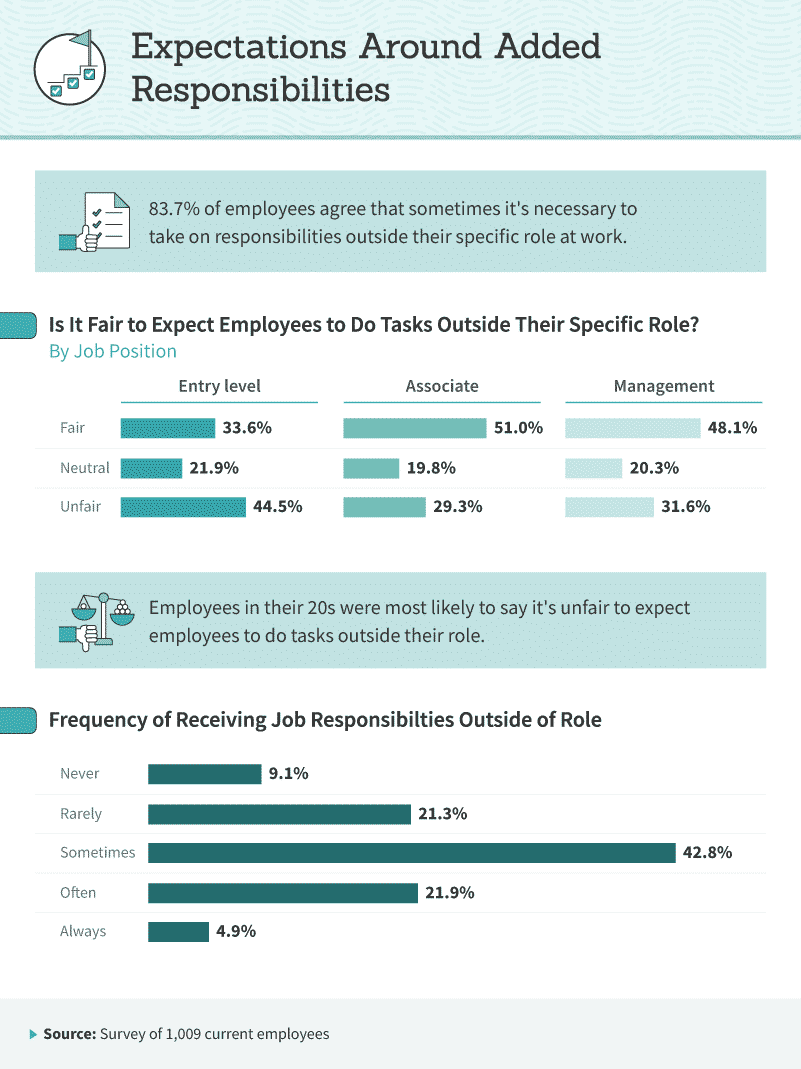 Our study began with a look into general sentiment around taking on responsibilities outside of a specific job title. We asked employees how often these additions were happening and whether or not they thought they were fair.
Wearing multiple hats is a behavior American employees are familiar with. The "jack-of-all-trades" approach to employment is becoming increasingly popular in the U.S. and is recently thought to be advantageous to business endeavors. According to Harvard Business School, even though college students are often encouraged to pick a focus, it's actually generalists who end up learning things earlier and generating more impact than the specialists.
In our study, more than 90% of respondents had at least some experience with performing tasks outside of their designated role. And only 21.3% said the occurrence was rare.
It was most common for employees to sometimes receive job responsibilities outside their role, with 42.8% reporting that frequency of being given extra work. Eighty-four percent of employees agreed that extra work was necessary at least sometimes, though younger employees (those in their 20s) were most likely to feel the extra work was unfair. Entry-level employees were more likely than both those at the associate and management levels to feel that any additional work outside of their job description was indeed unfair.
Role Call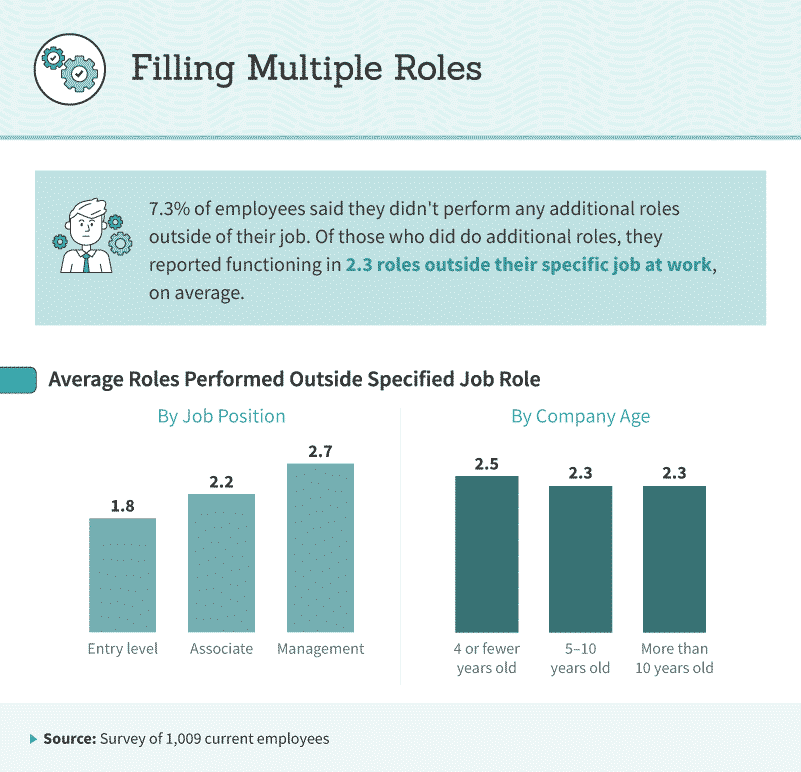 Next, our research led to the specifics. We wanted to know exactly how many "hats" or roles employees were performing in addition to their assigned role.
On average, employees were responsible for 2.3 roles outside of their specified role. Only 7.3% of employees said they didn't have to perform roles outside what they were hired for. Entry-level employees had the fewest hats to wear, likely because of a lower experience level. More experienced employees, however, like managers, had nearly one full additional role, on average, to fill each day than their entry-level subordinates.
Small businesses in particular may depend on employees being able to wear multiple hats. Many fledgling businesses can't afford to hire a full staff, so having a few who can move between different roles easily can be valuable. This notion was certainly reflected in our data, as employees working at younger businesses reported taking on slightly more roles, on average, than those working at more seasoned establishments. Businesses that were just four years old or younger asked each employee to fulfill 2.5 roles on average, compared to just 2.3 roles for businesses older than that.
Attitudes on Added Duties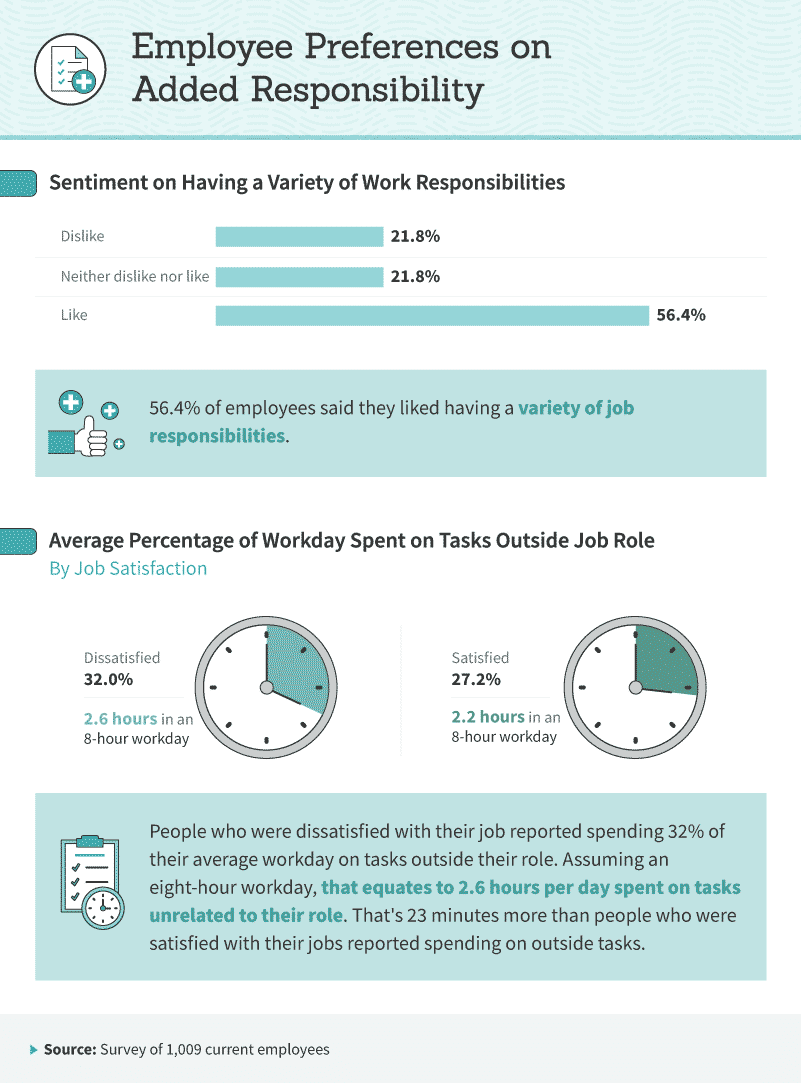 While employees expressed mixed feelings about being tasked with work outside the position they were hired for, a majority (56.4%) reported liking the variety in their workday.
However, variety isn't the same as being tasked with performing multiple roles, and we found a correlation between the latter and dissatisfaction at work. Employees who reported being dissatisfied with their job reported spending an average of 32% of their typical workday on tasks outside their specific job, compared to an average of just 27% for employees who reported being satisfied. While having flexible employees might be valuable to many companies, it's important to consider how those expectations could impact employee satisfaction.
Priorities During a Pandemic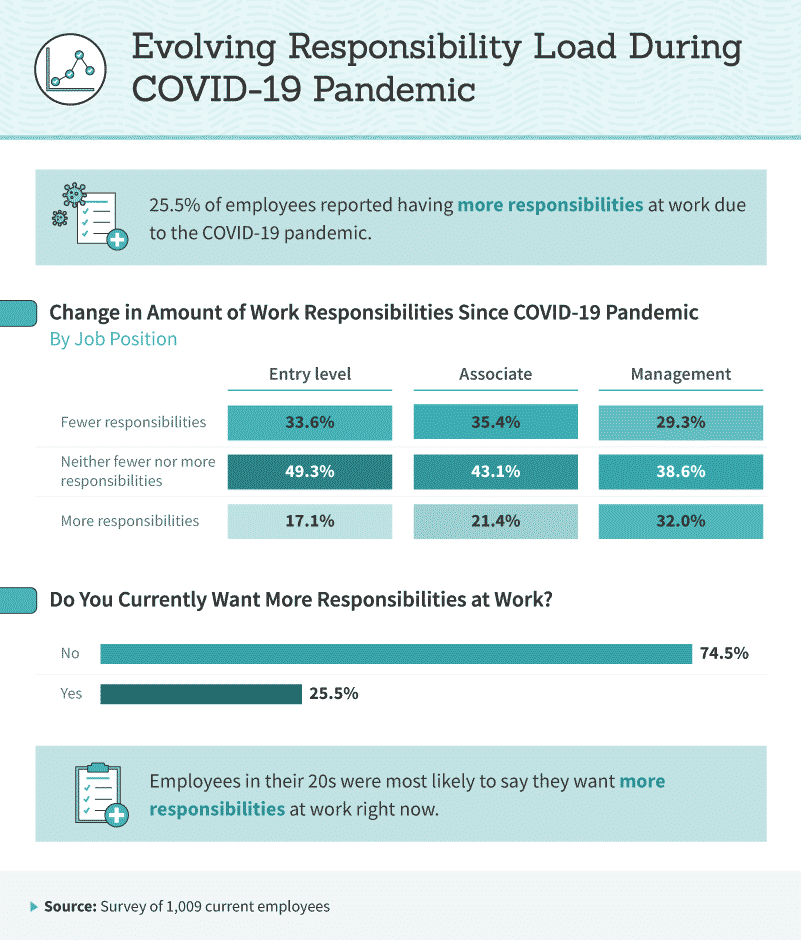 With much of the workforce beginning to work remotely full time when COVID-19 struck, there were bound to be some changes in responsibility. Some newly remote employees have had to adapt to managing child care in tandem with work, while others have struggled with general adaptation issues. We asked respondents how COVID-19 has affected their work responsibilities as well as how additional responsibilities may weigh on them at this moment.
About 1 in 4 employees surveyed reported being given more responsibilities at work since the onset of the crisis. Employees in management roles in particular were most likely to say they'd been saddled with added work obligations.
Relatedly, a strong majority (74.5%) of employees said they do not wish to be given any more responsibilities at this time. This could be due to the fact that the coronavirus pandemic and subsequent economic fallout have people particularly stressed, making it difficult for even the most dedicated employees to stay focused and on task.
Building the Ideal Business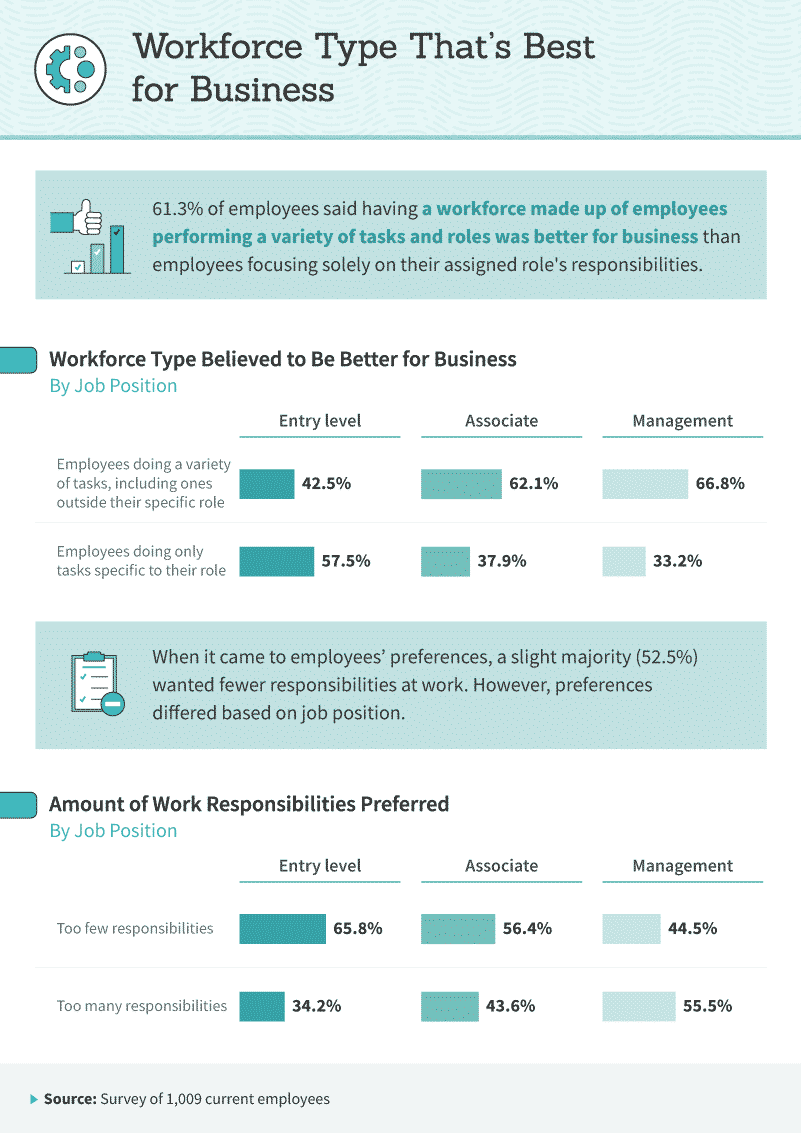 Evidently, variety is the spice of business as well as life. Sixty-one percent of employees believed businesses would be best supported by individuals that engaged in a variety of tasks, as opposed to each employee sticking to his or her lane.
Managers were most likely to perceive a jacks-of-all-trades workforce as best for business. That said, employees who prefer to be specialists working on a specific set of duties may not be totally left out. The Harvard Business Review found that specialists can thrive in faster-evolving fields and industries. So perhaps it isn't so much a question of what is best for all businesses but rather what's best for each individual business.
Something to Hang Your Hats On
The perfect number of hats to wear at work may be difficult to pinpoint, but the data we've gathered certainly got us closer. We ultimately saw that employees expect and often appreciate having a variety of responsibilities, but there's a delicate balance before this can be achieved. Dissatisfied employees spent most of their workday on tasks outside their job description, indicating that having to stray from their core function wasn't ideal for them.
One key to enjoying additional responsibilities is the feeling that you're learning something and increasing your own value. If these additional responsibilities involve confusing paperwork, however, it may be time to outsource instead of burden, particularly if the paperwork establishes a legal legitimacy for your business. This is where ZenBusiness is proud to step in. At ZenBusiness, our team of experts quickly and seamlessly deliver fast information and worry-free services for everything from legal work to accounting and beyond. This is one responsibility your employees don't need, so let us help.
Methodology
We surveyed 1,009 current employees about the roles they assume at work and how they feel about the amount of responsibilities they have.
Respondents were 47.6% women and 52.4% men. One respondent identified as nonbinary, and one respondent did not disclose their gender. The average age of respondents was 27.1 with a standard deviation of 11.
Respondents were asked to rate how much they agreed with a variety of statements, including "It is unfair for employees to be tasked with responsibilities beyond their specific job." They were given the following scale of answer options:
Strongly disagree
Disagree
Somewhat disagree
Neither agree nor disagree
Somewhat agree
Agree
Strongly agree
In our final visualization of the data, we grouped these into three groups: agree, neither agree nor disagree, and disagree. To make the takeaway clear, the agree group was labeled "unfair," the neither agree nor disagree group was labeled "neutral," and the disagree group was labeled "fair" in the final visualization.
Respondents were asked to report how many different roles they performed at work outside of their specified role. The averages presented were calculated to exclude outliers. This was done by finding the initial average and standard deviation. The standard deviation was then multiplied by three and added to the initial average. Any data point above that sum was then excluded.
Respondents were asked to report how much they liked having a variety of responsibilities at work. They were given the following options:
Extremely dislike
Dislike
Somewhat dislike
Neither like nor dislike
Somewhat like
Like
Extremely like
In our final visualization of the data, these were grouped into three broad groups: dislike, neither dislike nor like, and like.
Respondents were also asked to report their job satisfaction. Their answer options were:
Extremely dissatisfied
Dissatisfied
Somewhat dissatisfied
Neither satisfied nor dissatisfied
Somewhat satisfied
Satisfied
Extremely satisfied
The final visualization of the data had three groups: dissatisfied, neither dissatisfied nor satisfied, and satisfied.
When reporting how their number of work responsibilities had changed since the COVID-19 pandemic, respondents had the following options:
Much fewer
Fewer
Somewhat fewer
Neither fewer nor more
Somewhat more
More
Much more
These were combined into the following groups in our final data visualization: fewer, neither fewer nor more, and more.
Parts of this project examine the data by job position. Respondents were given the following options when reporting their job position:
Entry level
Associate
Middle management
Senior management
Executive level
For clarity, middle management, senior management, and executive level were combined into one group labeled "management."
Limitations
The data we are presenting rely on self-report. Common issues with self-reported data include, but are not limited to, selective memory, telescoping, attribution, and exaggeration.
No statistical testing was performed, so the claims listed above are based on means alone. This content is purely exploratory, and future research should approach this topic in a more rigorous way.
Fair Use Statement
At certain times, it can become necessary for employees to step outside their designated role in the workplace to take on added responsibilities. If someone you know would benefit from reading this project, you can share it with them for noncommercial reuse. Please link back here so they can read the entire project and its methodology. This also gives credit to our hardworking contributors who make this type of work possible.
Create a Business Today
Get the services and expert support you need to form, run, and grow a successful business!