Nike's logo cost only $35, while Pepsi paid $1 million for theirs. The cost of the logo is affected by many factors that are especially relevant for novice businessmen. Read our article to learn how much it will cost you to create a logo and which type of logo will best suit your company.
Factors Influencing the Cost of the Logo
The price of logo development may vary from zero to several tens of thousands of dollars and depends on:
Creation method. The cheapest option is using graphic editors and online services, and the most expensive one is ordering a logo from a branding agency.
Designer's level. The more experienced the designer, the higher the price.
Region. It matters if you order the service offline: in large cities, the cost will be higher than in regions.
The number of corrections. If you don't like the result and want a designer to modify the layout several times, it may affect the final cost.
Service package. It can only include a file in raster format (this option doesn't allow to change the size with no loss in quality), a set of files in various formats and sizes, or a full set of corporate identity elements (business cards, letterheads, envelopes, brand books).
Four Ways to Develop a Logo
1. Design Agency
In agencies, there work teams of professionals who deliver a full range of branding services including social media packages, souvenir design, printed materials, corporate identity guides, etc.
The main disadvantage of this method is the price. It can be from $3 000 to several tens of thousands of dollars. Hardly can a small business afford it. Besides, the multi-stage process of brand analysis and identity development usually takes several weeks.
Before making a choice, carefully study the company's reputation and customer feedback and make sure the level of expertise suits you. To find the nearest branding agency, use Google Maps:
2. Freelance Designer
The cost of such services depends on a designer's experience. Beginners can set a price of $200-800 on average, while the work of experienced professionals can cost $800-2000. The time spent on the project is important (ask about the rate, i.e. hourly or per project) as well as the number of iterations. To get the desired result, you need to clearly outline your TOR.
The deadlines depend on your personal agreement with a designer and range from a few days to a few weeks. Be ready for a freelancer to miss deadlines or even "disappear" without completing the task.
Before ordering the service, check the designer's portfolio to see if it fits your style and study other customers' feedback. Performers can be found offline in your city or online at dedicated platforms.
Dribbble
The international online community of graphic designers with thousands of portfolios to choose from for free. Another search option is for a fee. For $249 per month, you'll have access to the closed part of the community with the best professionals and will be able to post ads by specifying the desired criteria.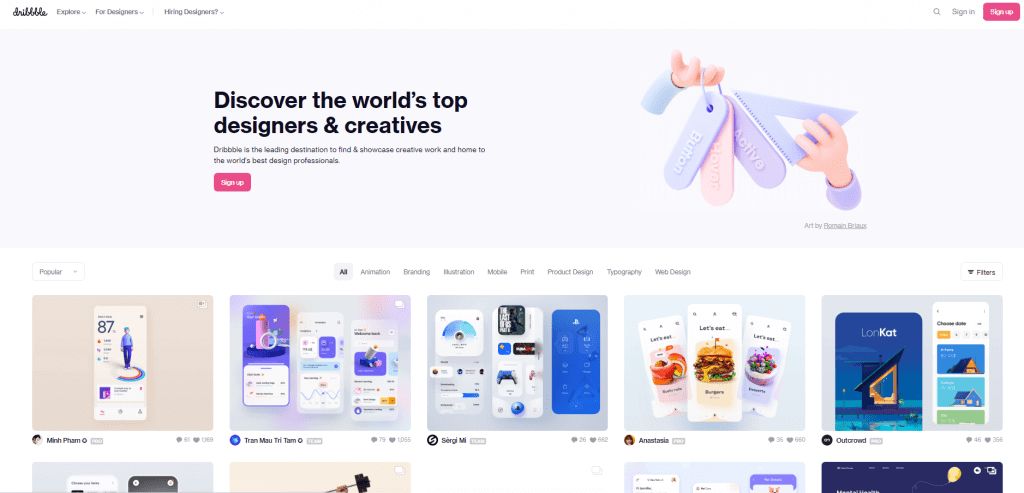 Upwork
The largest freelance exchange where thousands of designers with different experience levels and rates are registered. Using the resource is free. You can publish an ad or look for specialists by yourself filtering by experience, rates, and field of expertise. Freelancers' ratings, portfolios, and customer reviews will help you choose the best performer.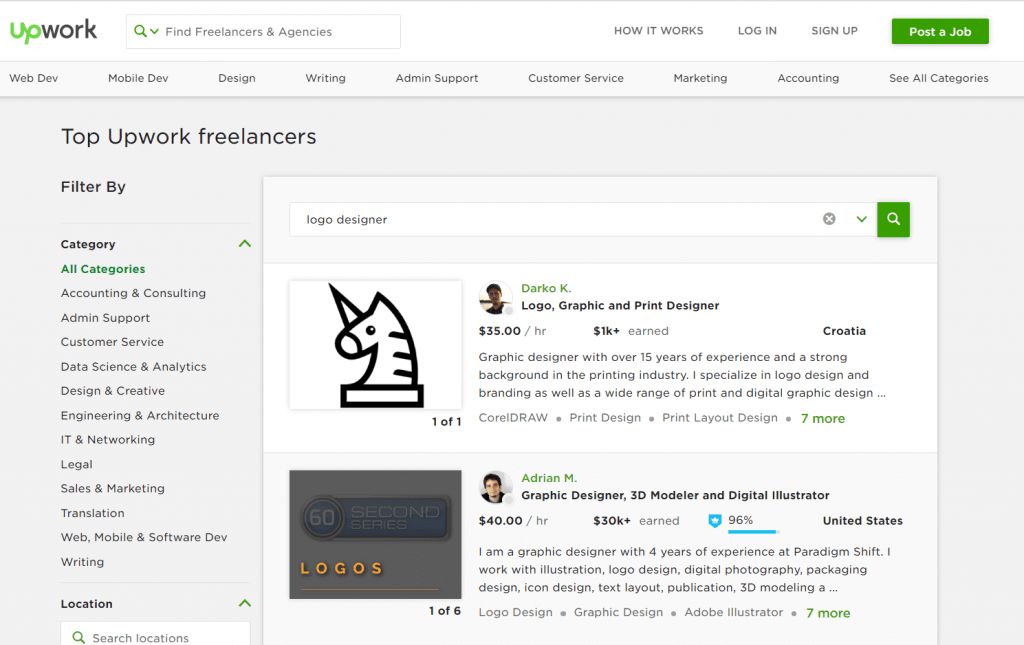 99designs
The community of professional designers offers two search methods. Those who have already formulated a task can post a job with specific requirements and select a designer by feedback. Those who do not have a clear idea of the identity concept can hold a contest by posting their requirements in the community. This service price starts at under $299.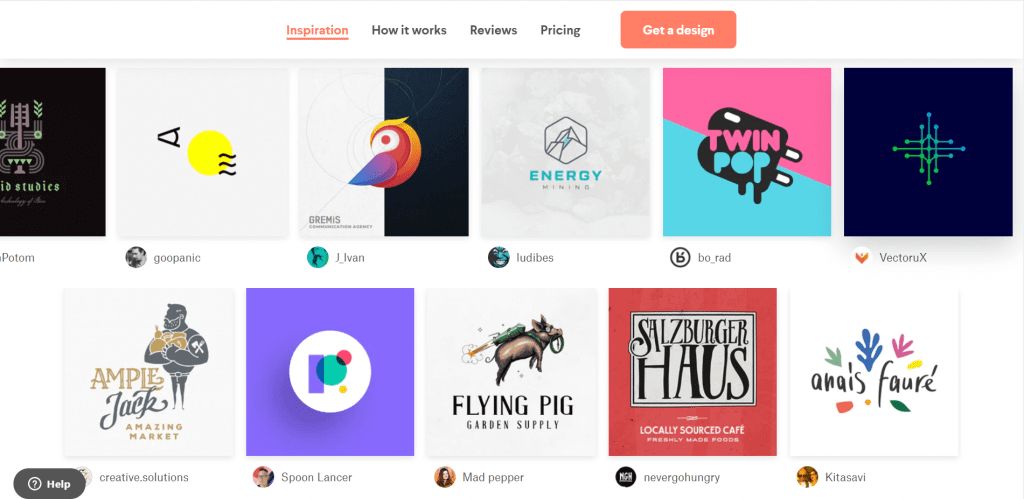 DesignCrowd
The platform is based on crowdsourcing. You need to fill out a brief with your task and budget and get hundreds of offers from designers. You can evaluate every work and ask for details to be changed. Then choose your favorite layout and download the file. Posting an order costs up to $109.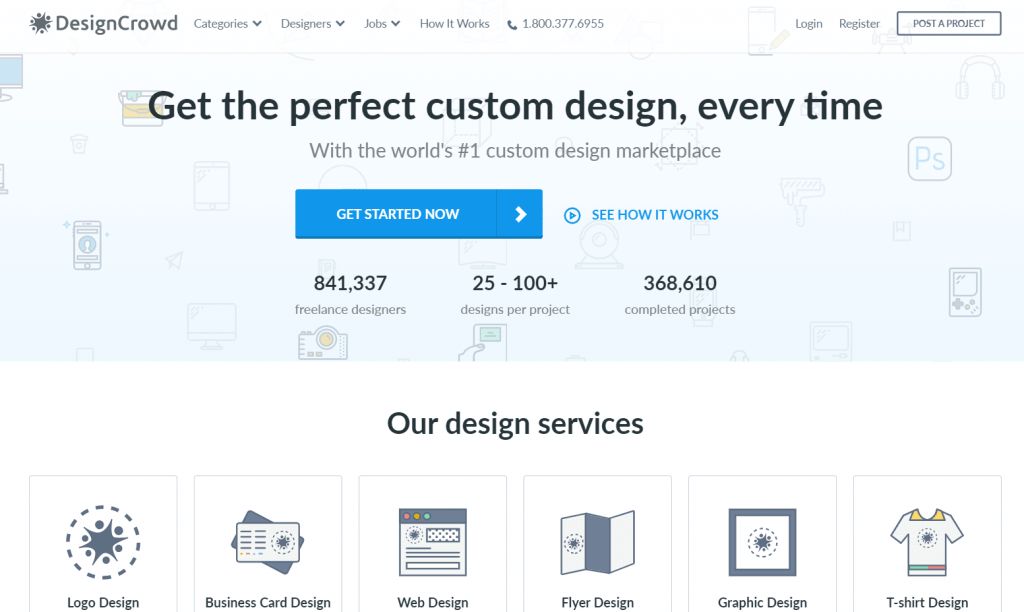 3. Online Services
Such generators require no special training as the process of logo creation is fully automated. Use ready-made templates or develop the company symbol based on its name. It will take just a few minutes. You can edit the layout until you achieve the desired result. Another advantage is the ability to make changes whenever you need, even after you have downloaded the file.
Although online generators do not offer a unique design, their tools allow you to create a truly impressive image. This option is perfect for small businesses since it won't take much time and the cost won't be high ($0-80 on average).
The online service will create dozens of logo options based on the brand name and business area. You can edit any of them by changing colors, fonts, and graphics. Based on the logo the generator will offer a full package of corporate identity, including business cards, letterheads, and brand books. The logo in low resolution can be downloaded for free while full versions cost from $9.99.
Designhill
Use the Designhill logo maker tool to create a professional logo within minutes or launch a contest and get your desired logo in your budget. Logos designed by Designhill's community of professional designers are original. It's because designers create them as per your design brief. Our designer community doesn't use clip art or copies of other graphics to create a logo. They use their original thought process.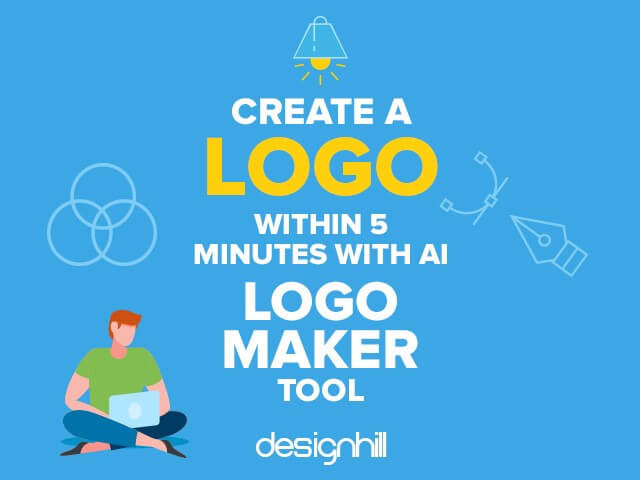 Canva
Choose a template from several hundred available for any industry and customize it by changing text, photos, colors, and graphics. A low-resolution file is available for free. To use the full feature set, you need to subscribe. The subscription costs starting at under $9.99 per month.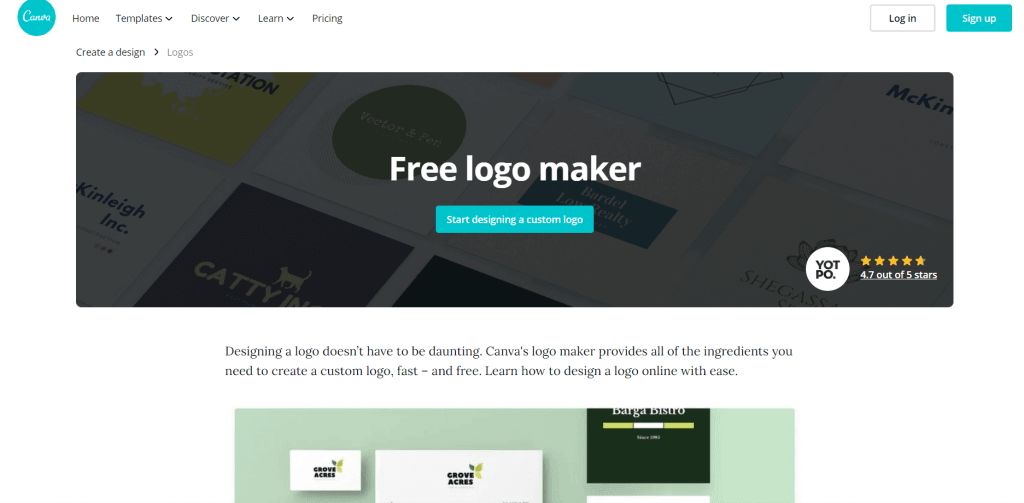 Spark.Adobe
Choose a suitable template and change colors, images, fonts, and graphics to find the style that will convey the brand"s "voice". The free version of Spark allows you to test the service with a limited set of features. The minimum cost of a paid package is $9.99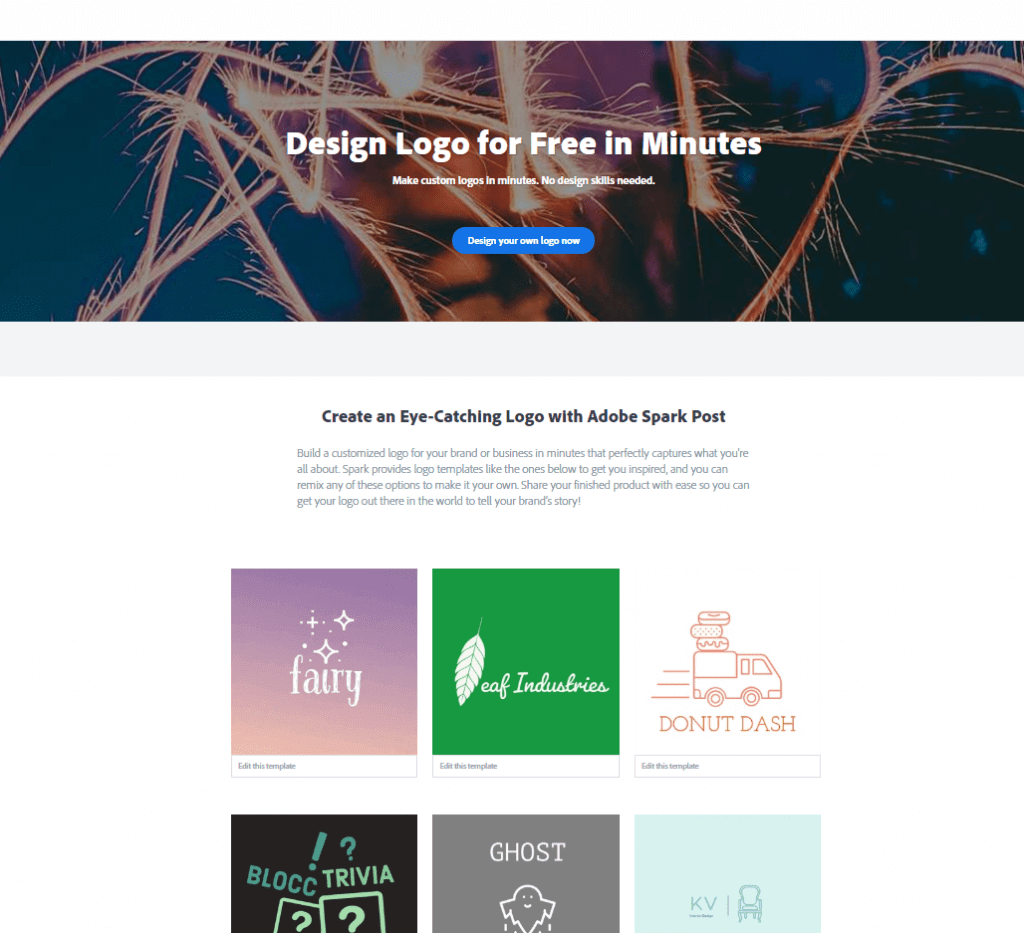 Penji
Unlike most services mentioned above, at Penji, you can request your logo when you subscribe to the graphic design service. The designers ensure that they follow your design brief and are meticulous when creating your logo design. Within 24 to 48 hours, the designer delivers the first draft of the logo. Here, you can let the designer revise their work or ask another designer to work on a different logo style. The subscription starts at $399/mo. The price may startle you, but they're an unlimited graphic design service, which means you can request any graphic design you need in a month.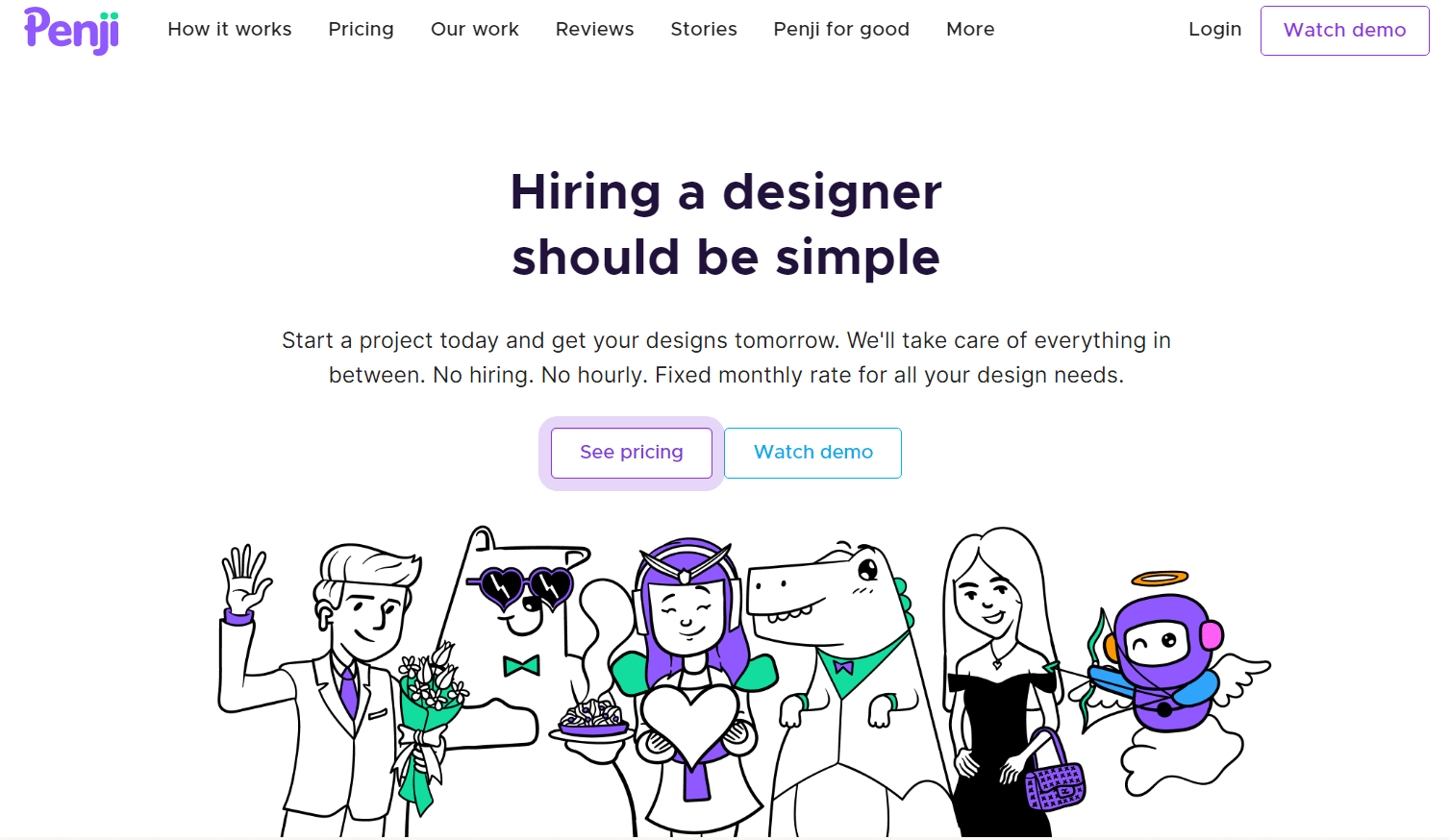 4. Independent Logo Development
Graphic editors allow you to draw a unique logo and show all your creative abilities. The price of independent logo development (except for the cost of the software) is your time since you will have to develop the identity from scratch, without any templates. This way will suit those who have at least brief experience in design.
One of the most popular editors is Adobe Illustrator. Start with developing the concept of the logo, create visual elements to express your corporate identity, and download the file in any format and size. Using the software will cost a minimum of $20.99 per month.
How to Choose a Logo Creation Way?
Focus on your budget, deadlines, and expectations first of all. The key criteria will be as follows:
Budget. If you have less than $100 for branding, choose online generators or independent development with graphic editors. If you can afford a larger budget then resort to freelancers or branding agencies.
Time. The fastest way to create a logo is by using online services. Working with agencies will be the most time-consuming.
Idea. For those who know exactly what they want the best choice would be Illustrator or ordering from a designer if you can provide him with precise TOR. If you have no idea what logo you need, the best option will be to use online services that allow you to choose from ready-made templates.
Usage. Need just a logo or a complete corporate identity package? If you don't need the full-service package, start with online generators where a small version of the logo can be downloaded for free.
Please refer to our table to compare all the ways:
| | | | |
| --- | --- | --- | --- |
| Logo Creation Tool | Cost | Deadlines | Editing Opportunities Upon Request |
| Branding Agencies | From $3 000 to several tens of thousands of dollars | Several weeks | No |
| Freelance Designers | $200 – $2000 | Several days to several weeks | No |
| Online Services | $0 – $80 | A couple of minutes | Yes |
| Independent Logo Development | Starting at under $20,99 | Several hours to several days | Yes |
How Startupers Create Logos For Their Businesses: ZenBusiness Survey
ZenBusiness has run a survey among 1,200 small businesses located in the post-Soviet countries, USA, Brazil, Canada, Germany, Spain, France, and other parts of the world. The goal of the survey was to find out how entrepreneurs handled the task of creating a logo for their business. The respondents were asked about their preferred logo creation methods, budget, and more. Let's take a look at the findings!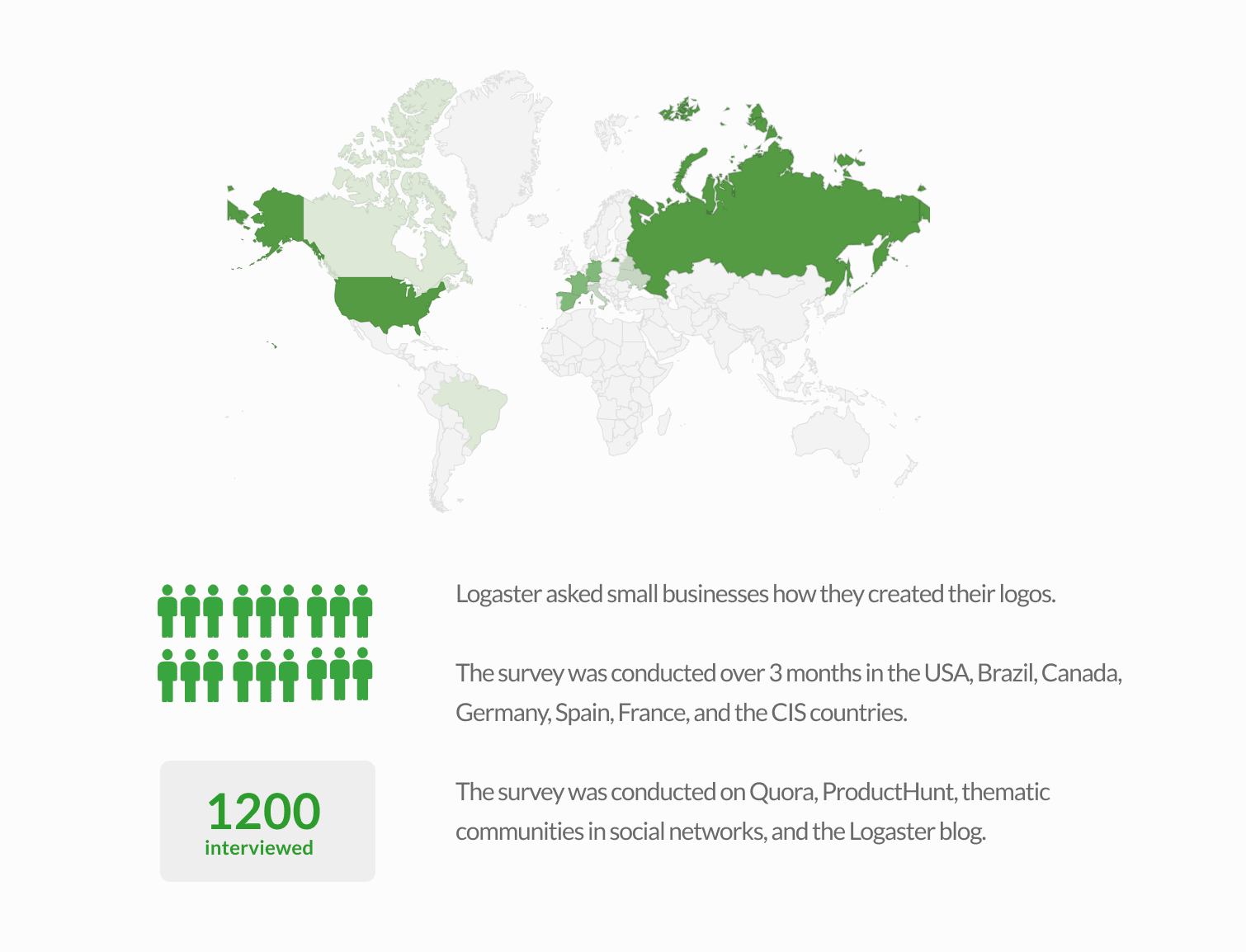 Budget
The biggest part of those surveyed (53.9%) are ready to spend under $100 on a logo, while 20.5% would like to get it for free. Only 19.2% of entrepreneurs are willing to part with $100-500. The logo budget of 6.4% of respondents goes over $500.
As you can see, every 1 out of 4 startups can afford the services of a freelance designer or design agency. All other businesses have to create an emblem themselves or use online logo makers.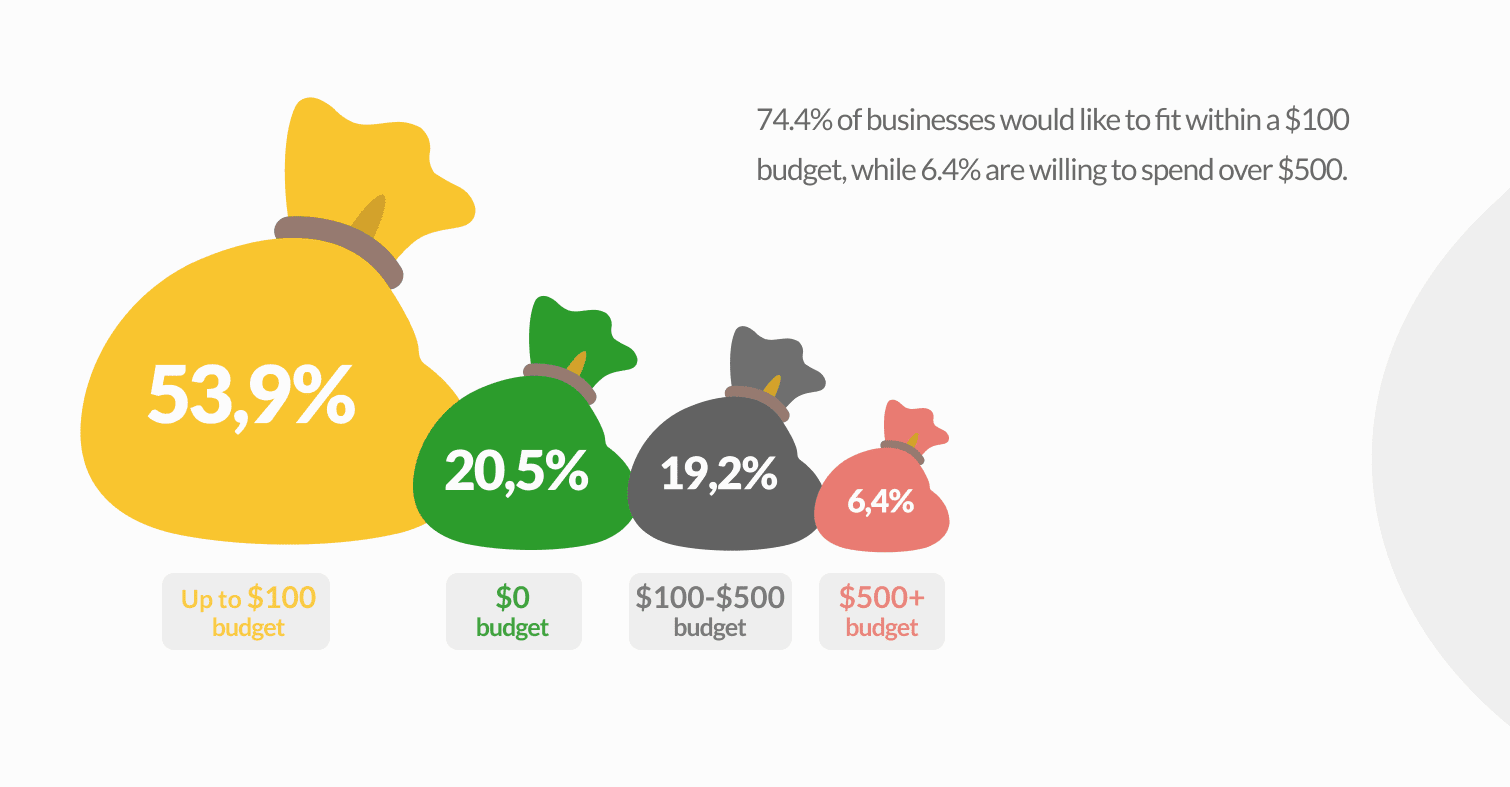 Price/quality ratio
38.2% of those surveyed named high quality the deciding factor in making branding decisions. 33.6% opt for a good price-quality ratio. The remaining 12.5% of businesses put price first.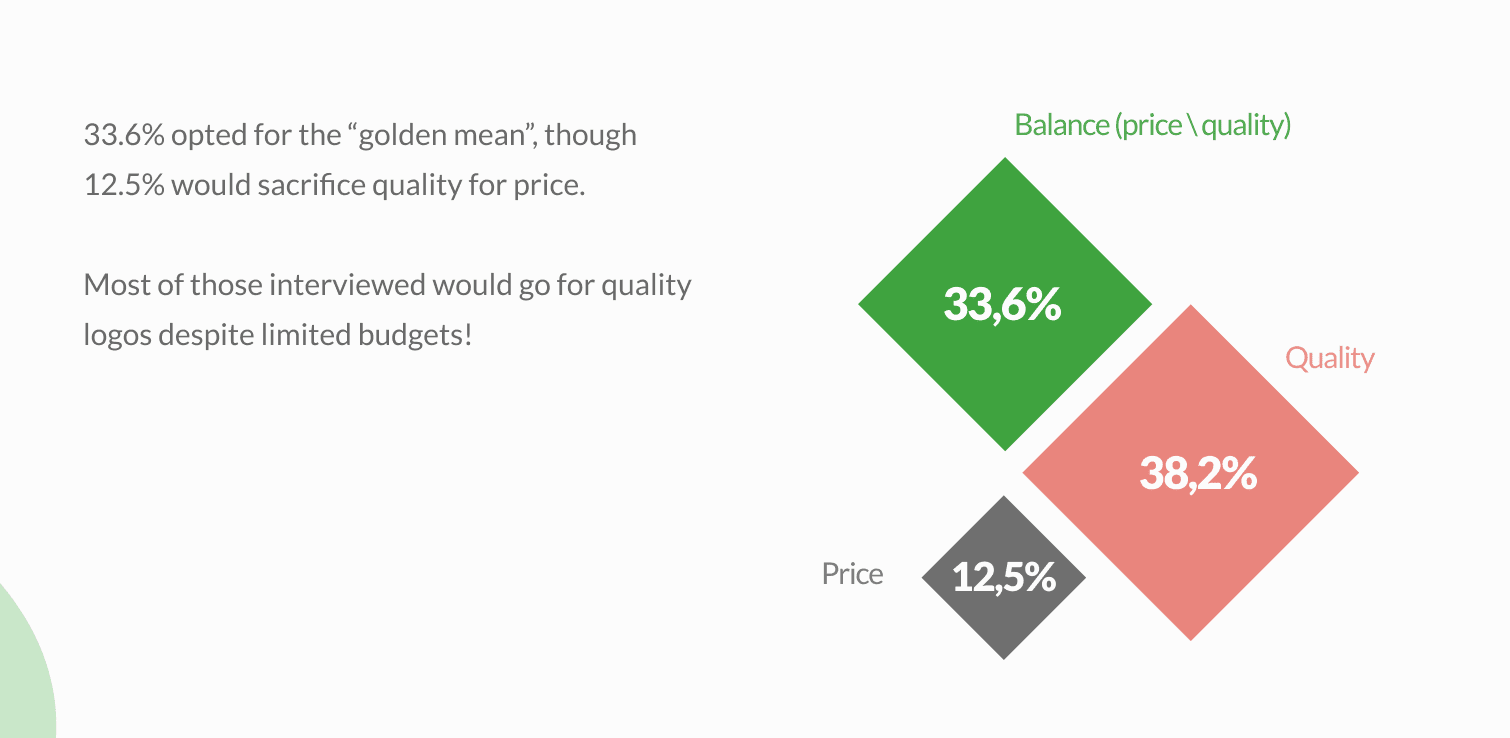 Time
The poll revealed that 44.6% of startupers were ready to wait up to one week to get the logo. 25% of those surveyed are willing to wait up to one month. Keep in mind that these are the standard times if you're using the services of freelance designers and design agencies.
For 17.8% of businesses, the optimal time for creating a logo is 1-2 days. At the same time, 7.9% of respondents expect to get an emblem within 24 hours. Such short times are only possible if you're designing a logo yourself or using an online logo generator.

Time passed from business launch
Most entrepreneurs (78.6%) designed their logo before starting their company. Another 16% of startupers got themselves an emblem within 2-3 month after business launch, while 5.3% waited a whole year before getting started with their branding.

Method
More than a third (36.7%) of those surveyed trust online logo makers with creating their corporate emblem. Another 23.7% have the confidence and skills to draw a logo themselves. Freelance designers and design studios are the prefered methods of 20.4% and 19.2% of businesses, respectively.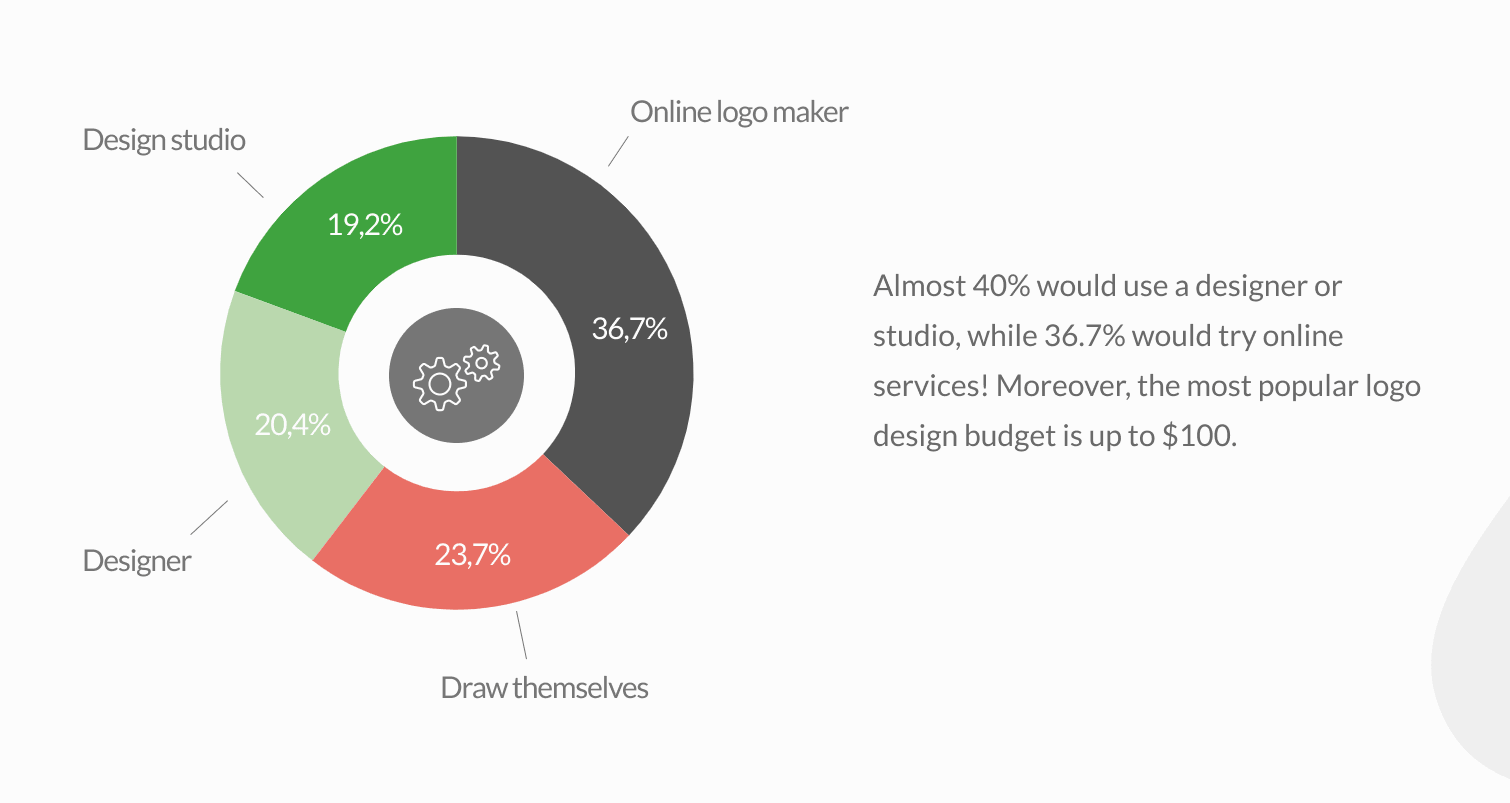 Importance
88.6% of business owners are convinced that a logo is a crucial factor in growing brand awareness and strengthening market position. Only 11.4% think that a logo is of little importance.

Conclusion
Logo is a reference point for building a unique brand personality. Having a catchy, easily identifiable emblem is an absolute must for any business. The good news is that a neat logo can be created in many different ways. You won't have any trouble choosing the logo creation method that fits your needs and budget!