Remember short GIF animations with memes or ads that attract attention on social media and websites? Do you know that they can be used not only for entertainment but also for brand promotion? This article tells you how to do it. You'll learn how to turn your logo into a GIF using Photoshop and use animation effectively.
Why Do You Need A GIF Logo
Animated identity attracts the audience's attention faster and allows you to convey more information than a traditional logo. Let us tell you more about the tasks it performs.
It draws people's eyes. A dynamic image attracts more attention than a static one and holds it. Another advantage of GIFs is that they only last for a few seconds, so they're usually viewed to the end.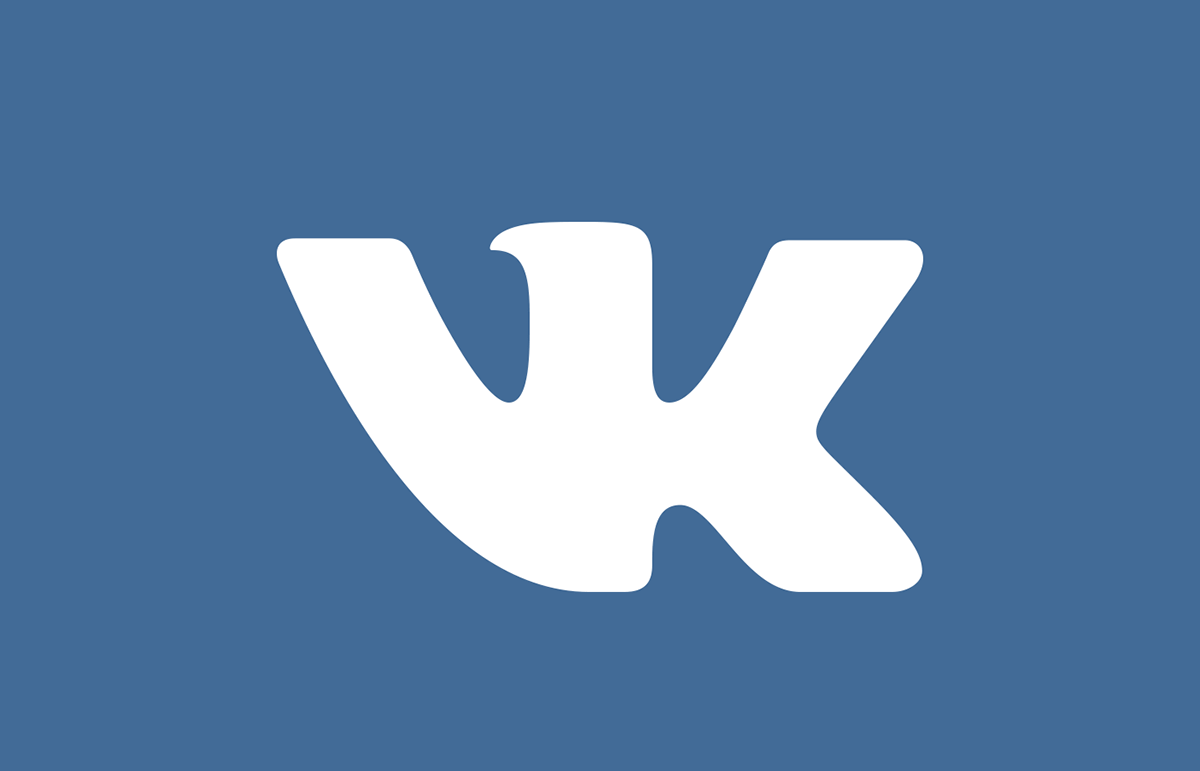 It conveys information. It conveys information. The animated logo can include not only the company name and image, but also tell a story. You can use either a slogan or a whole story for this purpose, for example, to tell about changes the brand has undergone.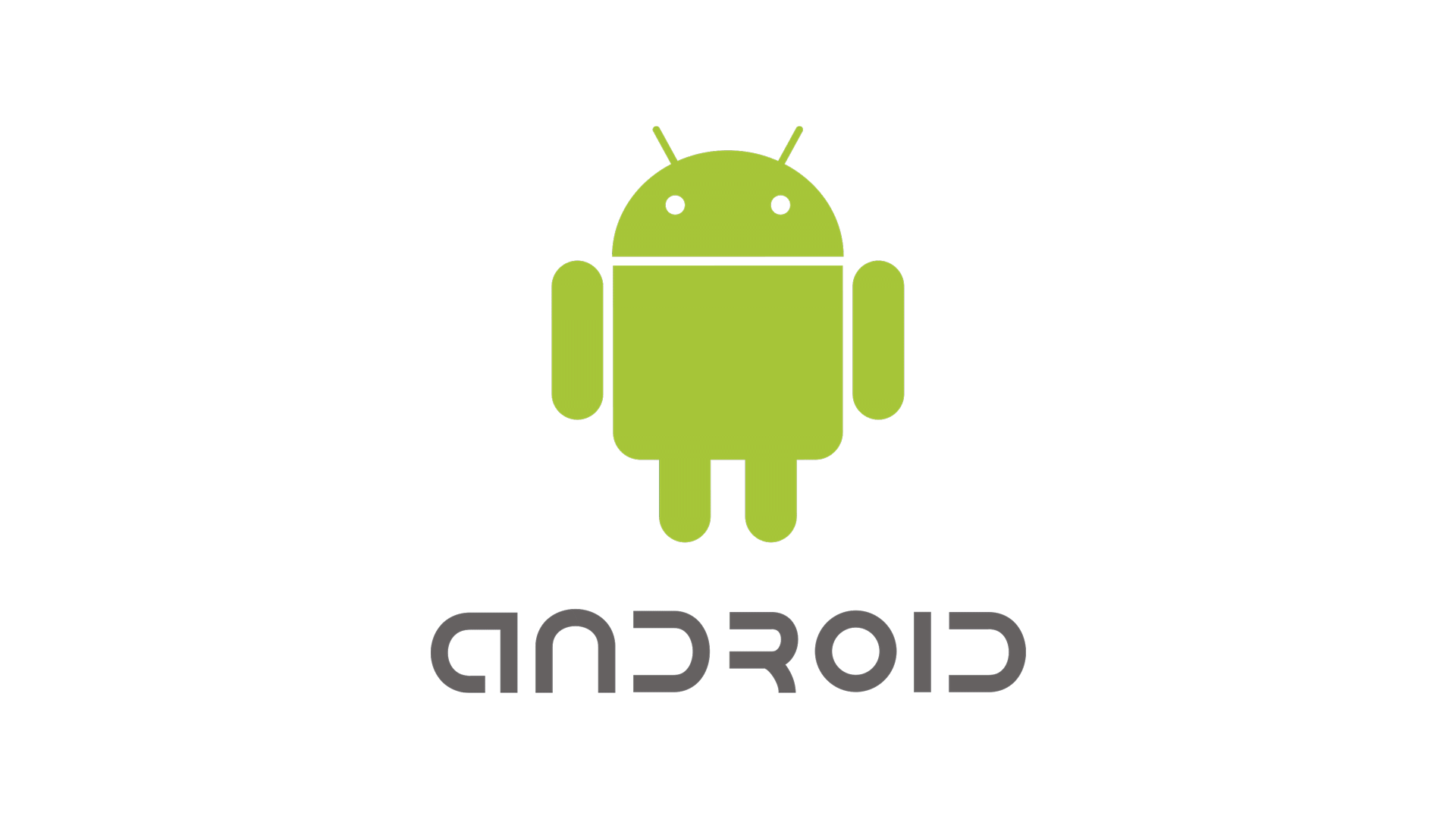 It demonstrates your personality. A "live" picture has more chances to show the uniqueness of the company and to convey its spirit: serious, friendly, creative, or any other. Define the message you want to convey, and then select the tools to suit your task.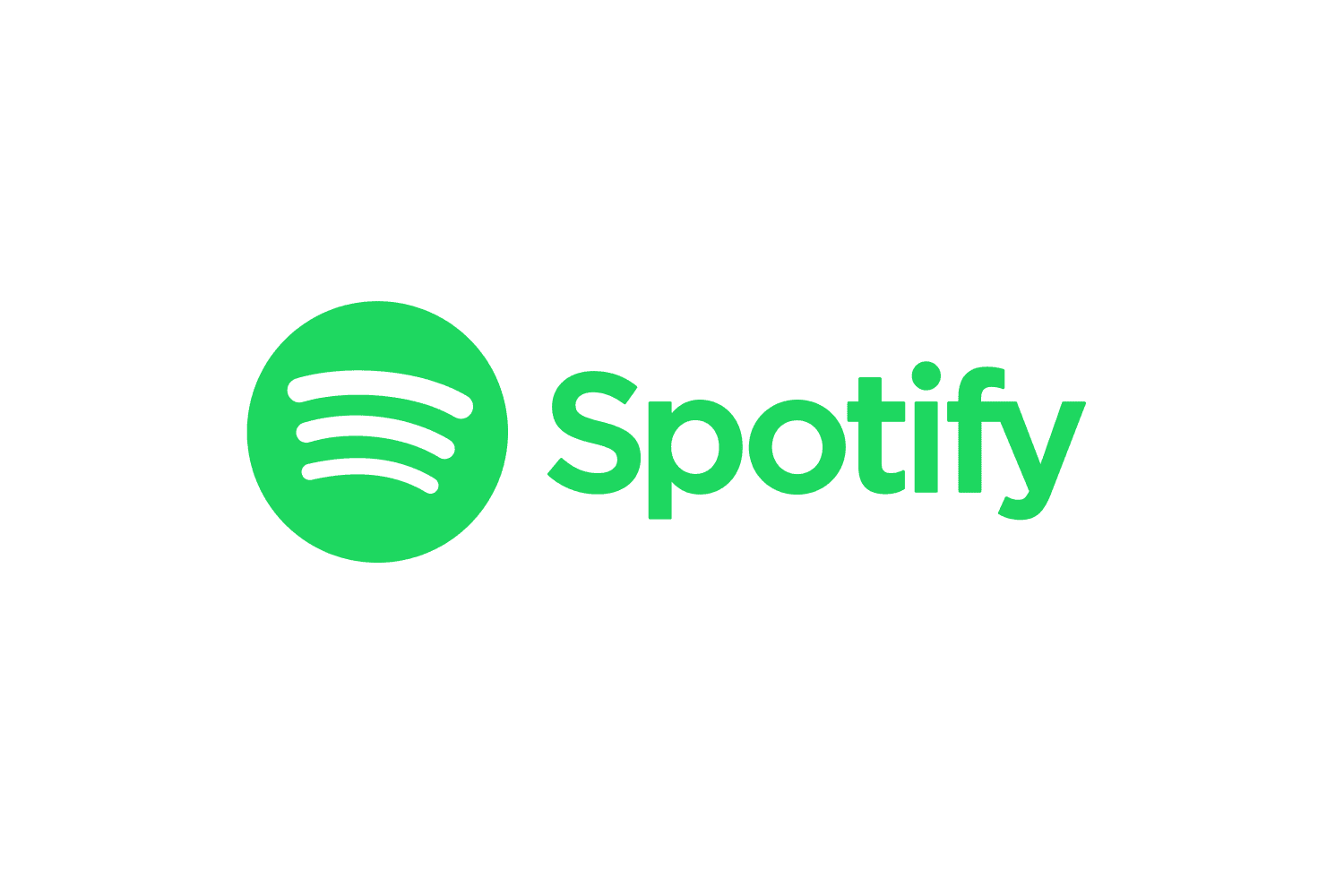 Evokes emotions. As a consequence of the previous point, a dynamic logo evokes a stronger response than a static one and helps to remember you.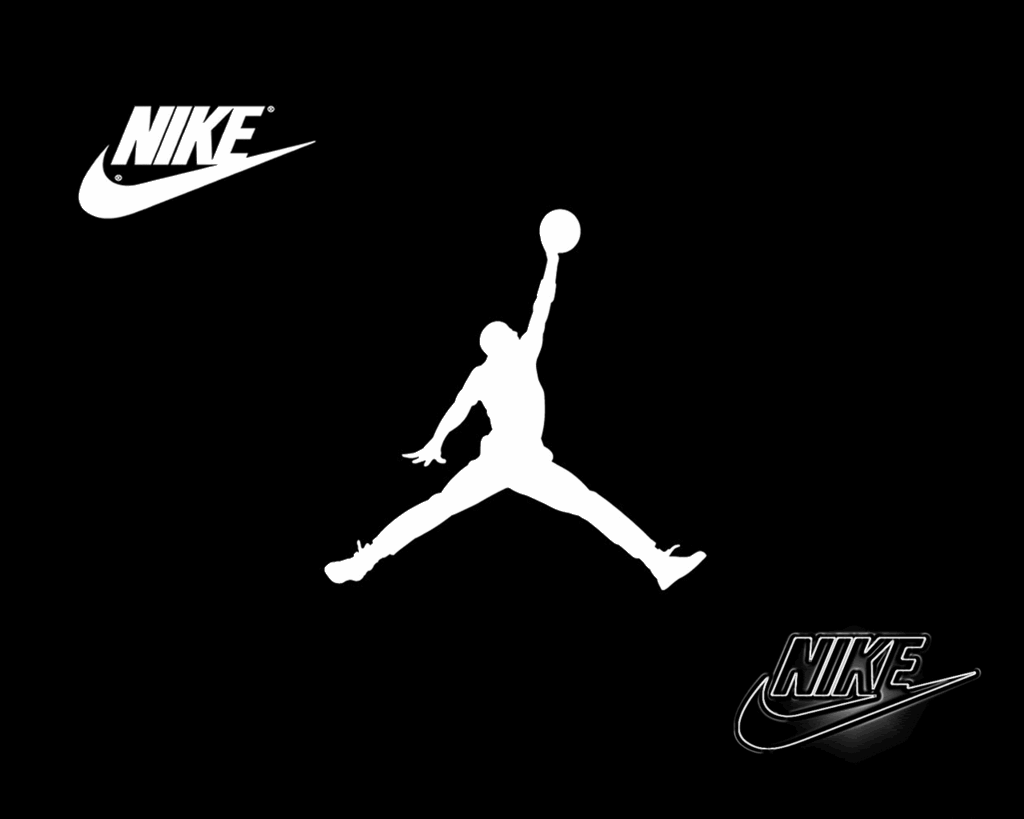 To achieve these goals, you needn't create a GIF from bright flashing pictures. We suggest you get inspired by the creativity of other brands before you start. Here are some basic techniques:
Experimenting with letters. The inscription can appear gradually as if it were typed on the keyboard, emerge from either side of the picture, or be composed in a chaotic order.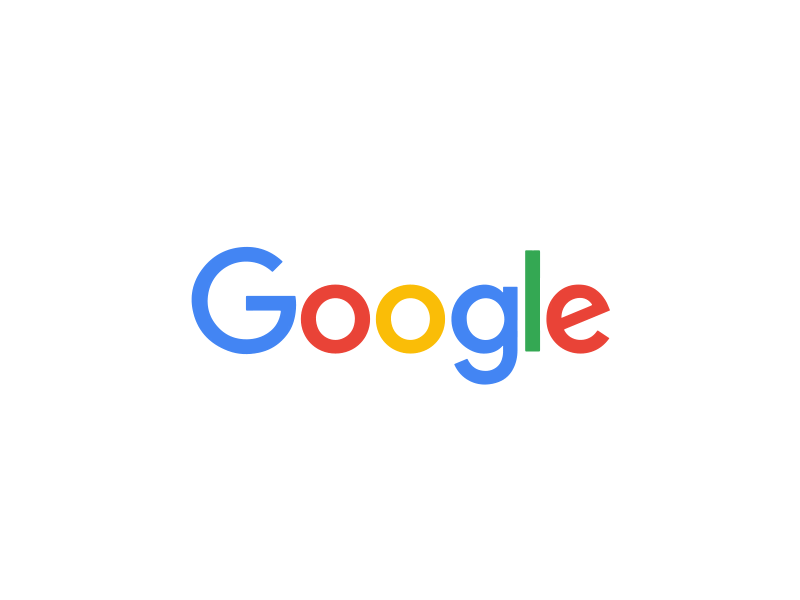 An Image Comes Alive. Does your logo have a symbol in addition to the text? Consider bringing it to life. The technique works especially well with mascot characters.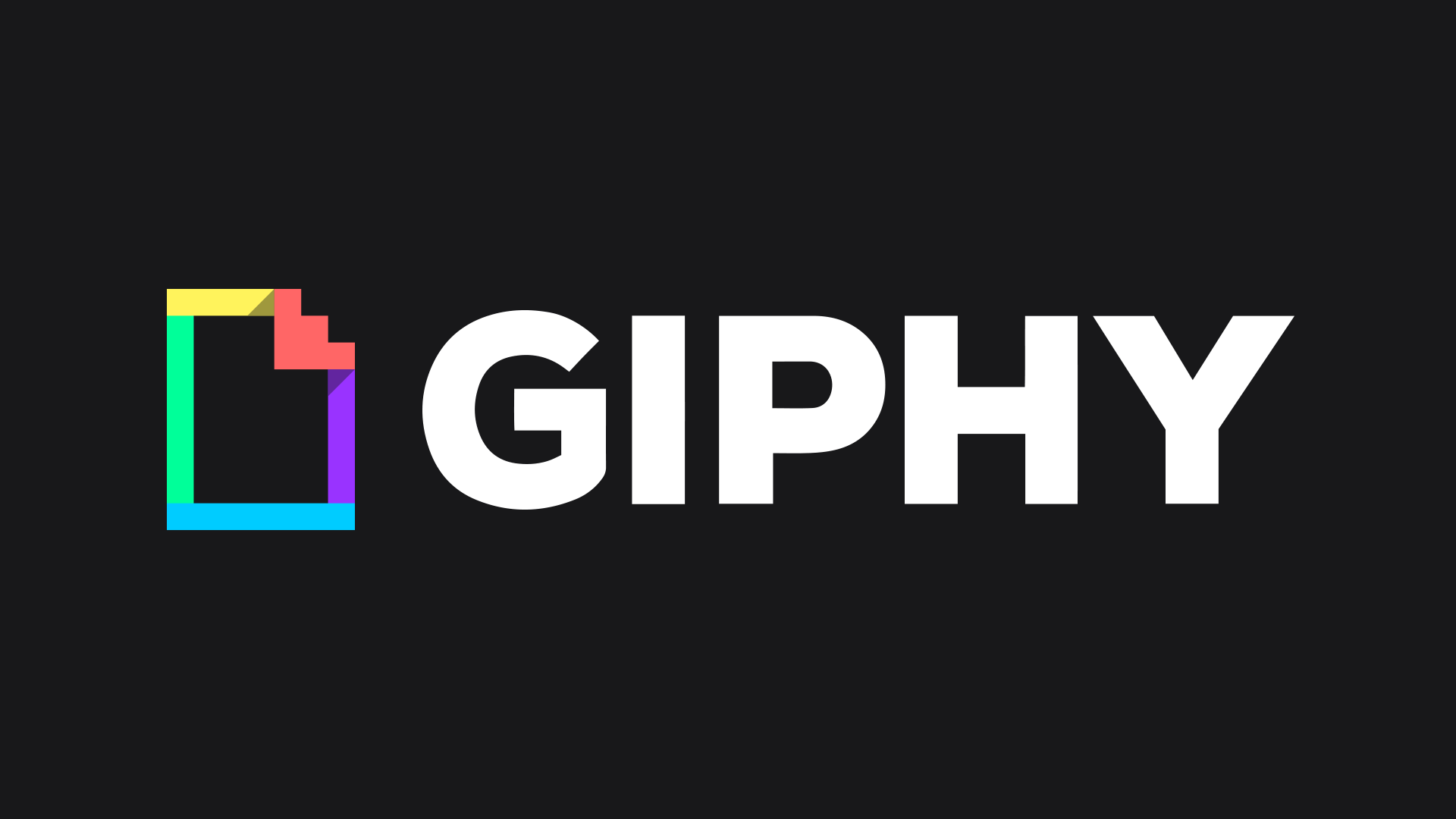 Additional elements. Add a slogan or a promotional message that can be transformed into a logo.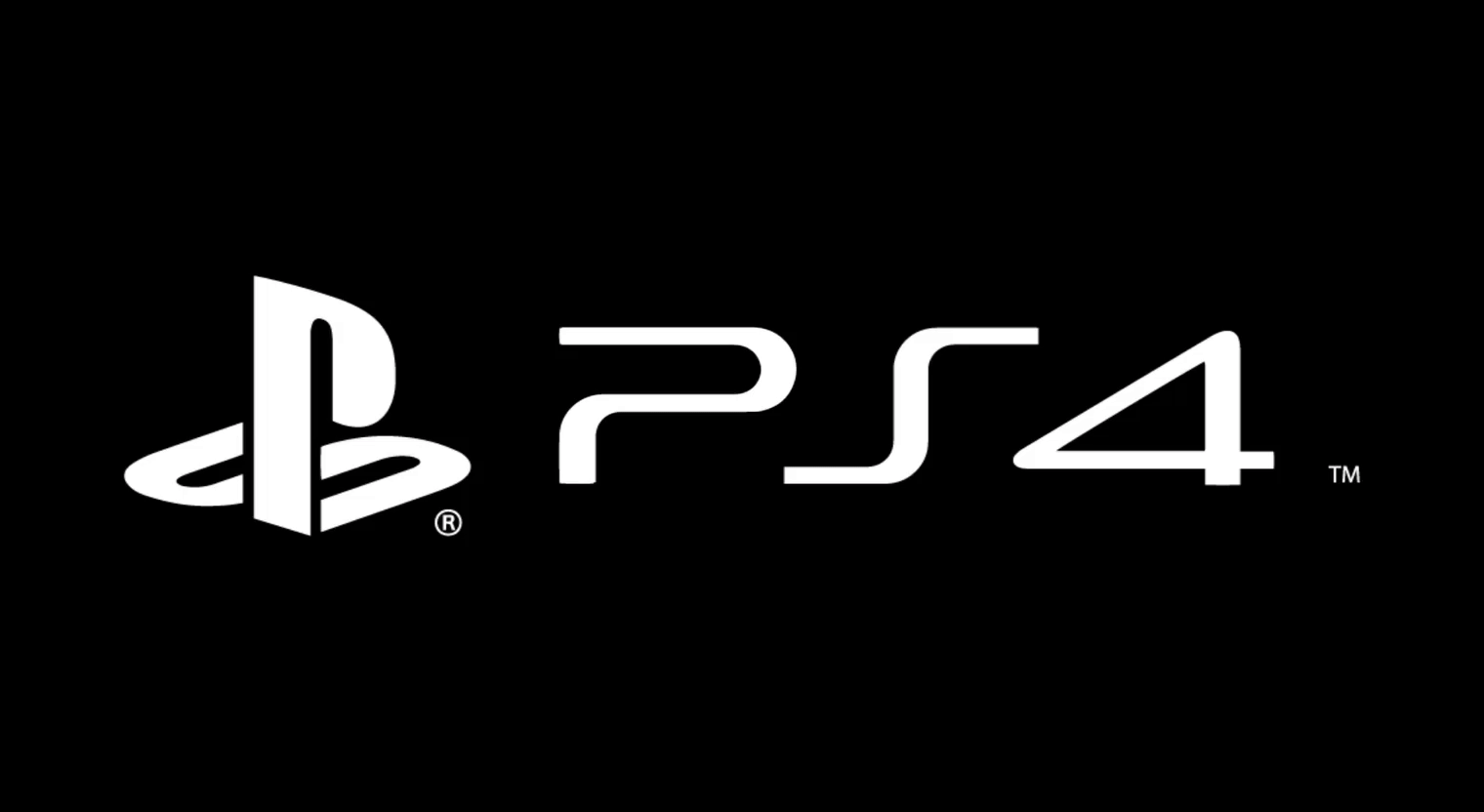 Where to Use An Animated Logo
Note that you should have two versions of the logo: a static and a dynamic one. The first one is mandatory for any business. This is a general-purpose version that can be used on any media, both printed and online. The dynamic version is only suitable for digital channels, including:
Advertising. An animated logo will enrich advertising on social media, online media, and many other platforms. This format is especially suitable if you want to draw attention to discounts, events, or time-limited offers.
Social Media. The opportunities here are almost endless. Keep an eye on daily-changing trends to create relevant content with an animated logo. For example, use it for Instagram stories and encourage subscribers to share the content. On Facebook and Twitter, post it as a profile or cover photo, and on YouTube, use it to open and close the video. You can also use GIF logos to visualize advertising posts, create stickers based on them, or use them for chatbots.
E-mail signatures. Use a GIF instead of a traditional emblem. This will allow you to attract additional readers' attention and increase brand recognition.
Website. A static logo in a website header no longer attracts attention? Replace it with an animation.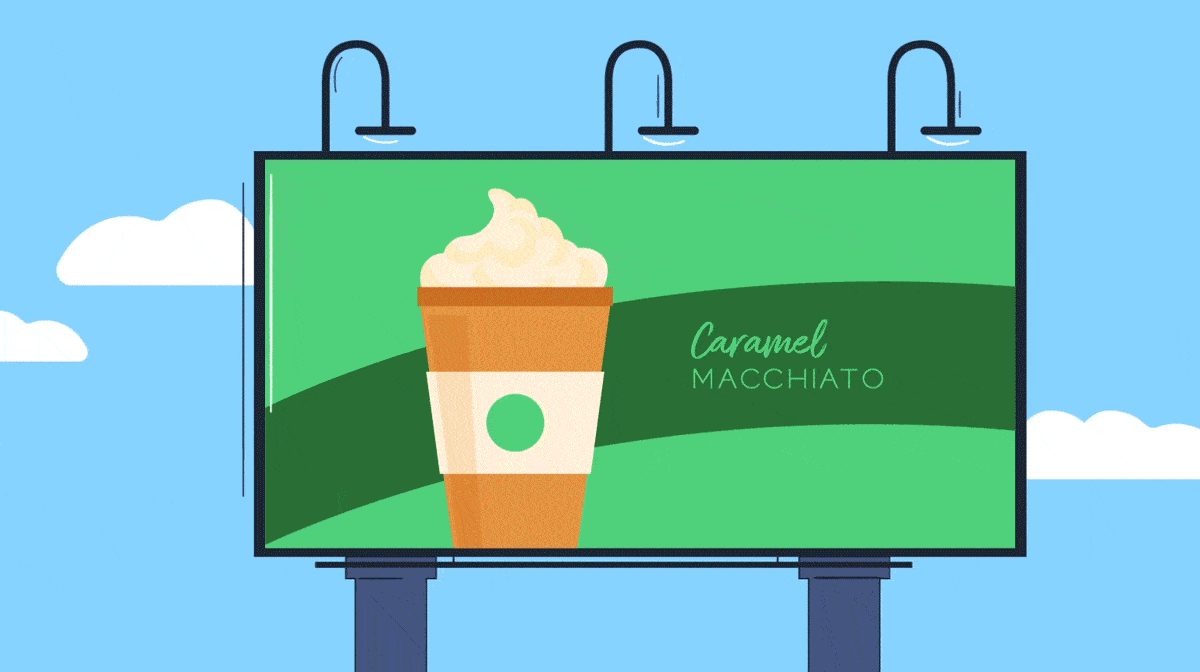 How to Create a GIF Logo in Photoshop
Photoshop has all the tools to create a GIF easily and quickly. To do this, you should know that GIF files consist of several images: they are sequentially displayed, creating the illusion of movement. To create an animation you will need:
The logo in raster format. It will serve as the basis for the GIF. You can create and download it using the ZenBusiness online service.
Other images. Their number and content depend on what kind of story your animation will have. For example, to "bring your character to life", you need to prepare a few pictures of it moving differently. You can also do this in Photoshop. The more images you use and the better their quality, the better the result will be.
Now all you have to do is create a GIF logo in a few simple steps.
Step 1. Upload the images. In Photoshop select "File" – "Scripts" – "Load Files into Stack". Click "Browse", find the needed images in the folder on your computer and click "Open" and then "OK". The layers that appear to the right in the "Layers" panel will become GIF shots.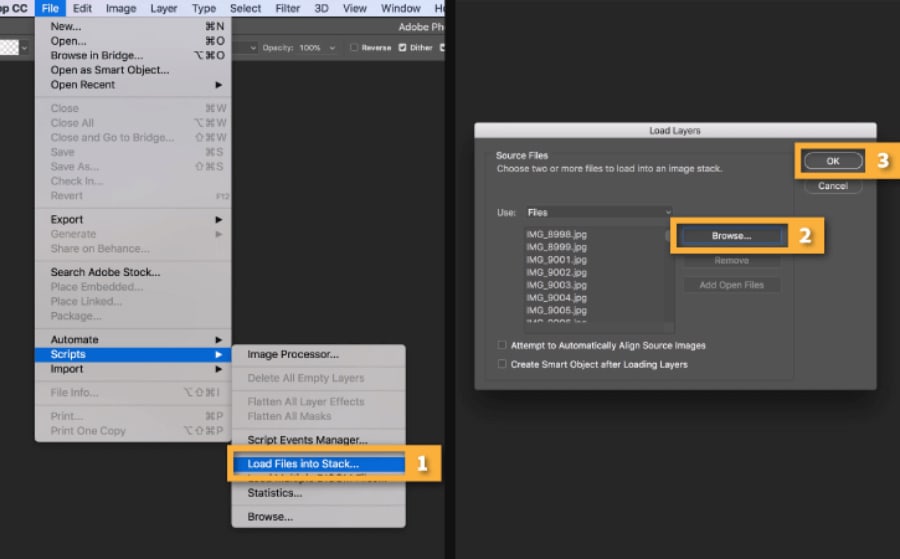 Step 2. Switch to the desired mode. Click "Window", then "Timeline" to open "Timeline Panel" and select "Create Frame Animation".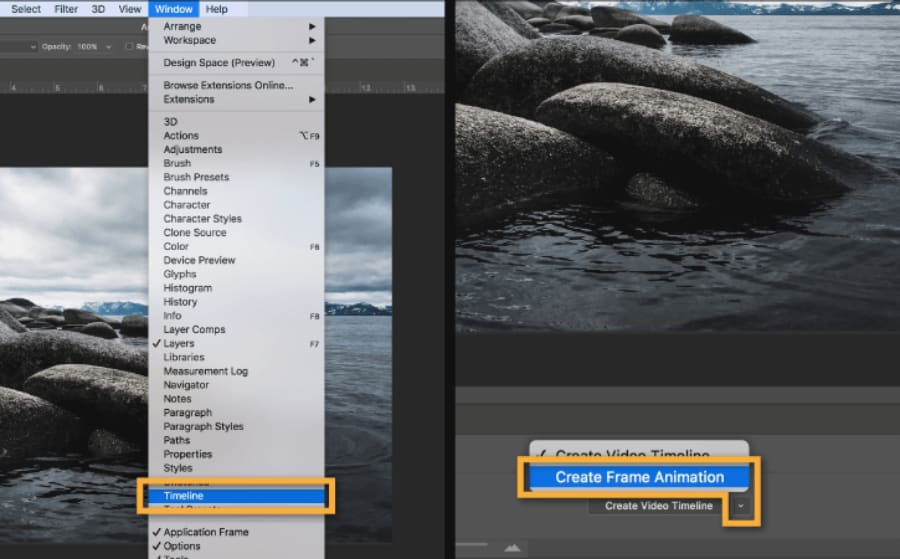 Step 3. Turn the pictures into animation. Go to the "Timeline Panel" menu and click "Make Frames From Layers". Specify the time under each shot (it can be 0.2 or 0.5 seconds: you can edit the time later).
Click "Play" at the bottom of "Timeline Panel" to see the result. If the shots are played in reverse order go to the menu and select "Reverse Frames".
Step 4. Set the cycle. You can set the animation to cycle constantly, for one time, or for a certain number of times. To do this, click on the repeat menu at the bottom of the "Timeline Panel".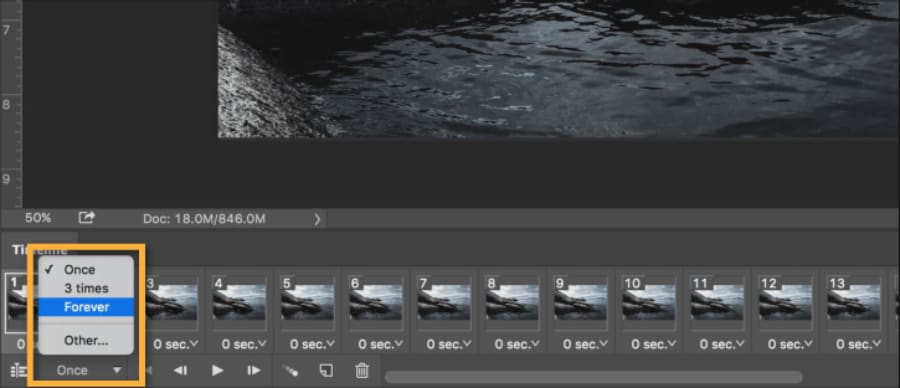 Step 5. Customize and save the GIF format. Select "File" – "Export" – "Save for Web (Legacy)". In the drop-down list "Preset select how colors in the GIF-format will be displayed: "No dither" or "Dithered". The number next to these words determines the number and accuracy of colors in GIF compared to the original files. The higher the blur percentage, the more colors and patterns will be in the GIF, but the larger the file size will become.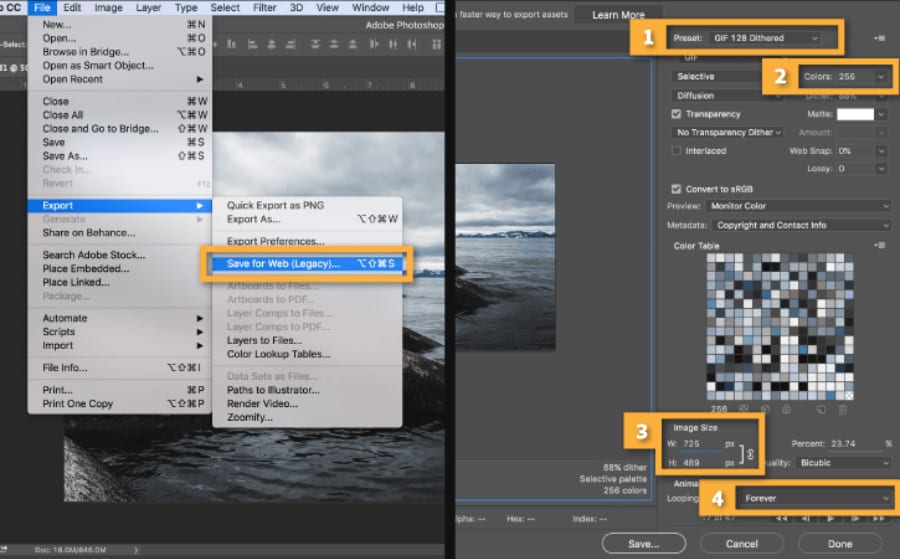 If you want to change the size, go to the "Image Size Options" menu section and specify the required width and height.
Before saving, check the file again: click "Preview" in the "Export" window to view the GIF in your browser. If everything is fine, click "Save" and specify the folder to save the file in.
Issues to Consider While Creating A GIF
Do you want the animated logo to work effectively for business promotion? Note some important nuances then:
Mind the size. Since each shot of animation is a separate image, the size of the GIF can be too large, i.e. it can slow down the loading of web pages and annoy users. To avoid this, do not forget to compress the file before saving it: be sure that it does not exceed 1 megabyte.
Ensure the shots match. When uploading the photos for animation, remember that the first and the last shots must match. This ensures a smooth transition, and therefore a better picture.
Work out the first shot. Sometimes the GIF may be displayed improperly, e.g. in some mail services. In this case, users will see only the first static shot instead of animation. Make sure that the message you want to convey is already understood on it and, if possible, check in advance how the GIF works on various media.
Summary
A GIF logo is an additional tool to influence the target audience. Use it for different promotion channels, don't be afraid to experiment and create a situational identity for various purposes.