How to make your brand work for you 24/7 without much effort on your side? Eye-catching stickers are one way to draw attention to your business and expand your outreach. But more importantly, it's a budget-friendly promotion tool that won't cost you much. Read on to find out how to design compelling stickers for online and offline use!
Stickers: Types and benefits
Whether printed or digital, stickers have a huge marketing potential that a business can benefit from. Let's see how custom stickers can be useful for your brand.
Stickers are catchy. Whether online or offline, your business only has a couple of seconds to catch a customer's attention and spark up their interest. When time is of crucial importance, companies rely on visual marketing for an immediate effect. Custom stickers with unusual graphics, vibrant colors or funny mascots are a great way to catch the eye of potential customers.
Stickers bring your brand to the spotlight. Stickers can tell a lot about your brand personality and help customers memorize your business. Be sure to use branded stickers on packaging paper, in messengers, and other customer touch points.
Stickers nurture loyalty. Stickers can enhance customer experience. Do you have many product categories on your website? Mark them with different stickers to help users navigate your catalog! Add your branded stickers as a nice bonus to each customer order. Create a pack of branded stickers for social media and messengers. These seemingly small things can go a long way in terms of building a connection with your customers and encouraging their loyalty to your company.
Stickers grow your audience. Make your customers the ambassadors of your brand. How do you do that? It's really easy! Provide your audience with branded stickers for laptops, smartphone cases, backpacks, etc. Also, create sticker packs for Telegram, WhatsApp, and other messengers. It's a surefire way to reach out to more people and showcase your brand in a good light.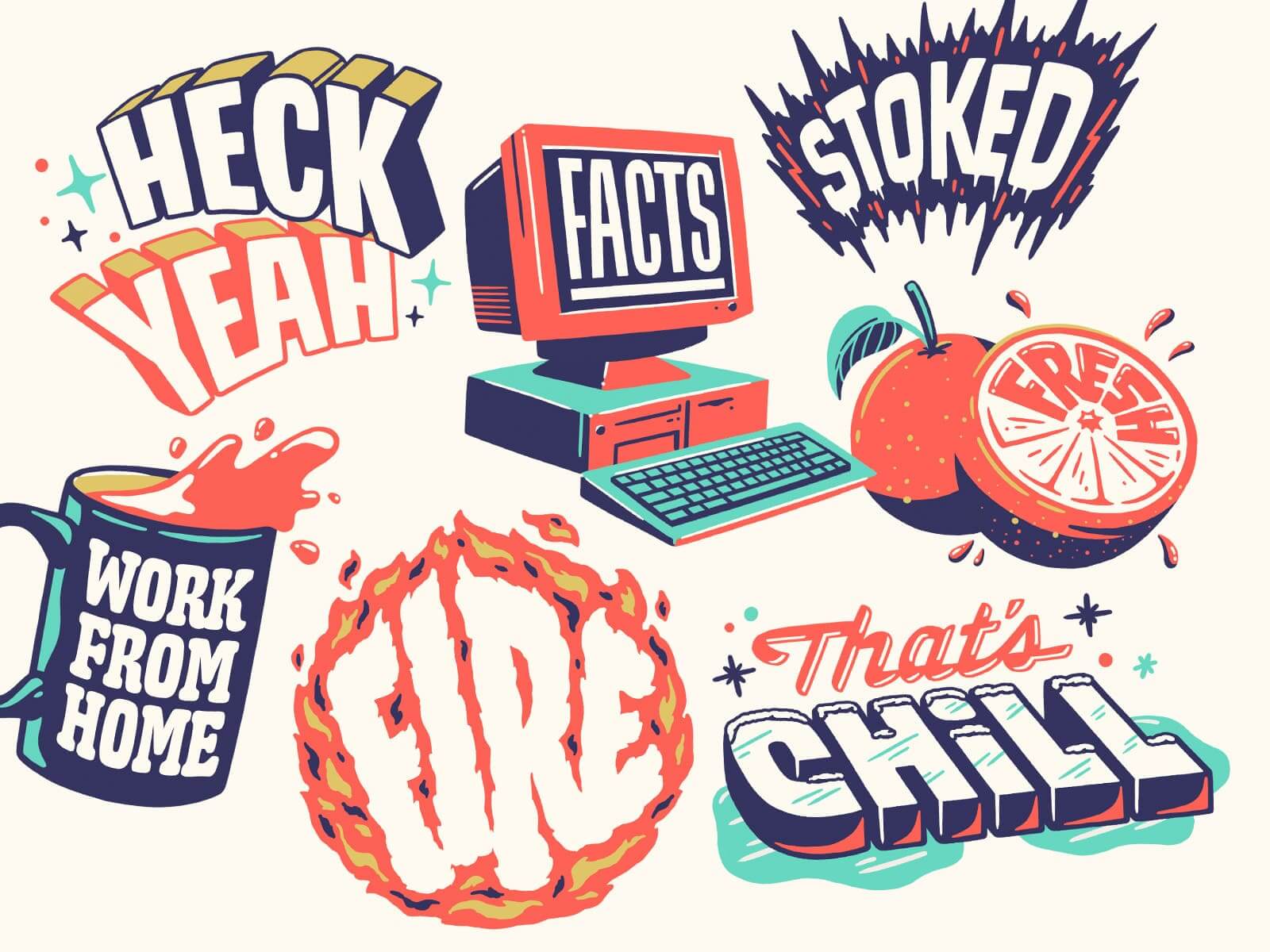 How to make branded stickers
How do you create unique stickers that are visually appealing and yet tasteful? Do you need different sticker packs for online and offline use? Let's clear up these and other questions about the intricacies of sticker design!
Come up with a concept
Roughly speaking, concept is the main idea that your stickers have in common. Since you're creating stickers to please and entertain your target audience, it makes sense that your designs resonate with your customers' interests, values, and needs. To better understand your audience, answer the questions below.
What do you know about your customers' interests? What is their communication style? What humor do they gravitate towards? What movies, TC series, books, and memes are their favorite?
What do you hope to achieve with your stickers? Draw attention to your brand? Make your customers laugh? Cause a viral effect?
What do you expect customers to do/think/feel when seeing your stickers?
Where are you going to put your stickers? How do you want your customers to use them?
Based on your answers, make a list of images, characters, quotes, etc. to put on your stickers.
If you're creating stickers for both online and offline use, make sure they share the same visual style. Consistency is one of the keys to a successful branding.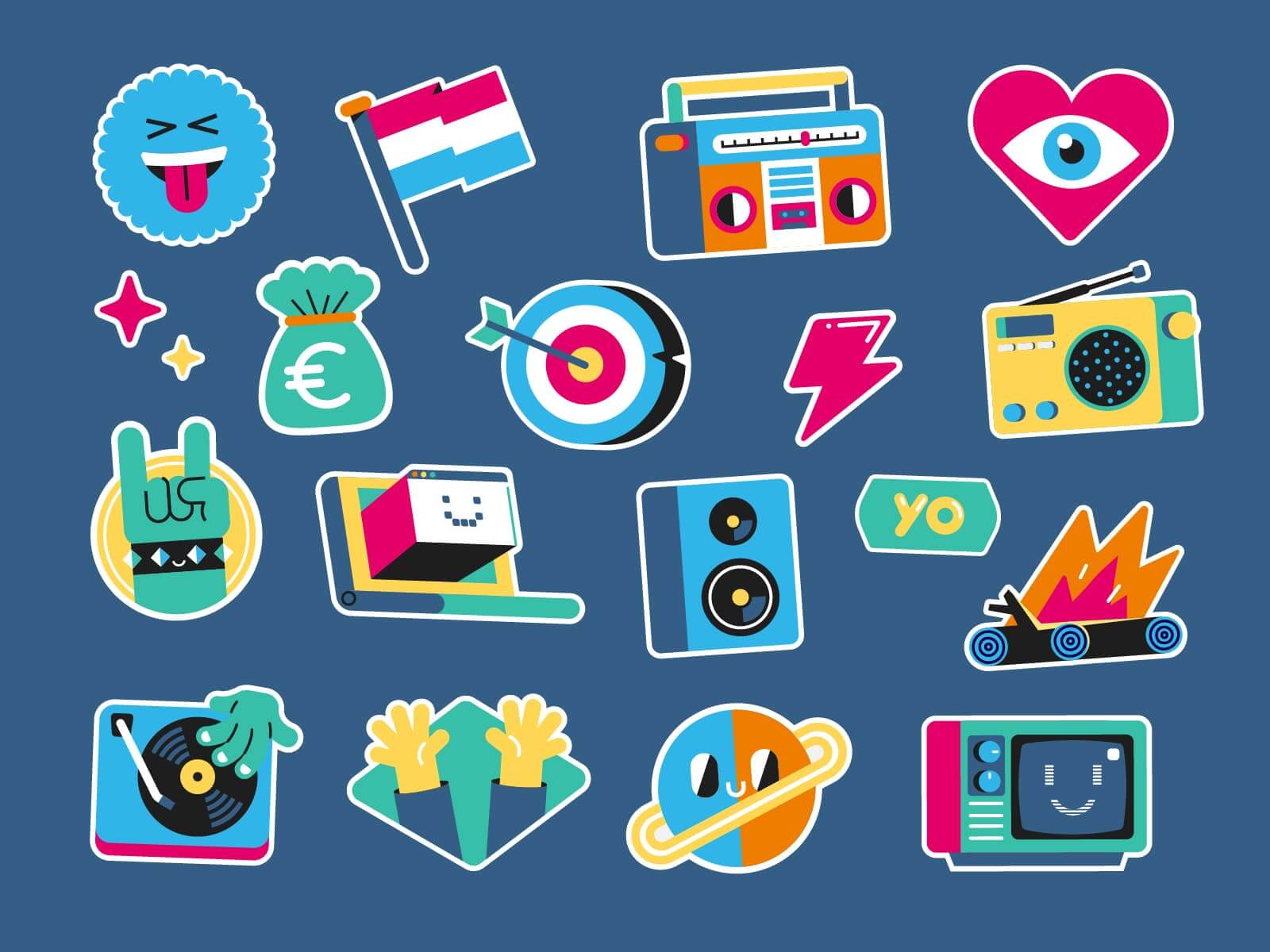 Choose the right colors and fonts
Simplicity is rule No.1 when creating stickers, or any design for that matter. The message contained in your sticker must be instantly clear and to the point. Take a look at the fundamental rules to follow when designing a sticker.
Focus on graphics (one photo or illustration) instead of text. If you still want to include text, make sure it's short.
Give preference to vibrant colors and bulky, easy-to-read fonts.
Use your company logo, colors, fonts, and patterns. With ZenBusiness, creating a professional brand identity is easier than ever! It will only take a couple of minutes!
Provide more information
Encourage people to learn more about your brand by adding your website URL, social media pages, QR code, etc. on your stickers. Make sure this information doesn't draw attention away from the main content.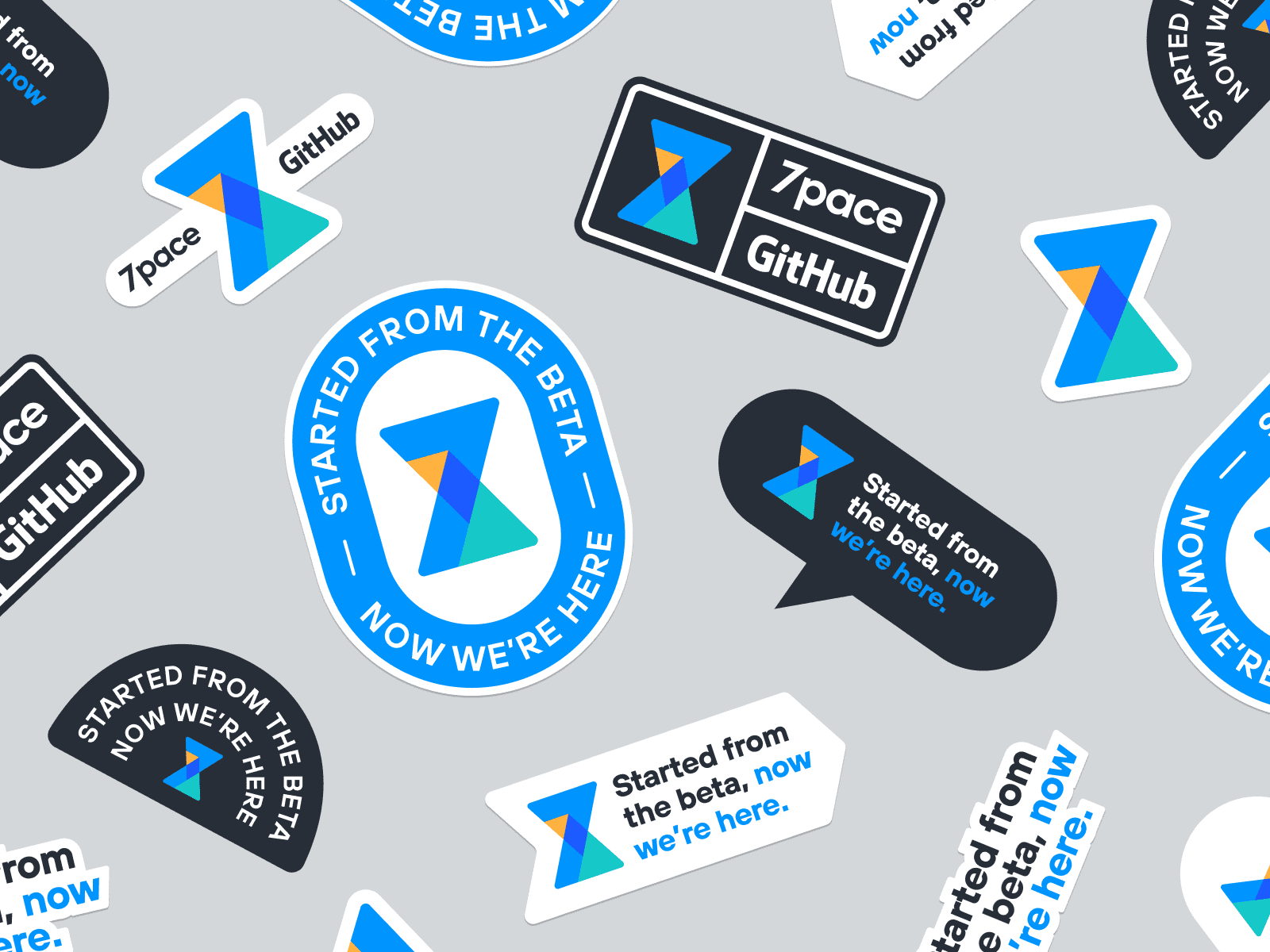 How to create stickers for messengers
Most messaging apps allow users to upload their own stickers. Let's see how you can do that in three popular messengers.
Telegram
Since you can't create stickers directly in Telegram, you'll have to prepare them beforehand. Use graphic editors, such as Adobe Photoshop, or make stickers online using services, such as Picsart. Here are the basic requirements for Telegram stickers:
PNG file with transparent background;
maximum resolution: 512 px x 512 px.
To add a sticker pack to Telegram, use the chat bot created exclusively for that purpose. Click "Send message" and follow the instructions.
Viber
Users can create and edit their stickers right in Viber. Take a look at the requirements:
maximum resolution: 490 px х 490 px;
maximum number of sticker packs: 20 (max 24 stickers each).
For more detailed instructions, go to Viber Knowledge Base.
WhatsApp
To add stickers to WhatsApp, it's best to use special constructors, such as Sticker Maker. With this smart app, you can create up to 30 stickers and upload them to WhatsApp in just one click.
How to make physical stickers and get them ready for print
There are two main ways to make printable stickers:
graphic editors. With Photoshop, InDesign or Illustrator, you can create beautiful stickers from scratch all by yourself.
online services. Adobe Spark, Canva, and other services have an impressive choice of sticker templates. Pick the designs that fit your brand and customize them to your liking.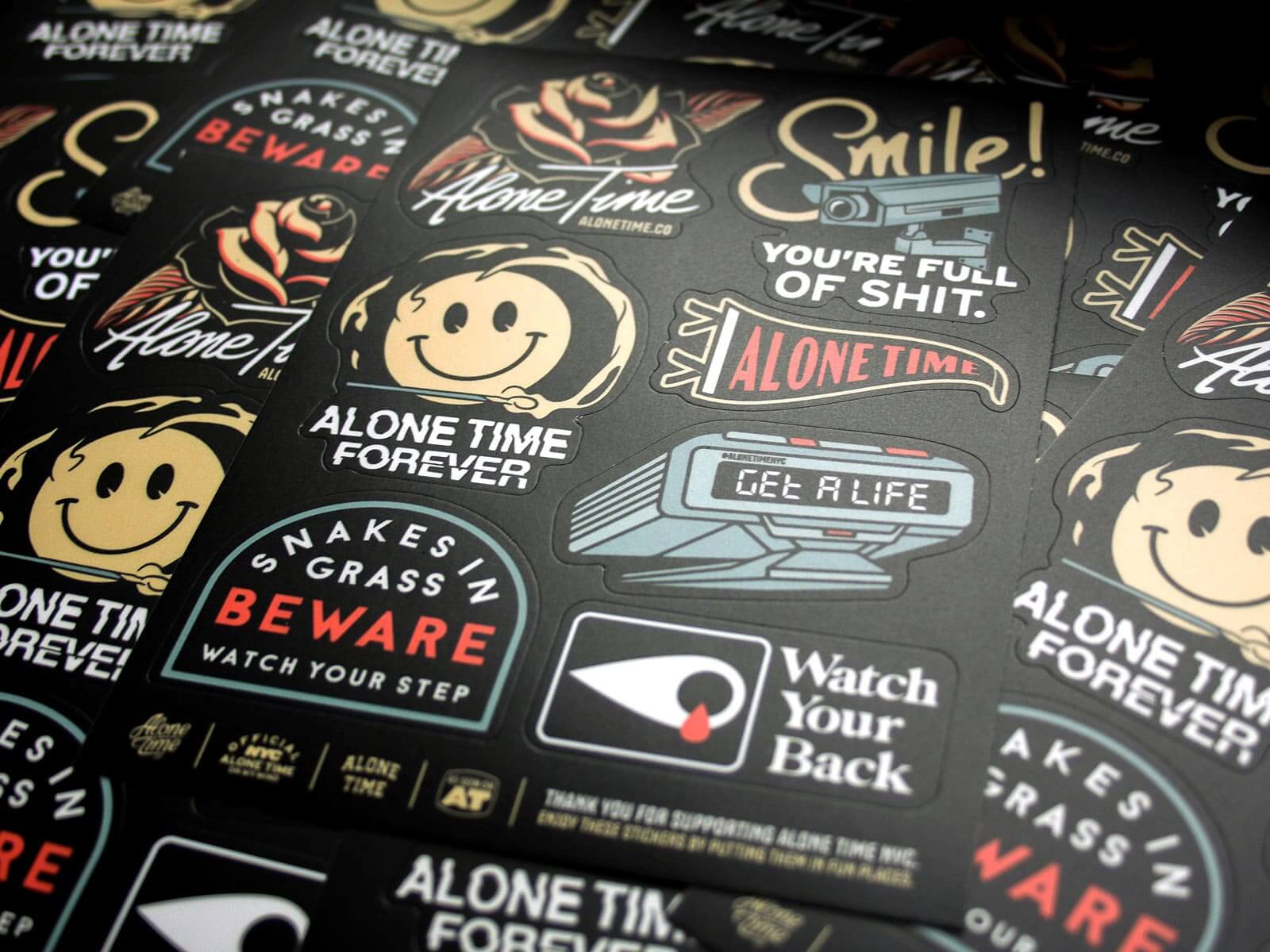 Before getting your stickers printed, here are a few things you need to consider.
Size and shape. What shape you choose for your stickers depends on where you're going to use them. Most businesses opt for conventional shapes, such as circle, triangle or square. These geometric forms can be easily arranged on a sheet of paper.
Material. Most stickers are printed on paper or vinyl. When choosing the best material for your stickers, think about where your designs will be used. If there is a risk of your stickers being exposed to moisture (when used on backpacks, product packaging, etc.), opt for synthetic materials. Also, be sure to choose a good adhesive so that your stickers stay glued to the surface for a long time.
Resolution. The resolution of a sticker must match its actual dimensions or exceed them. If you don't know the exact size of your future stickers yet, save them in vector format. This way, you'll be able to change their dimensions at any time without loss of quality.
Color scheme. Printed materials are using the CMYK color model. If your sticker files are saved in RGB, don't forget to convert them to CMYK.
Bleeds. Be sure to leave a bleed area (ca. 3 mm) outside the edges of your stickers. The bleeds will be trimmed off during the cutting process, ensuring that your artwork remains intact.
Conclusion
Stickers are a simple yet effective promotion tool that can be easily adapted for your business's needs. To make the most of your branded stickers, follow these steps:
devise a concept for your stickers based your audience's interests and hobbies;
brand your stickers with your company's logo, colors, patterns, mascots, etc.;
create custom stickers by using one of the methods described in this guidе;
use your stickers where your customers can see them and encourage them to use your artworks as well.