Businessmen who missed the beginning of the Facebook era in 2007 still regret it. Every day the social network generates millions of profits for those who first managed to start their businesses on the platform. In 2019, the era of WhatsApp has come and the world is again divided into "early birds" who get the benefits and those who regret missing the opportunities.
If you are looking for the most powerful channel of communication with customers, we recommend you to bookmark this article as we have compiled a complete guide on how to implement and use WhatsApp for business.
WhatsApp Business & WhatsApp Business API: What are the differences and why do you need it?
WhatsApp product for business — WhatsApp Business and WhatsApp Business API is a business chat app designed to communicate with customers, sending them important notifications and strengthen loyalty in real time.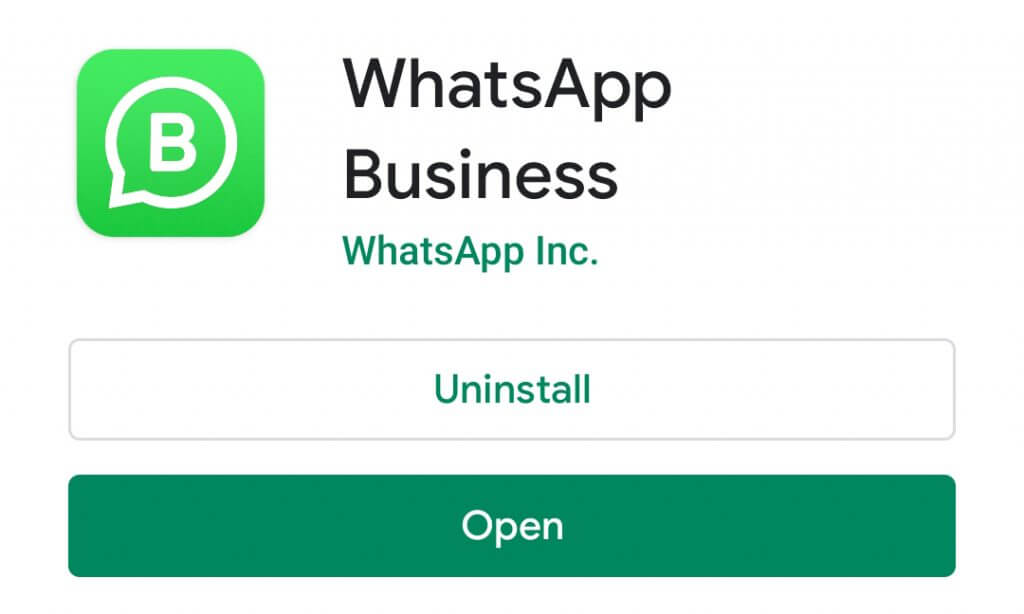 WhatsApp Business is designed for small business entities and is available on Android, iOS and PC while WhatsApp Business API is a solution for large businesses. To access it, you need to submit a request through the official form.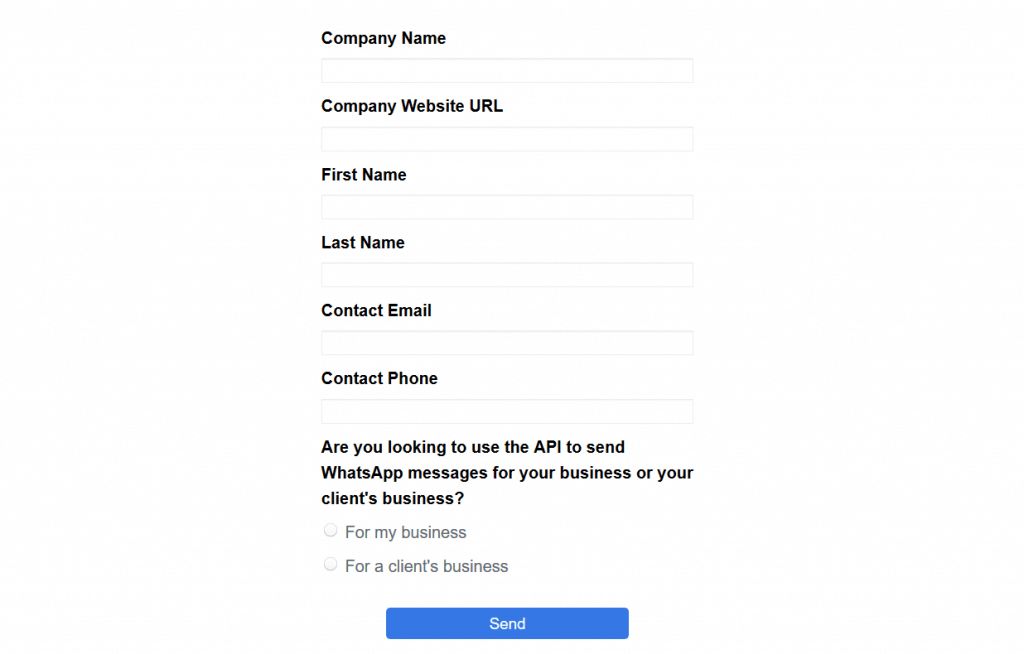 As of April 2019, the app has 1.5 milliard of users. According to a HubSpot survey, 48% of the respondents said they prefer to use chat to communicate with companies.
The main difference between WhatsApp business and the standard WhatsApp are:
instead of a personal profile, you need to create a business profile with company contact information: name, type of business, address, phone number, and website

usage statistics are available to the profile administrator: number of messages sent, delivered, read, and received

ability to automate communication with customers: preset common responses, send welcome messages, label chats with shortcuts or tags


business profiles are visually different from personal profiles: company profiles with a verified phone number get a gray check mark next to the company name while official profiles of well-known companies get a green one instead.


The difference between WhatsApp Business and WhatsApp Business API is given in the table below.

| | | |
| --- | --- | --- |
| | WhatsApp Business | WhatsApp Business API |
| Scale of business | For small and medium-sized business | For large business |
| How to get it | Download the app in Google Play or App Store and register with a phone number | Apply through the form or obtain access through Webim or Infobip providers |
| Cost | Free | If the communication is initiated by customers, then the company can respond within 24 hours for free. If the communication is initiated by the company (newsletter, notification), then the cost of the message is $0.0477. But if a customer responses, then the company has 24 hours to respond for free. |
| Technical support | Available | Available |
| Ability to add more than one staff to the account | Not available | Available |
| Data protection (GDPR) | Yes, companies can send messages only to customers who gave their consent to use their phone numbers to communicate. | Yes, companies can send messages only to customers who gave their consent to use their phone numbers to communicate |
5 ways to implement WhatsApp in your business
Before you begin to implement a new channel of marketing communications, you should first determine the purpose of communication which could be any of the following:
Serving as a quick technical support channel by sending pdf documents, video instructions, pictures, etc. to customers

Providing customers useful information such as payment confirmation, order status, process of transactions

Advertising on Facebook via sending messages to WhatsApp followed by consultation and/or sale


Gathering feedbacks in exchange for a discount or gift.Customers will be provided a QR code to scan which will redirect them to a chat and leave feedback
Advising existing or potential customers by implementing WhatsApp in sales channels
In any case, we recommend you to promote and advertise with the channel to enhance communication with customers. Although WhatsApp does not support company search within the app, companies can bring customers to chat from third-party platforms using SMS and email newsletters as well as placing a link on company's webpages and social pages, etc.
How to create a WhatsApp business profile?
Step 1
Download the app for free from Google Play store or App Store.
Step 2
Register a business account with a phone number.
We recommend you to use the official company phone number as this will allow the app to check the authenticity of your account and give you the status of "verified account".
It is important to make sure that the number used to register the business account will be able to receive calls and SMS messages. Landline or mobile numbers will work, but not the toll free 1800 numbers.
It is allowed to use the number to which your WhatsApp personal account is linked, and convert it into a WhatsApp Business account. This option is made available for small companies where communication with customers is mostly initiated by the owner from a personal phone number, but as the business scales, this responsibility will be passed onto an employee.
Converting your personal account into a WhatsApp Business account is automated, you can even transfer your personal conversation history to your business account. But switching from a business profile back to a personal one is impossible, so we recommend you to purchase a new phone number as the official company phone number.
Step 3
Fill in the fields of "Business Name" and "Business Category".
The Company Name should consist of 3 to 256 alphanumeric characters and should not contain emoticons, symbols, inappropriate punctuation marks and any variations of the word "WhatsApp". Also, you cannot use the full name of a person, a common word (such as fishing, shop) or a geographical name (London) as the Company Name.
Business category can be selected from the list which currently contains 17 options, including the general option, "Other".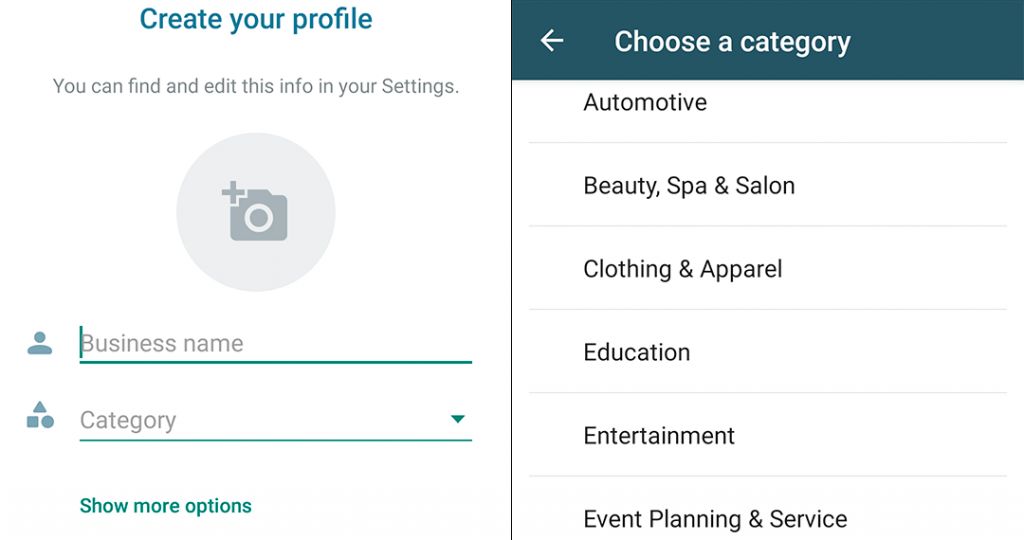 Step 4
Fill in company information.
To do this, click on the menu icon and select Settings > Business settings > Company profile. Next click on the pencil icon in the upper right corner and fill in all the fields: photo, company address, description (products, services, features, benefits, opening hours, email, website address. When all the fields are filled, save the changes by selecting the Save button.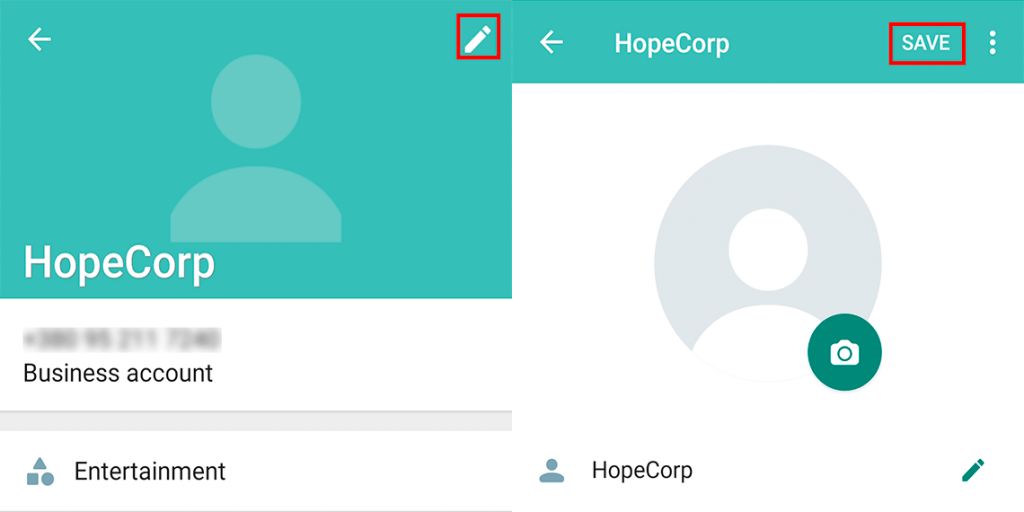 For your business profile photo, it is recommended to put a logo instead of a third-party image. The smallest size is 192 x 192 pixels.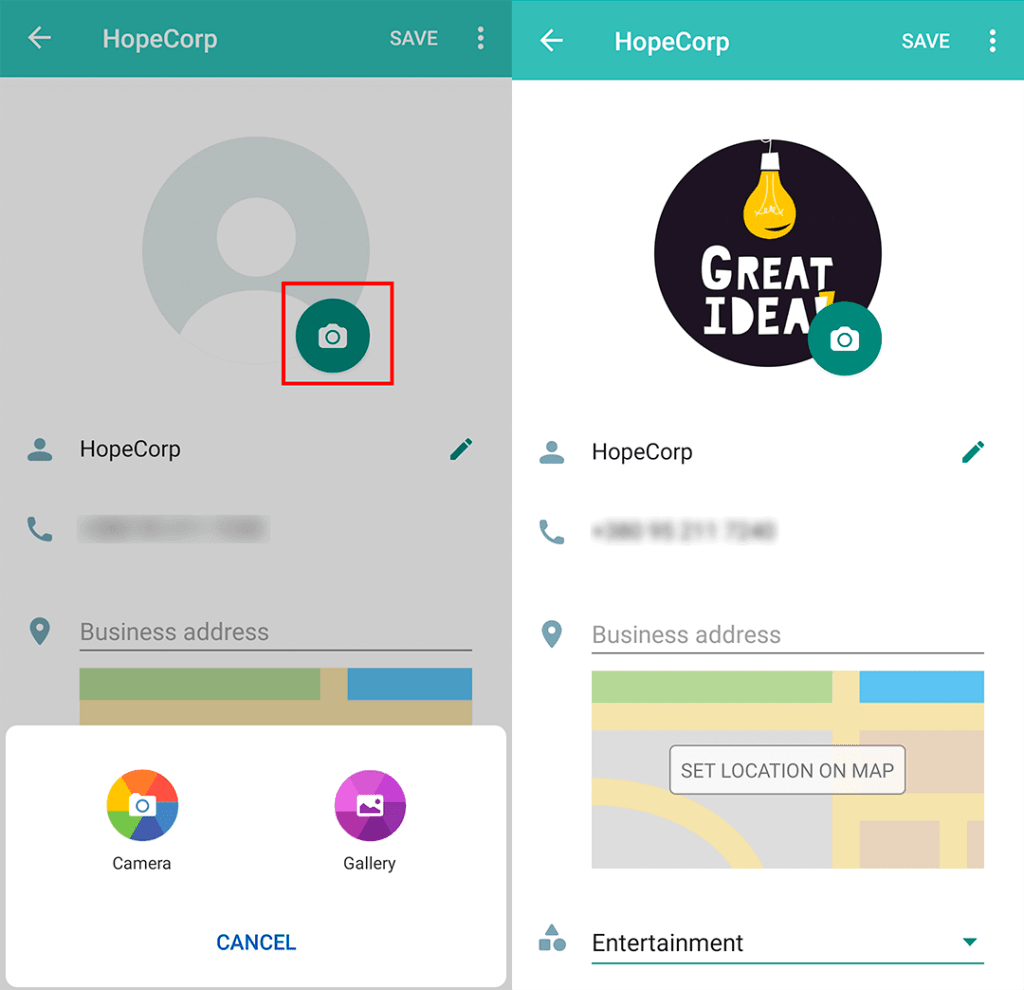 If you haven't developed your corporate identity yet, we recommend you to create a free logo using an online platform, ZenBusiness. A logo designed by yourself will definitely create a better association with your business than any other images from the Internet.
Step 5
Set the current status of your company.
Statuses allow you to share up-to-date information on promotion, discount, special offer with customers and notify them of unplanned changes in operation or delivery conditions.
The status in WhatsApp Business can be an image, a video up to 30 seconds or text that is relevant for 24 hours. To add a status, go to the Status tab and click on the pencil icon to add text, or on the camera icon to add a photo or video message.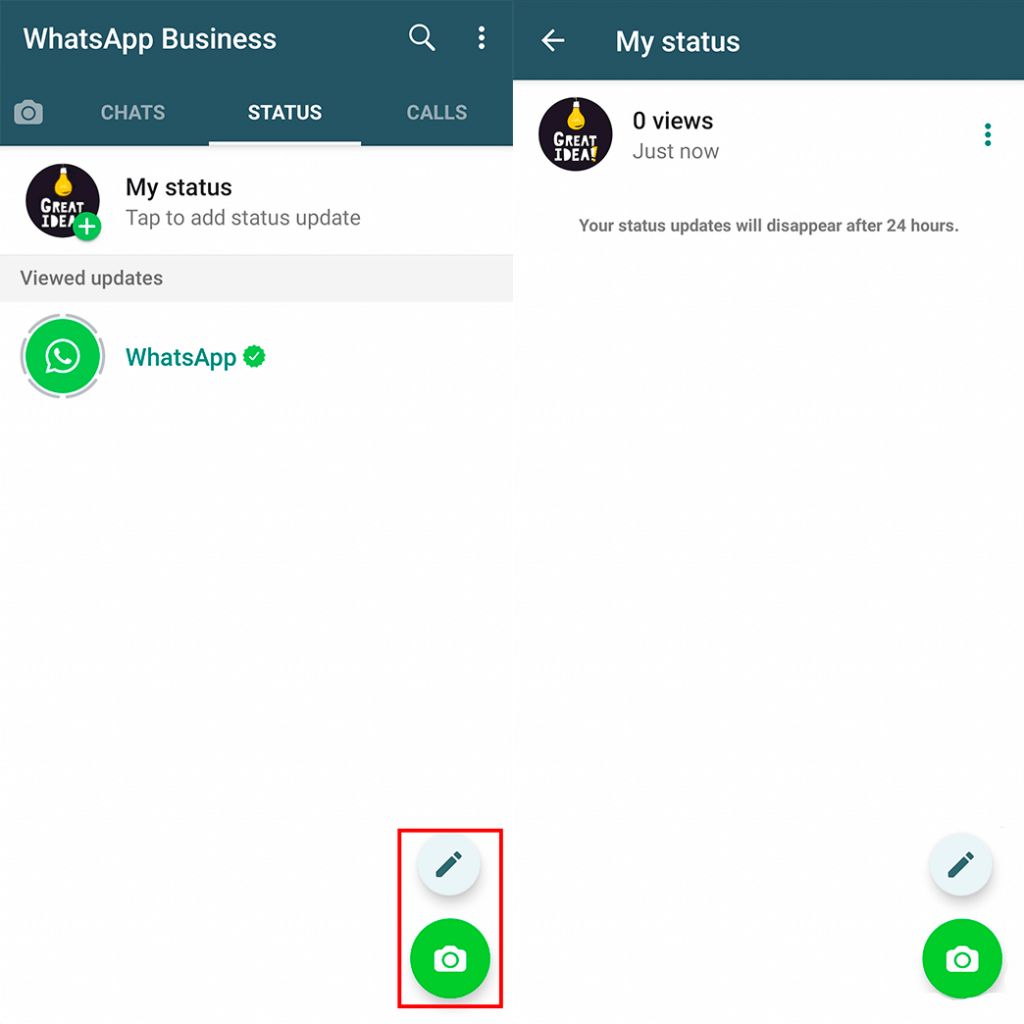 How to set up WhatsApp communication with customers?
1. Message management
The first thing to do is to configure the preset messages in "Message management" setting. Click on the menu icon and select Settings >Business settings.
In "Message Management" section, you can:
prepare a template to respond to users when you are "away," outside business hours or when it is inconvenient to respond to incoming messages

create a welcome message for anyone who writes to your company for the first time or after inactivity for 14 days

predefined responses for frequently sent messages – the so-called Quick Replies


Quick Replies serve as FAQ in WhatsApp Business. You can prepare texts for common messages ("Thank you for your order", " The office is located at…", "Shop opening hours …") in advance and when you need to send a response, simply type in the abbreviations after slash to apply the response.
How it works:
In the Quick Replies section, click on the green plus sign and you will see the screen to add a quick response and write your message, for example, "Thank you for your order". Then enter an abbreviation no longer than 25 characters, with which you can add a quick response such as "thank you". While communicating with the customer, you can type "/ thank you" and the customer will receive the preset message.
2. Chat-bot
With WhatsApp's free chatbot designers, you can create a virtual assistant that will relieve your technical or sales support. Programming skills are not required as online chatbot designers are tools meant to be used by "non-programmers". In just a few hours you will be able to create a bot that can process incoming orders, accept payment or book a table in a café for customers.
How it works:
With the help of third-party services such as Chat Helpdesk, SaleBot, chat2desk, etc., you will be able to create a funnel through which your customers will move. What drives your customers through the funnel can be a solution to an ordering, booking or pre-ordering problem. The customer must take the initiative to message the bot and the bot will send the programmed response in turn. Then the customer will be able to choose the appropriate response from the proposed options, to which the bot will again give the appropriate programmed response.
Towards the end of the chat, the customer will get the solution to the problem, and the company — a loyal customer. Be careful though, if the customer is not satisfied with the programmed responses, set up the chatbot so the customer has the option to switch to a real person who can solve the problem individually.
3. Online chat
Advising customers in real time is the main purpose of WhatsApp Business. But you can enhance the feature by using advertising links on Facebook and WhatsApp. To do this, select the target audience of the messages in Facebook Ads Manager, set the messages to send via WhatsApp Business profile and the appropriate time to send it to "warm" customers when the content is relevant to them.
How to analyze the results?
WhatsApp Business has a simple Analytics module built in. In Settings > Business settings > Statistics, you can track how many messages have been sent, delivered, and read.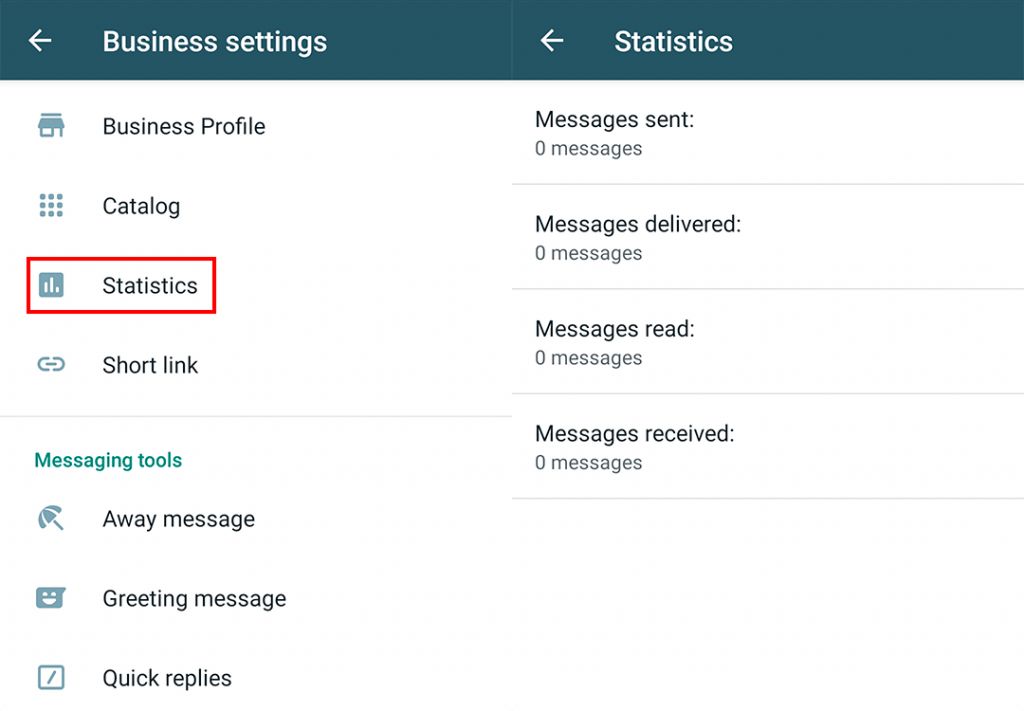 You can also track the number of messages received. This is a direct indicator of how relevant your live chat message is to your customers. But do not forget that your business profile needs to be advertised, otherwise users will not be able to find you.
WhatsApp for business has already become a breakthrough in the field of customer management and sales, so we recommend joining those who are already reaping off the benefits on this new platform. And if you are already using WhatsApp Business, please share your experience and feedback in the comments below.