Want to establish contact with a young audience? With a 90% penetration rate in the U.S. among people aged between 13 and 24 years Snapchat is one of the most suitable platforms for this. Its biggest advantages are the popularity among young people, creative tools, and low competition. In this article, we will tell you in detail how to promote your business in Snapchat.
What You Need to Know About Snapchat
The platform was launched in 2011 as a messenger for quick photo sharing (a "snap" is an instant shot). Today the service allows exchanging photos and short videos that automatically disappear after 24 hours. Here are five key facts you need to know about Snapchat:
The social network has outrun Twitter and Pinterest by popularity: 397 million people use the platform, 238 million of them are daily active.
Most Snapchat users are under 25 years old.
The largest audience (101.4 million) is in the USA. There, Snapchat covers 90% of Internet users 13 to 24 years old – more than Facebook, Instagram, and Messenger together.
American teenagers claim that Snapchat is the most important social network for them.
61% of platform users are women and 38% are men.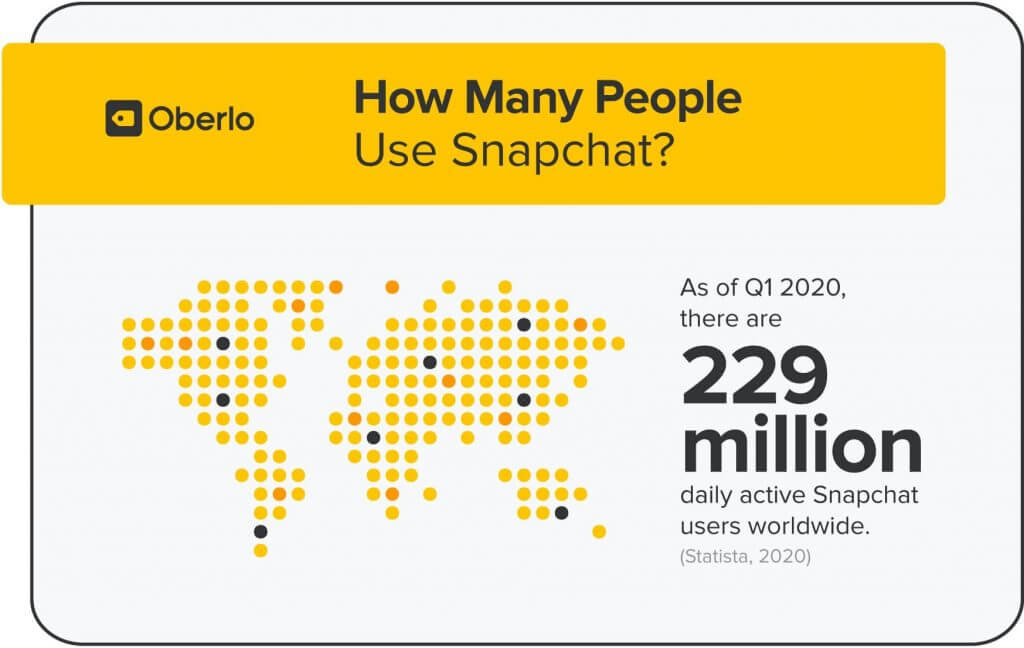 Statistics show that Snapchat is not suitable for every business. These are the cases when it is worth considering promotion in this social network:
Your target audience is young people. Snapchat works effectively as a marketing tool aimed at adolescents and millennials.
You plan to attract the youth segment of the TA. Thus, the luxury brand Ralph Lauren created a collaboration with Snapchat allowing users to dress their avatars in the branded suit.
You prefer to promote your brand in a less competitive environment than Facebook or Instagram. Due to the specifics of Snapchat, there are not as many brands as on other social networks.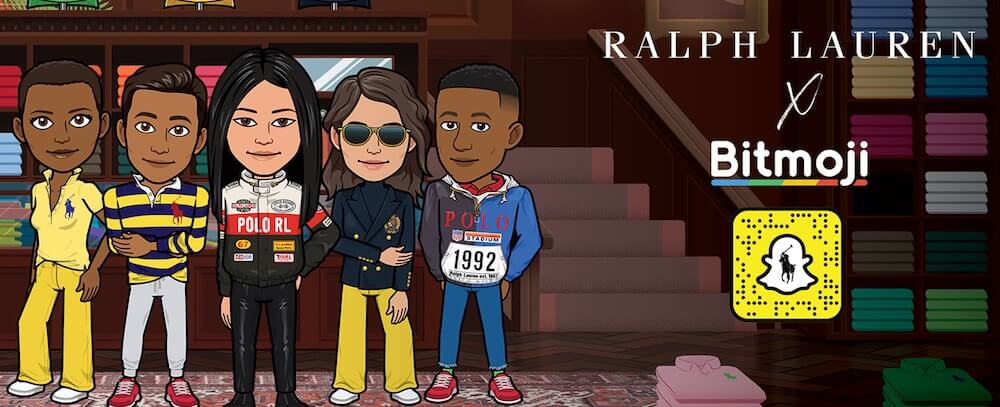 Snapchat's Working Principles and Basic Tools
Messages (the so-called snaps) consist of photos or videos. They make up stories that are available during the day. Snaps can only be shared with friends or made available to all users. The social network offers no likes, savings, or comments, but has many tools for creating content.
Photos and videos are the main tools of the service. When you open the app the camera is turned on by default. You can either take a photo or record a video up to 10 seconds long using your back or front camera, or upload an image from your gallery.
Personalization. Before publishing, you can add text, images, and stickers to each snap.
Filters are one of the most frequently used functions. Two types of filters are available on the platform: geofilters and selfie lenses. For more information on how and why to apply them, please see the section on brand promotion strategy in Snapchat.
Instant messaging. Users can respond to snaps: these responses are sent as personal messages.
Screenshot. The user is notified about each such photo. This is a kind of "liking" and an opportunity to show that you are interested in the content.
A Step-By-Step Guide on Account Setup
It is important to know that you can't create a business account on Snapchat like on Facebook or Instagram, and you can register on the platform only from your cell phone. Here is how to do it step by step.
1. Download the app from the App Store or Google Play Store.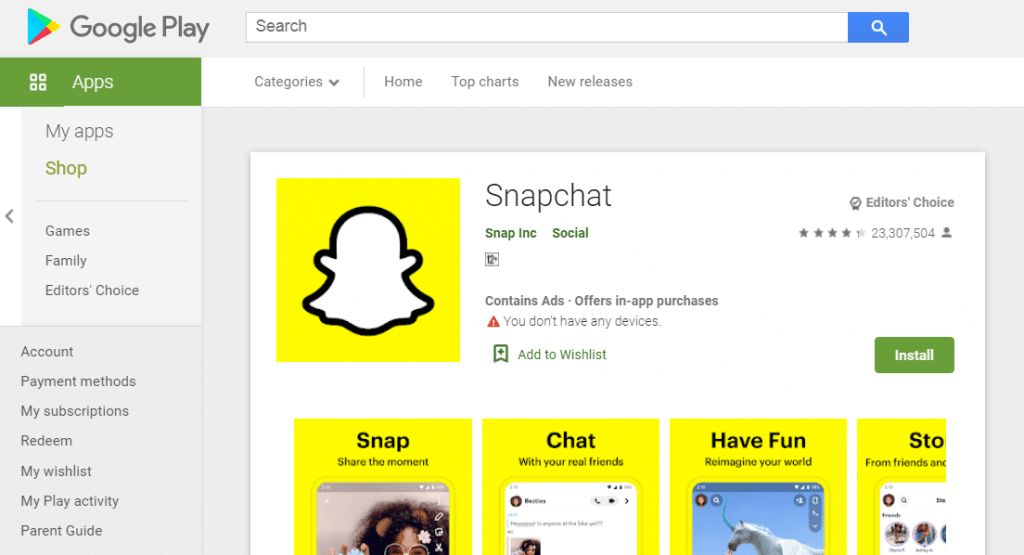 2. Open the app, select "Register" on the home screen, and then enter your date of birth and name. For business, use your company name.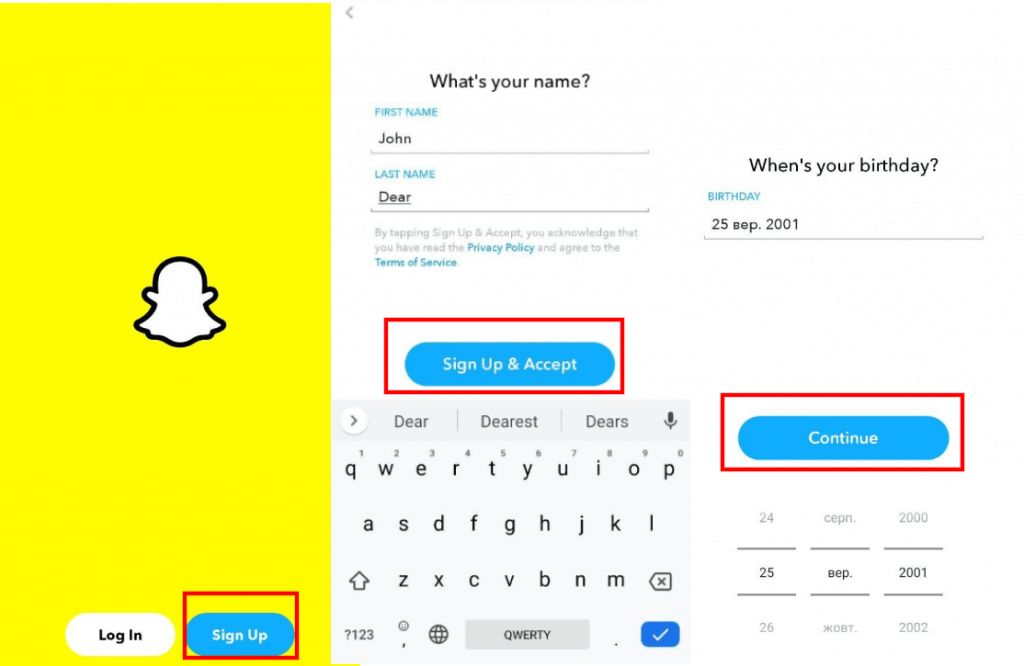 3. Customize your profile: click the ghost icon at the top of the screen to choose the main photo. We recommend using a logo for this purpose to increase brand awareness. If you have no logo yet, use ZenBusiness's online service to create it in a few clicks.
4. Create a Snapcode that works as a QR code. Snapcode performs two functions: it attracts users to your Snapchat account and contains additional data. So, having scanned Snapcode on any platform, people will be automatically added to your friends. And if you include information about the company (e.g., website and contacts) in the code you can lead potential customers to the sales funnel.
5. Make the stories public. By default, the stories on the platform are only available to friends. To make them visible to the entire audience, change this option in the settings.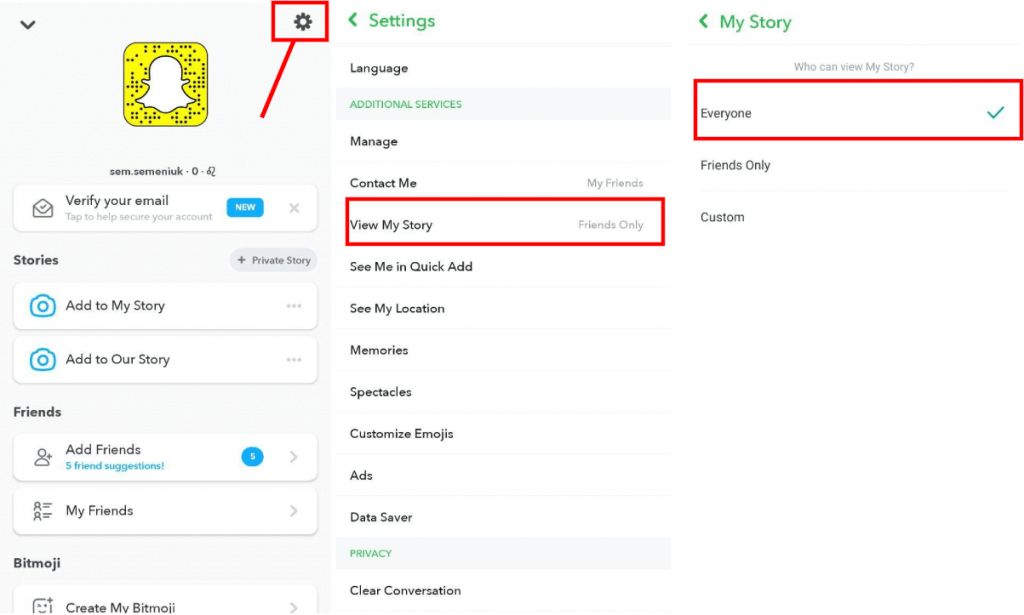 Business Promotion Strategy in Snapchat
When you set up your account and familiarize yourself with the tools, start thinking about your promotion strategy. Below you'll find some tips on how to do it.
What to Post
Show your product and the "human" side of the company to the subscribers. The content has to be unique: do not copy messages from other social networks. Make a content plan for one or two weeks in advance. This is what it can consist of and how to create it:
Product. Tell about new products, report sales, or create video tutorials on how to use your product or service: e.g., what to combine clothes with, how to bake cupcakes, or how to exercise.
Backstage. Subscribers are interested to know what is there behind the business: show the process of creating a product, fragments of an ordinary working day in the company, or show a new product spoiler.
Values. To create an emotional connection, it is important to tell what you believe in and why you decided to do this business. You can enhance such content with personal stories – yours or your employees' ones.
Storytelling. Try to make your snaps to be a single story and be logically connected. For example, the story of an advertisement for a product may consist of several photos showing details and specific parameters, and the end of the video may include a call to purchase. You can create a story about your typical workday or brand development in the same way.
When to Post
To succeed in Snapchat, regularity is important. It would be perfect to publish content daily so that your followers don't forget about you.
How to Involve
Snapchat users value personality and the ability to entertain. Try different ideas, for example:
Offer unique information that is only available to the Snapchat audience such as the opportunity to be the first to know about a new product or to receive an exclusive discount. This is what Amazon does by publishing codes on its website and offering to scan them.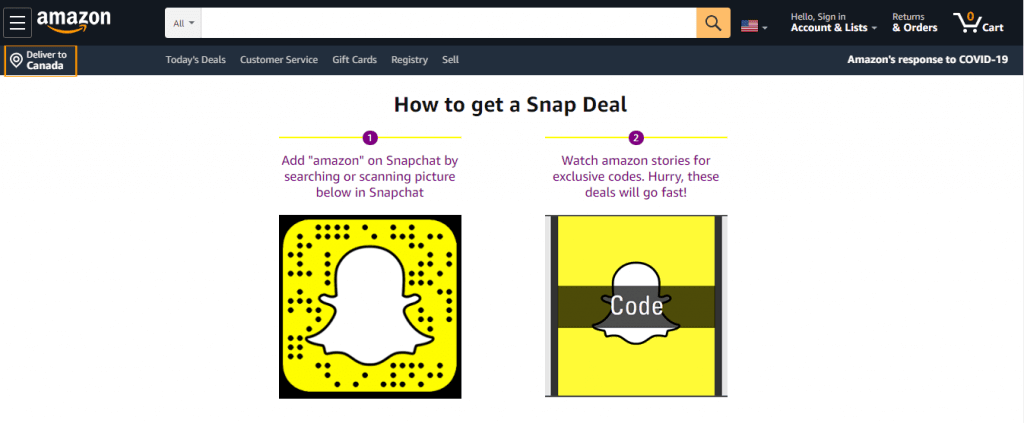 Take advantage of virtual reality. For example, Levi's offered its users to "try on" and buy a new collection right on the platform.
Create geofilters. They supplement your photo or video with information about your location, weather, driving speed, etc. This feature is especially relevant for brands with offline business: e.g., users will be able to use a cafe's advertising geofilter when coming there.
Buy lenses. With the help of lenses (effects) users "turn" into animals, objects, or fairytale characters. Buying a branded lens is one of the most effective ways to promote your business. For example, a lens to transform the head into a giant taco bought by the Taco Bell company was watched a record number of times – 224 million!
Interact with the users. To do this, use the private messaging function. In your stories, ask questions and enquire about the audience's opinion to encourage them to write to you. Make sure you answer the messages and keep the dialog going.
How to Track Performance
Snapchat offers no analytics tools yet available on other social networks. You can track the effectiveness of the promotion by indirect indicators such as the number of views of stories and screenshots. The statistics will be available within 24 hours after the publication of snaps. Another indicator of involvement is personal messages sents as replies to stories.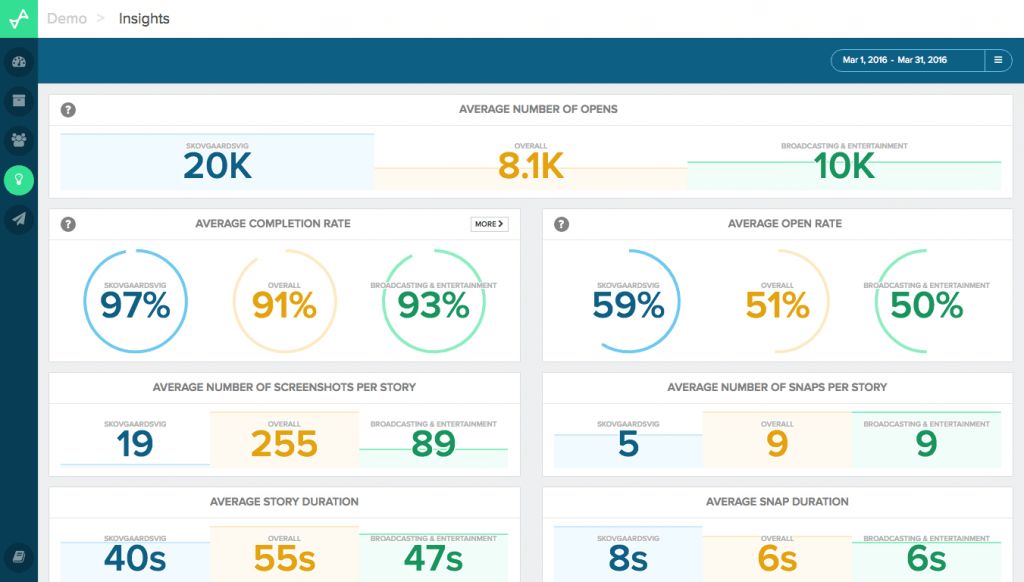 We advise you to analyze which content is the most popular and optimize your marketing strategy according to these criteria. Remember that thanks to the young audience trends are changing quickly. So, try to be different and don't be afraid to experiment.
Summary
Snapchat is an easy-to-use marketing tool that is different from other social networks. Do not neglect it if your business is aimed at a young audience. This platform will help to show your personality and start a "live" dialogue with potential customers.