In 2018, the Telegram audience reached 200 million people, with 500,000 new users joining the messenger every day. Telegram is a powerful tool that allows to exchange instant messages, create and manage channels, set up bots, and many more.
What is a Telegram channel?
Via your Telegram channel, you can send a message to multiple users at the same time. Like on social media, users need to subscribe to your channel to get access to your content which is published by one or more administrators.
A Telegram channels can pursue a variety of purposes, from sharing useful content to implementing a business strategy. Also, you can successfully use your channel to build and improve your company image, boost your sales, make profits on ads, enhance customer loyalty, etc.
To keep your subscribers interested, you need to create unique content that must be both useful and entertaining for your target audience. This is a tough task, so be sure to realistically estimate your content generation skills before putting efforts into your Telegram channel.
How to set up a Telegram channel: Step-by-step instruction
Telegram channels fall into two types:
Private channel is only accessible to subscribers and doesn't appear in public search. To join a private channel, you need to receive a link from the owner (administrator). A private channel is a great solution for companies and teams. You can also use this type of channel to write down personal notes, reflections, etc. By the way, you can make your private channel public at any moment.
Public channel is accessible to all users, regardless of whether or not they are subscribed. A public channel is displayed in search results and has a short address (link).
Here is more useful information you should know:
Your channel login must contain 5-32 characters.
Your channel name and bio must be no more than 255 characters long.
You can create up to 10 public channels per account.
The number of subscribers is unlimited.
You can invite up to 200 users from your contacts to join your channel.
You can add up to 50 administrators.
You can activate up to 20 bots.
You can edit you content within 2 days of publication.
To delete a channel that has over 1,000 subscribers, you need to contact the user support.
How to create a Telegram channel
You can set up a Telegram channel via desktop app or mobile app (for Android and iOS):
Desktop app: In the upper left corner, click the Menu icon (the one with three lines). Select "Create Channel" from the drop-down menu.
Android app: Open the list of chats, click the Menu icon and select "New Channel".
iOS app: In the "Chats" tab, click the new message icon in the right upper corner. Select "New Channel".
Let's zoom in on how to create and set up a Telegram channel via desktop app step by step. Start with clicking the menu icon: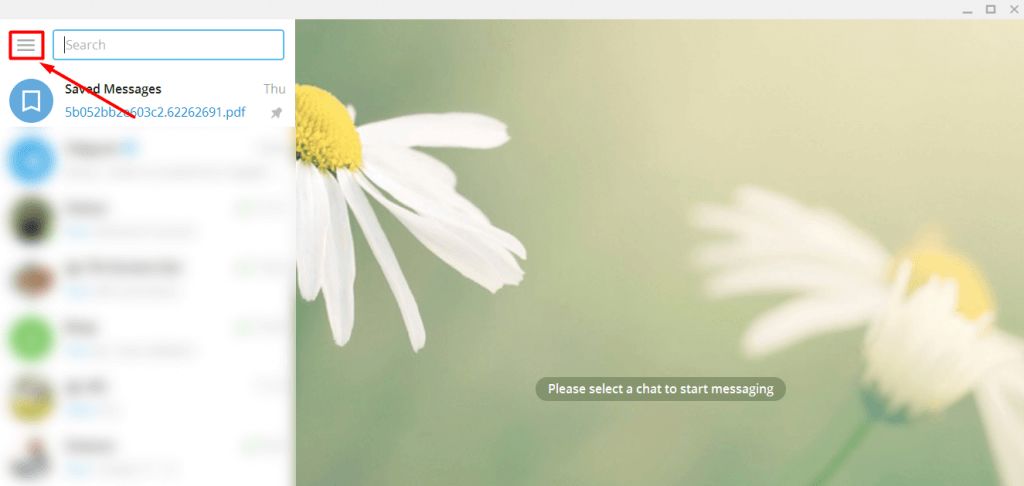 Select "Create Channel".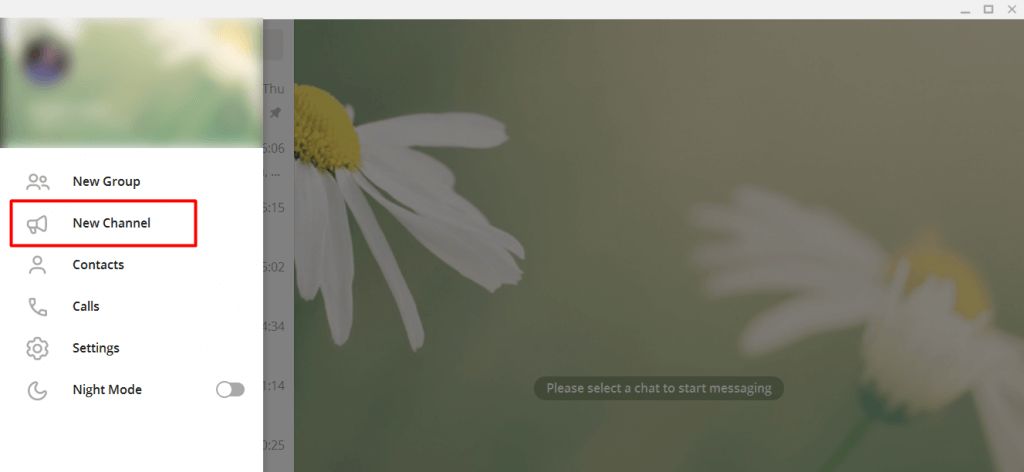 A new window will come up. Enter your channel name and bio. (See the character limits above.) Click "Create".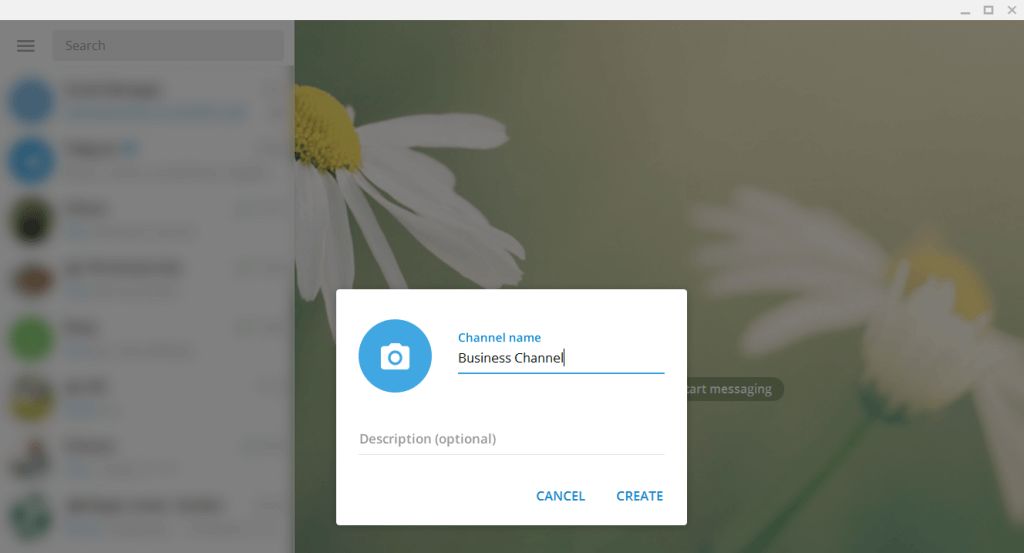 In the next window, choose the type of your channel. If you want your channel to be public, you need to come up with a link for it. In the screenshot below, it's "/catmarketing". If your selected link is unavailable, you'll need to suggest another option.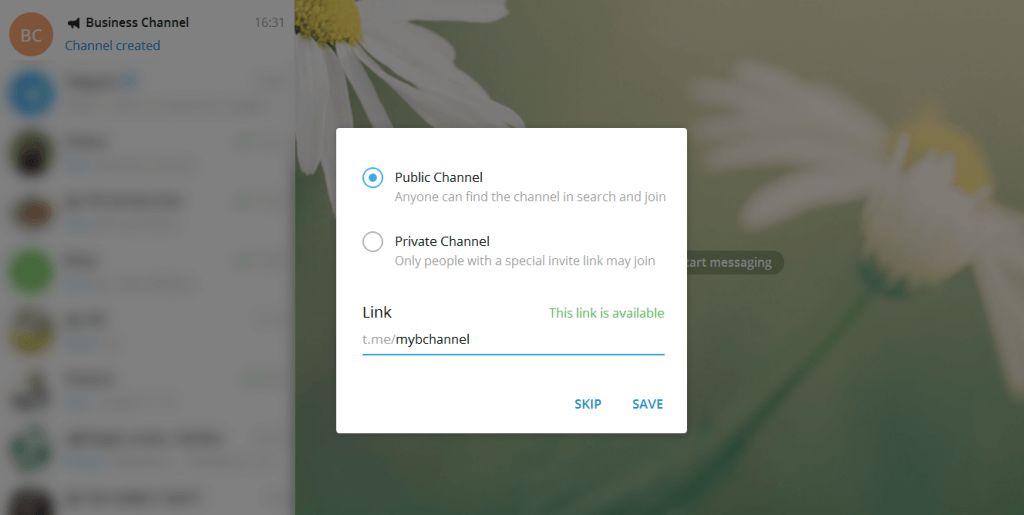 As the next step, you can invite up to 200 people from your contacts to join you channel. Select the users you want to add and click "Invite". You can skip this step altogether.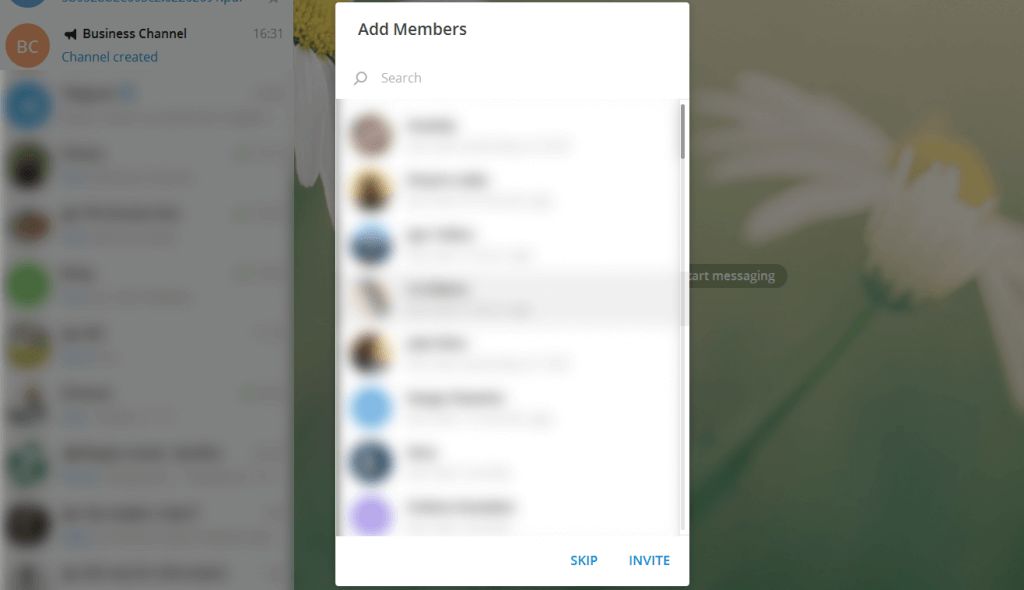 Done! Now you're the proud owner of a Telegram channel. The next step is to set up and customize your channel.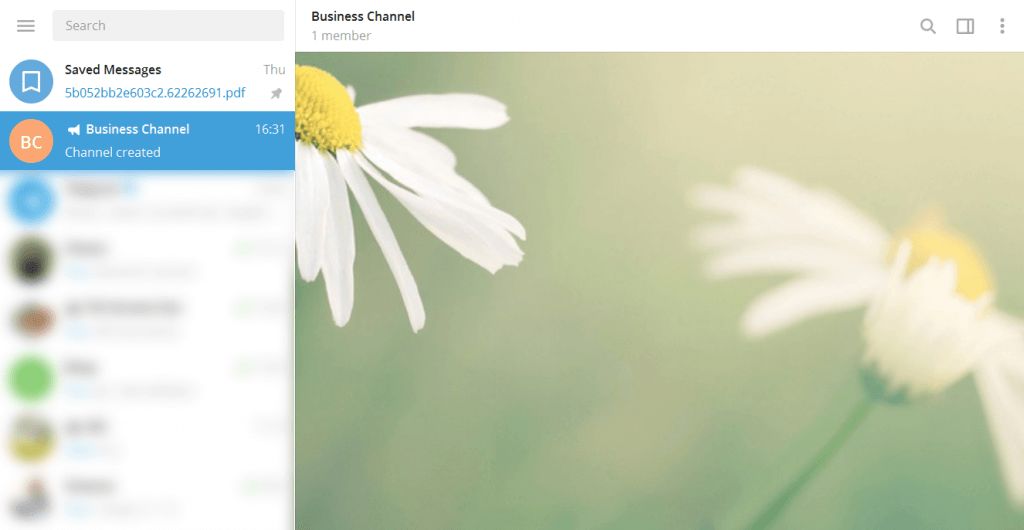 How to set up your Telegram channel
While your content and promotion strategies surely affect your subscriber base and conversion rates, those are not the only things that matter. The visual aspect of your channel is also important. In fact, design is the first thing a potential subscriber pays attention to, even though unconsciously.
The main design elements of your Telegram channel include a name, bio (brief description), and avatar. Your bio must be:
concise;
clear;
informative.
While the character limit is at 255, try to fit into 200 characters. This way, users will be able to take in your text fast and easy. Reveal the essence of your channel and provide contact information. For example, you can add a bot name, link to your pricing plans, etc.
To view your bio, click the Menu icon and select "View channel info".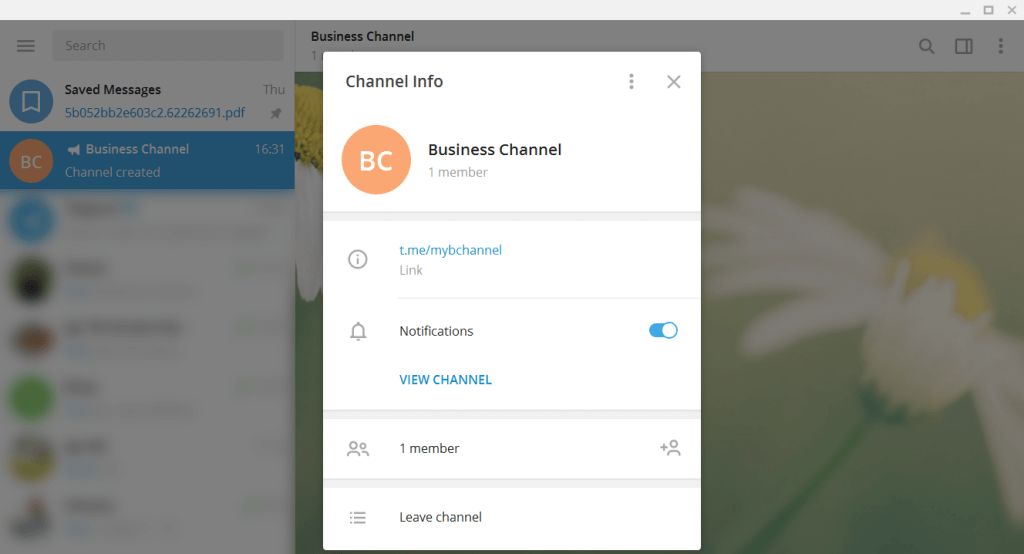 When choosing the right name for your Telegram channel, use the language of your target audience. The name must sum up the essence of your channel in 1-3 words. If you're planning to expand your Telegram audience, it makes sense to incorporate keywords into your name.
To edit your name or bio, click the Menu icon and select "Manage Channel".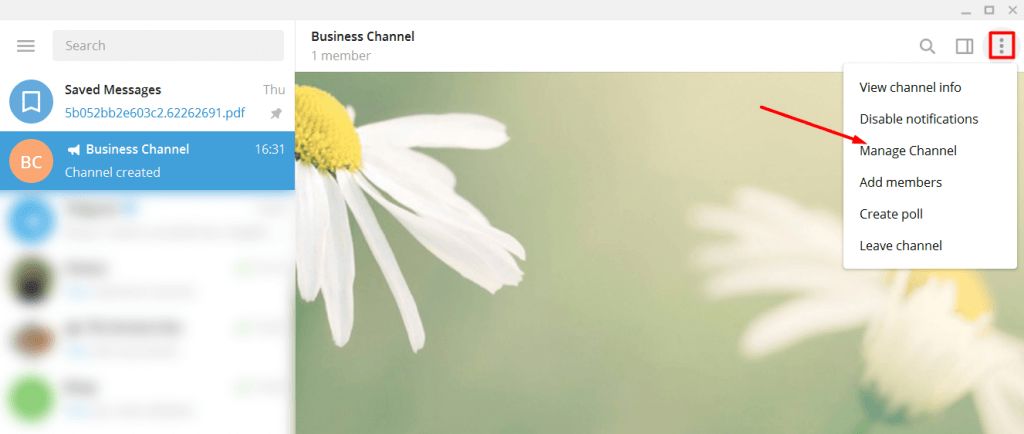 Your avatar is the face of your Telegram channel. This small image is responsible for evoking the right associations in the minds of your audience. For a better brand recognition, we recommend that you use your corporate logo as your avatar. As you might have noticed, Telegram uses round avatars. You don't need to crop your image, though; the messenger will do that automatically. You simply need to upload a square 300px х 300px image. Make sure the core elements of your design are arranged in the center.
There are three ways for getting a logo for your Telegram avatar:
Find the appropriate image on a stock photography website. The pros include a big selection of designs and easy search by theme. On the flip side, you can never be sure that your image is not being used by someone else.
Commission a professional designer to create a logo for your company or project. You'll get a unique design that fits your brand personality like a glove. The only deal breaker is a high cost of such services.
Use an online logo maker, e.g. ZenBusiness. Enter your channel name, select your industry, and choose from dozens of beautiful options.
To upload a logo, click the Menu icon and select "Manage Channel". In a new window, hit the camera icon.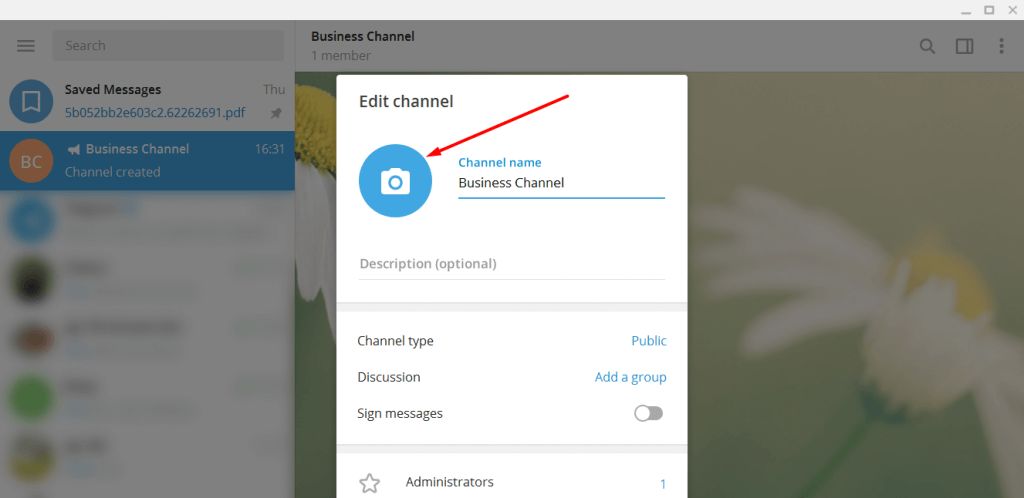 Add the logo from your device. Adjust the visible area of your image.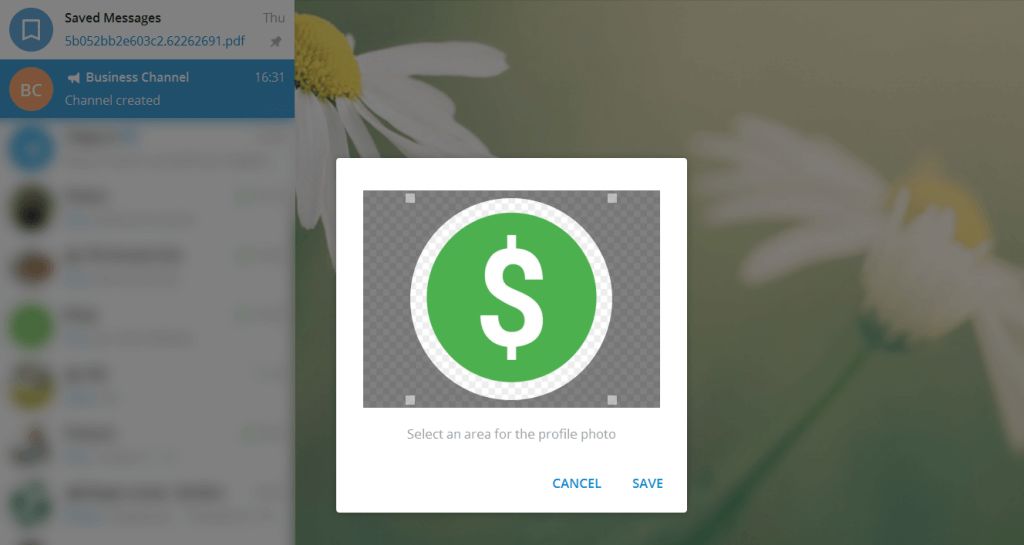 Click "Save". Congratulations! Now your Telegram channel has a face!
How to manage your Telegram channel
Administrators
The creator of the channel becomes its administrator by default. If you need help managing your channel, you can add more administrators from your subscriber base. You can provide each admin with limited or full rights to manage the channel. For example, you can allow an administrator to publish and edit content while withholding the right to add new subscribers.
Select: Settings – Manage Channel – Administrators – Add administrator. From your list of subscribers, select the right user. A new window will appear on the screen. Check the rights you're willing to give to your administrator.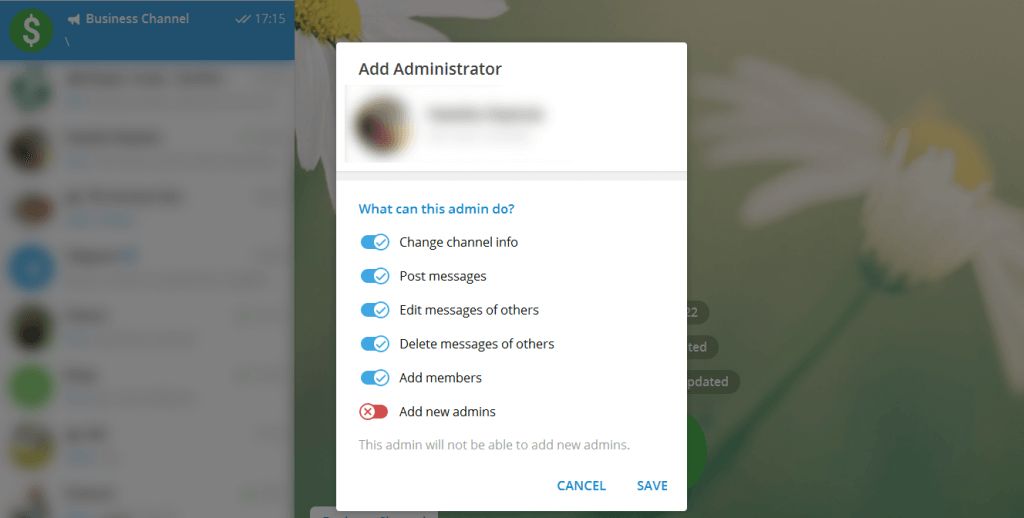 Click "Save".
Hashtags
Hashtags are a fast way to find the right information on social media. To put your content out there, be sure to add hashtags to each of your posts. We have two smart tips to give you:
Avoid compound hashtags that consist of several words. If you have a hashtag like #marketingnewsinusa, split it into smaller hashtags: "#marketing, #news, #usa.
Write your hashtags in the language of your target audience.
Polls
A few years ago, to run a poll on Telegram, you had to use a special bot. Now you can easily do that yourself in two clicks. Hit the Menu icon and select "Create Poll". Write your question and add up to 10 options. Running polls is a powerful strategy for getting feedback from your audience. If you're considering the possibility of modifying your channel in any way, be sure to ask your subscribers' opinion first.
Smart rules for publishing content
Check out our content management tips:
Don't publish new content at nighttime. Since not all users disable notifications for the night, you risk inadvertently disturbing them.
Find your optimal posting schedule and stick to it. On social media, the peak posting times include 8 am, 6 pm, and 8 pm. Try to publish serious stuff in the morning and leave less demanding content for later in the day.
Choose quality over quantity. Remember that one high-quality post is better than 5 short publications of questionable value.
Your posting frequency depends on the topic of your channel. If you have a news channel, it's OK to publish new content every day (or even every hour). For other industries, stick with 2-3 large posts a week.
Users are more open to new information on workdays rather than weekends.
Telegram bots
Bots are third-party applications that help Telegram users to:
create beautiful posts;
engage with subscribers in a more effective way;
schedule publications;
track vital metrics
set alerts and notifications, etc.
Bots enhance the functionality of Telegram big time. Take a look at some popular Telegram bots:
@ControllerBot helps you create and publish posts (including scheduled posting). By using this bot, you can also add emojis to your post and view analytical metrics.
@BotFather is a chatbot builder from SendPulse. Use it to create auto-reply flows and inform, advise, and even sell goods to your audience.
@vote is an expert in creating polls.
@LivegramBot responds to messages from your subscribers, creates newsletters, and provides you with important statistics.
@mrkdwnrbt helps you edit and schedule your contents.
How to embed a bot (@ControllerBot) into your Telegram channel
First, you need to create your own bot. Copy this name – @BotFather – and enter it into the Telegram search box. Go to the BotFather page and send the /start command to the bot. Then create a new bot by sending the /newbot command.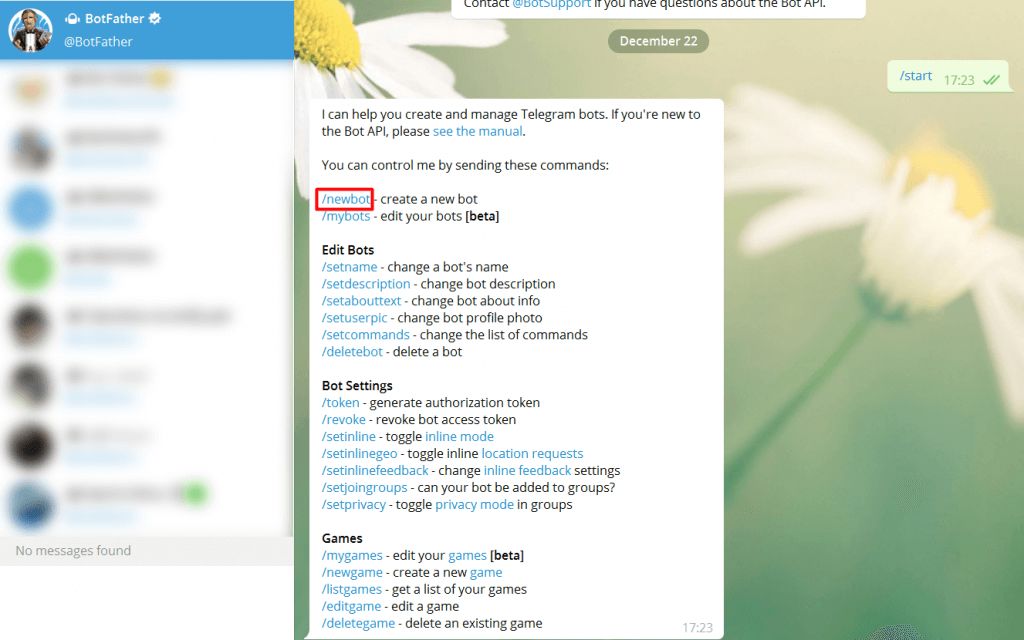 The system will ask you to name your new bot.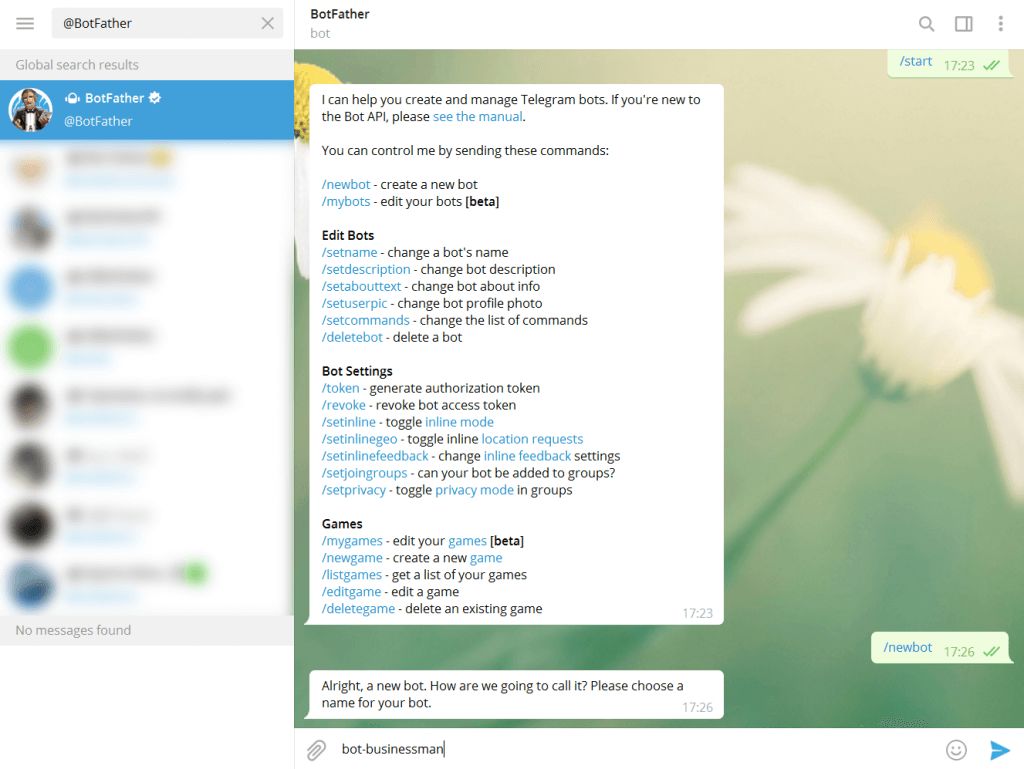 Now you need to come up with a username for your bot. It must have the word "bot" at the end. If the username is already taken, you'll need to come up with another option.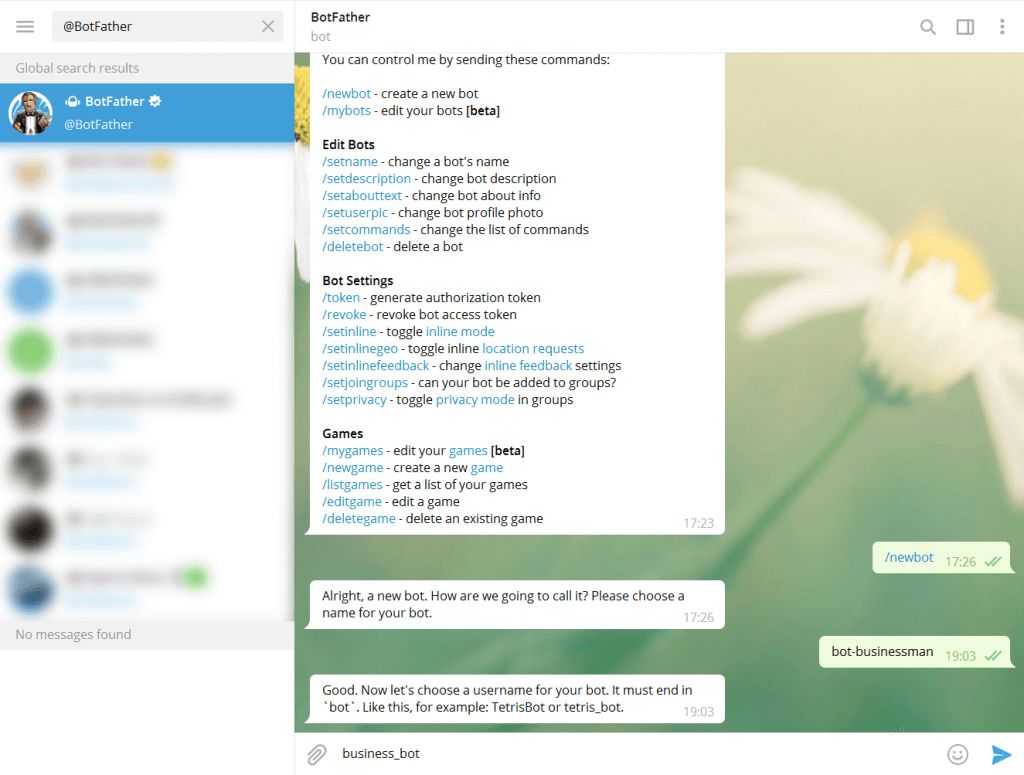 The bot has been successfully created. Now you need to copy its token.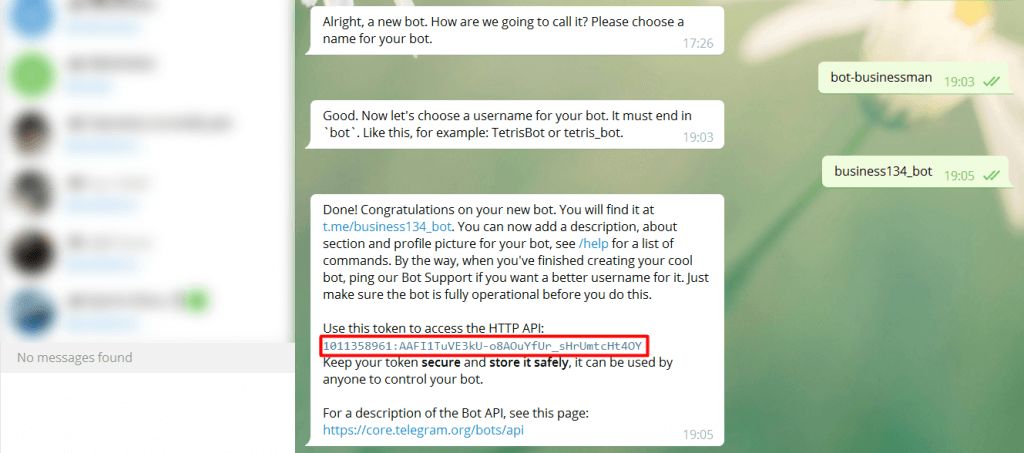 Enter @ControllerBot into the search box. Go to the Controller Bot page. Send the /start and /addchannel commands to the bot.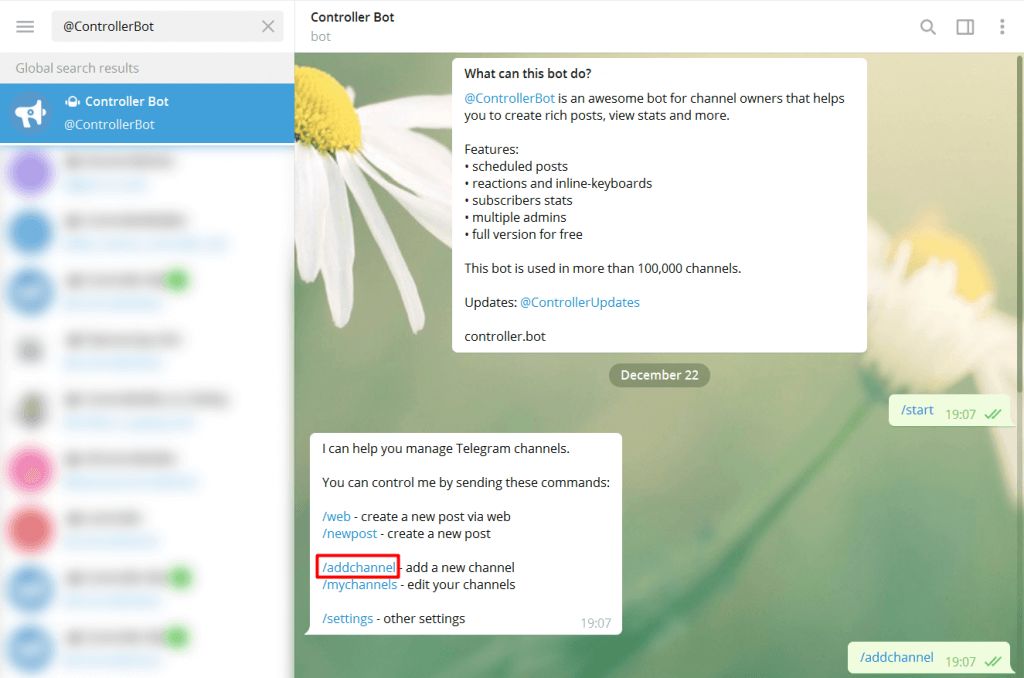 Paste your bot's token.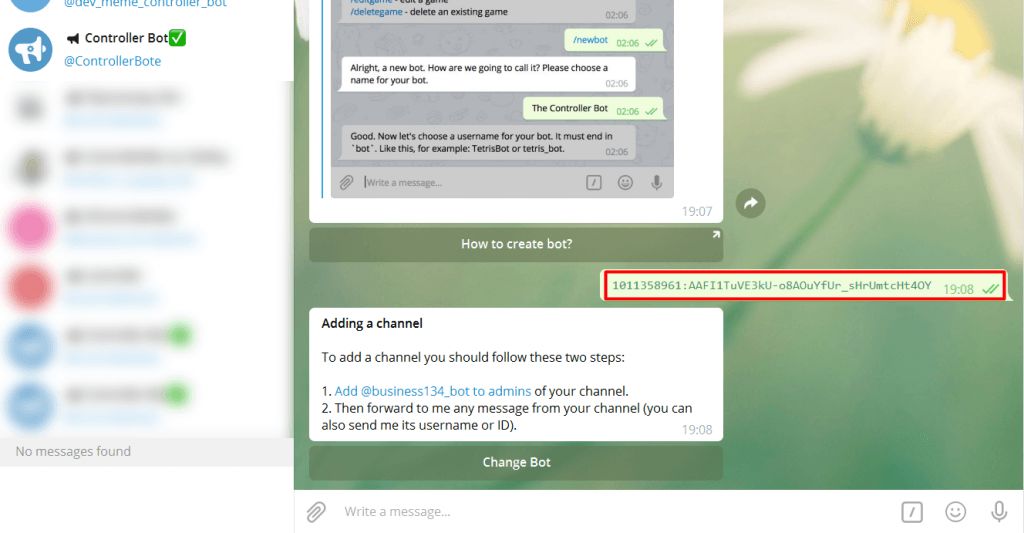 Add your newly created bot as an admin to your Telegram channel (see above).
Copy your channel link from your Bio and paste it into the @ControllerBot dialog window.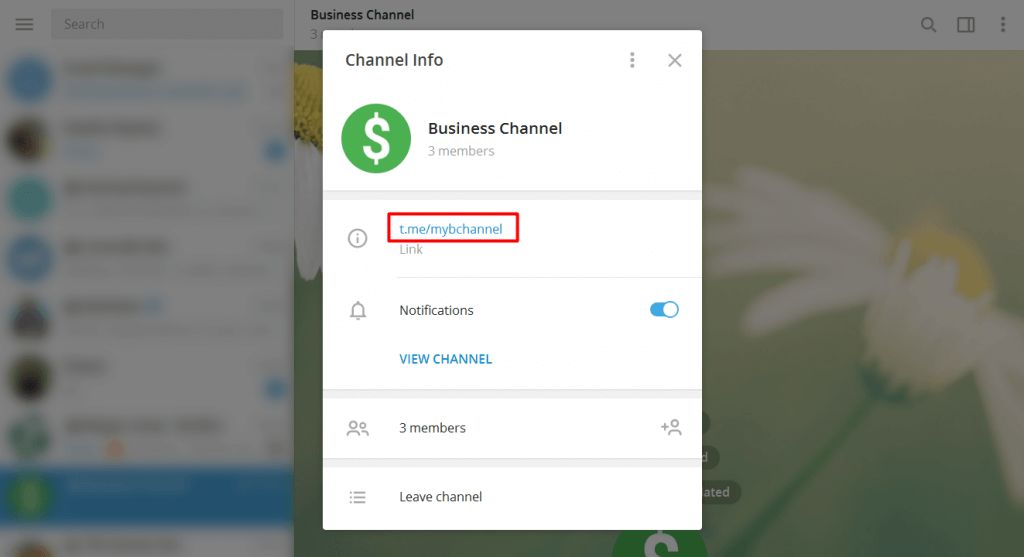 Enter your city to set up the time zone. Done! Your bot is now up and running!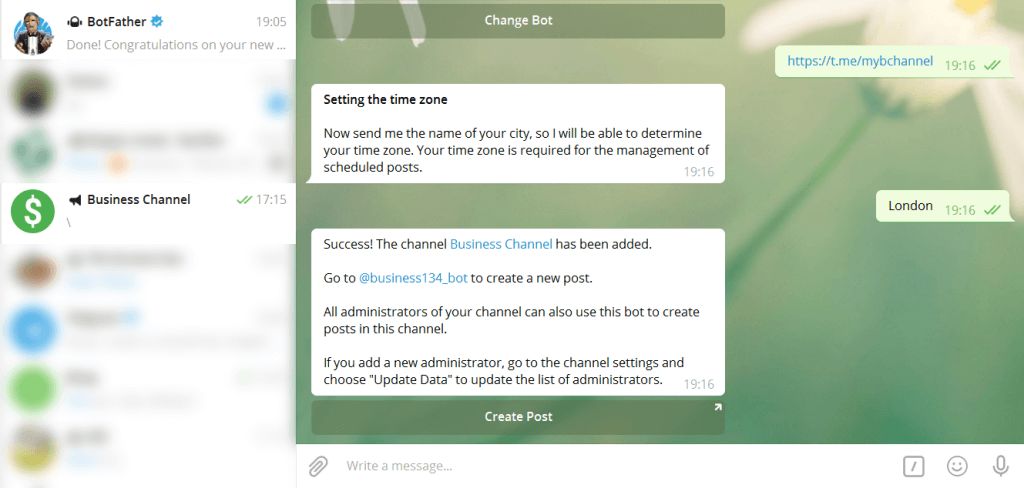 Get down to explore what your clever bot can do.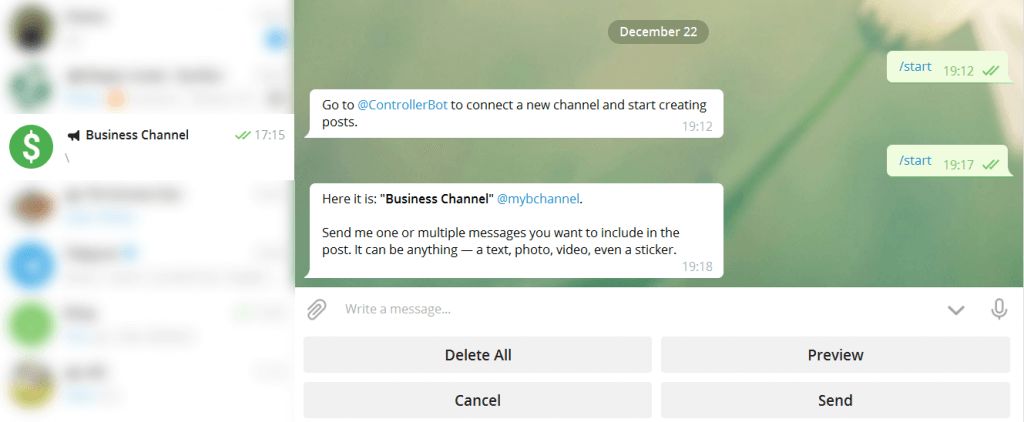 How to promote your Telegram channel and monitor statistics
Building a solid subscriber base costs money. Luckily, Telegram offers no lack of advertising exchanges. Identify the channels your target audience might be interested in and use them to promote your channel.
Also, you can find a channel in the same or similar niche as yours and agree on mutual PR.
Leverage the power of socials (Instagram, Twitter, etc.) to raise awareness of your Telegram channel.
Try to get press coverage for your channel. For example, consider publishing an article "The Best Telegram Channels on [your industry/niche/field of expertise]". Be sure to put your channel first or last on the list. This way, the readers will be more likely to memorize it.
Telegram stats
If you're using your channel for business purposes, you need to closely monitor its performance. For analytical metrics, use @ChannelAnalyticsBot, Tgstat.ru, or Telemetr.me. Focus on the following data:
number of subscribers;
number of daily views;
number of reposts;
number of mentions.
Conclusion
Telegram is a leading platform for building, expanding, and nurturing target audience. Companies, brands, and entrepreneurs are actively using their Telegram channels to achieve a bunch of objectives, from developing customer loyalty to improving sales performance. Telegram offers a powerful toolset for creating, managing, and tracking your posts. Our advice is to view Telegram as your corporate blog. Use this messenger to discover your unique style, forge trust with your audience, and polish your skills at generating exclusive content.