"To B or not to B" is the question that ethically-minded companies are increasingly asking themselves as organizations across the globe begin to look beyond their bottom line. These businesses are part of the growing B Corp movement, a collection of companies attempting to balance profit with purpose.
B Corps are to business what Fair Trade is to coffee – and from forestry to finance, thousands of companies from across the globe are joining the movement. It's not just small companies and startups that are getting in on the action, either. A growing collection of big brands with household names like Patagonia, Ben & Jerry's, and Allbirds are also among the A-List of B Corp companies.
What is a B Corp?
Before we go any further, it might be helpful to define what a B Corp is. Put simply, B Corps are businesses that put as much emphasis on their social and environmental impact as they do their bottom line.
To achieve B Corp certification, companies have to be assessed by B-Lab. This not-for-profit verifies that they reach the highest social and environmental responsibility standards, public transparency, and accountability. Certification is not easy to get, which is why it is so meaningful to the thousands of companies across the globe that have achieved it to date.
These businesses are working towards harnessing their power to achieve a more inclusive and sustainable economy, and their numbers continue to grow. Last year alone, their numbers swelled by more than 20%
B Corp companies mapped
Whether you're shopping for ice cream or exploring investment opportunities, you've likely crossed parts with this growing number of ethical enterprises.
So who is the biggest B Corps? Where in the world are we most likely to find them? And what sectors are the most successful?
We used the B Corp directory from the data world, examining all certified companies to determine the world's top ethical businesses. The overall rankings took into account various factors, including governance, workers, community, environment, and customers.

The B Corp Boom: These countries are home to the most ethical enterprises
The first B Corps achieved certification in the US in 2007, fast forward to today, and there are 3,596 verified organizations worldwide in 76 different countries. Though they've grown into a global movement, the majority of B Corps are still overwhelmingly American. Indeed, 13,346 (37.2%) of the world's certified companies are based in the United States, with big brands like Patagonia and Ben & Jerry's flying the flag.
Second-placed in our global ranking of ethical enterprises is the UK (10.3%), where brands like JoJo Maman Bebe, Innocent drinks, Abel & Cole, and the Guardian Media Group have joined the 370 B Corps that have achieved certification since the initiative first arrived in 2015.
Rounding out the rest of the top five are Canada (8%), Australia (7.5%), and Brazil (4.4%), who combined account for more than two-thirds (67.4%) of the world's total B Corps.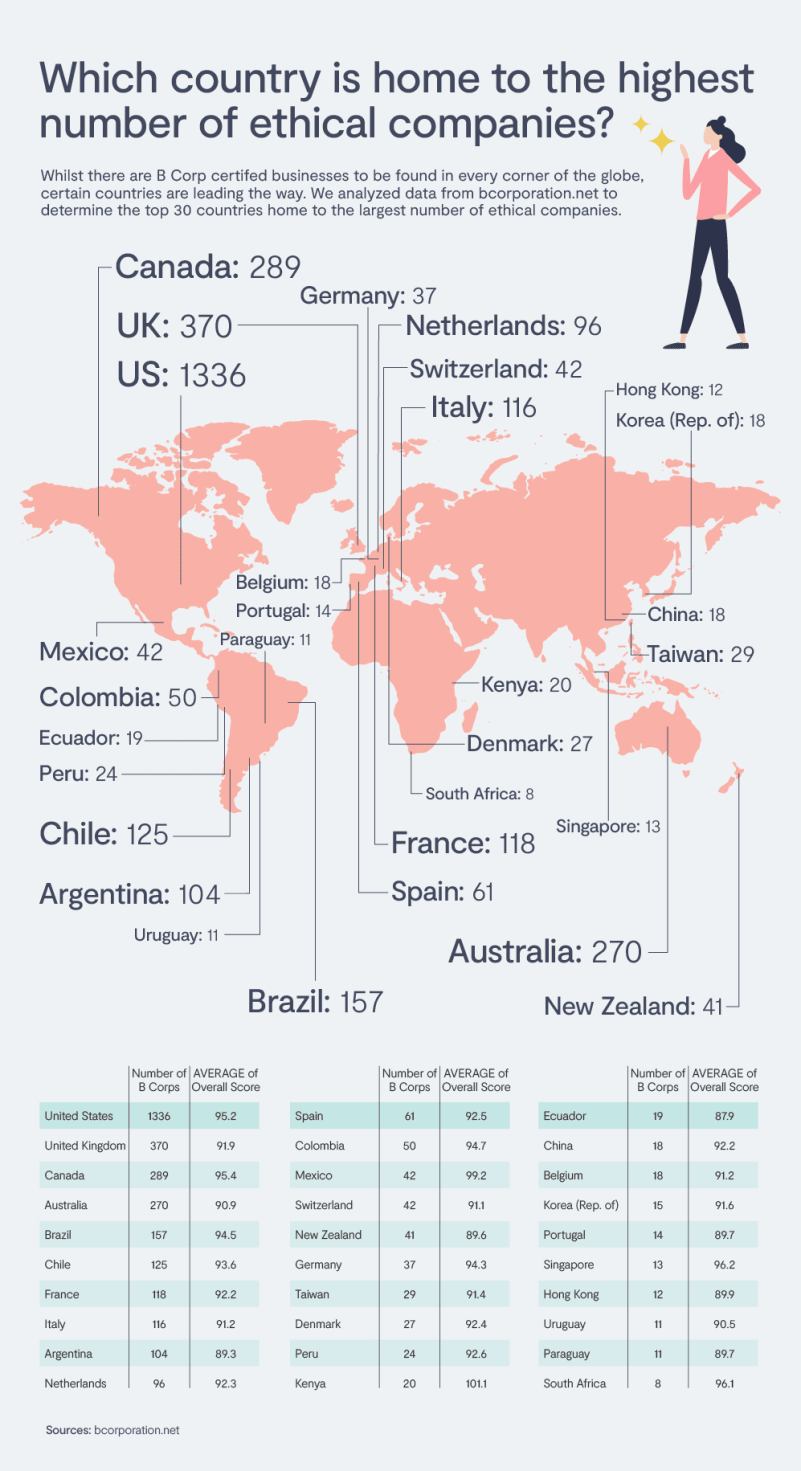 Ranked: The A-List of B Corps
We analyzed companies to determine the most reliable, successful, and low-impact brands using the B Corp directory. Considering factors such as social and ethical performance, we created a weighted ranking of the world's top 20 companies – an A-List of B Corps.
An integrated architecture, engineering, building, and renewable energy firm South Mountain Company, Inc., tops the global B Corp ranking with a score of 183/200. Located on Martha's Vineyard in Massachusetts, the 35 strong team is a mission-driven worker-owned cooperative working to support each other, strengthen their community and cultivate positive change. First certified in 2008, the company has gone from strength to strength, increasing its overall impact score by a third (33.3%).
Second place in our B Corp ranking is Dr Bronner's (177.8). This family-owned and run soapmakers can trace its roots back to 1948. Three decades later it has become the top-selling brand of organic & fair trade bodycare in the U.S. making responsible products and dedicating its profits to help make the world a better place.
The final place on our B Corp podium goes to Beneficial State Bank (176) a unique California-based financial organization proving that money can be a force for good. Certified in September 2013, it balances traditional banking practices with a mission to serve the community, not to profit from them.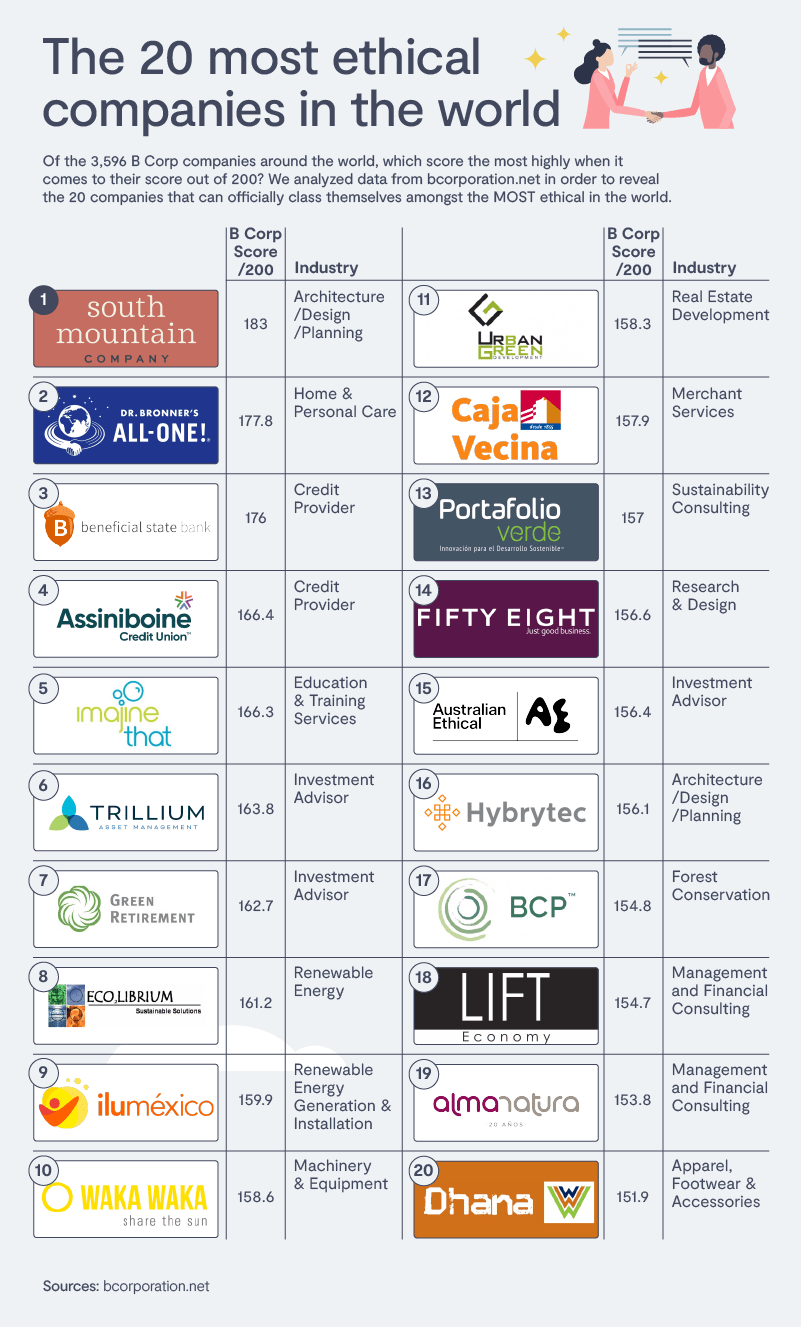 Ethical industry: The world's most sustainable sectors
B Corps cover the full spectrum of business from electronics and real estate to entertainment, education, and even a whole host of industries that don't begin with the letter "E." But which industries are the most ethical?
The gold medal for good business goes to the Forest Management industry, which lays claim to the highest average B Corp score of any sector (111.2). Credit Providers (110.4) claimed second place on our ranking, followed by Environmental Remediation (104.3) in third.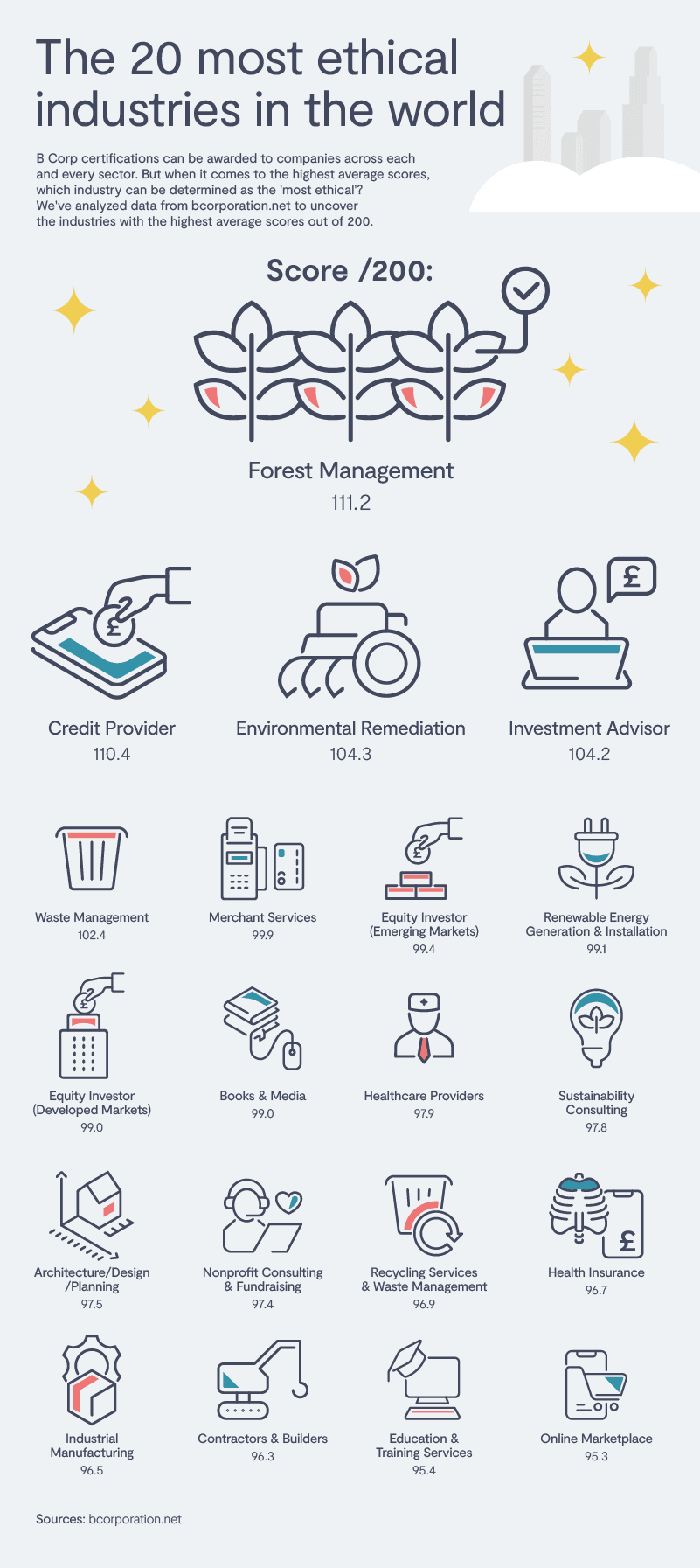 Represented: Which industry has the most B Corps?
The Food & Drink industry boasts the highest number of certified businesses of any sector, with companies like socially-conscious ice cream giants Ben & Jerry's accounting for 12.4% of all B Corps. Surprisingly, the industry that accounts for the second-largest B Corp business is IT Software & Services (7%). Followed by Management and Financial Consulting (6.2%) and Marketing & Communications Services (5.9%), the results represent a growing trend for professional service providers looking to balance their profits with purpose.
Elsewhere consumer industries like Apparel, Footwear & Accessories are well represented, contributing 144 of the world's B Corps, alongside Home & Personal Care (199) and Housewares, Home Furnishings, & Accessories (63). While at the other end of the spectrum, the Product Rating industry is the least represented sector with just a single B Corp registered to date.
Exposed: The top B Corp in every sector
We know the most ethical industries, but which B Corps are leading the pack in the world's most sustainable sectors? The ranking is led by organizations like Portland-based EFM (136.2/200), standing out as the top dog in the forest management sector. The UK's carbon reduction leader ClimateCare (143.8/200), is leading the pack in the environmental industry.
However, perhaps most interesting are the industry averages, which show us which sectors have the top-performing B Corps. It's no surprise to see more traditional ethical industries like Forest management (111.2), Environmental Remediation (104.3), and Waste Management (102.4) scoring well. However, the presence of Credit Providers (110.4) and Investment Advisors (104.2) among the top five points to a possible changing of the guard as ethical finance becomes more mainstream.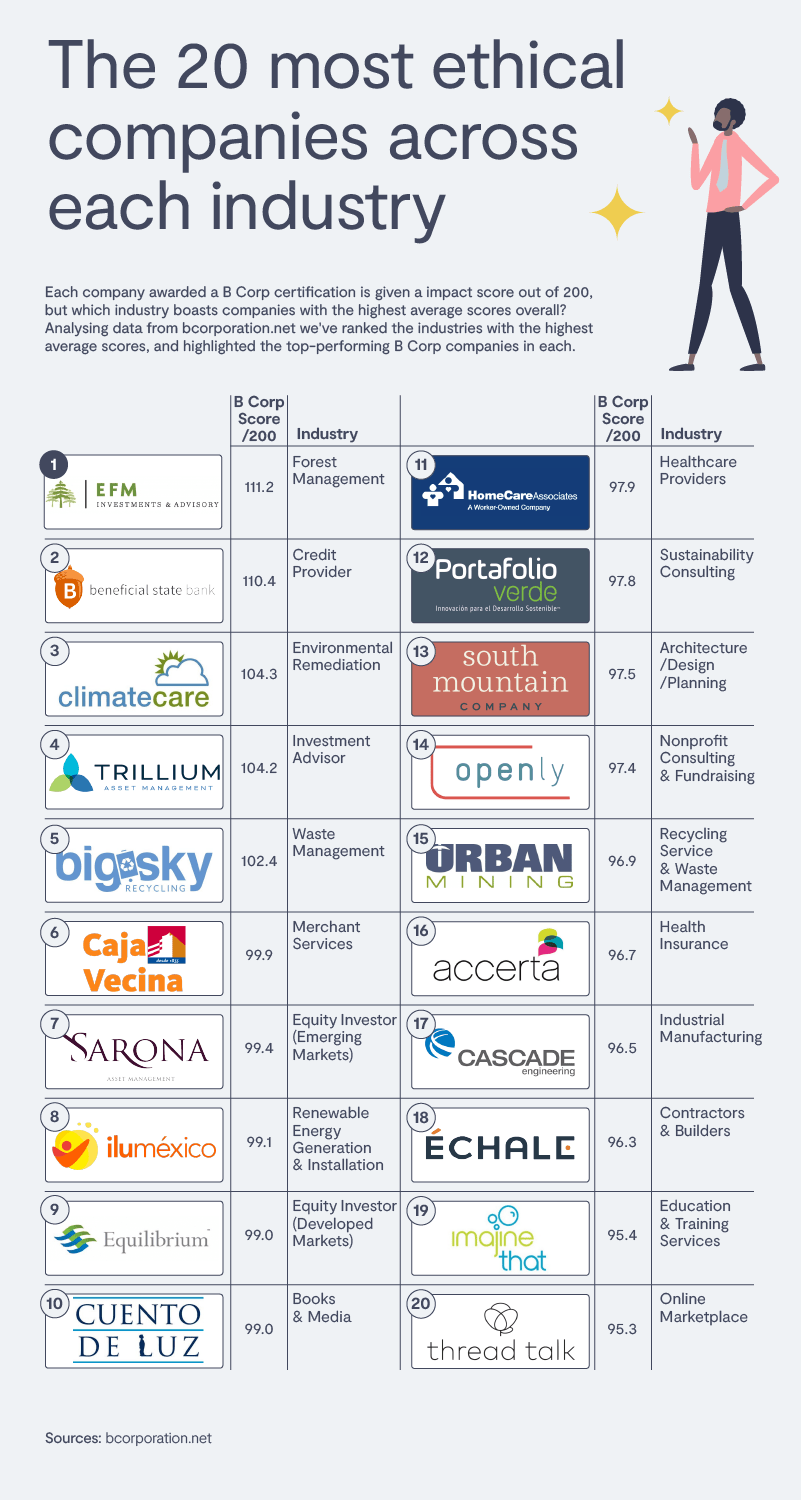 Land of the B: America's top-performing B Corps
From Alabama to Wyoming, 46 different states are home to certified organizations. From coast to coast, the country is filled with top-performing B Corps ranging from Arctic Solar Ventures Corporation, a renewable energy outfit based in Alaska, to do good well consulting LLC, a coaching company from Florida.
However, the country's MVP of B Corps is South Mountain Company, Inc (183)., a Massachusetts architectural firm that was certified in 2008. However, the West Coast claims second-placed B Corp, thanks to Dr. Bronner's (177.8), a Californian-based soap-making company that can trace its ethical roots back more than 150 years. Colorado lands third place in our B Corp countdown, with Denver-based real estate developers Urban Green Development, LLC scoring 158.3 on our weighted ranking.
Overall, Eastern B Corps performed slightly better than their Western counterparts, with seven of America's top 10 organizations hailing from the Atlantic Coast.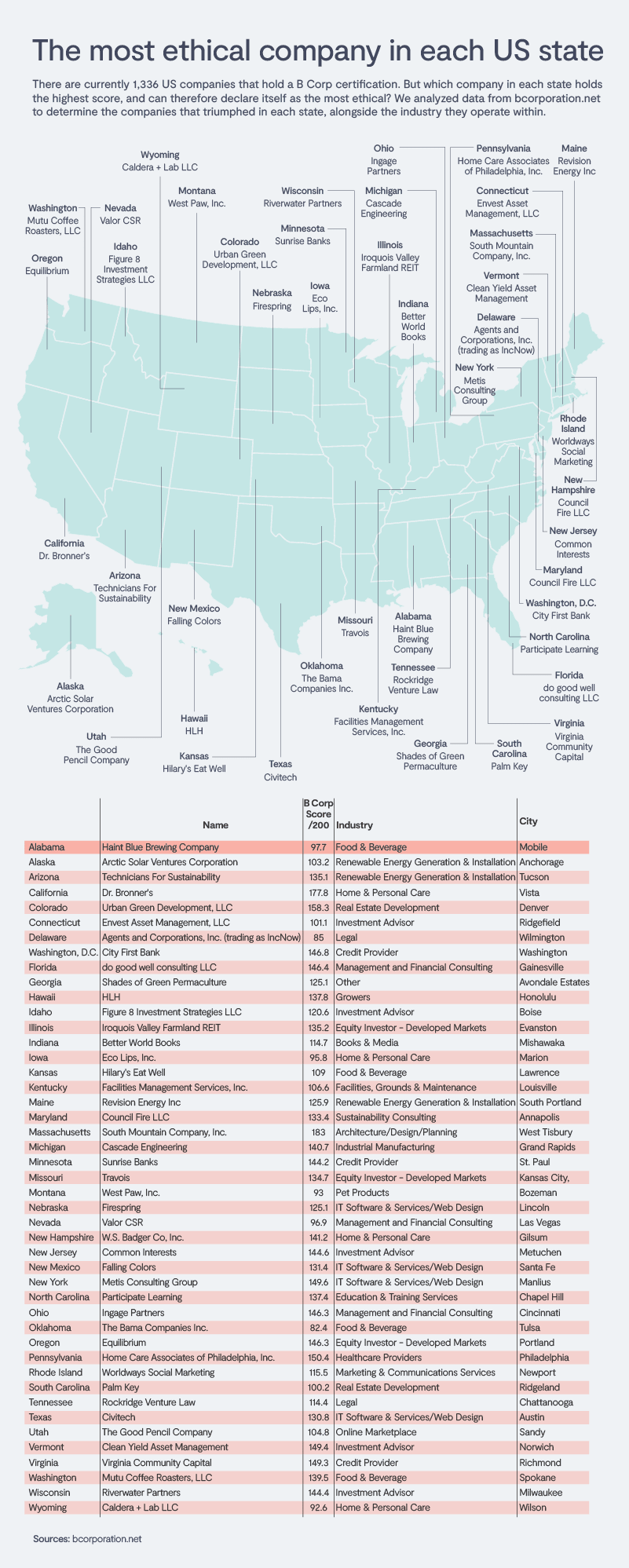 Trailblazers: The world's oldest B Corps
There's a definite buzz around B Corps now, but today's certified companies owe a lot to those businesses that blazed a trail for the movement more than a decade ago.
In the U.S., the sector's founding father is Mal Warwick Donordigital, a fundraising and advocacy agency that became the first-ever B Corp back in May 2007. Two years later, Canada joined the world's B Corp club with Toronto-based fundraising platform FlipGive (February 2009). Then came Chile's TriCiclos (January 2012), Mexico's ECHALE (February 2012), and Argentina's Emprendia (June 2012).
Beyond the bottom line: B Corps that are leading the post-COVID recovery
Emerging in 2007 amidst the worst economic downturn since the Great Depression, it's easy to see the B Corp movement as a reaction to the corporate excess that led to the Global Financial Crisis.
Since then, the sector has blossomed with a growing number of companies following the trail blazed by those first B Corps. So as the world gets ready to emerge from the economic damage that's been caused by COVID-19, will business once again look beyond their bottom lines?
The evidence seems to suggest that they will. A staggering 721 businesses have achieved B-Corp status since the start of the global pandemic. From Australia to Ecuador, post-COVID B Corps are springing up across the globe with their numbers swelled by some globally recognized brands, including WeTransfer.com, Evian Volvic Suisse, and even Danone become one of the first multinational companies to obtain B Corp certification.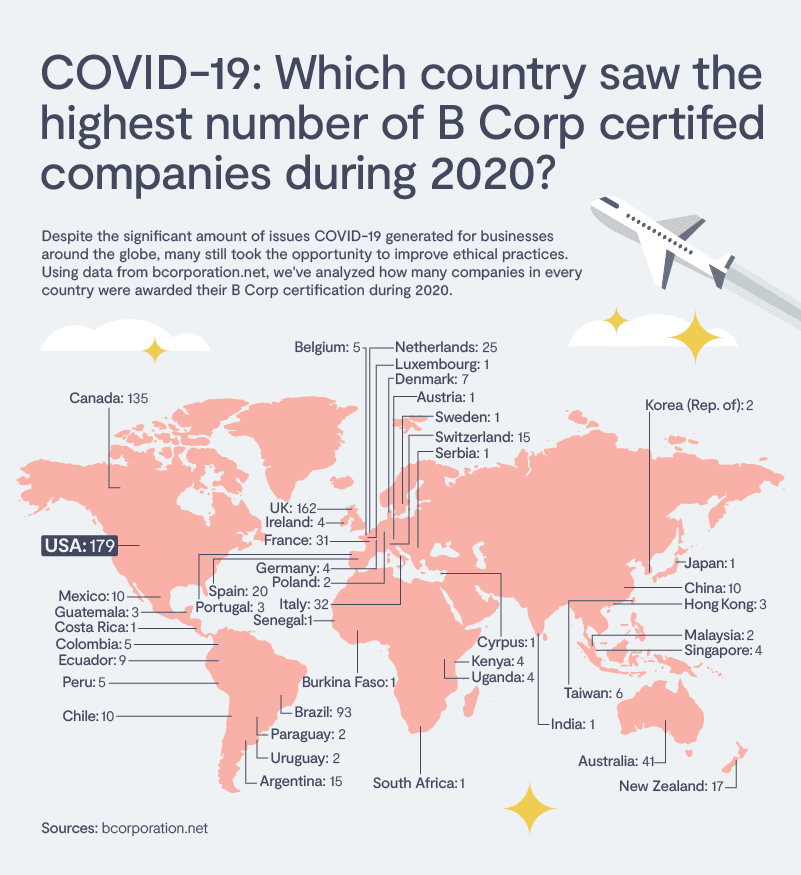 To B, or not to B, that is the question.
Just as it did following the 2007 economic crisis, the world looks set to embrace ethical enterprise as we begin to emerge from the global pandemic. Now, as then, there is a growing sense that it's time for businesses to look beyond the bottom line and balance profits with purpose.
The prestigious B Corp certification is the gold standard for this new wave of conscientious companies. But B Corp status can be challenging to achieve, and businesses must meet rigorous social and environmental performance, accountability, and transparency standards. They also have to pay fees and be periodically audited to ensure that they live up to B Lab's standards.
While B Corp certification is admirable, it's not always the best approach for every business. Deciding what structure your business will take can have long-lasting impacts on your organization, so it's important not to go it alone. That's why ZenBusiness is here to help. With expert staff and innovative digital tools, we help startups, and large companies organize their business's logistical, legal, and accounting aspects.
Ready to get started?
Whether you're looking to start a B Corp or an LLC, ZenBusiness is here to help. We make it easy to create, run, and grow your dream business, with tools and guidance to help you every step of the way.
Methodology
Taking the B Corp directory from data.world all certified companies were used to determine the top ethical businesses.
B Corps are declared as meeting the highest standard of social and environmental performance. The overall score takes into account a variety of things including, governance, workers, community, environment and customers. This score allows us to determine the most ethical companies.
Taking the directory of businesses found on data.world we added together every country's B Corp to find each country's share of B corps.
United States – Most B corps with 37.2% of businesses
United Kingdom – Second top country with 10.3% of businesses
---
Using every B Corps overall score, we found the top ethical company in the world.
South Mountain Company, Inc. – Top scoring company with 183/200
Fifty Eight – Second top-scoring company with 156.6/200
Assiniboine Credit Union – Third top-scoring company with 166.4/200
---
Using the 1336 US-based B Corps, the companies were divided into their home states, and then each overall score was used to find the top company in each state.
---
Taking Every B Corp we divided them into their home country to find which country has the most B Corps.
United States – 1336 B Corps
United Kingdom – 370 B Corps
Canada – 289 B Corps
---
Using every B Corp we segmented them into their designated industries and ranked each company from each vertical.
Forest Management top company – EFM
Credit Provider top company – Beneficial State Bank
Environmental Remediation top company – ClimateCare
---
Using every industry from the B Corp Directory we found the average score for each industry to find the most ethical industry.
Forest Management – 111.2/200
Credit Provider – 110.4/200
Environmental Remediation – 104.3/200
---
Taking All B Corps that have now become decertified after previously being classed as a B Corp.
---
Taking all B Corps we have found the first B Corp certified in each country that is still certified today based on their certification date.
United States – Mal Warwick Donordigital (2007-05-15)
Canada – FlipGive (2009-02-19)
Chile -TriCiclos (2012-01-13)
---
Using the business directory we have found out which B Corps defied the odds and emerged during Covid-19.
---
Taking each B Corps certification date we have found out the best year for B Corps.
2020 – 613 businesses certified
2019 – 607 businesses certified
2018 – 501 businesses certified
Sources: https://data.world/blab/b-corp-impact-data
Data correct as of March 16th 2021