Looking for a lucrative business idea? How about selling clothing, accessories, and handcrafted items with your branded prints on them? To succeed in this niche, you'll need to partner with a reliable on-demand printing service that will take care of printing and shipping products to your customers. This article looks at 10 top-notch printing services that will be of great help to your business.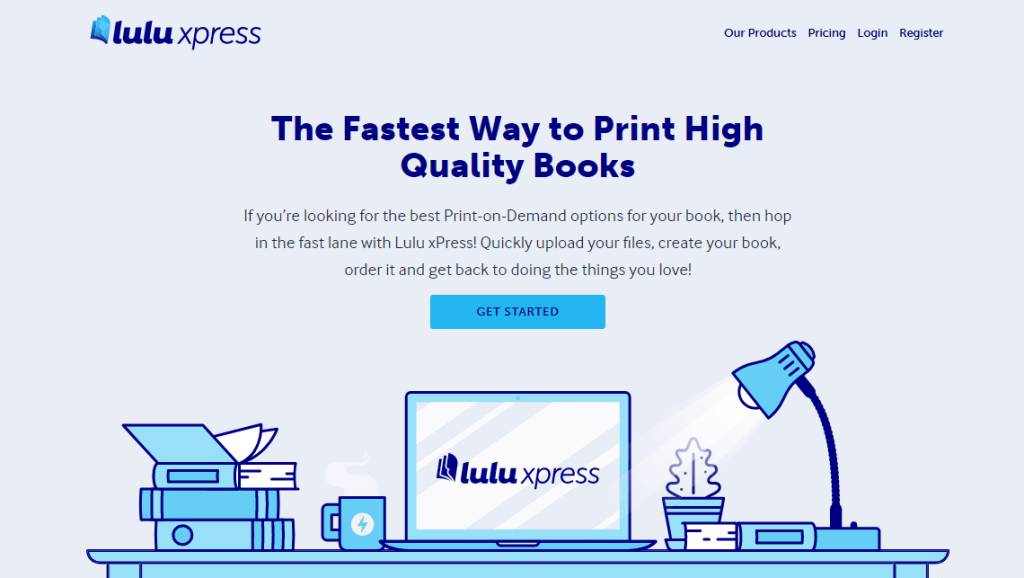 Professional and cost-effective, Xpress.Lulu is the ultimate expert in printing books, comic books, magazines, and calendars. Choose from 3,000 format options, binding types, colors, and layouts. Orders are fulfilled within 3-5 business days and shipped to more than 150 countries worldwide.
Printful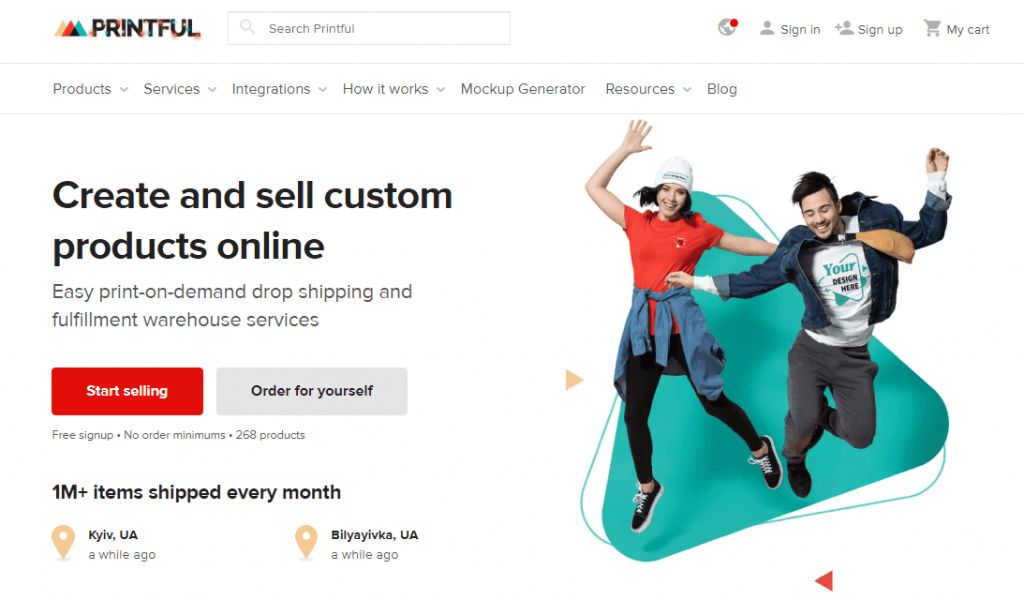 Printful offers a stunning choice of products and printing options. The platform specializes in men's, women's and children's clothing, accessories, and home products. Your Printful account can be easily connected with major ecommerce marketplaces (Amazon, Etsy, eBay) and website building platforms (Shopify, WooCommerce, Wix, Squarespace, Weebly, etc.).
To create a custom product, upload your own design or choose from hundreds of ready-to-use templates offered by Printful. Printful partners with the leading global carriers to ensure a secure and fast delivery.
Gooten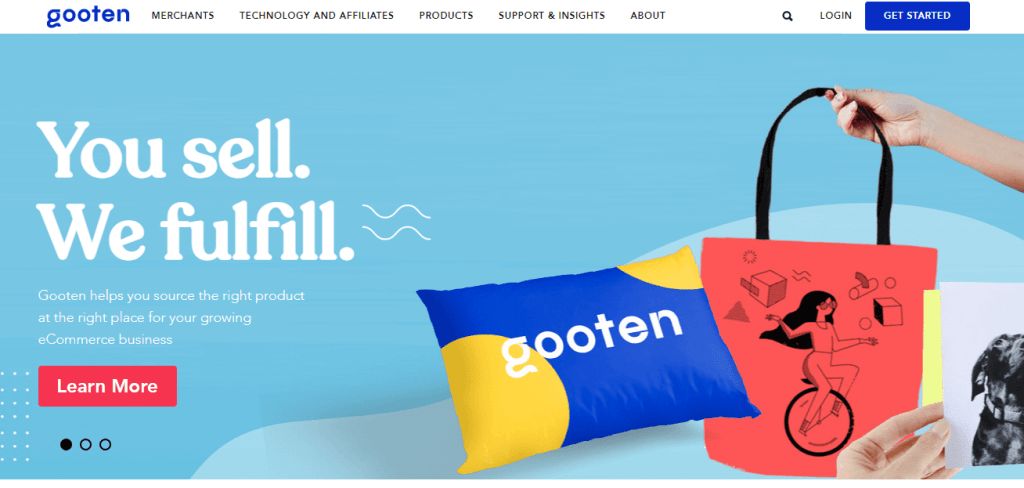 This online tool targets wholesalers with hundreds of orders per month. The best thing about Gooten is that it integrates with popular ecommerce websites like Shopify and Etsy in two clicks. Use Gooten to print your logo and other designs on apparel, home products and decor, accessories, and pet products.
Amplifier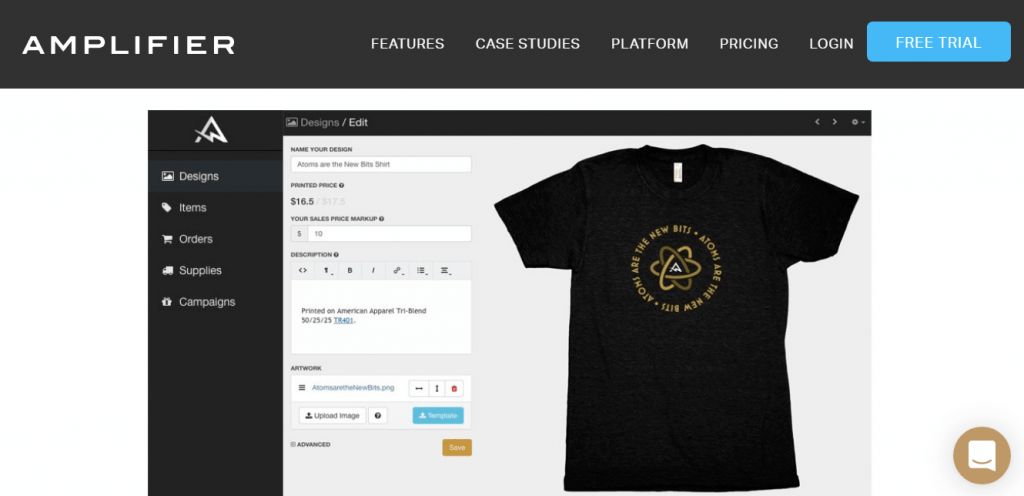 Whether you're a small business or seasoned company with a solid client base, this online printing service will work for you just fine. As usual, you can connect your Amplifier profile with major ecommerce platforms like Shopify, Magento, Big Commerce, Amazon, Weebly, and others.
Amplifier offers an unmatched selection of products, from coasters, to hoodies, to canvas wraps. Your customized products will be packed according to your requirements and shipped to any of the 220 countries on the company's delivery map.
Amplifier lets its clients track, edit, and cancel their orders. If you have any questions or problems with your order, you can get immediate assistance by email, phone or via website form.
SPOD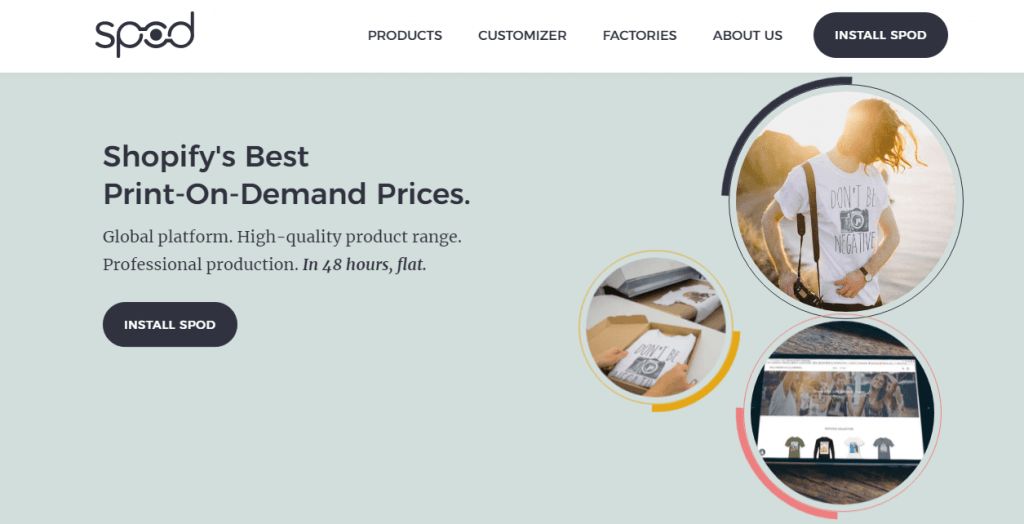 If you're looking for a printing service which is both cheap and easy-to-use, you can't go wrong with SPOD. The company guarantees that their prices match or beat their competitors'. Orders are fulfilled in 48 hours.
SPOD has an inventory of more than 100 products, including clothing for all genders (T-shirts, sweatshirts, long sleeves), accessories (bags, backpacks, pillows), posters, stickers, and more. To customize your selected product, you can upload your own design or choose from 50,000 free designs available on the website.
Pixels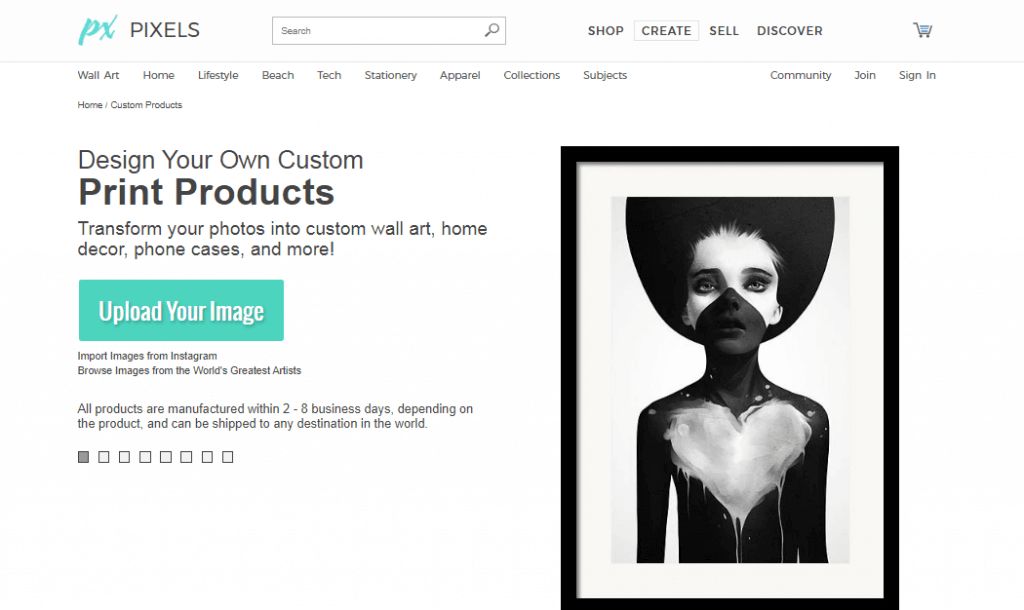 The service manufactures custom products at 15+ global locations using premium materials. Orders are fulfilled in 2-3 business days and shipped to any destination in the world.
Pixels prints text and imagery on phone cases, beach towels, canvas wraps, T-shirts, sweatshirts, bags, pillows, duvet covers, and other commonly used items. All you need to do is to upload your image. The tool will adjust your design to the product's dimensions and suggest the most beneficial layout.
Customcat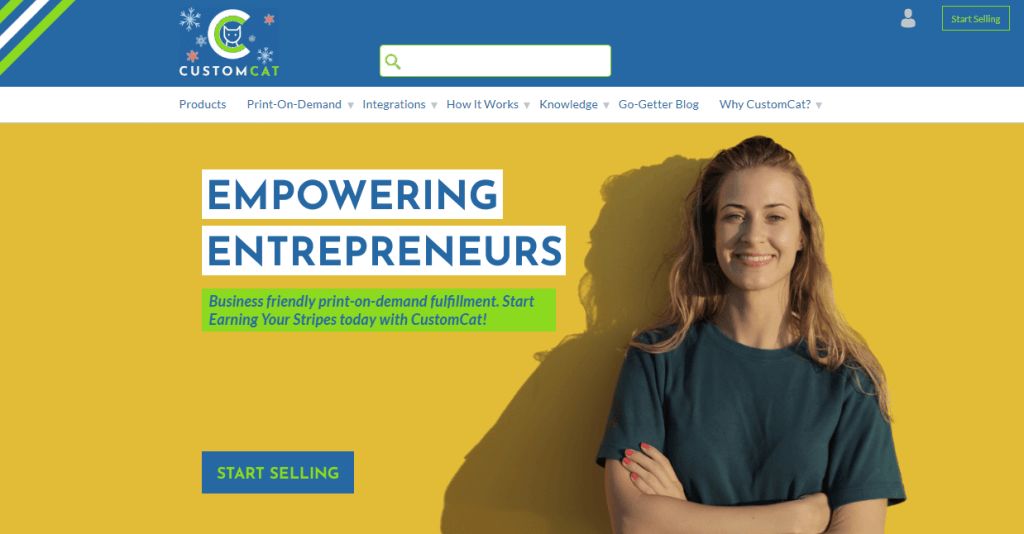 Customcat is the best solution for diversifying your product assortment. Name a product, and Customcat has it! You can customize clothes (T-shirts, hoodies, jackets, hats), home products (mugs, towels, posters), accessories (masks, laptop cases), and more.
A Customcat account integrates with Shopify, Etsy, WooCommerce, and other platforms in one click. On its website, the company emphasizes their commitment to fulfilling orders fast and with exceptional quality.
Printify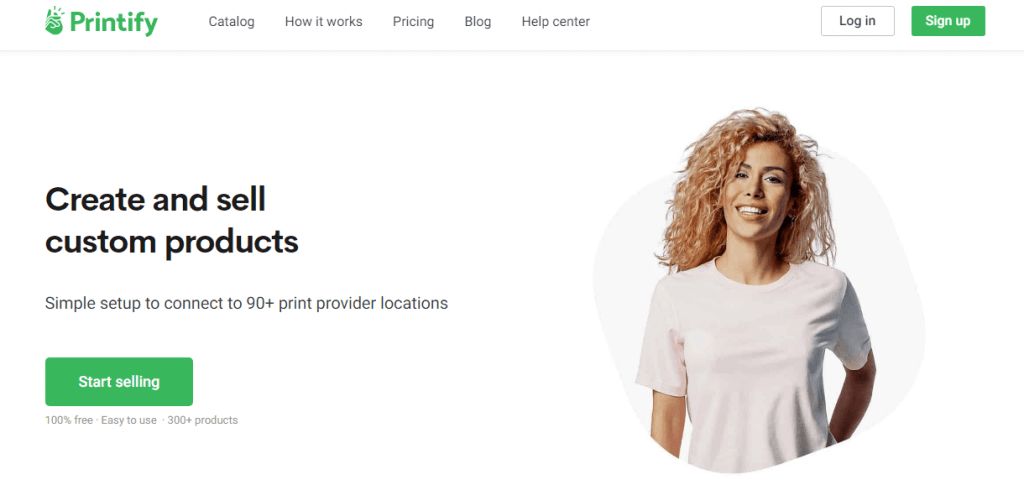 Printify is an aggregator that brings in one place more than 90 on-demand printing services operating all over the globe. To narrow down your search, specify your geographic area and order details.
Using Printify is a breeze. Choose from more than 200 products and upload the design you'd like to print on your items. The platform will show what each item will look like with your text or image on it. If you're not happy with the result, you can edit it.
Kite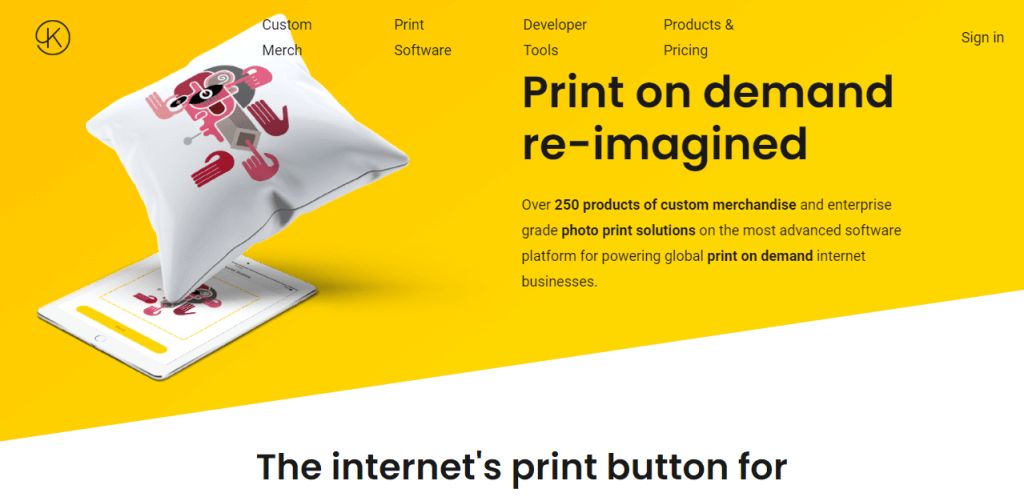 Kite has local manufacturing facilities across Europe to ensure fast fulfillment and safe shipping. You can print your unique design across more than 250 high-quality products, including mugs, sweatshirts, phone cases, custom pillow cases, greeting cards, boxes, posters, and other merchandise.
Merch.Amazon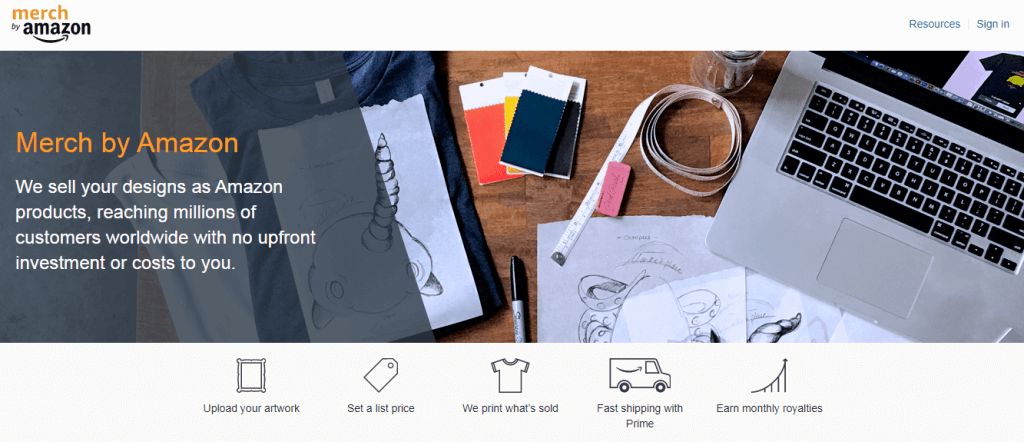 This service is your chance to tap into the customer base of the world's biggest online marketplace. Upload your designs, choose the best color, and add a compelling description. Done! Amazon will take care of the rest.
However, working with the ecommerce giant has its flip side. First, its product assortment is limited to T-shirts, shirts, and hoodies. Second, all designs must meet the Amazon standards and requirements. Third, joining Merch.Amazon is not as simple as you might think. You'll have to submit a request and keep your fingers crossed for its approval.
How to choose a good printing service
We've come up with a list of criteria for choosing the best on-demand printing service to do business with:
Geography. While some printing services focus on a specific geographic area (e.g., US or Europe), others ship globally. Also, there are companies that have physical offices in different parts of the world. Pick a company with the best shipping options.
Order fulfillment times. Find out how long it takes to print and ship your order. If you're pressed for time, choose the fastest service.
Cost of services. Your final bill is determined by your order amount, order complexity, and other factors. Compare prices across several platforms and pick the best deal.
Quality. Make sure your selected service uses high-quality materials and advanced printing techniques.
Branding possibilities. Branding your products with your corporate logo and patterns is a great way to boost your brand recognition and forge an emotional bond with customers. The ZenBusiness brand identity builder can create stunning logos, colors, and fonts for your business in seconds!
Conclusion
Selling artisan products with custom prints is a time-tested business idea. All you need to do is to come up with unique designs, develop a pricing strategy, and build a customer base. A trusted on-demand printing service will take care of the rest! Choose the best printing company and kickstart your sales!