Baby and Kid Business Ideas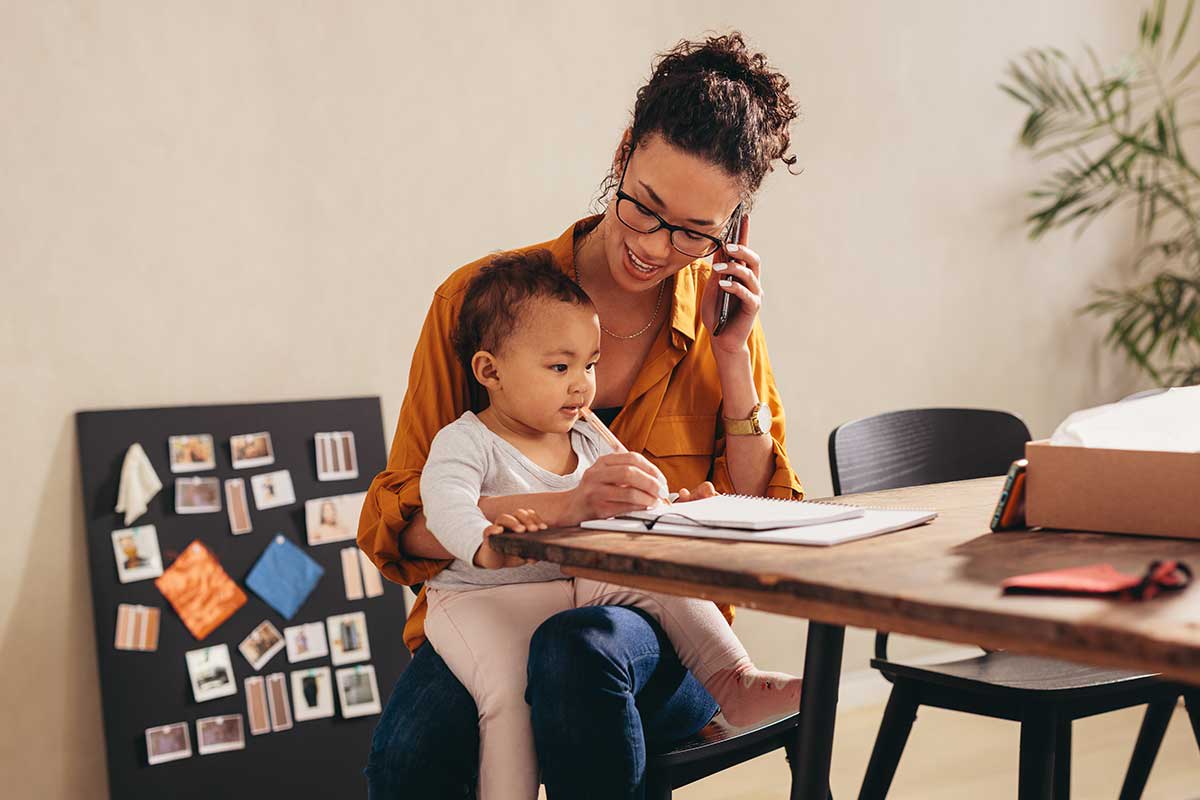 Wondering how to start a baby business and what kind of business to start for kids? I created this list of business ideas aimed at babies and kids for my business marketing clients and wanted to share it with you.
Lots of these baby business ideas are ideal for stay at home moms and many have low start-up costs too! Check out this list which includes baby stores, baby products, baby food lines, baby clothing, toys, services, and family entertainment small business startup ideas.
Also I added resource links in each ideas on how to start your baby business plus an inspiring video interview of two moms who launched a successful baby clothing line.
Aspiring baby entrepreneurs keep reading…
Small Business Ideas Aimed at Babies and Kids
#1 – Baby Product Development
Design and manufacture products designed for babies such as bedding, play, sleep aids, toys and educational materials. Fortunes have been made in the baby product market. In 2012, a Japanese design team created Silly Bandz – those colorful silicon bands shaped like animals and sold millions!
#2 – Sell Baby Products Online
Open an e- commerce store ( I recommend Shopify software which is affordable, easy to use and flexible) and sell products exclusively for babies and children.
Many baby products are specialty items and thus are not sold in local brick and mortar retail stores – creating an online opportunity for you.
Get inspiration from the top online baby boutiques (as rated by Good Housekeeping) are buybuyBaby, Babylist and The Honest Company.
#3 – Baby Boutique – Retail Baby Store
Consider opening a local retail baby boutique in your neighborhood. People love to shop at brick and mortar stores so they can closely examine the merchandise.
Plus it is so much fun shopping for all those super cute baby items! Model your startup after a successful baby store such as Nuture Baby & Child in Indianapolis, locally owned and operated since 2008.
#4 – Baby Clothing Business
Baby fashion is a multi-million dollar industry. Get started by designing baby t-shirts and expand into full clothing lines from babies to toddlers.
Stand out from the competition by making your line environmentally sensitive like these winning baby clothing brands.
#5- Baby Food Brand Development
Picky moms demand higher quality and greater variety of baby food brands than are currently available. You could create and market a specialty brand of baby food with a twist – organic, vegan, low salt, low sugar, etc.
#6- Baby Food Cooking Instructor
New parents often need instruction on how to properly cook for baby. Offer your expertise and recipes in cooking classes – locally or online.
Teach how to puree properly and when to introduce solid foods with easy and healthy recipes. Get inspired by Teen Tiny Foodies baby cooking classes.
#7- Baby Furniture & Equipment Rental
The baby furniture business is booming with national and local companies profiting. Families do not want to pack and carry all the needed baby equipment so they are happy to rent cribs, strollers, beds, car seats and even toys.
Related Resources:
Rental business ideas
Get ideas for your baby business from this successful baby equipment company – Babyquip.com
#8- Baby Food Subscription Service
Parents with busy schedules find it hard to prepare healthy meals for their babies – as such the baby food subscription service is growing. Meal delivery services are not for adults only – now there are many convenient baby food delivery services profiting. Study these top brands to get inspired for your startup.
#9- Baby Toy Maker
Playtime is everyday for baby! Help babies have fun and help their development of new skills by creating fun and educational toys. All types of toys can become best sellers – wood, cloth and man-made materials.
Learn how to get started manufacturing your own designer children toys from this toy brand.
#10- Baby Nursery Room Designer
Use your design skills to help expectant parents design a beautiful and functional baby nursery space.
#11 – Baby Day Care
Take care of babies while parents are working and start your own day care center. Infant childcare is in demand across the nation and can be both emotionally and financially fulfilling.
#12 – Cloth Diaper Service
Help make cloth diapering baby easier by starting a cloth diaper service in your area. Deliver clean, fresh cloth diapers to your customer's doors weekly and pick up their dirty diapers.
Learn about this baby business idea by reviewing Mother Earth Baby site.
#13 – Toy Store
Open a toy store in your neighborhood. Children retailing opportunities are opening up due to the closing of many chain stores. Toy shopping is a tactile and fun experience that is conducive to brick and mortar stores.
Additionally, many grandparents want to visit a toy store as opposed to shopping online.
#14- Kids Pre School Education
Start an education center for small children and profit. Teach specific skills or a general curriculum. Check your state's laws regarding preschools and child care centers using this map tool at this federal government site – Childcare.gov
#15- Mobile App Aimed at Babies & Kids
Kids mobile apps are among the most profitable and best selling apps on the market. Parents want to entertain and educate their babies and kids.
TIP: You do not need to know computer coding to create a kids app – simply use a free kids app builder such as Appypie.com
#16 – Baby Proofing Service
New families need vital information, education, products, and services to properly babyproof their homes. Offer your expertise and innovative solutions to protect babies.
#17 – Kids Education Materials
Help educate our nation's kids starting with babies. Develop useful classes, videos, posters, books and audio courses to help families educate their children Pre-K and beyond.
Get ideas about best-selling items by reviewing these top art education materials used at Montessori schools.
#18 – Baby Furniture Manufacturer
Little babies need lots of special furniture such as cribs, changing tables and storage. Design and sell charming furniture which you could hand-craft, refurbish or manufacture.
#19 – Baby Play Space Playground
Open a baby play space in your town. Offer a safe place for babies and small kids to play and parents to get together and socialize.
Or you could offer design construction services to build children's playgrounds. Your best customers will be homeowners, schools and parks.
#20 – Baby and Kids Resale Shop
Today's frugal Moms want to purchase gently used clothing and items for their kids to both save money and the environment. The national-wide chain Once Upon a Child is very successful.
You could operate your store as a consignment shop, where people ask you to sell their items and you share the profits with them.
This can be an excellent startup business model because you do not need to buy inventory – and often your consignment customers will purchase other items when they visit your shop.
#21 – Baby Portrait Photographer
If you are creative then consider starting a newborn baby photography business or a baby portrait photo studio.
#22 – Family Entertainer
If you can act, sing or make music then seriously think about launching a family entertainment service. Many families, schools, churches, and hospitals regularly hire entertainers for children.
#23 – Kid's Party Planner
These days, kids birthday parties are becoming more elaborate and often require the services of a professional event planner.
You would sell your services to help parents (or grandparents) throw the best birthday party on the block!
#24 – Scrapbooking
Start a business all around scrapbooking for babies and kids. Help families create memorable scrapbooks filled with baby photos and mementos. Also, you could teach classes and sell supplies.
Identify the package that's right for your business and then get started
starter
$0
DOES NOT RENEW*
plus state filing fees
Ready in about 2 to 3 weeks **
START NOW
Top Features
Our Standard Filing Speed
Worry-Free Compliance*
100% Accuracy Guarantee
pro
$199
BILLED ANNUALLY
plus state filing fees
Ready in about 1 to 5 days **
START NOW
Top Features
Our Fastest Filing Speed
Employer ID Number (EIN)
Operating Agreement
premium
$349
BILLED ANNUALLY
plus state filing fees
Ready in about 1 to 5 days **
START NOW
Top Features
Business Documents
Domain Name & Email Address
Business Website Builder