How to Create a Construction Company Logo: Guidelines and Tips
Contents
1. What does a good construction logo look like?
2. How to create a logo: methods and tools
3. How to choose an icon
4. How to choose a color
5. How to choose a font
6. Experimenting with a lock-up
7. More tips
8. Create your own logo
A logo is the first contact between your company and a potential client. A smart logo can make your brand look good and separate it from the rest. At the same time, an inappropriate logo can be very dangerous and make your business look ridiculous.

1. What does a good construction logo look like?
What is an ideal construction company in the minds of its clients? It must certainly be reliable, stable, and responsible.
A logo can help you form the right impression about your brand. This requires smart element arrangement and thorough selection of colors, fonts, and icons.
With the ZenBusiness platform and some practical tips, you can make your construction logo in just a matter of minutes. The rest depends on you.
2. How to create a logo: methods and tools
The method you choose depends on your skills and budget. Here are some options:
draw a logo by yourself (full control, free, but requires skills and time);
get a designer to create your logo (unique result, but requires money and time to find a true professional);
place an order with a design studio (unique result, any idea put into life in the shortest time, but very expensive);
hold a tender (original logo solutions for reasonable fees, but time-consuming and still costly);
use an online service (free or very cheap, you can adjust different parameters to craft unique logo solutions).
As you can see, each option has its pros and cons. Not every businessman has drawing and designing skills, and design studios charge sky-high rates for their services. This is why using an online logo generator is the most suitable option. Below we'll break down the method for creating a construction logo in ZenBusiness.
3. How to choose an icon
You probably know that certain images are associated with certain industries.
The most straightforward associations with the construction industry include a crane, a brick wall, a multi-storey house, a man wearing a hard hat, and more. On the other hand, you run the risk of being generic. You can definitely do better. Take the time to analyze your competitors' logos to avoid repetition.
Let's use ZenBusiness to find construction-related images. First you need to select the "Construction, real estate" category.

ZenBusiness will display hundreds of relevant images. To specify your requirements, use keywords in either Russian or English. For example, you can enter "house," "builder," and other keywords.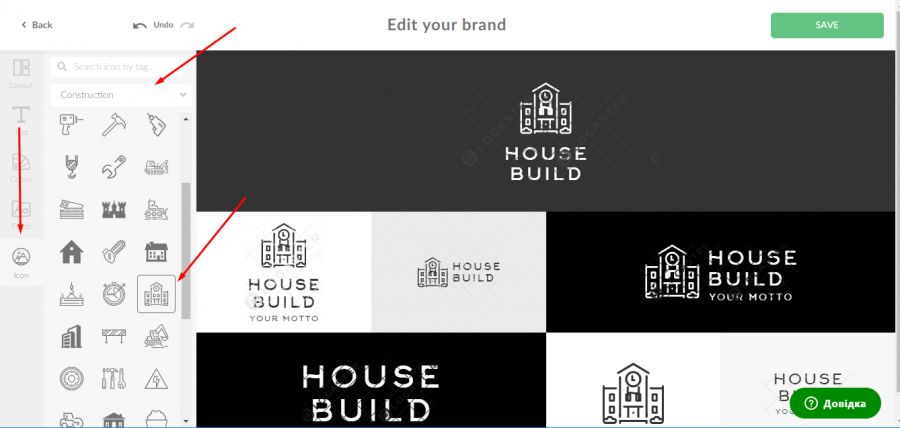 Keywords will speed up the search process and allow you to find the right icon for your business in no time.
Keywords for choosing an icon: construction, building, house, hammer, tool, crane, tractor, nail, equipment, tube
4. How to choose a color
A successful color scheme can enhance your logo effectiveness, while inappropriate colors can drive customers away.
With a smart color solution, you can put your potential clients in the right mood. For example, red is mostly associated with love, aggression, power, and energy. Other colors have their own connotations as well. When choosing a color for your logo, keep in mind the basic attributes that characterize your brand.
What color scheme works best for a construction business? To build trust among potential clients, you need to communicate a serious approach, stability, and reliability.
Consider using blue, red, brown, and green.
Our instructions will help you make the right choice.
Avoid turning your logo into a rainbow by using multiple colors from different palettes.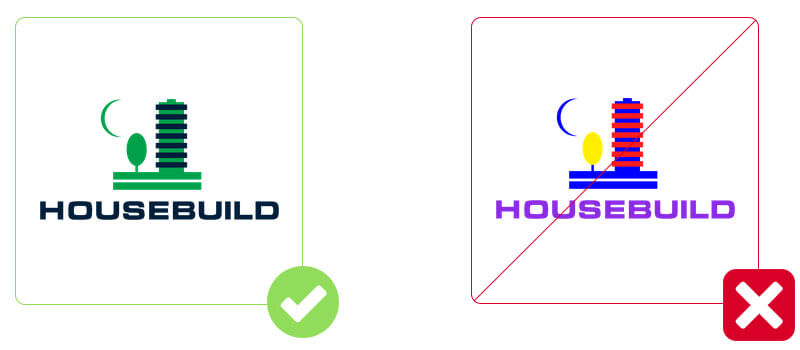 Find out what colors other construction businesses are using. With this information at hand, you'll figure out what you need to do to separate your business from the competition.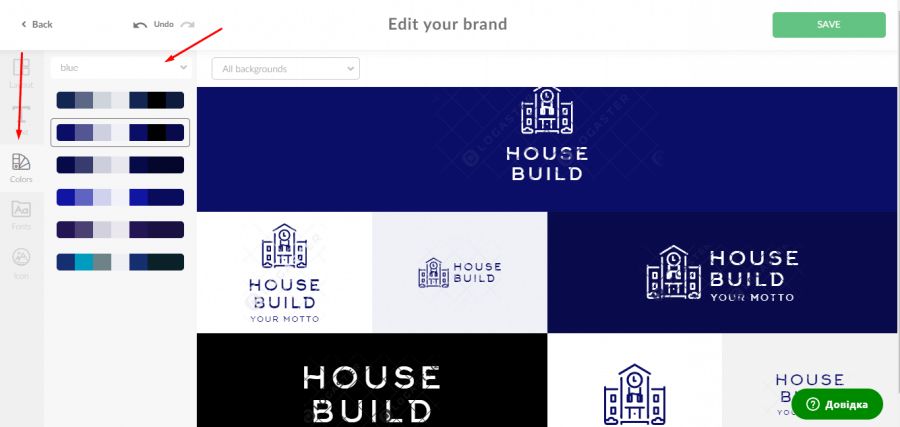 To select a color during the logo-making process, click on "Change parameters" in Step 2 and use a color filter.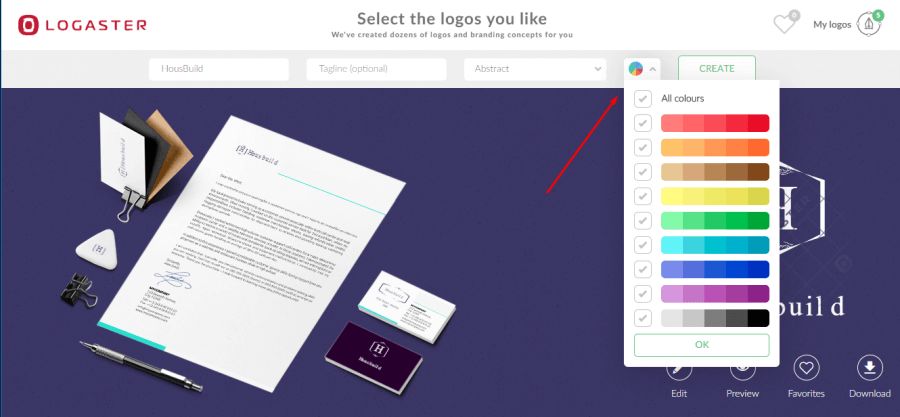 The best colors for a construction logo: blue, green, red, black, brown.
5. How to choose a font
Both font and color affect the way your logo is perceived and remembered. Furthermore, a font determines whether your text will be legible and whether a client will like the visual representation of your brand.
There are multiple guidelines for making the right choice (see our article on the topic). Below we'll focus on the main tips for construction businesses.
Font must be legible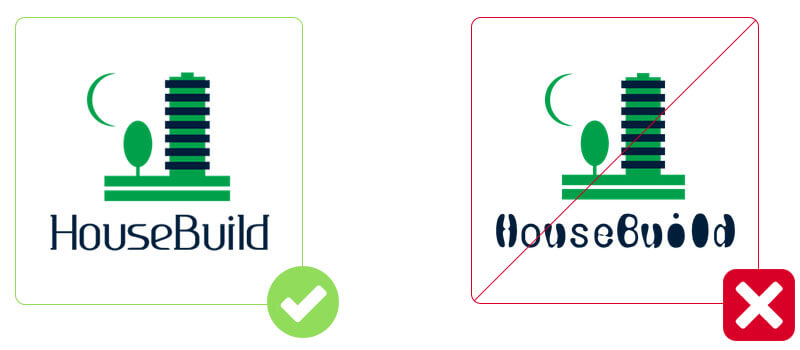 Along with looking good, your text must stay legible across different formats, including a website header, social media pages, business card, badge, etc.
Font must go in line with icon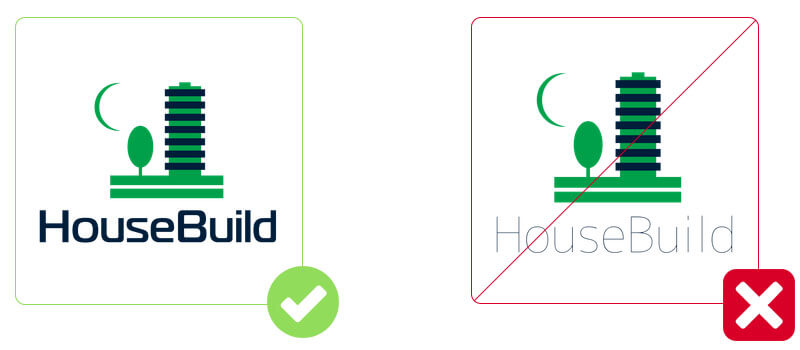 Opt for a solid font to match a massive icon.
Avoid small elements
Stay away from hard-to-read fonts with excessive scrolls and serifs, as well as fancy hand-written fonts.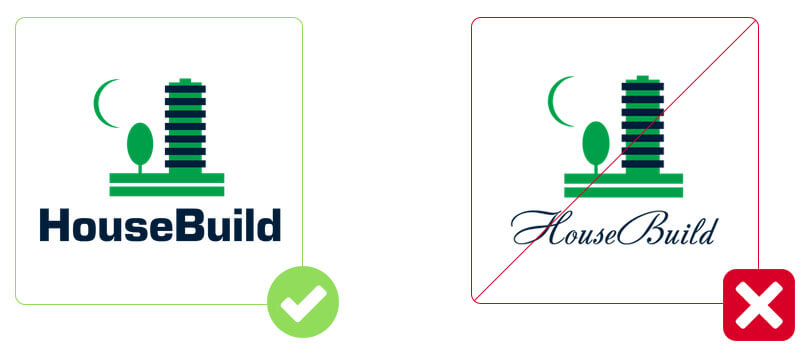 Straight and clean fonts (Europe, Garamond, MagistralC, etc.) are your best choice. You can change your logo font during editing.
ZenBusiness fonts for the construction industry: AA Haymaker, Ageone Serif, Micra, Souvenir, MagistralC, Europe, Garamond, After Disaster, Ubahn.
6. Experiment with a lock-up
Element arrangement is yet another thing that impacts the way in which customers view your logo. You can focus on the icon or the text by making either of them larger and more noticeable. Furthermore, you can adjust the distance between components. ZenBusiness allows you to:
change element arrangement;
change the size of individual objects (icon or text);
increase or reduce distances between objects.

7. More tips
To wrap it up, we have prepared recommendations to help you create a neat and smart construction logo.
Avoid cluttering your logo
An icon and a concise message (or simply your company name) are usually more than enough. Do not put several images of construction materials (tools) and full contact information on your logo. This will make your logo look messy.
Avoid using multiple fonts
Opt for just one font. If needed, use two matching fonts, tops. Excessive fonts may undermine your logo effectiveness and legibility.
Avoid using multiple colors
If you think one-color logos are dull, incorporate 2-4 matching colors and shades.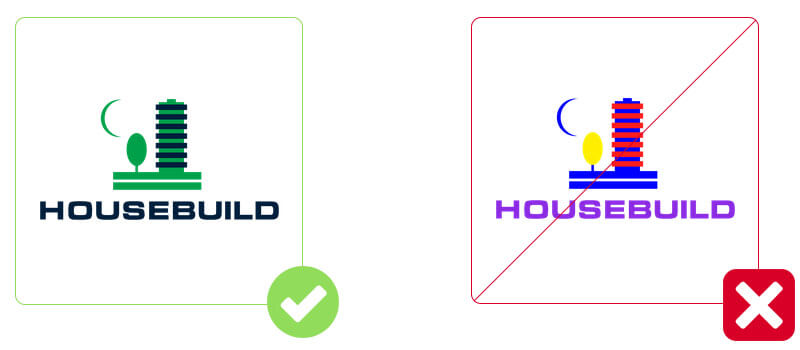 Leave blank spaces
Do not try to fill up all blank space with graphical objects and text. Leave enough space between and around the elements. Your logo will look good across different products, including business cards and other printing materials.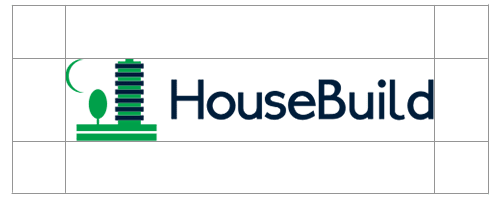 Analyze your competitors without copying them
Your logo is what separates your brand from the rest. Imitating existing ideas will hardly lead you to success. Learn from the experience of successful companies, analyze their logo solutions, and make your own logo even better.
Save your logo in vector format
Be sure to create your logo in vector format. This will allow you to scale your logo without loss of quality and to place it on different products, from business cards to banners.

Wrapping it up
As you can see, the recipe for a successful logo is pretty simple. Mix some imagination, an understanding of your final goal, and common sense. Add the ZenBusiness online service. That's it. You'll have a smart logo for your construction business without a heavy investment of time and money.
For more construction logo examples, check out our gallery.
Construction logos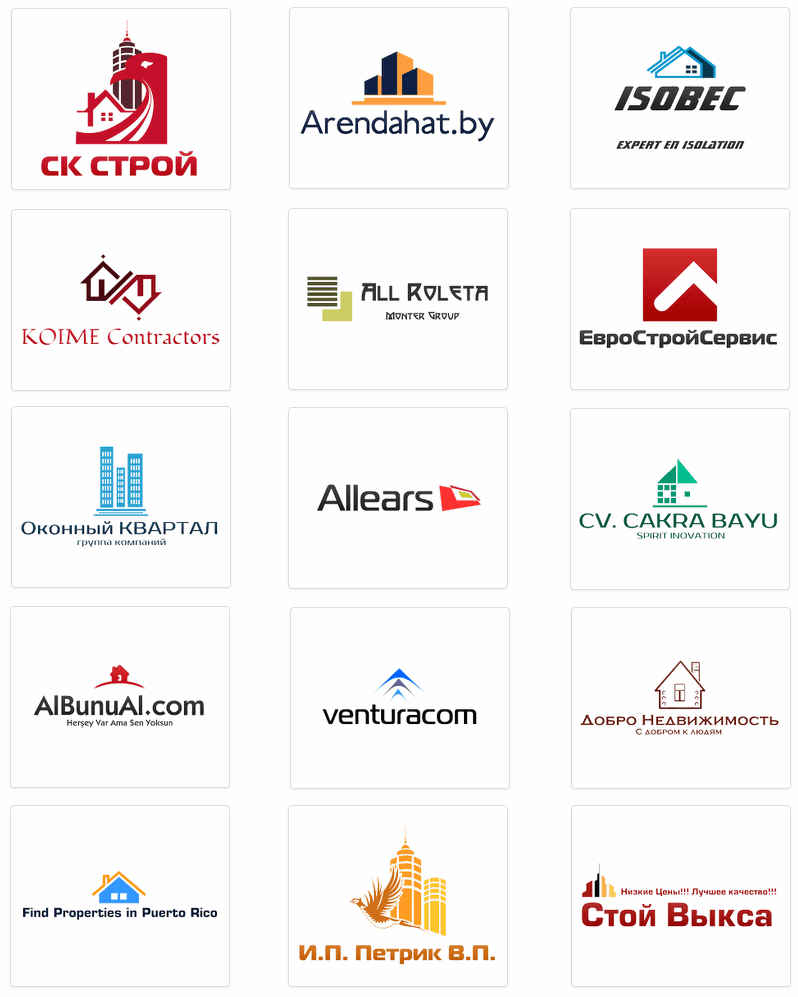 We hope that you have found our recommendations helpful. Try to create your own logo right now. Submit your company name in the field below – and ZenBusiness will offer you multiple logos in a matter of seconds.