How to Create a Restaurant Logo: Guidelines and Tips
1. What does a smart restaurant logo look like?
2. How to create a logo
3. How to pick the right icon
4. How to pick the right color
5. How to pick the right font
6. Can I play around with a lock-up?
7. More tips
A restaurant logo is a visual symbol by which clients will recognize your venue. Whether on business cards, booklets, banners, dishes, or websites, your restaurant logo can convince customers that your restaurant is worth visiting. And vice versa: a poorly designed or inappropriate logo can drive away potential customers.
With the ZenBusiness service, making a smart restaurant logo has never been easier. Below we answer the key questions you may face while developing your logo concept.
1. What does a smart restaurant logo look like?
Most restaurant logos are designed around the national cuisine (Italian, Chinese, French, Japanese, etc.) in which your venue specializes. Seafood, sushi, rolls, and pizza are some images commonly depicted on restaurant logos.
Furthermore, your logo needs to inform clients about your venue's specifics and style. Before choosing an icon, font and color, you need to figure out what message you want to communicate to your potential clients.
2. How to create a logo
There are different ways to put your logo idea into reality. You may design your logo by yourself or get someone else to do this. Moreover, it depends on how much time and money you're ready to invest.
If your budget allows, you can use the services of a designer (or design studio) or hold a tender. If you have enough time, you can also draw a logo yourself – either by hand, or in a special editor.
Using an online editor (such as ZenBusiness) is the best solution for saving both time and money. In this article, we will consider this option in detail.
3. How to pick the right icon
As we already mentioned, groceries and food are very popular logo images. Here are some more restaurant-related items:
tableware (spoon, fork, knife, glass, dish);
chef's hat and apron;
kitchen utensils (saucepan, spatula, ladle);
oven, stove, etc.

The problem is that such images will make your logo generic and faceless. Before making the final decision, be sure to check your competitors' logos to avoid repetition.
When choosing an icon in ZenBusiness, you first need to select the right category. For a restaurant logo, pick the "Hotels, restaurants" category.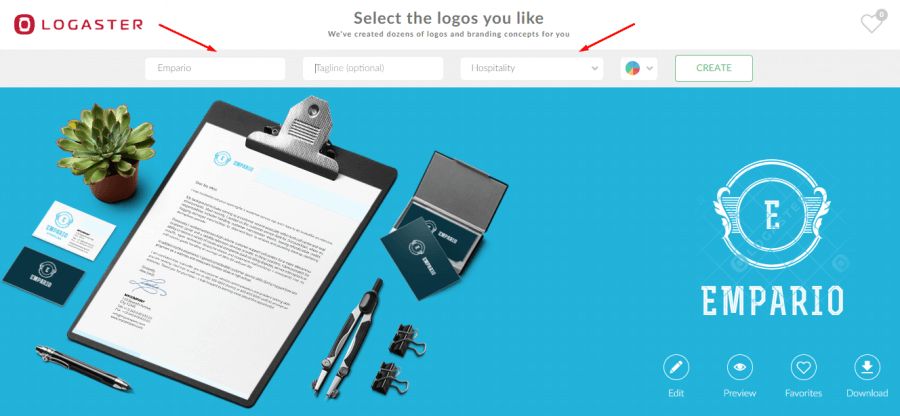 ZenBusiness will show you all kinds of gastronomical images. You can filter them by entering Russian or English keywords. For example, you can use such keywords as "spoon," "fish," "wine glass," etc. to find the respective images.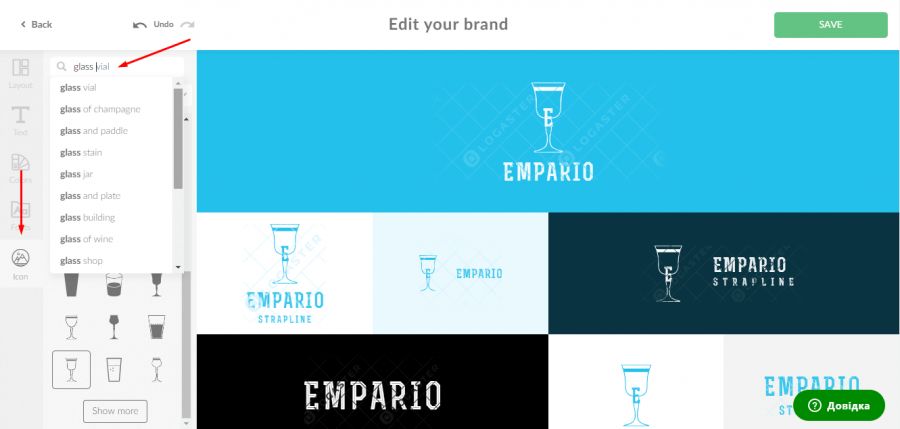 Keywords to pick an icon: restaurant, table, spoon, dish, fish, glass, chef, chef's hat, wine, piano.
4. How to pick the right color
Choosing an effective color for your restaurant logo is key. The right color makes your logo memorable and purpose-oriented. Remember that each color has specific connotations.
For the food industry and restaurant business, avoid colors that are too bright. Consider using natural food colors, including muted red, shades of yellow and brown, classical black, and others.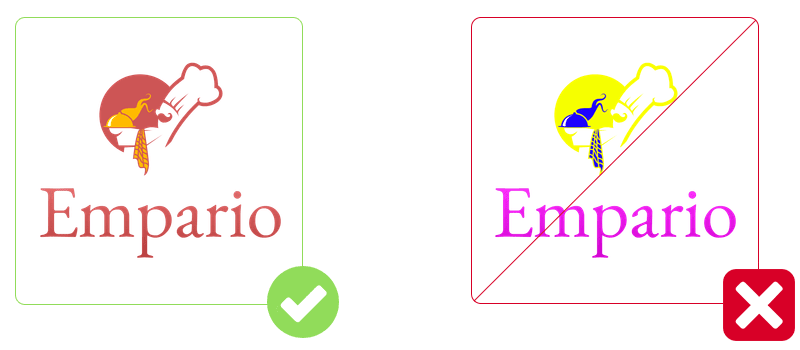 Check out our article about the connotations behind different colors. This information will help you form the message communicated via your logo.
Furthermore, analyzing logos of other restaurant businesses may guide you in the right direction.
If you want to use not one but several colors or shades, be sure to put together a balanced combination. We recommend that you check kuler.adobe.com for this purpose.
After making up your mind about the color, insert its HEX code into the relevant field in ZenBusiness.
Another option is to use a color filter in Step 2 of your logo design process. To do this, first click on "Change parameters".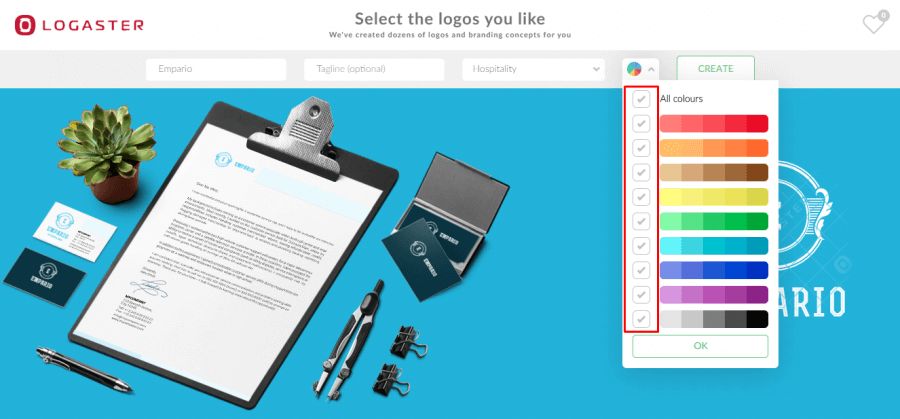 The best color solutions for a restaurant logo are muted red, shades of yellow and brown, and black.
5. How to pick the right font
If your logo incorporates text, you'll have to choose a font. For more information on picking an effective font, read our article "How to Choose the Font for your Logo". Below we will consider the most important criteria.
Your font must be legible. Make sure your text stays readable on logos of any size.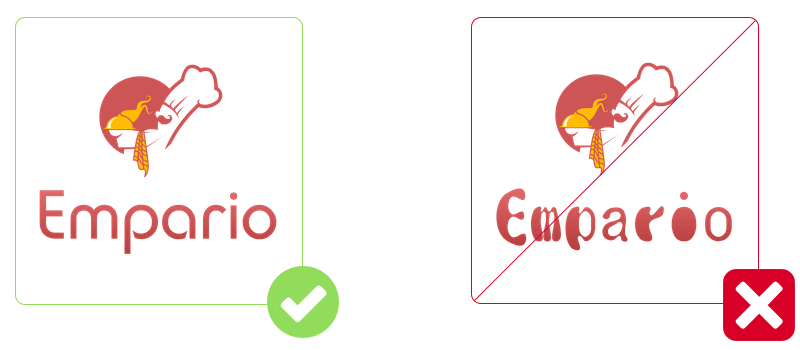 Your font must match the icon. Note that massive fonts (After Disaster, Europe, Garamond, etc.) go well with massive icons.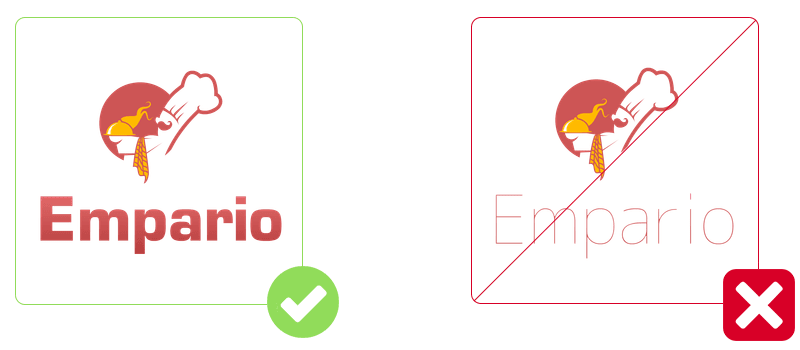 No small details. Fancy scrolls and hand-written fonts make your text hard to read on small logos. Go for clean and simple fonts, such as Micra, MigistralC, and others.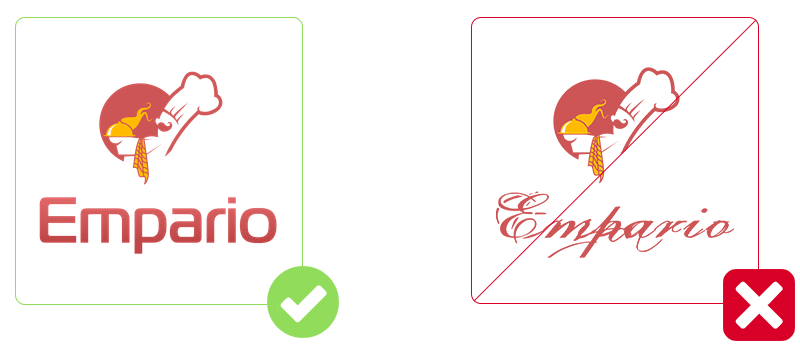 In ZenBusiness, you can change a font while editing your logo.
ZenBusiness fonts for your café/restaurant logo: Oranienbaum, Croissant One, Andantino script, Dita Sweet, Comfortaa, Garamond
6. Can I play around with a lock-up?
You most definitely should. You can draw attention to the icon or text by making these elements bigger, or you can leave more space between components.
ZenBusiness allows you to adjust the lock-up and change the distance between elements and their sizes.

7. More tips
To wrap things up, here are some extra recommendations to help you create a smart and unique logo.
Do not clutter your logo. An icon and a short message are more than enough. In some cases, it's better to choose just one component – either an icon or text. Say "no" to multiple images and long messages.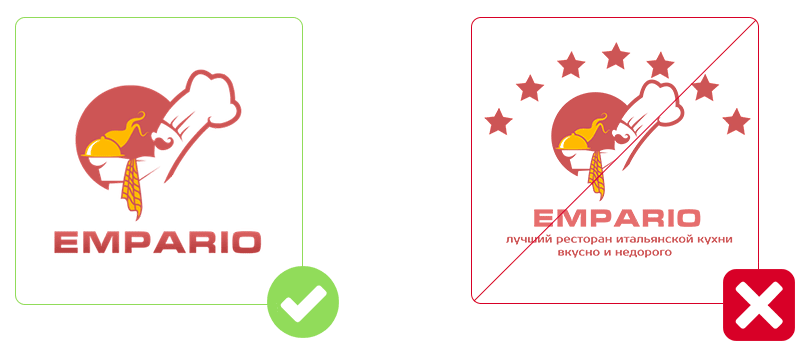 Avoid using multiple fonts. Focus on just one font or two matching fonts, tops. With more fonts, your logo will look messy.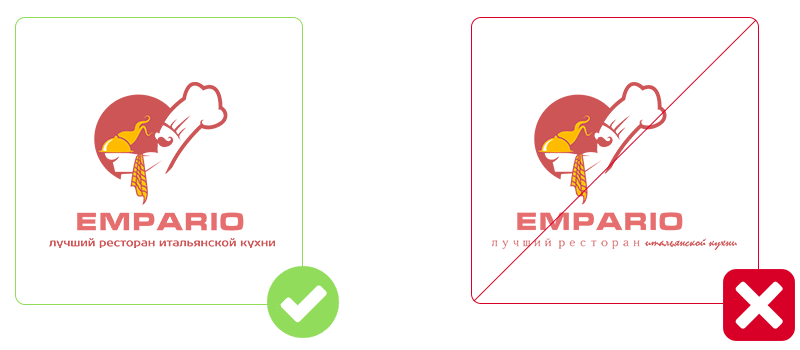 Do not turn your logo into a rainbow. If one or two colors are not enough, you can use as many as four colors and their shades.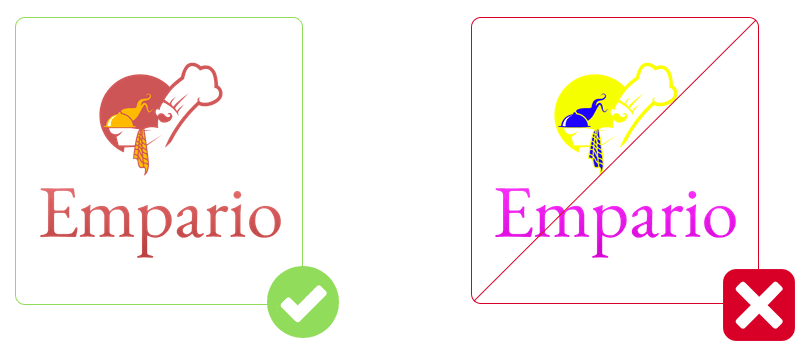 Leave some blank space on the edges. Closely arranged elements make your logo visually unfriendly. To reproduce effectively across different products and backgrounds, your logo needs air.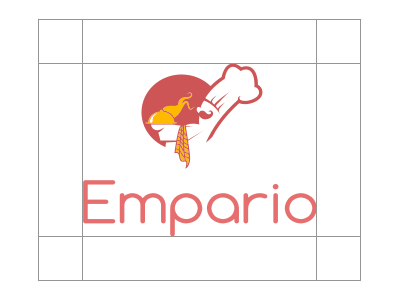 Avoid imitating your competition. Learn from others without copying their ideas. Analyze successful logo solutions and improve them to make your logo even better!
Create your logo in vector format. This will save you time and effort. Moreover, you won't have to readjust your logo for different formats.

Although creating a smart restaurant logo is a challenging task, you can totally nail this. The ZenBusiness online service is there to help. Check out our gallery to see restaurant logos generated by ZenBusiness.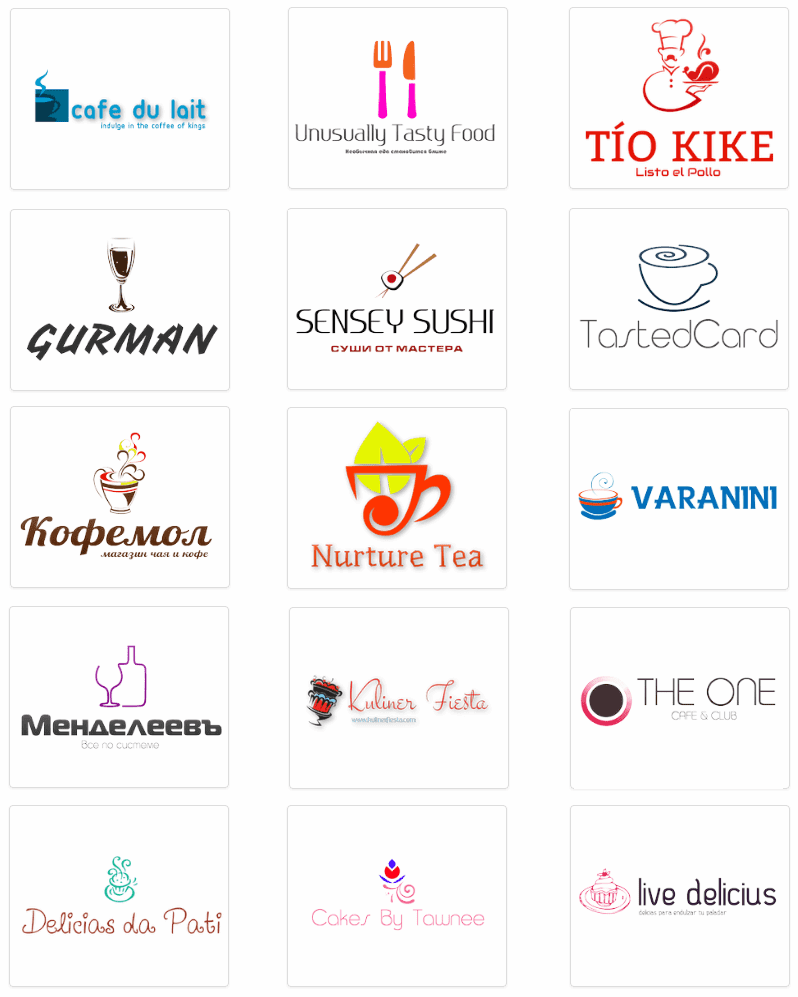 Give it a try and create your first logo right now in a couple of minutes. We assure you that you'll like both the process and the result!