Sadly, few beginning entrepreneurs realize the full potential of their brand identity. It's not uncommon for a startup to design a logo without even thinking about why they need it!
After considering its logo creation options, the company chooses a method that fits its budget and resources. You can draw an emblem yourself, hire a professional designer, or explore the possibilities of a smart online logo maker, e.g., ZenBusiness. Once they have their freshly designed logo, the aspiring entrepreneur breathes a sigh of relief. "This is it! Now we can finally move on to more pressing matters!" To think this is a big mistake.
For the most part, the company displays its logo on its website, social media pages, business cards, and outdoor ads (signboards, etc.). However, few start-uppers know that there are a lot more surfaces where one can place one's emblem to attract attention. By limiting your logo's area of application to the most obvious options, you lose a great deal of the value that a professional logo can add to your project. This might not be a savvy business approach.
Creating a cool logo isn't enough. You must also find a smart way to use it. As the business environment becomes increasingly competitive, more companies are embracing this approach. You can't argue with the fact that even an original and visually appealing emblem becomes useless if it is not employed properly. Realizing this simple truth, many businesses, both small and big, are reconsidering their branding strategies. Global corporations have made their logos ubiquitous, and this approach is delivering great results.
Take Coca-Cola as an example. The carbonated drink giant uses its beautiful logotype and corporate color palette everywhere, from its iconic trucks to fridges to façades. Ferrari, a famous luxury sports car brand, has taken its marketing efforts to the next level by building an impressive amusement park in Abu-Dhabi, UAE.
The Ferrari-themed part is true eye candy! Its 200,000-square-meter roof is painted bright red – the brand's corporate color. Ferrari's prancing horse logo, displayed on the roof, is 65х48.5 meters in size, making it the biggest emblem ever created.
Coca-Cola and Ferrari are not the only brands that prioritize their marketing goals. Manufacturers of mobile phones and other gadgets work just as hard to get their corporate identities out there. For example, Apple has managed to make its "bitten apple" logo a brand in itself. It's instantly recognized by millions of people regardless of the smartphone (or laptop) brand they're using.
Producers of electronic appliances place their emblems on mobile devices (even small ones), splash screens, packaging, merchandise, promotional gifts, and much more. Marketing experts are coming up with new ways to grab the public's attention.
By using customer touchpoints (see definition below) for promotion, the company kills two birds with one stone. First, it enhances its brand identity and boosts its recognition. Second, a logo encourages customers to become emotionally involved with the brand, which results in a strong company-client relationship.
How can I make my logo more "profitable"?
A logo is more than a corporate image. It should be seen as an investment. Companies spend lots of money on original, effective emblems that will stick in their customers' minds and evoke the right associations. As you know, an investment must generate a maximum profit, and a corporate logo is no exception. In other words, your efforts must pay off. To maximize your ROI, you must use your emblem across all available touchpoints where you and your customers meet.
What is a customer touchpoint?
Igor Mann, a Russian marketing expert, has covered the topic of touchpoints in detail. According to Mann, touchpoints include items and locations (both online and offline) where your business visually interacts with your target audience. Touchpoints remind your audience about how great your brand is. At the same time, your customers decide whether to continue using your products and services or to switch to other producers. For example, when in a supermarket, customers must choose between your product and your competitor's product. This makes touchpoints one of the major marketing tools.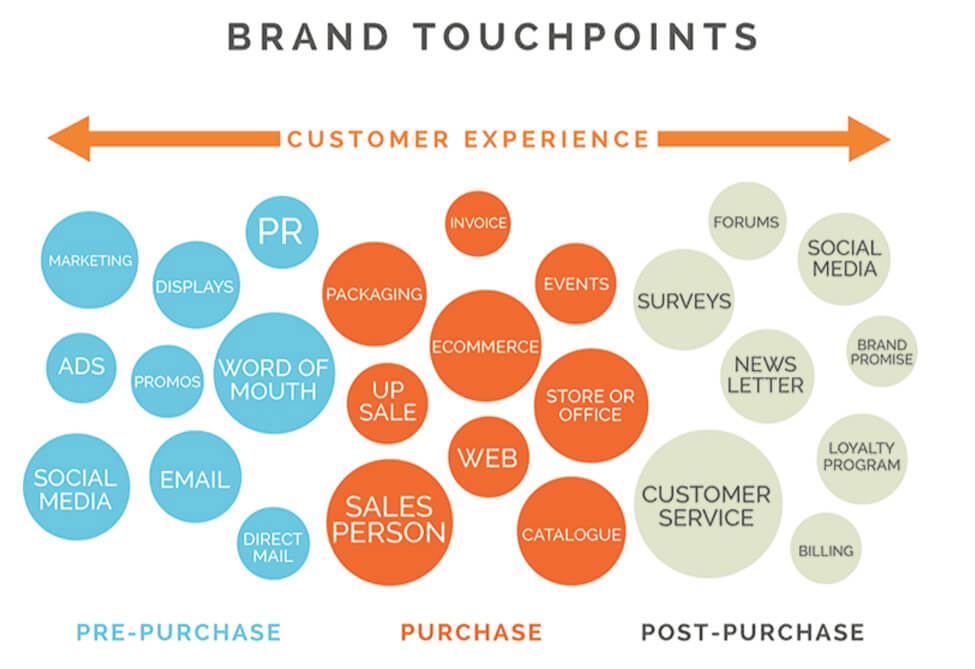 Mann believes that touchpoints have a direct impact on how profitable and popular your business can become. Nowadays, dozens and even hundreds of touchpoints are available both online and offline. As a business person and investor, you maintain the goal of displaying your memorable logo on as many touchpoints as possible.
Which touchpoints are available for my business?
To make your emblem work for you, you must use every opportunity to showcase it to the public. Product packaging, websites, printed matter, outdoor ads, interior design…you're looking at endless promotion possibilities!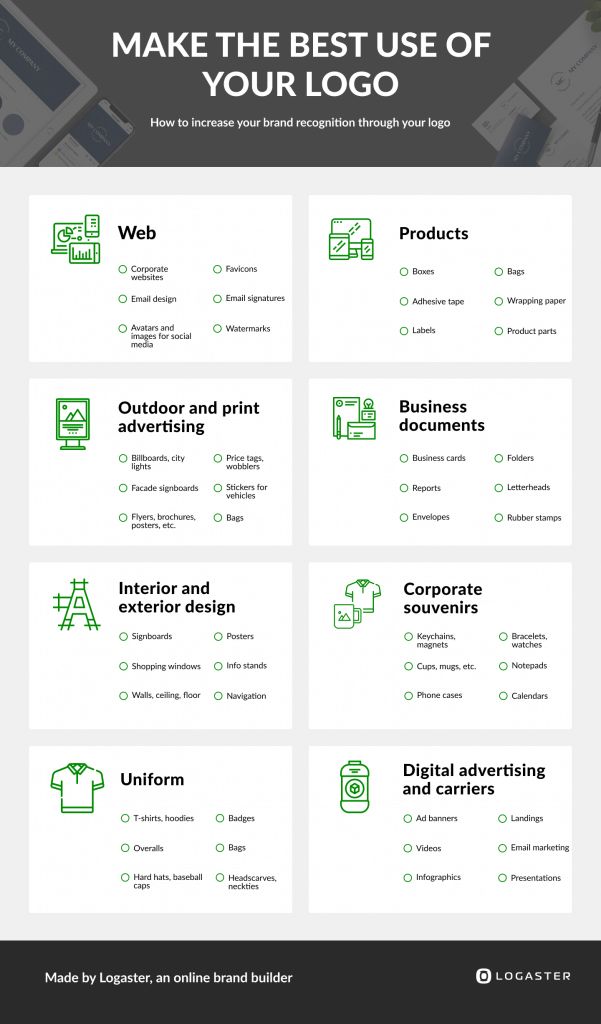 The Logowiks platform has come up with an exhaustive list of as many as 50 touchpoints. The most important ones are presented below.
Internet
If your business has an established online presence, you've probably already put your logo on your corporate website. Good start! Here are some additional noticeable places from which you can benefit:
1. Corporate website
2. Website icon (favicon)
3. Avatars and profile pictures on social media platforms and messengers
4. Watermarks on photos and images
5. Email signature (Gmail, Yandex, etc.)
6. YouTube logo
7. Corporate app logo (Android, IOS)
8. Newsletter
9. Animated screensaver
10. Ad banners
11. Screensavers and wallpapers.
Advertising
Placing your emblem on various advertising media is a sure way to boost your brand recognition. Your logo will make your advertising more believable in the eyes of your target audience (provided your company has a flawless reputation).
12. Faсade signboards
13. Billboards, super billboards, advertising towers, city lights, Prismavision billboards, media faсades
14. Printed matter (flyers, brochures, wall/desk/pocket calendars, posters, booklets, discs, planners, notepads, newspapers, books, folders)
15. Printing on fabric and promotional items (T-shirts, sleeveless shirts, jackets, hats, caps, bags, backpacks, slippers, cases, headscarves, bandanas, umbrellas)
16. Stickers (including on vehicles)
17. Bags
18. Signs, pointers (including road signs)
19. Mascots, 3D sign letters
20. Posters, decorative and protective film
Office
The office is the heart of your business. To make an impression on your customers and boost your employees' team spirit, surround yourself with branded items, such as:
21. Employee uniforms
22. Wet stamps
23. Badges and nameplates
24. Price lists, invoices, and other corporate documents
25. Envelopes and greeting cards
26. Stationery and related products (pens, pencils, scissors, rubbers, erasers, staplers, hole punchers, stickers, drawing tubes, pencil cases)
27. Souvenirs (bracelets, ash trays, clocks, keychains, magnets, pictures)
28. Tableware (mugs, water glasses, shot glasses)
29. Flags
30. Corporate patterns (backgrounds for photo and video shoots)
31. Business cards
32. Signage (business hours, directions, etc.)
33. Gadgets and miscellaneous (USB flash drives, calculators, lighters)
34. Ceilings, floors, and walls
Products
Your products are, hands down, the key touchpoint where your target audience engages with your brand. When placed on your products and their parts, a logo is a subtle way to distinguish your business from the competition and keep counterfeiters at bay.
35. Products
36. Packaging
37. Boxes
38. Duct tape
39. Labels and tags
40. Sacks and bags
41. Product components
As you can see, there is no lack of items and places you can use to influence your customers, both existing and potential. Look around and you'll discover plenty of opportunities to put your logo and other corporate identity elements (patterns, fonts, colors, etc.) on display. With such a diversity at your fingertips, you can choose the options that fit your marketing strategy and cater to your business needs.
A logo is not the only way
Although your emblem is the core element of your brand identity, it's not the only marketing tool at your disposal. If you've invested (both financially and emotionally) in an entire brand kit, make good use of it across all available touchpoints. Don't underestimate the visual impact of well-matched corporate palettes, slogans, patterns, etc. on your audience!
By aptly combining your corporate identity elements, you give your customers a fuller picture of your brand. By using only a logo, you miss out on great possibilities to get your brand out there for everyone to see.
Learn from the best
There's nothing shameful about borrowing a couple of worthy ideas from your competitors. Find out what other brands in your industry are doing for promotion and adapt their original practices to the needs of your business. Remember that plagiarizing your competitors' content is not OK. Analyze your rivals' mistakes and shortfalls, if any, and find a way to avoid them to achieve a better result.
If you're determined to get to the top, focusing on businesses within your industry is not enough. Take a closer look at successful brands outside your niche. They may be using new touchpoints you've never thought of! With due effort, you can adjust their best branding practices to your industry and make your project even more appealing to your customers.
Designing a clever logo is only the beginning of your marketing journey. To maximize its value for your business, you must learn how to correctly use your brand identity. We recommend that you build your promotion strategy around touchpoints. These are items and locations where your target audience engages with your company. The most common touchpoints include your corporate website, the interior design of your office, your products and packaging, different types of offline advertising, and much more.
They say that one man is no man. This is true for a logo as well. For a bigger effect, pair your emblem with other brand identity elements, such as corporate fonts, patterns, colors, etc. If you need a logo, you can get one using our user-friendly online service. In just a few minutes, you'll be a step closer to launching your visual marketing strategy!