Personalized Christmas cards are a great way to congratulate your colleagues and business partners on the upcoming holiday season. From this quick guide, you'll find out how to select the right colors and illustrations for your greeting card, how to brand your design, and where to print it out.
How to create a custom Christmas card
When creating a Christmas card, think about what emotion you want to evoke. Nostalgia? Joy? Inspiration? Remember that the style of your card must fit your brand personality. If you have a solid company working in a serious industry like finance, avoid using memes and things like that in your card.
Illustrations
Choose photos or illustrations depending on the mood you want to convey through your card.
Avoid using images from stock photography websites. If you're selling holiday-related items like sweets, candles or toys, go ahead and utilize the photos of your merchandise. Your business partners will be happy to receive a card with your company's team dressed as funny Santa Clauses!
Feel free to use a variety of illustrations, from traditional Christmas trees, to beautiful stars, to merry snowmen. Also, you can play around with the telltale items related to the industry you're working in.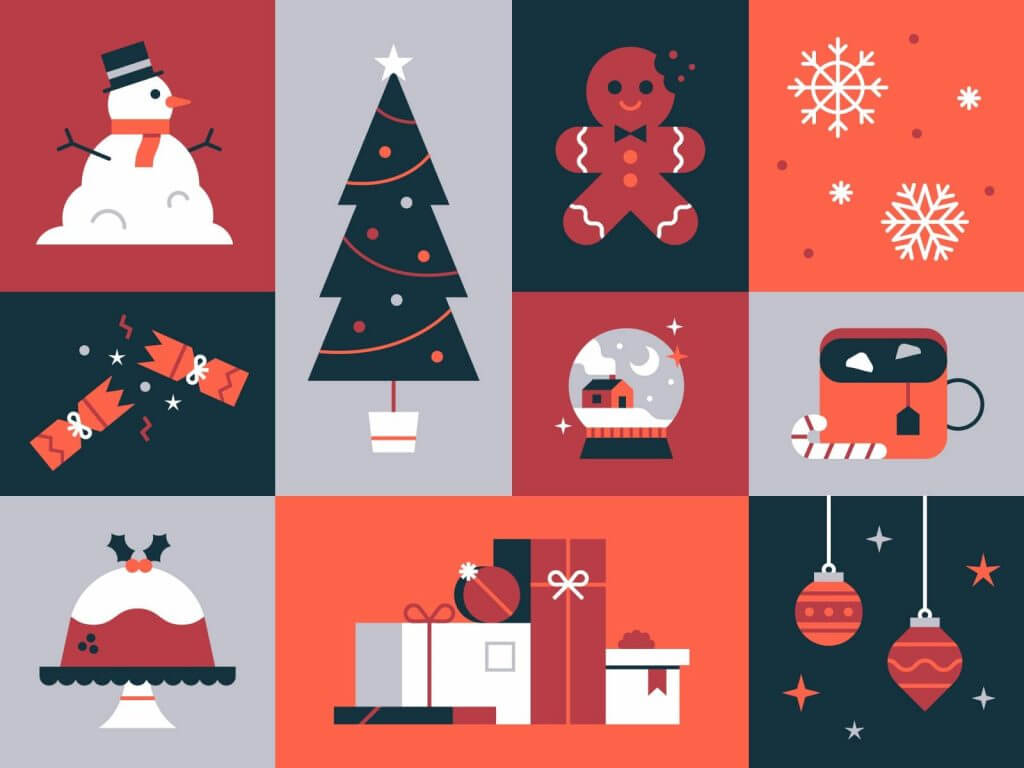 Colors
When it comes to Christmas cards, the most common colors are red, green, golden, and silver.
To make a connection with your brand, add your corporate colors. It might be a good idea to enhance your corporate hues with glitter or shining effects.
Avoid using more than three shades and make sure your illustrations go in line with your background color.
Invite your recipients to take part in the creative process. For example, leave a part of the illustration unfinished so that a person could complete the card themselves.
Fonts
Use clean and legible fonts without serifs. Make sure your typeface is easy to perceive even in a small size.
A handwritten font is a sure way to make your card more friendly and personalized.
Avoid pairing more than two colors unless you want to end up with a card which looks amateurish and messy.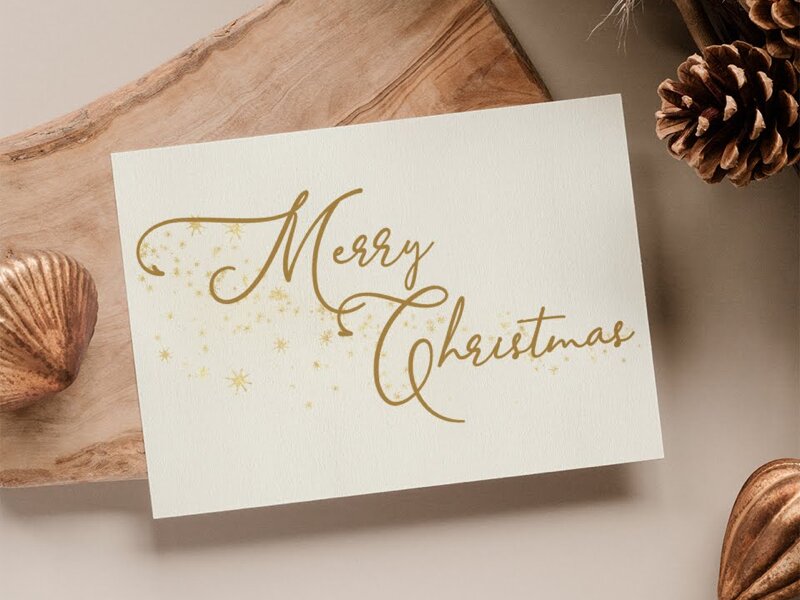 Text
Your congratulation text must go in line with your brand's tone of voice. If you're using an informal communication style across socials and chatbots, be sure to stick with it in your card as well.
For a more personalized effect, address each recipient by their first name.
Take ample time to come up with a concise yet meaningful text for your card. Thank your clients, employees or business partners for being loyal to your company. Also, wish them health and other great things in life. Avoid bringing up the religious aspect of the holiday.
Remember that a Christmas card is not a promotion tool. It's a bad place to advance your new product or special offer. The recipient must feel that you sincerely care about them.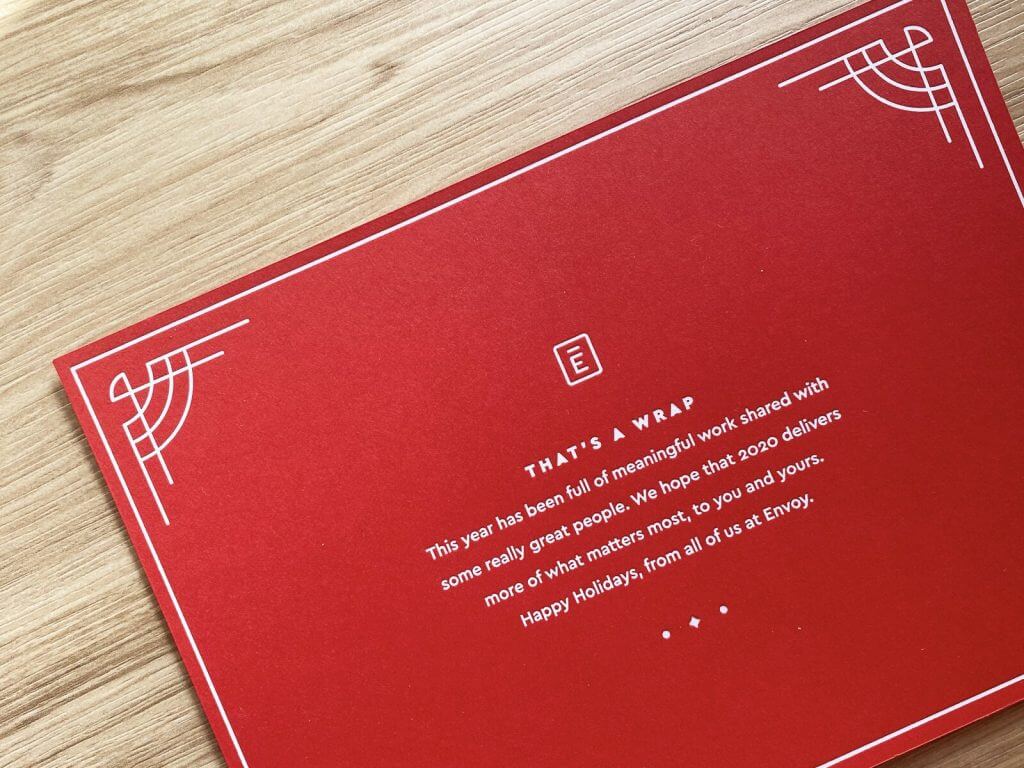 Branding
Brand your card with your company name, corporate colors and fonts, logo, etc. There is no better way to make your design stand out.
Don't try to cram your card with all the branding elements you have. One or two elements will be more than enough. For example, you can add your logo and corporate palette, or your company name written in your corporate typeface.
Find a smart way to neatly integrate your brand identity elements into your design. For example, you can "write" your company name in the snow or on a frosty window. If you're using your corporate emblem, why not make it hang from a shiny Christmas tree?
Don't forget to add the recipient's address and their contact information (email, phone).
Don't have a brand identity yet? No worries! Create a professional brand identity in just a few minutes with the ZenBusiness online service.
Shape
When choosing the right shape for your card, consider the size and format of your graphics, amount of text, and other factors.
Most Christmas cards have a square or rectangular form. If you opt for a rectangle, both vertical and horizontal orientations will do just fine.
As for the corners of your card, you can leave them straight or make them round or jagged.
How about an original shape? Make a card in the shape of your product, gift box, star, Christmas tree toy, etc. The ideas are infinite! Keep in mind that printing a card of a non-standard shape will cost you more.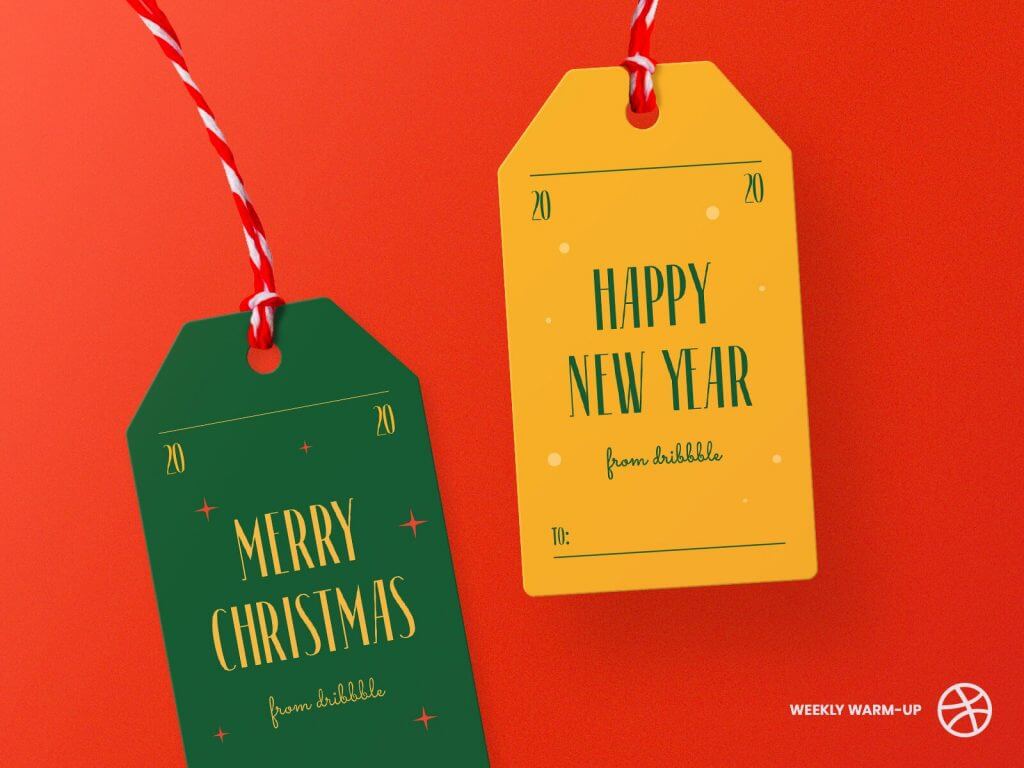 Standard sizes
The more elements you want to fit into your card, the larger it must be. Christmas card sizes may vary across countries. Here are the most common dimensions of a Christmas card:
5 × 7 inches (127 х 178 mm);
6 × 8 inches (152 х 203 mm);
4 × 8 inches (102 х 203 mm);
5 × 5 inches (127 х 127 mm).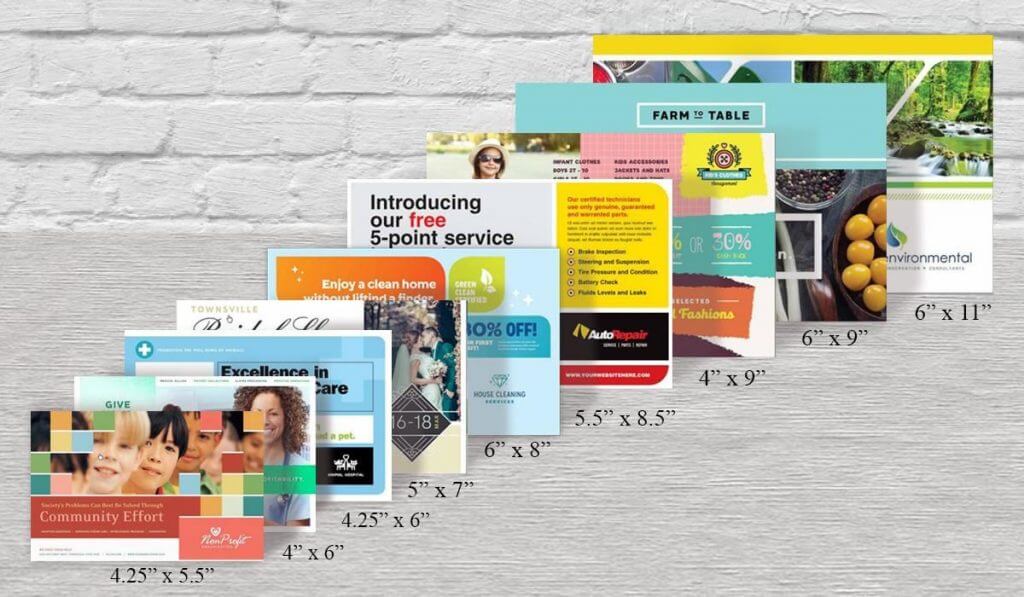 Key tools for designing a card
With advanced graphic editors and online tools, designing a smart Christmas card becomes a walk in the park. The choice of a tool depends on how good you're at drawing things and how sophisticated you want your card to be.
Adobe Photoshop and CorelDRAW
If you have basic skills working in graphic editors, you won't have trouble using Photoshop or CorelDRAW. Since you'll be making your card from scratch, you need to have a clear idea of what you want it to be.
Add the elements (graphics, colors, typeface, etc.) one by one, building up your design layer after layer. Start with the background image or pattern. Then upload graphics, fonts, etc.
Keep in mind that Photoshop only supports raster format. Raster files are not the best option for printing fine text. You're likely to end up with letters blurred at edges. If your card contains a fine font, it's best to use CorelDRAW. This editor works with vector files which render perfectly in print.
Microsoft Word
For a neat, unsophisticated card, use Microsoft Word. Prepare the elements in advance. Open Microsoft Word. Select between the portrait or landscape orientation. Set the page size. Then start adding your photos, colors, patterns, fonts, etc. Use the mouse to move the elements around and adjust their dimensions.
Online services
Online services are the easiest way to design a nice-looking Christmas card. However, since such tools are relying on generic templates, you have a zero chance of getting a unique card. If this doesn't scare you away, go ahead and use Adobe Spark, Canva, Zazzle, and other similar platforms. After selecting the right template, you can customize it by changing its text, color palette, and more.
Where to print out your card
Once you have your card design on your hands, choose the material and select the suitable print method.
Materials
Make sure your Christmas card is both visually appealing and nice to touch.
Paper or cardboard. Be careful when choosing paper. If your card is too thin, it may get carmpled during delivery.
Photo paper. It's a budget-friendly alternative to cardboard which renders bright colors well.
Special effects. If your card style allows it, feel free to decorate your design with shiny effects, foil embossing, and other visual enhancements.
Print methods
Depending on your budget and deadline, you can choose between two main options:
Оnline services. Upload your card design to the print shop website. Select the size, material and number of cards you want to get. Pay for your order. Wait for the printed cards to be delivered to your submitted address. You can use both global (Vistaprint, Moo, etc.) and local online print services.
Offline print shops. Use Google maps to find a print shop nearest to your home or office. If you're happy with the customer testimonials, go ahead and place an order.
Best ideas for your Christmas card
We know that coming up with a creative, printable card from scratch is not an easy task. Feel free to draw inspiration from these magical Christmas cards. You can borrow interesting techniques and adjust them to craft a unique design of your own.