If your business is on the web, chances are you may have the need for an email marketing campaign. Email marketing is a direct and modest way of communicating with your subscribers and keeping them updated on special offers, discounts, company news, local events, and much more. It goes without saying that no company has the time to send emails to each client individually. Luckily, there are special tools for this kind of task.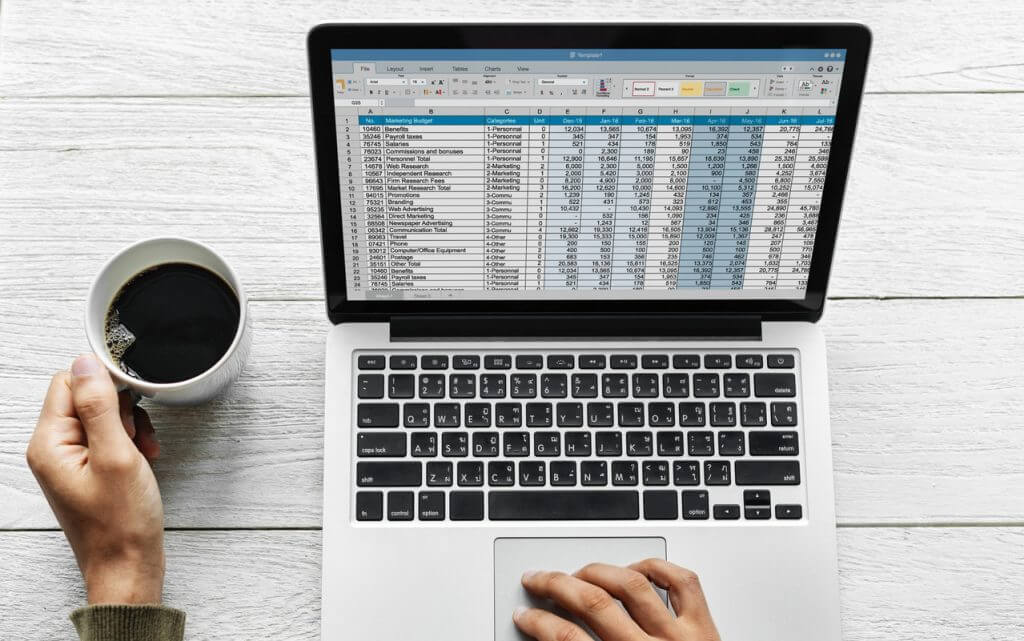 In this article, you'll find the most popular email marketing services that will surely make your life easier. Covering one tool at a time, we'll mainly examine their features, customer support, and pricing. We hope this information will help you launch your email marketing campaign quickly and successfully!
Here is a list of all the services we'll be looking at in this post:
How To Choose The Best Email Marketing Service?
Before studying the market for the best email marketing tool, you need to ask yourself a few important questions:
How often will I send emails to my audience?

How many subscribers do I have?

Do I need HTML or plain text emails?

Does the service I have selected have good analytics tools and integration with Google Analytics?

How much can I afford to spend on an email marketing service?
In 2006, HubSpot launched the inbound concept, offering a powerful platform and a high volume of quality content. It helps every enterprise to build deeper relationships with contacts, from the first interaction to the happy customer and beyond. The platform also makes it easier for growth teams to send beautiful, optimized emails without ever touching a line of code.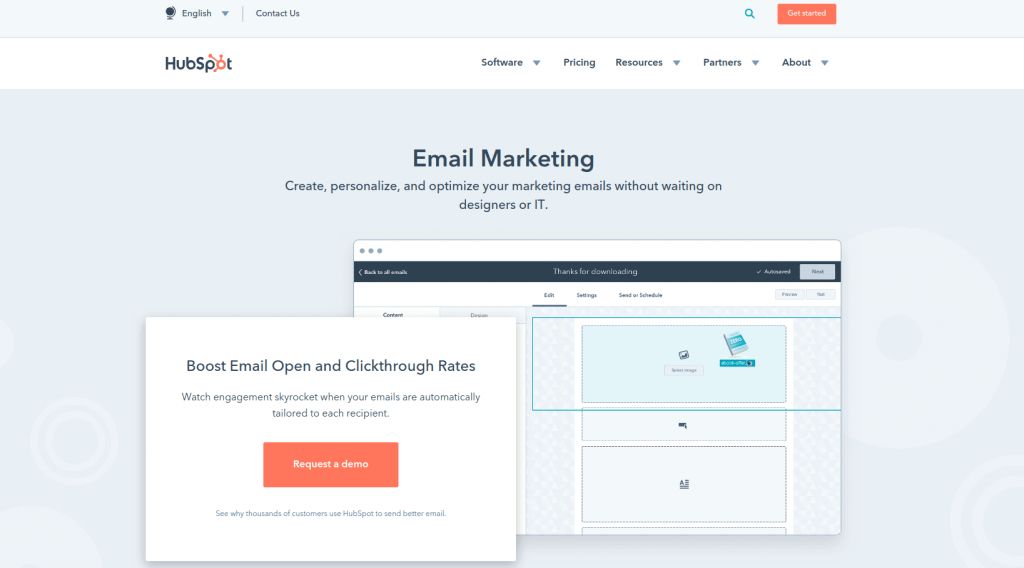 Features. Hubspot is a complete marketing platform consisting of four revolutionary tools: Hubspot CRM, Sales Hub, Marketing Hub, and Service Hub. The aim of these tools is to offer a 100% free CRM software with the integration of all the features in the other tools they offer. On this platform, the email tool and your CRM work together. So, when a visitor fills out a contact form on one of the pages, their personal data would automatically integrate into your contact database. Plus, nowadays, it's all about personalization. Hubspot offers the ability to customize your emails that makes it feel like a one-on-one conversation.

Here's more features:
A/B Testing

Contact \u0026 Company Information
Gmail \u0026 Outlook Integration
Contact Activity
Main Analytics Dashboard
Email Planning
Email Tracking Notifications
Email Templates

Inbox Conversations
Social CRM
Analytics. With HubSpot Email, you can measure and compare the performance of your email campaigns. The service allows you to get the statistics both for a single and group of emails. There's also the ability to filter the results by type of email, period and campaign.

Pricing: HubSpot's prices are at the forefront of the spectrum. Notice that its CRM is totally free. But with the free account, you do not get access to all the features of the platform. There are also four other plans to choose to start, from Marketing Hub to Growth Suite. The price totally depends on your needs. Each plan consists of four tiers: Free, Starter, Professional and Enterprise. Starter costs $50 per month. The pricing of the other plans varies based on the included features: from $400 up to $4,200 per month.

Customer support includes a large range of ways to get the answers. You can contact Hubspot specialists by phone or the contact form. You could even visit one of the offices and ask questions directly.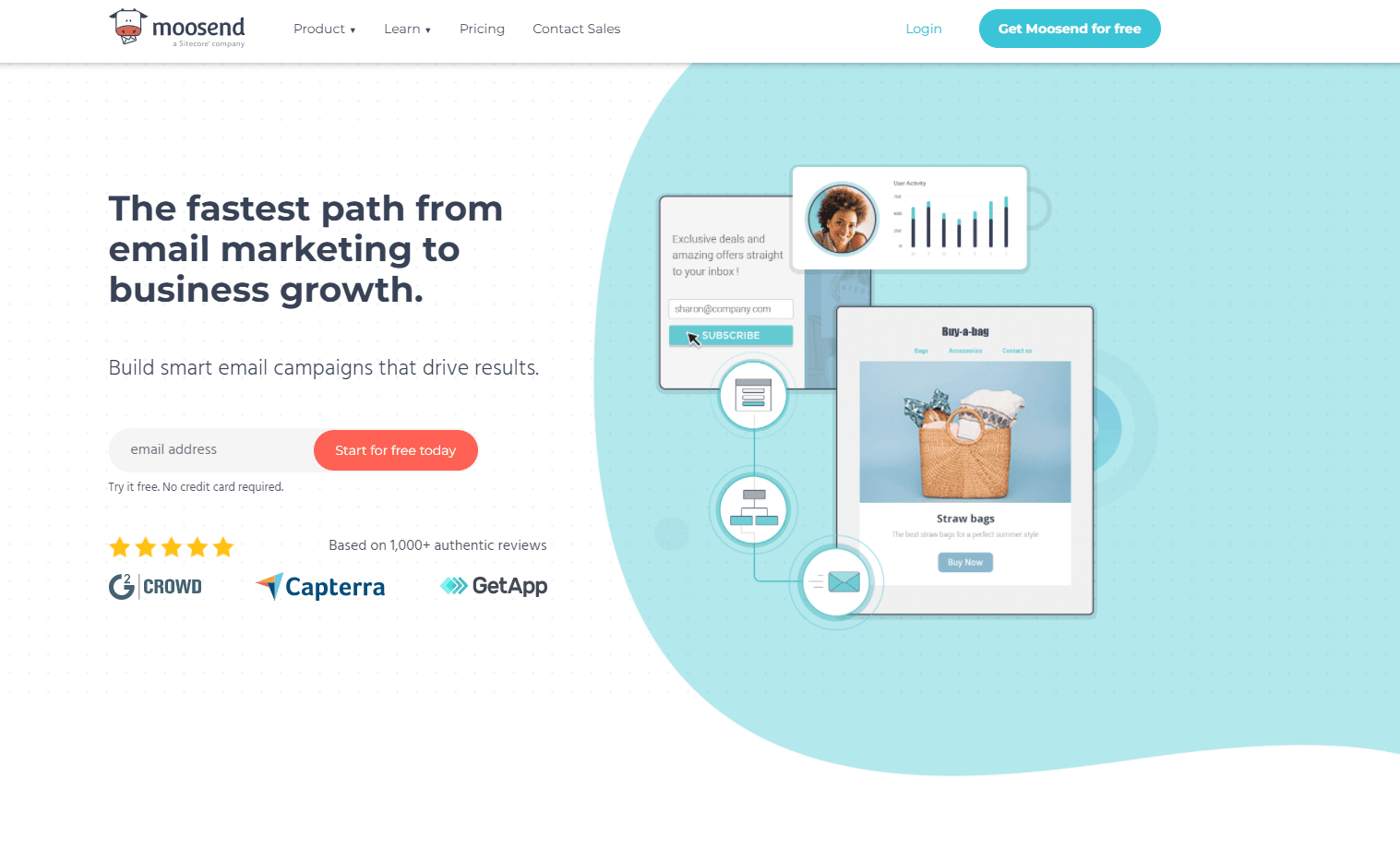 Moosend is an email marketing and marketing automation platform founded in Greece that has gained popularity globally. It is now acquired by Sitecore and widely used by Fortune-500 and SMBs all over the world.
Features: A short learning curve, intuitive design, and the ability to use the platform in six languages are among Moosend's popular features. However, the platform is best known for its Drag-and-Drop email editor that allows marketers to create the perfect email each time, either from scratch or by choosing one of the ready-made, fully customizable email templates from its extensive library. Moosend also offers a free subject line checker, A/B testing options, and advanced segmentation and personalization options.
Moosend's other features include:
Landing page creation through its extensive landing page templates library
A powerful subscription forms tool that can help you build your email list
More than 100 integrations with your favorite tools
Custom fields that will help you create tailor-made messages for each customer
An easy Drag-and-Drop automation builder that will help you create custom workflows
Analytics: Moosend's powerful reporting and analytics options allow marketers to get a bird's eye view of their customers and their behavior when it comes to their email campaigns. From user devices to heatmaps, Moosend's analytics can help marketers track and trace users and analyze exactly what they do, allowing marketers to make data-driven decisions.
Support: Moosend's award-winning support team is there to help with every question through email, phone, or live chat. The platform's website also features a knowledge base with FAQs and articles to answer all your questions, while Moosend's Academy, webinars, and marketing blog will give you new insight into all marketing matters, as well as the platform's use.
Pricing: Moosend offers a Free Forever plan that covers up to 1,000 unique subscribers and more than most features. Its Pro plan is the most popular one, and its price starts at $8/month, billed annually. Lastly, its Enterprise plan is custom-made and offers just the right thing at the right amount for your business.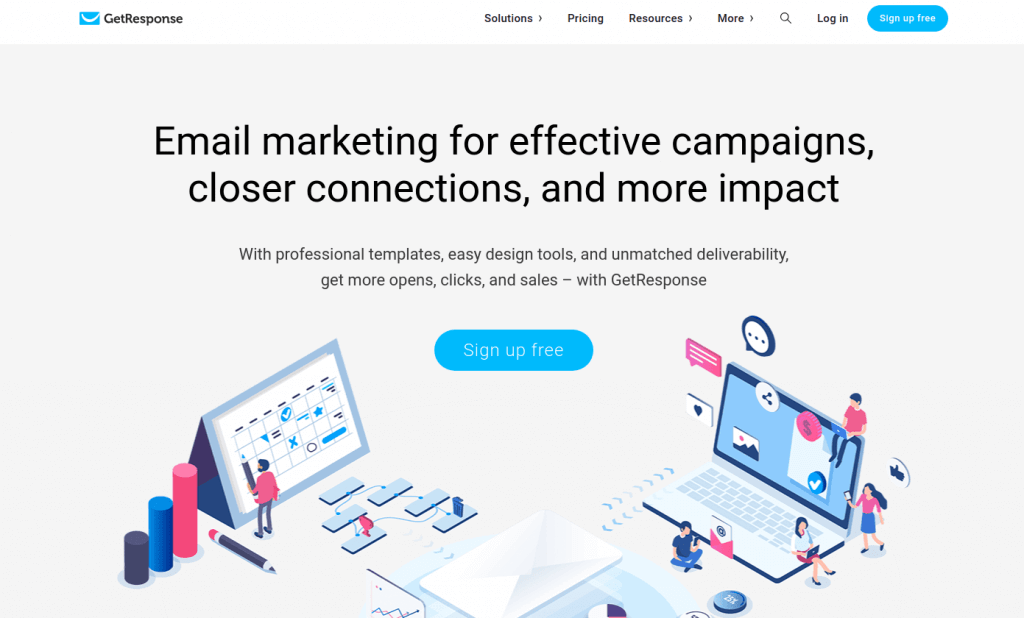 GetResponse is a smart email marketing service from a Polish team. Being popular both in Poland and internationally, the service is widely used and recommended by major bloggers.

Features. Users can benefit from an advanced constructor for building emails. With it, you can put together literally any email you like! As an alternative, you can choose from more than 500 ready-to-use templates. GetResponse is an expert in creating registration forms, target pages, automatic email sequences, adaptive design, etc. Plus, you can use it to perform A/B tests to compare two email versions against each other.
On top of that, GetResponse offers:
Integration with social media

Collection of free images for your emails
Autoresponders
Built-in surveys
API integration
Analytics. GetResponse features a multi-functional analytics system that allows you to monitor how users are interacting with your emails, split your subscribers into groups, compare different email campaigns by their performance, and much more. The system can send reports right to your email, keeping you updated on how your email campaign is doing.

Support. If you ever need help regarding the use of the service, GetResponse has it all covered. A FAQ section, phone support, and live chat are at your service.

Pricing. Along with a 30-day trial period, GetResponse offers a free plan for up to 500 subscribers as well as seven fee-based plans within its Basic tier for its users. The price of each plan depends on your subscriber base: 1,000 subscribers — $15/month; 2,500 subscribers — $25/month; 5,000 subscribers — $45/month; 10,000 subscribers — $65/month; 25,000 subscribers — $145/month; 50,000 subscribers — $250/month; 100,000 subscribers — $450/month. As you can see, the payment structure is quite common. The larger your audience, the more you'll have to pay. In addition, there are also the Plus, Professional and Max tiers with additional features.
Campaign Monitor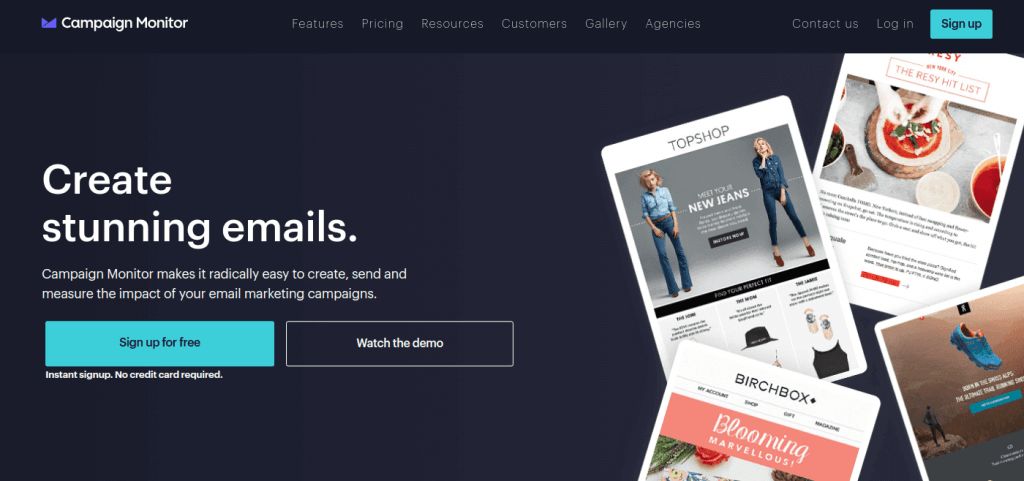 The best thing about Campaign Monitor is probably that it's amazingly easy to use, even for those who don't know a single thing about HTML.

Features. To put together a beautiful email, you can choose from one of the 70 free templates or upload a HTML email from your computer. Here, the format is important. If you upload a plain text email, the service won't be able to track click-through rates and open rates. Also, you can use the preview feature to see how your email will look on a mobile device and desktop computer. This is a great way to detect errors and correct them before your email reaches its recipients.

What else?
almost 250 integrations with other useful apps

insightful marketing materials on the official website.
Analytics tools. Like any respectable email marketing service, Campaign Monitor features a one-click integration with Google Analytics, allowing you to track the performance of your campaigns. Elaborate reports and A/B testing tools are also at your service.

If you have any questions, you can use a contact form on the website. While many users find this method insufficient, Campaign Monitor offers no alternatives at the moment.

Pricing. Currently, Campaign Monitor offers no free version. As for paid plans, their price range is based on the number of subscribers. Plus, the service offers a very handy option: you can either buy the entire package of services for a whole month or pay for each individual email.

MailChimp is another time-tested email marketing service that offers a large selection of tools needed for a successful email marketing campaign.

Features. MailChimp allows you to launch several types of campaigns, including regular, text, A/B testing, and RSS campaigns. Regular campaign means creating and editing emails in HTML. If you don't need images in your emails, you should choose a plain text campaign. With A/B testing, you can identify which of the emails sent to your recipients gets you the best statistics.
If you choose a RSS campaign, the system will send notifications to your subscribers every time your blog is updated. This way, your audience will be the first to learn the latest news about your company!
On top of that, MailChimp has a collection of about 300 ready-to-use templates with different themes.

What else?
API integration (plus detailed instructions on using it)

Mobile apps to preview your emails on different devices

Integration with Facebook, Twitter, Google, Shopify, SurveyMonkey, popular CMS, and SaaS platforms
The analytics section has a minimalist and neat interface, packed with useful features. You can see the number of your subscribers, open rate, click-through rate, and plenty of other statistics that give you a full picture of how your campaign is doing. You can take your email marketing campaign to a new level by integrating MailChimp with Google Analytics. A/B testing is also available.

Customer support includes a vast knowledge base where you can easily find the answers to any of your questions. Plus, you can contact the MailChimp team via email or live chat.

Pricing. Based on the size of your audience, you can choose the plan that fits the scope of your business. Starting Up is a free plan for up to 2,000 subscribers and up to 12,000 emails per month. The Growing Business plan serves up to 20,000 subscribers. If you have more than 20,000 people on your email list, you should choose the Pro Marketer plan. For businesses with more than 600,000 subscribers, High Volume Sender is the best option. If you choose to pay monthly, the price starts at $10 for every 500 subscribers. If, on the contrary, you choose to pay for every individual email, you'll pay $0.03 for 300 emails; if you have more than 7,500 subscribers, the price drops to $0.02.
Omnisend
Omnisend functions as a one-stop-shop for all ecommerce marketing needs. Omnisend takes email marketing automation to the next level, allowing you to add several channels into the same automation workflow. While that may seem complicated, Omnisend is user-friendly, employing a drag-and-drop builder for every element you create on the platform.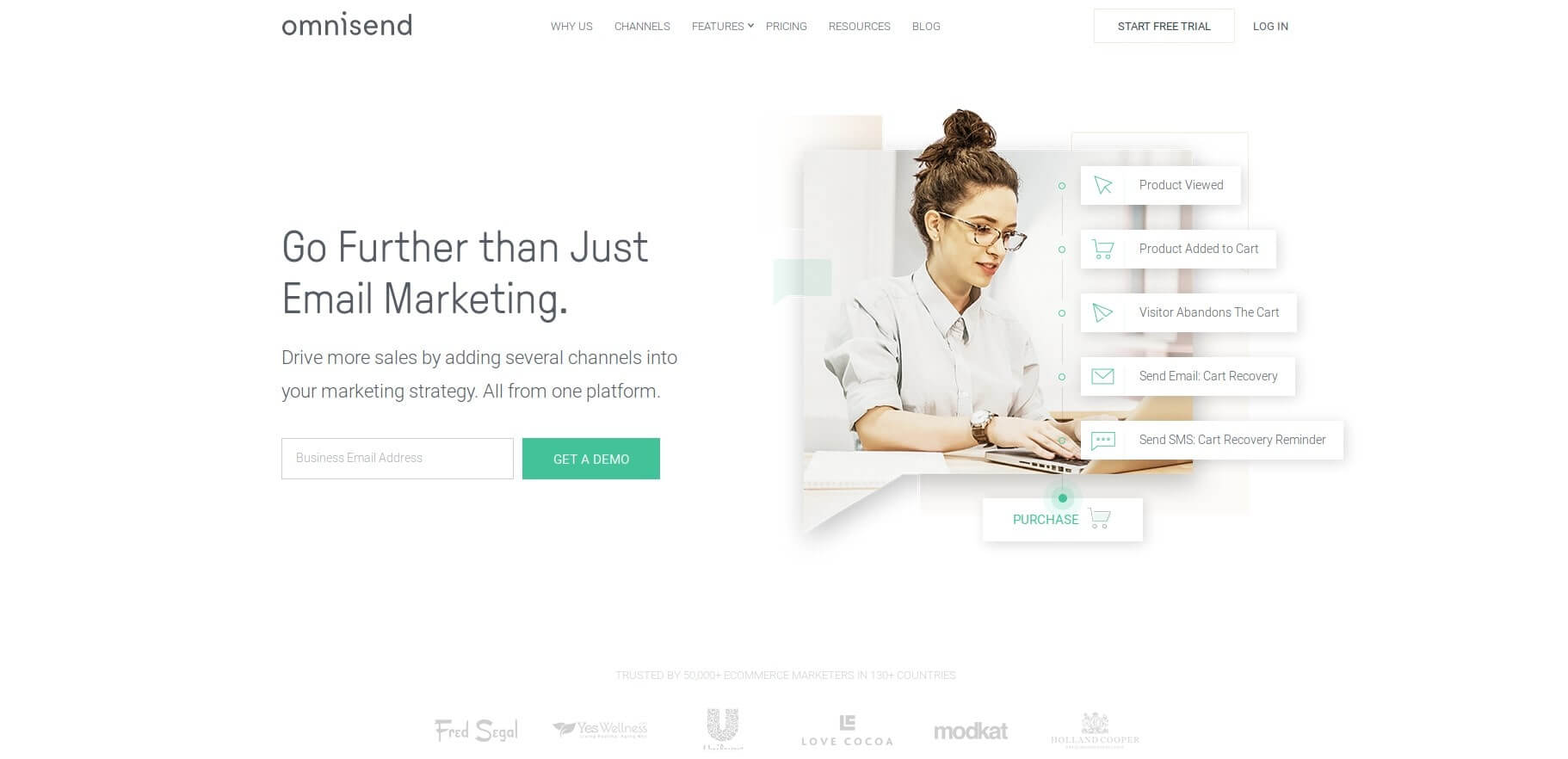 Features: Omnisend's features don't seem to end. As an all-in-one platform, this tool has the potential to replace many of the smaller tools you're probably already using.
In marketing automation, the biggest feature is the ability to add Facebook Messenger, email, SMS, WhatsApp, push notifications, and more to the same automation workflow. This means that you can reach your customer on any channel with the same, unified omnichannel message. What's more, there are tons of ecommerce-ready customizable templates for these automation workflows, so you can get one up and running in a matter of clicks.
More features include:
List building elements: embeddable forms, pop ups, landing pages
Automation workflow templates for cart abandonment, welcome, order confirmation, customer reactivation, and more.
Easy drag-and-drop email creation (plus tons of templates for quick building)
Product picker that pulls inventory from your site directly to your email in a click
Smart segmentation for ultra precise targeting based on demographics, shopping behavior, and campaign engagement
Analytics: Omnisend offers full campaign metrics including sales performance reports. With deep integration with all major ecommerce platforms, Omnisend pulls the data from your store for your reports. You can see major KPIs such as: open rate, click through rate, order rate, and much more.
Pricing: Omnisend offers a free plan for basic email marketing that allows you to send up to 15,000 emails per month (with no subscriber count limit). From there, Omnisend offers a Standard plan starting out at $16 per month, which includes automation and SMS. For more channels, and a dedicated account manager, you best bet is the Pro plan starting out at $199 per month.
Customer Support: Omnisend offers 24/7 customer support via email, plus in-app dedicated chat for those on the Standard plan or higher. From the Pro plan, you get priority support and an account manager.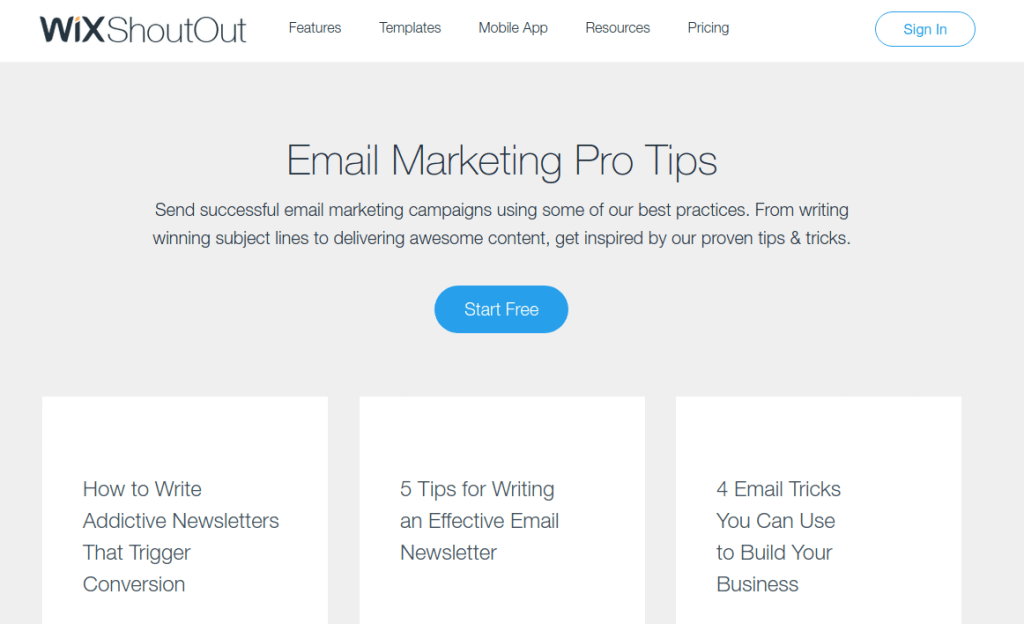 If you're already a Wix customer, you'll find it handy to use WIX Shout Out to create and customize your email campaigns. With its intuitive interface, WIX Shout Out is a dream for those who consider themselves dummies when it comes to software.
The free plan includes three campaigns and 5,000 emails per month. If you're just starting your email marketing journey to see how it goes, this plan is the best you can wish for. For bigger projects, the service offers three paid plans: Start, Business, and Unlimited.

What else?
Six ready-to-use templates (all of them modern and stylish)

Weak API (contacts only)
Visually appealing and advanced interface
Mobile app g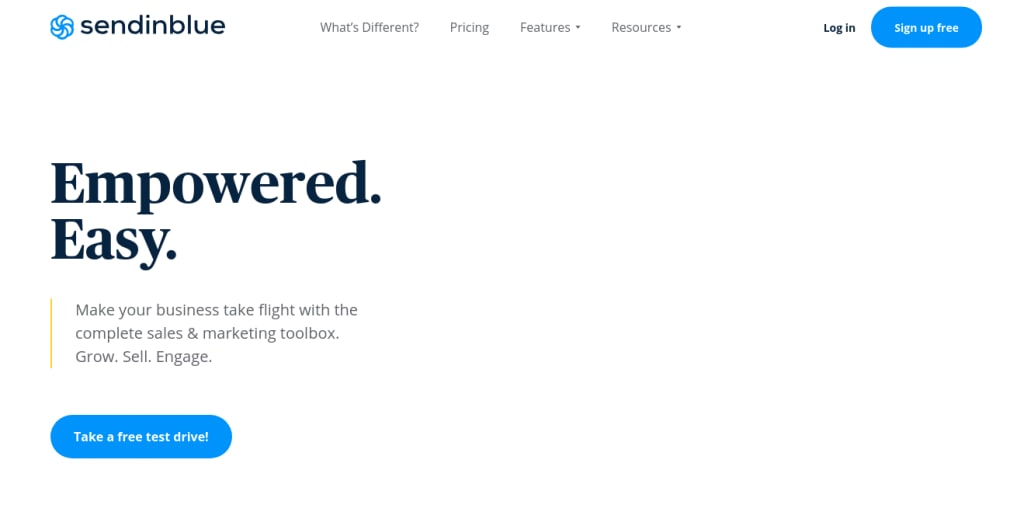 Although not among the major email marketing tools, Sendinblue has good values to offer. What makes this tool stand out is that you only pay for the number of emails sent, regardless of how many subscribers you have.

Sendinblue features:
SMS campaigns and email constructor

Mobile app
Email sending via SMTP server
Extended planning
HTML import
WYSIWYG editor
Powerful analytics
Modern landing page editor (Premium and Enterprise plans)
SMTP access
Dedicated IP that enables you to sign up from your domain
Flexible auto-responders
Personalized subscription forms
Google Analytics integration and detailed reports
API
Plugins for Prestashop, Magento, WordPress, WooCommerce, and EDD
As you can see, Sendinblue is a quick-evolving email marketing service with a smart pricing strategy and multiple features.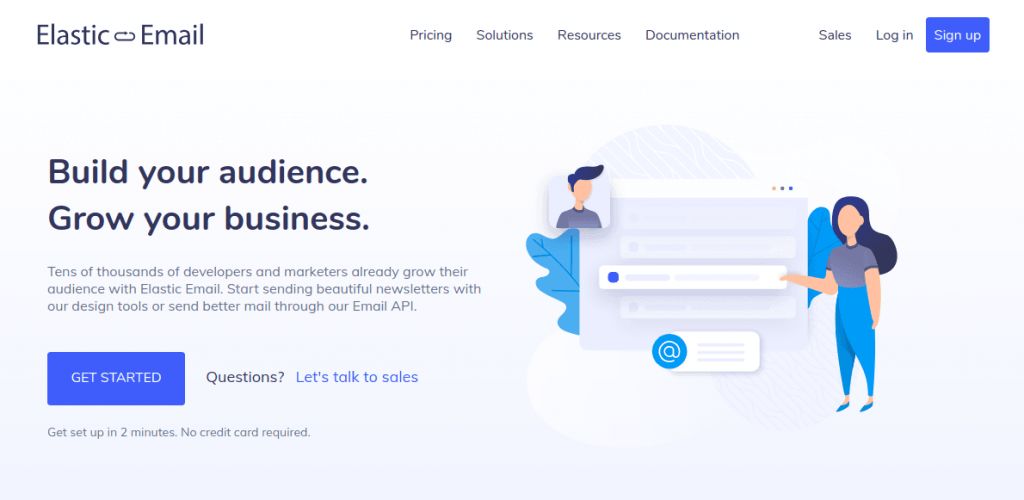 ElasticEmail offers you easy access to email marketing and delivery tools to keep in touch with your customers. This tool offers an exhaustive set of tools to maintain all aspects related to your email campaigns.

Features. Before purchasing a package of email marketing services, it's a good idea to test your selected tool and compare it with other solutions. Luckily for hesitant customers, most of the tools on our list offer a free trial period or free plan. Be sure to use this opportunity to get the hang of email marketing features and tricks.

ElasticEmail features:
Surveys for your audience

A/B testing for more than two variants
А/B testing for email sequences
SMTP server
You can create dynamic lists of subscribers based on certain criteria

Unconventional interface
Prior to moderation, you can only send 50 emails a day
Pricing. You'll be happy to know that the service offers a free plan that allows you to send up to 150,000 emails per month. Isn't that appealing? Fee-based plans include Unlimited and Unlimited Pro for $9 and $29/month respectively.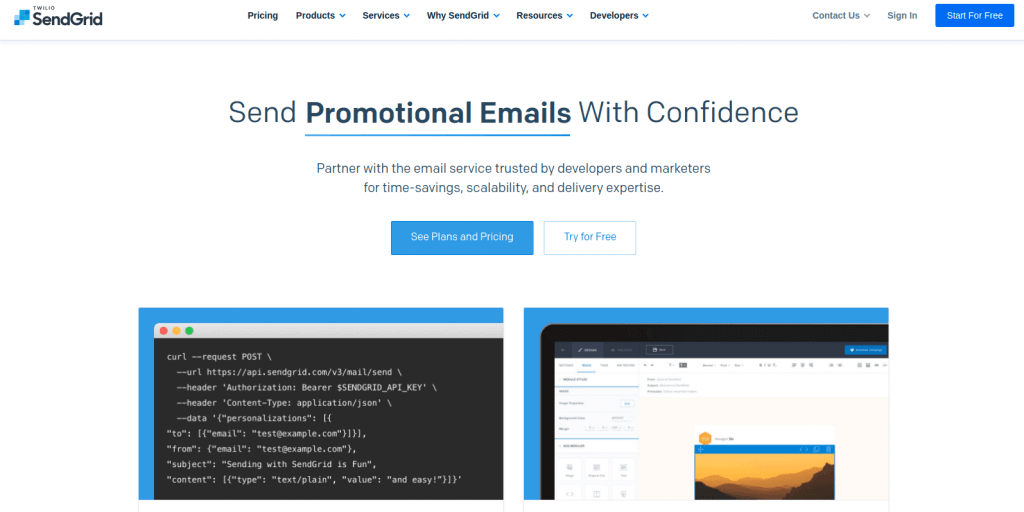 Founded in 2009, SendGrid has developed a cloud messaging service that disrupts the industry to solve the challenges of delivering reliable email on behalf of growing businesses. Like many great solutions, SendGrid was born of the frustration of three engineers whose application emails were not delivered, so they built an application with its own servers.

Features. With Sendgrid, you can benefit from the advantages of e-marketing campaigns without installing and configuring any extra tools. You can send emails directly from Sendgrid's interface. The service is aimed at providing tools for marketing and sales teams across different industries, from store chains to startups. At the same time, Sendgrid is an indispensable tool for any company with the need for email communication, even if it's only for order notifications and email confirmations.

Key features of the service are:
Marketing and transactional newsletters

Automated newsletters
API
Real-time analytics

Segmentation
Flexible email design settings
Support. If you have any problems or questions and you didn't find the answer in the FAQ, you can contact support via telephone or email.

Pricing. Sengrid offers quite a variety of plans for everyone. Based on your needs, you can choose Email API by itself, a plan for marketing campaigns and a plan that includes email API + marketing campaigns. The pricing policy depends on how many emails per month you want to send. For example, for your first 30 days, you can send 40,000 emails for free. For sending up to 100,000 emails, prices start from $14.95 monthly, from 100,000 to 1.5 million emails — $79.95.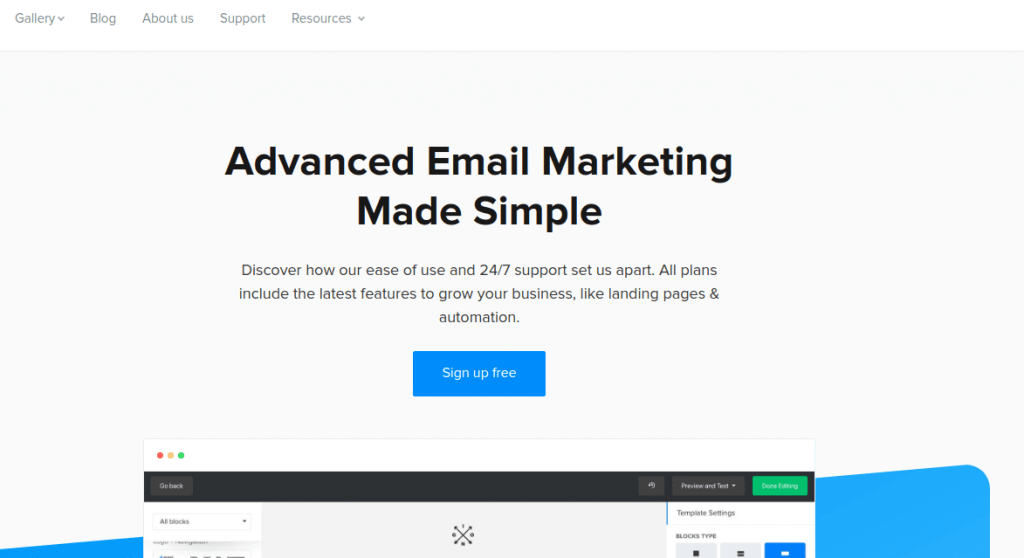 If you're just starting on email marketing, you probably don't have a budget to try everything, but you want something that does the work, MailerLite is a good choice. Created in 2010, Mailerlite.com is an affordable email marketing service that stands out through its unique email design. Businesses with a small or medium subscriber base can benefit from automated email sequences and the advanced toolbox.

Features. Upon registration, you can build custom email sequences, unsubscribe pages, subscription forms, landing pages, and sales funnels. Plus, you can edit your emails and track important statistics. The service automates your every step. To launch your email campaign, you first need to grow your subscriber base and come up with appealing email texts. The Mailerlite library offers countless graphic elements to add a personalized feel to your campaigns.
The Mailerlite tools can be easily integrated with your CMS, social networks, plugins, extensions, etc. Also, it features turnkey solutions for WordPress, Facebook, Zapier, SynSumo, Bloom, and other major platforms. Developers are welcome to integrate their softwares with Mailerlite via API.

What else?
A/B Testing

Auto-Responders

CAN-SPAM Compliance

Customer Surveys

Drip Campaigns

Dynamic Content

Event-Triggered Email

Image Library

Landing Pages/Web Forms

Mailing List Management

Mobile Optimized Emails

Reporting/Analytics

Subscriber Management

Template Management

WYSIWYG Email Editor
Support. The service has its own knowledge base, as well as a complete guide and video tutorials. If you still have questions, you can write to the customer support team.

Pricing policy. It's free for up to 1,000 subscribers and 12,000 emails and beyond this number, the price is very affordable. There are another four plans you can choose from. The fact is that you can send an unlimited number of emails per month, but to a strict number of users. For example, if you have 1,001 — 2,500 subscribers, you'd pay $15 per month. And if you have up to 10,000 subscribers, the cost will be $50 per month.
Stripo is an email template builder that allows to create responsive email templates fast using either drag-n-drop or HTML editor. The service has a library of 300+ ready-to-go templates.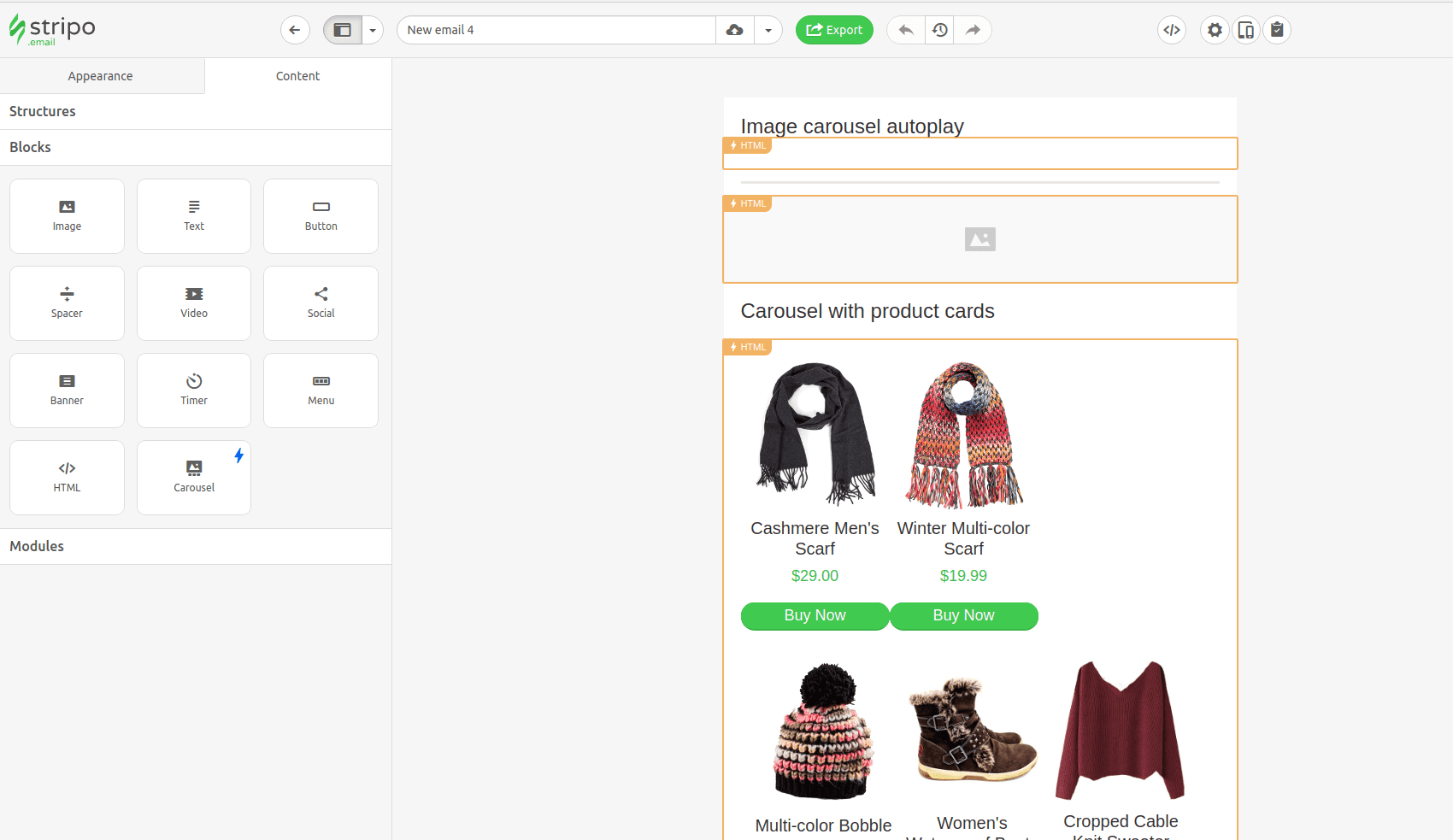 Features. The platform lets pick and modify any of existing templates or create your own from the scratch. Besides users can work either with pure HTML or modular editor. All the changes you made in the HTML editor will be immediately displayed on the working area.
What else?
Offers fully Responsive Layout for Emails

Smart-elements to reduce the time for creating products' cards
Personal content library – separate blocks to be re-used in the future newsletters
Embedded Photo Editor and Email Testing tool
AMP blocks
Direct export to more than 20 ESPs and email clients
Plugin as a solution for Saas
Pricing: Stripo offers three plans: Freemium, Business and Agency. Freemium user can create 2 templates per project and has 4 exports per month. Business plan starts from $8.33 per month and includes 15 templates per project and 300 exports per month. Agency plan starts from $20.83 per month and includes unlimited number of templates and exports. Agency also offers different levels of access to your template.
Customer support provides technical support via email, chat, and call.
eSputnik
eSputnik is an omnichannel marketing automation service that allows you to manage cross-channel messaging campaigns via Email, SMS, Web Push, Mobile Push, Viber, WhatsApp, and other instant messengers. It can be an ideal solution for small and medium-sized enterprises looking for inexpensive and easy-to-use email automation tool.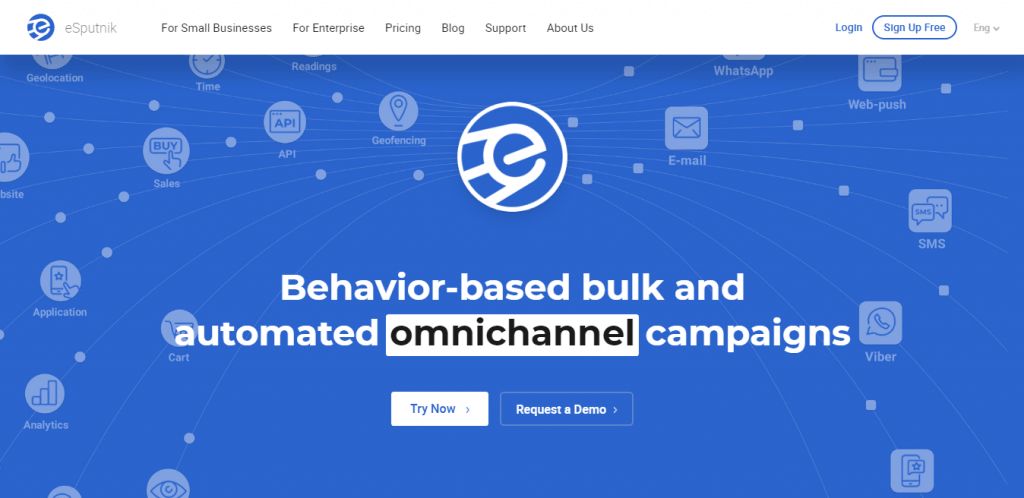 Features. Using free plan you will get 2500 emails and 10 sms. Moreover, after a sign-up, eSputnik team can create one free email template designed in the corporate style of your website. Also it is worth drawing attention to the multilingual feature: eSputnik allows both manual configuration of your audience's preferred language and its automatic identification based on the browser language. The system can fill the customer's profile with the necessary information based on their interaction with your campaigns.

Key features of the service are:

Cross channel Messaging
Subject Line Assistant
Drag'n'Drop Email Builder
Email Personalization
RMF Analysis and Segmentation
A/B Testing
Multilingual Campaigns
Artificial Intelligence
Mobile Push Notifications
Actionable Analytics Report
Support. The team of eSputnik can provide all necessary instructions and guidelines on how to use the system via email or chat. You can also request callback.

Pricing. eSputnik offers three plans: Free, Optimal and Enterprise. Optimal Package is valid for 30 consecutive days from the date of activation and includes unlimited messages. The price depends on the size of the contact list. Web push notifications are free for all eSputnik clients, with advanced features starting at 38 USD per 10,000 device tokens.

Of course, the list goes on. Before choosing one of the email marketing services, make sure that you have defined your goals and objectives as well as answering all the questions listed at the beginning of the article. You can also register and test several services on your own. But only proceed to integration and automation when you are ready to develop within the framework of a particular platform.